Updated: June 11, 2014 / Home » Desktop Computer Software » Chat Messenger
How do detect invisible user in Yahoo Messenger? I find it annoying when a person comes online with the status "Invisible to Everyone" in both Yahoo and MSN Messenger, things are made worst when both parties are invisible.
The invisible feature is great, there are times such as exam weeks when we don't want to be disturbed because we would like to do some research online or keep in touch with classmates, discussing the exam paper, or we're coming online for a short period of time just to check our email, that's the time when we don't want anyone to bug us or we're not in the mood to entertain them.

There are various web application that is able to reveal invisible Yahoo Messenger user, XEEBER and Invisible scanner are the better ones in the market, its free!
As for MSN Messenger, there is only one tool available, the Show Invisible MSN Messenger Status detector, it reveals, finds, and detects you and your contact lists MSN information and inform you all you want to know about your contacts. For example which person deleted or blocked you.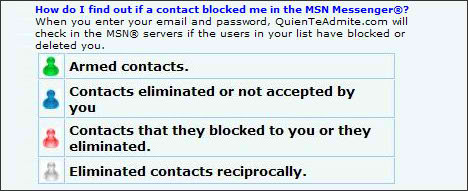 For those who are curious about which of his/her friends deleted or blocked them, do give the service a try but be cautious, I believe the tool is meant to be some sort of email harvesting application or another email hijacking tool created by spammers. Give it a try but remember to change your password as soon as you're done with it.
Rule number one, never reveal your password to other company besides the original service provider.

Here is a cool little MSN Name Trick that allows you to have an invisible MSN Screen Name. This nickname trick should work for most versions of Messenger (ie MSN 6, 7.5, 8.0). Just follow these instructions:
Open the Options window so you can change your MSN Name
Hold down ALT on your keyboard and type in 0160 using the Numeric Keypad (usually on the right side of your keyboard)
Click OK to save your new Invisible MSN Name!