Updated: May 24, 2016 / Home » Computer and Internet Security
Anti-Keylogger doesn't remove keyloggers from your Microsoft Windows and Apple Mac computer. If you suspect someone is monitoring and spying your every move online, or to prevent future possible spying by someone, an anti-keylogger is the best solution. This is useful in scrambling important information such as credit card number and password.
Related ➤ 18 Free Anti Rootkit Revealer and Remover for Windows
In order to be fully protected from information leakage and Internet threats our analytics recommend using Anti-Keylogger in addition to antivirus and firewall. Viruses will be defeated with the help of anti-virus, all the unwanted Internet connections will be terminated by firewall and all the spyware will be blocked by Anti-Keylogger. Using of these three types of software is a key to information and Internet security of your PC.
What is a Keylogger? According to Wikipedia:
Keystroke logging (often called keylogging) is a method of capturing and recording user keystrokes. The technique and name came from before the era of the graphical user interface; loggers nowadays would expect to capture mouse operations too. Keylogging can be useful to determine sources of errors in computer systems, to study how users interact and access with systems, and is sometimes used to measure employee productivity on certain clerical tasks. Such systems are also highly useful for both law enforcement and law-breaking—for instance, providing a means to obtain passwords or encryption keys and thus bypassing other security measures. Keyloggers are widely available on the Internet.
Zemana AntiLogger is a powerful, efficient, and lightweight app that blocks hackers. It detects any attempts to modify your computer's settings, record your activities, hook to your PC's sensitive processes, or inject malicious code in your system.
Screen Capture Protection
Keystroke Logging Protection
Webcam and Microphone Hijacking Protection
Financial Malware Protection
02 – SpyShelter | Free and 50 Euro
SpyShelter does not rely on an antivirus signature database, because our software understands how malware works. SpyShelter protects you from both known and uknown threats, which were not discovered by antivirus labs yet. SpyShelter Free offers complex system protection and anti-keylogging modules for free, only for 32 bit systems users. It does not even require account registration!
Anti webcam logger (Premium)
Keystroke Encryption (Premium)
Anti-keylogger
Anti Screen Logger
Anti Sound Logger (Premium)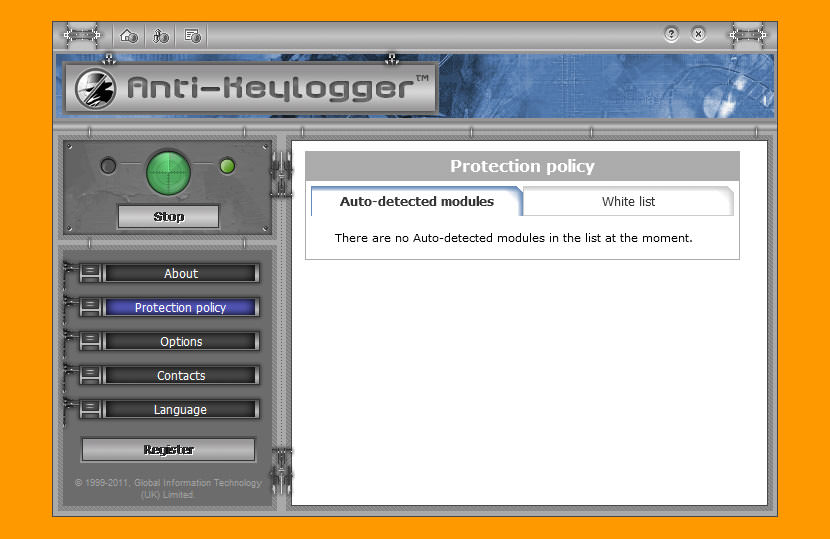 Anti-Keylogger is silent antispyware software that will protect your PC from spyware. The key feature that stands our antikeylogger among others is its way to detect and block spyware. Full list of our Anti-Keylogger features:
Blocking of keystroke logging
Blocking of clipboard logging
KeyScrambler encrypts every key you type deep in the Windows kernel. It protects your private info against both known and unknown keylogging malware on millions of websites and in hundreds of essential applications.
Scramble keys on Browser (free edition)
BitCoin Wallets (Premium only)