Forget about taking the risk of downloading pirated AVG Internet Security 2014 from illegal torrent websites, AVG is offering a free 1 year license key of their popular antivirus software. No crack, serial key, number or patch with viruses to download, everything is legal.
If you're wondering, what is the difference between AVG Antivirus and AVG Internet Security, it basically comes down to firewall, safer emails, better privacy, safer downloads, automatically check your browser's URL and more.
Antivirus vs Internet Security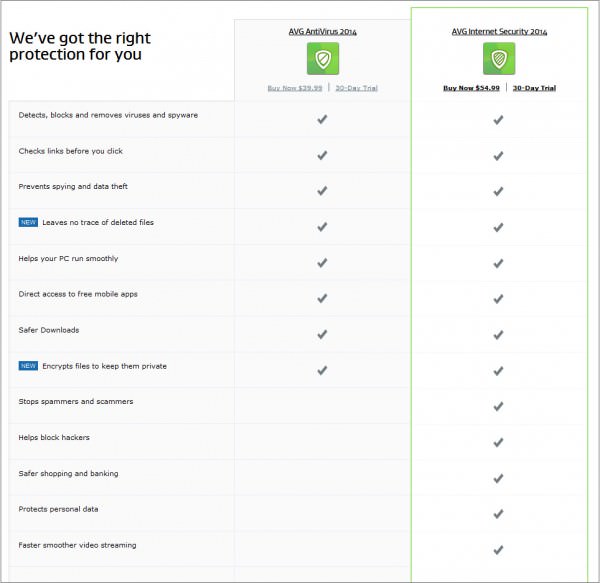 AVG Internet Security 2014 Screen Shots
Like most software design language, minimalist and simple user interface is the new style. Also known as Microsoft Design Language (Metro), the user interface is easy to navigate and easy on the eyes. This new antivirus will blend nicely with Windows 8, fear not, it works on Windows XP and 7 too.
Pre-Activated License Key / Activation Key
The 1 year activated software does not require you to key in the product key or serial number, the license key comes together with the software. All you have to do is activate the antivirus software.
Download AVG Internet Security 2014 [ Official Website ]
AVG Internet Security 2014 [ Microsoft Windows 32-bit ]
AVG Internet Security 2014 [ Microsoft Windows 64-bit ]