Magento is the best self-hosting eCommerce CMS, WooCommerce has the advantage of the flexibility of WordPress. For those that doesn't want to manage their own web hosting server, security updates, and bugs, a Managed eCommerce Hosting is the way forward. They may be expensive but you'll have everything taken care of and you can focus on what is important – your online business.
Related Article 2019 ➤ 5 Free Web Hosting Sites For eCommerce And Personal Website
We've analyzed and compared every important aspect that will help you develop a business in the e-commerce space. At the end of the day, the best shopping cart platform is the one you are most comfortable with. Without further ado, here are 5 of the best eCommerce platforms for your small business that scales pretty well when needed.
When it comes to eCommerce, Amazon CEO Jeff Bezos was one of the first entrepreneurs to realize the potential of selling products on the internet. This Bloomberg Profile looks into how Bezos built Amazon inside his garage and now has his sights set well beyond online commerce.
↓ 01 – Shopify | USD30 / USD80 / USD300
Unlimited Product Attributes – Ideal for small to medium business with online and offline retail, comes with POS (Point of Sales) system with iPads as cash register
The ecommerce platform made for you. Whether you sell online, on social media, in store, or out of the trunk of your car, Shopify has you covered. Establish your brand online with a custom domain name and online store. With instant access to hundreds of the best looking themes, and complete control over the look and feel, you finally have a gorgeous store of your own that reflects the personality of your business. Selling your products in many places should be every bit as simple as selling in one. With Shopify's ecommerce software, you get one unified platform to run your business with ease.
Fully customize your online store
Add new sales channels in seconds
Manage unlimited products and inventory
Fulfill orders in a single step
Track sales and growth trends
↓ 02 – Magento Commerce | Approximately USD450 / USD1000
Unlimited Product Attributes – Ideal for medium to large business with tons of inventories
Try the World's Most Flexible Commerce Platform. Create, launch, and grow your online store with a fully customizable commerce platform, cloud infrastructure, and 24×7 support. With rich, out-of-the-box functionality, Magento gives you the unlimited ability to customize your store, seamlessly integrate your third-party solutions, and create irresistible customer experiences.
Focus on growing your business without stressing about servers – Magento offers integrated cloud hosting, best-in-class infrastructure, and pre-integrated tools to help you launch new ideas faster, handle traffic spikes, and improve operational efficiency.
Magento Business Intelligence fuels your growth with data – Harness the power of analytics, with tools and dashboards designed to monitor product and customer data, set goals, share reports, and motivate your team.
↓ 03 – BigCommerce | USD30 / USD80 / USD250
Unlimited Product Attributes – For those that requires an affordable eCommerce site
Build your online store with BigCommerce. Customize your site, manage shipping and payments, and list your products on Amazon, eBay, and Facebook with the #1 ecommerce platform. Try it free, no credit card required. Their revolutionary design platform lets you create stores that engage shoppers and make more sales. Choose from the best responsive ecommerce templates on the market or build a fully custom site.
A very simple online store for beginners with a few items to sell
Wix.com is a leading cloud-based development platform with millions of users worldwide. We make it easy for everyone to create a beautiful, professional web presence. Reach your customers wherever they are. Wix will automatically optimize your eCommerce website for viewing on a mobile device. With our online store builder, it's easy to customize the look and feel of your mobile eCommerce website. All The Features You Need for Your Online Business
Drag n' drop online store builder
Beautiful product galleries
Professional store manager
Multiple payment solutions
Global tax and shipping
Coupons and discounts
Mobile optimized eCommerce website
Secure checkout
24/7 support
↓ 05 – Jimdo | USD7.50 / USD20
Ideally priced and for those with a small and simple online store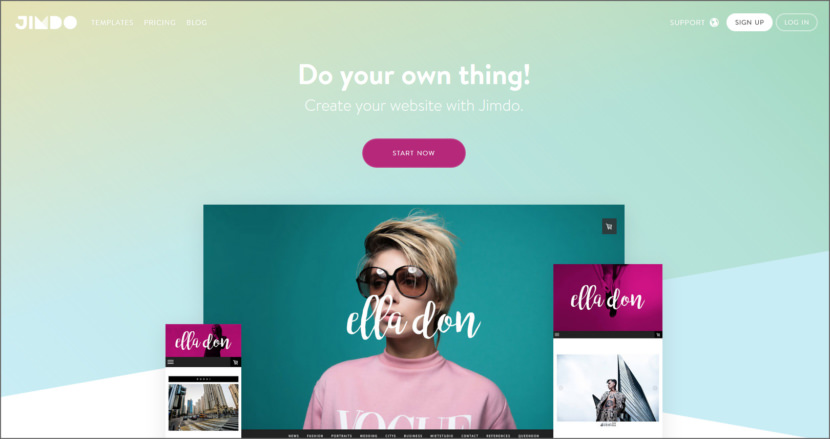 Usually small companies don't have the resources tu hire a web designer. But at the same time, they need a lot of features for their website. That's why I have chosen Jimdo, which allows me to set up the design for my website in real time and integrate my online shop. Use our simple, click-to-edit tools and ecommerce templates to create a beautiful online shop. Fill out some basic settings, then customize your web shop with your own colors, fonts, logo, photos, and more.
Conclusion
Wix vs Shopify vs WooCommerce vs BigCommerce vs Magento vs Jimdo, which is better? It depends on your needs, budget and inventories. In other cases, WIXStores, Shopify, and Bigcommerce are the be better alternatives if you don't need a complicated store with advanced features and customizations, or you have 100 to 200 items for sale. Magento has been and always will be designed for large eCommerce sites, it is way more complicated but comes packed with tons of features.