The celebration of Easter, also known as Resurrection Sunday, is a religious observation and a week long holiday commemorating the resurrection of Jesus from the dead. It also happens that Spring is around the corner, thus the witness of flower blooming after the long winter – a new beginning.
Related Article ➤ 14 Holy Bible Quotes By Jesus Christ On Life, God, Haven, Sin and Faith
For those facing their toughest challenge in life at any given moment, remember that everything is temporary and time will heal everything. Just be strong enough to brave thru the storm. From my own life experience, once the storm is over, just like spring or Easter, you will be handsomely rewarded.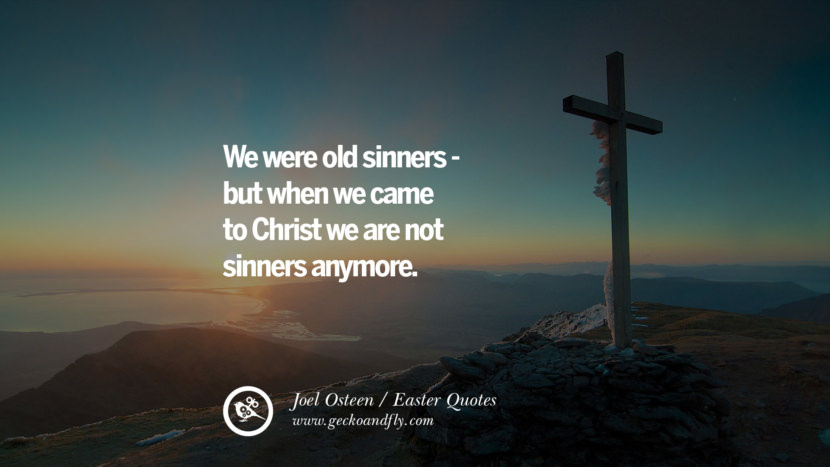 We were old sinners—but when we came to Christ we are not sinners anymore. – Joel Osteen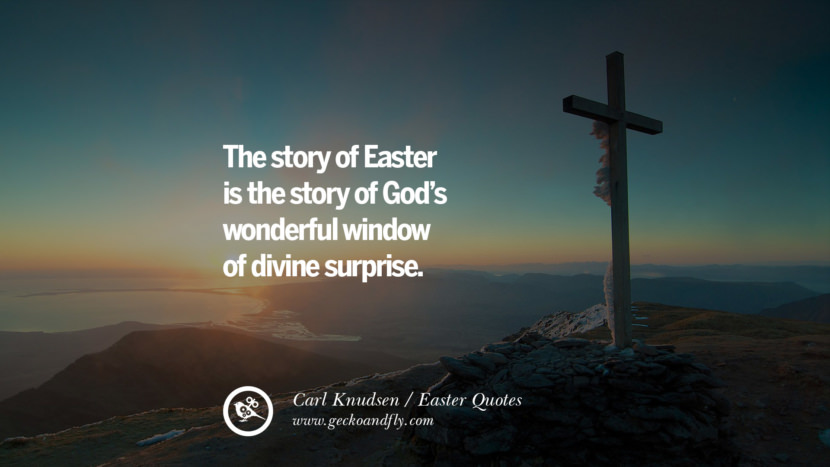 The story of Easter is the story of God's wonderful window of divine surprise. – Carl Knudsen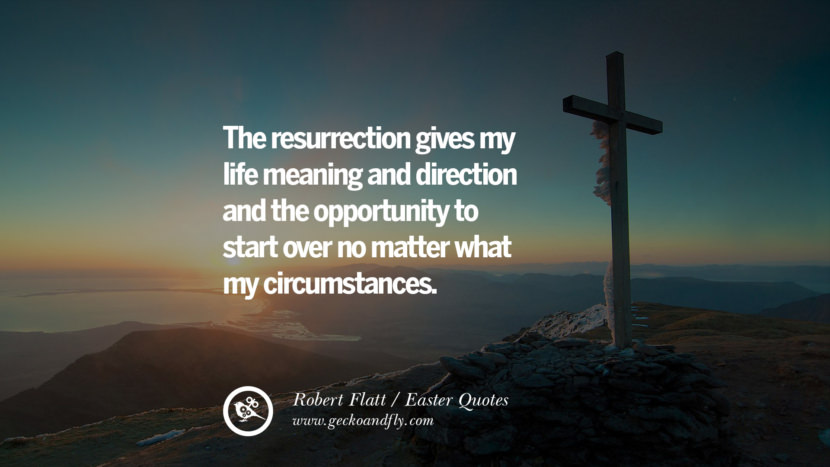 The resurrection gives my life meaning and direction and the opportunity to start over no matter what my circumstances. – Robert Flatt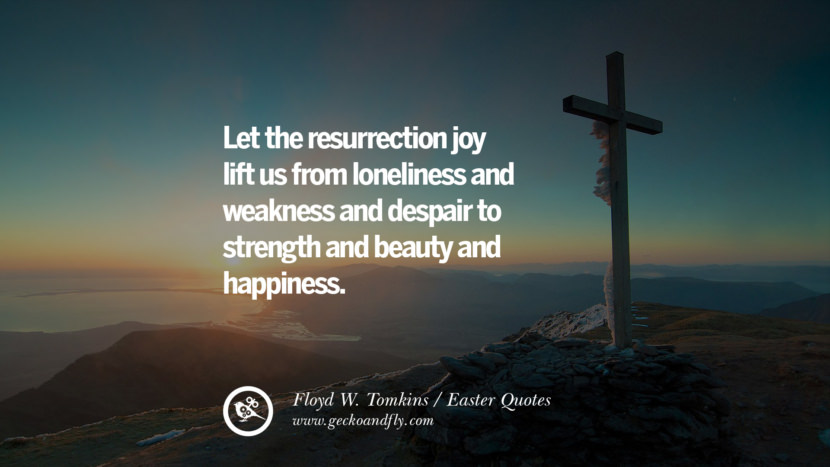 Let the resurrection joy lift us from loneliness and weakness and despair to strength and beauty and happiness. – Floyd W. Tomkins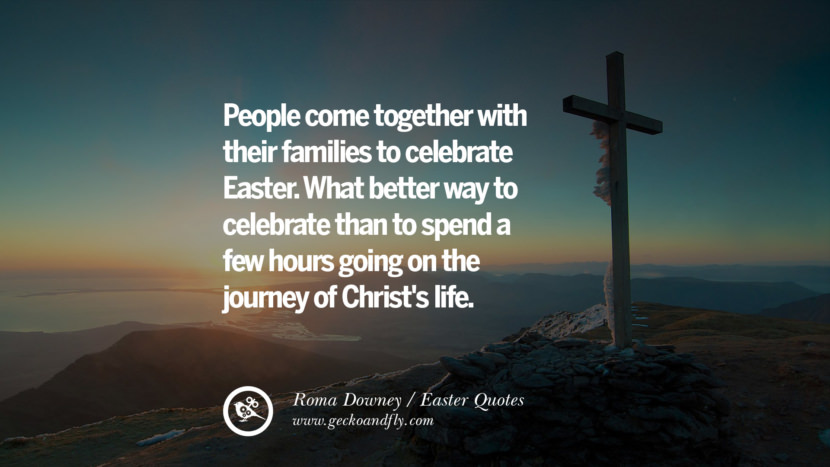 People come together with their families to celebrate Easter. What better way to celebrate than to spend a few hours going on the journey of Christ's life. – Roma Downey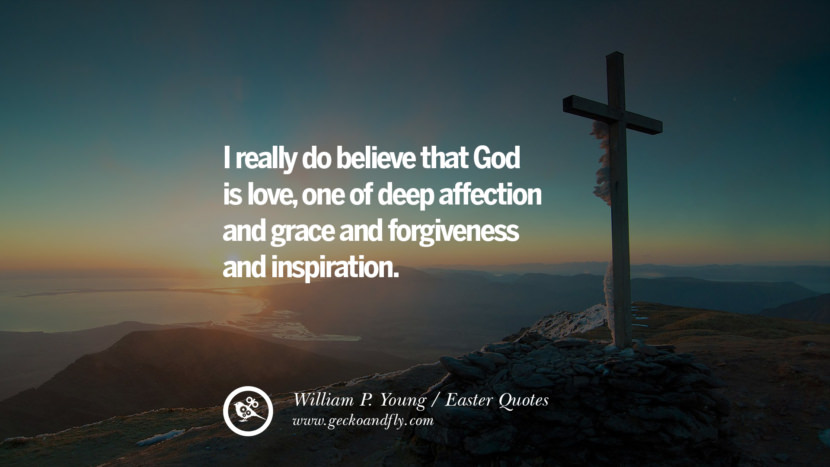 I really do believe that God is love, one of deep affection and grace and forgiveness and inspiration. – William P. Young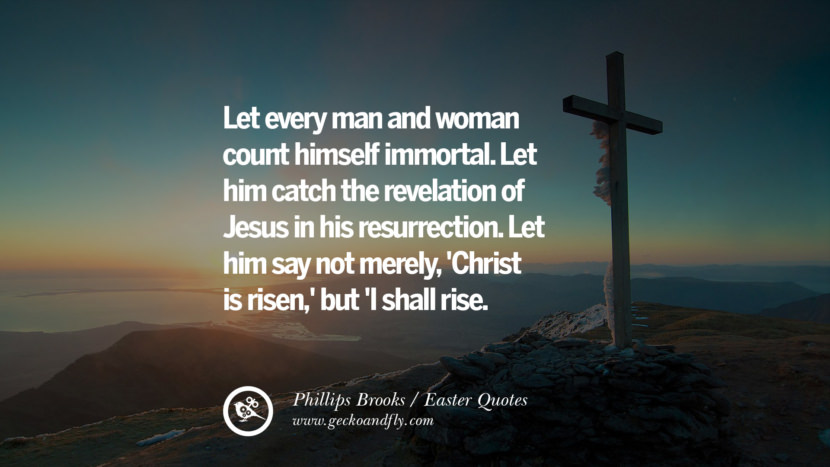 Let every man and woman count himself immortal. Let him catch the revelation of Jesus in his resurrection. Let him say not merely, 'Christ is risen,' but 'I shall rise. – Phillips Brooks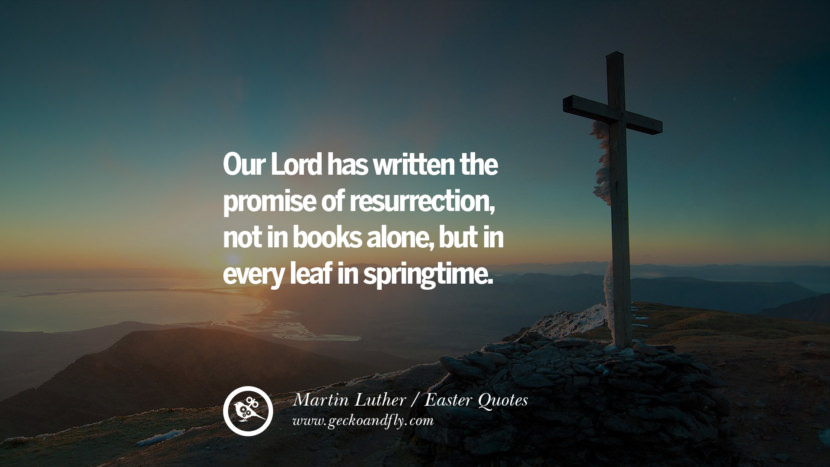 Our Lord has written the promise of resurrection, not in books alone, but in every leaf in springtime. – Martin Luther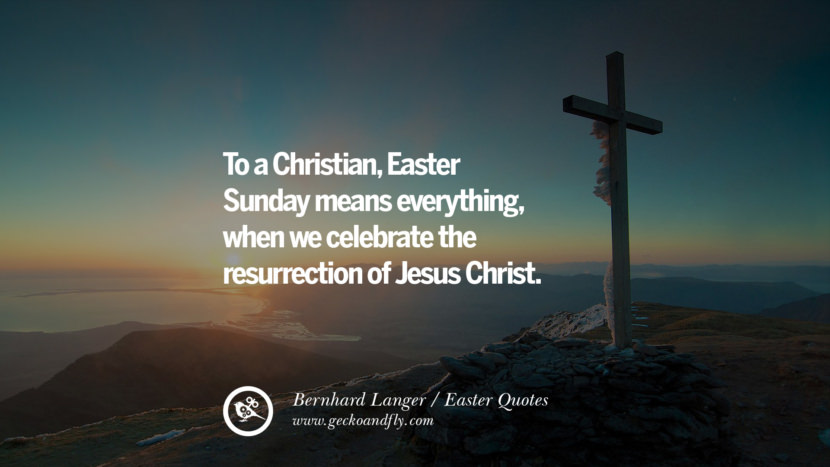 To a Christian, Easter Sunday means everything, when we celebrate the resurrection of Jesus Christ. – Bernhard Langer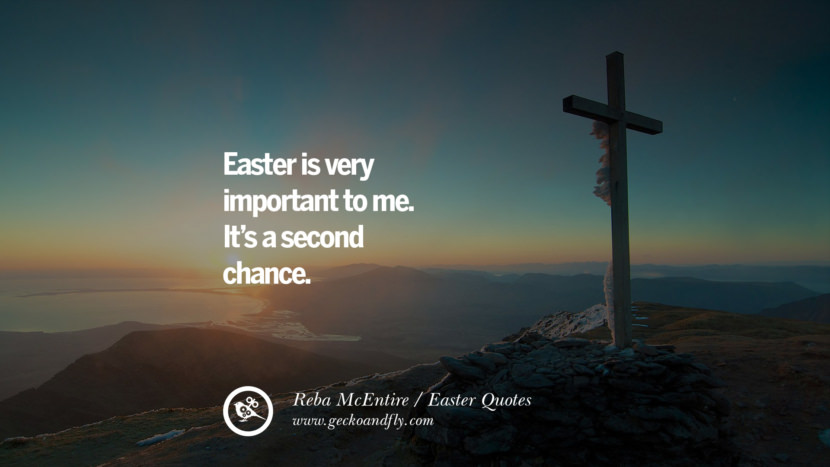 Easter is very important to me. It's a second chance. – Reba McEntire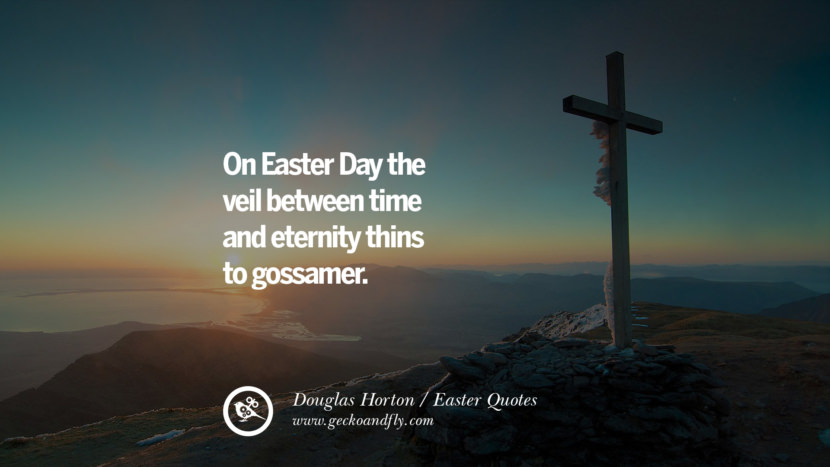 On Easter Day the veil between time and eternity thins to gossamer. – Douglas Horton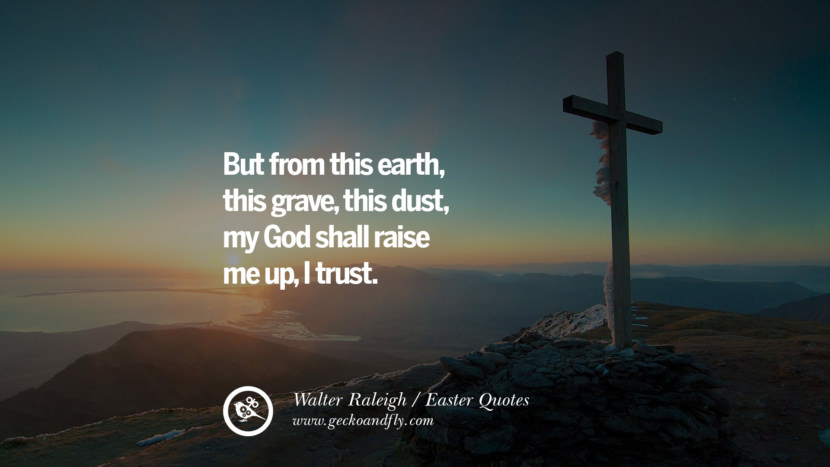 But from this earth, this grave, this dust, my God shall raise me up, I trust. – Walter Raleigh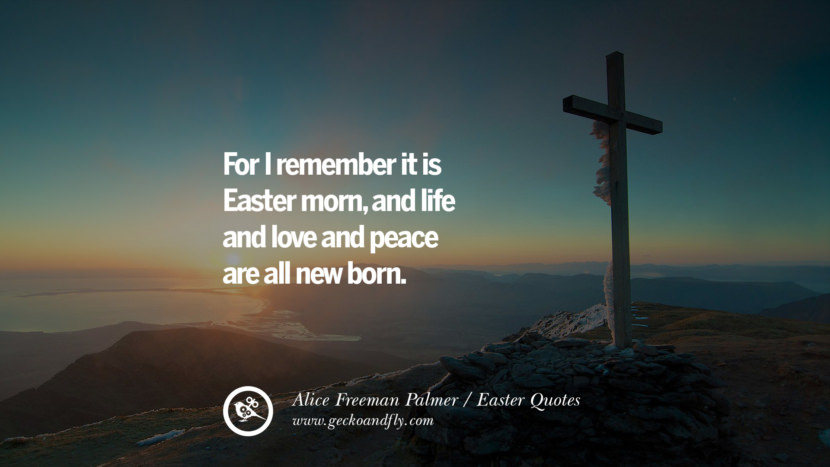 For I remember it is Easter morn, and life and love and peace are all new born. – Alice Freeman Palmer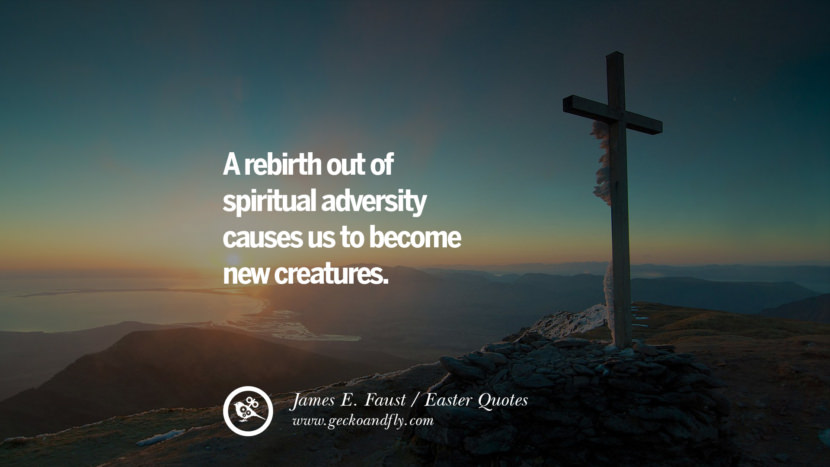 A rebirth out of spiritual adversity causes us to become new creatures. – James E. Faust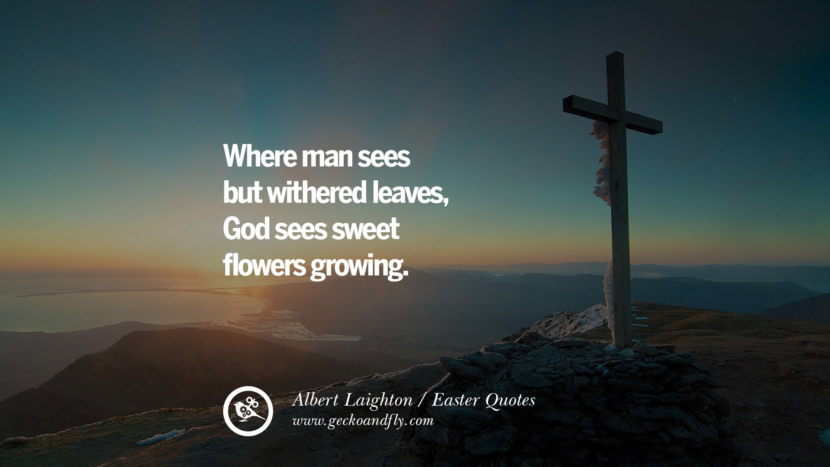 Where man sees but withered leaves, God sees sweet flowers growing. – Albert Laighton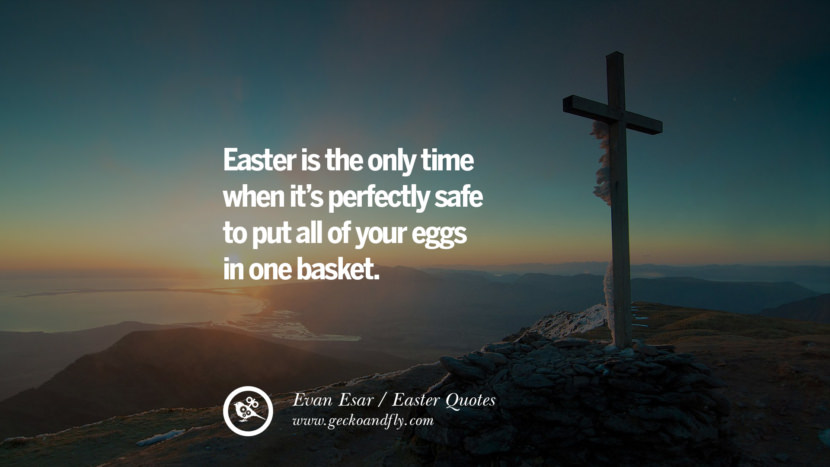 Easter is the only time when it's perfectly safe to put all of your eggs in one basket. – Evan Esar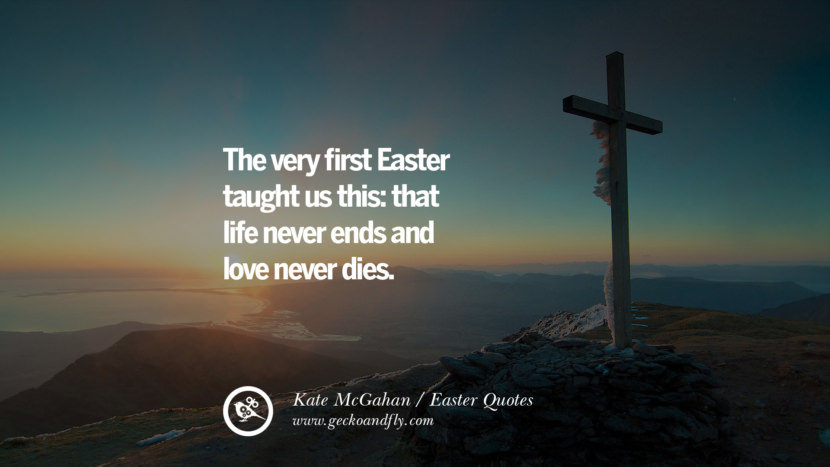 The very first Easter taught us this: that life never ends and love never dies. – Kate McGahan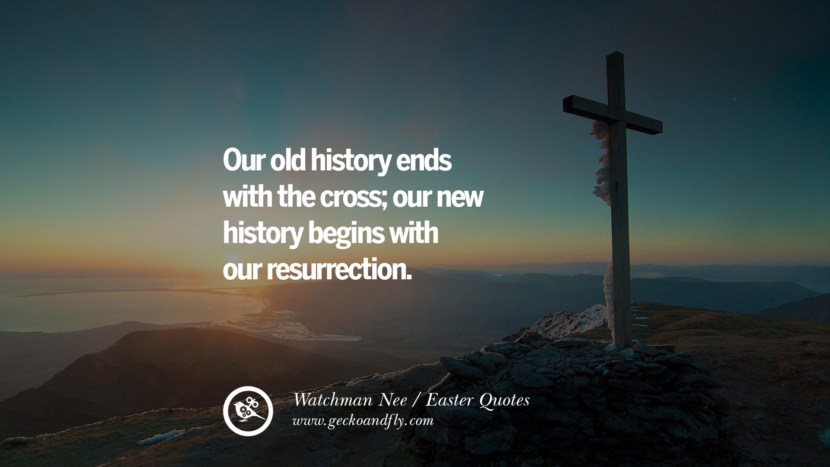 Our old history ends with the cross; our new history begins with our resurrection. – Watchman Nee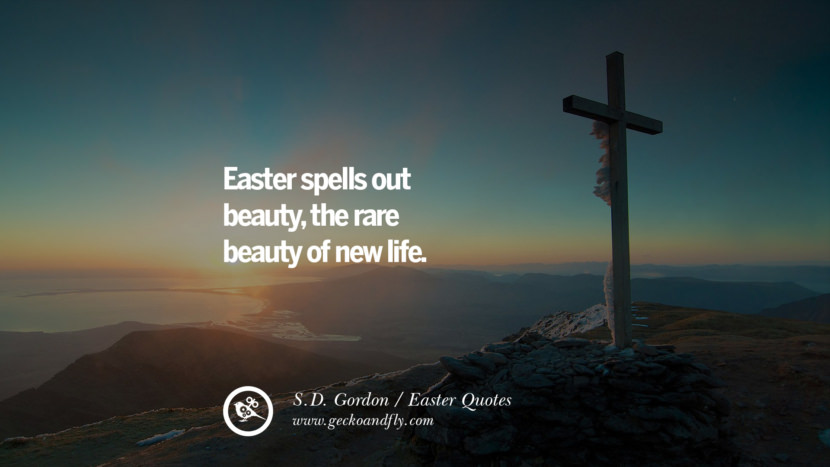 Easter spells out beauty, the rare beauty of new life. – S.D. Gordon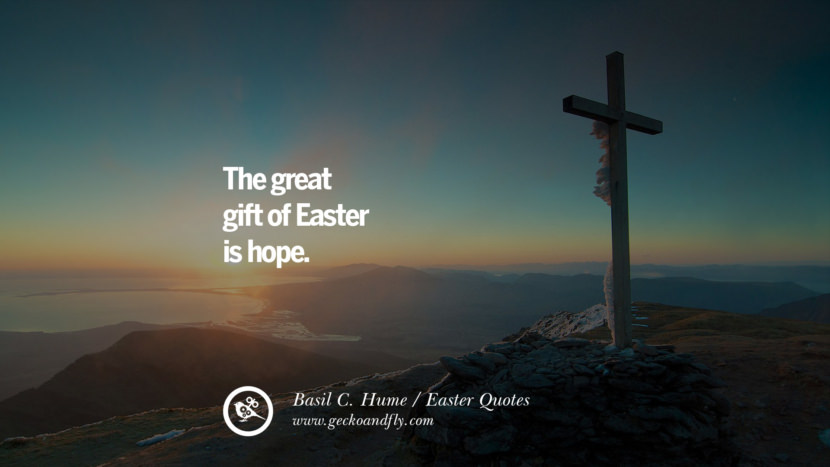 The great gift of Easter is hope. – Basil C. Hume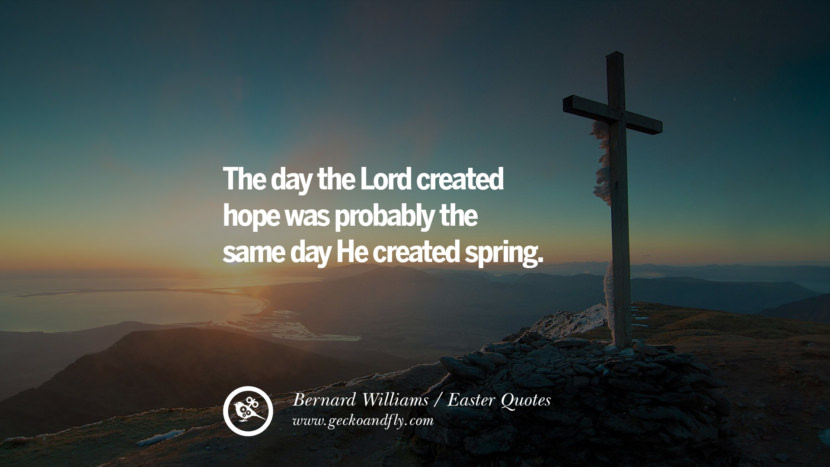 The day the Lord created hope was probably the same day He created spring. – Bernard Williams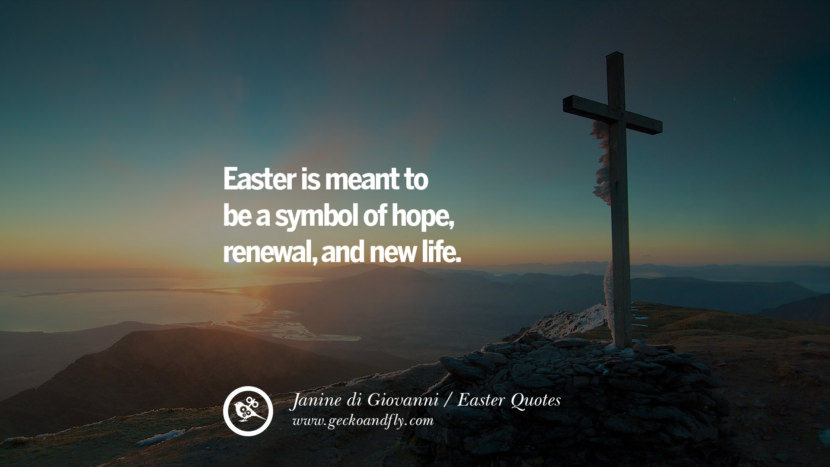 Easter is meant to be a symbol of hope, renewal, and new life. – Janine di Giovanni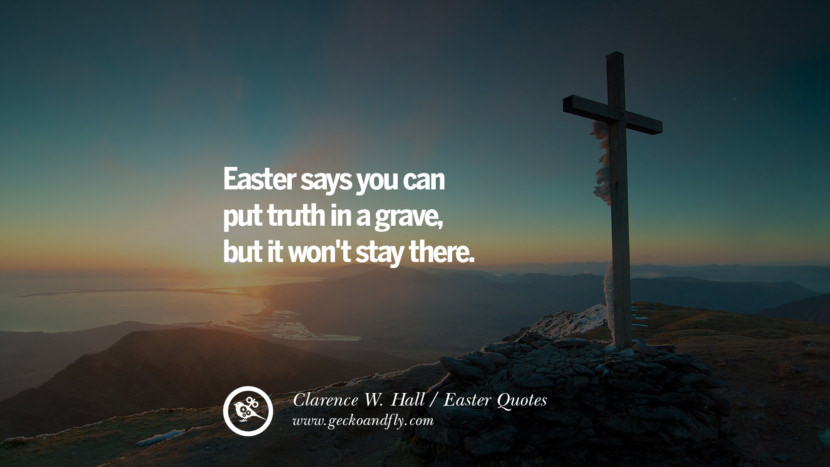 Easter says you can put truth in a grave, but it won't stay there. – Clarence W. Hall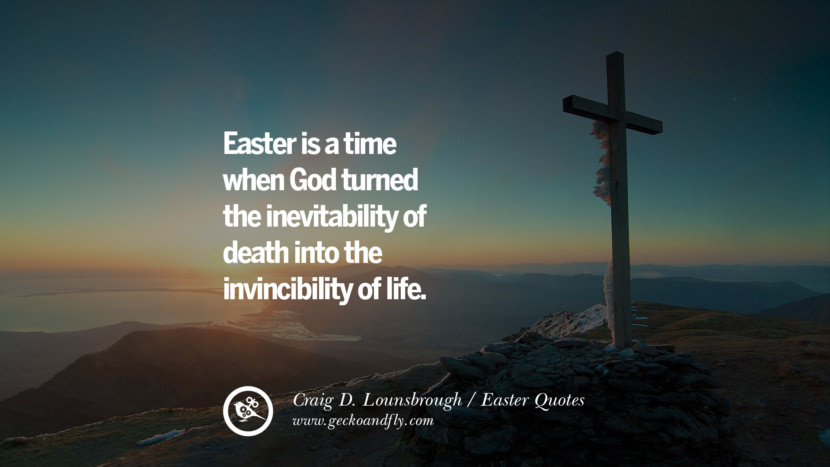 Easter is a time when God turned the inevitability of death into the invincibility of life. – Craig D. Lounsbrough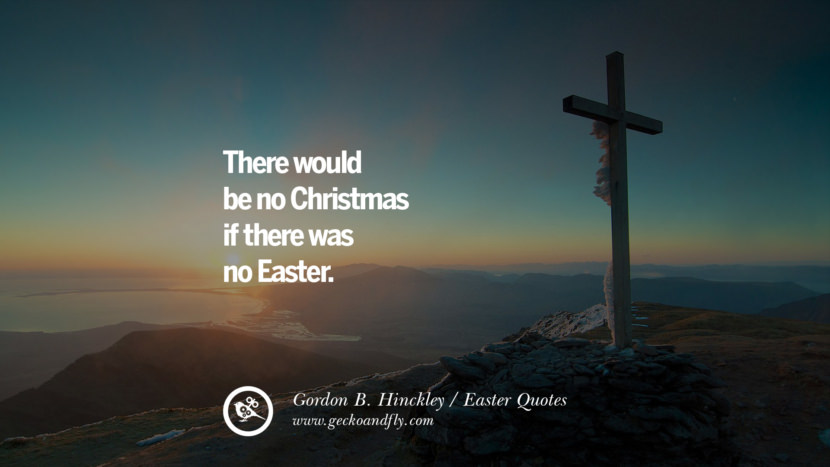 There would be no Christmas if there was no Easter. – Gordon B. Hinckley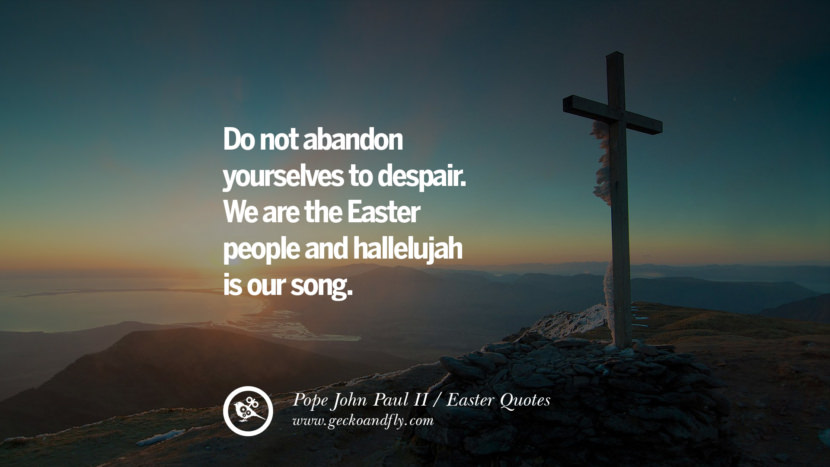 Do not abandon yourselves to despair. We are the Easter people and hallelujah is our song. – Pope John Paul II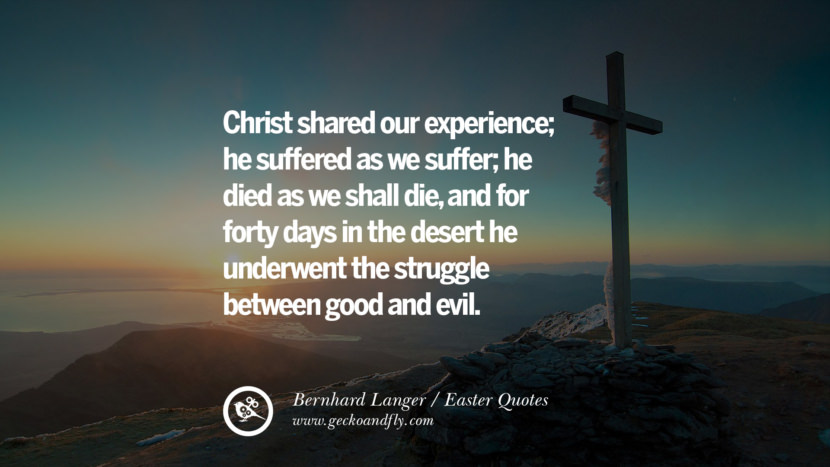 Christ shared our experience; he suffered as we suffer; he died as we shall die, and for forty days in the desert he underwent the struggle between good and evil. – Bernhard Langer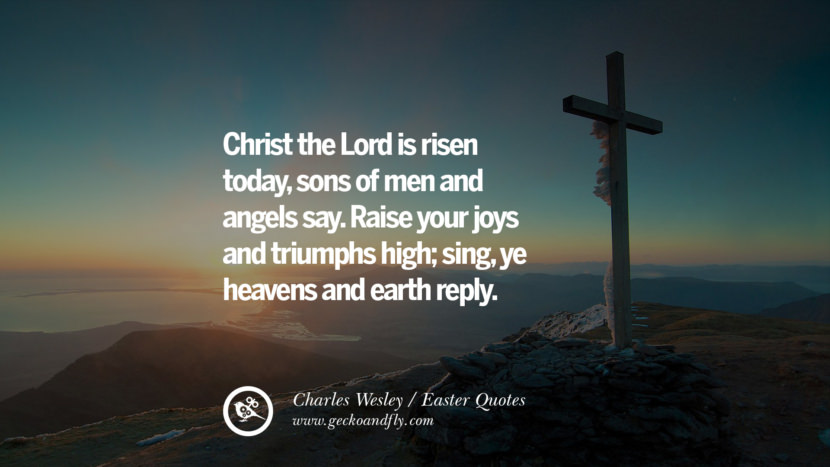 Christ the Lord is risen today, sons of men and angels say. Raise your joys and triumphs high; sing, ye heavens and earth reply. – Charles Wesley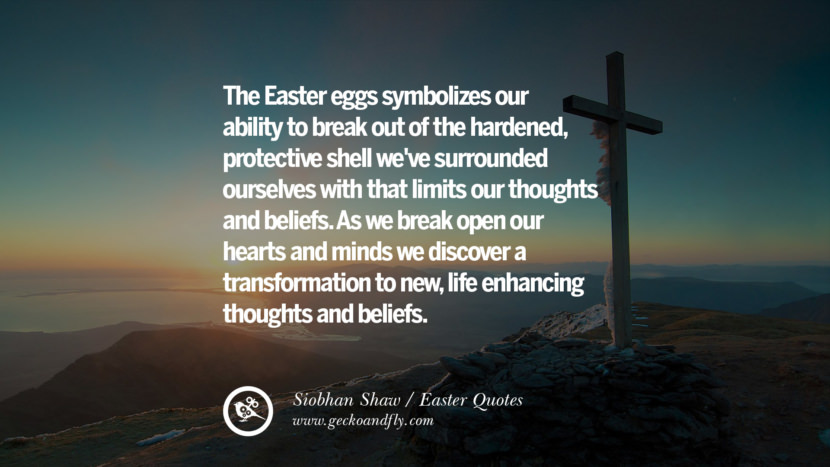 The Easter eggs symbolizes our ability to break out of the hardened, protective shell we've surrounded ourselves with that limits our thoughts and beliefs. As we break open our hearts and minds we discover a transformation to new, life enhancing thoughts and beliefs. – Siobhan Shaw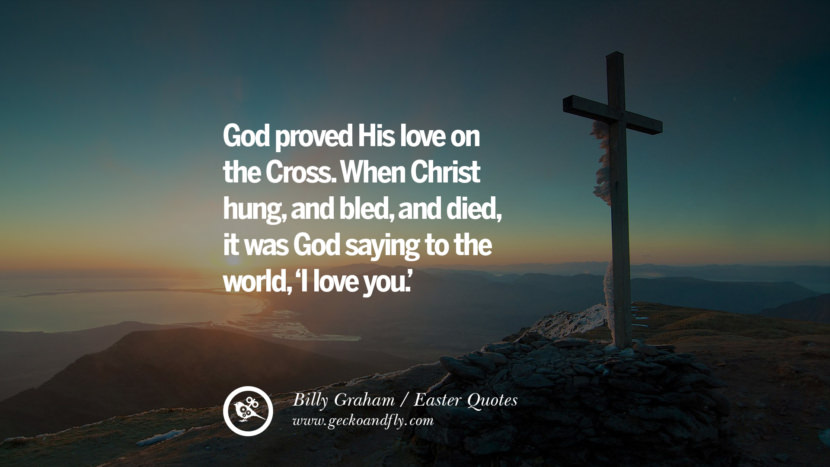 God proved His love on the Cross. When Christ hung, and bled, and died, it was Hod saying to the world, 'I love you.' – Billy Graham