There used to be a time when macOS computers were considered almost 'virus-proof'. Unfortunately, this is no longer the case. The quantity of macOS viruses is growing at an alarming rate and solid protection against these threats is essential if you wish to prevent identity theft, file corruption or interception of your credit card details.
🤣😍😂 13 Free Anti-Ransomware Tools – Stop, Block, & Prevent Files Encryption
Yes, there are macOS viruses, and macOS systems do get infected. How do macOS systems get infected by these malwares? They are infected when a person visits certain websites when there is a bug in macOS for the hackers to exploit, usually it is done via script injection.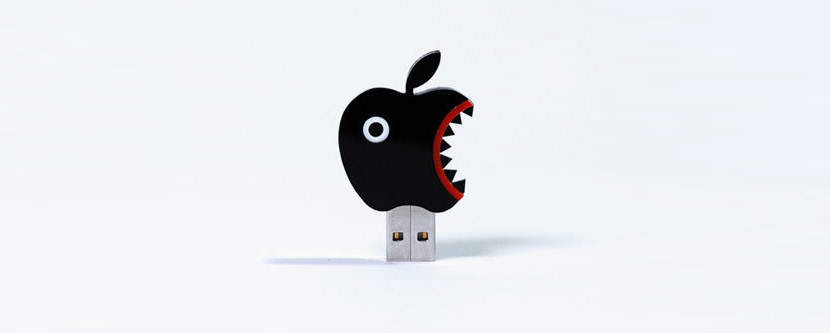 Download antispyware, spy-protect, antivirus and privacy shield software for your Apple macOS, these anti-virus software has the ability to detect viruses and malware written specifically for a macOS, although the existence of these viruses are rare, it still exist and with the ever growing popularity of Apple macOS, the threat is growing proportionately.
Do You Need an AntiVirus Program on Apple macOS?
Yes and no, the most important question is, does it hurt to have an extra layer of protection? Seeing that there are a few good free antivirus software available in the market for free, why not install them and give yourself a peace of mind knowing that you are 100% protected instead of 99.9%. Based on the table above, it appears to me that ESET Cyber Security Pro is the best antivirus for macOS, as for the best free antivirus app for macOS, that will be Sophos Anti-Virus for macOS.
Beneath its deceptively simple design lies a powerful security engine that works in real time to detect and remove not only Mac-specific viruses and spyware, but PC and mobile threats, too. So AVG AntiVirus not only helps protect all that's important on your Mac, it also prevents you from infecting friends on other devices. AVG AntiVirus for Mac® is compatible with OS X Mountain Lion or later.​
Triple protection – Protects not only you, but your friends, too. Our award-winning detection technology scans for Mac, PC, and Android™-based viruses and spyware. So you can feel better knowing your beloved Mac is protected — and that you're not sharing viruses with any of your other devices or with your PC and Android friends.
Always on – Anytime you use your Mac, we've got you covered. Our Resident Shield runs quietly in the background. Every file you open, copy, or save is automatically scanned so quickly, you'll never know we're there.
Drag & drop simplicity – Staying protected has never been so easy. Scan specific files or folders with simple drag and drop functionality. Or run a thorough scan of your entire Mac with a single click.
Automatic updates – Sit back & relax. We'll update you automatically. To stay ahead of the growing number of Mac threats, we're constantly innovating and evolving our detection methods. Virus database updates get pushed to you automatically, so your Mac is always up-to-date against the latest threats—without you needing to lift a finger.
Free protection that's better than other paid products. Avira Free Antivirus for Mac delivers first-rate protection for free. Not only does it protect you from all Mac related threats, it also prevents you from passing on PC viruses as well.
Real-Time Scanner – Analyzes any file the system accesses
System Scanner – Configurable, on-demand search for known viruses and malware
Quarantine Management – Manage suspicious files that have been quarantined for your safety
Integrated Scheduler – Automate recurring tasks like updates or scans
You love your Mac, and rightfully so. Which is all the more reason to protect it with the most popular Mac security available. macOS is considered one of the most secure operating systems available. But today's threats aren't after your computer – they're after your identity and your money.
These days hackers "phish," "spearphish" and "whale" to target you specifically. Combine these with other threats like router hijacking, and your identity is at great risk of being stolen. If you're on a Mac running OSX, it will work. You need 128 MB of RAM and 750MB of disk space. Beyond that, you can be running just about any stable version of OSX (even Yosemite), and we'll keep you protected.
Full on-access scanning – scans files for any infection at the time they are accessed
On-demand scanning – scheduled or ad-hoc scans of your system
Integrated mail protection – stops infections at one of the main access points
Virus Chest – a place for safe storage of infected or suspicious files, to prevent further virus spreading
Full automatic updates – of both the program and the virus definitions
Full control of the scanning options – set avast! To work in the way you want
As Apple products grow in popularity, they have become attractive targets for cybercriminals. Yes, Macs can be infected by a growing number of viruses and other malware. Our free Antivirus for Mac keeps you safe from all the latest Mac threats detected by SophosLabs.
Full Mac protection from viruses, Trojans and worms – Stops all threats, even those designed for Windows. Not only is your computer safe—the people running PCs you send files to are safe from threats too.
Secure web browsing – Be safer online. Sophos Antivirus scans websites for malicious codes. It also blocks web-based malware before it can infect your Mac, protecting you from Internet threats.
Stops all threats, familiar and unfamiliar – Our antivirus technology stops all threats, even if it's something new. Thanks to Live Antivirus, you have a direct line to SophosLabs for the latest threat intelligence.
Quarantines and removes the threats it finds – You might not want to immediately delete bad files our scans find. No problem. You can quarantine questionable files and check them again later, or you can have them immediately removed from your computer. The choice is yours.
Business-quality antivirus, backed by SophosLabs – We've put the entire force of our business-strength threat expertise behind Sophos Antivirus for Mac. That means you're using the same product that protects all of our customer organizations, large, small and in-between.
Easy installation and painless maintenance – We keep our antivirus light and easy. Once installed, it'll work quietly in the background with your choice of scanning on-access, on-demand or on a schedule. And of course, it will alert you when it finds something nasty.
This antivirus does not come with auto scan, ideal for those with dual boot OS on their MacBook with Windows 10. Bitdefender Virus Scanner finds Mac malware as well as Windows viruses with ease. Virus Scanner will detect any infected files that you downloaded or got in your inbox, so your Mac will be safe and you won't pass anything bad to your friends' computer.
Grant Bitdefender Virus Scanner access to the locations on your computer that you want to scan against malware. Choose 'Deep System Scan' or 'Scan Critical Locations' to scan. The award-winning Bitdefender engines will find that piece of malware. For free!
 Make sure your Mac is free of infected files. Don't put your friends and family at risk by unknowingly passing along malware.
Intego has been making security and utility software exclusively for Apple products since 1997. Mac users have been misled by the common myth that "Macs can't get viruses," and that antivirus software is unnecessary. The reality is all machines are vulnerable, and devious cyber-criminals use a variety of malware that threatens Macintosh computers.
Worse yet, they're not just targeting Macs—they're after your sensitive personal information and your money. You can protect your Mac and your precious data with Intego VirusBarrier, the award-winning Mac antivirus software.
Intego VirusBarrier provides real-time antivirus protection for Macs, and scans files whenever they're accessed to keep your Mac free of malware. Our Mac antivirus software automatically checks for the latest updates to make sure you're protected against the newest threats.
Antivirus, anti-phishing and anti-spyware
Firewall network protection for home and on the go
Parental controls with website and application blocking
Protects sensitive personal information
Mac Cleaner speeds up and organizes your Mac
Personal Backup software for quick and easy recovery in case of a crash
Reliable antivirus software for Mac Computer Users. By now, most users are aware that malware targeting Mac computers is an all-too-real threat. So let Webroot see to securing all your devices running on macOS. Never get stuck staring at the screen as your Mac runs a scan.
Webroot scans take about 20 seconds. That's up to 60x faster than competing products. Fast scans mean no interruptions, so you and your device won't be slowed down. Plus, cloud-based updates mean your internet security software is always up to date and on guard against the latest threats, without the wait.
Identity theft protection – Banking, shopping and booking travel are a few of the many activities we engage in online that have the potential to expose sensitive information. Protect your usernames, account numbers, and other personal information from spyware, keyloggers, and other online threats.
Real-time Anti-phishing – According to the FBI, phishing scams cost American businesses $500 million per year*, and data from Webroot suggests an average of just under 1.5 million new phishing sites are created each month. Block those behind fake support accounts, spambot comments, and phony emails from getting ahold of your personal information.
Is your Mac running slow? Annoying adware, like pop-ups, or malware could be the problem. Malwarebytes Anti-Malware for Mac scans for and removes code that degrades system performance or attacks your system. Making your Mac, once again, your Mac.
Proven Malwarebytes technology crushes the growing threat of Mac malware. So you are protected and your machine keeps running silky smooth. Finally, cybersecurity is smart enough for the Mac. What it does for you:
Protects you from Mac threats – Detects and removes viruses, ransomware, and other malware in real time with advanced anti-malware technology. Catches dangerous threats automatically, so you're protected without having to even think about it.
Removes adware and unwanted programs – Crushes adware and potentially unwanted programs that slow your Mac. Your Mac experience will remain clean and pristine.
Scans Mac-fast – Scans the average Mac in under 30 seconds. Run the malware scanner in the background while you boot up your favorite game and it's done by the time you're ready to play. You can even customize your scans to run when you're not using your Mac at all—at any day, at any time.
Light and lean – Only the size of three digital music files. That means more disk space for your movies, music, and apps.
Stops unwanted apps at the source – Blocks applications from developers who are known to release unwanted software like malware, PUPs, or adware. App Block outsmarts developers who try to bypass security by releasing a slightly different version of their app.
Do Macs need an antivirus program? It is time to dispel the myth that Macs can't get viruses. Macs have vulnerabilities too, and the fact that they are increasingly popular with users has turned Apple devices into a more attractive target for malware writers wanting to steal your data and money. With Panda Security you can try the best antivirus for Mac free for one month. Benefits of Panda Antivirus for Mac.
Block malware targeting Mac and all other platforms: Windows and Android
Browse the Web safely, blocking access to fraudulent (phishing) and malware-infected pages
Quarantine infected files and restore them immediately if needed
F-Secure TOTAL protects iOS and Android devices, Macs, and PCs from viruses and other harmful content, and allows you to surf the web anonymously without being tracked. Our smartphones and tablets are with us wherever we go. Shopping, mobile banking, and paying bills on the go is very convenient. Without even realizing it, we handle a huge amount of valuable personal information, like passwords, banking credentials, and credit card numbers, with our mobile devices.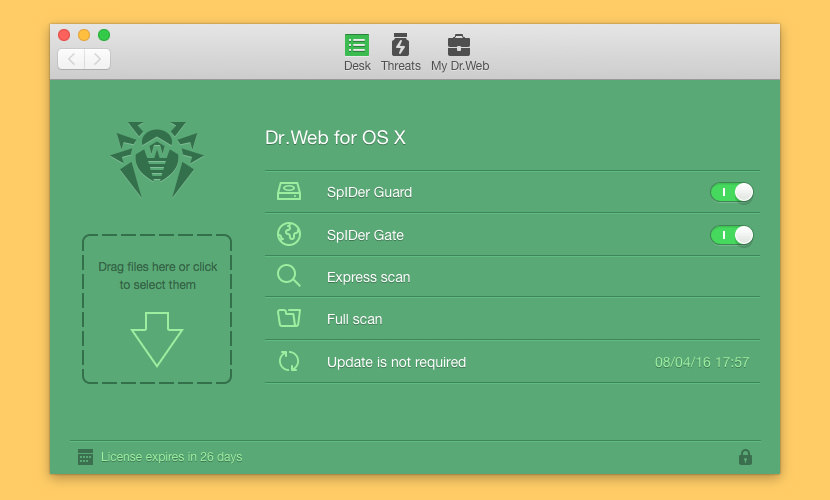 All malware is created to commit crimes. What's important to hackers is doing harm, causing damage, and the criminal earnings that result from those activities. Dr.Web for macOS blocks viruses and malware from accessing the protected system and will cure the malignant programs that have already penetrated it, it also scans web pages in real time and blocks access to dangerous sites, such as those used for phishing attacks.
Award-winning ESET detection technology gives you fast, powerful anti-malware protection for your Mac, whether you're surfing, working or gaming online. Antivirus and Antispyware built on our record-breaking ESET NOD32 technology will help to protect your Mac against malware. Anti-Phishing steers you clear of websites stealing usernames and banking details.
Antivirus and Antispyware – Eliminate all types of threats, including viruses, rootkits and spyware.
Anti-Phishing – Prevent attempts to acquire sensitive information such as usernames, passwords or banking and credit card details by fake websites.
Small System Footprint – Leaves more power to programs you use daily and extends the lifetime of hardware.
Cloud-Powered Scanning – Speeds up scans by whitelisting safe files based on file reputation database.
In the test, the security package detected the malware threats at 100% and put hardly any load on the test Mac. Because hackers & attackers are always on the prowl, Kaspersky Internet Security for Mac gives you so much more than just Mac security. It helps to defend you from phishing & dangerous websites… plus it protects your identity & privacy – by helping to guard your personal data, block trackers & stop webcam spies.
Guards against online attacks & more
Helps keep your private life… private
Boosts security when you bank & shop online
The application is recommended in the test thanks to error-free detection and the hardly-measurable system load in the test. Meet the All-New Norton Security Deluxe – All the Features of Norton AntiVirus for Mac and More! To better protect you, they have substantially enhanced their security services.
They took everything you loved about Norton AntiVirus for Mac, and added better protection. They've also improved performance and design to create Norton Security Deluxe. It's the best of Norton for your Macs as well as your PCs, smartphones and tablets. Get Fastest and Safest Mac Security.
Defends against ransomware, viruses, spyware, malware and other online threats
Helps protect your finances, privacy and personal information every time you go online
Includes our 100% guarantee: From the moment you subscribe, a Norton expert will help keep your device(s) virus-free or give you a refund
The solution provided strong malware threat protection in the test and went easy on system resources. A simple protection for complex threats. It is designed to protect against new attacks including ransomware – malicious threats that hold your Mac and data hostage until you pay a fee. Security doesn't have to be complex. Trend Micro™ Antivirus for Mac gives you simple screens and clear, easy-to-understand security status reports.
Protect email – Safeguard against email scams.
Browse safely – Block dangerous websites from stealing your data.
Stop web threats – Stop ransomware and other threats before they reach you.
Prevent viruses – Protect against viruses and other malware.
↓ 16 – BullGuard Premium Protection | Discontinued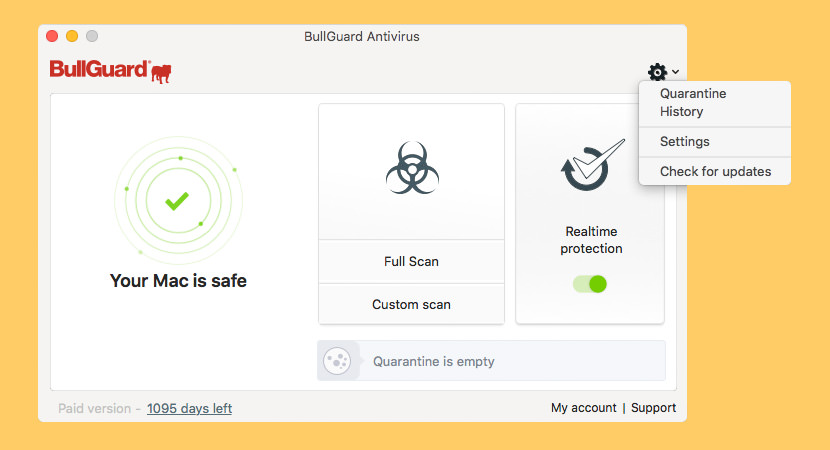 BullGuard won the coveted Gold Malware Protection Award from AV-Comparatives. Constant innovation is central to everything we do ensuring our customers have the best multi-layered protection possible against all types of viruses, malware, ransomware, and all online threats.
Firewall
Vulnerability scanner
Encrypted file backups
Parental control tools
Game booster
Next-gen anti-malware protection against phishing, spyware, trojans, and ransomware
PC tune-up tools
↓ 17 – Comodo Antivirus for Mac | Discontinued
Comodo Antivirus provides state-of-the-art virus protection to your macOS computer at no cost. Featuring an on-demand scanner, 'always on' real-time protection and a constantly updated database of known viruses, Comodo Antivirus provides superior protection against zero-day malware. This is not a stripped down version of a paid product, it's the real deal. Scan any drive or file. Get in-depth reports on viral activity. Even scan compressed .zip files, where viruses often hide. All in one attractive user-friendly interface. Unique Features:
Comodo Antivirus provides state-of-the-art virus protection to your macOS computer at no cost. Featuring an on-demand scanner, 'always on' real-time protection and a constantly updated database of known viruses, Comodo Antivirus provides superior protection against zero-day malware. This is not a stripped down version of a paid product, it's the real deal. Scan any drive or file. Get in-depth reports on viral activity. Even scan compressed .zip files, where viruses often hide. All in one attractive user-friendly interface. Comodo Antivirus – Unique Features
Automatic updates for the most up-to-date virus protection
Drag and drop any object onto the dock icon for instant virus analysis
Easy to use interface lets you install and forget: no annoying pop-ups or false alarms
Free vs Paid macOS Antivirus
Apple users never had to worry about malwares until now, due to the popularity of macOS and the lack of antivirus installed on macOS laptops, hackers saw an opportunity in stealing credit card numbers, personal data and more when they can easily infect macOS with malware, to a certain extend – ransomware. The only security a mac user has is a basic firewall, other than that, the door is wide open.
There are plenty of free antivirus software for macOS, the million dollar question is, are these free antivirus software up to task in terms of protection? More often than not, free means limited functions such as auto protection and basic firewall. Bottom line is, if you can afford an Apple MacBook, USD40 per year is worth investing against malware and ransom.
| | Heuristics | CloudAV | Firewall | Email Security | AntiSpam | Web Protection | Price |
| --- | --- | --- | --- | --- | --- | --- | --- |
| | Yes | Yes | - | - | - | - | Free |
| | Yes | - | - | Yes | - | Yes | Free |
| | Yes | - | - | - | - | Yes | USD60 |
| | - | - | - | Yes | - | - | USD30 for 2 license |
| | Yes | - | - | - | - | - | Free |
| | Yes | Yes | - | Yes | Yes | Yes | EUR130 for 5 license |
| | Yes | Yes | - | - | - | Yes | USD60 |
| | Yes | Yes | Yes | Yes | - | Yes | USD90 |
| | Yes | Yes | - | Yes | Yes | Yes | EUR40 |
| | - | - | - | - | - | - | USD40 |
| | - | - | Yes | - | - | Yes | USD70 |
| | Yes | Yes | - | Yes | - | Yes | USD60 |
| | Yes | Yes | - | Yes | Yes | Yes | USD70 |
| | - | - | - | - | - | Yes | USD22 |
| | Yes | Yes | - | Yes | - | Yes | Free |
| | Yes | Yes | - | Yes | Yes | Yes | n/a |
| | Yes | Yes | - | - | - | - | USD40 |
| | Yes | Yes | - | - | - | Yes | USd30 |
| | - | - | - | - | - | Yes | USD30 |
| | - | - | - | - | - | Yes | USD45 for 3 license |
Heuristic – is a technique designed for solving a problem more quickly when classic methods are too slow, or for finding an approximate solution when classic methods fail to find any exact solution. This is achieved by trading optimality, completeness, accuracy, or precision for speed while reducing the workload of the mac.
Cloud computing – is a kind of Internet-based computing that provides shared processing resources and data to computers and other devices on demand, very useful when it comes to catching a new virus before it strikes.
Firewall – is a network security system that monitors and controls the incoming and outgoing network traffic based on predetermined security rules. It is like putting a bodyguard at the entrance of a door, a filter.
Email Security – Scans your incoming email for potential threat via email attachment or any suspicious links set up for phishing your credit card info.
Anti-spam – Scan and remove unwanted junks such as cookies and trackers from your mac.
Web Protection – Usually in a browser plugin for your Safari to scan for suspicious links and stop you from visiting sites that will automatically download unwanted files.
Spyware is possibly the bigger threat for Mac than virus; it is highly advisable to use Anti-Spyware software for your Mac to remove blacklisted tracking cookies. Keep up to date with the latest Spyware updates and search down these hidden menaces and locks down your computer.