Can you download, install and use free antivirus such as AVG, Avira for corporations, small businesses and enterprises? The answer is Yes, there are 6 free antivirus for commercial use, and AVG or Avira are not one of them. Here are 6 free antivirus for commercial use, unfortunately, Norton is not one of them. The biggest and possibly the most reliable is Microsoft Security Essential. These 6 free antivirus works on Windows XP, 7 and 8.
See More ▼ Top 16 Free 30 To 180 Days Antivirus Trial – Norton, Kaspersky, AVG, Avast, BitDefender And More

Remember to print the license agreement during installation as a backup copy in-case the authorities decide to do a check on software compliance and piracy. You are advised to keep the license agreement in your office. Just to recap things, Microsoft Security Essential is the best among all, followed by Comodo. Watch the video to learn more. Without further ado, here are 6 Best Virus Protection & Internet Security For Business.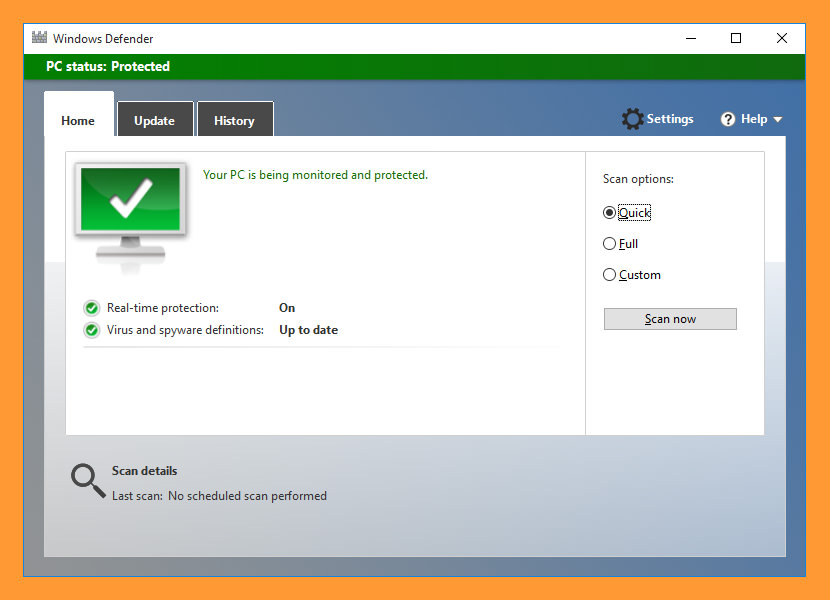 Windows Defender is built into the latest versions of Windows and helps guard your PC against viruses and other malware. For a PC running an older version of Windows 7, you can download Microsoft Security Essentials for the low, low price for free. Windows Defender for Windows 8, Windows RT, Windows 8.1, Windows RT 8.1, and Windows 10 provides built-in protection against malware. You can't use Microsoft Security Essentials, but you don't need to—Windows Defender is already included and ready to go.
If you're looking to protect a PC with an older version of Windows 7, you can use Microsoft Security Essentials to provide comprehensive malware protection that will help guard against viruses, spyware, and other malicious software. It provides free* real-time protection for your home or small business PCs. Microsoft Security Essentials is available in many locales and languages. If it is not available in your preferred language, you can install it in any of the other languages listed here, and it will still work to help protect your PC.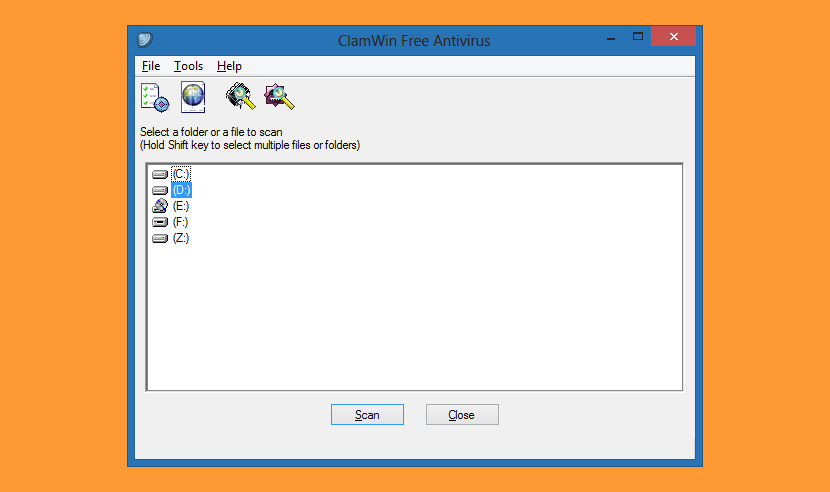 ClamWin is a Free Antivirus program for Microsoft Windows 10 / 8 / 7 / Vista / XP / Me / 2000 / 98 and Windows Server 2012, 2008 and 2003.
ClamWin Free Antivirus is used by more than 600,000 users worldwide on a daily basis. It comes with an easy installer and open source code. You may download and use it absolutely free of charge. Please note that ClamWin Free Antivirus does not include an on-access real-time scanner. You need to manually scan a file in order to detect a virus or spyware. ClamWin Free Antivirus is based on the ClamAV engine and uses GNU General Public License by the Free Software Foundation, and is free (as in freedom) software. It features:
High detection rates for viruses and spyware;
Scanning Scheduler;
Automatic downloads of regularly updated Virus Database.
Standalone virus scanner and right-click menu integration to Microsoft Windows Explorer;
Addin to Microsoft Outlook to remove virus-infected attachments automatically.

Clam Sentinel is a system tray application that detects file system changes and scans the files modified using ClamWin (require the installation of this antivirus). Clam Sentinel is a freeware and open source project hosted on SourceForge: Clam Sentinel on Sourceforge. A free & full-featured real-time scanner for ClamWin Antivirus
Adds a real-time scanner to ClamWin
Optional system change messages
Proactive heuristic protection
USB and removable drive protection
Uses ClamWin quarantine folder
Scan logs for real-time, drives, memory, and messages
Default configuration suitable for most users
Supports English, Italian, French, German, Dutch, Spanish, Polish, Japanese, Russian, Portuguese, Bulgarian, Indonesian and Azeri languages
Commercial use stipulated under Q4/A4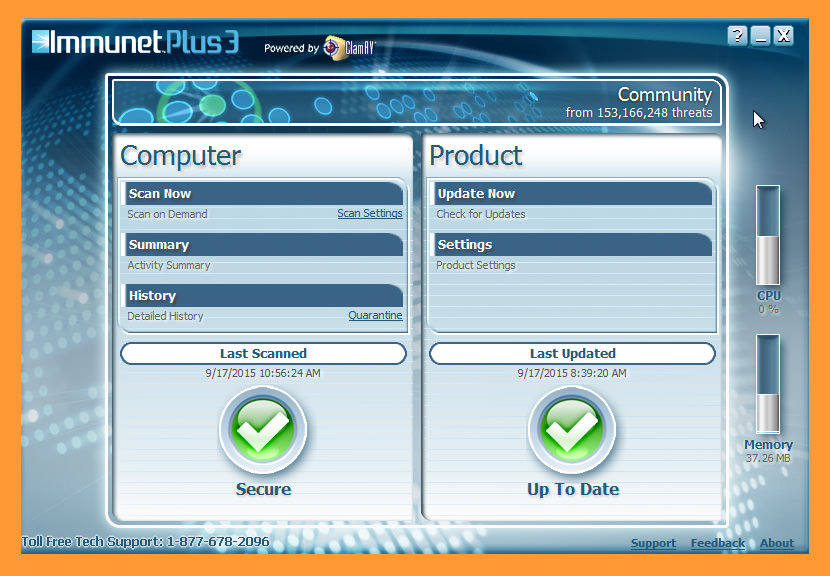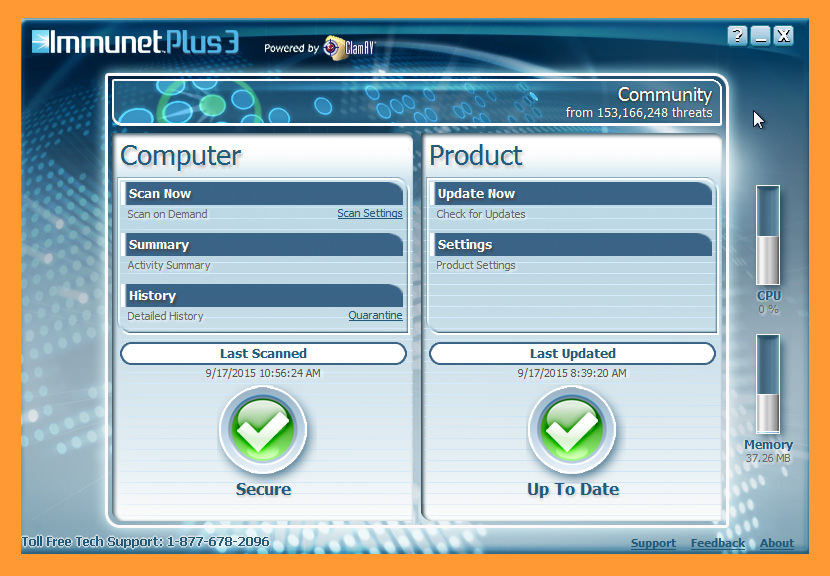 Immunet® is a malware and antivirus protection system that utilizes cloud computing to provide enhanced community-based security. Join the Immunet Community today and help make the internet safer for everyone. Immunet is designed to easily adapt to new threats with its unique signature automation technology. By utilizing a data-driven pull model via the Immunet Cloud, they have a tight feedback loop that streamlines the defense process against established and new threats. Features
Fast, Real-time Online Protection with the Immunet Cloud
Community-level Protection
Basic Detection and Removal of bots, viruses, worms, trojans, keyloggers, and spyware.
Basic Network Scanning including Quick Scan, On-Demand Scan, and On-Access Scan
File Management & Protection: Scan Individual Files, Exclude Files, Scan Compressed Files, Quarantine Infected Files
Clear documentation with History & Report Logging
Compatible with existing antivirus software for an extra layer of protection.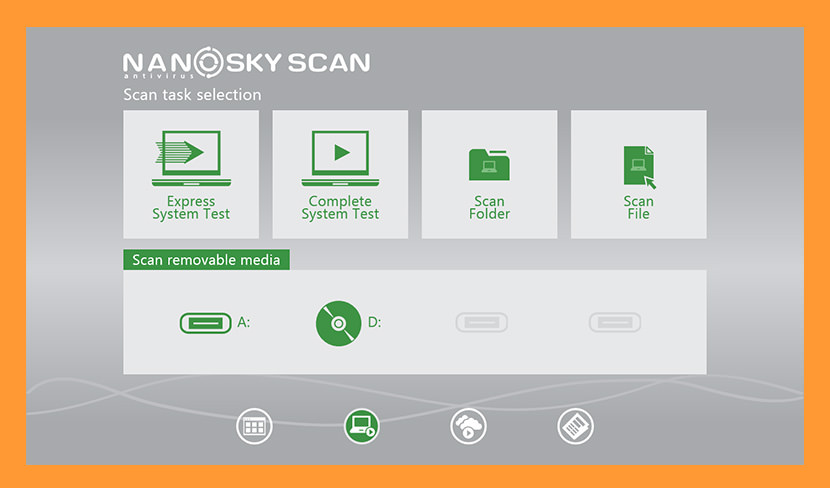 NANO Antivirus Sky Scan allows you to check files with a cloud scanner. In addition, by using NANO Antivirus Sky Scan you can easily manage NANO Antivirus installed on your device, quickly receive information about the system protection status and read their latest news directly inside the application. NANO Antivirus Sky Scan is designed specifically for touchscreen devices.
Cloud scanning of suspicious files and archives
Free of charge for any devices and all kind of users
Integration and easy management of NANO Antivirus installed application
Receive information about your device's protection status using installed NANO Antivirus
6. Comodo Internet Security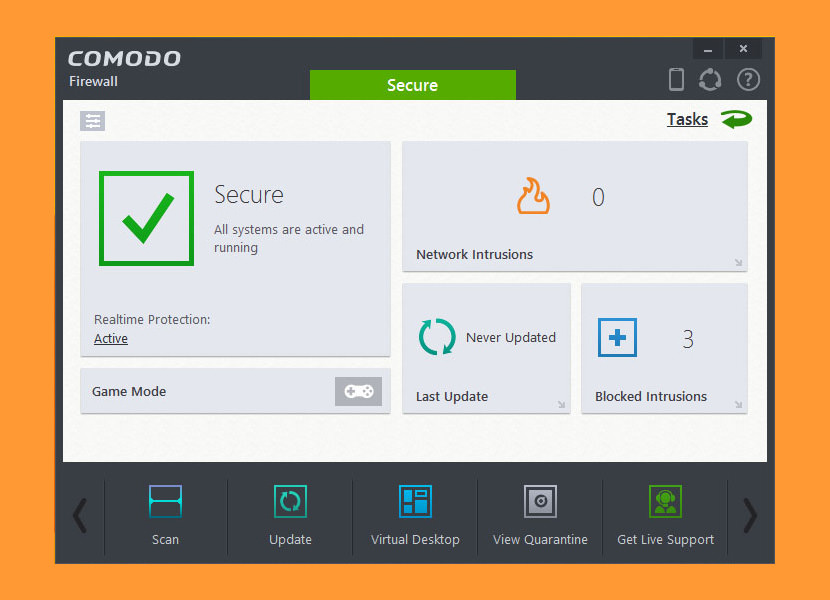 [ Discontinued ] Most Antivirus software battles threats they know, not new ones they've never encountered. This strategy leaves open a window of vulnerability from unknown threats that can last for hours or even days.
Comodo Windows Antivirus has a better approach. It's based on the concept of prevention, not detection. Their Windows Antivirus Advanced 8 software features groundbreaking Defense+ technology that efficiently closes this window by treating unknown files seeking access to your PC's critical resources as potentially harmful. Defense+ automatically isolates such files so they can't harm you or your PC. 5 key secrets why Comodo Antivirus is different
Proactive "intelligent" protection intercepts
Automatic updates for the most current
Easy to use interface lets you install and forget: no annoying pop-ups or false alarms
Isolation of all suspicious files eliminates the chance of PC contamination
Defense + technology constantly protects you
Info-graph on the 5 Biggest Point of Entry for Malware