What is a Robo-advisor? They automate investment management by using A.I. algorithms to build you a profitable portfolio based on your input, goals and your tolerance for risk rewards. Since these portfolio management is handled by computer software rather than a real human financial advisor, robo-advisors charge a much lower fees at 0.25%, which can translate to higher long-term returns for investors. If you compound 1 to 2% per year, the return over a period of 10 to 20 years will come up to 30-50% of your investment.
See More ▼ 28 Investment Advises By Warren Buffett On Wealth Management
Are profit guaranteed? The answer is no, nothing is guarantee in life except for death and taxes. In the past 10 years, even with the opportunity given by the Great Financial Crisis in 2008, Warren Buffett failed to outperform the S&P 500. Granted that almost 20% of S&P 500 consist of Microsoft, Apple, Google, Amazon and Facebook, something to do with technology that Buffett is not familiar with.

This shows a passive index investing strategy that attempts to generate returns similar to a broad market index by allocating your funds according to the weight of each stock in the future. Like the old saying goes, in a camp where a bear attacks, you do not have to be the fastest kid in the camp, just be faster than the slowest. In life, you do not have to be a billionaire to have a comfortable life.
Fees 0.25% | Minimum $0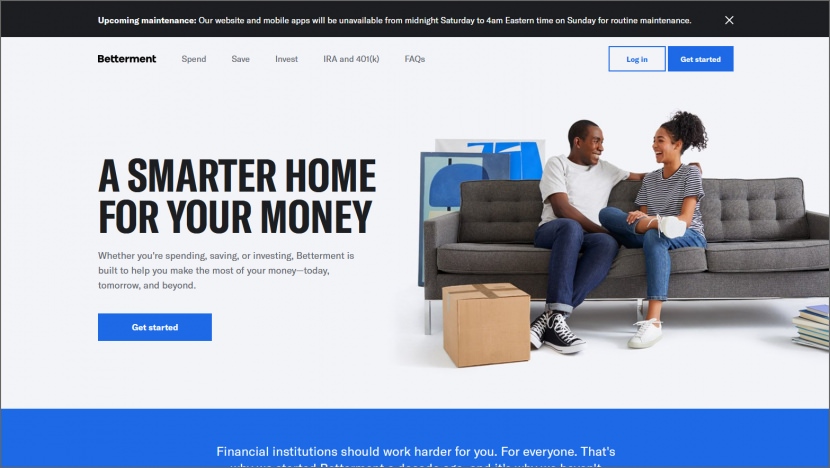 Whether you're new to investing or a seasoned pro, it's time to partner with a company that believes you could—and should—be getting more from your money. Invest for what really matters.
Diversified portfolios for different kinds of investors. Invest in a range of funds, chosen to help you earn better returns within your risk level, at a fraction of the cost of most providers: 0.25% annually. Do it all with the knowledge that their investment philosophy is backed by Nobel Prize-winning research.
Fees 0.25% | Minimum $0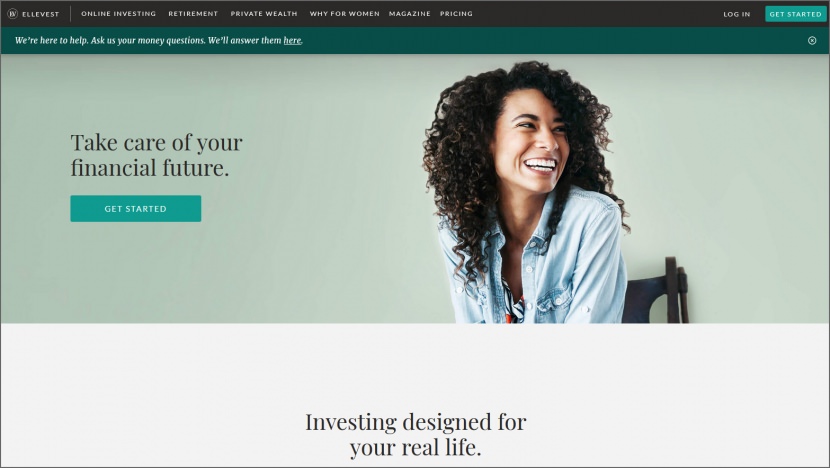 When taking care of your financial health matters more than ever — they meet you where you are. Start investing in minutes with. They'll recommend a low-cost, diversified investment portfolio (and manage it for you) to help you reach your money goals. They use a Morningstar projection engine that uses historic market observations to:
Forecast how your portfolio may perform in hundreds of market scenarios
Create conservative yet realistic forecasts
Project goal targets that you have a 70% likelihood or better of achieving
Fees 0.25% | Minimum $500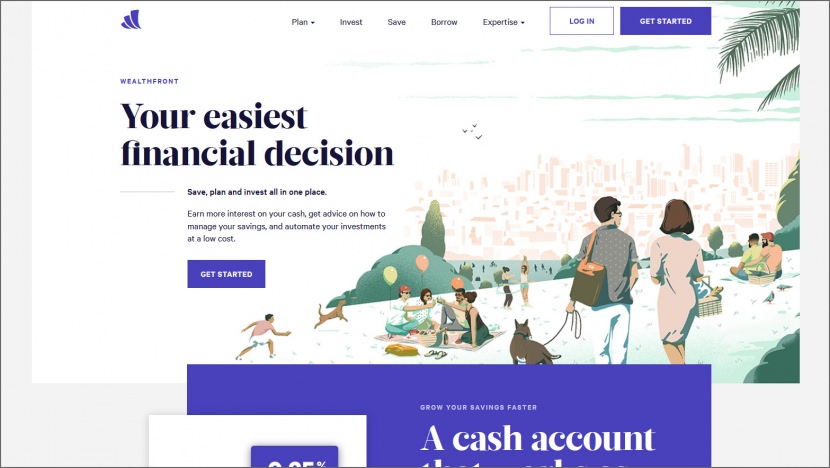 Your easiest financial decision – Save, plan and invest all in one place. Earn more interest on your cash, get advice on how to manage your savings, and automate your investments at a low cost. Their Cash account is a secure place to grow your cash when you're saving up to invest later or building a rainy day fund. Earn 5x the national average interest rate per FDIC.gov and reach your short-term goals faster.
Grow your cash faster – Open a Wealthfront Cash Account right in the app and earn more than 19x the national average interest according to FDIC.gov. Your cash is covered by FDIC Insurance up to $1 million through their partner banks so you can feel confident that your money is safe. No fees, zero market risk, and unlimited free transfers.
Free financial guidance tailored to you – After linking your financial accounts, find out if you're on track. They'll give you insights into how early you can retire or in what neighborhood you can buy a home. Plan for both your short and long-term goals, and they'll give you guidance on how to make it all happen.
Invest while keeping fees & taxes low – Through their software-only approach, they invest your money in a globally diversified portfolio of low-cost index funds, and their tax-loss harvesting strategies help lower the taxes you pay.
Borrow quickly & easily with a Portfolio Line of Credit – Portfolio Line of Credit is the fast, easy and convenient way to access cash. No application, no credit check, and you get the cash you need without selling investments and disrupting your strategy.
Fees 0% | Minimum $0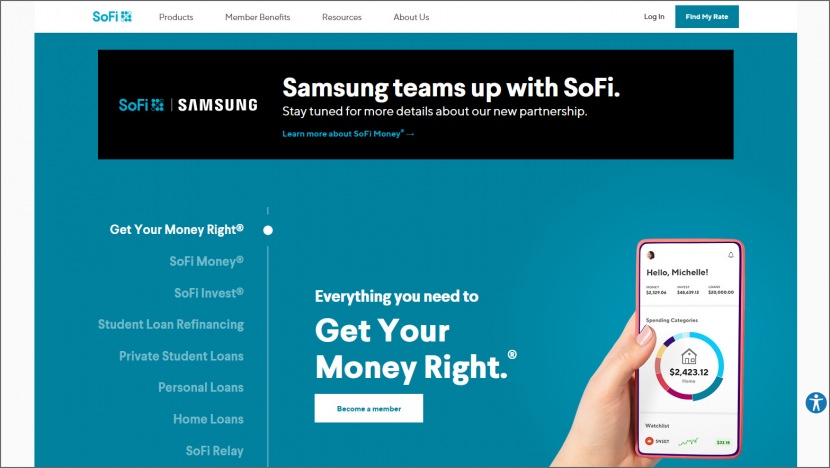 Invest with as little as $1. Stock Bits make it possible to own part of a stock from your favorite companies without committing to a whole share. A Stock Bit is a piece of a single share of stock, otherwise known as a fractional share. When you buy a Stock Bit, you specify a dollar amount that you'd like to spend instead of a number of shares. Pretty handy when you're interested in the pricier stocks that can cost several hundreds or even thousands of dollars for one share. Now you can get a piece for as little as $1.
Invest with as little as $1 – Adios, paying for a full share. Stock Bits let you buy fractional shares of select stocks and ETFs starting at $1.
Pay zero fees – SoFi Invest charges zero trading fees to buy and sell Stocks Bits—so the money you invest is 100% invested.
Diversify your portfolio – Fractional share investing, like Stock Bits, makes it easy to invest in a lot of companies without a lot of dollars.
Fees 0.3% | Minimum $5000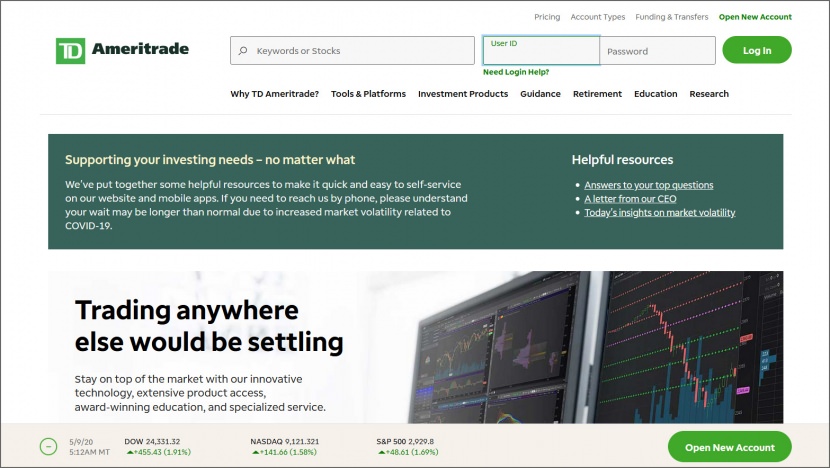 TD Ameritrade Essential Portfolios offers automated portfolio management that's in line with services of other robo-advisors. The standouts: A lengthy list of account types and a socially responsible portfolio choice. They've put together some helpful resources to make it quick and easy to self-service on their website and mobile apps.
As the name implies, Essential Portfolios focuses on providing just the essentials — a diversified portfolio built with a minimum number of exchange-traded funds. Just seven to eight funds covering eight asset classes, versus the 10 or more ETFs most other services draw from.
Fees 0.35% | Minimum $0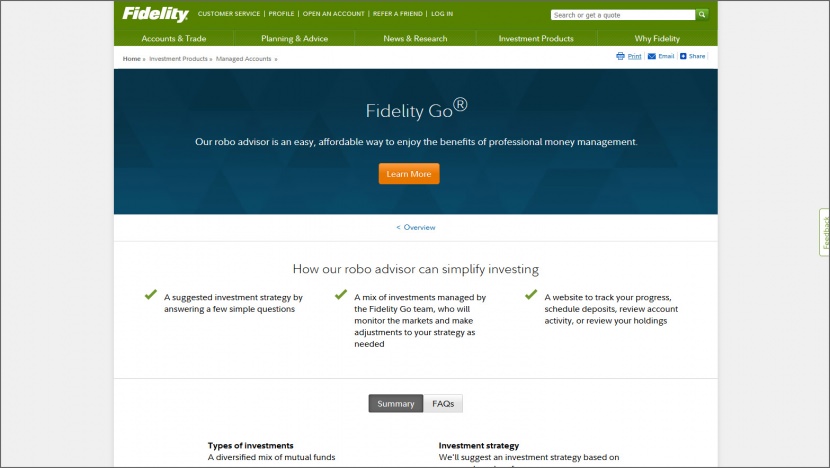 Fidelity Go's competitive fees and $0 account minimum are appealing, but investors with taxable accounts won't get tax-loss harvesting. Their robo advisor is an easy, affordable way to enjoy the benefits of professional money management. Unlike others, they have a mix of investments managed by the Fidelity Go team, who will monitor the markets and make adjustments to your strategy as needed.
Fees 0.4-0.5% | Minimum $0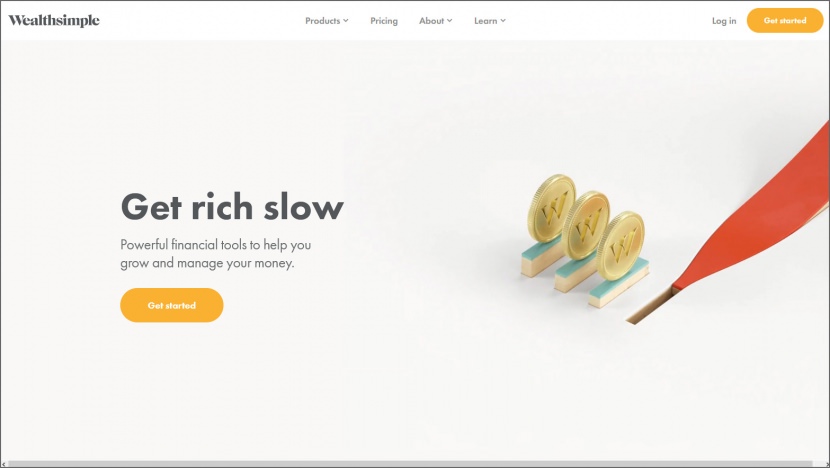 Wealthsimple has diverse portfolio choices, clear pricing and unfettered access to a team of financial advisors. But the company's management fee is higher than similar advisors. They provide smart, simple investing, without the high fees and account minimums associated with traditional investment management.
They invest your money in a globally diversified portfolio of low-cost index funds, and their cutting-edge technology helps you earn the best possible return, while optimizing your tax bill. This means they do things like automatic rebalancing, dividend reinvestment, and tax loss harvesting — services that were only available to the ultra rich until now or that most people found too time-consuming and tedious to do on their own.
Fees 0% | Minimum $5000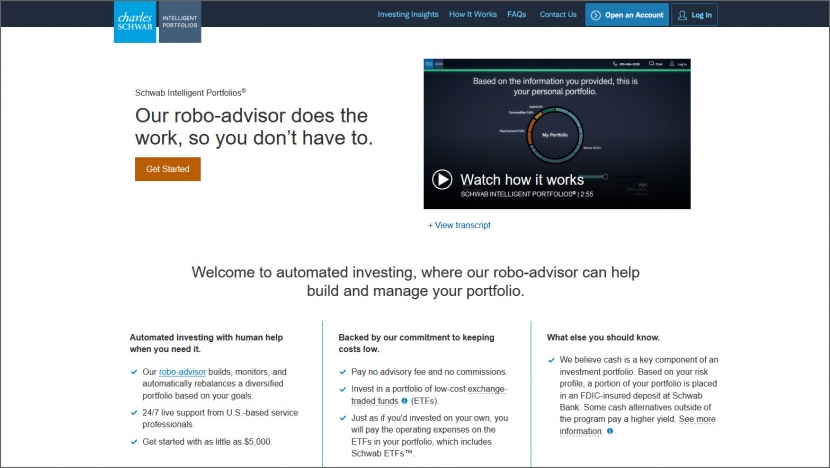 Schwab Intelligent Portfolios charges no account management fee. The service also offers a premium option, which costs $30 a month and includes access to certified financial planners.
With Schwab Intelligent Portfolios, you'll get a portfolio of exchange-traded funds (ETFs) chosen by experts who use their professional insight to pare down more than 1,800 ETFs to the 53, across 20 asset classes, that will be considered for the portfolios. Experts monitor ETFs to ensure they remain appropriate for the portfolio's strategy.
Fees 0.25% | Minimum $2000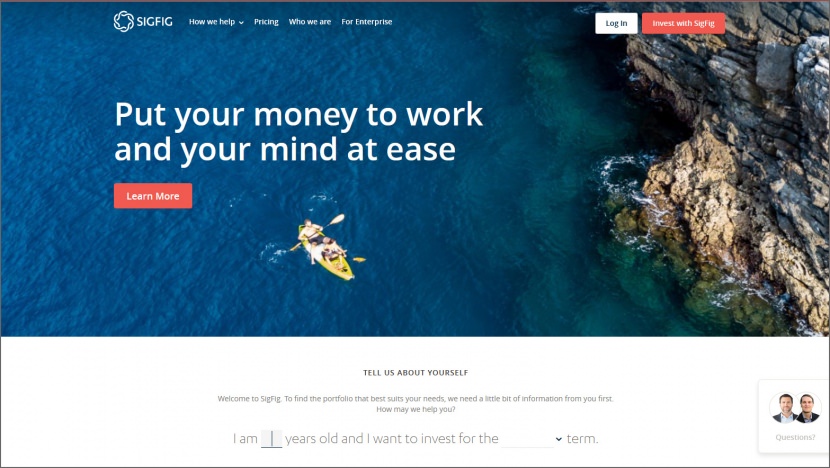 SigFig offers low management fees, free financial counseling and free management of the first $10,000 invested, but it's $2,000 account minimum is higher than many competitors. Build an intelligent, tax-efficient, diversified portfolio for a fraction of the cost of traditional advisors.
Fees 0% | Minimum $0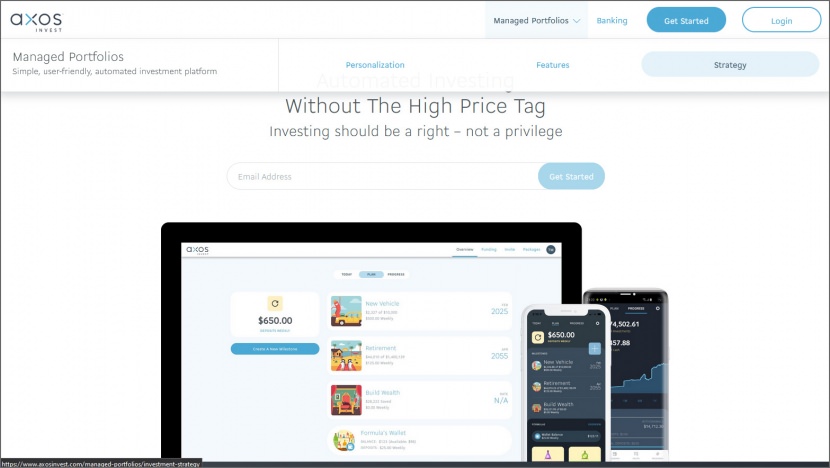 Axos Invest was early to the free-management party that now includes a few robo-advisors, but if you're looking for tax-loss harvesting or an IRA, you can expect a few added costs. They leverage technology to provide you with a simple, user-friendly, and automated investment platform. Whether you're saving for a car, house, or building your wealth, they give you guidance and recommendations to help you build your investment portfolio.
Fees 0.3% | Minimum $500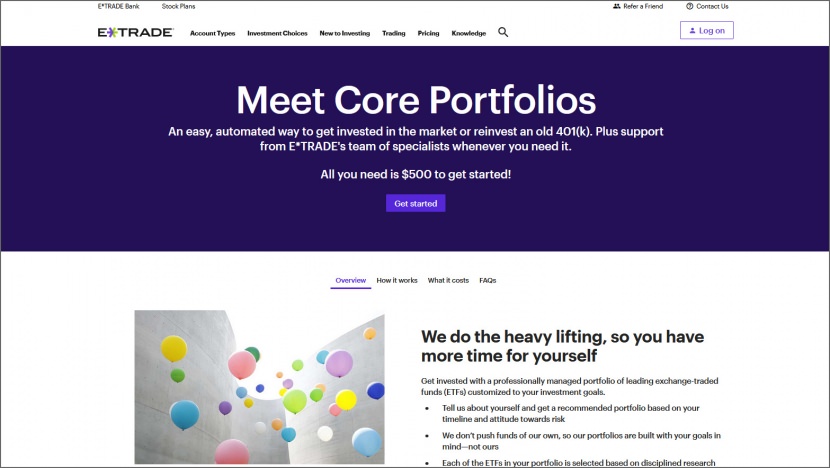 E*TRADE's robo-advisor brings low expense ratios and strong portfolio choices. It will especially appeal to existing E*TRADE customers. An easy, automated way to get invested in the market or reinvest an old 401(k). Plus support from E*TRADE's team of specialists whenever you need it. All you need is $500 to get started!
Powered by digital technology and automated to stay on track. Their strategy team chooses the investments, while advanced technology builds and manages your personalized portfolio. E*TRADE Core Portfolios offers notably low expense ratios and deep educational resources, as well as a strong selection of portfolios to match a variety of risk profiles and investment aims.
12. Blooom
Fees $120/year | Minimum $0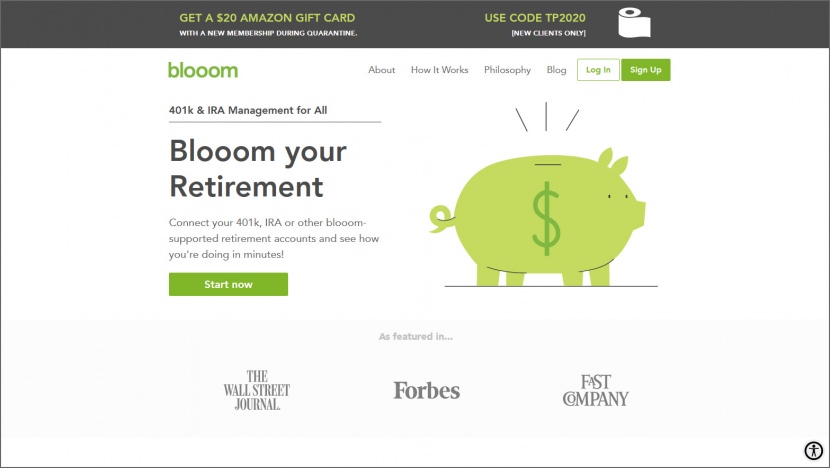 While Blooom is slightly different from the other robo-advisors on this list, they deserve a mention because they offer a unique and useful product. Blooom offers advice and guidance on investing in 401(k)s – a rare service among robo-advisors. Have no fear, fellow Blooomers! Blooom was founded by financial advisors who've been through a market swing or two. Both experience and history has taught us that the wisest thing to do in a market downturn is to avoid panic.