If you have an old Windows Desktop PC lying around collecting dust, why not turn it into a gateway and router for your home (overkill and waste of electricity) or a small office network? Ideal for a high traffic environment such as a coffee shop, school, hostel, and etc. It's an affordable way to get 'Huawei' enterprise features over what is available in consumer-level routers. For better electricity usage, it is a better idea to run the OS on a raspberry pi.
🤣😍😂 8 Virtual Wifi Router For Hotels And Cafes With Bandwidth Control
By converting your old computer into a dedicated router and network switch, you can boost up the network services for a small-to-medium sized business, or deploy a public hotspot. You can add features such as virtual LANs, multiple SSIDs, hotspot and captive portal, and VPN server and client capabilities. Some even provide network-wide antivirus, spam, and Web filtering. Here are 4 router operating systems that will transform your old desktop pc into a powerful enterprise level 'cisco' router and network switch. Note: Hardware requirement may varies, more users requires more CPU processing power and RAM.
[ 512 MB RAM And 2GB Storage ]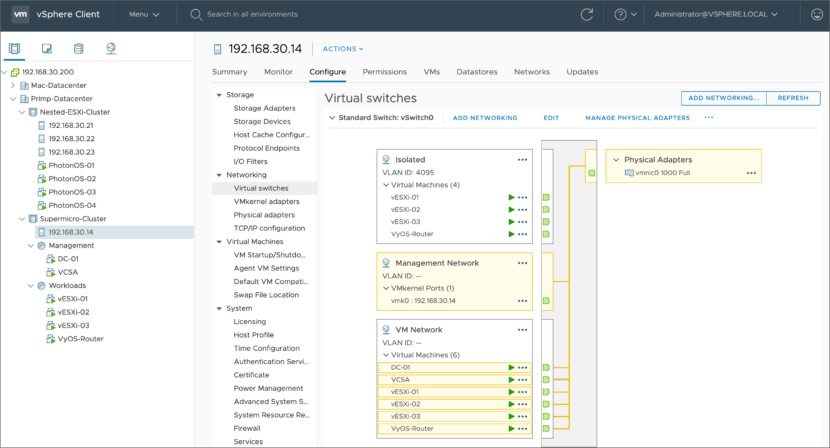 VyOS runs on a wide range of hardware from small office routers to large servers, as well as virtual machines and multiple cloud providers. VyOS is not just a router, it's an open, customizable platform for network devices. Fully Open Source: Its entire codebase and build toolchain are available to everyone for auditing, building customized images, and contributing.
Routing – BGP (IPv4 and IPv6), OSPF (v2 and v3), RIP and RIPng, policy-based routing.
VPN – IPsec, VTI, VXLAN, L2TPv3, L2TP/IPsec and PPTP servers, tunnel interfaces (GRE, IPIP, SIT), OpenVPN in client, server, or site-to-site mode, wireguard.
Firewall and NAT – Stateful firewalls, zone-based firewall, all types of source and destination NAT (one to one, one to many, many to many).
Network services – DHCP and DHCPv6 server and relay, IPv6 RA, DNS forwarding, TFTP server, web proxy, PPPoE access concentrator, NetFlow/sFlow sensor, QoS.
High availability – VRRP for IPv4 and IPv6, ability to execute custom health checks and transition scripts; ECMP, stateful load balancing.
[ Minimum CPU 500 Mhz and 256 MB RAM ]
pfSense is a free, open source customized distribution of Small FreeBSD iconFreeBSD tailored for use as a firewall, and router. In addition to being a powerful, flexible firewalling and routing platform, it includes a long list of related features and a package system allowing further expandability without adding bloat and potential security vulnerabilities to the base distribution, making it a fully qualified UTM device. pfSense is a popular project with more than 1 million downloads since its inception, and proven in countless installations ranging from small home networks protecting a PC and an Xbox to large corporations, universities and other organizations protecting thousands of network devices.
[ 32-bit or 64-bit Processor, 1 GB RAM and 10GB HDD Space ]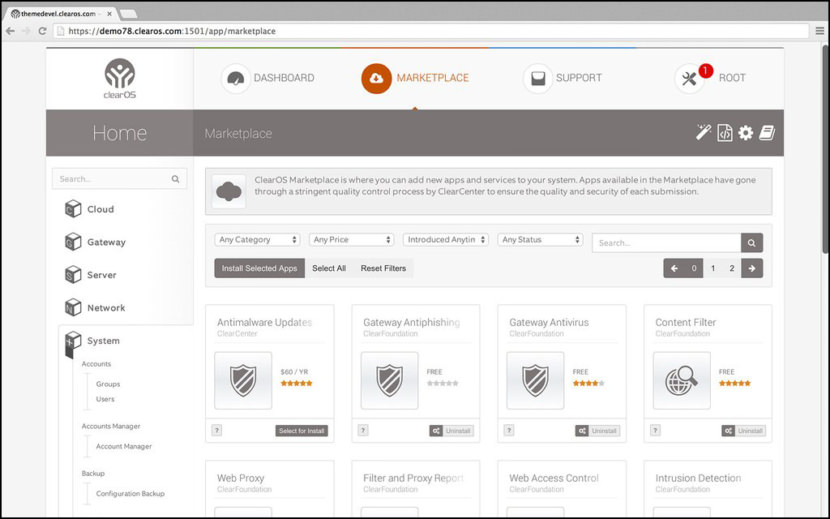 ClearOS is an operating system for your Server, Network, and Gateway systems. It is designed for homes, small to medium businesses, and distributed environments. ClearOS is commonly known as the Next Generation Small Business Server, while including indispensable Gateway and Networking functionality. It delivers a powerful IT solution with an elegant user interface that is completely web-based. Simply put.. ClearOS is the new way of delivering IT.
ClearOS is agile and versatile. Designed primarily for deployment on server and network devices, it can also be deployed virtually, or can be deployed as the host OS to other virtual machines. ClearOS features Marketplace, which provides a turn-key app installation engine for quickly scaling the functionality of your server. ClearOS delivers a simple & beautiful browser-based interface. Leave the black screened world of command line interfaces behind. With ClearOS Professional, anyone can learn to manage their IT environment.
Bandwidth & QoS Manager
1-to-1 NAT Firewall, DMZ Firewall, Egress Firewall, and Incoming Firewall
OpenVPN, ibVPN, PPTP Server, and IPsec VPN
Antimalware Signatures
Anti Spam Signatures
Content Filter Blacklists
Gateway Anti Phishing
Gateway Antivirus
Kaspersky Antimalware
[ Intel or AMD 100MHz or more, 64 MB or more recommended and 64 MB space Hard Disk Space ]
RouterOS is the operating system of RouterBOARD. It can also be installed on a PC and will turn it into a router with all the necessary features – routing, firewall, bandwidth management, wireless access point, backhaul link, hotspot gateway, VPN server and more.
[ Minimum Pentium 233MHz, 96MB RAM an ATA CD ROM reader or ATA Compact Flash adapter ]
Zeroshell is a Linux distribution for servers and embedded devices aimed at providing the main network services a LAN requires. It is available in the form of Live CD or Compact Flash image and you can configure and administer it using your web browser.
It includes many enterprise-type features, including virtual LAN (VLAN) support, a RADIUS server for 802.1X, VPN server/client, captive portal, proxy-based virus filtering, and UMTS/HSDPA support using 3G modems. It also offers load balancing and failover of multiple Internet connections. It has a wireless access point mode that works with Atheros-based wireless adapters and supports multiple SSIDs and VLAN. You can configure the settings through the Web-based control panel.