I was experiencing 80% packet loss and very high ping per ms because my ISP's undersea fiber cable snapped, it will take them 1 month to fix it, thus the search for a reliable gaming VPN for my daily dota of Dota 2. Are you searching for a good VPN to reduce ping times for all the hottest online games like Quake 3, DOTA 2, World of Warcraft, League of Legends, Counter Strike and many, many more? If you have a bad ISP, these VPNs might solve the ping and packet loss issue.
🤣😍😂 50 Beautiful DOTA 2 Posters & Heroes Silhouette HD Wallpapers
Simply put, VPN will only improve the ms ping and packet loss if you have a bad ISP with bad routing, using a VPN on a dial-up will not magically make your internet connection faster. VPN is nothing more than a dedicated routing service, more often than not, a better routing provider than your existing ISP. Do note having a fast connection doesn't mean your win rate will be higher. Before you subscribe to any of these VPN services, you ought to know that:
VPN will not speed up your internet speed (ms) unless your ISP have routing issues.
VPN will not reduce ping unless there is packet loss by your ISP.
↓ 01 – NordVPN [ The Best ] | 30 Days Trial | USD67/year | USD4.50/month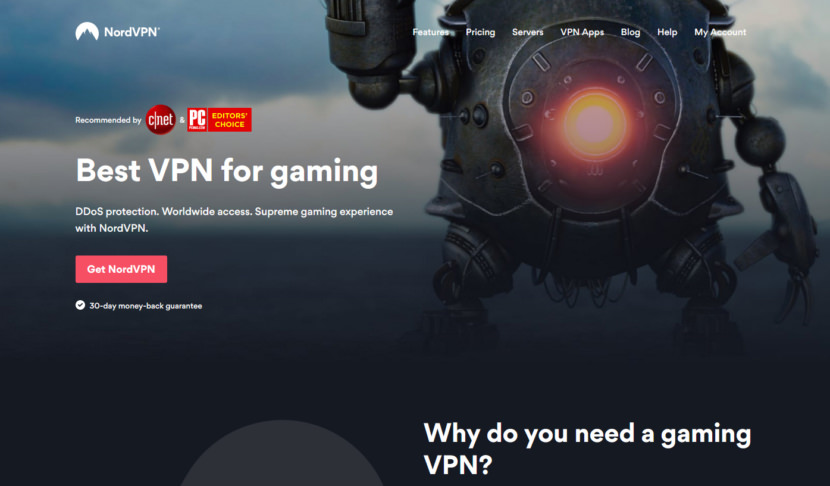 Pay 1 year and get 2 years for free! USD3.50 per month for 36 months! Imagine VPN as a hack-proof, encrypted tunnel for online traffic to flow. Nobody can see through the tunnel and get their hands on your internet data. NordVPN gives you peace of mind each time you use public Wi-Fi, access personal and work accounts on the road, or want to keep your browsing history to yourself.
Buffering is the ultimate buzzkill, so streaming or downloading files with a slow internet connection is not an option. No worries here! Choose from over 5700 NordVPN servers in 60 countries and enjoy the fastest VPN experience. Having more servers means less load, and the wide variety of locations means there's a higher chance you'll find one nearby. DDoS protection. Worldwide access. Supreme gaming experience with NordVPN.
Protect yourself from DDoS attacks – Online games can get ultra competitive, and dirty tricks are not uncommon. NordVPN will shield you from DDoS attacks, securing your connection at all times.
Avoid bandwidth throttling – Internet speed is crucial in online gaming, and you don't want your ISP messing with it. NordVPN stops your ISP from seeing your activity and throttling your bandwidth.
P2P Servers – Choose from hundreds of servers optimized for P2P sharing. NordVPN has no bandwidth limits and doesn't log any of your activity.
Double VPN servers – Send your Internet traffic through two different VPN servers for double encryption. Recommended for the most security-focused.
Dedicated IP servers – Order a dedicated IP address, which can only be used by you and will not be shared with any other NordVPN users.
Onion Over VPN servers – For maximum online security and privacy, combine the benefits of NordVPN with the anonymizing powers of the Onion Router.
Obfuscated servers – If you're located in a country with heavy restrictions on Internet access, connect to one of our obfuscated servers.
↓ 02 – VyprVPN | 30 Days Trial | USD60/year | USD5/month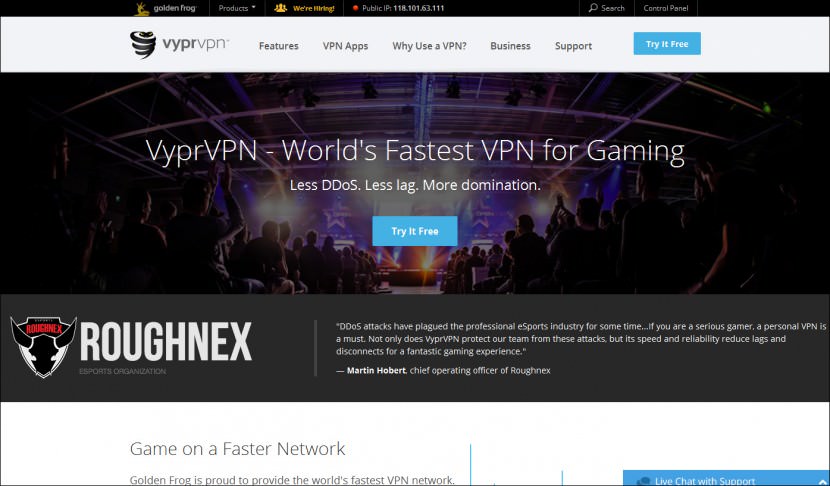 VyprVPN, the only VPN in the world that uses their own in-house Chameleon Technology Protocol, all other VPNs uses open source OpenVPN protocol, which is easily blocked by rough countries. The Chameleon Technology is the best among all the VPN I tested, it is reasonably priced and unlike the others, you can use this VPN for normal browsing whereas the others are created for the gaming application only. This is the only VPN I've tested that gives me 0 packet loss and 17ms ping. It is not free, and somewhat expensive, thus explaining the overall quality.
What's unique about VyprVPN is their DDoS Protection, this can be seen on one of the games in Dota 2 Ti5 when it was DDos, thus causing the game to be paused for 1 hour plus. When you connect to VyprVPN you are assigned a VyprVPN IP address and can prevent your true IP from being targeted by a DDoS attack. VyprVPN offers over 200,000+ IP addresses and NAT Firewall for blocking unrequested inbound traffic.
Hide Your VPN With Chameleon™ – Their unique proprietary Chameleon™ technology not found in other VPN as other VPN uses the standard OpenVPN technology defeats VPN blocking so government censors won't be able to see that you're using a VPN at all.
Audited No-Log VPN – VyprVPN has been verified through an independent audit to log zero user data, so no one sees your internet traffic – not even us.
No 3rd Parties – We own all our servers and hardware so no third parties can ever gain access to your data.
Strongest Encryption – VyprVPN comes with WireGuard®, a protocol that gives you the most advanced encryption for all your devices. And all our protocols use strong AES 256-bit encryption and provide DNS protection, including IPsec, OpenVPN® and Chameleon™.
Personalized Kill Switch – A built-in Kill Switch kicks in to safeguard your data in case your VPN connection drops.
↓ 03 – WTFast | 7 Days Trial | USD100/year | USD10/month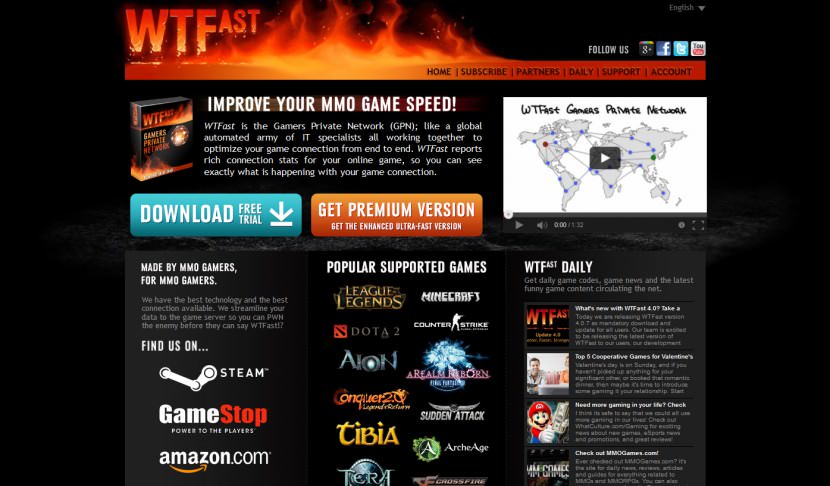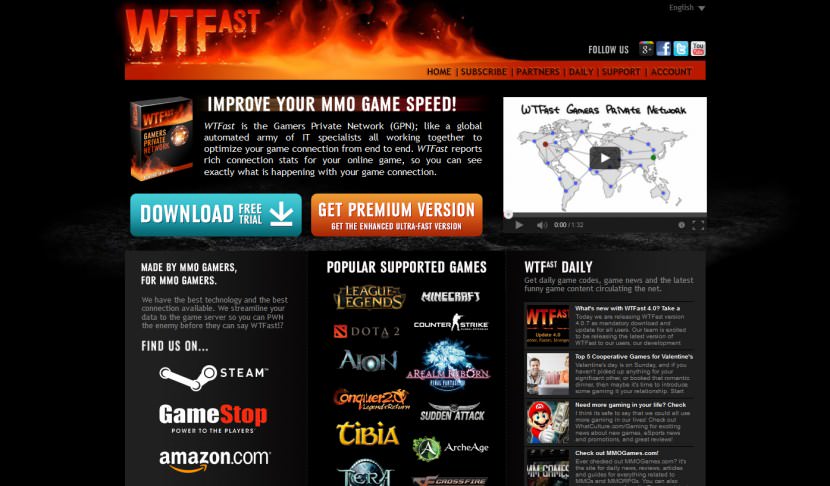 The WTFast Gamers Private Network (GPN) is a client/server solution that makes online games faster. Our proprietary software client hooks latency sensitive game data, sending that data through our global network of over 100 servers, optimizing the game connection from end to end.
The WTFast GPN ensures low average latency, and minimizes flux and spikes in your game connection, making the difference between a winning and losing move! Verdict – Just like the other so called dedicated gaming VPN, it does reduce the ping and packet loss but not good enough to prevent lags.
↓ 04 – VPN4Games | 1 Day Trial | USD43/year | USD5/month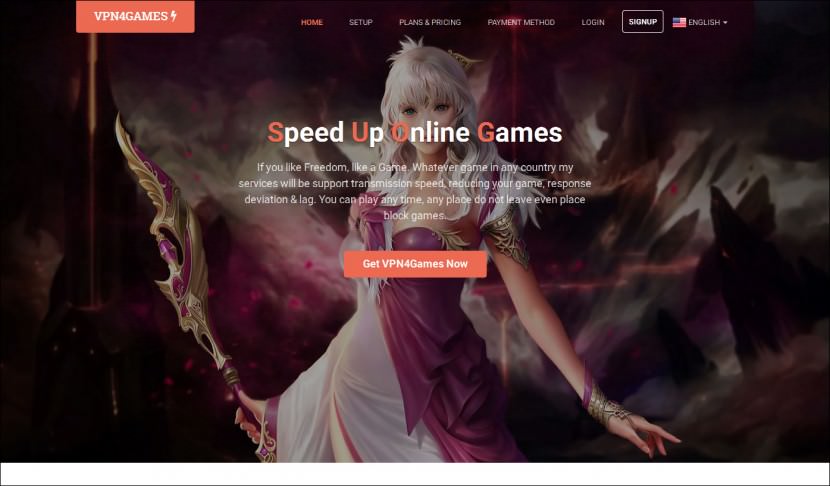 This company appears to be coming from Thailand, there is no evidence they actually operate their own VPN server, if this is true, it means they have no control over the server load and more. Having said that, their price is one of the most affordable, they even offer a 7 day pass for $ 1.49 only. Runs on Windows, iOS, Mac, and Android. I did not test VPN4Games, I can't say if it is good or bad. Do drop your own review on the comment section for others to read.
↓ 05 – MudFish | No Trial | Own Server | USD0.60/month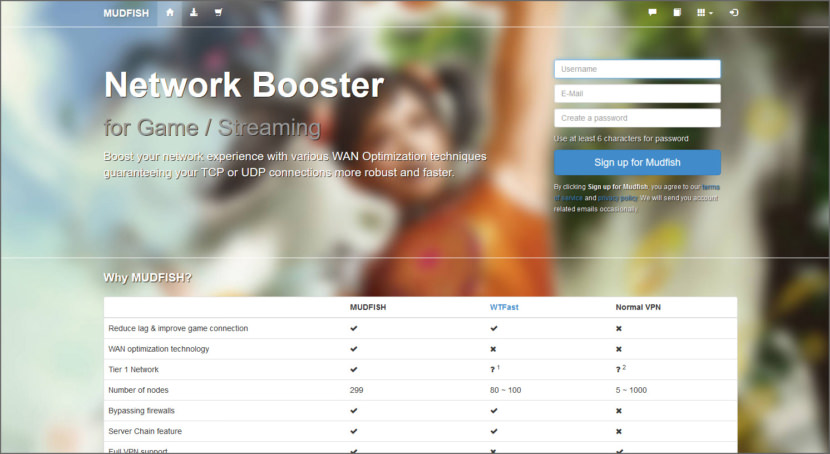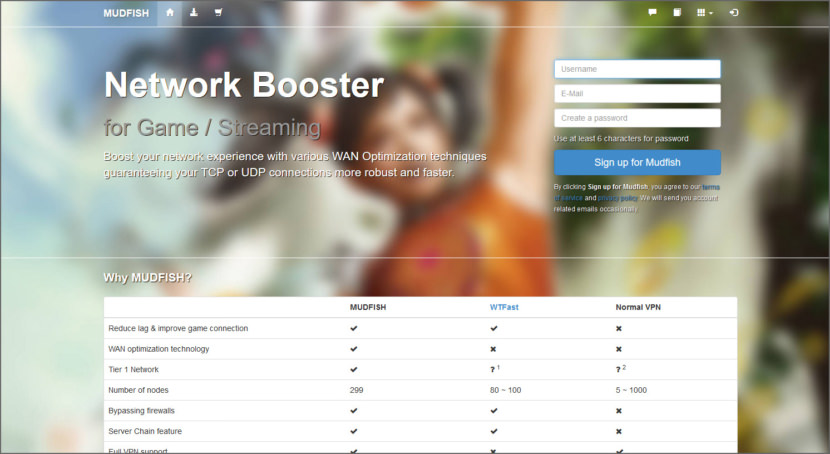 'Mudfish' is a kind of VPN service focused to boost your network experience with various WAN Optimization techniques guaranteeing your TCP or UDP connections would be more robust and faster. No free trials, therefore I can't comment if MudFish is good or bad. Do drop comments on your experience with them. Thanks.
↓ 06 – ExitLag | 3 Days Trial | USD70/year | USD6.50/month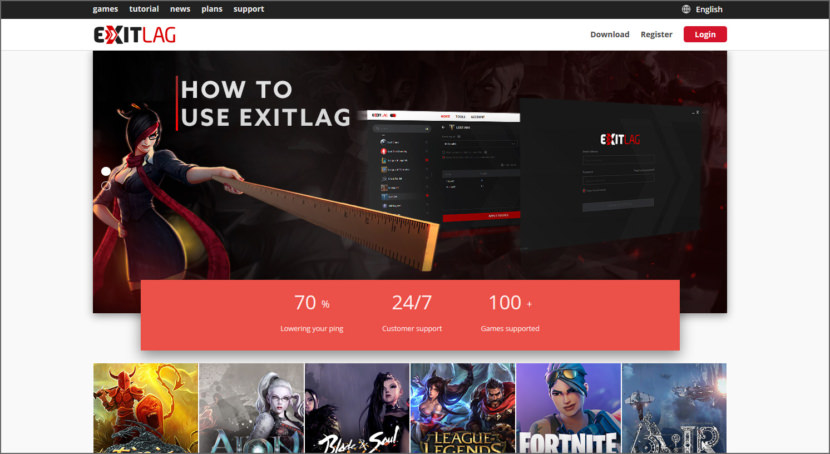 The choice of professional players when the subject is lag removal, improve FPS and generate stability. ExitLag has an innovative multi-path system that allows multiple simultaneous connections to your game servers in different countries. The ExitLag works with any online game, just add your game into the Games tab.
Multipath Connection – Your connection packets are simultaneously run through different routes in order to ensure the packet's delivery.
FPS Boost – Small tweaks in the operating system that enhance FPS performance during gaming.
Worldwide Servers – Hundreds of servers spread across the world help guarantee a stable connection from anywhere to anywhere.
Real-time Optimization – The search for the optimal route is done in real-time to make sure the gamer's always playing on the best possible route.
Multi-internet Connection – In case the gamer's got more than 1 internet source, we make it possible to use 2 simultaneously so as to ensure an uninterrupted gaming experience should one internet provider fail.
↓ 07 – Vypr Gaming (Outfox) | 14 Days Trial | USD40/year | USD5/month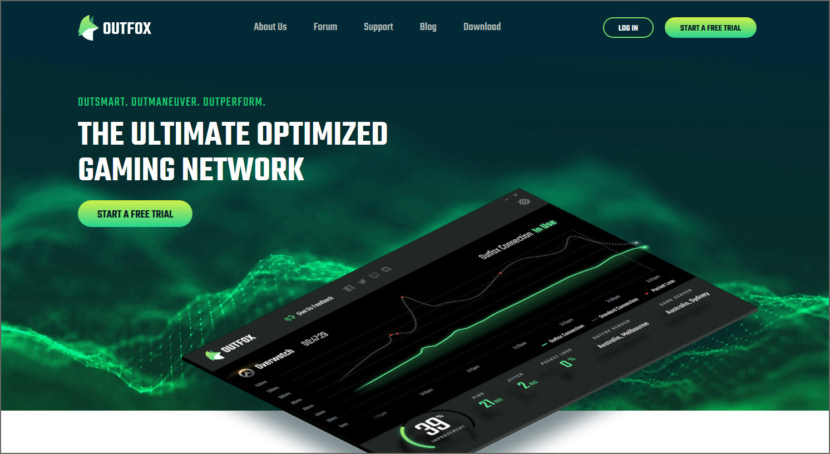 Outfox is an optimized gaming network that routes your traffic through our network to provide the best performance possible. Outfox stabilizes your connection to prevent jitter, reduce lag, lower ping and increase speed. It maneuvers past crowded network traffic, providing the fastest route to your game server. Select a server or let Fastest Server automatically choose the quickest option available, even if that's your standard, non-Outfox connection.
Determine The Best Path – Outfox checks connection times to the game's server through your standard connection and Outfox's servers, taking into account your location, network traffic and conditions, and the location of the game servers.
Route Your Traffic – Outfox routes your traffic through our global network, taking the fastest, most stable and best route available to your game's server.
Improve Your Performance (And Prove It) – Outfox reduces ping and lag, which in turn increases speed. Outfox stabilizes your connection, eliminating jitter and ping spikes. Ping and other details are displayed in our Session Graph, so you can easily see connection improvements.
↓ 08 – PureVPN Gaming VPN | 7 Days Trial | USD100/year | USD11/month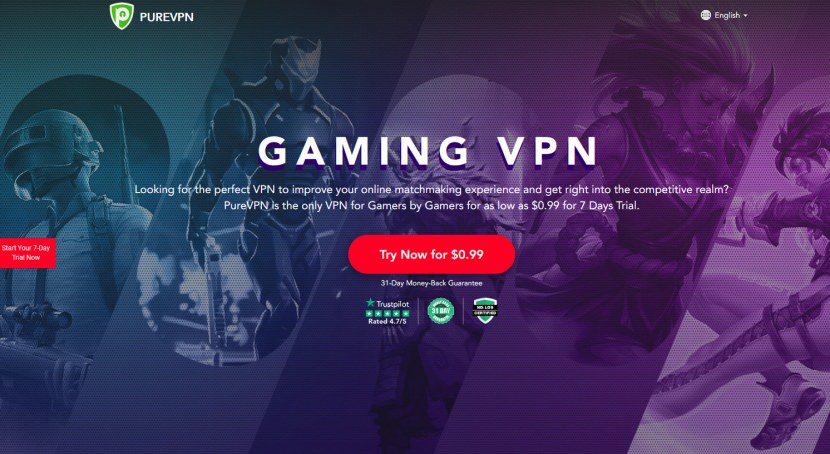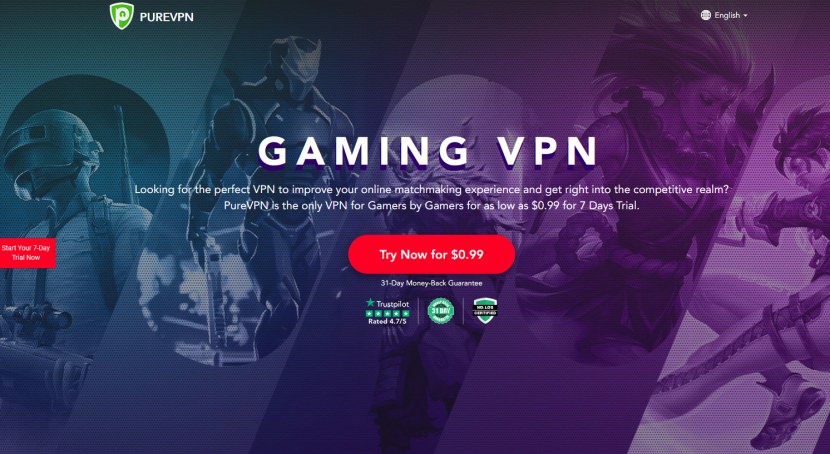 Looking for the perfect VPN to improve your online matchmaking experience and get right into the competitive realm?
PureVPN is the only VPN for Gamers by Gamers for as low as $0.99 for 7 Days Trial. Connect to any location of your choice and enjoy blazing-fast matchmaking queue times. This helps save time and connects you instantly to games such as Dota 2, PUBG, Fortnite, CSGO, and others.
If you're living outside the US, you might face numerous restrictions. With a gaming VPN, you get instant access to regional limited games and content. Getting DDoS while gaming can be full of rage. PureVPN's DDoS Add-on protects you from most complex DDoS attacks since your real IP is masked so you never have to worry about getting flooded when gaming.
↓ 09 – HideMyAss Pro | 30 Days Trial | USD156/year | USD17/month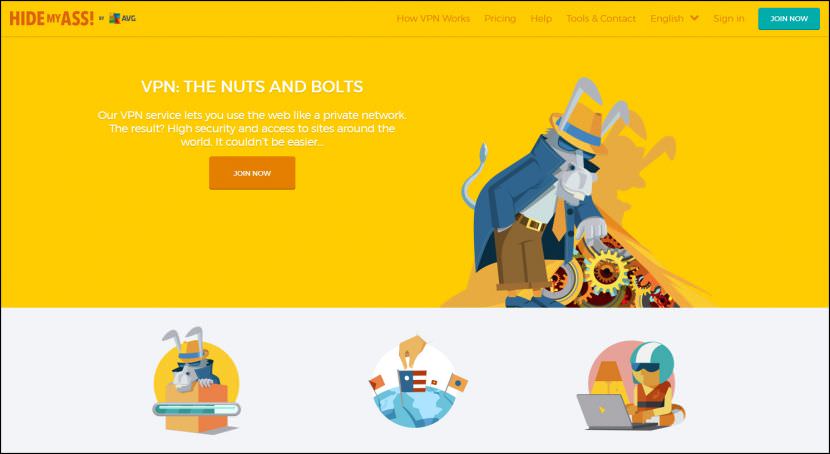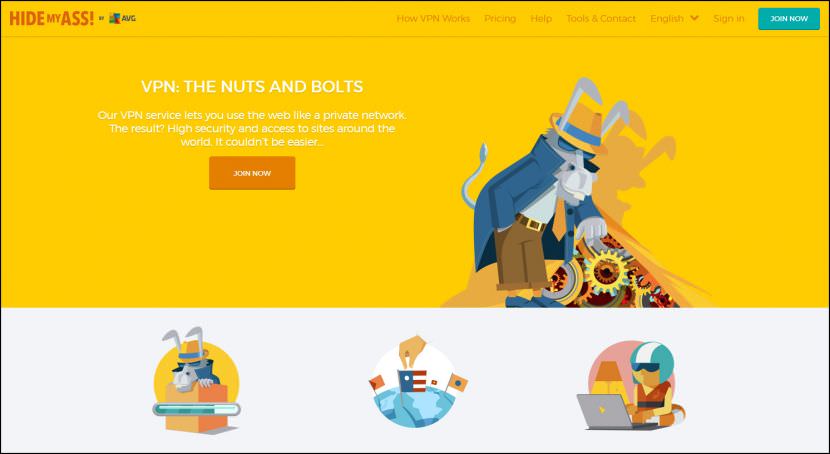 As the popularity of online gaming continues to grow, so does the need to be able to play the latest game releases. You may have come across several problems during the course of your gaming career; being unable to purchase certain games, experiencing ping issues, or you may have been a victim of cyber criminals.
You may not be aware that you can potentially improve gaming response times, and protect and secure yourself while playing. How? By using a VPN – HMA! Pro VPN. Here are 5 ways a VPN can improve, accelerate and protect you when playing video games. Latency (ping) problem? VPN server is capable of improving ping for many gamers, since traffic takes a more effective and faster route via a VPN than without it. I subscribed to their service and found that performance varies, depending on location and time. Average performance.
↓ 10 – Kill Ping | 15 Days Trial | USD240/year | USD10/month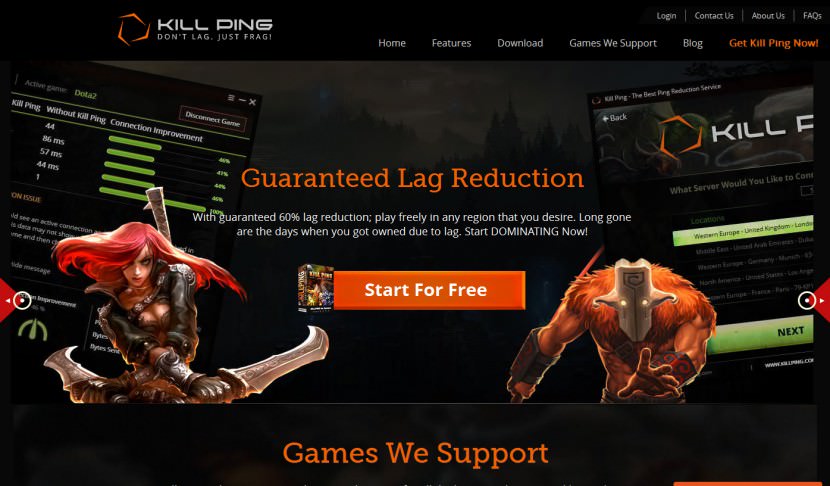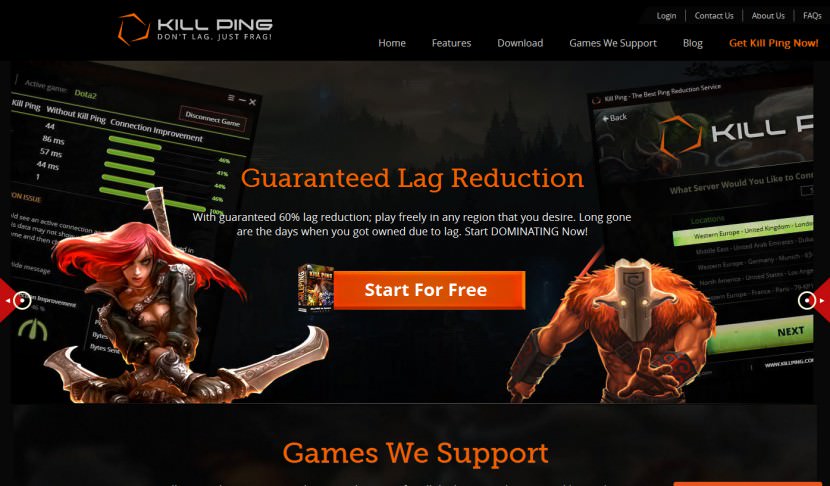 With guaranteed 60% lag reduction; play freely in any region that you desire. Long gone are the days when you got owned due to lag. Unfortunately, I still experience packet loss while using their service, it is better with VPN but it doesn't solve the packet loss problem I had with my ISP because of a faulty undersea cable.
Unlike other VPNs, they have a special software that loads with your gaming application, thus making it a gaming only VPN. You cannot browse the web with their VPN service. I've tested the free trial version and came to the conclusion that it does reduce my packet loss to 20% from 80%, the ping is better but not good enough to prevent lag.
The following Games And Sites Are officially Supported By These Gaming VPN Service
300 Heroes
3on3 FreeStyle
9Dragons
A.V.A
APB reloaded
ASTA: The War of Tears and Winds
AVA: DOG TAG
AbemaTV
Achaea
AfreecaTV
Age of Conan
Age of Empires: Definitive Edition
Age of Kungfu
Age of Wulin
Age of Wushu
Aion
Albion Online
American Truck Simulator
Anarchy Online
Anthem
Apex Legends
ArcheAge
ArcheAge Unchained
Ark: Survival Evolved
ArmA 2
Armored Warfare
Arpiel
Ascendant One
Ascent: Infinite Realm
Asker Online
Astellia Online
Astral Realm
Atlantica Online
Audition
Aura Kingdom
Avalon Online
Azur Lane
Battleborn
Battlefield 1
Battlefield 3
Battlefield 4
Battlefield Hardline
Battlefield Online
Battlefield V
Battlerite
Black Desert
Black Desert Mobile
Black Squad
Black Survival
Blacklight: Retribution
Blade & Soul
Blade & Soul: Hongmoon Rising
BlazBlue: Cross Tag Battle
Bless
Blue Protocol
Born to Fire
Brawlhalla
Bubble Fighter
Bugs
C9
CABAL 2
CLOSERS
Cabal Online
Caliber
Calibur Of Spirit
Call of Duty: Black Ops 2
Call of Duty: Black Ops 3
Call of Duty: Black Ops 4
Call of Duty: Infinite Warfare
Call of Duty: Modern Warfare
Call of Duty: WWII
Call of Duty: Warzone
Champions Online
Chaos Online
Chivalry: Medieval Warfare
Combat Arms
Company of Heroes
Company of Heroes 2
Conan Exiles
Conquer Online
Conqueror's Blade
Cosmic Break
Cosmic League
CosmicBreak
Counter-Strike 1.6
Counter-Strike Online
Counterstrike: Global Offensive
Crazy Arcade
Crazyracing Kartrider
CrossFire
Crossout
Crowfall
Cultureland
Cyphers
DC Inside
DC Universe Online
DEAD OR ALIVE 5 Last Round
DK Online
DMM.com
DOFUS
DRAGON BALL XENOVERSE 2
Dark Age of Camelot
Dark Avenger 3
Dark Souls III
Dark Souls Ⅱ: Scholar of the First Sin
DarkEden
Darkfall: New Dawn
Darkfall: Rise of Agon
Darkfall: Unholy Wars
Darwin Project
Daum
Daum Sports
Dauntless
Day Of Defeat: Source
Dead By Daylight
Dead Island: Epidemic
Deceit
Defiance
Dekaron
Destiny 2
Devilian
Diablo 2
Diablo 3
Digimon Masters
DirtyBomb
Discord
Don't Starve Together
Doom 2016
Dota 2
Dragomon Hunter
Dragon Nest
Dragon Quest X
Dragon Raja
Dragon's Dogma Online (New)
DragonBall Online Global
Dragonica
Dreadnought
Dungeon Fighter
Dungeon Striker
Dungeons & Dragons Online
Durango
Dying Light
Dynasty Warriors Online
ESEA
EVE Online
Echo Of Soul
Eco
Eden Eternal
Elite Dangerous
Elsword
Emil Chronicle Online
Escape from Tarkov
Eternal City 1
Eternal City 3
Eternal: Card Game
Euro Truck Simulator 2
EverQuest I
EverQuest II
Evolve
FIFA 14
FIFA 15
FIFA 16
FIFA 17
FIFA 18
FIFA 19
FIFA 20
FIFA Online 2
FIFA Online 3
FIFA Online 4
Facebook
Fallout 76
Fanta Tennis
Fantasy All Stars
Fantasy Earth: Zero
Fear the Wolves
Figure Heads
Final Fantasy XI
Final Fantasy XIV: A Realm Reborn
Firefall
First Assault
Football Legend
For Honor
Fortnite
FreeStyle 1
FreeStyle 2: Street Basketball
FreeStyle Street Basketball
Freestyle 2: Flying Dunk
Freestyle Football
GODIUS
Game Chosun
Garry's Mod – Zombie Survival
Gears 5
Gears of War 4
Gersang
GetAmped
GetAmped 2
GhostX Ultimate
Ghosts'n Goblins Online
Gigantic
Girls' Frontline
Gloria Victis
Gmail
God Slayer
Gods Unchained
GraalOnline
GranAge
Granado Espada
Granblue Fantasy
Grand Fantasia
Grand Theft Auto V
Grooveshark
Guild Wars 1 & 2
GunZ: The Duel
Gundam Diorama Front
Gundam Heroes
Gunslinger Stratos: Reloaded
Gwent
H1Z1
Halo: The Master Chief Collection
Happymoney
Haven & Hearth
Hawken
Hearthstone: Heroes of Warcraft
Hell Let Loose
Hero Siege
HeroWarz
Heroes & Generals
Heroes of Newerth
Heroes of Three Kingdoms
Heroes of the Storm
Holdfast: Nations At War
Honkai Impact 3rd
Hounds
Hunt: Showdown
Hunter Hero
Hyper Universe
IL-2 Sturmovik: Battle of Stalingrad
IOSoccer
Icarus
Infestation Thailand
Infestation: The New Z
Infinite Crisis
Innocent World
Insurgency
Insurgency: Sandstorm
Inven
Ironsight
Itemmania
JUMP FORCE
JX Online 3
JX Online 3
JanRyuMon
Justice Online
KakaoTalk
Kal Online
Killing Floor 2
King's Raid
Kingdom Under Fire II
Kritika Online
Kritika:REBOOT
Krunker
KurtzPel
LOST ARK
LaTale
Laftel
Laplace M
Last Oasis
League of Legends
League of Legends (China)
League of Legends (Japan Only)
Left 4 Dead
Left 4 Dead 2
Legend of Ares
Legend of Darkness
Legend of Edda
Legends of Aria
Life is Feudal
Line of Sight
Lineage
Lineage 2: Revolution
Lineage II
Lineage M
LiquidSky
Loong
Lord Of Vermilion Arena
Lost Saga
Lunia Z
MLB The Show 17
MLB The Show 18
MLB The Show 19
MLB The Show 20
MOBIUS FINAL FANTASY
MONSTER HUNTER: WORLD
MU Legend
MU Online
MVP Baseball Online
Mabinogi
Mabinogi: Heroes
Maple Story
Maple Story 2
Marvel Heroes
Master x Master
Max Payne 3
Mazey Flyff
MechWarrior Online
Metal Reaper Online
MicroVolts
Million Arthur: Arcana Blood
Minecraft
Mini11
Miscreated
Mobile Suit Gundam Online
Monster Hunter Frontier Z
Monster Hunter Online
Moonlight Blade
Moonlight Blade
Mordhau
Mortal Online
Mount & Blade II: Bannerlord
Mount & Blade: Warband
Mount & Blade: Warband – Napoleonic Wars
Mount & Blade: Warband – cRPG
NBA 2K17
NBA 2K18
NBA 2K19
NBA 2K20
NOVA 1492
Naval Action
Naver Mail
Naver Sports
NavyField
NavyField 2
Need for Speed World
Neverwinter Online
Nexus, the Kingdom of the Winds
Nexus: The Kingdom of the Winds
NosTale
Of Kings And Men
Old School RuneScape
Onigiri
Onmyoji
Overwatch
P4Story
PLAYERUNKNOWN'S BATTLEGROUNDS
PUBG LITE
PUBG MOBILE
Paladins: Champions of the Realm
Pandora
PangYa
Panzar
PaperMan
Paragon
Path of Exile
Perfect World
Perfect World International
Phantasy Star Online 2
Phantasy Star Online 2es
Pirates: Treasure Hunters
PlanetSide 2
Plants vs. Zombies™ Garden Warfare 2
Play Trickster
Point Blank
PokeXGames
Pokemon Revolution Online
Princess Connect Re:Dive
Priston Tale 2
Prius Online
Pro Evolution Soccer 2018
Pro Evolution Soccer 2019
Pro Evolution Soccer 2020
Project Reality: BattleField 2
Project: Gorgon
Quake Live
R.O.H.A.N ORIGIN
R2 Online
R2Beat
R2S
RF Online
ROBOCRAFT
ROW – Return Of Warrior
Ragnarok M
Ragnarok Online
RaiderZ
Realm Royale
Record of Lodoss War Online
Red Orchestra 2
Revelation Online
Riders of Icarus
Rift
Ring Of Elysium
Rising Storm
Rising Storm 2
Roblox
Rocket League
Romero's Aftermath
RuneScape 3
Rusty Hearts
S.K.I.L.L. – Special Force 2
S4 League
SCP: Secret Laboratory
SD Gundam Capsule Fighter Online
SD Gundam Next Evolution
SMITE
STAR CONFLICT
Savage Hunt: Dragon's Prophet
Sdorica -sunset-
Seal Online
Secret World Legends
Seventh Dark
Shaiya
Shattered Galaxy
SkySaga
Skyforge
Soul Worker
Special Force
Special Force 2
Spiral Knights
SplashFighters
Spotify
Squad
Stalker Online
Star Citizen
Star Trek Online
Star Wars: Battlefront 2
Star Wars: The Old Republic
StarCraft II
StarCraft: Remastered
Steam
Steel Division: Normandy 44
StoneAge
Street Fighter V
Sudden Attack
Sudden Attack 2
Super Animal Royale
Super Smash Bros. Ultimate
Super Street Fighter IV – Arcade Edition
Supreme Commander
Survarium
Survarium
TERA
THE iDOLM@STER: Shiny Colors
TagPro
Tales Runner
Tales Weaver
Tartaros
Tartaros: Rebirth
Team Fortress 2
TeamViewer
Texas Holdem
The Culling
The Elder Scrolls Online
The King Of Fighters '98
The Lord of the Rings Online
The Secret World
The Swordsmen X
The War of Genesis 4
Them's Fightin' Herds
Tibia
Tiger Knight
Titanfall 2
Tom Clancy's Ghost Recon: Breakpoint
Tom Clancy's Ghost Recon: Wildlands
Tom Clancy's Rainbow Six Siege
Tom Clancy's The Division
Tom Clancy's The Division 2
Total War: ARENA
Tree of Life
Tree of Savior
Tribes Ascend
Trove
Tving
Twelve Sky
Twelve Sky 2
Twin Saga
Twitch
Twitter
Ultima Online
Ultra Street Fighter IV
Uncharted Waters Online
Under Night In-Birth Exe:Late[st]
V4:跨界戰
VALORANT
Vainglory
Vindictus
War Rock (Korea)
War Thunder
War of the Roses
Warcraft III
Warface
Warframe
Wargame Red Dragon
Warhammer 40,000: Dawn of War III
Warhammer 40,000: Eternal Crusade
Warhammer Online
Watcha
What's my IP?
Wildfire
Wildstar
Wizardry Online
Wolcen: Lords of Mayhem
Wolfenstein: Enemy Territory
World Of Warcraft
World War 3
World War Z
World of Tank
World of Tanks Blitz
World of Warplanes
World of Warships
Xuan Dou Zhi Wang
Zero-K
Zone4
[QQ] The King Of Fighters '2002 UM
iRacing
niconico
osu!
stove
wavve
古劍奇譚網路版
라그하임
리니지2M
무도유협
아스가르드
열혈강호 온라인