There are only a handful of companies that specialize in translation. It is easy to translate word for word, however it is very hard to translate a whole sentence. Big corporations such as Google and Microsoft spend millions of dollars in R&D for decades to perfect Artificial Intelligence and Technology. There are many alternative apps that offer similar features, they either license the same technology or are pretty bad at translating.
🤣😍😂 5 Apps To Chat And Text With No Internet Connection Via Mesh Network
Speech Recognition Breakthrough for the Spoken is the hardest of all, and nobody does it better than Microsoft. Live camera translation is very accurate for all apps, all it requires is a good OCR that scans for the text and converts it into another language. A must have tool for travelers, download them now.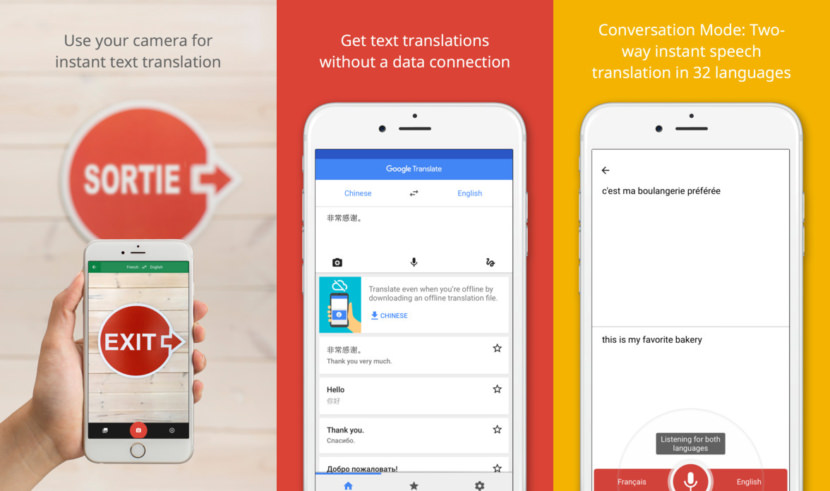 Translate 100+ languages without internet or network connection with Google Translate app for Android by downloading the offline language packages. This is a must have app for travelers using Android and iOS smartphones. Do note that the languages package can be as large as 200MB, remember to use wifi connection! Here are the features:
Translate without a network connection with 50+ offline language packages
Camera input and offline translation are available for Android 2.3 and above.
Translate text and speech between more than 60 languages
Save your favorite translations for quick, offline access
View dictionary results for single words or phrases
Translations between the following languages are supported: Afrikaans, Albanian, Amharic, Arabic, Armenian, Azerbaijani, Basque, Belarusian, Bengali, Bosnian, Bulgarian, Catalan, Cebuano, Chichewa, Chinese (Simplified), Chinese (Traditional), Corsican, Croatian, Czech, Danish, Dutch, English, Esperanto, Estonian, Filipino, Finnish, French, Frisian, Galician, Georgian, German, Greek, Gujarati, Haitian Creole, Hausa, Hawaiian, Hebrew, Hindi, Hmong, Hungarian, Icelandic, Igbo, Indonesian, Irish, Italian, Japanese, Javanese, Kannada, Kazakh, Khmer, Korean, Kurdish (Kurmanji), Kyrgyz, Lao, Latin, Latvian, Lithuanian, Luxembourgish, Macedonian, Malagasy, Malay, Malayalam, Maltese, Maori, Marathi, Mongolian, Myanmar (Burmese), Nepali, Norwegian, Pashto, Persian, Polish, Portuguese, Punjabi, Romanian, Russian, Samoan, Scots Gaelic, Serbian, Sesotho, Shona, Sindhi, Sinhala, Slovak, Slovenian, Somali, Spanish, Sundanese, Swahili, Swedish, Tajik, Tamil, Telugu, Thai, Turkish, Ukrainian, Urdu, Uzbek, Vietnamese, Welsh, Xhosa, Yiddish, Yoruba, Zulu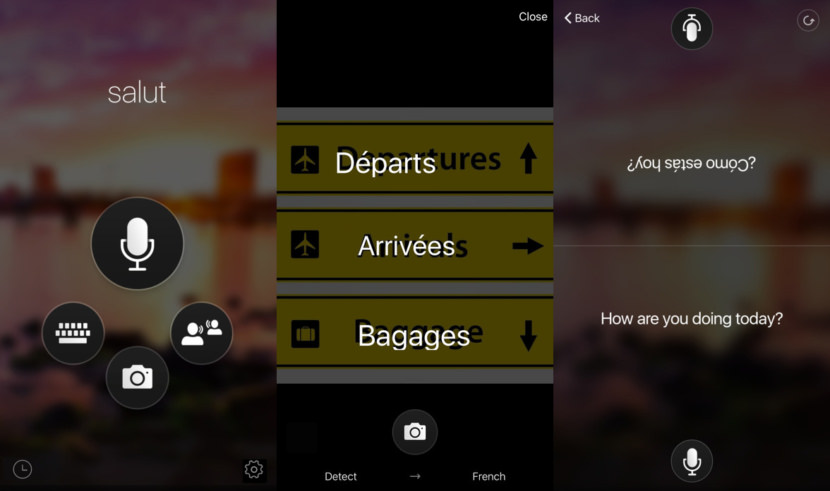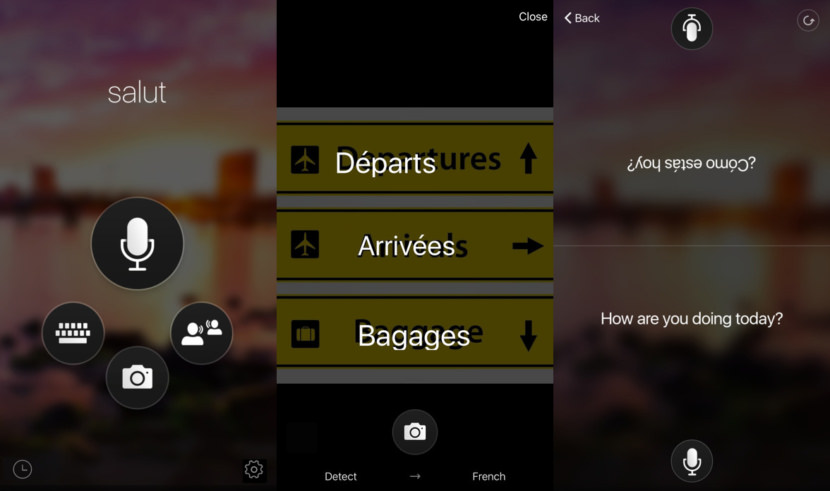 Microsoft Translator enables you to translate text or speech, have translated conversations, and even download languages to use offline. Microsoft Translator is powered by cutting-edge technology used by Office, Bing, Skype, Internet Explorer as well as by partners such as Twitter, Yelp, eBay, WeChat and more. 
Speak or type to translate into over 60 languages
Have real-time translated conversations with two or more people by connecting your devices
Have two-person real-time conversations on a single device
Download languages to translate offline
Hear your translated phrase for you to help you pronounce your translation
Browse phrasebooks for translations and pronunciation guides for popular phrases
Look up alternate translations and meanings of a word
Share your translation with other apps
Pin your most frequent translations to save for later
Speak to your Android Wear smartwatch to get an instant translation
Automatically sync translations between your phone and Android Wear smartwatch
Translator supports the following languages:  Afrikaans, Arabic, Bosnian (Latin), Bulgarian, Cantonese (Traditional), Catalan, Chinese (Simplified), Chinese (Traditional), Croatian, Czech, Danish, Dutch, English, Estonian, Fijian, Filipino, Finnish, French, German, Greek, Haitian Creole, Hebrew, Hindi, Hmong Daw, Hungarian, Indonesian, Italian, Japanese, Kiswahili, Korean, Latvian, Lithuanian, Malagasy, Malay, Maltese, Norwegian, Persian, Polish, Portuguese, Quer'etaro Otomi, Romanian, Russian, Serbian (Cyrillic), Serbian (Latin), Slovak, Slovenian, Spanish, Swedish, Tahitian, Thai, Turkish, Ukrainian, Urdu, Vietnamese, Welsh, and Yucatec Maya.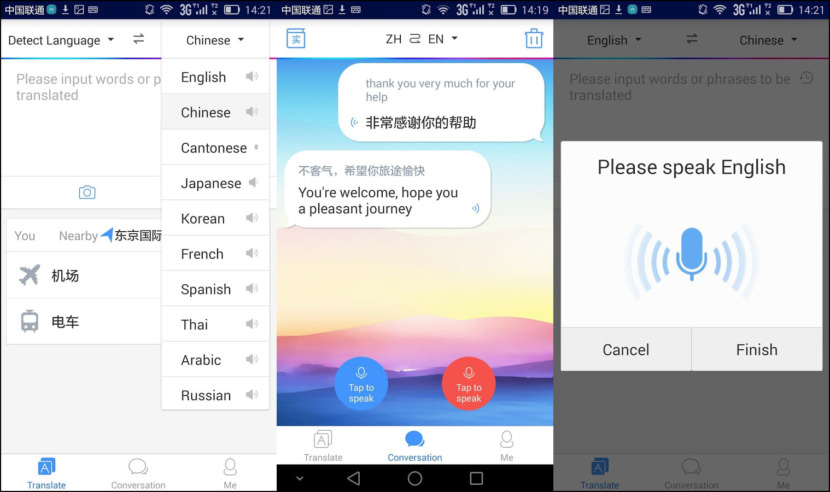 Baidu Translate provides translation service for 16 popular languages and in 186 directions. With 5 million authoritative dictionaries, Baidu Translate offers its users real-time speech-to-speech translation and camera translation of multiple languages.
As for offline translation, it offers authoritative phrasebook packs and offline voice packs of Japanese, Korean and American English. It can also intelligently recommend translating functions according to its users' GPS.
High-quality translation of multiple languages: Baidu Translate supports 16 popular languages, including Chinese, English, Japanese, Korean, Thai, German, French, Portuguese, etc. Compared with other translators, it provides expression and travel translation of much higher quality and offers "Text to Speech" service for all the languages mentioned above.
Conversation translation: With Baidu Translate, you can communicate freely with foreign people in real time. The app supports voice input of Chinese, English, Japanese, Korean, etc.
Offline translation: You can download offline translation packs of English, Japanese and Korean, which enable you to get translation even without network connection.
Authoritative dictionaries: Baidu Translate includes a variety of authoritative dictionaries, with one hundred thousand local entries and 5 million cloud entries. With the network connected, it can also provide you with explanations from the Internet and Baidu Baike, synonyms, antonyms, example sentences and other results.
Useful Phrase books: Baidu Translate offers useful expressions to its users when they are traveling abroad in countries such as Japan, Korea and the USA. It also provides offline "Text to Speech" service.
↓ 04 – Waygo | Apple iOS | Google Android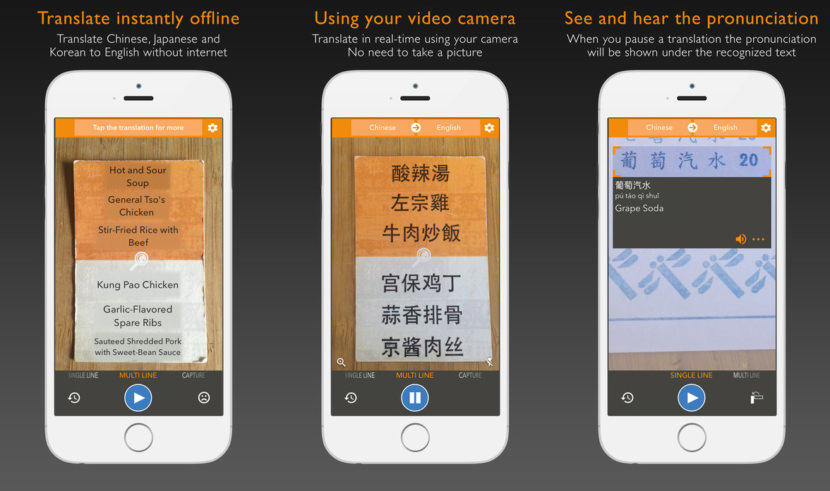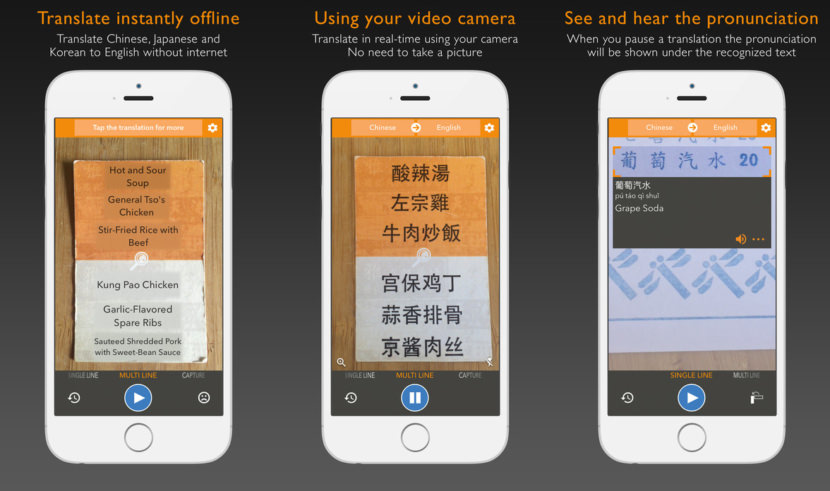 Waygo Translator for Chinese, Japanese and Korean has arrived on Android!! Traveling to Asia? Learning Chinese, Japanese or Korean? Instantly translate printed Chinese, Japanese or Korean text to English using your smartphone camera. No data connection needed. Go like a local. Waygo is the leader in visual translation services, easily translating images of printed text offline.
Waygo visual translator has been featured repeatedly in ABC News, TechCrunch, The Next Web, Tech In Asia, GigaOm, Forbes, Technode, e27 and VentureBeat as the top visual Chinese translator. This free download is a limited version with 10 daily translations. Upgrade to lifetime unlimited Chinese, Japanese and Korean to English translations inside the Upgrade menu.
Use your video camera as visual translator or dictionary (camera flash required)
No data connection required
See the pronunciation of the words
Simply point and translate foreign text to English
Share your translations through SMS, Facebook, Twitter and Email