There are many 'free' OCR apps in Google Play and Apple App Store, however, most of them comes with limitation such as unable to save the text unless you upgrade to their paid version. We've compiled a simple list of apps that does not have this limitation. Back in the good old days when taking notes meant writing down key points on a piece of paper or photocopy a few important pages. This habit was eventually replaced with taking pictures with a digital compact camera, and now taking notes means snapping photos with a smartphone and converting it into editable text with an OCR App.
Scan images into editable text with these best OCR scanner apps for Google Android Smartphones and Apple iPhone iOS. For those searching for other alternatives, Google Drive and Evernote do come with their own optical character recognition. For those using an iPhone, Apple has been improving its Notes app each year, and this time around one of the main updates is the ability to scan documents within the app in iOS 11.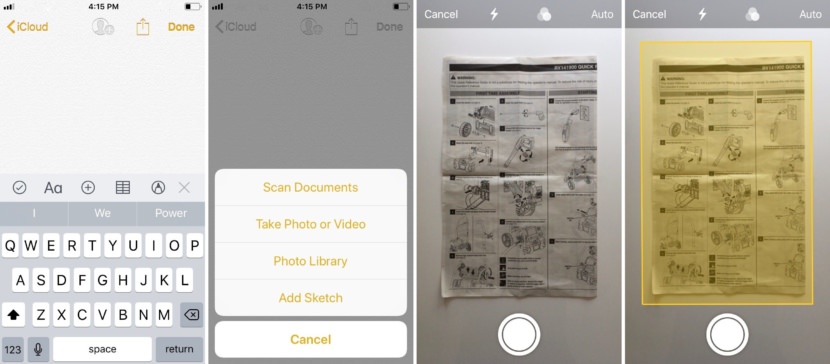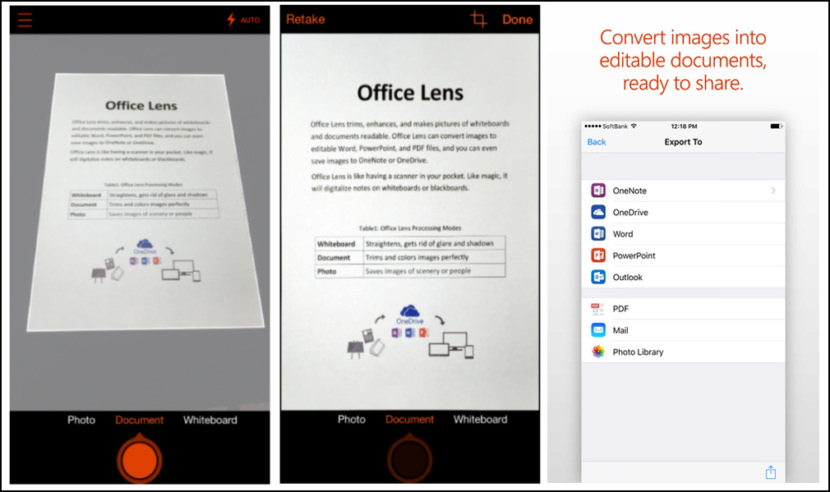 Office Lens trims, enhances and makes pictures of whiteboards and documents readable. Office Lens can convert images to editable Word and PowerPoint files too. Office Lens is like having a scanner in your pocket. Like magic, it will digitize notes on whiteboards or blackboards. Always find important documents or business cards. Sketch your ideas and snap a picture for later. Don't lose receipts or stray sticky notes again!
Capture and crop a picture of a whiteboard or blackboard and share your meeting notes with co-workers.
Make digital copies of your printed documents, business cards or posters and trim them precisely.
Printed and handwritten text will be automatically recognized (using OCR), so you can search for words in images and then copy and edit them.
↓ 02 – Adobe Scan | Free/Paid | Android | iOS | Windows Phone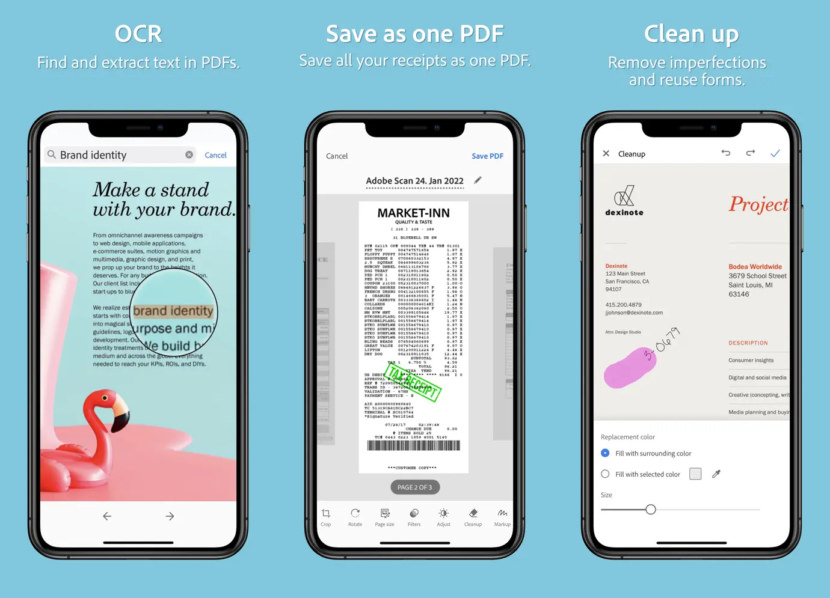 Adobe Scan is free to download and turns your mobile device into a powerful scanner that recognizes text automatically (OCR) and allows you to create, save, and organize your paper documents as a digital file. Scan anything — receipts, notes, ID cards, recipes, photos, business cards, whiteboards — and turn them into PDF or JPEG files you can work with on your smartphone, tablet, or computer.
Remove and edit imperfections, erase stains, marks, creases, even handwriting.
Advanced image technology automatically detects borders, sharpens scanned content, and recognizes text (OCR).
This powerful scanner app automatically finds documents and receipts in your photos and turns them into PDF scans, so you don't have to.
Turn your scan into a high-quality Adobe PDF that unlocks text for reuse through automated text recognition (OCR).
Automatic OCR turns text into content you can edit, resize, and reuse in other documents.
↓ 03 – Google Keep | Free | Android | iOS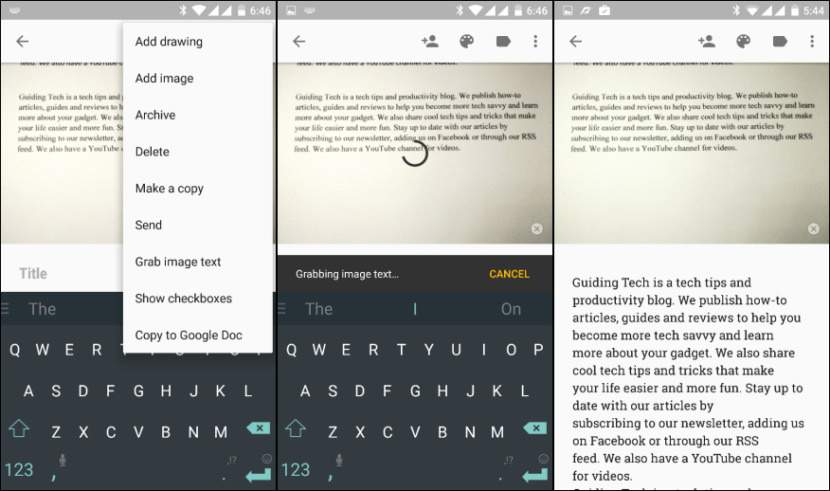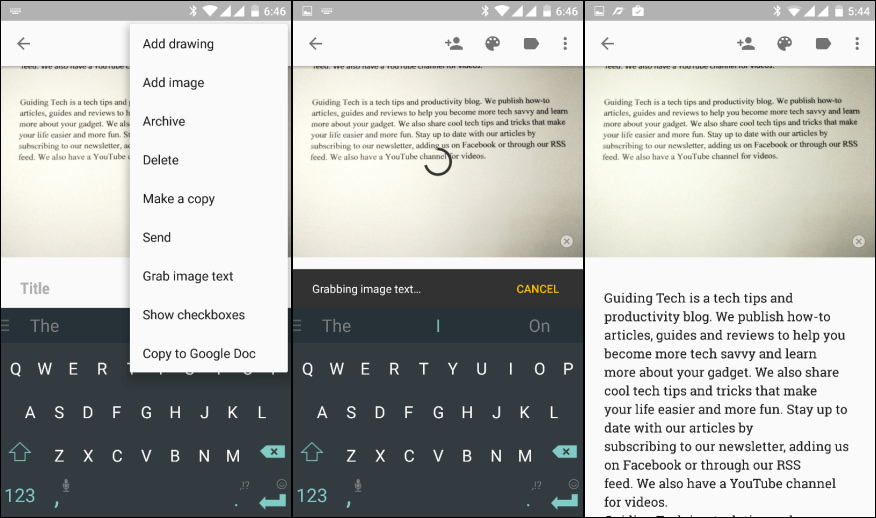 Google Keep is well known as the alternative for Evernote. However, it also comes with a very powerful OCR technology. They have one of the best OCR technologies and this is because they've literally scanned millions of books for Google Books – practice makes perfect. Once the note ( image ) is captured, open the three-dot menu and select the option, Grab image text. Keep will automatically convert the images to text.
↓ 04 – Text Fairy | Free | Android
Text Fairy is a very powerful OCR for smartphones. It comes with advance features such as exporting scanned pages into PDF, extract text and format them into two columns and the best part is, it Recognises printed text of more than 50 languages including – Arabic, Bulgarian, Catalan, Czech, Chinese (Simplified), Chinese (Traditional), Danish, German, Greek, English, Finnish, French, Hebrew, Hindi, Croatian, Hungarian, Indonesian, Italian, Japanese, Korean, Latvian, Lithuanian, Dutch, Norwegian, Polish, Portuguese, Romanian, Russian, Slovakian, Slovenian, Spanish, Serbian, Swedish, Tagalog, Thai, Turkish, Ukrainian, Vietnamese.
↓ 05 – CamScanner Free [ Limited ] | Free / USD5/m Android | iOS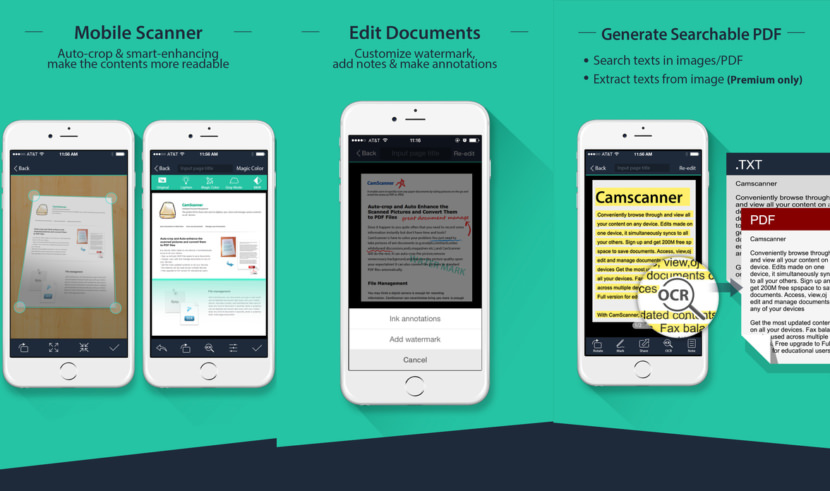 Turn your smartphone into a document scanner with character recognition (OCR). Quickly scan documents of all kinds and auto-optimize the scan quality using its unique technology. The free version is an ad-supported version and scanned documents are generated with watermark, Invite 10 collaborators per document at most. Use your phone camera to scan receipts, notes, invoices, whiteboard discussions, business cards, certificates, etc.