How do you scan crisp, sharp and non-fuzzy texts via smartphones? Unlike the photo camera function in your smartphone, these dedicated apps for scanning documents come with algorithms that will output a crisp, sharp and non-fuzzy text. With these apps, you can snap text on a whiteboard in a classroom or meetings or library, or scan important books, receipts and documents that are readable and easy on the eyes.
🤣😍😂 4 Free OCR Apps – Scan And Convert To Text With Smartphones
With today's high resolution camera in every smartphone, who needs a slow scanner? The best note taking apps are the ones that are dedicated to making sure the final output is sharp and here are 7 of the best in the market. For those new to this method of archiving their documents, always have a backup copy or upload them to the cloud.
↓ 01 – Office Lens | iOS | Android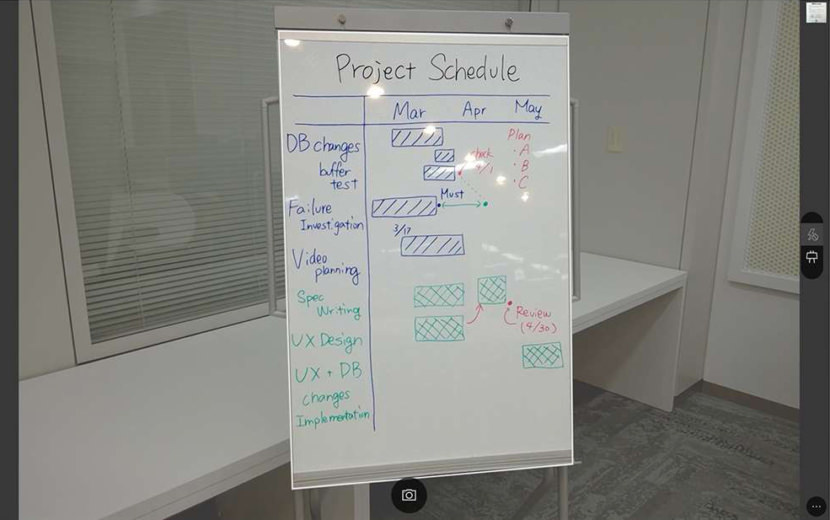 Office Lens by Microsoft is my favorite app for scanning documents and receipts. Office Lens trims, enhances, and makes pictures of whiteboards and docs readable. You can use Office Lens to convert images to PDF, Word and PowerPoint files, and you can even save images to OneNote or OneDrive. Office Lens is like having a scanner in your pocket. Like magic, it will digitize notes from whiteboards or blackboards. Always find important documents or business cards. Sketch your ideas and snap a picture for later. Don't lose receipts or stray sticky notes again!
Capture and crop a picture of a whiteboard or blackboard and share your meeting notes with co-workers.
Make digital copies of your printed documents, business cards, or posters and trim them precisely.
Printed and handwritten text will be automatically recognized (using OCR), so you can search for words in images and then copy and edit them.
CamScanner turns your phone into a portable scanner. Archive all your paper documents, receipts, notes, whiteboard discussions anywhere and anytime. Camscanner's Smart Image cropping and Image enhancement algorithm ensures the scanned images are perfectly clear and recognizable. Camscanner Free contains ads, Camscanner+ is commercial.
Send scanned docs anywhere – Must-have for business travelers, being available to send scans to customers even when you are out of the office.
Auto-enhance image quality – Auto enhancing makes the PDF look clear and sharp. You can easily export the files in multiple ways and sync to the cloud with high speed
No more typing – OCR (optical character recognition) feature extracts texts from images for further editing or sharing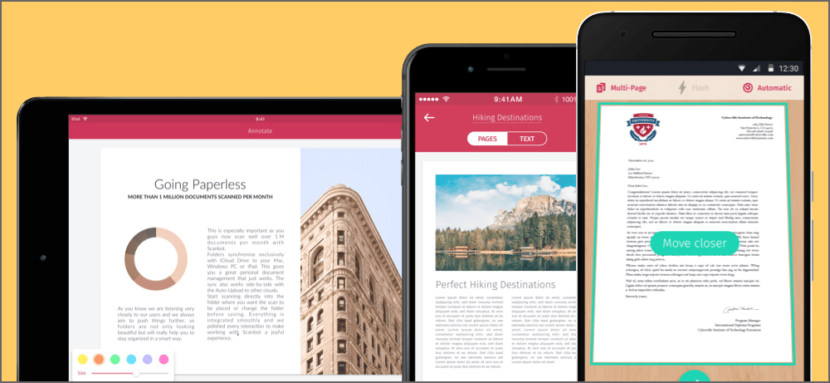 Scanbot is the leading Document and QR Code scanner app for iOS and Android. You can create premium quality scans of every document. Edit, sign and upload them to your cloud. Experience the new QR code and smart data type detection. Scanbot packs all the power of a desktop scanner into one tiny scanner app! Possibly the best PDF Document Scanner.
Lightning Fast – Scan your documents as fast and easily as you can imagine.
Document Detection – Just hold your mobile device over a document and let Scanbot take the scan for you in the perfect moment.
Color Optimization – You can optimize your scans for black and white, grayscale and color.
Perspective Correction – Scanbot's perspective correction straightens the scanned document before it gets converted into a PDF file.
Multi-Page Documents – Digitize anything like a multi-page contract or several pages of meeting notes.
Auto-Upload – Save your scans to your favorite cloud service – to a custom folder and automatically, if you like.
PDF & JPEG – Save your scans as a PDF or as a picture in the JPEG file format.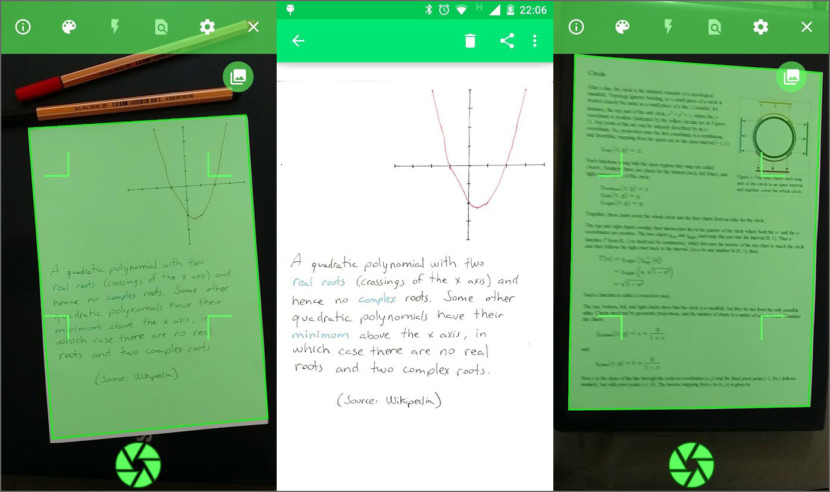 This little application provides a way of scanning handwritten notes and printed documents. It automatically detects the edge of the paper over a contrastant surface. If you have a RocketBook Wave notebook or home printed pages it automatically detects the qr code printed on the bottom right corner and scans the page immediately.
After the page is detected, it compensates any perspective from the image, adjusting it to a 90 degree top view and saves it to a folder on the device. It is also possible to launch the application from any other application that asks for a picture, just make sure that there is no default application associated with this action.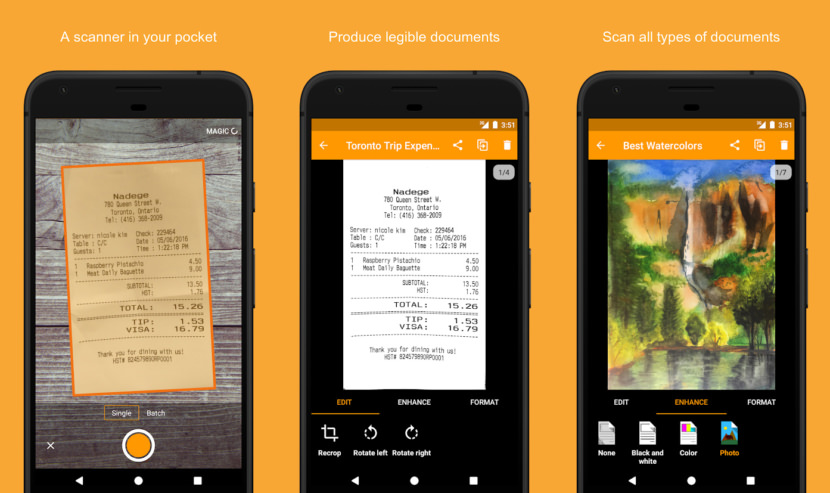 Genius Scan has no limits to the number of documents you can scan, and produces full resolution documents without any watermark. Genius Scan smart algorithms automatically detect your document, apply perspective correction and enhance the colors. It helps users digitize millions of documents on the go every day. Discover how it will help you too!
Perspective correction – Genius Scan corrects any perspective distortion in your photos. You can actually tilt your phone to avoid shadows on your documents!
Batch mode – Quickly scan dozens of pages in a row. Import tons of images at once from your photos library.
PDF documents – Create multi-page PDF documents by gathering multiple scans.
Enhance and edit – Genius Scan automatically enhances your scans but you can always edit it.
↓ 05 – Adobe Scan | iOS | Android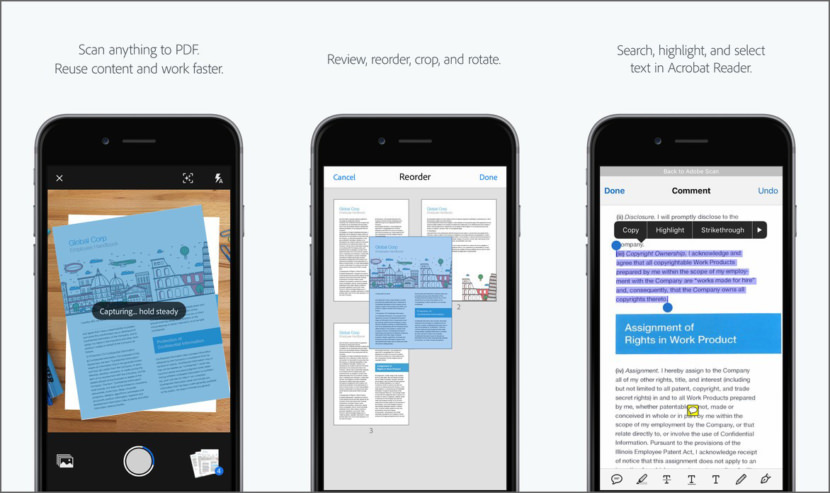 You no longer need to keep piles of paper on your desk or stuff your wallet with receipts. The free Adobe Scan app works on your mobile device, scans documents into PDFs, and automatically recognizes text.
Scan anything in a snap – Easily capture forms, notes, and multi-page reports. Go beyond scanning documents to scanning receipts, business cards — even whiteboard discussions. Powered by Adobe Sensei, Adobe Scan automatically detects borders, removes shadows, and converts printed text to digital in seconds.
Harness more PDF power – Open the scanned PDF in Acrobat Reader to make notes and comments, review with your team, fill and sign forms, and even send for signature. To do even more with your PDFs subscribe to Acrobat Pro DC.
Make every scan picture-perfect – Preview scans to make sure they look just the way you want them to. Touch up your new or already saved scans using intuitive tools to crop, rotate, and adjust color. If needed, add, delete, and reorder pages in a multi-page document. And, Adobe Scan will automatically turn on your device flashlight in low-light conditions to give you a perfect scan every time.
Instantly add information to your device's contacts – Adobe Scan automatically adds the information from scanned business cards — in English, German, French, Spanish, Portuguese, and Italian — to your device's contacts.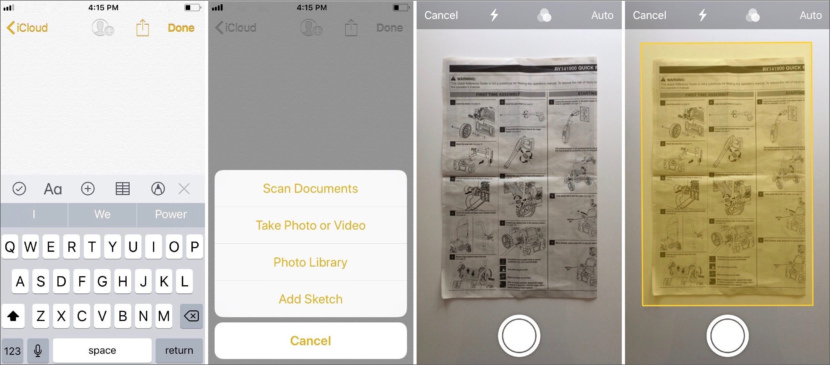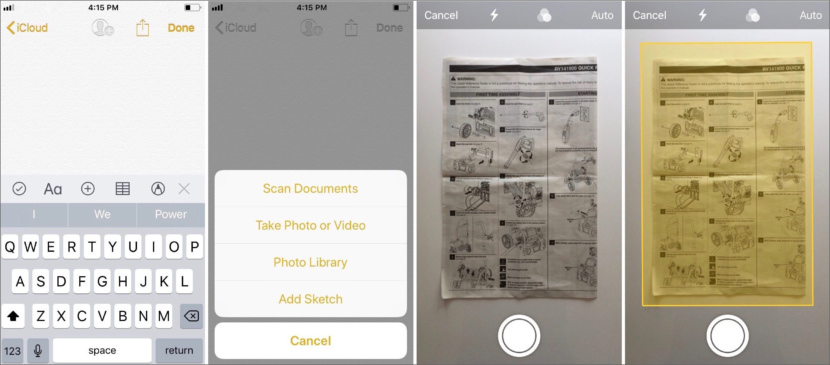 Use Notes to capture a quick thought, create checklists, sketch ideas, and more. And with iCloud, you can keep your notes updated across all your devices. Apple has been improving its Notes app each year, and this time around one of the main updates is the ability to scan documents within the app in iOS. To scan documents in the Notes app.
Step 1 – Open a new or existing note
Step 2 – Tap the + icon and tap Scan Documents
Step 3 – Place your document in the camera's view
Step 4 – Use the shutter button or one of the volume buttons to capture the scan
↓ 07 – Evernote | iOS | Android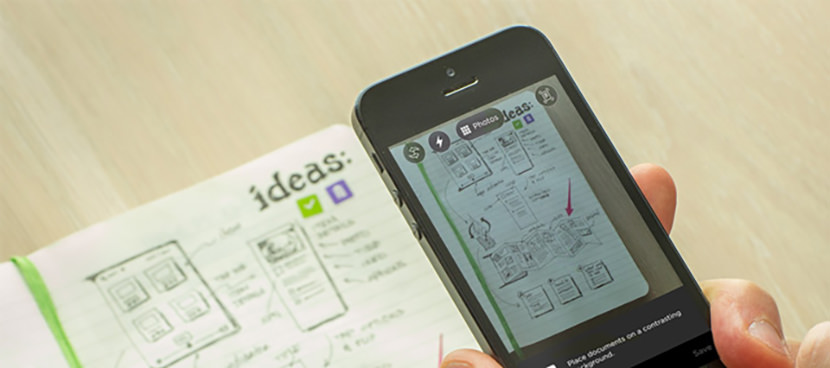 Use Evernote on your phone as a pocket scanner. Capture photos, handwritten notes, and documents such as business cards, receipts to Evernote. Once saved to your account, scanned items are available to you wherever you have Evernote. Evernote scans business cards and turns them into individual contact notes. Once scanned, card information such as names, titles, company names, and a picture of the card are saved and searchable
Scan bills, health policies, forms, maps, course syllabi, and user manuals for future reference
Snap a photo of product info and labels for supplies such as ink cartridges or water filters that need to be re-stocked regularly
Snap a photo of any product label, such as a wine bottle, and add it to a "favorites" notebook