These free faxing services allow you to send a fax to any fax machine in the United States (including Puerto Rico), Canada, China, Japan, UK, South Korea and more for free. You don't need a fax machine yourself, but you do need a valid email address for verification (and marketing) purposes.
🤣😍😂 Microsoft Fax Software – Send Fax Online Via Computer And Email
Can you send a fax to an email? There is no direct way to fax from a physical fax machine to an email address. Faxing to an email address is something that can only be done via online fax services. Physical fax machines are outdated, with today's internet and mobile app, you can easily send faxes via the internet – for free!
I don't fax that often, and to spend money on a fax machine just for faxing a document once or twice a year is a waste of money. It is more economical to use an online fax service. The only drawback is they often come with ads, if not, the features are limited.

Each of these free online fax services comes with its own set of features, interfaces, and upgrades. We're going to focus on those that don't require a monthly subscription plan or credit card verification.
↓ 01 – Fax.Plus [ The Best ]
Free 10 pages of faxes per account, send only. FAX.PLUS is provided by Alohi SA, a team of very highly competent engineers headquartered in Geneva, Switzerland. Their high performing, multi-tier faxing infrastructure allows large enterprises to easily transmit high volume faxes in no time. You can benefit from not only concurrent fax transmissions but also an extensive feature set that includes scheduled faxing, detailed report, contacts import, automatic retries for failed faxes and much more.
Swiss Grade Security + HIPAA Compliance. At FAX.PLUS our top priority is the privacy and security of our customers' data and we do this through strict security controls which allow us to comply with standards such as HIPAA, PCI and more. Also, being a Swiss company gives all our users' data the protection of strict Swiss privacy laws. Sign your faxes or any document in your emails and send back only with a touch of a button. No need to print, sign, scan and send back.
Their Google's G Suite integration enables users to send faxes from Google Docs, Google Sheets, Gmail, and even the Chrome browser. Integrations are available for free to all FAX.PLUS users. With FAX.PLUS Word add-in and email to fax feature, you can send and receive fax securely and quickly from Microsoft Office applications. There is no need to install a driver, use a fax modem or have access to a landline phone service.
Send fax from Microsoft Word
Send and Receive fax on Microsoft Outlook
Send fax from other Microsoft Office applications
Send and Receive fax on Windows 10
Send fax from your Google Apps
HelloFax helps you send faxes for free to international numbers but you need a hotmail or Google Drive account to use it. Any faxes that you send out will be stored as a copy in your SkyDrive or Google Drive account. This Free Fax to Email service enables you to receive faxes in your email inbox. This means no more waiting for the fax machine to ring or having to replace expensive ink cartridges and fax roll
Max 5 Fax Pages
HelloFax can fax to 70+ countries. See the FAQ for the full list.
Sync HelloFax with Google Drive, Dropbox, Box, OneDrive and/or Evernote to store, access and receive faxes there.
Electronically fill out, edit and sign your faxes before you send them out. All signatures are secure and legally binding.
Send Free Fax Online to the U.S. and Canada! You can have multiple pages in a single PDF or MS Word file. When you upload multi-page PDF or MS Word files to fax, all pages will be sent in one fax. Secondly, our online fax form supports up to 10 upload files per fax. For instance, you can upload 10 JPEG images to fax at once. If you have more than 10 JPEG image files to fax, you can insert them into a MS Word file and then upload the Word file to fax. Best email fax service.
Truly FREE!
Free fax cover page, No Ads
3 pages per fax maximum
2 free faxes per day maximum
Send faxes for free to anywhere in the U.S. and Canada or, Send an International Fax, Fax your congressperson or senator. FaxZero lets you send a fax to any fax machine in the United States (including Puerto Rico) or Canada for free. You don't need a fax machine yourself, but you do need a valid email address.
Free online fax no credit card
Limited to 2 free faxes per day
Advertisement on the cover page
Send a fax for free to anywhere in the U.S. and Canada
Fax 1 document with a maximum of 3 pages each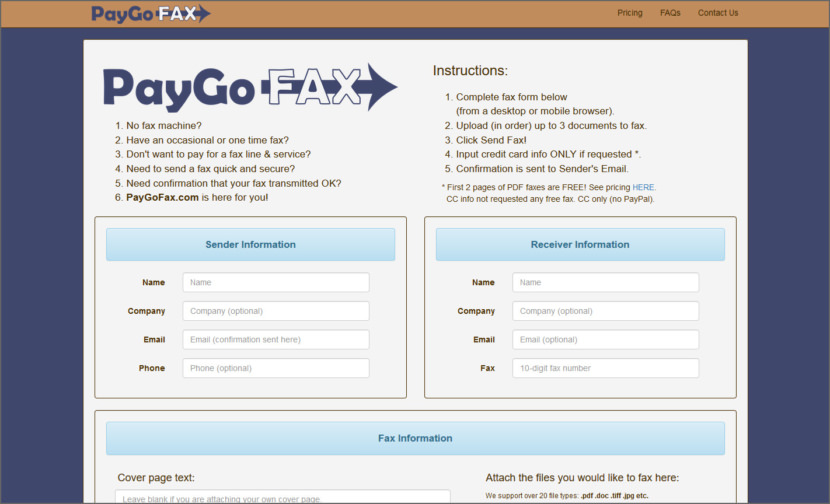 First 2 pages of PDF faxes are FREE! No fax machine? Have an occasional or one time fax? Don't want to pay for a fax line & service? Need to send a fax quickly and securely? Need confirmation that your fax transmitted OK? PayGoFax is here for you! Free Fax to Email gives you the freedom and flexibility to read, share, and print faxes at your convenience, saving you paper, time, and money.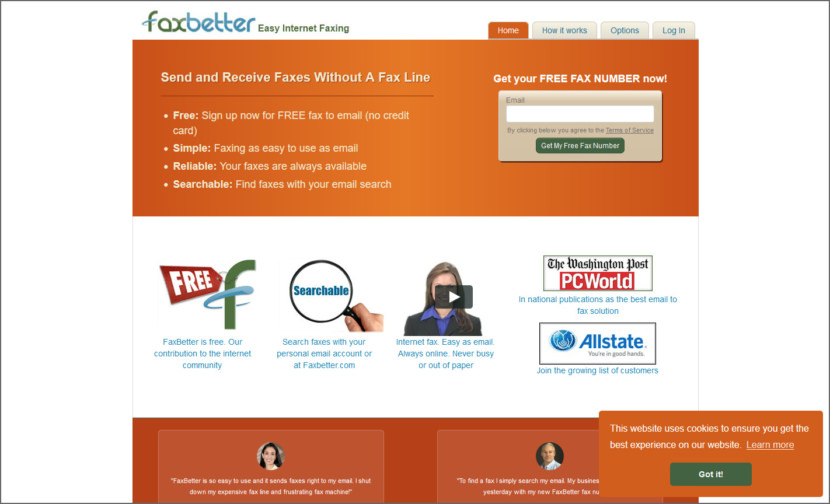 FaxBetter is an Internet service that allows you to send and receive faxes over the Internet without a fax machine. When you sign up for a FaxBetter account you receive a toll free fax number. When documents are faxed to this number they are emailed to you and appear in your FaxBetter account within minutes. No credit card required to sign up! With a FaxBetter Free Account you will get the following great features:
Dedicated toll free fax number. It's yours for life as long as you receive a fax every 7 days.
No credit card required to sign up.
Fax notification emails. Each time a fax arrives you will be sent a notification email immediately.
Searchable fax notifications with a PDF attachment for your first 30 days.
Enough storage space for around 1,000 pages. Your faxes are always available online at FaxBetter.
Send and receive faxes from anywhere using your computer, tablet or smartphone. With the high-end encryption protocols and security measures that make data breach impossible, CocoFax makes sure that your faxes are for your eyes only. You can send and receive faxes from any device of your choice with CocoFax. The process is as easy as sending and receiving emails.
CocoFax allows the freedom to send and receive free faxes without having to buy a fax machine. There are no hidden costs when it comes to faxing with CocoFax. In order to fax, you need a fax number. CocoFax provides you with your own fax number totally free of cost.
Completely Free Fax Number
Fax from Anywhere – Never Miss a Fax
Send Faxes Instantly – No More Waiting
No More Fax Machines, Paper or Toner
View and Store All Your Faxes Online
Safe, Secure & Encrypted Faxing
No Set-up Fees
Google Fax
Email to Fax
Fax From Cell Phone
Send Fax From iPhone
International Fax
Fax from Mac
Microsoft Fax Software / Server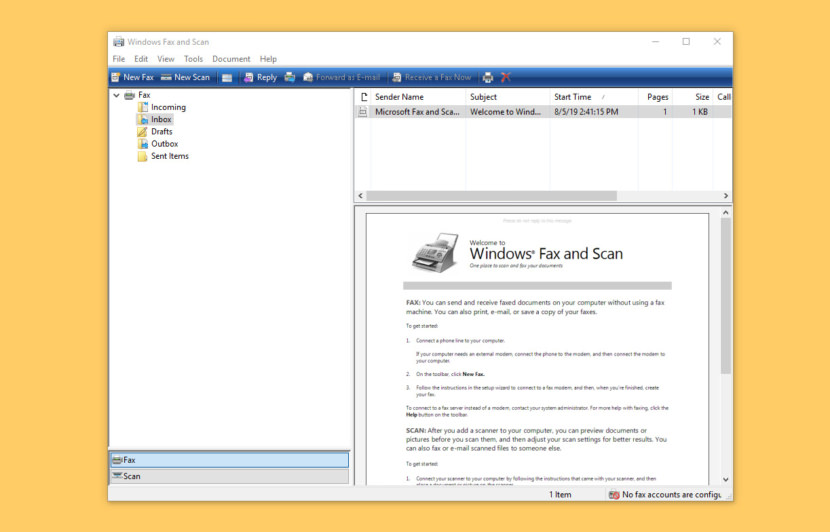 With a 56kbps dial up modem, can one turn their home computer into a reliable fax machine? Visit this article on how to setup the fax service in Microsoft Windows XP, Vista and 7 and send faxes via computer. In all honesty, I find the benefit of using a computer as a fax machine very convenient. What I like about computers as a fax machine is the ability to archive all incoming and outgoing faxes digitally.
Windows Fax and Scan is only available in Business, Ultimate, and Enterprise editions of Windows XP (Fax Console), Vista, 7 and 10. In Windows 7, the fax and scan features come with a whole lot more function. Mainly faster sending and faxing via email, do note that sending faxes via your computer is not free, the changes depend on your phone line provider. The only difference is faxing via a fax machine and a computer.
Email To Fax On Google Gmail
Start sending and receiving faxes from your Gmail account right now. Email to fax from Google Gmail is much easier than you think. But you do need to know what you're doing.