Before you can send a electronic fax, you need a 'USB Fax Modem Dial Up Data Modem' installed on your desktop or laptop. The RJ11 modem connector does not come with today's modern desktop or laptop, you will have to purchase it. This simple tutorial on how to use the build in Microsoft Windows 10 Fax and Scan feature.
Related Article 2019 ➤ 12 Free Fax Cover Sheet For Microsoft Office, Google Docs, & Adobe PDF

Step 1 – Connect a telephone cord to the RJ11 port of the USB modem (not the RJ45 port of the LAN network card) and to an analog telephone line (an RJ11 wall or floor outlet).
Step 2 – Launch the 'Windows Fax and Scan' program, you can search for it via the search bar.
Step 3 – Click 'New Fax', on the Fax Setup page, click Connect to a fax modem.
Step 4 – Type a name for the modem, then click Next. Choose a modem name.
Step 5 – Choose the method for receiving faxes or select I'll choose later; I want to create a fax now. Choose how to receive faxes.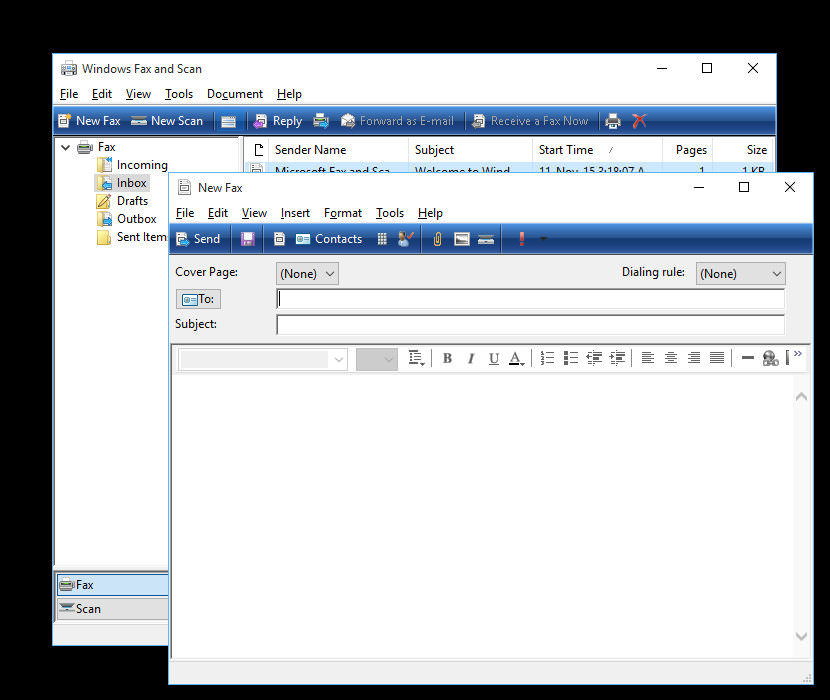 Step 6 – In the New Fax window, enter the recipient's fax number, or click Contacts to add a contact. To fax to more than one recipient, separate the fax numbers or contact names by semicolons.

When the fax sends successfully, a message displays in the Notification Area. If the fax does not send successfully, click View details. Fix any issues and try again.
Video Tutorial on Windows Fax and Scan
The tutorial below is made on Windows 7, but the interface is the same for Windows 10. Windows Fax and Scan turns your PC into a fax machine, potentially saving you money and desk space. When your PC is equipped with a fax modem (or connected to a fax server), it can send and receive documents just like a standalone device. Windows Fax and Scan even includes a handy tool for designing custom cover pages.