How to get my stolen Samsung, Huawei, LG, Sony, Nexus,and OnePlus smartphone back? There are many apps for tracking stolen devices, here are 7 free apps that do the job of recovering your stolen tablet or phone. My personal favorite is PreyProject. Simply because I can control the device via the web and it works on Microsoft Windows 7, 8, Apple macOS, Linux, Android, iOS and more.
See More ▼ 26 Best Android Antivirus – Free Anti-Theft, AppLock, Call Blocker And More
The features for these apps vary accordingly, based on my own experience, the two must-have features are photo capturing capability via the camera and to get the recent call list or new phone number. Works great on Android 8.0 Oreo / Android 9.0 [ Popsicle, Pancakes or Pie ] smartphones such as Samsung Galaxy, Huawei Mate, Oppo, Vivo, XiaoMi, Nokia, and also Apple's iOS iPhone.

WARNING! Spying on your enemies, spouse, husband, wife, gf, bf or anyone using installing these app without their knowledge is against the law. Avoid breaking the law, if there is anything, discuss with your other half.
Prey is a very powerful anti-theft app for most devices, including iOS, Windows, Android and more. The basic version is more than enough for the average joe like us. To track your stolen device, you'll have to SMS the word "GO PREY" or log into the control panel and mark the device as missing. Once this is done, you are presented with a variety of features such as lock down, capture photo, GPS location and more. The Pro version is more towards corporate, it doesn't have the 3 maximum device limitation. The Pro version can track up to 500 devices, with faster intervals, push automatic updates and more. Once you log into Prey you can do the following:
Find your phone on a map through geolocation using both GPS and WiFi triangulation
Take pictures using the built-in front and back camera
Lock your device from any unwanted intruder
Trigger a loud alarm remotely even if your phone is put on silent
Display a tailored alert message on the screen
Gather the network information that your device is connected to (for accurate pinpointing)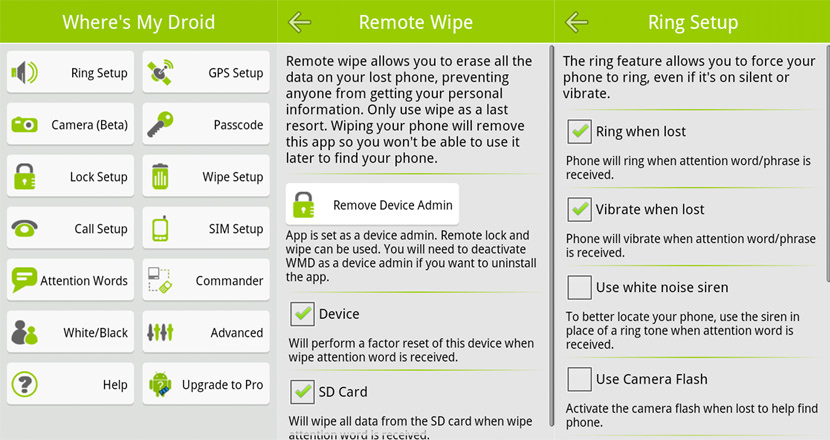 Where's My Droid is one of the best apps for android, it comes with more features and it is easier than ever to track down your missing phone or device via GPS. The basic features are free, however, for more features you will have to upgrade to the pro version. The pro version has the ability to snap a photo via the device camera and email it to you. Application Features:
Find phone by making it ring/vibrate
Find phone using GPS location
Text your attention word
Passcode protection to prevent unauthorized app changes
Notification of changed SIM card or phone number
Extra Features In Pro:
Take pictures with the devices camera
Remotely lock device
Remotely wipe SD card and phone data
Use a landline to activate the app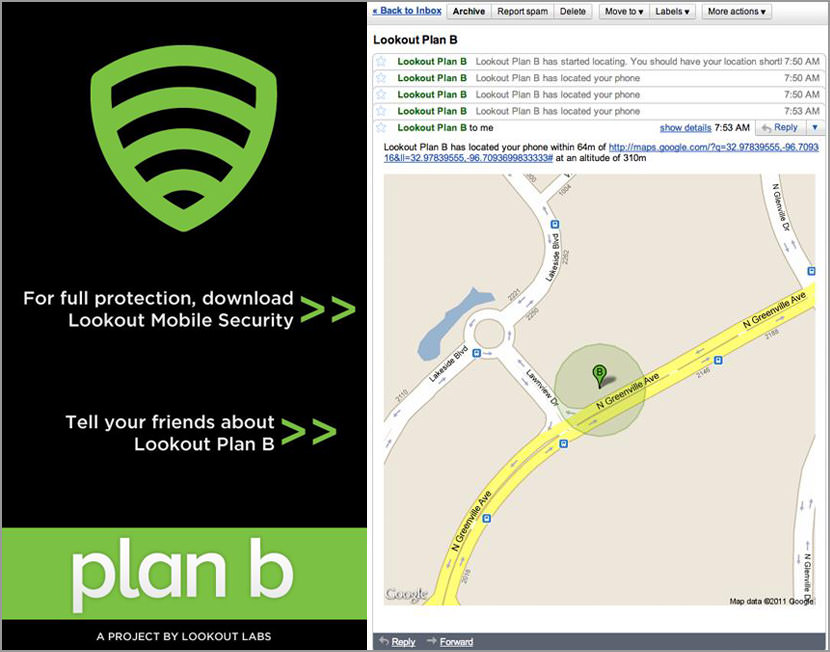 Plan B by Lookout Labs is a basic tracking app for your Android devices. It uses the GPS signal to track the device and send the location via email, in the absence of a data connection, the software will send its location via SMS.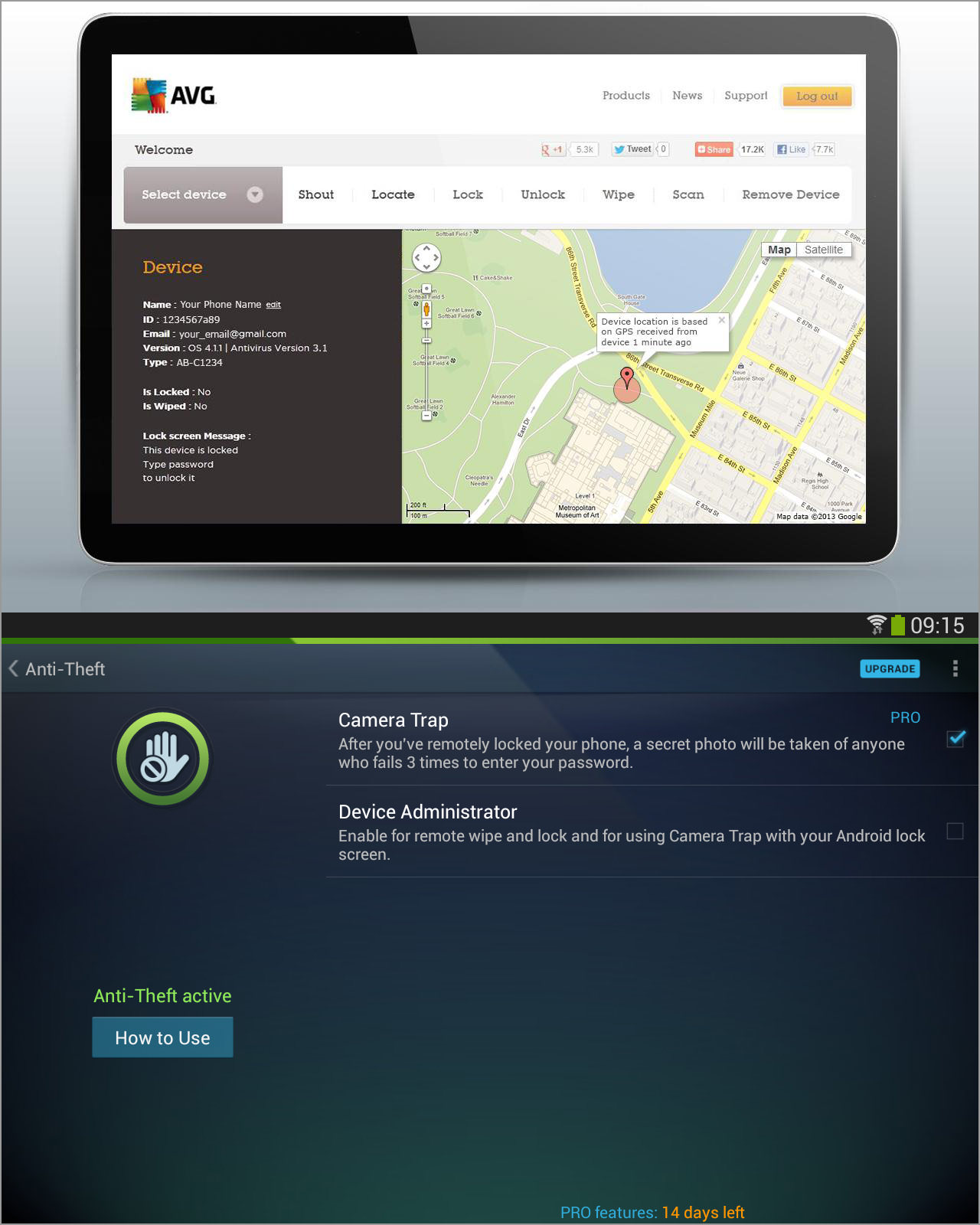 Unless you jailbreak your device, I do not see a point installing AVG Antivirus with a tracking device. It will drain the battery life for no reason. Anyway, AVG Antivirus comes with the ability to track your stolen smartphone via Google Maps, lock the smartphone and more. Use AVG's remote management console or text messages (SMS) to:
Locate your lost or stolen phone and get help finding it via Google Maps™
Lock your phone and set a lock screen message to help the locator find you
Make your phone ring (shout) even if it is on silent mode
Wipe your phone and SD card content
Camera Trap [14 day trial]: discreetly emails you a photo of anyone who enters 3 wrong passwords when trying to unlock your phone
SIM Lock [14 day trial]: automatically locks your phone whenever someone replaces your SIM card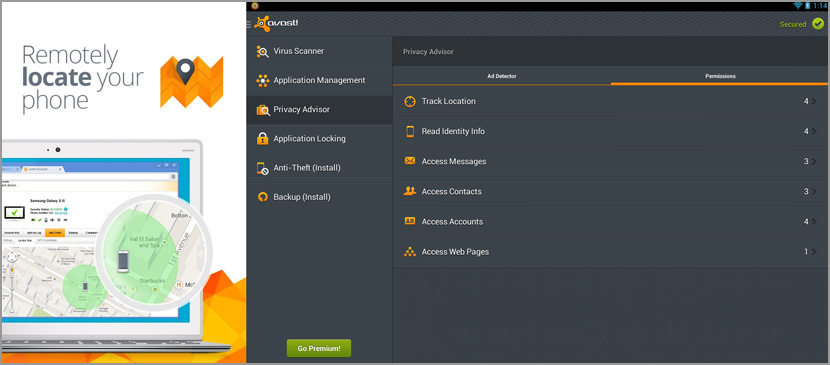 Another great antivirus software company producing great apps, Avast! Mobile Security's anti-theft feature is part of the mobile security package. It can only be remotely controlled via SMS or via the web. The best free cell phone tracker on the market. If you're thinking "How can I find my Android?" you can use its cell phone locator features to find it, control it remotely, and much more.
Control your Android remotely via a web-based interface or SMS (to later control your phone remotely, go to: http://my.avast.com).
Locate your phone on a map.
Lock device, activate siren, or wipe memory to keep your private data safe.
Get notification of a SIM card change.
6. Android Lost Free
[ Discontinued ] Android Lost Free is another really good app, apart from the usual GPS tracking feature, it comes with many core features found in other paid apps, such as remote wipe the SD card, retrieve the thief's call list, snap photos via the front and rear camera and more. Features:
Read sent and received SMS messages
Wipe / lock phone
Locate by GPS or network
Start alarm with flashing screen
Send SMS or popup messages from web page
Forward calls
Remote SMS control
Get call list
Take picture with front and back camera
7. AntiDroidTheft
[ Discontinued ] AntiDroidTheft is a really simple anti-theft app, it tracks the stolen device via GPS. Just like all the other apps, if the app detects there is a new SIM card, it will take a photo via the camera and send it to your web account. Its features include:
View position of phone using GPS
Track changes to SIM card / phone numbers
Spy camera, view pictures taken from phone's camera.