Tim Cook once said, "Android fragmentation turning devices into a toxic hellstew of vulnerabilities." This is partially true because if you have the habit of downloading apps from other third party sources, then your chances of being infected is high. Google understood this and launched Google Play Protect, a built-in malware protection for Android. Backed by the strength of Google's machine learning algorithms.
See More ▼ 5 Free Apps To Find, Spy And Track Stolen Android Smartphone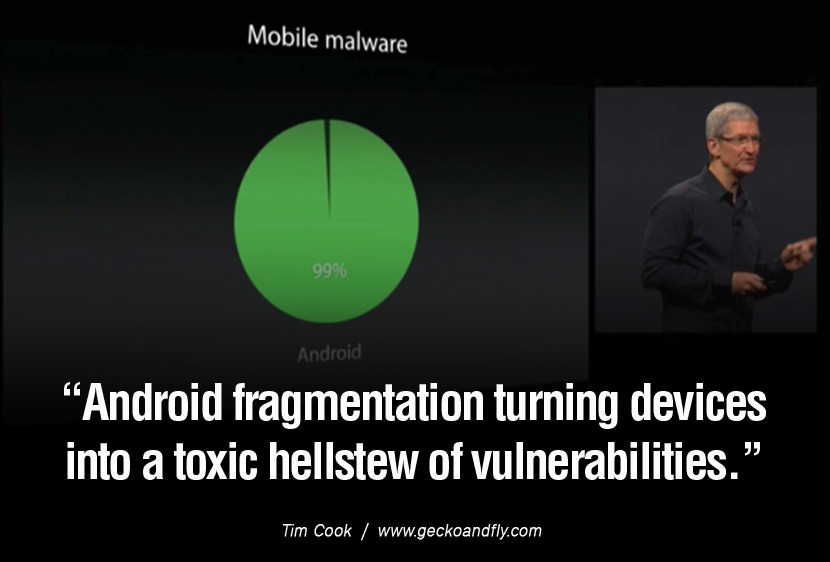 For those that find the default protection by Google is not enough and wants more, there are many alternatives. Below is a complete list of all Android Antivirus with data from AV-Test. As with everything free, these free antivirus for android are often limited in features and you have to upgrade to the pro version to enjoy the full benefits.
AV Test Score 99.9% / Anti-Theft / Anti-Phishing / App Locking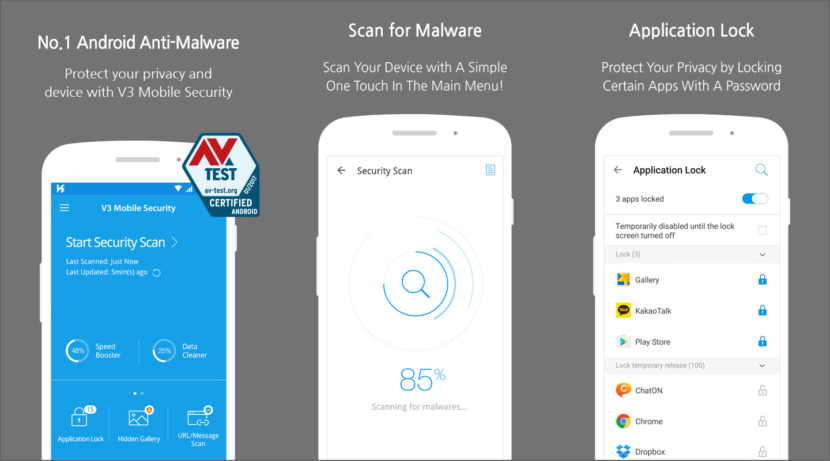 AhnLab V3 Mobile Security is a comprehensive mobile solution for anti-malware, anti-theft and privacy protection. It protects your sensitive data through a complete analysis of data access levels against mobile malware and malicious applications, and helps you find your lost or stolen device.
V3 Mobile Security is a comprehensive antivirus solution for Android phones. Keep your phone and personal information safe with a single touch without draining your battery. Minimal CPU and Battery Usage, it is designed to use less battery and lower CPU usage than other mobile antiviruses.
Optimized security solution for Android smartphones and tablets
Full-scale protection against the latest mobile malware (malicious apps), spam, and data leakage
Secure protection for personal data, applications, memory cards, and operating systems
Designed to use less battery power and less memory
Employs the proven, world-class mobile AV engine, V3 Mobile
Helps to secure your lost or stolen device using remote commands
AV Test Score 100% / Anti-Phishing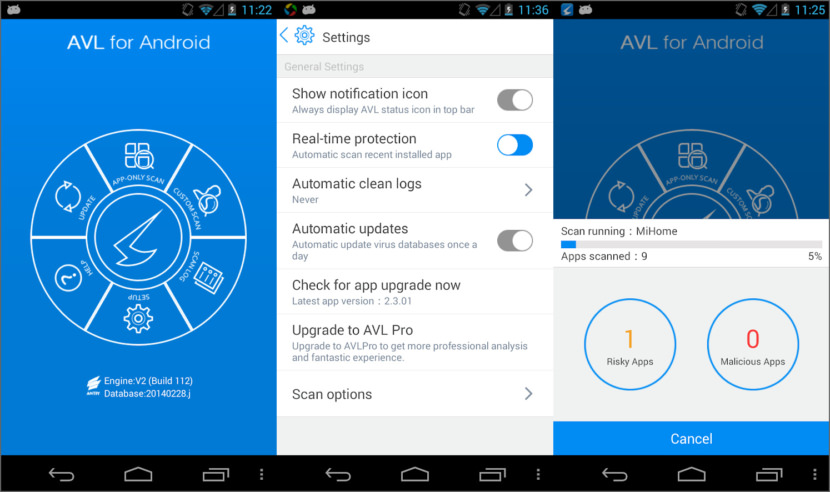 Antiy's AVL is the antivirus software produced by AVL Team that is applicable for Android systems. This is the App that displays the mobile antivirus engine of AVL SDK, which provides the basic functionality of virus scan to protect your Android system and application programs.
AVL SDK Mobile provides abundant configuration options of detection switches which scan the malicious codes of smart phones at different levels, through which can balance the scan speed and detection capability.
Comprehensive Detection – AVL SDK Mobile can detect and analyze different file formats, such as APK, SIS, SISX, XAP, and CAB. It can also detect executable files such as DEX, ELF, EPOC and PE;
Efficient Detection – AVL SDK Mobile is optimized on its structure, efficiency and the size of signature codes, so it is resource-saving and energy-saving. With its well-designed scan algorithms, it ensures the high-speed detection.
AV Test Score 99.8% / Anti-Theft / Anti-Phishing / App Locking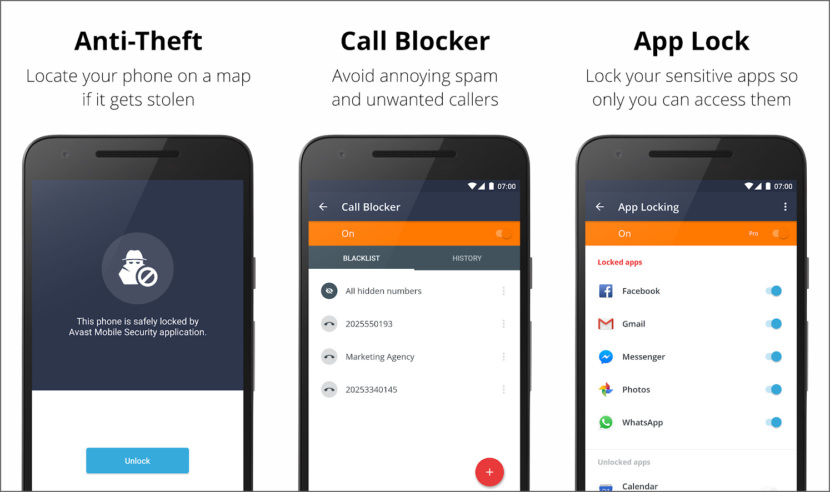 Protect against viruses & other types of malware with Avast Mobile Security, the world's most trusted free antivirus app for Android. Protect your privacy by receiving alerts when spyware or adware-infected apps are downloaded onto your device. Secure your device against phishing attacks from emails, phone calls, infected websites, or SMS messages.
Secure your data remotely – Remote control lets you stop thieves from accessing your data and helps you recover your device if it becomes lost or stolen.
Block all potential threats – Prevent viruses and other malware from infecting your Android device, perform regular scans to detect threats and vulnerabilities, detect malicious apps before you install them, protect against malware-infected links on the web and verify the security of any Wi-Fi network
Protect your privacy – Keep intruders out of your business, both online and on your device. Block spam and other unwanted calls.
Enhance performance – Keep your Android device running as good as new. Free up storage space by cleaning out junk, speed up your device with RAM Boost and extend battery life by adjusting power-consuming Android settings
AV Test Score 99.8% / Anti-Theft / Anti-Phishing / Backup / App Locking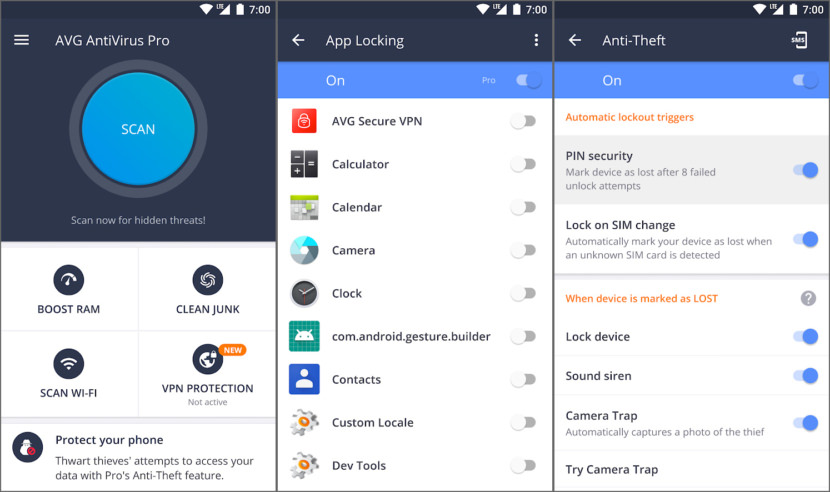 With AVG AntiVirus FREE 2019 for Android you'll receive effective virus and malware protection, phone locator, task killer, app lock, call blocker, Wi-Fi Scanner and photo vault to help shield you from threats to your privacy and online identity. Once installed, it runs silently to protect you from the latest viruses, malware, spyware, unsafe apps and settings, unwanted callers, and other nasty threats.
Anti-Theft Phone Tracker – Lost it? Remotely find & lock it. Just visit their Anti-Theft website from another device to locate and track your lost phone or tablet on Google Maps. You can even remotely lock it and blast an alarm at full volume.
App Lock – Lock down your privacy with a PIN code. Prevent others from snooping on your private photos, messages, and documents by locking any of your apps with a unique PIN code.
AV Test Score 99.4% / Anti-Theft / Anti-Phishing / App Locking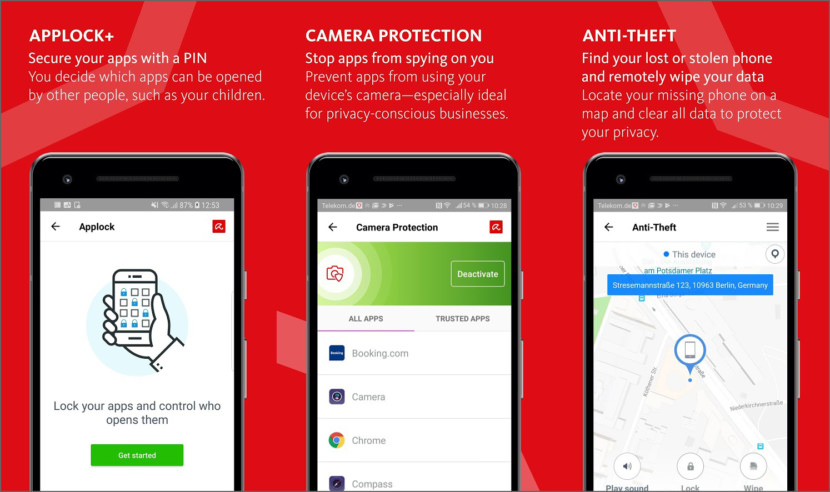 The best free antivirus cleaner, mobile phone security, privacy, and anti-theft app for Android: Avira Antivirus Security. Your photos, contacts, emails and credit card numbers are on your phone. Avira Antivirus Security is a top security app that protects your phone & tablet. More than a free antivirus scanner & malware/spyware cleaner, their full-featured free mobile security app provides safe browsing and remote anti-theft features to track & find your devices.
Virus Scanner & Cleaner – Scans, blocks & removes viruses, spyware, malware, etc.
Phone Locator & Tracker – Helps you find, track, & recover your lost or stolen phone.
Camera & Mic Protection – Prevents anyone from listening in and spying on you.
AppLock – PIN protect your sensitive apps (chat, calls, Skype, etc.)
Anti-Ransomware – Avira Antivirus Security prevents ransomware from encrypting your phone and taking your data and apps hostage.
Anti-Theft, Locator & Recovery Tools – Track your phone on a map, lock apps to prevent unauthorised access, and remotely wipe your device.
AV Test Score 100% / Anti-Theft / Anti-Phishing / Anti-Phishing / VPN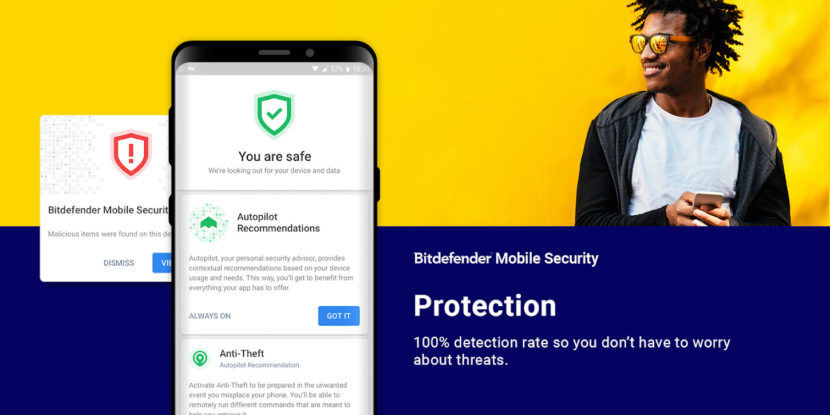 The most advanced cybersecurity app for Android gives your devices absolute protection against viruses and malware. To protect your Android after the 14-day trial is over subscribe to Bitdefender Mobile Security. With an independently proven 100% detection rate, Malware Scanner is always up to date with the latest intel on viruses and automatically scans apps for malware as you install them.
Anti-Theft – Lock, geo-locate, sound an alarm, and wipe your Android from any Internet connected device.
App Lock – lock your sensitive apps with a PIN code
Malware Scanner – 100% detection rate
VPN – hide your IP & unblock geo-restricted content
AV Test Score 100% / Anti-Theft / Anti-Phishing / App Locking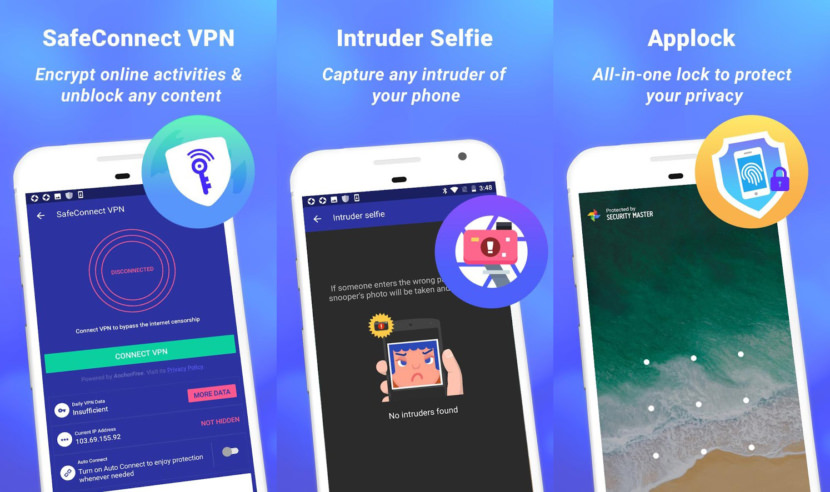 The original CM Security upgraded to the Security Master and redefined the scope of Phone Security: protects not only your android phone but also your privacy. With Security Master, a free antivirus for android, protect your phone from viruses and malware. Keep your privacy safe with Applock, SafeConnect VPN, Wi-Fi Security and more features.
Wi-Fi security – Detects and identify phishing Wi-Fi network, test network speed and protect phone's online safety.
Anti-Theft Alarm – Protect your phone from theft by sounding an alarm when someone moves your phone.
Applock – lock and protect apps with a password
Intelligent Diagnosis – Antivirus, Junk Clean, Phone Booster, Battery Saver, CPU Cooler
AV Test Score n/a / Anti-Theft / Anti-Phishing / App Locking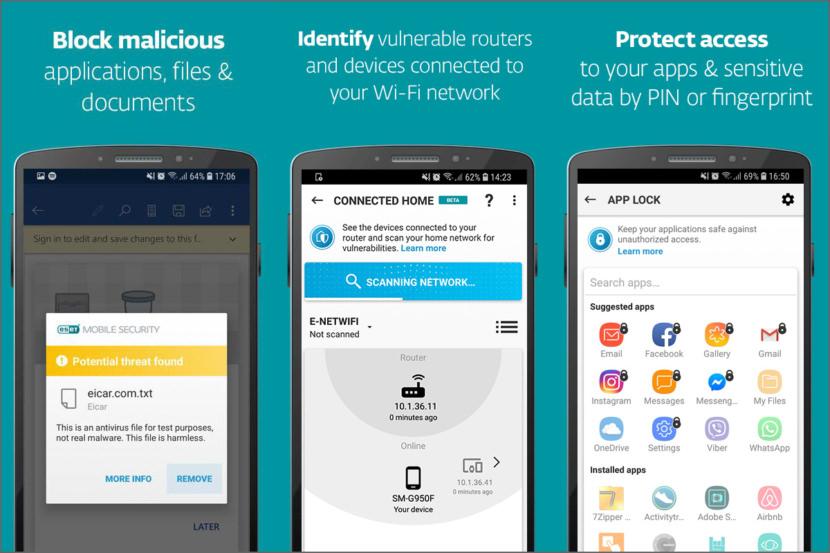 ESET Mobile Security is a fast and powerful antivirus and antimalware application protecting your Android smartphone or tablet. Join millions of users around the world and take advantage of PREMIUM features including an intuitive and easy-to-use interface, Proactive Anti-Theft and Anti-Phishing.
The best antivirus to protect you against viruses, trojans, spyware, ransomware that may collect and distribute your personal information, steal your credit card numbers, banking credentials and other valuable information.
Proactive Anti-Theft sends last location when your device is low on power – maybe it is a good start to find your device.
Secures your device against cybersecurity issues, including ransomware attacks.
Protects the apps from unauthorized access by using a PIN or a fingerprint.
Locks a device against unknown SIM and helps you find your missing phone.
AV Test Score 99% / Anti-Theft / Anti-Phishing / Parental Control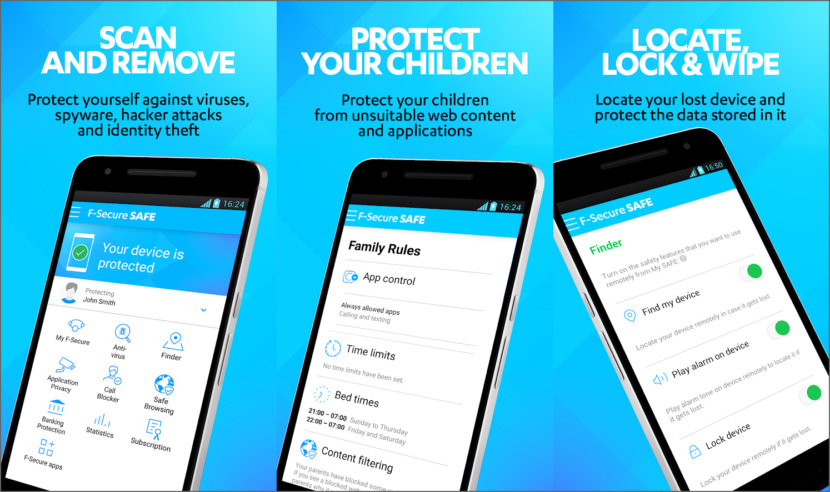 F-Secure SAFE – Protect you Android smartphone or tablet with their award-winning internet security and mobile antivirus. Try it now for free! From F-Secure, a cyber security company with over 30 years' experience of protecting millions of users and companies around the world.
Parental Controls – SAFE contains all parental controls you need to protect your children online; browsing protection, content filter, app control, safe search, time limits, and the Finder features.
Find and Wipe Remotely – Finder provides security for situations where your device is lost or stolen. It's the best antivirus to protect stored personal information by helping you find the device before it falls into wrong hands or wiping it if needed.
Browsing Protection – Lets you browse securely and block harmful websites
Banking Protection – Gives you extra protection when you shop or do your banking online
AV Test Score 99.7% / Anti-Theft / Anti-Phishing / Parental Control / App Locking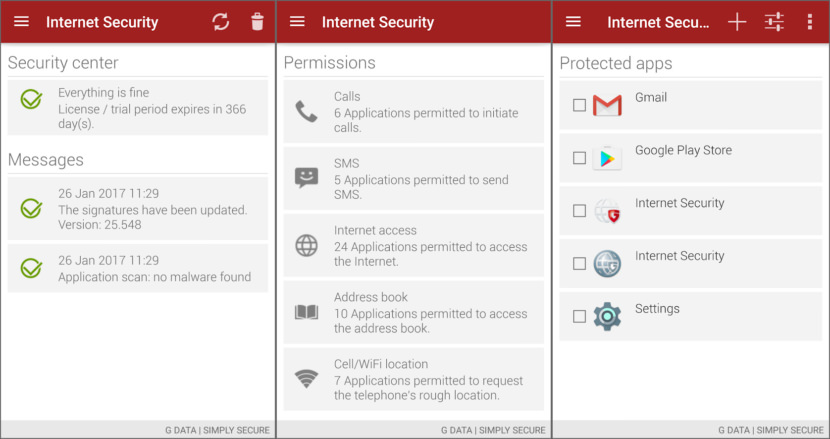 Internet Security for Android offers comprehensive protection against malware, intrusive apps and phishing attacks. Locate lost devices or wipe their content remotely to prevent unauthorized access. The all new phishing and web-protection uses the latest cloud technology to detect and wipe out even the most current threats.
All this combined in a modern and intuitive interface, so you can stay focused on your real tasks while on the go. Enjoy using the many additional features such as comprehensive parental controls for protecting your children when surfing, playing games and learning on the Android smartphone or tablet.
Web and Phishing Protection – Protects against phishing attacks and websites containing malware. Stops even the most current threats using state-of-the-art cloud technology.
Malware protection – Android malware is on the rise. Using the latest cloud technology, the Advanced-Scan of Internet Security for Android is always up-to-date.
Protection against theft and device loss – Should your device get lost or stolen, locate, lock or wipe it easily via the G DATA ActionCenter.
Lock on SIM change – Prevent usage of other SIM cards in your phone. Get notified when the SIM card is replaced
Password protected Apps – Prevent app launch with a password. Thus stop traffic costs by locking video apps or prevent app purchases
AV Test Score 99.3% / Anti-Theft / Anti-Phishing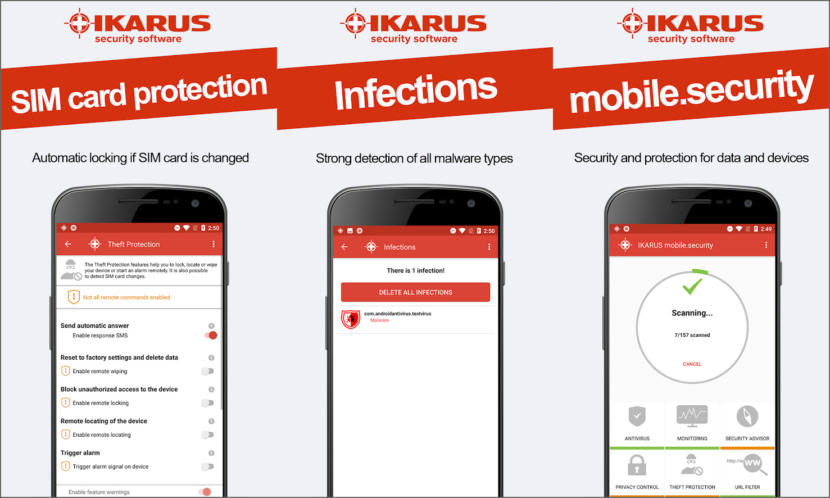 IKARUS mobile.security – the award-winning antivirus solution for Android – protects your smartphone or tablet reliably against malware infections in the apps as well as from the Internet. Find and remove viruses, trojans, spyware, adware and other malware.
AntiVirus – Scan apps or files, check and remove the infections. Define when and where automatic updates should be done, start manual updates and check, when the last scan was performed.
Theft Protection – The SIM card protection automatically locks the device when changing the SIM card. Third party SMS applications with high priorities may affect IKARUS mobile.security anti-theft features.
AV Test Score 100% / Anti-Theft / Anti-Phishing / App Locking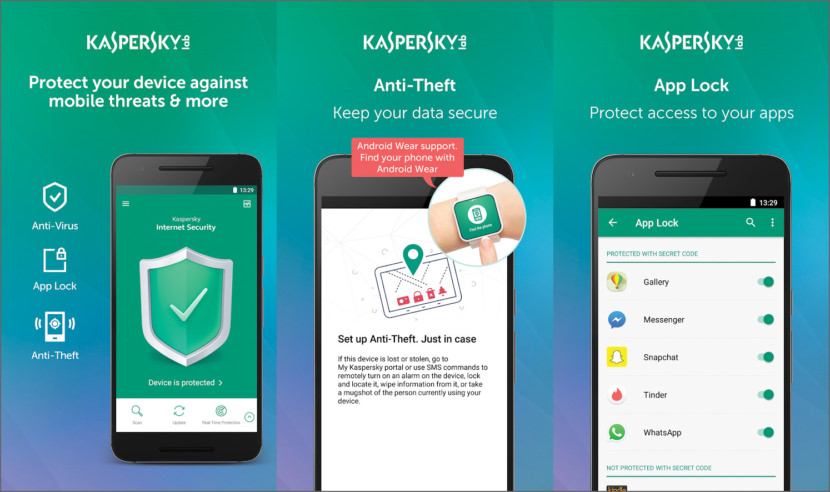 Kaspersky Internet Security for Android is a FREE-to-download antivirus solution to help keep your phones and tablets – which can be even more vulnerable than computers – as well as your private information secure from online dangers. If their background check detects malware, Kaspersky Internet Security for Android acts as a virus cleaner – blocking viruses and dangerous apps, links and files.
App Lock – Their App Lock feature protects your private communications & financial information with a secret code that lets you access confidential apps selected by you. Plus it hides your sensitive data (messages, photos, files & more) on your device from people up to no good.
Find my phone – Kaspersky Internet Security for Android helps you track and find your lost phone or tablet. You can turn on an alarm on the device remotely, lock and locate your phone, wipe personal information – including messages, photos & videos – and take a mugshot of the person using your device if it's stolen.
Block dangerous sites & links when you're online – Their powerful antivirus for Android protects your device from Internet threats while you're browsing by blocking phishing. That's why their virus cleaner delivers outstanding virus protection & helps keep your privacy and sensitive financial data secure when you buy stuff.
AV Test Score 100% / Anti-Theft / Anti-Phishing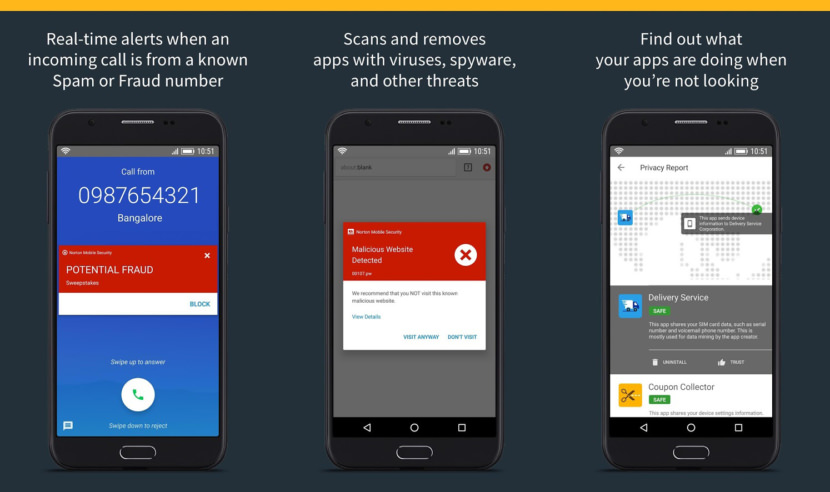 Norton Security & Antivirus is an award winning mobile security and virus protection app. It helps protect your Android devices against threats such as malicious apps, fraudulent calls, theft, and websites designed to steal your information and money. Scan and help remove apps that have malware, spyware, or an Android virus that can harm or slow your device. Proactive antivirus protection.
Wi-Fi Scanning: Helps your device stay safe when connecting to public Wi-Fi by notifying you if a connection is unsecure
Safe Search: In-app search engine connects to Symantec's global threat database to flag unsafe sites right in your search results
Call Blocking allows you to block unwanted, SPAM and junk calls on your phone
Lost and stolen phone protection tracks your device's location and saves the last known location when the battery level is critical, sounding an alarm, or taking a Sneak Peek photo of anyone using your device without them knowing
AV Test Score 100% / Anti-Theft / Anti-Phishing / Parental Control / App Locking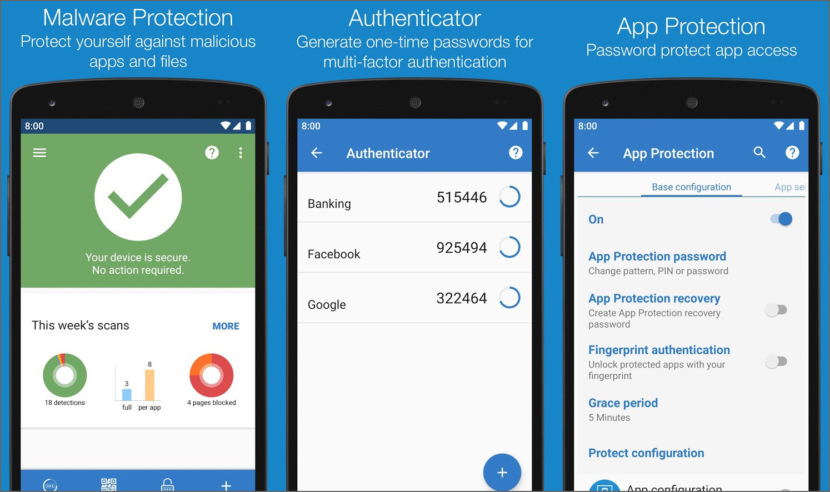 Sophos is an IT security leader for companies and governments worldwide. This app comprehensively protects your Android device and your privacy without impacting performance or battery life. Scan apps and storage media for malicious or inappropriate content.
Web Filtering – Block web pages with malicious, undesirable or illegal content.
Link Checker – Check links you tap in non-browser apps for malicious or inappropriate content.
App Protection – Protect apps with a password.
Password Safe – Store all your account data in a KeePass-compatible password database.
Battery and data usage – Malware definitions update once a day to keep you protected. This uses a small amount of data.
AV Test Score 100% / Anti-Theft / Anti-Phishing / Parental Control
Mobile Security for Android & Antivirus Scan with Performance Booster. Provides the best protection for Android smartphones and tablets delivering 100% malicious app detection! Their Advanced AI scan safeguards against malicious apps, viruses, identity theft, ransomware, and crypto-miners.
Protects you against ransomware, fake banking, shopping, and financial apps
Scans URLs and blocks dangerous sites, keeping you safe while browsing the web
Monitor links in text messages, Facebook, Line, & WhatsApp to alert you of risks before you click them
Wi-Fi scanning to report unsecured network connections
Remote console to find your lost phone, recover from common ransomware hijacking, or wipe your device
Increases device performance with app manager, cleaner system and app optimizer
Parental Controls keep your children from accessing unwanted web content and apps
AV Test Score N/A / Anti-Phishing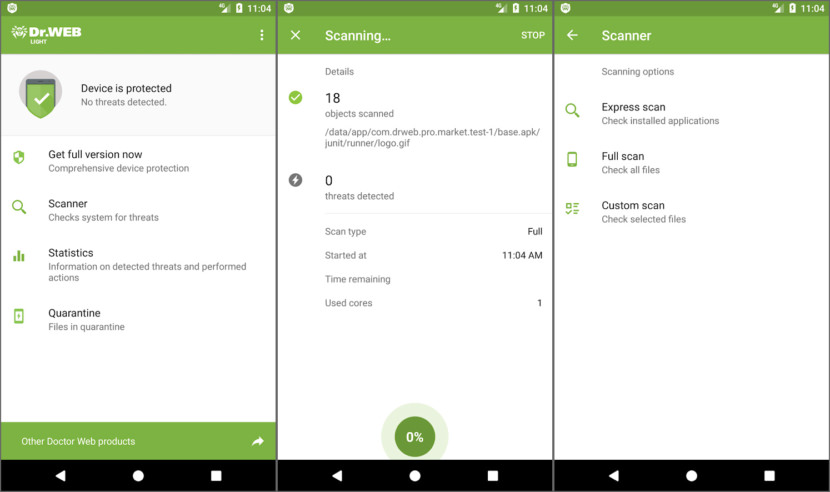 Quick or full file system scans, as well as custom scans, of user-specified files and folders. The SpIDer Guard monitor scans file systems in real-time whenever an attempt is made to store files and applications in the device's memory. The unique Origins Tracing technology is used to detect new, unknown malware.
Neutralisation of ransomware lockers, malicious processes are terminated even if a device is locked; lockers not yet present in the Dr.Web virus database are blocked; data remains intact, eliminating the need to pay criminals a ransom. Minimal impact on system performance and restrained use of battery resources.
AV Test Score N/A / Anti-Theft / Anti-Phishing / App Locking / Free VPN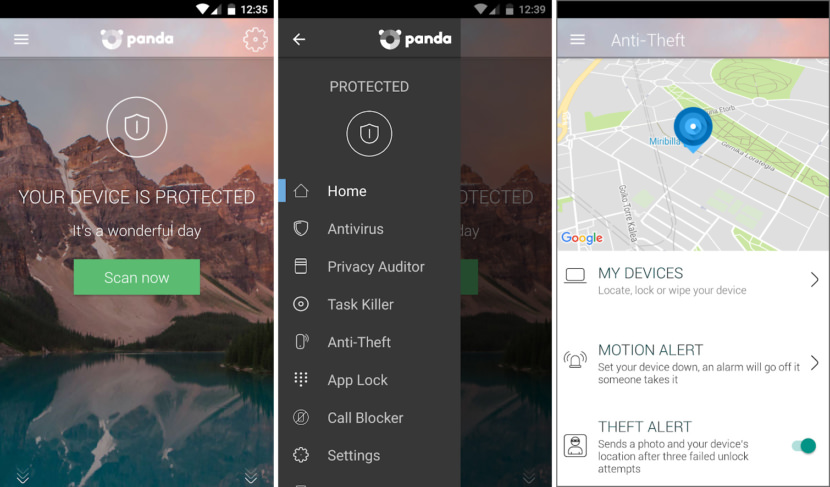 Download the most complete protection for your Android devices for free! Panda Mobile Security is the free antivirus for Android with VPN that safeguards your privacy by protecting your smartphone and tablet against viruses, malware and ransomware. And you can use it from your Android Wear smartwatch too!
Free VPN – Avoid prying eyes and access your favorite sites through a private, secure, virtual data tunnel. Don't miss any of your favorite TV shows ever again! Available for one device, one single default virtual location and maximum 150 MB/day.
Anti-theft and phone locator – Protect and recover your lost or stolen device with the GPS location system, locate your phone remotely and in real time and lock your phone remotely. Wipe all confidential data from your smartphone remotely and you can locate and lock your phone remotely from your smartwatch too.
App lock – Block access to your apps (Facebook, Whatsapp, Instagram, etc.) with a security PIN. Protect your and your family's privacy from prying eyes.
AV Test Score N/A /Anti-Phishing / App Locking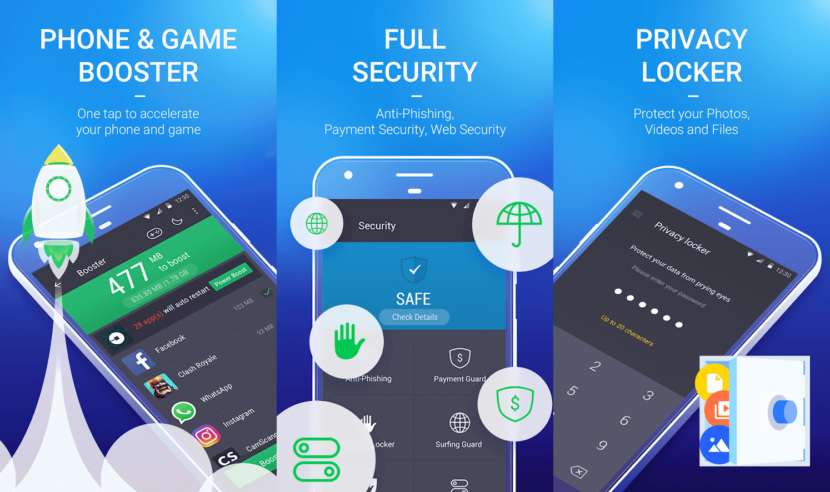 Get Free All-in-one AMC Security (a.k.a Advanced Mobile Care from IObit) to clean, boost and protect your phone and tablet performance! Trusted by over 20,000,000 users, AMC Security will make your devices running as fast as they are brand new. Available in 38 languages, AMC Security also offers real-time protection against phishing websites, protecting your mobile security and Privacy.
Anti-Phishing – IObit Cloud Services provides a plug-in which update in real time so that whenever you access a site that detected as phishing, it will help you keep the tricks outside.
Web Security – Protect you from websites that contain malware, malicious URL and fraudulent content, and warn you instantly by IObit Cloud Services when heading to the danger.
Privacy Locker – Hide your private and important photos, videos, files, contacts and SMS so no one can access to it, never worry about privacy leak.
AV Test Score N/A /Anti-Theft / Backup / Anti-Phishing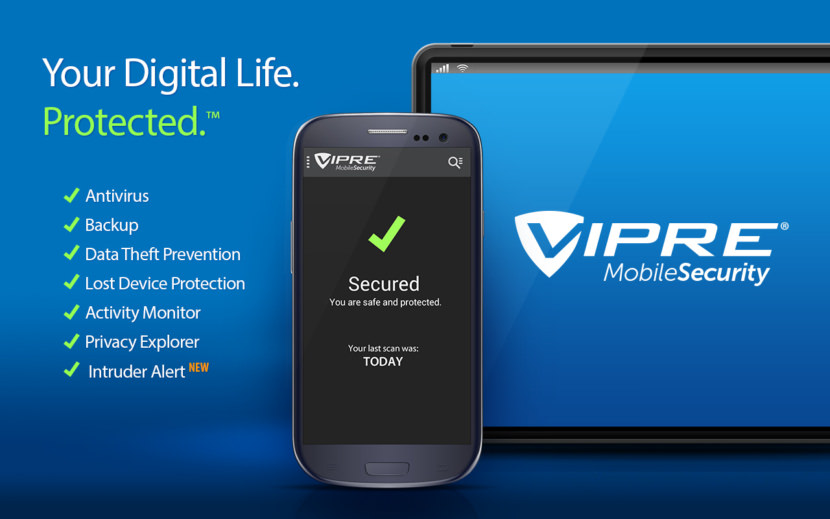 VIPRE Mobile Security puts your safety first, protecting your smartphone or tablet from over 20,000 known Android viruses. It's the mobile security app that keeps hackers away, backs up your contacts and photos, monitors your device history and helps you find and secure your lost device for complete peace of mind.
Detects and blocks malicious software that can affect your device's functionality or steal your personal information. Use it to quickly scan for harmful apps or to dig deep for any malicious files. Best of all, VIPRE doesn't slow you down or drain your battery (even during scans).
AV Test Score N/A /Anti-Phishing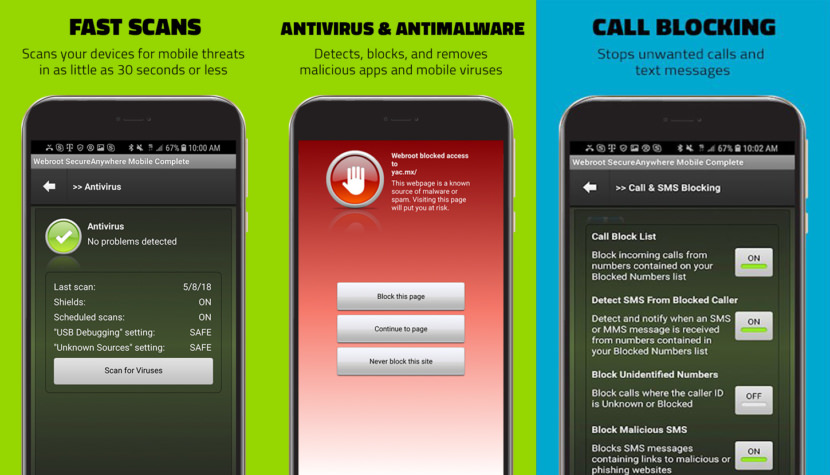 Webroot SecureAnywhere Mobile Free keeps you secure when browsing, shopping, and banking on your Android™ device. This app uses the Device Administrator permission. Automatically scans apps for malware and viruses. Set it and forget it – continuous protection without interruptions or slowdowns.
AV Test Score N/A /Anti-Theft / Anti-Phishing / App Locking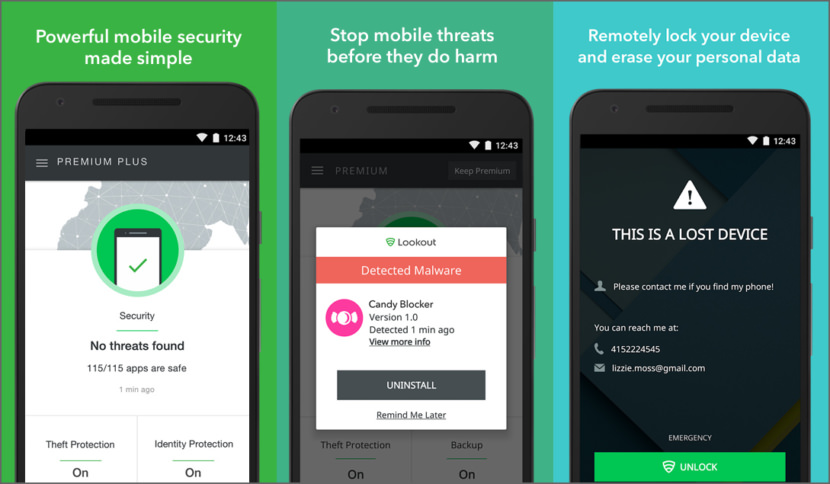 Lookout Personal is the only solution that provides mobile security, identity protection and theft prevention in a single app. Tens of millions of individuals who use their phones for everything and are concerned about the security and privacy of their personal information have turned to Lookout for a simple and straightforward way to help protect their devices and their personal data. Get Lookout Personal today for all-in-one mobile security and identity theft protection.
AV Test Score N/A /Anti-Phishing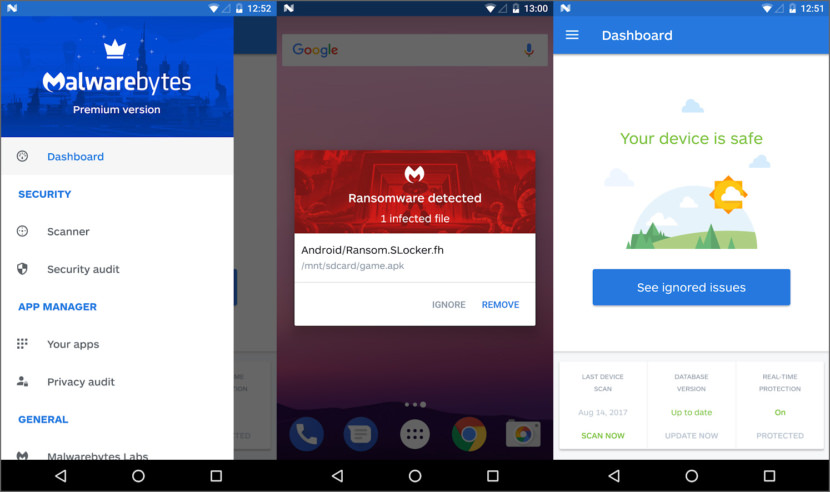 Malwarebytes for Chromebook is an Android app engineered specifically to protect your Chromebook. Google Play automatically detects if you are viewing this page on an Android device or a Chromebook, and will install the appropriate Malwarebytes product. Searches all files and apps quickly and effectively for malware or potentially unwanted programs such as screen lockers or adware, freeing your Android device from bloatware.
AV Test Score N/A /Anti-Theft / Anti-Phishing / App Locking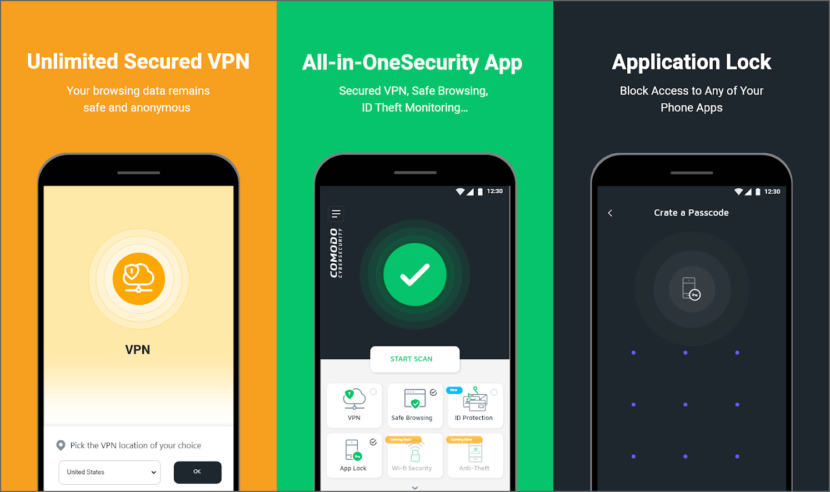 Experience complete mobile safety with Comodo Mobile Security. Among their first round of security features for this brand new version, you'll enjoy a free antivirus based on new antivirus technology, their secure mobile VPN, their identity theft protection module, their applock, and a 100% safe browsing experience.
The free advanced antivirus is based on Comodo's enterprise-grade technology trusted by 1,000s of companies worldwide. Comodo's free antivirus provides real-time protection against multiple types of mobile malware including Trojans, worms, ransomware, cryptoware, spyware, and adware. Protecting over 86 million endpoints worldwide, Comodo's free antivirus can even identify new security threats on the fly, and immediately update itself to better protect your phone.
24. BullGuard Mobile Security ( Now Norton )
AV Test Score N/A /Anti-Theft / Anti-Phishing / Backup / Parental Control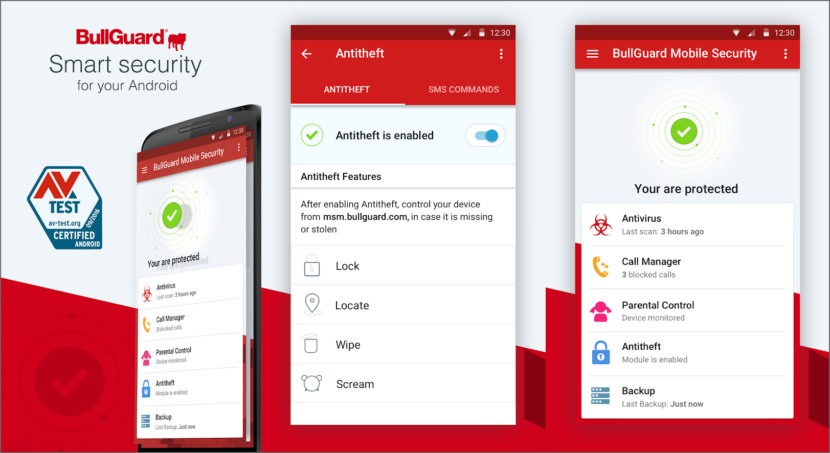 [ Discontinued ] Industry-leading Antivirus protection for Android devices, with anti-theft, backup and more. BullGuard Mobile Security and Antivirus – is easy to use, doesn't drain your battery and protects your mobile life. You are in complete control even if you don't have your device with you.
Anti-theft – locks, locates and wipes data should your device be lost or stolen
SIM protection – automatically locks device if SIM is removed, includes optional data wipe
Backup – simple one-tap back up to keep your data safe
25. Qihoo 360 Security
AV Test Score N/A /Anti-Phishing / App Locking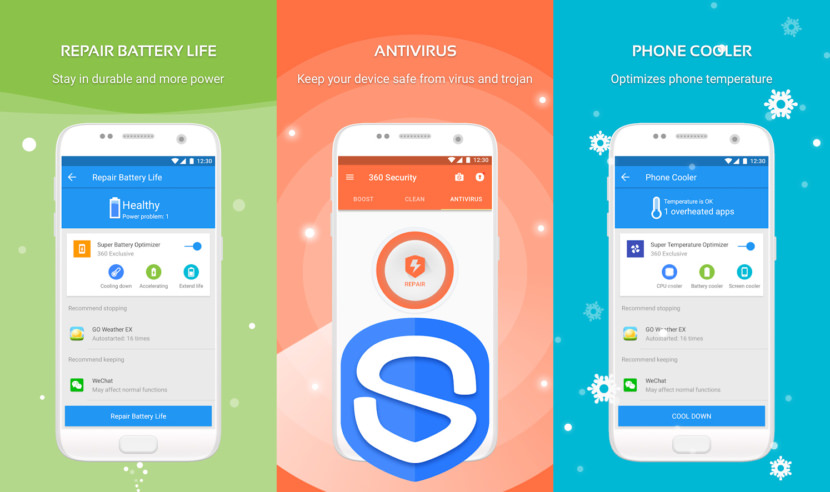 [ Discontinued ] Security Protection for Android Phone with Speed Booster, Junk Cleaner, Anti Spyware and Virus Remover. Trusted by 200 million users, 360 Security is the all-in-one power cleaner, smart speed booster and antivirus app that optimizes your background apps, memory storage, junk files & battery power, keeping your device safe from viruses.
Effective Speed Booster & Smart Cache Cleaner-Lacking space for new apps and photos? Just clean app caches and junk files, boost your phone with ONE click!
Smart Battery Saver – Battery draining quicker than ever? Kill redundant apps that drain your battery!
Virus Remover for Android – Worried about viruses or phishing? 360 Security's antivirus solution makes sure your device is free from malware, vulnerabilities, adware and Trojans!
Junk File Cleaner – Mobile cleanup app. Delete all types of junk files (system cache, image cache, video cache and advertisement cache) to free up the storage space.