Linux is considered to be more secure than other operating systems. However, it's increasingly a target of attackers, as Linux systems are used for critical roles like, web servers and internal file servers. In addition to being susceptible to Linux-based and cross-platform exploits, unprotected Linux Server machines can also become distribution points for Windows, Mac, and Android malware.
Related Article 2019 ➤ 7 Best FREE Firewall For Microsoft Windows
The other reason for using an antivirus is the wide spread of ransomware. Linux is known for powering 90% of the world's server, therefore if hackers can encrypt your data or your client's data, you forced to pay the ransom or close down your business. An antivirus will prevent that.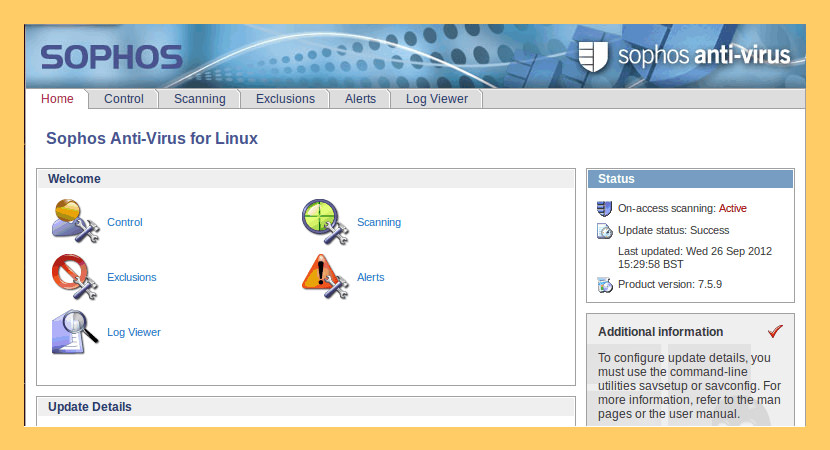 Sophos Antivirus for Linux provides superior on-access, on-demand, and scheduled scanning for Linux servers and desktops. It delivers excellent performance, stability, and reliability to a wide range of Linux distributions.
Sophos Antivirus for Linux ensures efficient on-access scanning using either the TALPA Filesystem Interceptor or the Fanotify library. On-demand and scheduled scans are also available. Scanning can be configured for local and network drives.
Sophos Antivirus for Linux is continually tuned for the best performance. The lightweight agent keeps your Linux boxes secure without slowing them down. Protection updates are small—typically under 50 KB—so updates are easy on your network and your Linux machines.
Comodo Antivirus for Linux (CAVL) offers the same great virus protection as our Windows software with the added benefit of a fully configurable anti-spam system. Featuring on-access and on-demand virus scanners, CAVL also uses cloud based behavior analysis of unknown files to provide unrivaled protection against zero-day malware. The powerful AV engine is complemented by a highly configurable mail gateway to filter spam and block email-borne threats.
Proactive AV protection intercepts all known threats
Automatic updates for the most up-to-date virus protection
Includes scan scheduler, detailed event viewer and custom scan profiles
Mail filter is compatible with Postfix, qmail, Sendmail and Exim MTA's
Install and forget. No annoying false alarms, just solid virus protection.
Powerful anti-virus and email filtering software for Linux based computers.
Detects and eliminates viruses from Linux based laptops and desktops
Mail gateway blocks email-borne viruses and spam
Features on-access, on-demand and cloud based scanning
Virus definitions updated multiple times per day
Simple to use: install and forget while Comodo Antivirus protects you in the background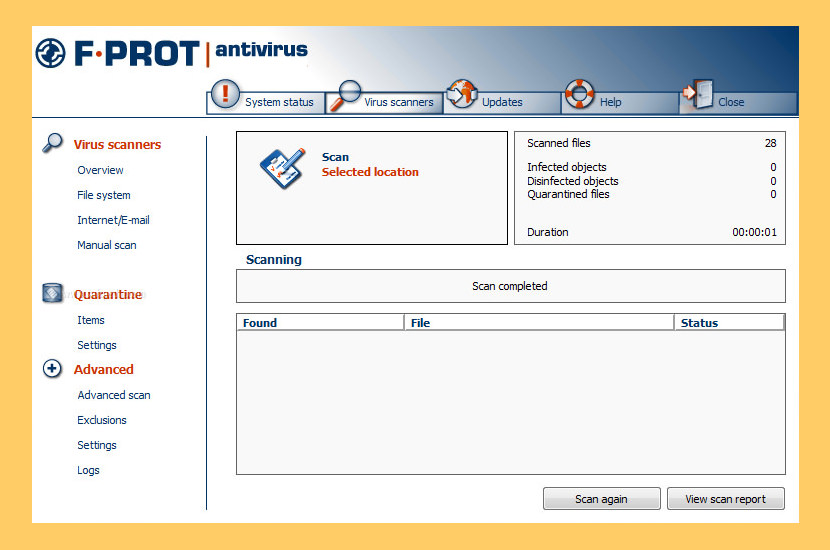 For home users using the Linux open-source operating system, they offer F-Prot Antivirus for Linux Workstations. F-PROT Antivirus for Linux Workstations utilizes the renowned F-PROT Antivirus scanning engine for primary scan but has in addition to that a system of internal heuristics devised to search for unknown viruses
F-PROT Antivirus for Linux was especially developed to effectively eradicate viruses threatening workstations running Linux. It provides full protection against macro viruses and other forms of malicious software – including Trojans. F-PROT Antivirus for Linux Workstations is FREE for use by personal users on personal workstations.
ClamAV is an open source (GPL) anti-virus engine used in a variety of situations including email scanning, web scanning, and end point security. It provides a number of utilities including a flexible and scalable multi-threaded daemon, a command line scanner and an advanced tool for automatic database updates.
Versatile – ClamAV supports multiple file formats, file and archive unpacking, and multiple signature languages.
High Performance – ClamAV includes a multi-threaded scanner daemon, command line utilities for on demand file scanning and automatic signature updates.
Virus database updated multiple times per day
Built-in support for all standard mail file formats
Built-in support for various archive formats, including Zip, RAR, Dmg, Tar, Gzip, Bzip2, OLE2, Cabinet, CHM, BinHex, SIS and others
Built-in support for ELF executables and Portable Executable files packed with UPX, FSG, Petite, NsPack, wwpack32, MEW, Upack and obfuscated with SUE, Y0da Cryptor and others
Built-in support for popular document formats including MS Office and MacOffice files, HTML, Flash, RTF and PDF
The WannaCry ransomware epidemic hit users on Windows like wildfire, but what can it do on a Linux system running wine? Is Linux immune to Ransomware? Will Linux protect you from ransomware attacks? The answer is no.
South Korea-based web hosting company NAYANA became one of the latest high-profile victims of ransomware after 153 of its Linux servers were found infected with an Erebus ransomware (detected by Trend Micro as RANSOM_ELFEREBUS.A) variant. The ransomware attack affected the websites, database and multimedia files of around 3,400 businesses employing NAYANA's service.