What Are the Best Real Time Child Tracking Tools and Apps for smartphones? Worried about your kid's location? If you're a parent, there's a chance you'll want to track your child when they're not home. There are physical devices for doing this, but there are also a bunch of apps that make it really simple.
See More ▼ 5 Free Apps To Find, Spy And Track Stolen Android Smartphone
Child abduction is on the rise, there are two devices to track your kids, one is a tiny portable dedicated GPS tracker [ Kid Smart Watch ], the other is to use their smartphone as a GPS tracker. However, in the event your kids are kidnapped, the kidnappers will most probably discard your kid's smartphone or the smart watch he or she is wearing. Works great on Android 8.0 Oreo / Android 9.0 [ Popsicle, Pancakes or Pie ] smartphones such as Samsung Galaxy, Huawei Mate, Oppo, Vivo, XiaoMi, Nokia, and also Apple's iOS iPhone.
The best option is to purchase a smartphone with the longest battery life and attach it to a power bank / powerpack and hidden somewhere inside their bag. With a battery pack and long battery life, you will probably need to charge the battery once a month, however this idea will fail if the kidnappers discard the bag during abduction.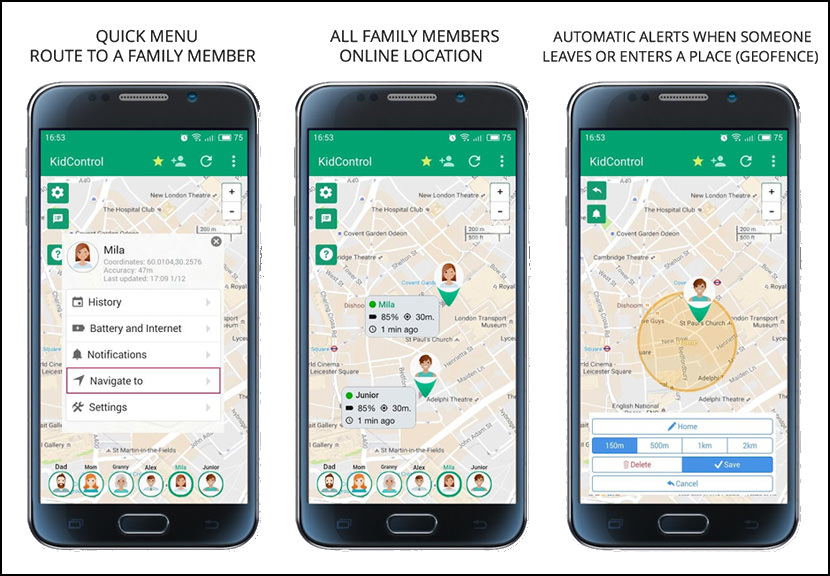 KidControl GPS phone tracker turns your kid's phone into a tool for monitoring the phone, controlling location and safety. It is Find my Android and Find My Phone services in one app. More simple than life360. Perhaps, it can even help to improve your relationship with your kids. Let your loved ones know you're safe with their personal safety app. It is free!
Receive automated alerts when you child arrives at school and returns home.
Browse your child's location history for today and yesterday.
KidControl GPS phone tracker can locate even in the underground parking!
Get alerts when the phone battery is low, so you can remind your child to charge the phone.
Navigate to your child location.
Add second child, your spouse and other family members to your account.
You can see the report of how your child is using and charging her or his phone.
Kid Control GPS tracker has intelligent battery consumption, so uses 1-7% of the battery during the day.
You no longer have to bother your child with "Where are you?" calls or texts.
No more endless texts and calls wondering, did Jenny make it home? Has Dad left the office? When will Mom arrive to pick me up? With Life360, just open the app and instantly see everyone in your private Circle on the map. Life360 is the world's leading realtime, location-sharing app, and is the best way to coordinate with family and friends. Get automatic notifications when your family comes and goes from home, work and school, and when they complete drives. As seen on FOX, NBC, CBS, and more! Use Life360's Family & Friend Locator to:
View the real time location of friends or family members on a private map
Receive real time alerts when friends or family arrive or leave home, work, and school
Share photos and text messages with their secure, private chat
See past location history for your Circle
See information after each drive to improve driving safety
Protect your family while they're driving with their Crash Detection service
Track a lost or stolen phone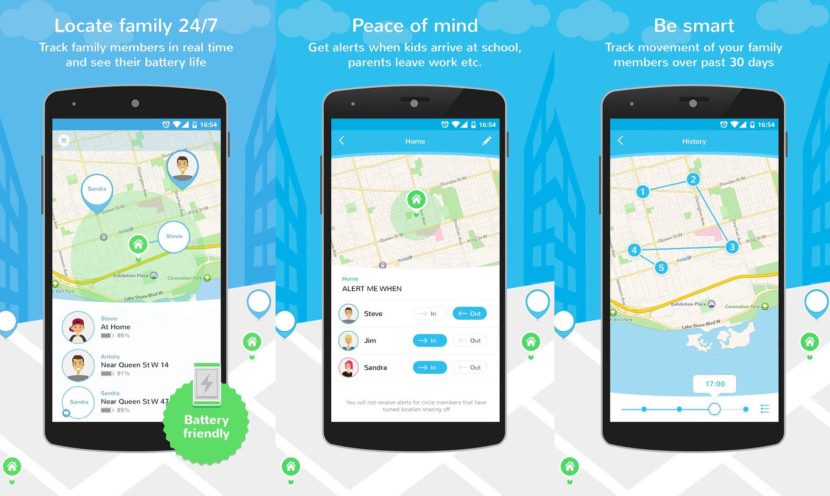 Download Free Family Locator app to your smartphone for tracking family members and communicating with them easily. Receive automatic alerts, when your loved ones arrive at school, work or leave home.
Track your family members in a real-time or preview 30 days history
Get alerts when children leave home, arrive at school etc.
When someone's battery is low get alert with their exact location
Be alerted when kids are over speed limit in the vehicle
Challenge family members to achieve daily steps goals etc.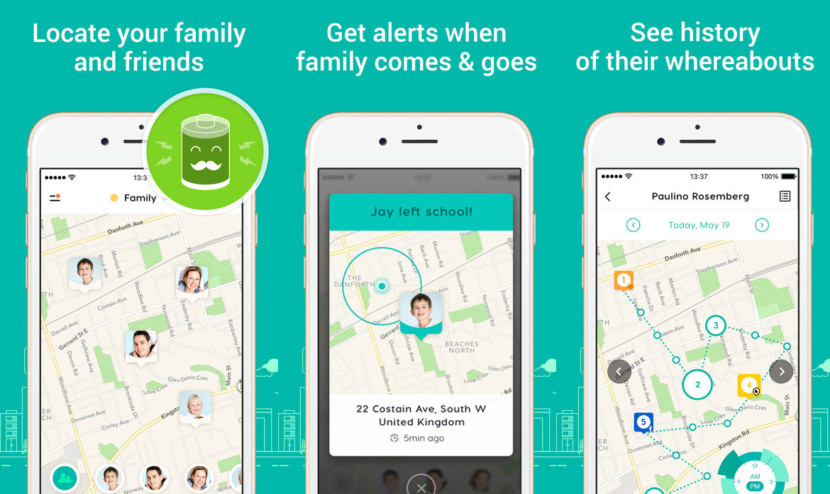 GeoZilla is the first AI-powered GPS locator to keep your family and friends safe. Locate your family and friends, saving battery life while you're at it. GeoZilla locator is FREE for everyone forever. With GeoZilla, you will receive notifications when your closest people arrive at certain areas, get location-based reminders, see their Swarm check-ins, and much more.
Locate your family and friends.
Know when they leave or arrive home.
Enjoy battery-friendly location tracking.
Text and share images or video throughout the day.
Get user-friendly location history.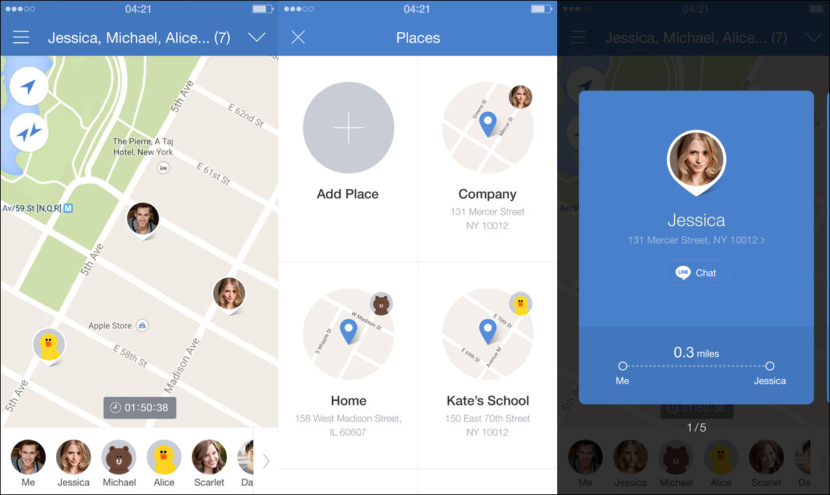 Check where your family and friends are, whenever and wherever you want. With LINE HERE, finding your family and friends is easier than ever! Don't want to share your location all the time? Use the timer to share your location only for a certain amount of time. With the timer, location sharing automatically stops when the clock hits zero.
Find out exactly where your friends are in real time – You can see where all the members of a location sharing room are in real time.
Intelligent place notifications – No more checking your phone every time you want to find your family or friends. LINE HERE's intelligent place notifications let you know exactly when any member arrives at or leaves a particular place.
Share your location safely with the timer – Use the timer to temporarily share your location with friends. Timers can be set from 1 to 24 hours.
Create and manage location sharing rooms whenever you want – From hanging out with friends and family to club meetings, you can create and manage location sharing rooms whenever you need to.
Manage location sharing your way – Enable and disable location sharing whenever you like.
Invite friends from other social networks – You can invite friends from other social networks like LINE, Facebook Messenger, WhatsApp and WeChat.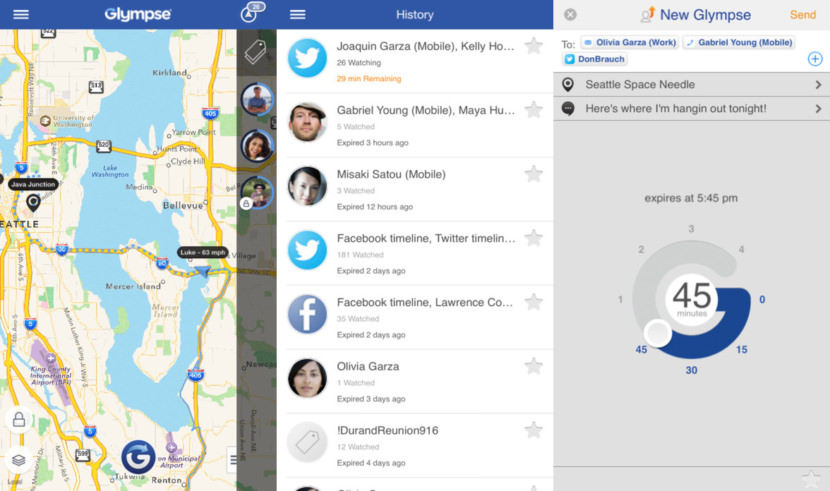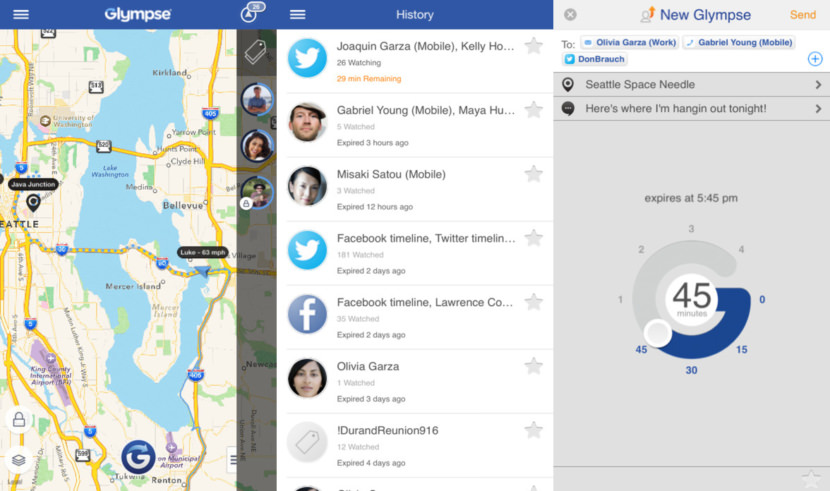 Glympse is a fast, free, and simple way to share your location in real-time. They put you in control. You set who sees you and for how long. Send a Glympse to let friends and family know you are on your way. Request a Glympse from a colleague who is always running late. Set up a Glympse group for your family reunion. It's safe, flexible, and easy. Select a contact, set a duration, and hit send. You can even set a destination or customize a message. Whether on mobile, tablet, or desktop, anyone can receive a Glympse, no software or setup required.
Easy: no sign up required
Safe: your Glympse automatically expires
Live: share location in real time with dynamic map
Open: share with anyone – no app required to view
Passive: runs in the background
Global: works anywhere you have GPS and a data connection
7. Zoemob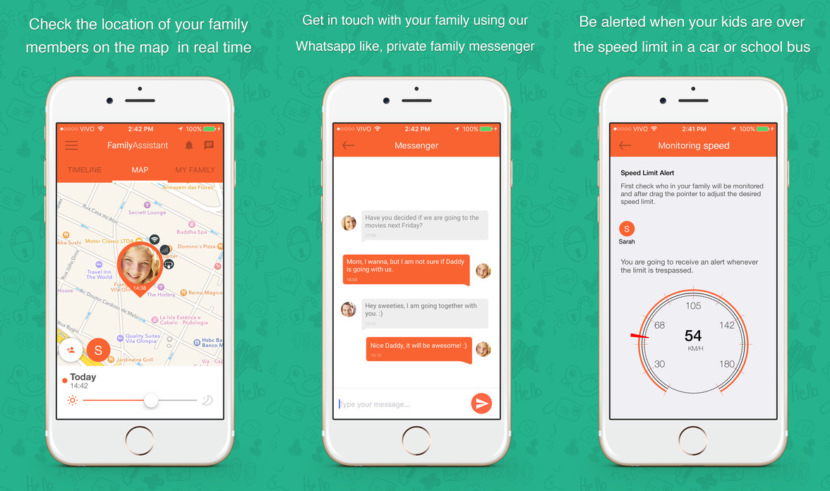 [ Discontinued ] ZoeMob Family Assistant is a service created to bring together parents and children. It allows families to stay safe, communicate more effectively and organize their activities and common commitments. For all your family's needs, install the Family Assistant application on your smartphones.
Location – Give your family peace of mind by keeping them safe even when you're not nearby. Check family members' locations in real time, receive alerts when they enter or leave locations such as home, schools, or clubs. Now, parents and children no longer need to make phone calls to ask, "Where are you?" The Family Locator provides this information quickly and accurately.
Communication – Take advantage of the easily accessible private instant message service, exclusively for your family. Parents and children can speak at any time and share their happiest family moments with the Family Messenger.
Organization – Ensure that all the family will remember commitments and important information. That school meeting, a cousin's wedding, a holiday trip, a grandparent's birthday: it's all saved and accessible in the Family Calendar. Children can also ask their parents permission for activities like "playing a video game a bit longer" or "going to a friend's house on Saturday afternoon". What's more, both the request and the decision are registered in the Family Calendar.
Come join the more than 10 million parents and children using the service across the country and try the ZoeMob Family Assistant!
8. 99Check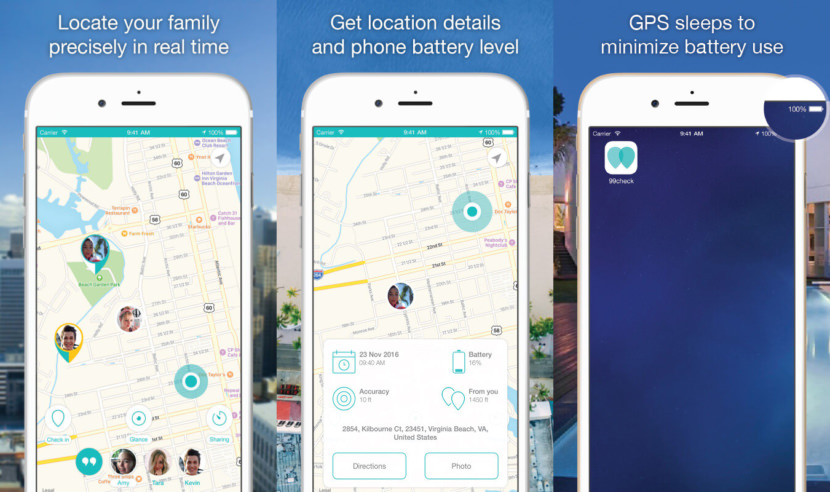 [ Discontinued ] Checking on your family is quick, easy and battery friendly. 99check is the world's trending location sharing app that keeps your family connected and safe. Checking on your family is quick, easy and battery friendly. 99check is a location sharing app that kids, parents and grandparents will love to use. Use 99check for free to:
Share your location in real-time with your family
Control the time your location is shared
Check in with a selfie for more reassurance
View everyone's phone battery level
Receive automatic notifications when members leave an area
Get directions to others' location via Maps, Google Maps and Waze
Save more battery life compared to other locator apps
9. Family GPS locator My Family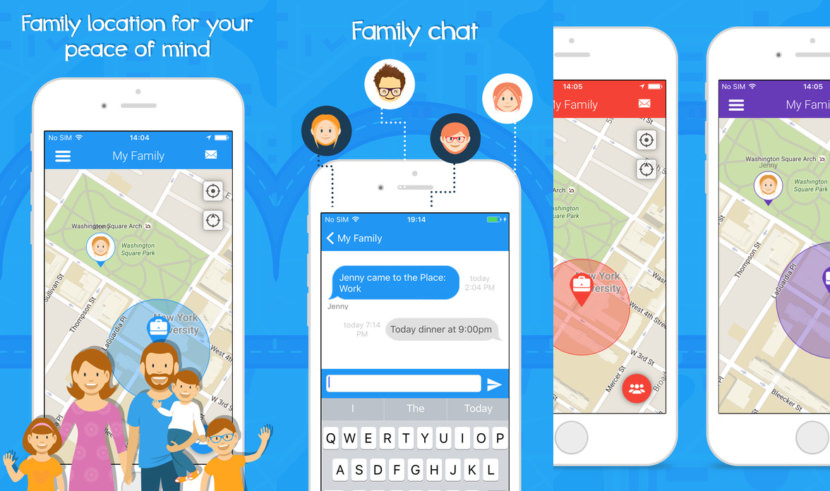 [ Discontinued ] The app "MyFamily" is not for entertainment. It is an application that is developed to protect Your family. The main idea is "My family – is my fortress". After all, what could be more important than the family? GPS Locator My Family – is the most secure app!
We have no registration and no reference to personal data. They do not store any chat history, nor information about locations. All data is stored only on the phones of their users. Their servers only transmit the "impersonal" information between users. You can be sure that nobody will be able to know where your child is or read your messages.
My Family is my fortress – Your family will be better protected with the App. You can rest assured that your loved ones are safe. Your children and elderly parents will not be scared to leave the neighbourhood and venture out into the city. In case of emergency, there is a panic button.
Tracking kids – Tracking your child was never so easy. You will always know when your children left the school as well as their whereabouts. Also, you are able to monitor what is happening to your child by using Voip technology.
10. Little Nanny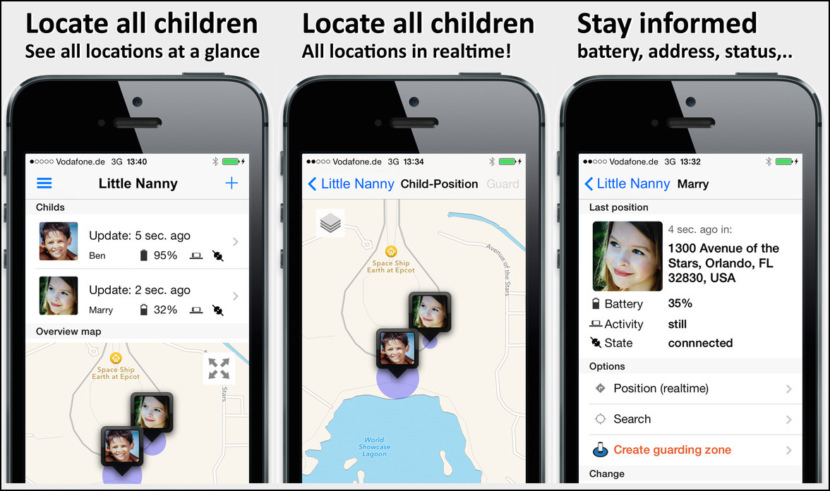 [ Discontinued ] Little Nanny – a high precision child tracker (GPS) and playground guard. Almost like a real nanny who takes care of your child. Just use any Smartphone (new or old) as a child tracker device. Little Nanny uses the latest GPS Tracker technology to accurately track your children with real-time location updates.
The App's map shows the exact location of your teen / kid. Parents love the app for keeping track of their kids. The ability to know the exact location of your child and getting real-time updates can be a life-saver for any parent. Little-Nanny GPS "Parent" App makes it easy to do the following:
Track your child's or teenager's smartphones in realtime
Define a playground / guarding area (geofence) and get instantly notified with an alarm when:

Your child has left the playground / zone (continuous monitoring)
If the child's device is running out of battery or
If you child's has lost the device
Little-Nanny GPS Tracker comes with 2 Apps (Parent and Child). Little Nanny Child tracker transforms your Android or Apple device into a premium GPS tracking device. Little Nanny Parent allows you to track all your children in real-time. Follow both Androids and iPhones!
Child Abduction / Kidnapping Statistics By FBI