Autism is no laughing matter, for those with friends or family members that has an autistic child, please be patient. Unlike down syndrome, Autism is not detectable in the gene via DNA testing, this is possibly due to the complexity of autism as there are various contributing factors within the gene that contributes to autism.
🤣😍😂 63 Positive Parenting Quotes On Raising Children And Be A Better Parent
As for whether vaccination causes autism, those that believe in this conspiracy theory need to ask some serious questions, for example, don't you think Saudi Arab or China or Russia performed tests on the linkage between vaccination and autism?
You may argue this is some Jew or USA's New World Order to stop other nations from advancing, but won't other countries perform these tests themselves? And why do all of these countries come to conclusion vaccination is good and it is a mandatory health procedure, including the Muslim majority countries?
The other question to ask is, are there autistic children within the Amish or Orthodox Jews communities? Some Amish and Orthodox Jews do vaccinate their children, some don't. A research found that autism exists for those that don't vaccinate their children. Here are some inspiring and encouraging quotes for moms of autistic children, parents and family members.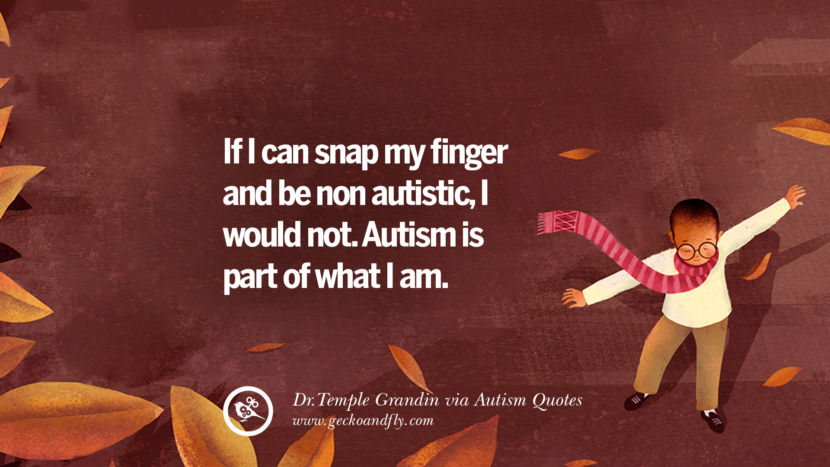 If I can snap my finger and be non autistic, I would not. Autism is part of what I am. – Dr.Temple Grandin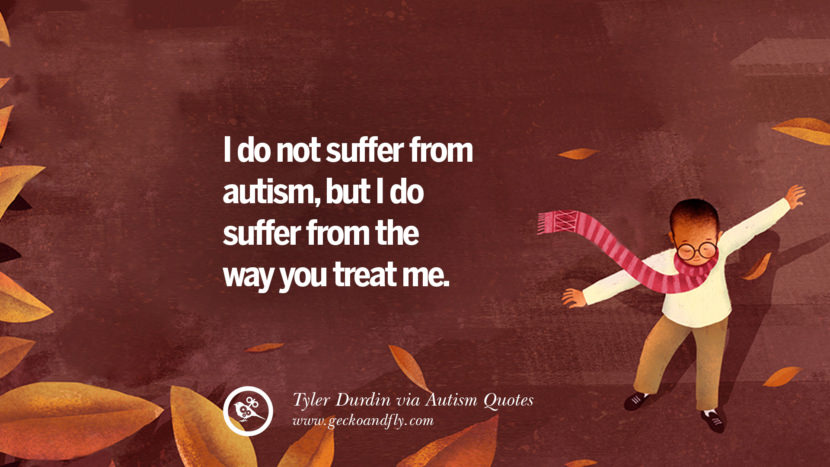 I do not suffer from autism, but I do suffer from the way you treat me. – Tyler Durdin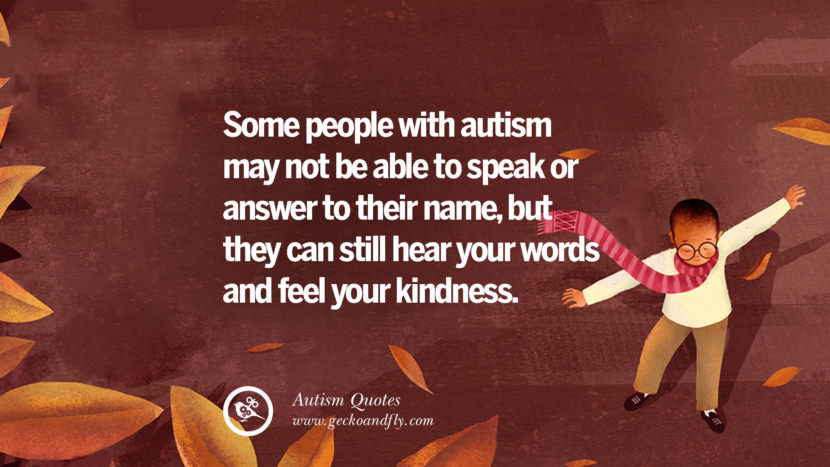 Some people with autism may not be able to speak or answer to their name, but they can still hear your words and feel your kindness.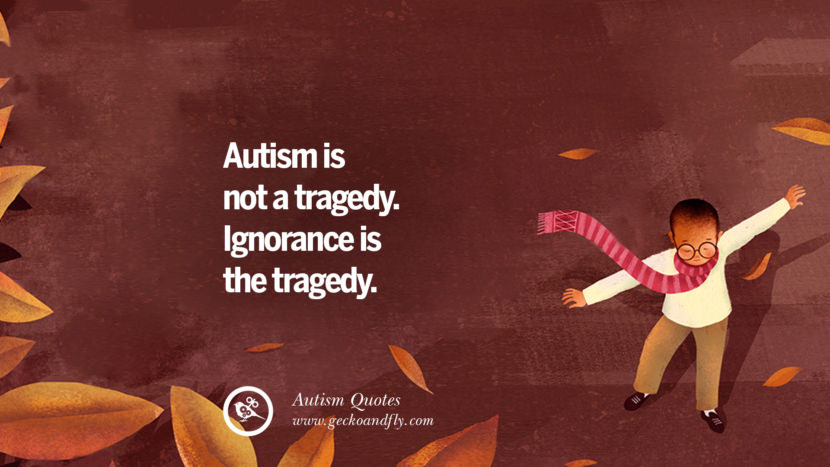 Autism is not a tragedy. Ignorance is the tragedy.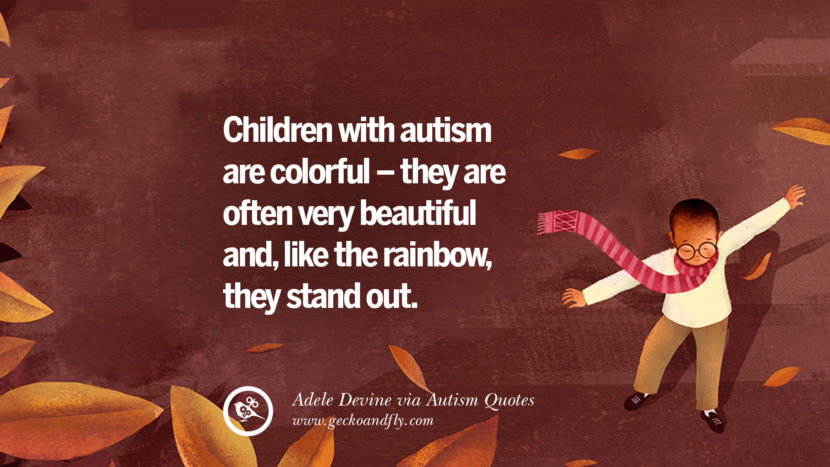 Children with autism are colorful – they are often very beautiful and, like the rainbow, they stand out. – Adele Devine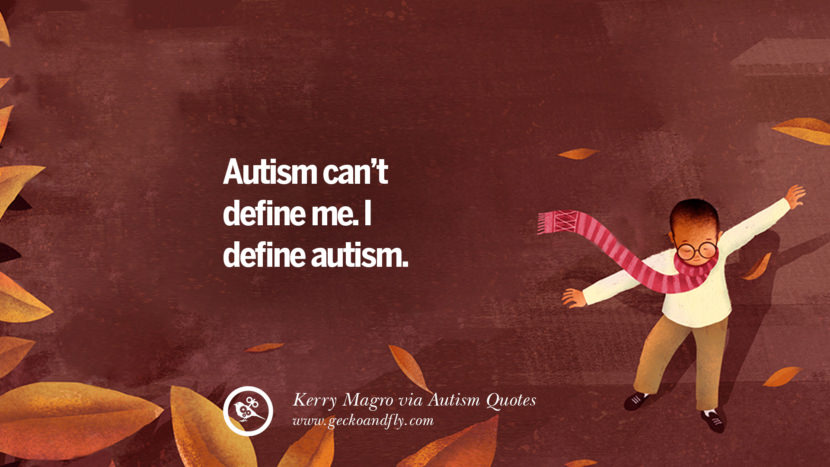 Autism can't define me. I define autism. – Kerry Magro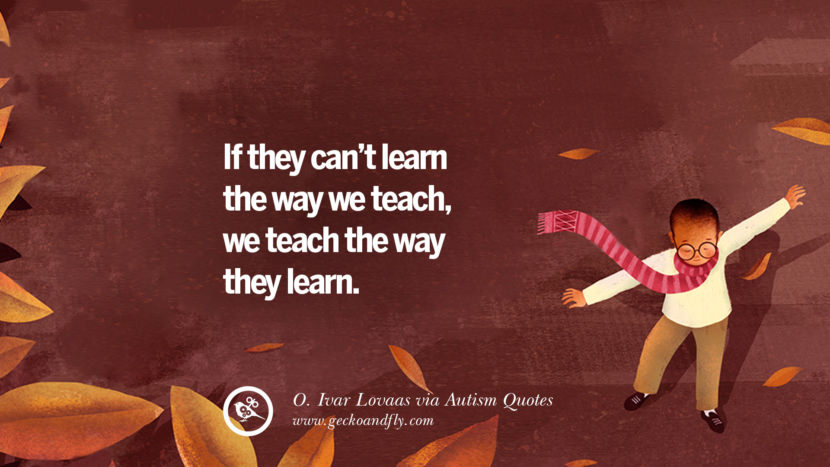 If they can't learn the way we teach, we teach the way they learn. – O.Ivar Lovaas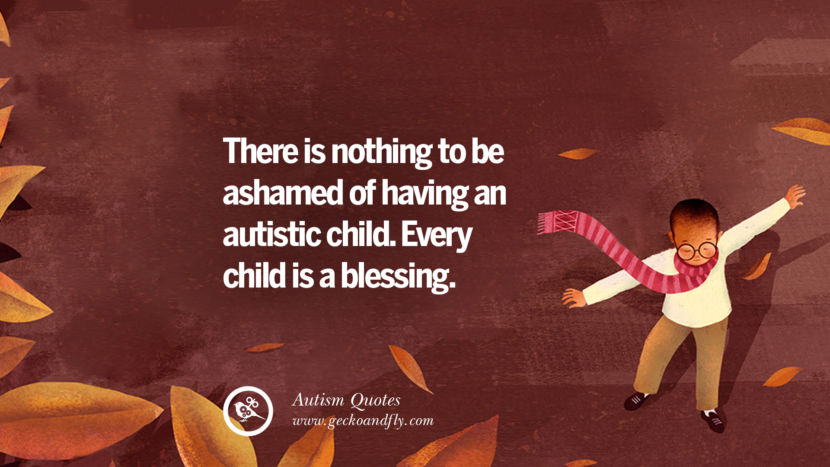 There is nothing to be ashamed of having an autistic child. Every child is a blessing.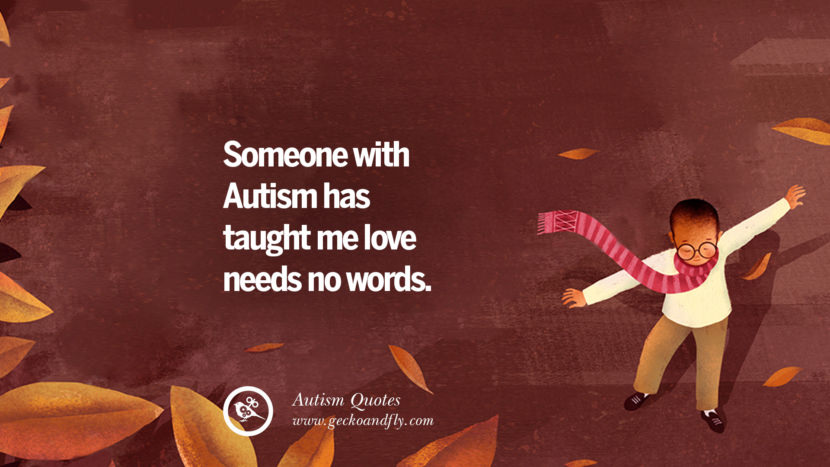 Someone with autism has taught me love needs no words.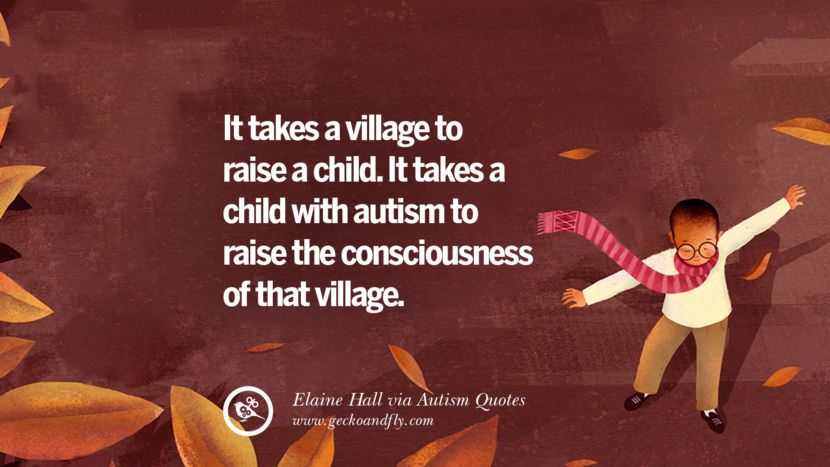 It takes a village to raise a child. It takes a child with autism to raise the consciousness of that villages. – Elaine Hall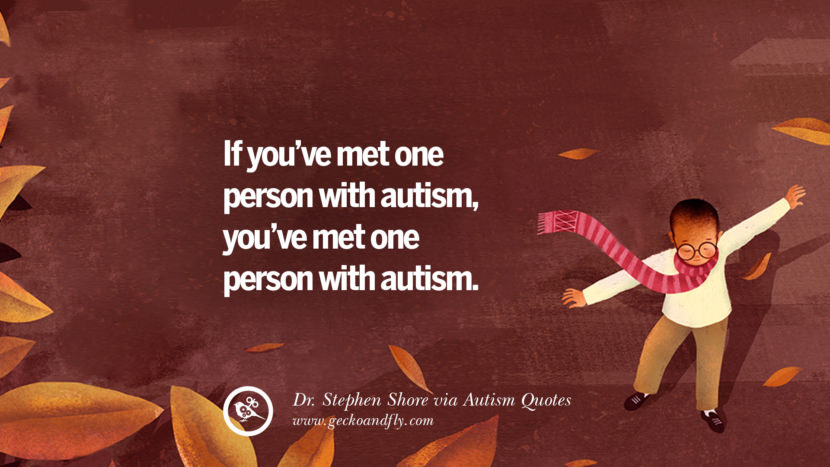 If you've met one person with autism, you've met one person with autism. – Dr. Stephen Shore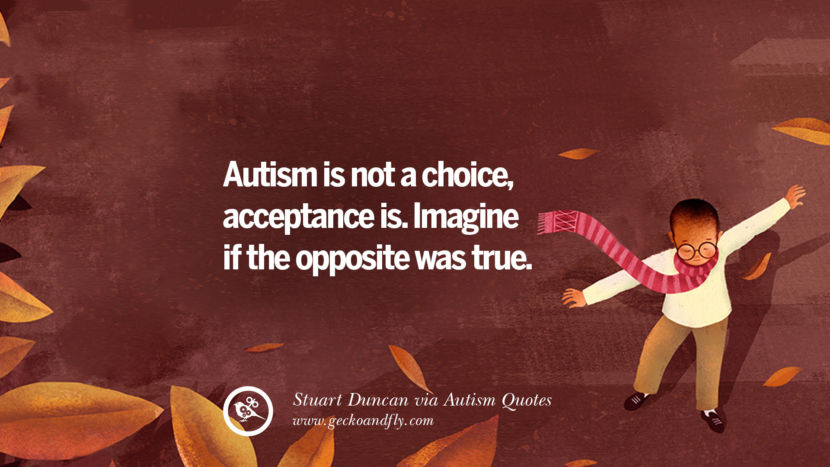 Autism is not a choice, acceptance is. Imagine if the opposite was true. – Stuart Duncan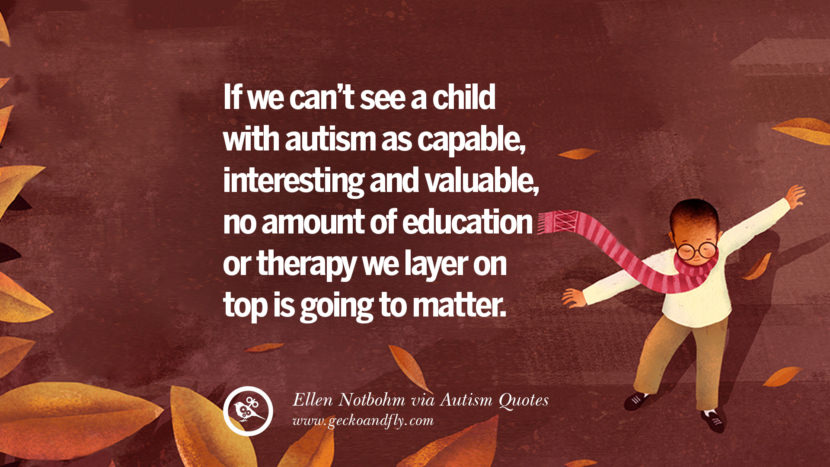 If we can't see a child with autism as capable, interesting and valuable, no amount of education or therapy we layer on top is going to matter. – Ellen Notbohm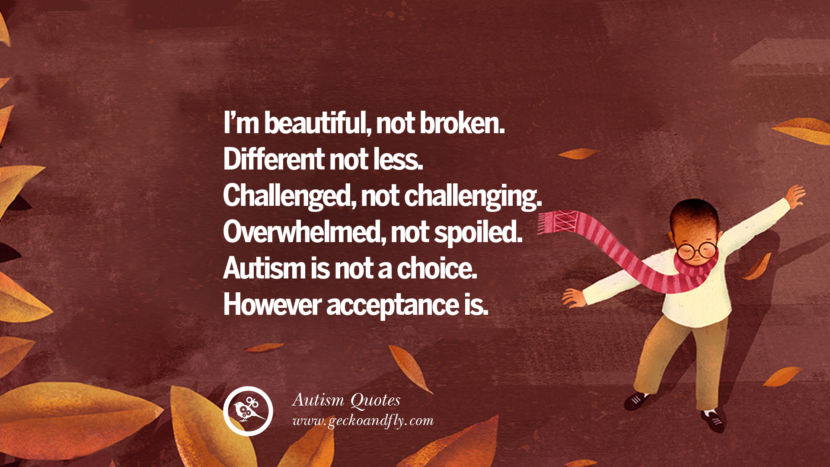 I'm beautiful, not broken. Different not less. Challenged, not challenging. Overwhelmed, not spoiled. Autism is not a choice. However acceptance is.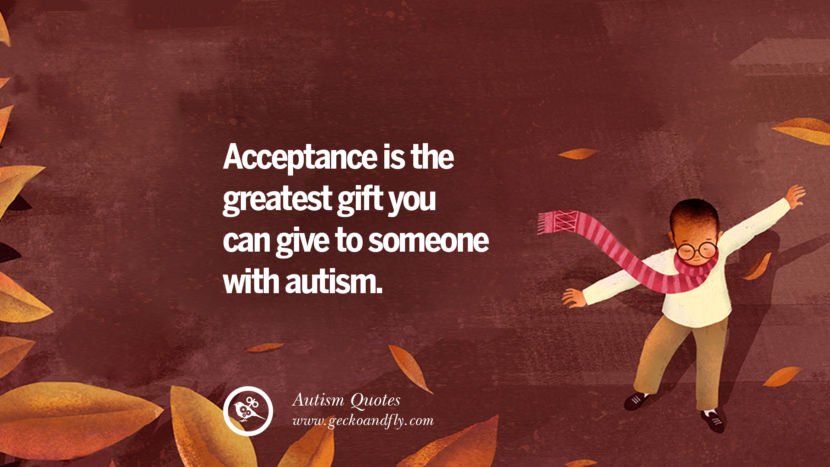 Acceptance is the greatest gift you can give to someone with autism.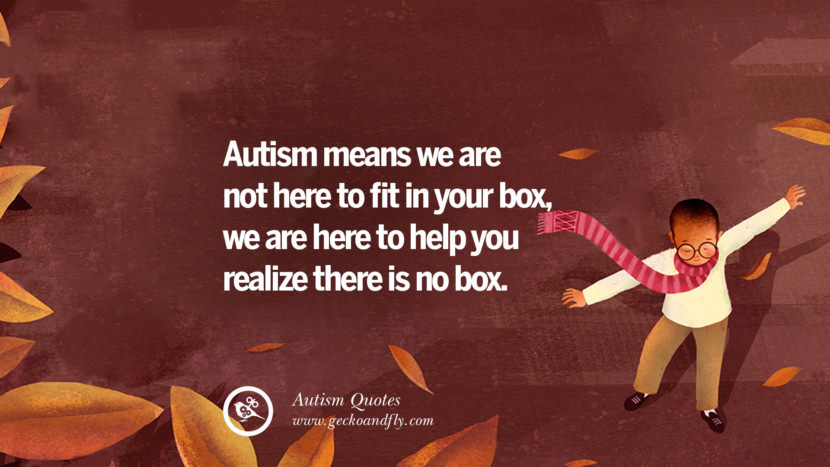 Autism means we are not here to fit in your box, we are here to help you realize there is no box.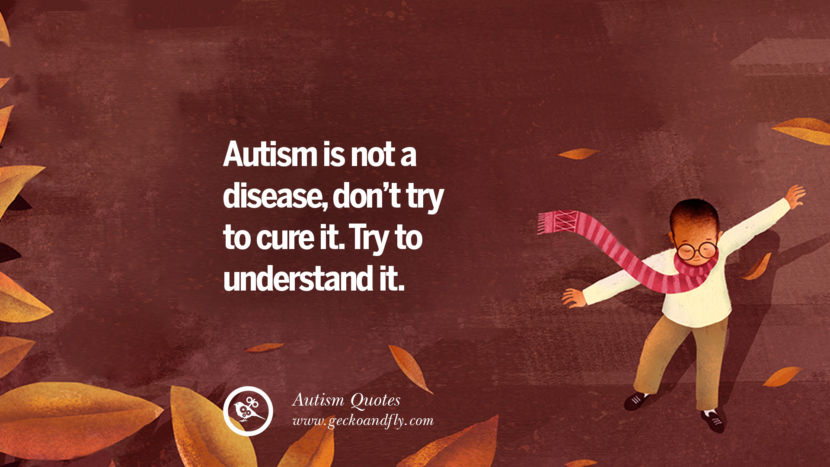 Autism is not a disease, don't try to understand it.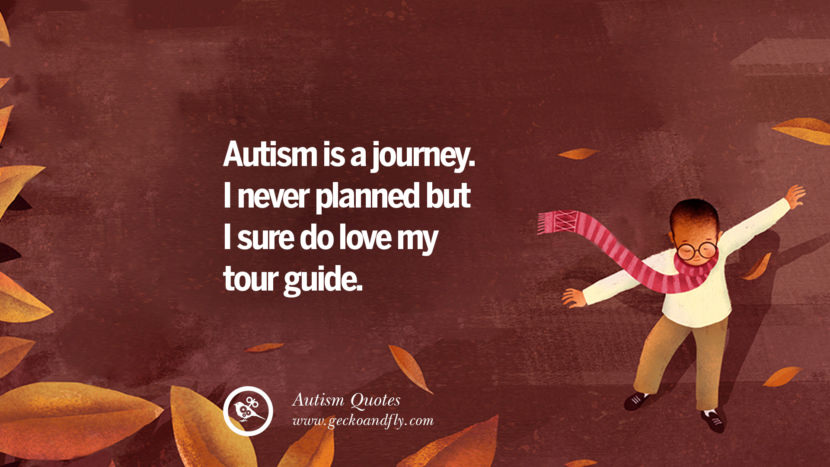 Autism is a journey. I never planned but I sure do love my tour guide.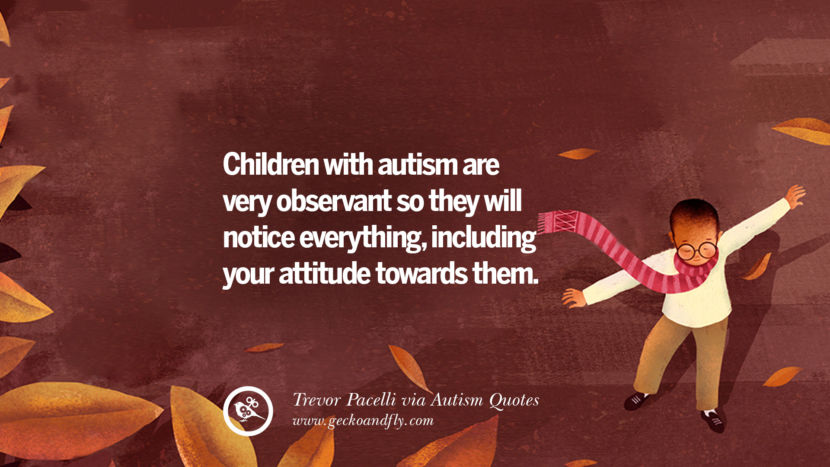 Children with autism are very observant so they will notice everything, including your attitude towards them. – Trevor Pacelli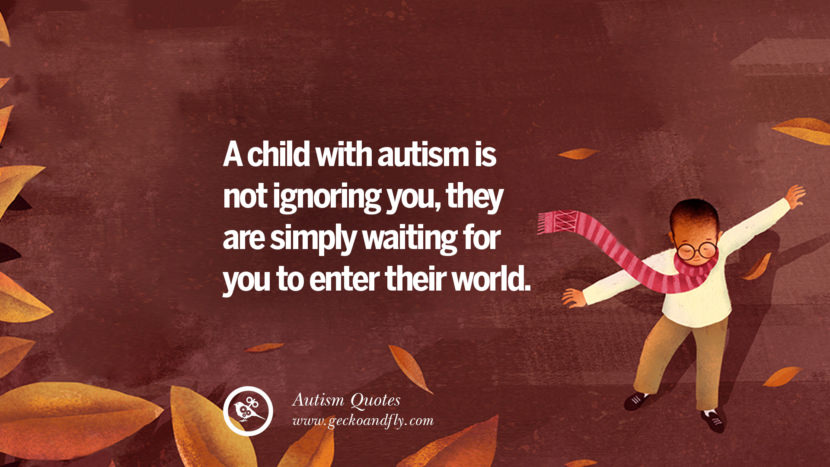 A child with autism is not ignoring you, they are simply waiting for you to enter their world.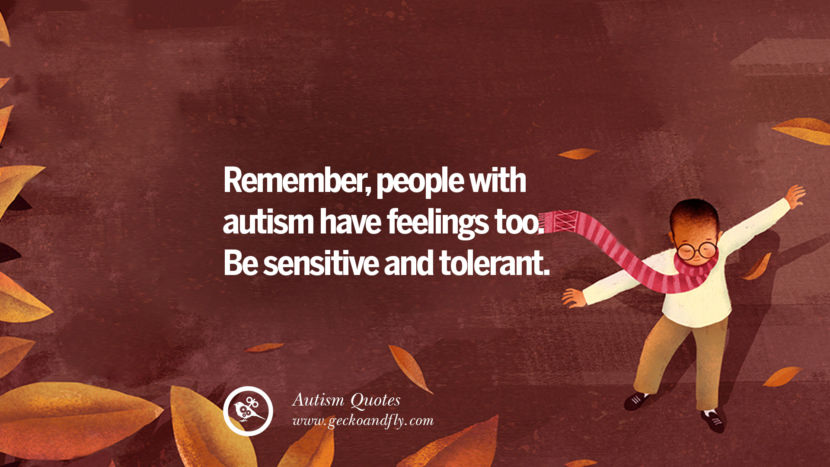 Remember, people with autism have feelings too. Be sensitive and tolerant.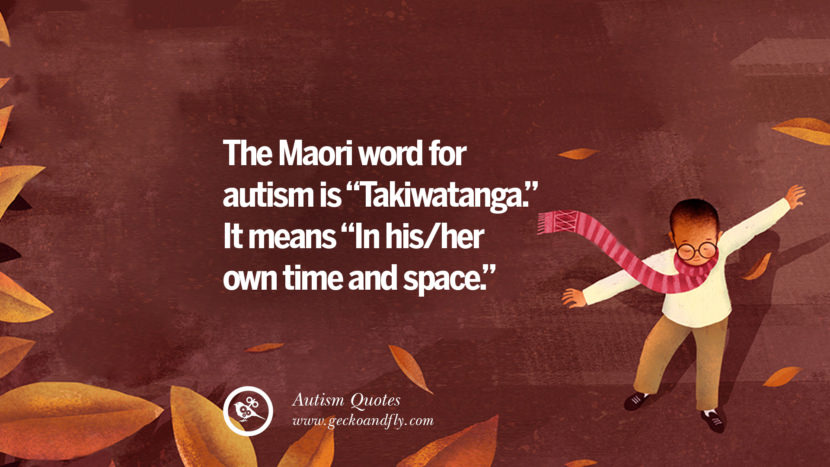 The Maori word for autism is "Takiwatanga." It means "In his/her own time and space."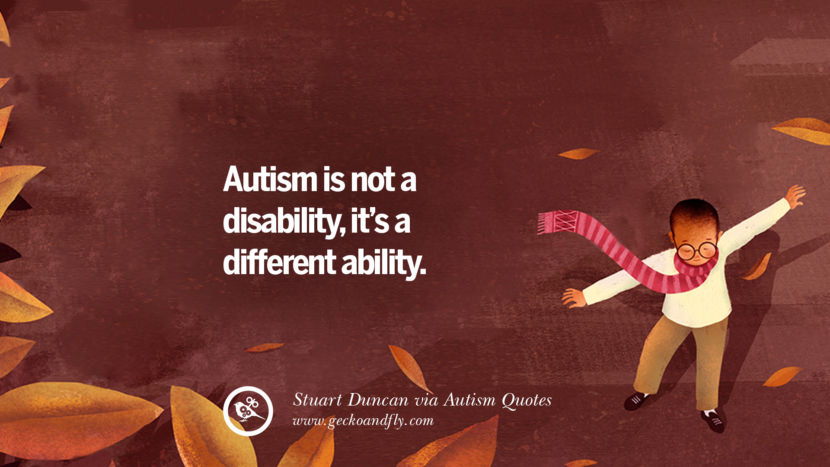 Autism is not a disability, it's a different ability. – Stuart Duncan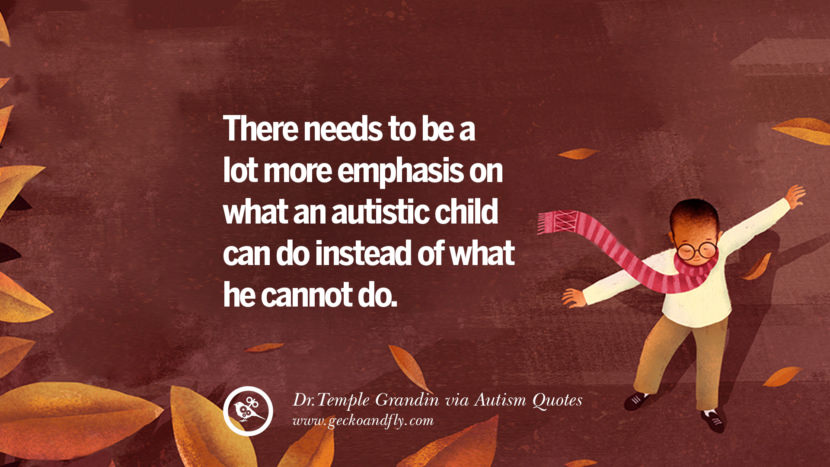 There needs to be a lot more emphasis on what an autistic child can do instead of what he cannot do. – Dr. Temple Grandin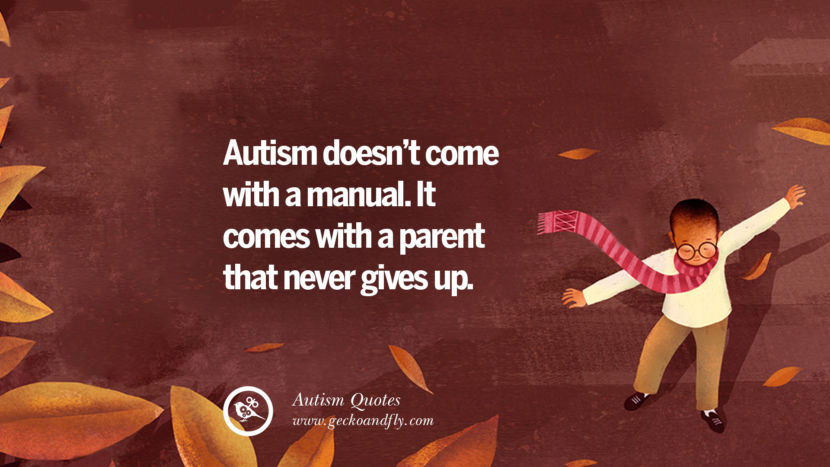 Autism doesn't come with a manual. It comes with a parent that never gives up.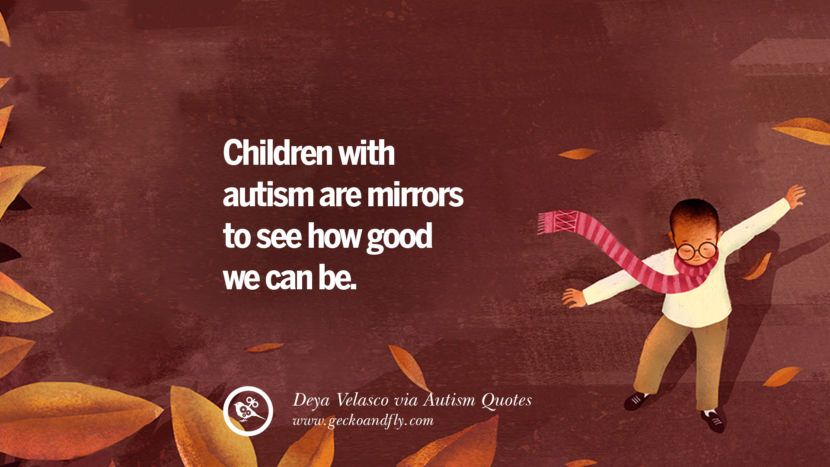 Children with autism are mirrors to see how good we can be. – Deya Velasco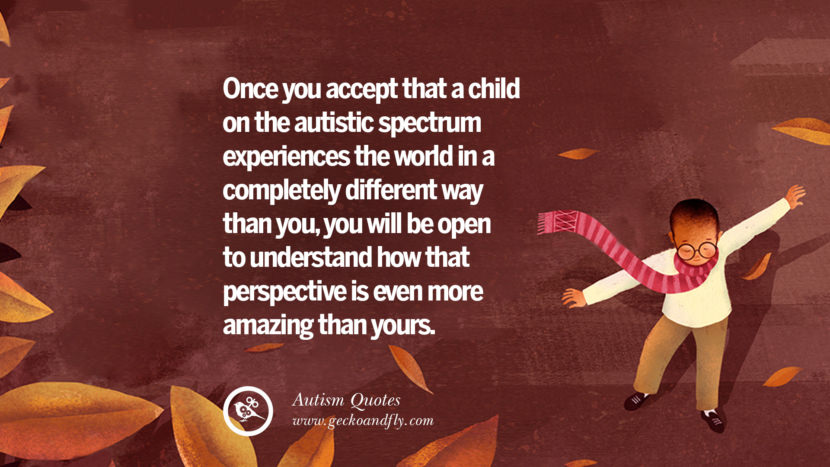 Once you accept that a child on the autistic spectrum experiences the world in a completely different way than you, you will be open to understand how that perspective is even more amazing that yours.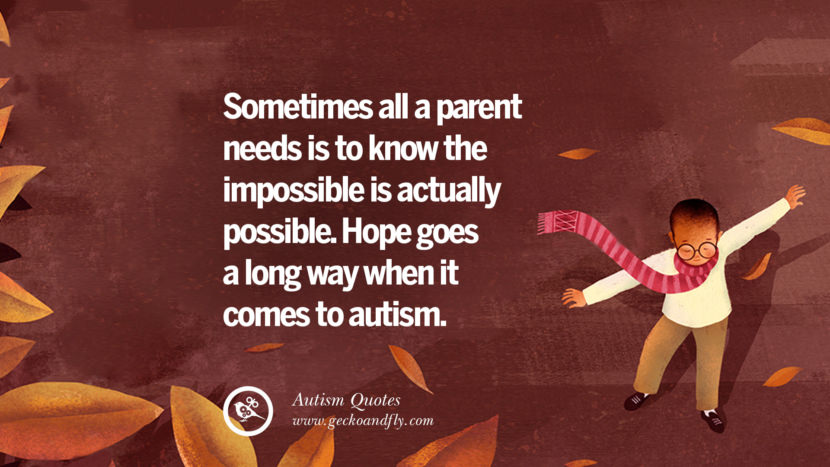 Sometimes all a parent needs is to know the impossible is actually possible. Hope goes a long way when it comes to autism.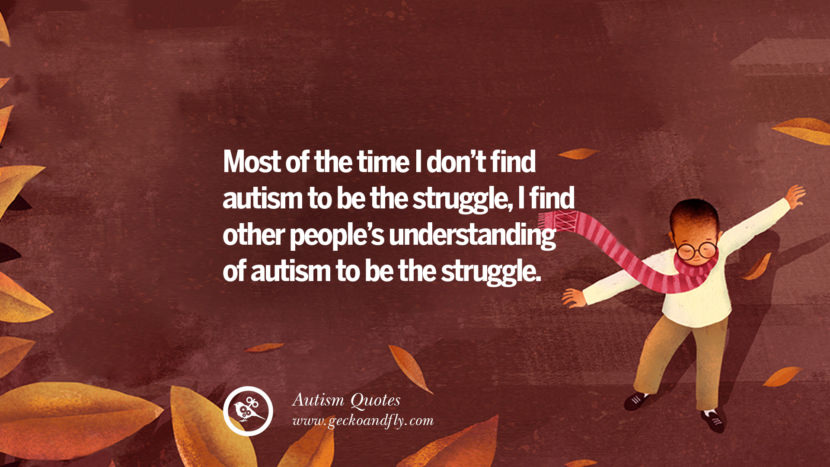 Most of the time I don't find autism to be the struggle, I find other people's understanding of autism to be the struggle.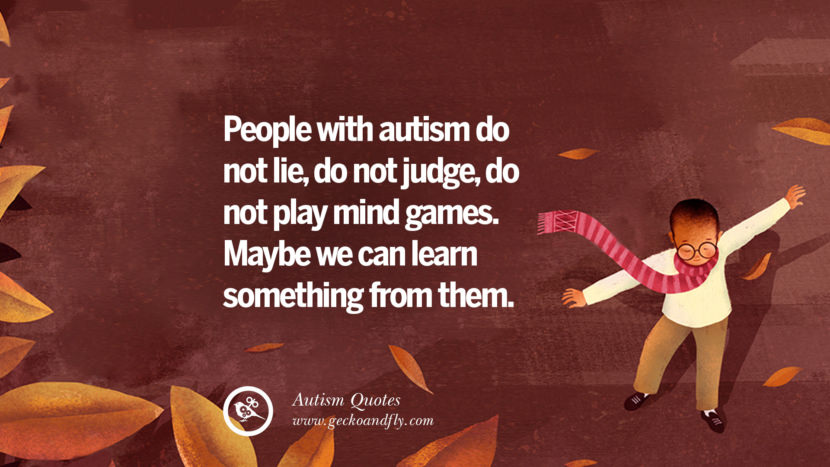 People with autism do not lie, do not judge, do not play mind games. Maybe we can learn something from them.