How to track a cell phone location without them knowing? Look around you and you'll notice almost every kid has their eyes glued to a smartphone, either they are slaying monsters, building blocks of wonders via mine-craft or surfing the net, it is unfortunate that in the age of digital knowledge, they lack the crucial social skills to mingle with their surroundings.
See More ▼ 10 GPS Tracker For Smartphones In Locating Missing, Abducted And Kidnapped Child
Unlike other child security apps that track the location, these Parental Control Apps are designed to limit their mobile usage when it comes to studying, dining, the content they are browsing and who they are communicating with. Both Google Android and Apple iOS come built in with basic parental control features.
The Dangers Of Social Media (Child Predator Experiment) Boy Edition as shown in the video above. Having said that, parental control software must be used wisely, regardless of your own opinions, too much control is as bad as having no control. Kids that grew up in a fully controlled environment will be rebellious when they tasted a little bit of freedom when they turn 18. Too lax and you get a kid that has zero responsibilities.
How to secretly track and ping a cell phone location for free? Remember, do not abuse this app and use it to track your wife, husband, spouse, enemies, lovers and etc. It is illegal to track an adult without their knowledge, however, it is legal to track and monitor your own children for security reasons. Illegally tracking someone is against the 'Federal Wiretapping Statute' law, the 'Computer Fraud and Abuse Act' law, and 'Federal Stalking Statue' law.
Norton Family parental control software helps protect your kids from online predators by showing you what your kids are doing online and identifying potential dangers before they become problems. Enable your kids to enjoy the Internet while protecting them from unsuitable content and apps with Norton's award-winning parental control software. Help your kids set limits around their device usage and establish healthy habits that'll serve them throughout their lives.
Web Supervision – Let your kids explore the Web freely, with tools that block unsuitable websites while keeping you in the know about which sites they're visiting.
Time Supervision – Stay on top of how much time your kids spend on their PCs and Android devices. Foster healthier habits by scheduling specific times of the day or week each device can be used and how many hours a day can be spent on each device.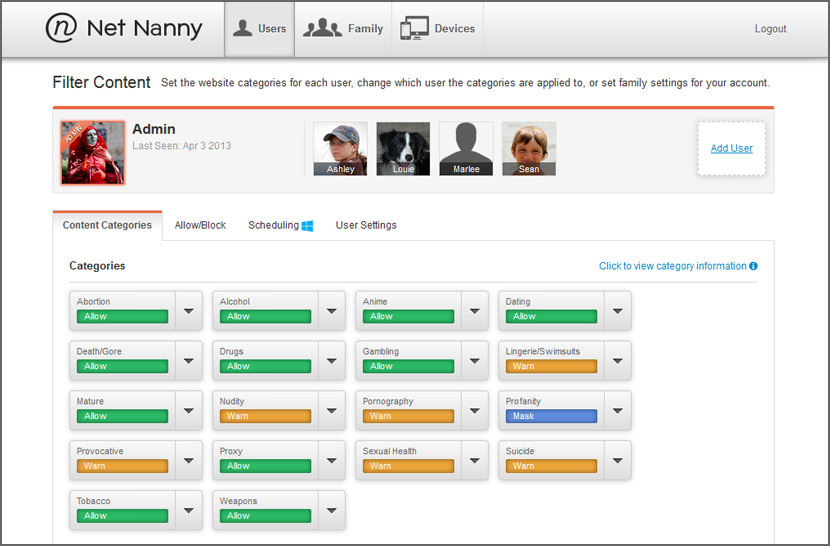 Net Nanny's Android Parental Control App with App Management keeps kids safe from viewing inappropriate Web content and will let mom or dad choose which mobile apps are used on the device. The Net Nanny for Android browser works as a powerful Internet filter that you can easily customize.
With 18 filtering categories, you can block porn, hate speech, gambling, alcohol, and many other topics found on the Internet. With Net Nanny for Android, smartphone or tablet users can safely surf the web while other browsers are prevented from launching. Net Nanny for Android gives you the power to:
Filter web site content
Block porn
Mask profanity
Allow / block mobile apps
Set time limits and controls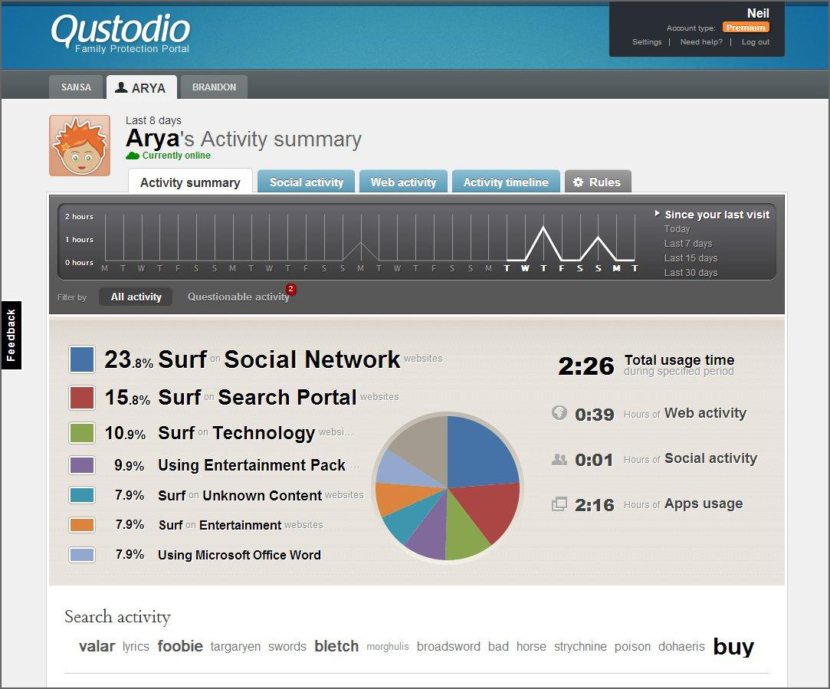 Qustodio is a parental control app that offers simple tools to manage kids' screen time, filter content and monitor or block apps kids use. Best of all it automagically reports kids' online activity to you once installed. With Qustodio you'll have more information to help protect your kids against the growing number of serious online issues such as viewing inappropriate content, cyberbullying, cyber predators and screen addiction.
Block pornography – Qustodio's real-time internet filter blocks inappropriate content even in private browsing mode.
View Social Network Activity – Monitor time spent on Facebook, Twitter, Instagram, Whatsapp and more.
Balance Screen Time – Easily set a time schedule or limits for how much internet time is allowed each day.
Control Games & Apps – Set time limits for games & apps or block apps you don't want from running altogether.
Track Calls & SMS – See who your child calls or texts most, read text messages, and set a list of blocked contacts.
Location tracking and Panic Button – Track your child's location. In an emergency your child can use the Panic Button to call for help.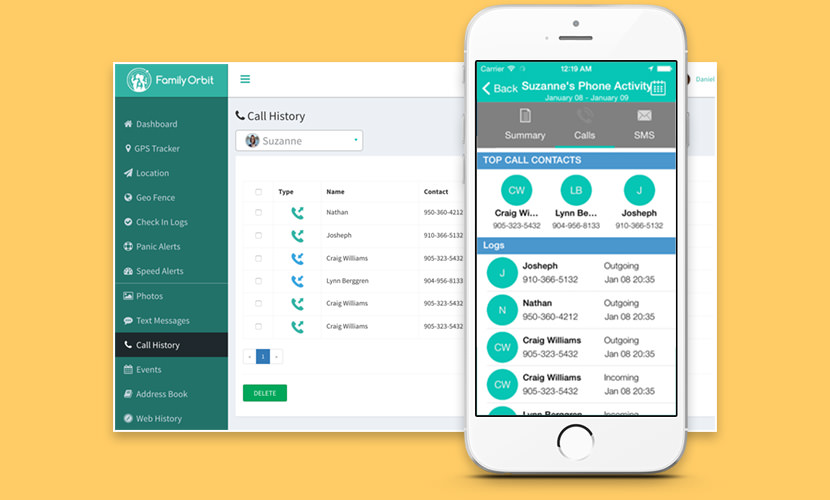 Easily and Quickly monitor your child's location and phone activities with Family Orbit, a top parental monitoring and supervision software service. Their tool enables you to monitor everything from current location to pictures, phone logs, apps, and more.
Their easy-to-use Parental Control App enables you to monitor and manage your child's phone activities from wherever you are. All you need to do is sign up and add your child to your family account. After the application has been installed on their device tracking and monitoring starts immediately.
Track GPS Location – Know Where Your Child is by Locating Their Phone through GPS
Monitor Calls and SMS Activities – Know Who Your Child Is Communicating with and See Their Text with Ease
Monitor Mobile Data Usage – Keep Your Data Bill Under Control by Knowing How Much Data Your Child Is Using
Monitor Photos – Make Certain Your Children Are Only Taking Appropriate Photos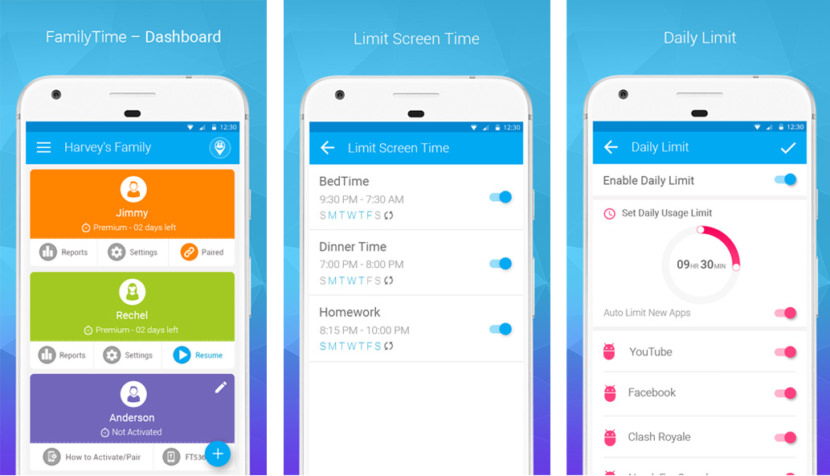 FamilyTime is your ultimate parenting aid that will keep you posted on your children's whereabouts and let you manage screen time and block apps on their phones with just a tap. What's more: your kids can reach out to you instantly if they ever get into trouble with instant panic alerts. The future of smart digital parenting is now!
Time Limits – Don't want your kids to be distracted by their phones during study hours and chores? FamilyTime lets you limit device access in those hours to make sure they concentrate on their work.
BedTime – With FamilyTime's smart BedTime controls, you can limit screen time on their devices during night hours. This way, you can make sure they don't use their phones and get sound sleep.
Homework Time – Kids can hardly take their eyes off their phones and focus on their homework but not anymore! You can easily lock their mobile devices with Homework Time screen lock.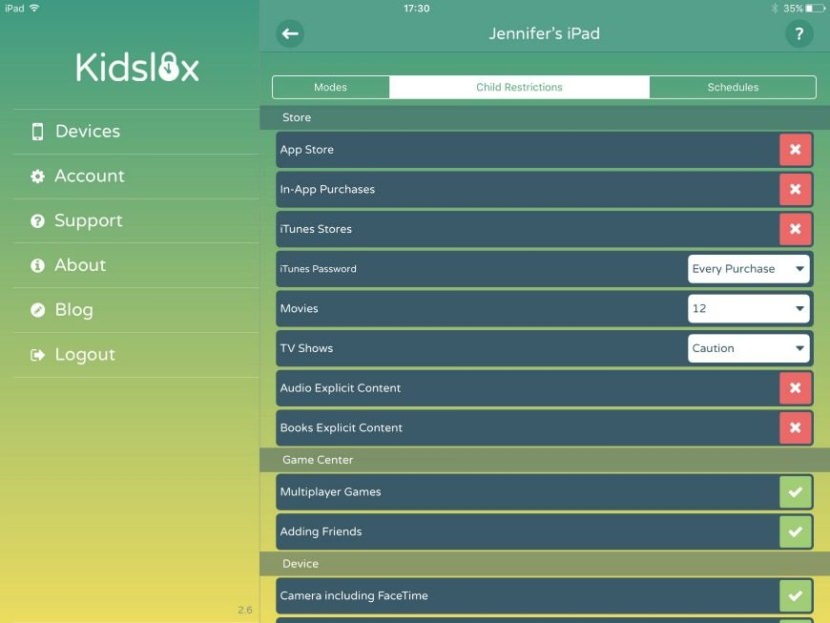 Their parental controls let you block apps, block the internet and filter web content with ease. One account is all you need to protect as many iPhones, iPads, iPods, Android phones and tablets and other mobile devices as you have in your family. Prioritise your family time now by placing daily limits on your child's screen time. Parental control has never been so easy.
It lets you block Instagram, block Facebook, block Snapchat and other social networks
Block browsers including Safari to block internet access, block in-app purchases
Block Minecraft, block Clash of Clans, block Pokémon Go and other games
Block pornography, block gambling, block violence and other inappropriate web content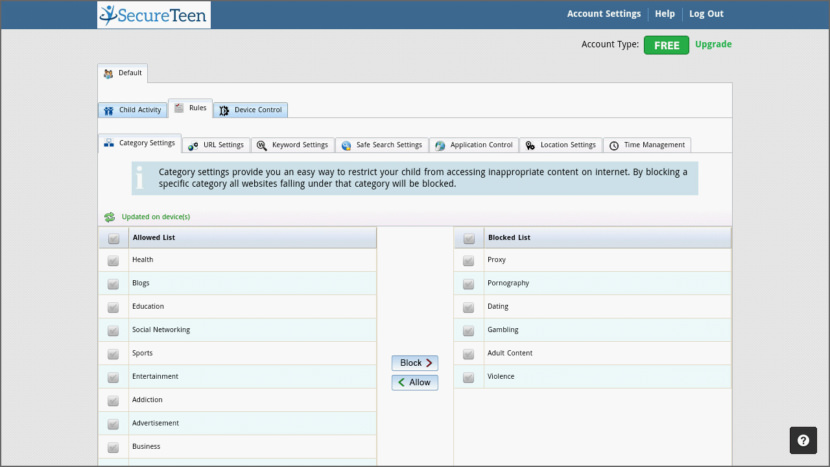 SecureTeen Parental Control App helps you to control screen time of your child so that he can get more time to engage in active play and be a healthier child.This app lets you to filter out all the cheesy and harmful content so your teens of impressionable age can enjoy all the good that web has to offer.
Block Apps – If you do not want your child to access certain apps, then simply block them. You can also block those apps for certain hours of the day.
Monitor SMS and Chat Messengers – Monitor your child's SMS and chat messages in order to know whether he is engaged in sexting or sharing inappropriate content with others.
View Internet Activity – Know what your child is doing online and view his internet activity to make sure he is not accessing harmful content.
Track Location – Always remain informed of your child's whereabouts and track his location so you can be prepared for an emergency.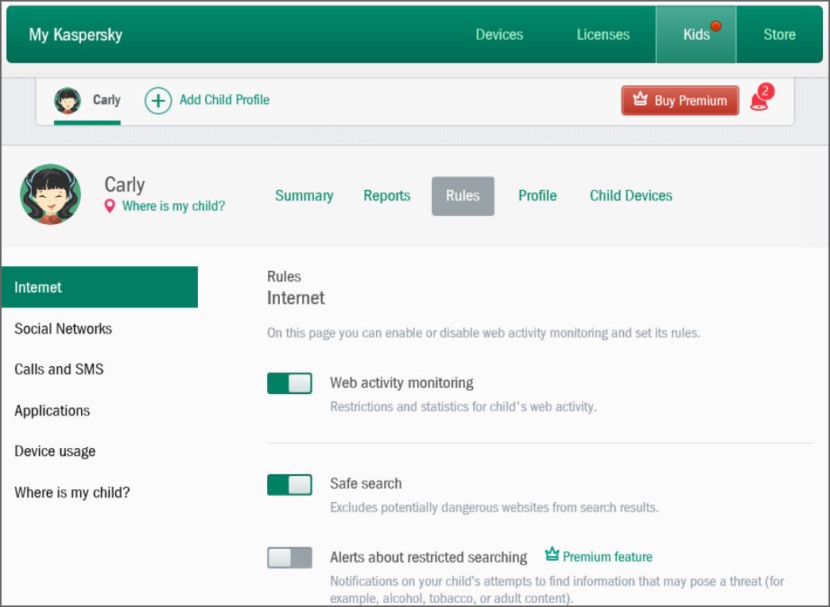 With Kaspersky Safe Kids, it's simple to monitor your children's communications – wherever you are. As well as keeping a watch over incoming and outgoing calls & texts – on their Android phones & tablets – you can also monitor your kids' public Facebook activities.
Helps you mentor your kids on device usage time… and guide them on safety – so they only access the types of website, content & apps you decide are appropriate. Kaspersky Safe Kids clearly shows you your children's locations – on a real-time map – plus you can define a safe area that you expect your kids to stay within.
Internet Management – Helps you manage your kids' online activities
Apps management – Helps you manage your kids' use of applications
Device management – Helps you manage your kids' use of devices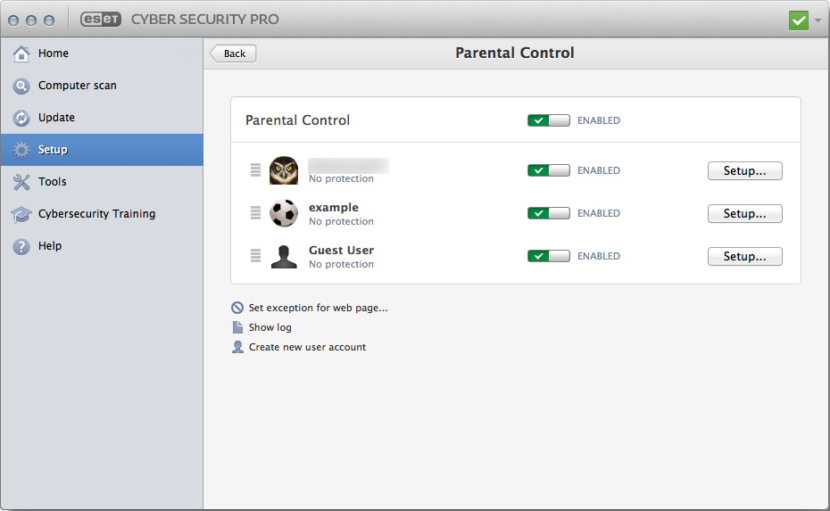 Our child-friendly app to help you keep your kids safe online – includes a child locator. ESET Parental Control for Android lets you help them navigate online, manage what apps and websites they use, and decide – together – what's good for them. It also lets you see where your children are, and send messages directly to their device screens.
Application Guard – Use age-based filters to manage which apps your children can and cannot access.
Child Locator – Check the devices' current location at any time via my.eset.com or Application in Parent mode.
Web Guard – Block age-inappropriate websites and website categories, while allowing your children to enjoy child-friendly sites.
Fun & Games time limits and budget – Decide when your children can play on their devices. Set time limits, and allow exceptions that your children can request.
Parental Message – Send your children messages which they must acknowledge before they can continue to use their devices.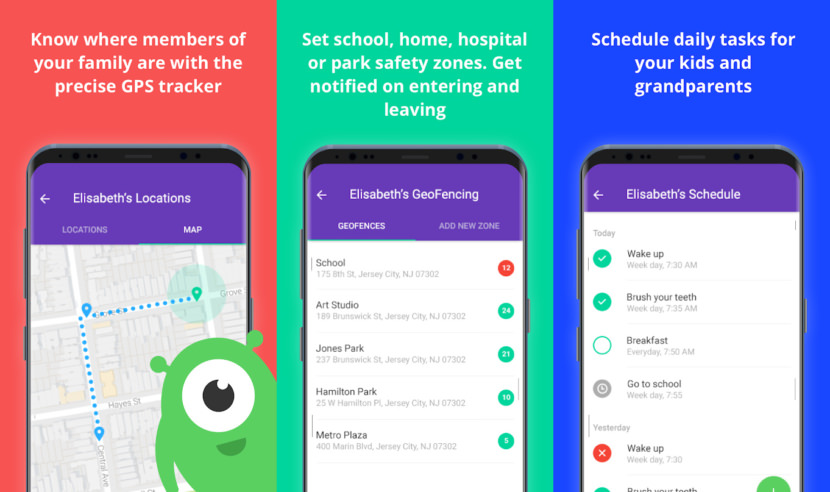 Kidgy was developed by digital parents to make a modern parenthood simpler and enjoyable. Designed as a digital assistant, this parental control application allows you to supervise your kid's online activity remotely. View and block adult websites and apps that promote harmful behavior. Monitor your kid's current GPS location as well as set safe zones (school or home, e.g.)
and get alerted every time they enter or leave them. Also, set simple tasks and get notified once they are done with the Kidgy Daily Schedule. Kidgy parental control software acts within the strategies of international institutions like UNICEF which advocates for creating a safe online environment for kids.
Messages – Monitor your kid's communication via text messages. Check time and date stamps. Access even the deleted ones to get useful insights straight to your phone.
GPS Location – Track your kid's location with real-time place and time stamps. Check on them remotely when they go out with friends, heading to school or leaving grandma.
Geofencing – Mark safe zones on a virtual map and follow your kid's position around them. Get reported with time and location stamps when your child passes these zones.
Panic Button – Let your kid inform you every time they need help or immediate intervention. Get notified with the exact whereabouts and time stamps into your phone.
Applications – Manage the apps' usage. Block unnecessary and suggest educational ones. Correct your kid's schedule to save time for school learning and sleep hours.
Calls – Be aware of who is calling your kid and when remotely. View a phone book and block unwanted contacts to prevent a child from unhealthy relationships.
Internet Filter – Monitor and manage your kid's Internet activity. Look through sites and block adult ones. Get more time for family get-togethers and outdoor activities.
Daily Schedule Planner – Educate your child by setting tasks remotely. Follow their progress and assist when needed. Foster good habits and discipline useful for an adult life.
11. unGlue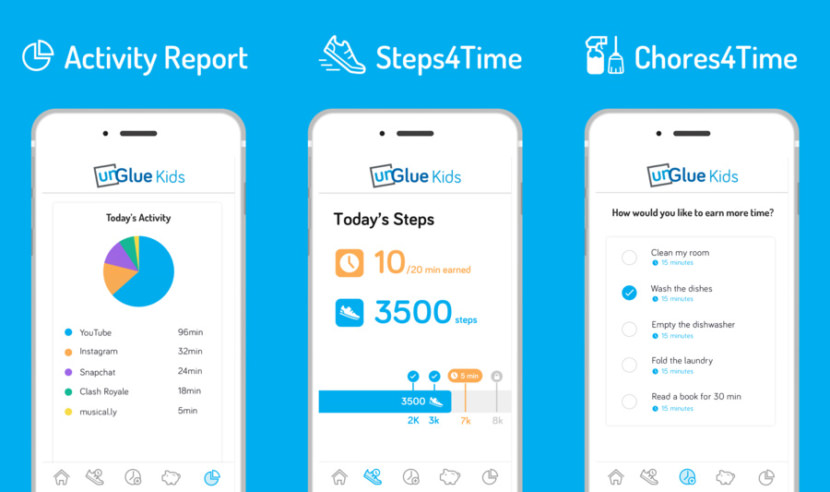 [ Discontinued ] unGlue was founded in 2014 by Alon Shwartz and Alex Zherdev, two fathers who were tired of feeling helpless about what and how much content their kids consume online. Not only did they worry about their kids' cognitive development and Internet safety, they were tired of the turmoil sparked by confiscating their children's devices. The fact was, their kids couldn't help themselves. Videos, games, and social media are designed to be addictive. So these two dads set out on a mission to enable parents to…
Allow "fun" Internet time, but in moderation
Make kids more aware of what—and how much—content they consumed online
Ensure their kids were safe online
Make sure kids could use the internet to learn and grow
Set limits while empowering kids, not punishing them