Updated: March 24, 2018 / Home » Computer and Internet Security » Parental Control
Look around you and you'll noticed almost every kid has their eyes glued to a smartphone, either they are slaying monsters, building blocks of wonders via mine-craft or surfing the net, it is unfortunate that in the age of digital knowledge, they lacked the crucial social skills to mingle with their surroundings.
Related Article ➤ 5 Free DNS Parental Control For XBox, PlayStation, iPhone, iPad And More
Unlike other child security apps that tracks the location, these Parental Control Apps are designed to limit their mobile usage when it comes to studying, dining, the content they are browsing and who they are communicating with. Both Google Android and Apple iOS comes build in with basic parental control features. Works great on Android 8.0 Oreo / Android 9.0 [ Popsicle, Pancakes or Pie ] smartphones such as Samsung Galaxy, Huawei Mate, Oppo, Vivo, XiaoMi, Nokia, and also Apple's iOS iPhone.
The Dangers Of Social Media (Child Predator Experiment) Boy Edition as shown in the video above. Having said that, parental control software must be used wisely, regardless of your own opinions, too much control is as bad as having no control. Kids that grew up in a fully controlled environment will be rebellious when they tasted a little bit of freedom when they turn 18. Too lax and you get a kid that has zero responsibilities.
↓ 01 – Norton Family | Free/Paid | Android | iOS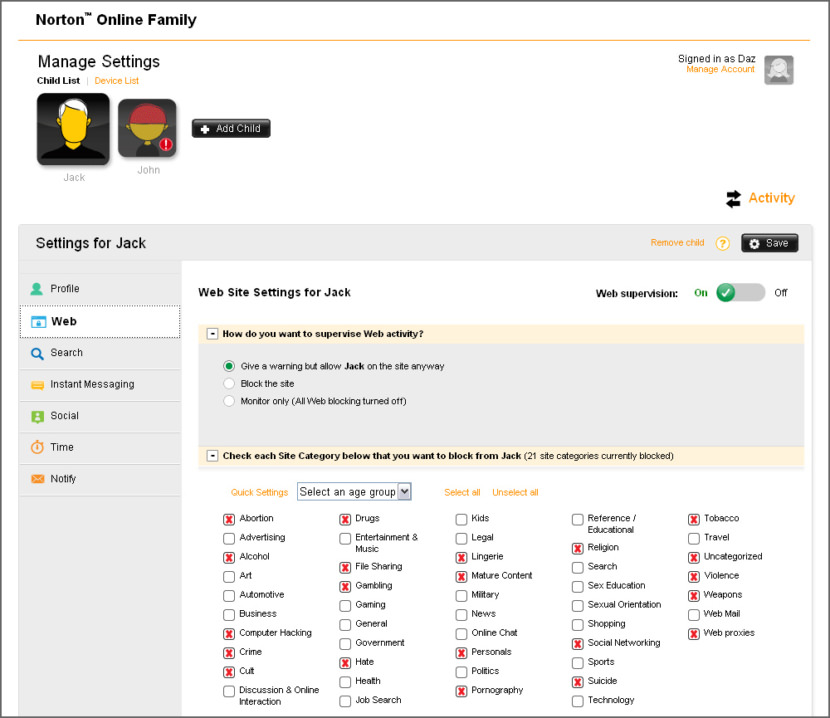 Norton Family parental control software helps protect your kids from online predators by showing you what your kids are doing online and identifying potential dangers before they become problems. Enable your kids to enjoy the Internet while protecting them from unsuitable content and apps with Norton's award-winning parental control software. Help your kids set limits around their device usage and establish healthy habits that'll serve them throughout their lives.
Web Supervision – Let your kids explore the Web freely, with tools that block unsuitable websites while keeping you in the know about which sites they're visiting.
Time Supervision – Stay on top of how much time your kids spend on their PCs and Android devices. Foster healthier habits by scheduling specific times of the day or week each device can be used and how many hours a day can be spent on each device.
With Kaspersky Safe Kids, it's simple to monitor your children's communications – wherever you are. As well as keeping a watch over incoming and outgoing calls & texts – on their Android phones & tablets – you can also monitor your kids' public Facebook activities.
Helps you mentor your kids on device usage time… and guide them on safety – so they only access the types of website, content & apps you decide are appropriate. Kaspersky Safe Kids clearly shows you your children's locations – on a real-time map – plus you can define a safe area that you expect your kids to stay within.
Internet Management – Helps you manage your kids' online activities
Apps management – Helps you manage your kids' use of applications
Device management – Helps you manage your kids' use of devices
Our child-friendly app to help you keep your kids safe online – includes child locator. ESET Parental Control for Android lets you help them navigate online, manage what apps and websites they use, and decide – together – what's good for them. It also lets you see where your children are, and send messages directly to their device screens.
Application Guard – Use age-based filters to manage which apps your children can and cannot access.
Child Locator – Check the devices' current location at any time via my.eset.com or Application in Parent mode.
Web Guard – Block age-inappropriate websites and website categories, while allowing your children to enjoy child-friendly sites.
Fun & Games time limits and budget – Decide when your children can play on their devices. Set time limits, and allow exceptions that your children can request.
Parental Message – Send your children messages which they must acknowledge before they can continue to use their devices.