How can I monitor my teenager's text messages without them knowing? When it comes to parenting teenagers, filtering unwanted content no-longer is the main issue, they will find a way to get these materials. At that age, it is paramount to monitor who they meet, who they hang out with and the context of their text messages. Blocking and filtering works well with kids, but not for teenagers.
See More ▼ 10 GPS Tracker For Smartphones In Locating Missing, Abducted And Kidnapped Child
How to monitor the text messages of your child? Here are some of the best free Parental Control and Kids Monitoring Apps. Prevention is better than cure and these apps might help save your child from pedophiles, stalkers and stop school bullying. Note – Tracking your wife or husband is illegal, but tracking your underage children is legal for parents. Illegally tracking someone is against the 'Federal Wiretapping Statute' law, the 'Computer Fraud and Abuse Act' law, and 'Federal Stalking Statute' law.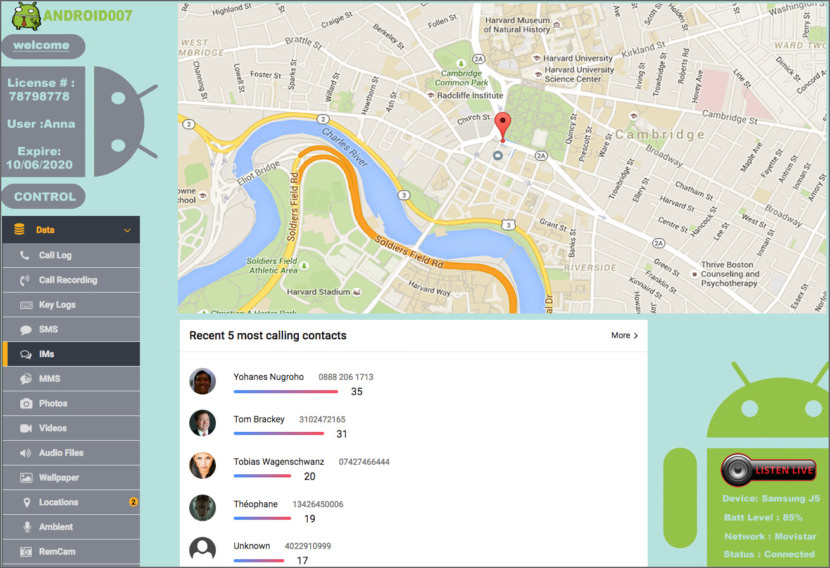 Android007 is a number one monitoring software for smartphones that helps parents to keep children safe and workers productive. It keeps tabs on text messages, call information, GPS coordinates and much more depending on your needs and priorities.
Android 007 collects information from the target device and sends it to your Control Panel ( your account that will be created after registering ) which you can access from any browser. Android007 for smartphones runs on Android 4+ rooted/not rooted and iOS jailbreak required.
Call Log
Read SMS
View E-mail
View Pictures
View Videos
Listen to Audios
Track Location
Read WhatsApp *Root*
Check Social Media *Root*
Browser Activity
View Application Activity
View Contacts
Make a Spy Call
Call Intercept *Listen Live*
Call Recording
Ambient Recording *30mins*
Take Remote Pictures
Spoof SMS
Get Passwords *Root*
Android007 is specially designed to monitor your under aged children, employees, and a phone that you own. But before using this App as a monitoring tool in your device, make sure that you are providing all the essential information regarding this App to the user of the phone. It's the user's responsibility to follow all the relevant laws of their country regarding the use of Android007 App. If you have any doubts, please first consult your local attorney before using Android007.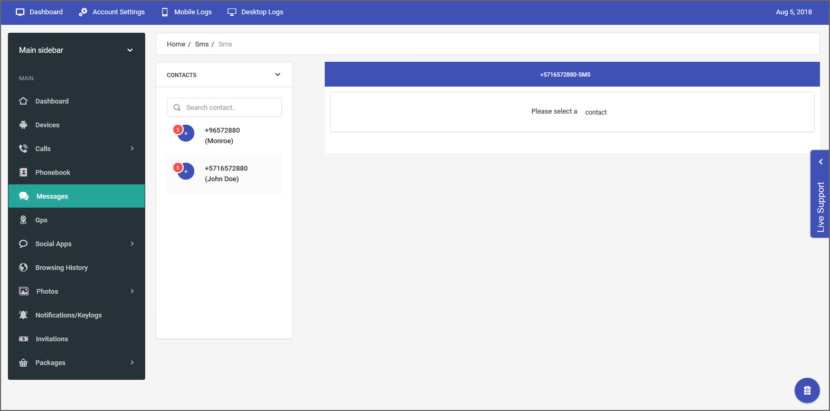 LogsKit is a mobile tracking & monitoring app that extracts logs from smartphones. The app sends logs to logskit.com through your account, over the mobile data or WiFi through the victim's device. LogsKit is the most powerful and undetectable Spy app for Android phones
View Text Messages – The ability to view sent, received and deleted texts makes these on of the best Spying app in the market
GPS Tracking – With GPS tracking you can track the exact location of a person. View current location and location history logs
Recording calls – Listen and record all incoming and outgoing phone to know what they are up to and what they talk about.
Browsing activities – Track all details thoroughly including visited websites and their regularity. Monitor which websites your children or employees like and access most
View Photo taken – With LogsKit you will be able to view all photo they have saved on their phones and tablets
View Call log details – You can view call logs to see who has been called, any missed calls and the time and date of the call.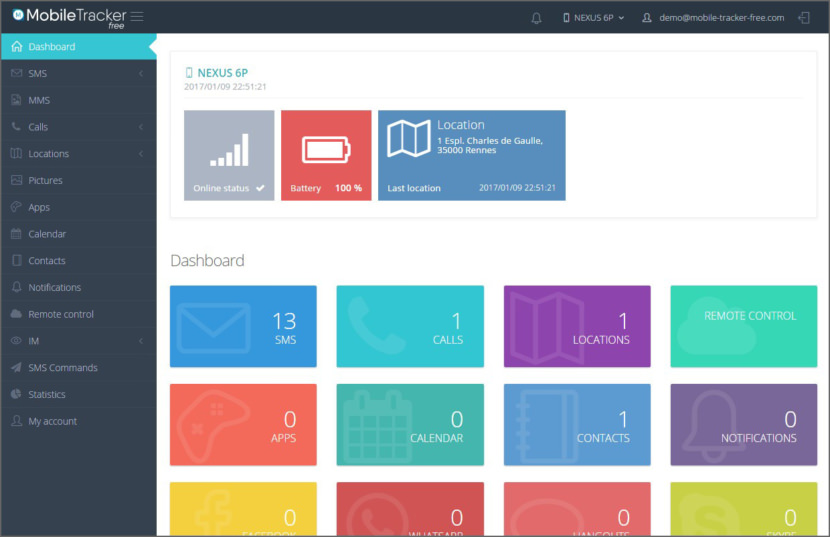 Mobile Tracker Free is the application that allows you to free monitor your children, prevent data theft and supervise the productivity of your employees. Their mobile monitoring application tracks all the activities of the target phone, such as SMS / MMS, call history, GPS position, e-mails, photos, web history and more.
SMS/MMS – Track SMS/MMS sent and received.
Calls – Track and recording incoming, outgoing and missed calls.
GPS Locations – Track locations, retrieve the location of your children or employees online.
Photos/Images – Track all pictures and images taken and received. Recover even deleted photos and images.
Social Networks – Track messages received and sent from the most popular social networks such as WhatsApp, Facebook…
Remote control – Take a phone capture, record the ambient sound, take a photo, etc.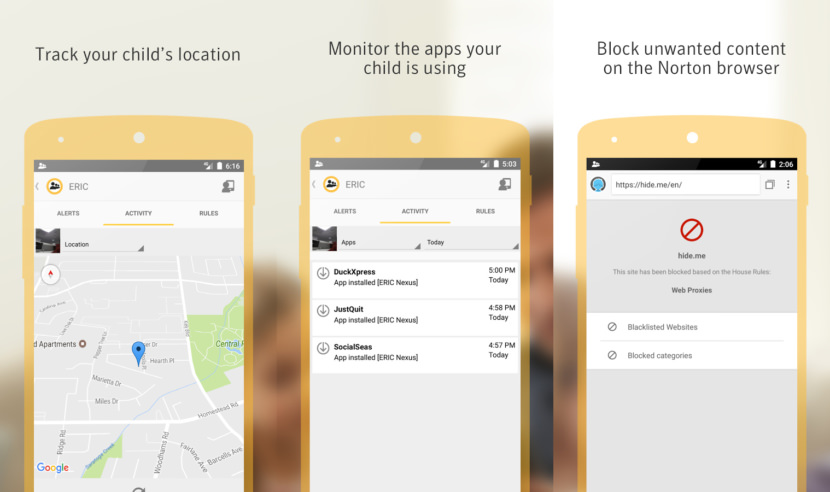 Norton Family parental control software helps protect your kids from online predators by showing you what your kids are doing online and identifying potential dangers before they become problems.
Location Supervision – Stay informed about where your kids are with tools that enable you to map the location of their Android or iOS devices and provide a 30-day history to show where they've been.
Activity History – See at a glance what your kids are doing on their connected devices and how much time they've spent on their PCs, so you can clearly spot trends and emerging habits.
Search Supervision – See the words, terms, and phrases your kids are searching for to gain insights into their interests and help protect them from inappropriate content.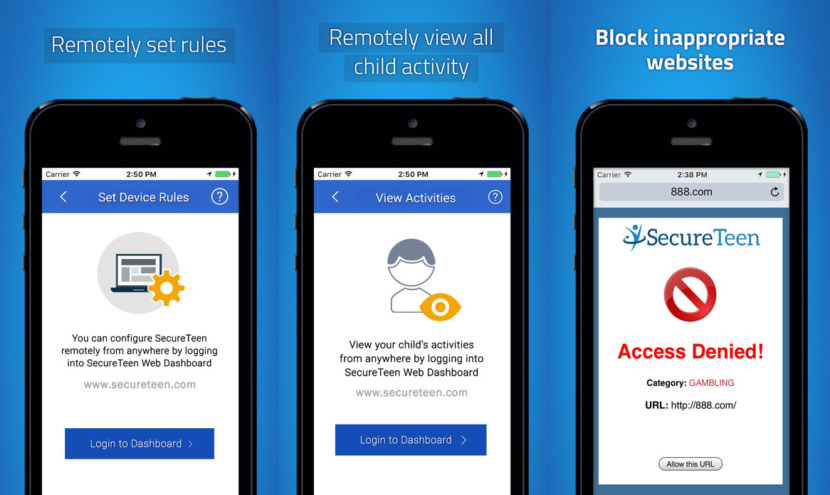 Ultimate Parental Control Software, you can keep your children safe online and protect them from the online dangers with the use of SecureTeen. This parental control solution has been designed to guard your children 24×7 and keep them away from internet hazards.
Block Inappropriate Content – Filter your child's online activity in real-time and block access to inappropriate content present on the internet such as not family friendly websites and violence.
Block Apps – If you do not want your child to access certain apps, then simply block them. You can also block those apps for certain hours of the day.
Monitor SMS and Chat Messengers – Monitor your child's SMS and chat messages in order to know whether he is engaged in sexting or sharing inappropriate content with others.
WhatsApp Monitoring – Keep tab on WhatsApp activities of your children.
View Internet Activity – Know what your child is doing online and view his internet activity to make sure he is not accessing harmful content.
Track Location – Always remain informed of your child's whereabouts and track his location so you can be prepared for an emergency.
Remote Management – Monitor, control, and secure your child's online experience easily from anywhere in the world and at any given time.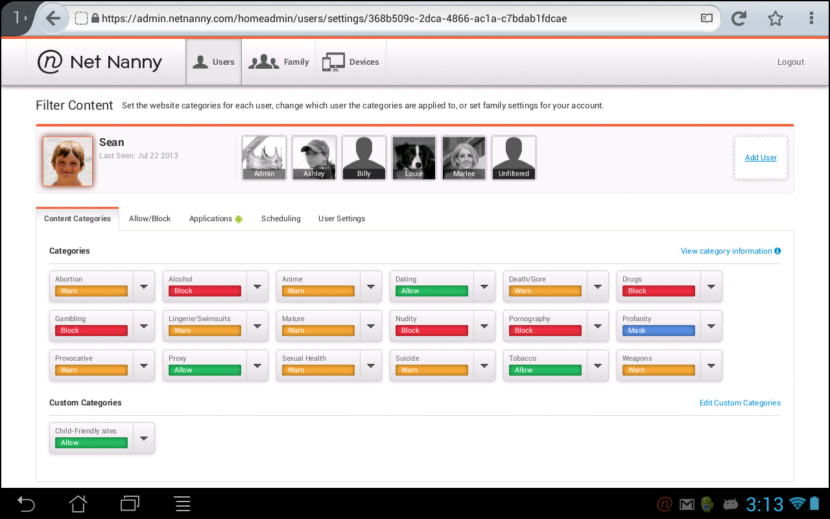 Net Nanny allows you to control your kids' internet activity remotely. Not only can you choose specific websites that you want blocked on your kids' phones; you can also block types of websites, such as ones involving dating, not not family friendly websites or tobacco. You can also set it so that you will get a warning if your child types in a certain keyword, such as "suicide."
Internet Filter – Be in control of your internet. Set filtering for 18 categories of online content to either block, warn, or allow for view.
Block Not Family Friendly Websites – Warn or block access to adult content.
Time Management – Set the total number of Internet hours in a day or set specific times of the day when your child can be online.
Mask Profanity – View a web page without being bombarded by vulgar language.
Social Media Monitoring – Monitor your child's social activity for cyberbullying, sexual predators, and reputation-damaging content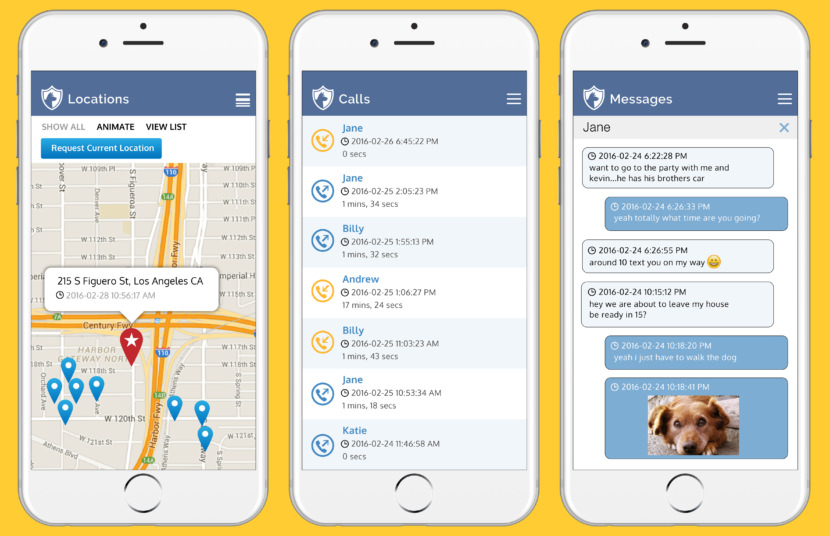 From the dashboard, access text messages, contacts, call logs, block apps and websites, locate your child, and much more. My Mobile Watchdog's KidsSafe program helps educate kids and parents about good internet etiquette and positive cyber behavior. Research has shown that when educated and given a chance to succeed, kids not only cease their damaging cyber misconduct, but actually become a huge part of helping others do the same, making their schools and communities safer.
Messages – Review text message conversations and view photos.
Calls – View call logs and set alerts to be instantly notified when your child is being contacted by people you are not comfortable with.
Contacts – Keep all of your child's contacts synced, quickly and easily. Set up an approved list of contacts. Be alerted on any unapproved communication.
Websites – All mobile internet activity on your child's phone is logged and easily accessible. Receive Alerts when your child attempts to access a blocked site.
Locations – Know your child's whereabouts with GPS Location Tracking. My Mobile Watchdog keeps track of the last 99 locations your child has been.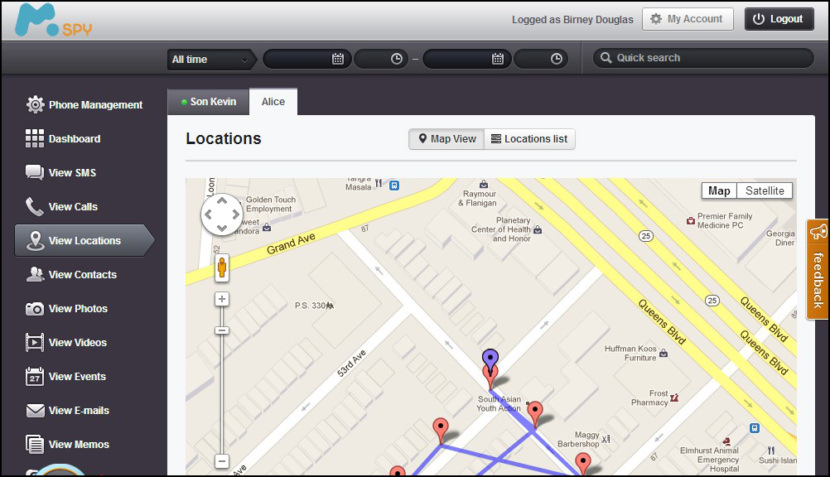 mSpy is the most popular and user-friendly application for watching over your kids, preventing theft, and supervising your employees' performance. Their mobile monitoring software runs on the target device to track all activity including call log history, GPS location, calendar updates, text messages, emails, web history, and much more! After following their easy, step by step instructions on how to create your own personal online mSpy account, you may log in to immediately begin viewing the tracked data.
Manage Calls – mSpy allows you to view all incoming/outgoing calls with their duration and timestamp.
Track text messages – This cell phone tracking software lets you read all text and multimedia messages sent or received by the target phone user.
Read emails – With this mobile tracking application, you can make sure your employees' time is not wasted on writing personal emails, and your children are not threatened by online predators.
Track GPS Location – mSpy can be set up to track GPS location of your target phone. Get to know if your son is where he is supposed to be or if your employee is really in a traffic jam.
Monitor Internet Use – View all URLs visited by the user in the cell phone browser. Сheck what they're up to online by scanning through their browsing history.
Access Calendar and Address Book – Check every contact entered into the phone address book and keep track of every event in the phone's calendar.
Read Instant Messages – Use this feature to capture messages sent and received by the target user on Skype, WhatsApp, iMessage, and Viber. Supervise user's popular social network accounts to learn what they texting about.
8. SpyBunker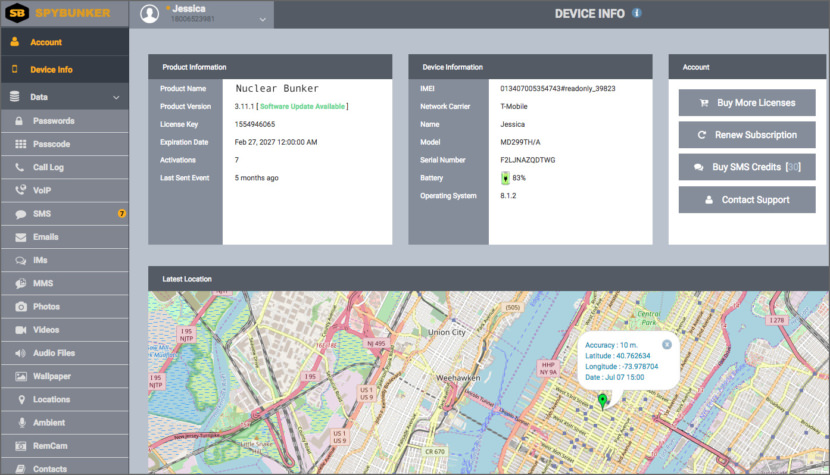 [ Discontinued ] SpyBunker is the world leader in monitoring solutions for smartphones & computers , all your personal and target device data are stored in a secretive nuclear bunker that was built during the Cold War.In 1996 the nuclear bunker was converted to a state-of-the-art data center.
SpyBunker encrypts your files,and then uploads them to the Bunker for safe keeping ,SpyBunker uses End-to-End Encryption,that means only you control and have access to your target device data. Not even SPYBUNKER Employees or anyone else except you !
Record Phone Calls
Snapchat Tracking
Tinder Tracking
Instagram Tracker
SMS Tracking
Cell Spy
iPhone Tracking
Parental Control
Android Tracking
WhatsApp Tracking
Cell Tracker
Call Interception
Location Tracker
Ambient Listening
9. Quester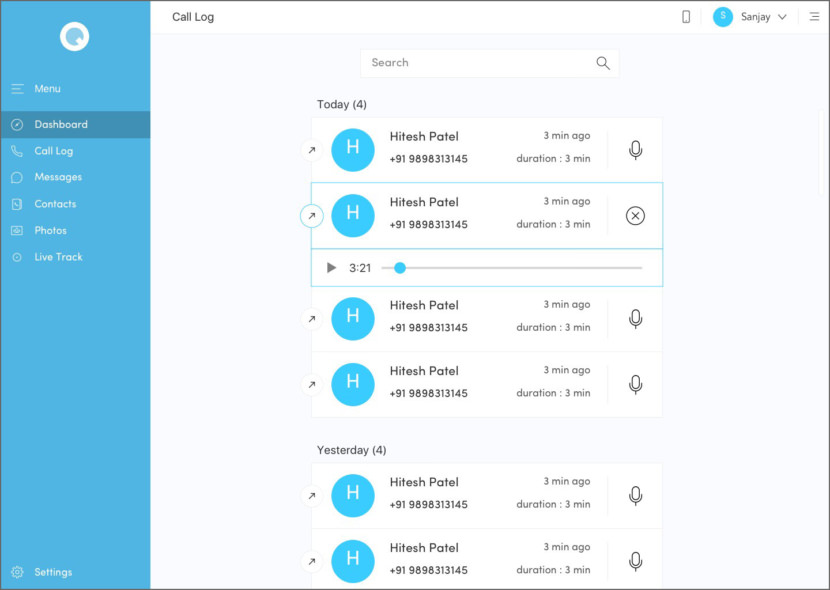 [ Discontinued ] Quester helps you to monitor everything from your children's phone including call log with voice recording, sms, photos, location contacts, app usage, also get email notification with usage information, users can not even know that you have something in their phone. application has some more features like action take photo, listing audio from phone, take screenshots without knowing him. Monitor Your Children's Phone :- Quester helps you to monitor everything from your children's phone including Call log with voice recording, SMS, Photos, Location Contacts etc.
Call Record – Access call log with voice recording, create alter for a particular number.
SMS Tracker – Get Incoming and outgoing messages in the form of conversation.
Contacts – Get all contacts from phone with all activity and you can export in CSV
Photos – Get all the photo from that taken from camera, you will get photos those deleted too
GPS Tracker – Get Location info with map view so you can get a better idea of the place.
11. Spyzie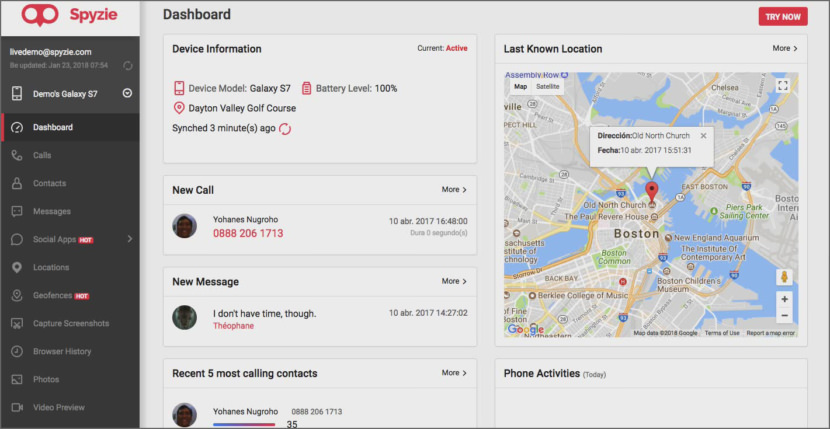 [ Discontinued ] Spyzie is a powerful web-based phone spy application used for parental monitoring and parental control. With its no-root or jailbreak iPhone and android spy solutions you can easily monitor and control your kid's phone activity remotely. Here are a list of features:
View Call History
Monitor SMS text messages
Track Locations and geofencing
Monitor popular social apps including Facebook, Instagram, WhatsApp, Line, etc.
Record Wifi History
Keyloggers
Monitor multi-media files
App blocking
Spyzie is a powerful web-based phone tracking solution for parents to track their kids or business owners to monitor their employees. When it is used to track an android phone or tablet, it allows you to extract information from the target android device after a simple setup process. You may view the monitored data remotely from any of your own smartphones, tablet PCs or computers as long as they are connected to the internet.
12. KidGuard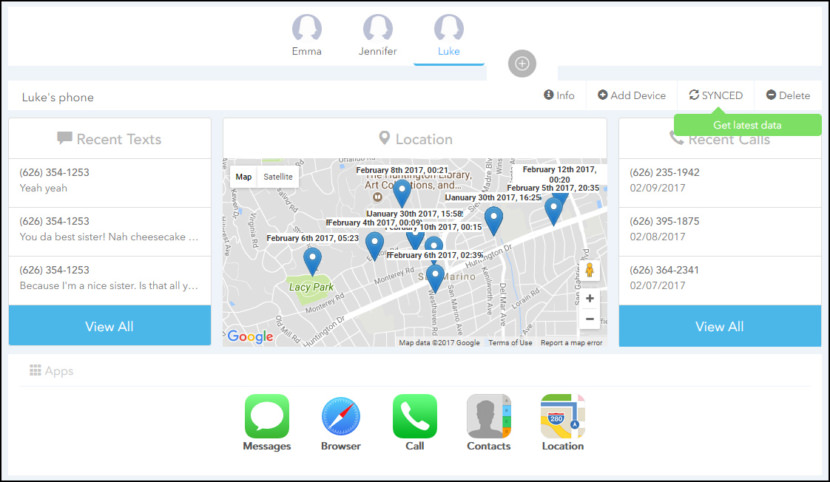 [ Discontinued ] KidGuard is a technology services company that provides information & tools for parents to keep their kids safe online. The KidGuard Phone Monitoring service is a cell phone tracking software provided to parents to "spy" on their kids text messages, monitor gps location, track phone logs, chats, allowing the parent to stay on top of issues such as cyberbullying, online predators, teen depression, and other risks to their children arising from the internet.
View Location – Know exactly where your child is at anytime or where they have been in the past.
Track Text Messages – Monitor the text messages of your child. View deleted text messages as well.
View Apps – Keep an eye on all activity on apps such as Contacts, Snapchat, Facebook Messenger, WhatsApp, and Photos to name a few.
Monitor Call Logs – Track your child's call logs for both incoming and outgoing calls. You can also monitor other information such as contact name, number, date and duration of calls.
Browser History – View all of your child's browser history for any day.
Photos – Have access to all the photos that are on your child's cell phone.
13. TeenSafe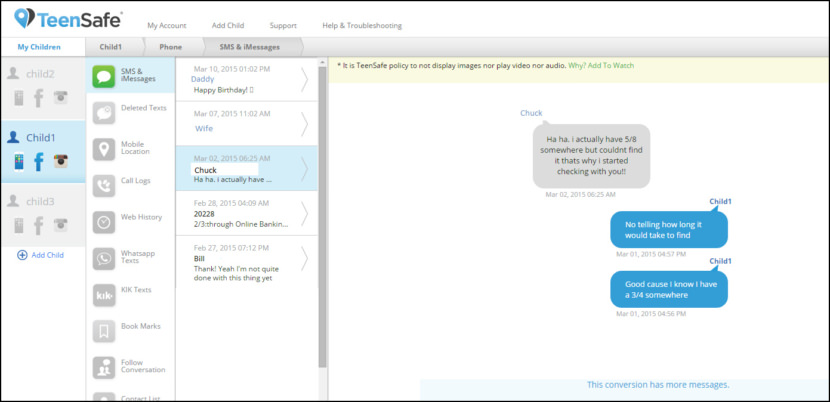 [ Discontinued ] #1 in Parental Monitoring, TeenSafe helps you detect the hidden dangers lurking inside your child's smartphone. Whether your child uses an iPhone or Android device, TeenSafe can help you keep tabs on what they are doing, who they are talking to and where they are.
All Texts – View your child's SMS and iMessages, even those that have been deleted.
Web History – See what sites your child has visited
Contacts – View all saved contacts on your child's device
WhatsApp – View sent and received WhatsApp messages
Kik Messenger – View sent and received Kik Messenger texts
Mobile Location – Track your child's location in real-time
The Dangers Of Social Media
Child Predator Experiment – This is why installing parental control software on your kid's smartphone is important. Watch the video to understand what kids are doing behind their parent's backs.