Are Keyloggers legal? According to Harvard Law's website, although keyloggers facilitate a major invasion of privacy, they are legal in many jurisdictions. On an individual level, many parents utilize this software as a way to protect their children when they are online, which again is legal and recommended by professionals across the board.
See More ▼ 4 Best Free Anti Keystroke Spying Monitoring Software, Detector and Remover
With the question of legality settled, as a parent with underage children, do you know what your kids are doing online? Do you know who are they chatting with on Facebook and Whatsapp? This is where Parental Control with Keylogger collects keyboard data and monitor your child's activities on the Computer, Mac, iPhone or mobile phone and creates detailed time tracking and productivity reports available online. You can use keylogger too. Works great on Microsoft's Windows 10 and Apple's macOS.
Shows you how much your Kid is working on the PC or Mac
Creates the list of most used apps and websites
Employees time tracking. Workplace productivity tracking
Displays the most used contacts on the phone. (Calls, SMS, chats, emails, skype)
Online employee monitoring solution
Phone coordinates tracking
PC and Phone remote surveillance
GPS tracking can be useful in the event your children are being kidnapped, or disappear because a last known coordinate is very useful for the police to solve a missing child case. How to send a keylogger via email? You can't, you have to be physically there to install the monitoring software.
Keylogger vs Parental Control
You may have access to your children's Whatsapp or Facebook because you force them to surrender their password, but this doesn't mean they won't have a secondary secret account or delete any messages they received immediately. This is where keylogger comes in handy, as a parent, you'll get to see every text they typed, therefore making monitoring easier. Can a keylogger be detected? Yes, the answer depends on the antivirus and various other factors.
Is Keylogger Legal? If It Is, Under What Circumstances?
Are keyloggers legal? Keylogger is illegal if it is installed on a computer not owned by you, especially if the intention is to steal credit cards, passwords and private information. Keylogger is ideal for:
Parents concerned about the kind of programs their children might be running and the sites they might be visiting on the Internet.
System administrators wanting to know exactly what has taken place on the system.
CEOs checking the time spent by employees on non-work or other tasks. Actual Keylogger provides you with full control over your company's computers.
Computer teachers and Internet café owners who want greater insight into what their users have been doing.
Note: In some countries such as Germany, it is required by law to inform your employee that a key monitoring software is installed. Can Keylogger be installed remotely? No, you need physical access to the computer, unless there is a bug or you work in the NSA.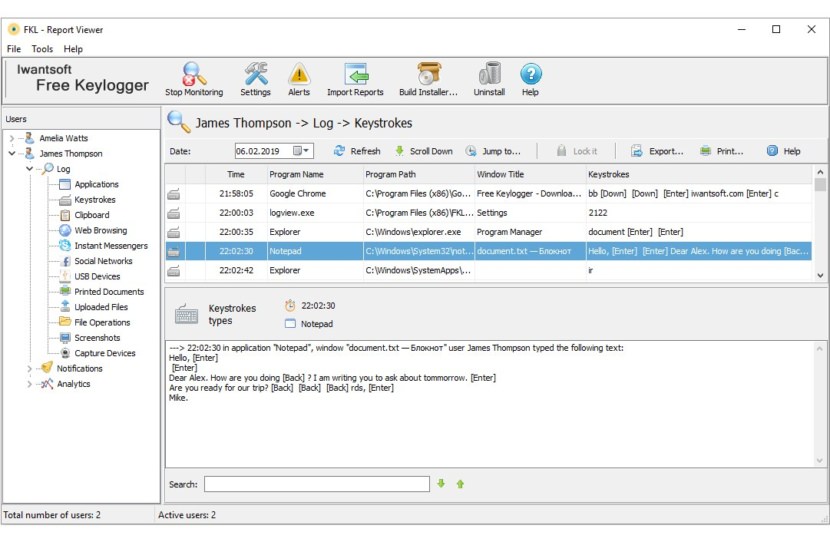 Iwantsoft Free Keylogger discreetly monitors all activities on a computer by registering every keystroke, capturing the content of the system clipboard, logging program usage, keeping track of visited websites and even making screenshots with certain periodicity. Other activities are also recorded.
The program is equally suitable for home and work use. At home, it can be used by parents looking to identify potential threats to their children. At work it may be interesting for employers making sure their business secrets are not leaked to competitors.
PC Monitoring – Free Keylogger discreetly monitors all activities on your computer including keystrokes, program usage, visited websites, and so on.
Hidden Mode – The keylogger remains invisible to users at all times, and only the owner can press a secret hotkey and enter a password to make it visible again.
Remote Control = You can read the recorded reports from another computer, thanks to automatic report delivery to your e-email, Dropbox, FTP or LAN folder.
Report Viewer = The software provides an easy to use yet powerful report viewer. It allows you to get detailed info about every activity, as well as a general statistics.
Filters and Alerts – Block unwanted applications and websites. Receive instant alerts via e-mail when specific keyphrases are found in activities.
Home & Business – Unlike other keyloggers, Iwantsoft Free Keylogger is adapted for use in the local networks of companies of any size.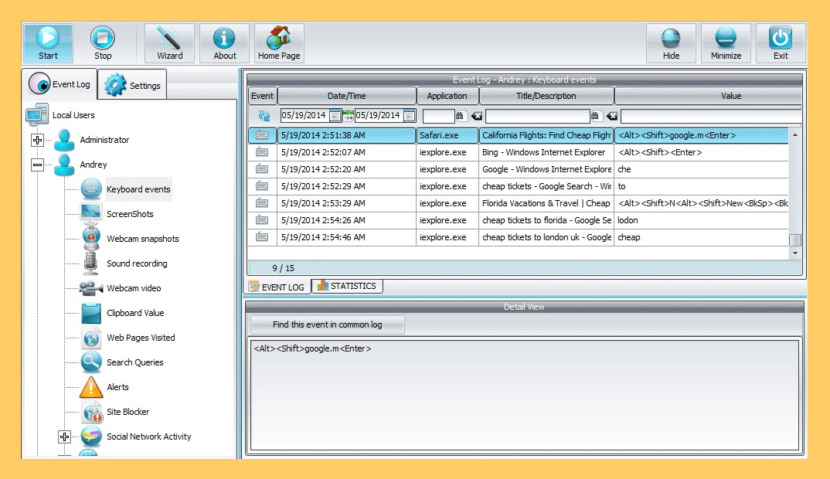 Spyrix Keylogger is a free key logging software that allows recording and monitoring of every single keystroke. This freeware can also capture screenshots of the active programs at specified intervals so that you can monitor all the activities going on your PC. It can also make reports about programs that are running.
Remote monitoring via secure web account
Keystrokes logging
Screenshots capture
Undetectable to antivirus software
Microphone Voice Surveillance (Pro only USD80)
WEB Camera Surveillance (Pro only USD80)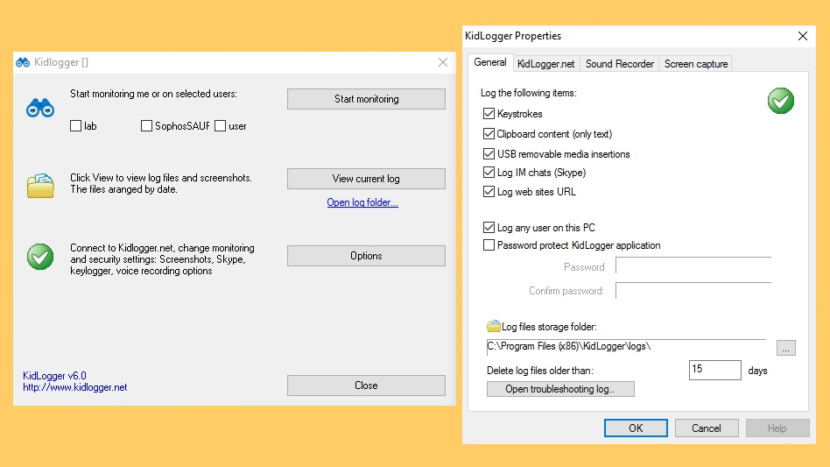 Parental Control – Keep your children safe in cyberspace. Find out who your child is talking to over the phone or when in cyberspace. Employee Time Tracking and monitoring. Improving employees discipline. Your personal automatic diary. Tracking the notebook or phone location by GPS.
Record keystrokes
Make screenshots
Web history monitoring
Record voices(for Windows)
Time tracking
Chat monitoring(Windows and MAC)
Phone location tracking (Android, iOS, BlackBerry, macOS) records point to point navigation during the day, by GPS or WiFi coordinates
SMS (Android, Nokia, BlackBerry) Records all incoming/outgoing SMS messages with phone number and recipient name.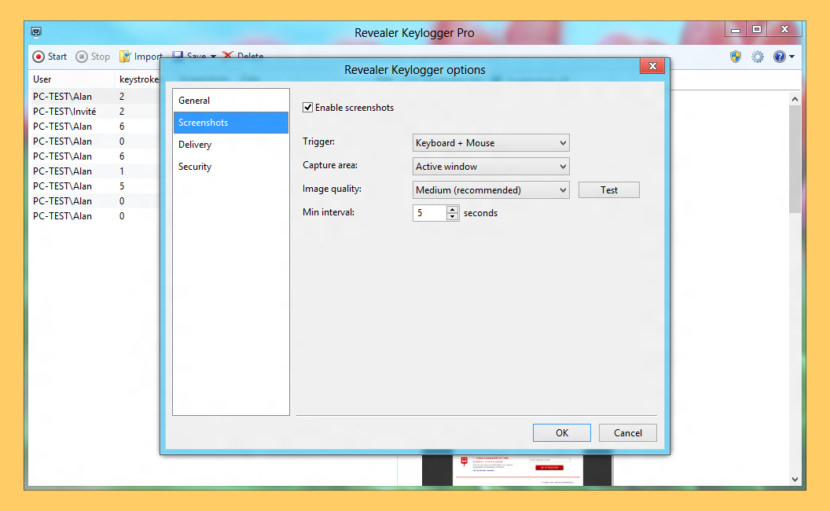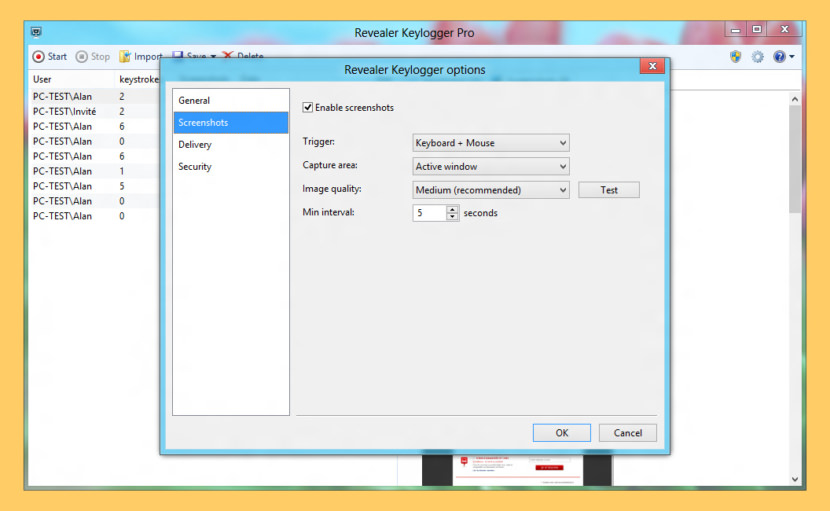 Revealer Keylogger Free is a competent if unremarkable keylogger for Windows. It can run at startup, hide itself from users, and protect access with a password. But basic features such as screenshots and email notifications aren't available in the free version, and the program doesn't log IP addresses.
Conversations monitoring for Skype, Facebook, MSN, AOL, ICQ, AIM, GTalk, etc
Keystroke Recorder Records text, passwords and conversations
Password Protection Prevents someone else from opening the program
Capture Screenshots (Pro only USD50)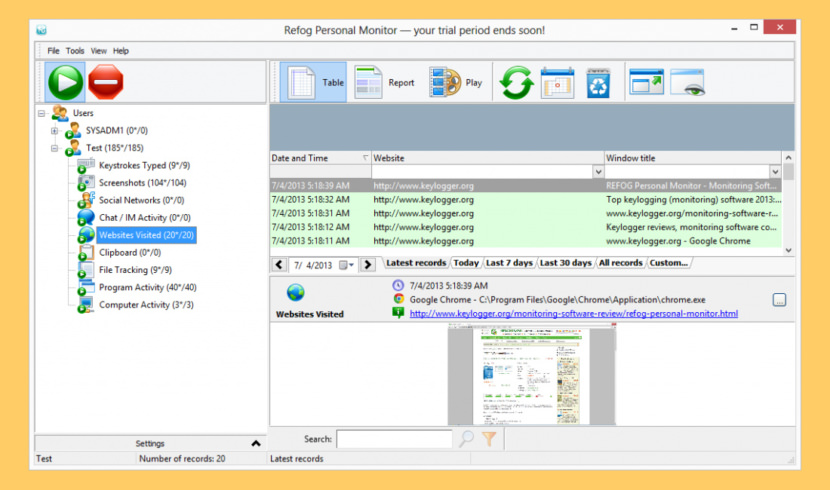 Refog Free Keylogger beats competition in two respects: it's simple to use and it's free. I've seen too many spying products that are bloated with unnecessary bells and whistles and are impossible to use by moms and dads. Not this one. It's easy to install and to use, and it costs nothing. The list of things that are captured, logged and recorded is so long it almost makes no sense. Here are just a few things on the long, long list.
All keystrokes typed in all windows, including passwords
Sent and received chat messages
Visited Web sites
Logon and logoff events
Skype chats and voice conversations
Launched programs and games
Screen captures of what's on the display
Spytector is the ultimate stealth keylogger (keystroke logger) that completely meets your computer monitoring and surveillance requirements. Spytector is running in total stealth, undetectable even for savvy users – it is the perfect keylogger for monitoring the way your computer is used.
Spytector is widely considered the perfect keylogger for both home and corporate users. All the monitored activity is stored in securely encrypted log files. The logs are received either by email or FTP (the log sending procedure is invisible and undetectable for many local firewalls) and afterwards they can be converted into eye -catching reports by the in-built Log Viewer. The full colored logs can be saved as RTF or HTML files.
Keystrokes, websites, chat, applications, keylogging filter, clipboard monitoring, boot events, passwords, and URL history
FTP and Email log delivery
Retrieves the passwords stored in Google Chrome, Firefox, Internet Explorer, Opera, Safari, GoogleTalk, Outlook, Windows Live Messenger
Advanced firewall bypass techniques (the monitoring software is undetectable by many local firewalls)
Stealth reports delivery (by email & FTP)
Local encrypted log files
Option to restrict the access to specified websites and applications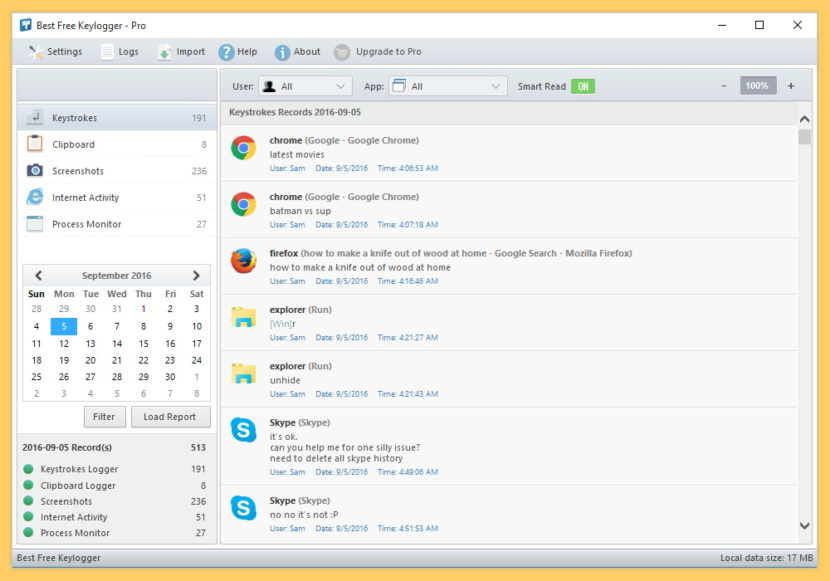 Best Free Keylogger is a PC monitoring utility that works totally invisibly in your computer. This software can monitor keystrokes; Chat, Internet activity, Visited URL, Clipboard text copy, File copy, and screenshots. This software is the best solution to monitor what children are doing with their computers when parents are not available at home or else can monitor the employee's duty whether they are doing that properly or not with the computer.
Keystroke recording
Internet activity recording
Chats and password logging
Clipboard monitoring
Application monitoring
Capture Screen-shots
Email, FTP, LAN, USB delivery
Invisible mode and password protection
100% Undetectable
Schedule monitoring
Automatically log clear
8. Ardamax Keylogger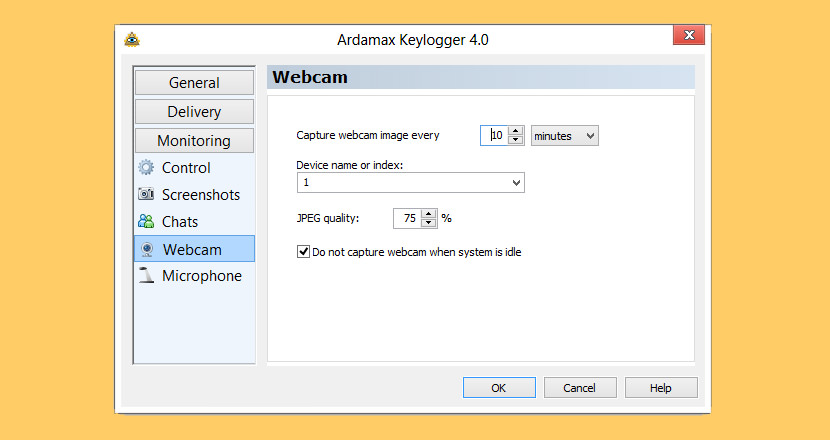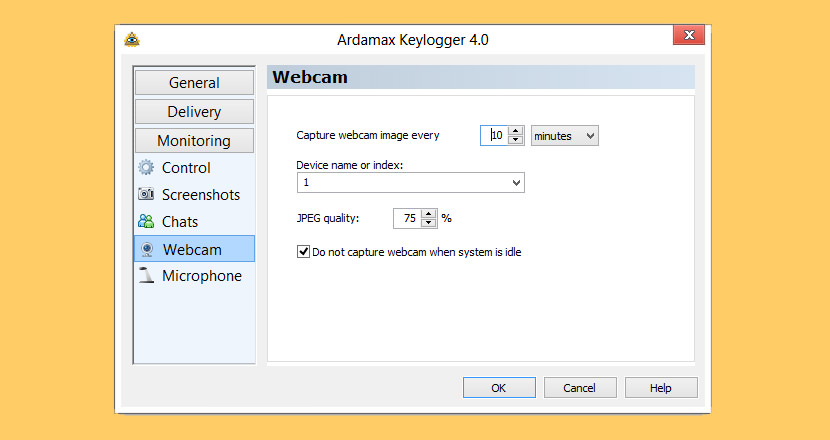 [ Discontinued ] Ardamax Keylogger is a small, easy-to-use keylogger that captures users activity and saves it to a logfile. The logfile can be viewed as a text or web page. Use this tool to find out what is happening on your computer while you're away.
Keystroke logging – Records all typed keystrokes, passwords and hidden characters.
Browsers capturing – Records a log of all websites visited for all browsers.
Webcam recording – Periodically makes webcam pictures and stores them to log.
Email log delivery – Keylogger can send you recorded logs through e-mail delivery at set times – perfect for remote monitoring!
Microphone recording – Record voice from the microphone with real-time compression.
Visual surveillance – Periodically makes screenshots and stores the compressed images to log.
Chat monitoring – Ardamax Keylogger is designed to record and monitor both sides of a conversation in following chats: AIM, Windows Live Messenger, ICQ, Skype, Yahoo Messenger, Google Talk, Miranda, QiP
9. Windows Keylogger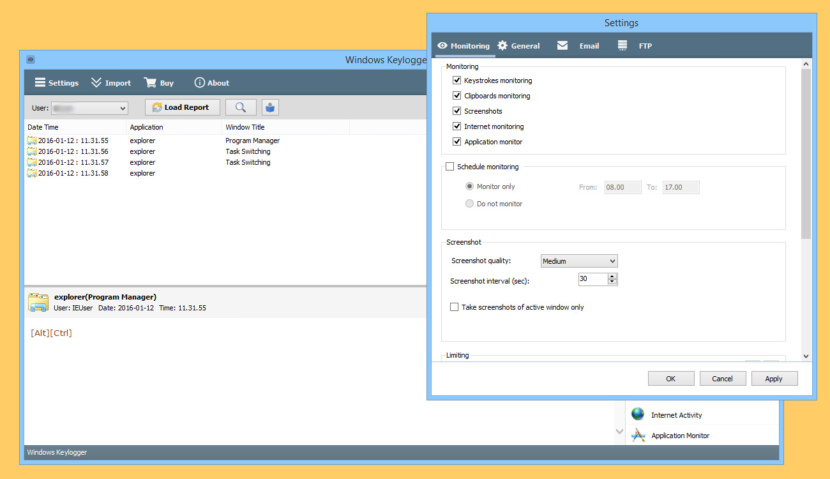 [ Discontinued ] Windows Keylogger is the leading Monitoring Software for windows operating system. Thousands of users all over the world use Windows Keylogger considering the fact that it is the pioneer in security and most successful among the others.
You can easily read keystrokes with "Easy Read" feature, a unique facility provided by Windows Keylogger.
It can be configured to monitor selected users and to monitor only in selected applications.
You can filter logs that you need, by advanced search.
It can be configured to uninstall automatically, on a previously selected date.
10. Actual Keylogger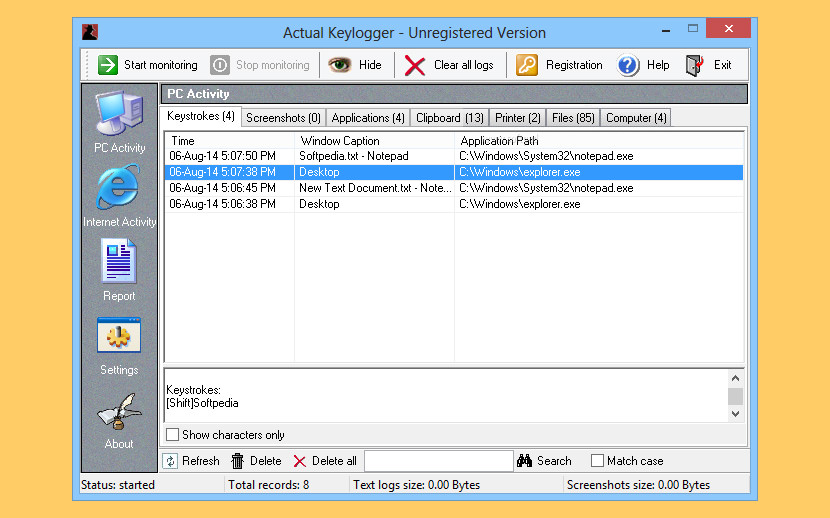 [ Discontinued ] Actual Keylogger is a program that monitors the activity on your computer so you can discover what other users are doing on your computer when you are not present. The keylogger software keeps track of programs run or closed, websites visited and any keystrokes pressed, and can also record screenshots and content copied to the clipboard. Features:
Which applications are run and closed
All keystrokes pressed (keystroke logger)
All print activity
All websites visited
Screen captures for a set time period
Encrypted log files for all activity
Why Is It Important To Install A Keylogger?
Computers can be useful tools for entertainment, education, and communication but in the wrong hands they can be dangerous. Children can connect with online predators. Teenagers can provide inappropriate information on their social networking profiles.