Anti-Keylogger doesn't remove keyloggers from your Microsoft Windows and Apple Mac computer. If you suspect someone is monitoring and spying your every move online, or to prevent future possible spying by someone, an anti-keylogger is the best solution. This is useful in scrambling important information such as credit card number and password.
🤣😍😂 8 Anti Keylogger Rootkit Detection And Removal For Undetectable Spyware Computer Surveillance Malware
In order to be fully protected from information leakage and Internet threats our analytics recommend using Anti-Keylogger in addition to antivirus and firewall. Viruses will be defeated with the help of anti-virus, all the unwanted Internet connections will be terminated by firewall and all the spyware will be blocked by Anti-Keylogger. Using these three types of software is a key to information and Internet security of your PC. Here are some of the best anti-keylogger.
What is a Keylogger? According to Wikipedia:
Keystroke logging (often called keylogging) is a method of capturing and recording user keystrokes. The technique and name came from before the era of the graphical user interface; loggers nowadays would expect to capture mouse operations too.
Keylogging can be useful to determine sources of errors in computer systems, to study how users interact and access with systems, and is sometimes used to measure employee productivity on certain clerical tasks. Such systems are also highly useful for both law enforcement and law-breaking—for instance, providing a means to obtain passwords or encryption keys and thus bypassing other security measures. Keyloggers are widely available on the Internet.
↓ 01 – Ghostpress | Free | Windows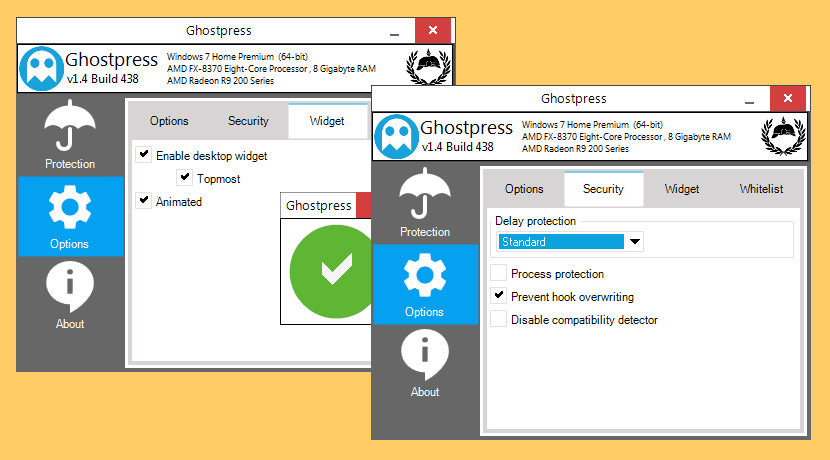 It is an anti-keylogger that blocks all but the intended application from receiving the keystrokes created by Hendrik Schiffer. Ghostpress stops malicious software from capturing keyboard-presses.
Full system-wide keypress-protection
Desktop widget or favicon
14 Languages (Croatian, Czech, Dutch, English, French, German, Indonesian, Italian, Korean, Latvian, Polish, Portuguese, Romanian and Spanish)
Ultra-fast performance
Process-protection
Anti low-level keylogger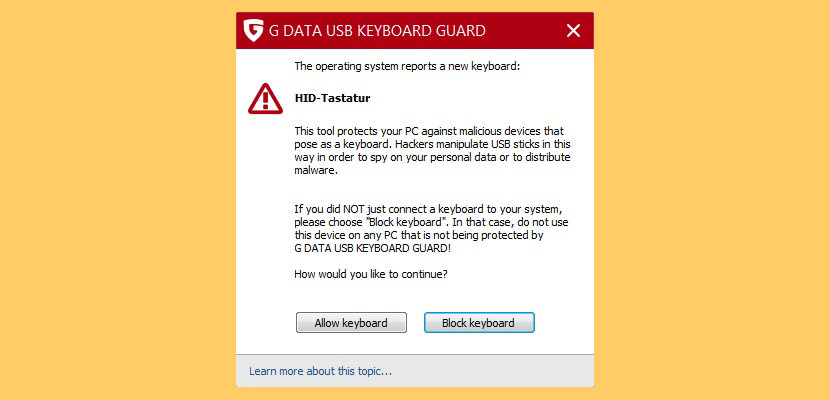 The G DATA USB Keyboard Guard is an add-on that protects you from the most likely form of USB attack: USB devices pretending to be keyboards. If a new keyboard is detected by the system, access is initially denied and a pop-up is displayed. You can then check in your own time whether this really is a keyboard, and either grant or deny access permanently. You can download the software for free.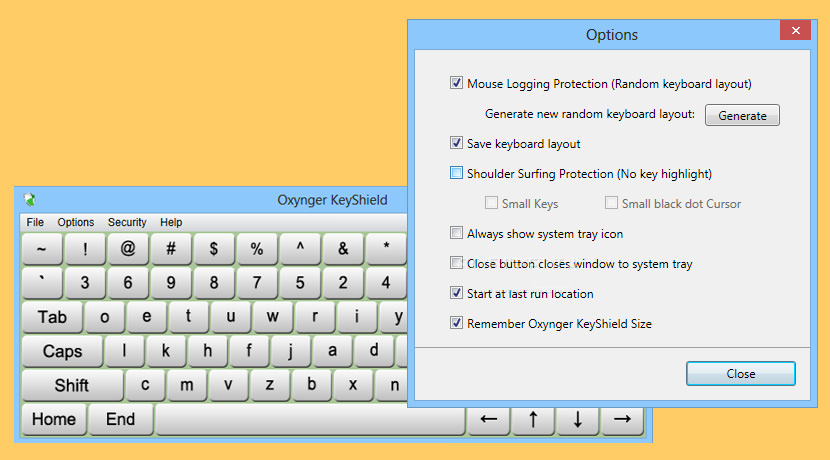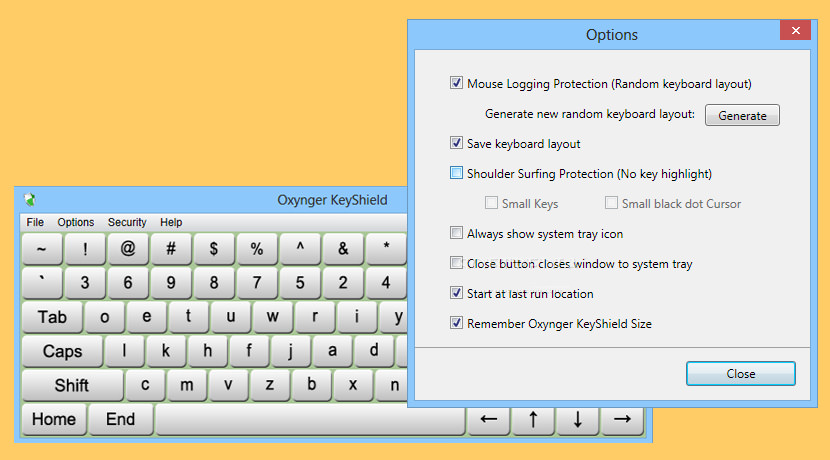 Oxynger KeyShield is a secure, anti-screenshot and free virtual keyboard to protect passwords and other sensitive information from malicious programs and hacking. Oxynger KeyShield protects its keystrokes from keystroke logging, screen logging, mouse logging, clipboard logging and shoulder surfing.
Oxynger KeyShield provides the world's best protection from keylogging. It is 100% protected against hook based, API based, kernel/driver based and hardware keyloggers. Ordinary anti-keyloggers only protect from some type software keyloggers. But Oxynger KeyShield protects its keystrokes from software and hardware keyloggers.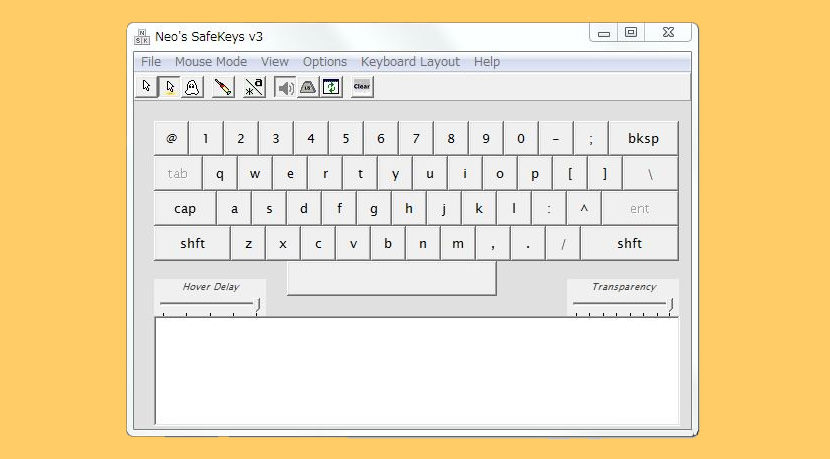 Neo's SafeKeys is a free program to help protect you against keyloggers and other malware. Neo's SafeKeys employs many anti-keylogging techniques in order to keep your information and passwords secure from identity theft, bank and credit card theft, Facebook account hacking, World of Warcraft account hacking and more.
Great Keylogger protection – the keyboard not used in the creation or transfer of your passwords…ever. Please note that the 'standard' drag-drop mechanism is the safest – we suggest you only use the injection mode only if your target program requires it.
Great Screenlogger protection. NSK 2008 had partial screenlogger protection, but NSK v3 has greatly improved protection against screenloggers.
Injection Mode. With this, you can use NSK v3 with programs that do not usually accept drag-drop – this means that you can now be protected when entering master passwords for KeePass and Roboform, and when using Opera, Excel and even World of Warcraft.
Transparency and Auto-hiding when dragging dropping passwords make NSK v3 a breeze to use.
Adjustable hover entry delay – adjust how long you need to hover over a key, before it registers as a 'keypress'; from 0.5 secs to 2.5 secs.

A free, lightweight, multilingual and finger friendly virtual on-screen keyboard. Free Virtual Keyboard works on any Windows based UMPC with a passive touchscreen (Ultra-mobile PC, Tablet PC and Panel PC).
If you spend a lot of time responding to email or jotting down notes on your mobile computer and find your hardware keyboard awkward or too small, a screen software keyboard may be just the improvement you've been seeking. This handy keyboard has keys large enough to be typed with the fingertips.
Change size, color and transparency of keyboard on the computer screen – You can change size, color and transparency of keyboard with one click at any time. In full-screen mode the virtual keyboard automatically resizes to fit the width of the screen when invoked. This means it works in both landscape and portrait orientation, something other keyboard does not do.
Auto-repeat function – The auto repeat function (any key held down to repeat the same character continuously) is automatic. All relevant keys would auto-repeat when pressed continuously.
Run it from your portable USB flash drive – Free Virtual Keyboard is a totally portable application, meaning that you can put it on any USB stick and run it directly from there. In this way, your interactive keyboard will always be with you. The settings are stored in the FreeVK.ini file located in the program installation folder. If it's impossible, settings are stored in the registry.
↓ 06 – KeyScrambler | Free / USD30 | Windows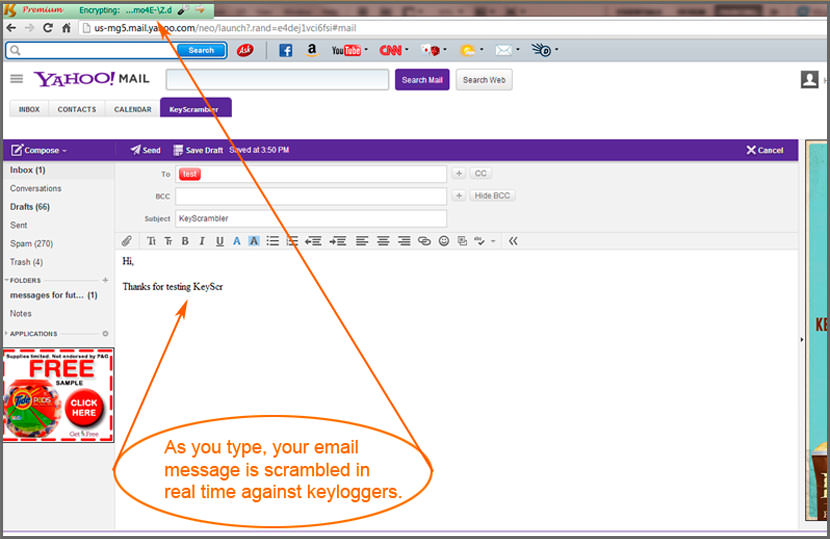 KeyScrambler encrypts every key you type deep in the Windows kernel. It protects your private info against both known and unknown keylogging malware on millions of websites and in hundreds of essential applications. KeyScrambler encrypts every key you type deep in the Windows kernel. It protects your private information against known and unknown keylogging malware on millions of websites and in hundreds of essential apps.
Scramble keys on Browser (free edition)
BitCoin Wallets (Premium only)
↓ 07 – ScreenWings | Free | Windows

ScreenWings is a free anti-screencasting software that prevents (malicious) software from capturing your screens. If you want to test the security of ScreenWings, try the Snipping Tool, pressing "Print" or any capturing software!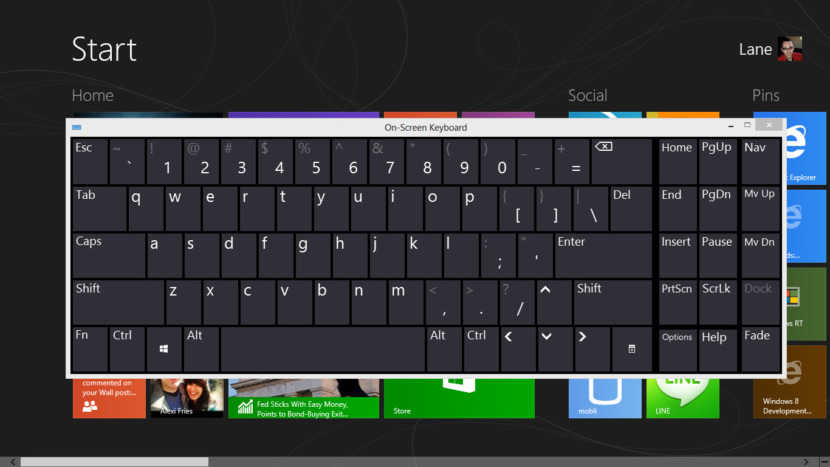 There are several different kinds of keyboards for PCs. The most common type is a physical, external keyboard that you plug into your PC. But, Windows has a built-in Ease of Access tool called the On-Screen Keyboard (OSK) that can be used instead of a physical keyboard to move around a PC's screen or enter text. You don't need a touchscreen to use the OSK. It displays a visual keyboard with all the standard keys, so you can use your mouse or another pointing device to select keys, or use a physical single key or group of keys to cycle through the keys on the screen.
To open the On-Screen Keyboard, Go to Start, then select Settings > Ease of Access > Keyboard, and then move the slider under On-Screen Keyboard. A keyboard appears on the screen that can be used to move around the screen and enter text. The keyboard will remain on the screen until you close it.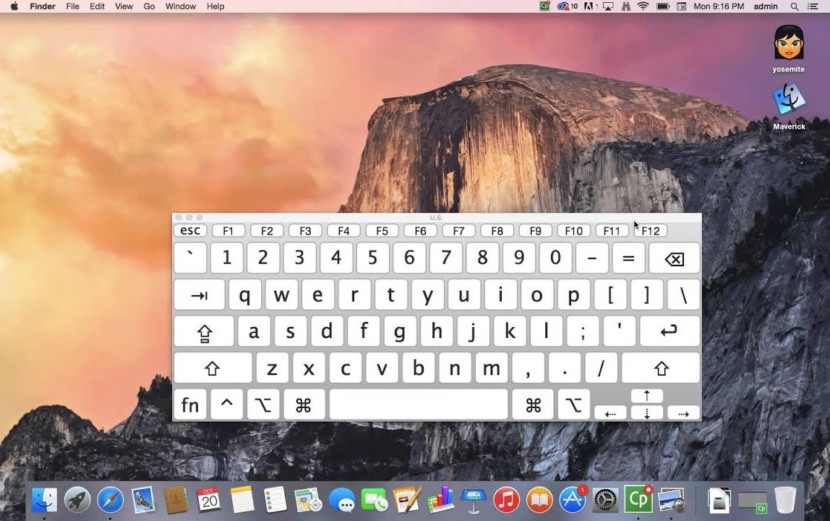 How to activate your on-screen Mac Keyboard in macOS? The Virtual Keyboard feature of OS X is exactly what it sounds like, it's a software-based keyboard that can be used as an auxiliary onscreen keyboard to type anything on a Mac. These virtual keys are pressable by clicking on them with a cursor, rather than tapping the physical keys on a hardware keyboard. To turn on the onscreen keyboard:
Go to the System Preferences panel.
Select the "International" icon.
Go to the "Input Menu" tab.
Select the "Keyboard Viewer"
You now should have an American flag in your menu bar. …
You now should have a keyboard on your desktop that displays whatever your press on your keyboard.
↓ 10 – SpyShelter | Not Free Anymore / 50 Euro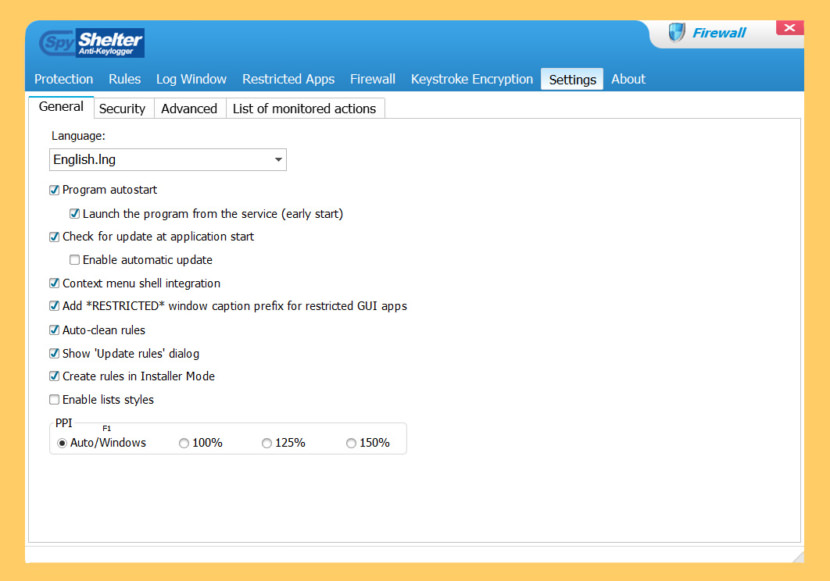 Note: SpyShelter Free Anti-Keylogger will no longer be supported but the free version is still available for download. SpyShelter does not rely on an antivirus signature database, because our software understands how malware works. SpyShelter protects you from both known and unknown threats, which were not discovered by antivirus labs yet. SpyShelter Free offers complex system protection and anti-keylogging modules for free, only for 32 bit systems users. It does not even require account registration!
Real Time System Protection – SpyShelter guards your registry, physical memory (RAM) and other sensitive computer parts among with processes, so that malicious code cannot be injected to take control of your PC.
Anti keylogger – SpyShelter Free Anti-Keylogger ensures that whatever you type into your computer, is protected against dangerous people who want to steal your data! With SpyShelter, your personal data will be safe.
Clipboard Protection – SpyShelter shields sensitive data that can be found in your Windows clipboard as a result of copying, cutting, and pasting. Spyshelter ensures that this information will not be maliciously monitored by other people.
Keystroke Encryption – SpyShelter Free Anti-Keylogger has an integrated keystroke encryption driver which encrypts your keystrokes while you are browsing the web. This means that even if you allow any malicious application to run on your system, it will only retrieve meaningless random text.
↓ 11 – Zemana AntiLogger | Not Free Anymore / USD30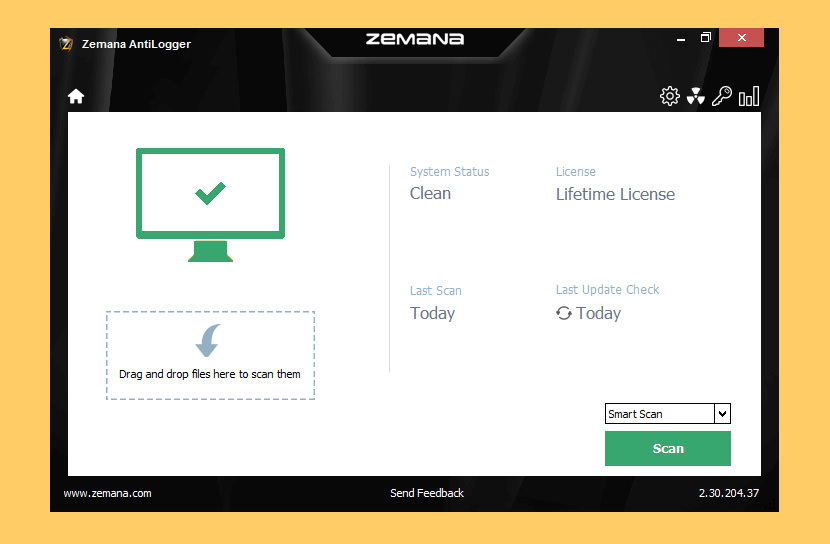 Zemana AntiLogger is a powerful, efficient, and user friendly app that keeps track of who is doing what on your PC. It monitors your PC against the bad guys and prevents any kind of attempts to record or steal your private data and blocks any kind of suspicious activity. It detects any attempts to modify your computer's settings, record your activities, hook to your PC's sensitive processes, or inject malicious code in your system.
Screen Capture Protection
Keystroke Logging Protection
Webcam and Microphone Hijacking Protection
Financial Malware Protection
↓ 12 – Anti-Keylogger [ Discontinued ] | USD29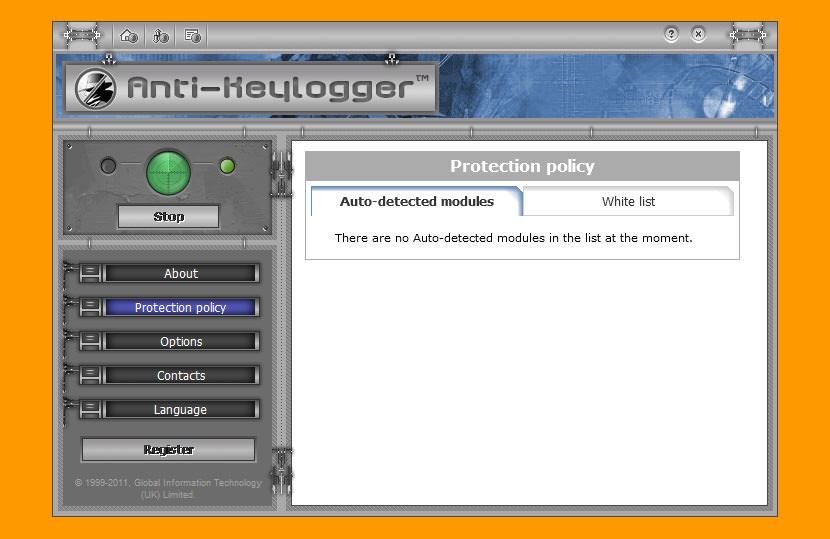 Anti-Keylogger is silent antispyware software that will protect your PC from spyware. The key feature that stands our antikeylogger among others is its way to detect and block spyware. Anti-Keylogger does not use a signature base. Our anti monitoring software relies on the method of heuristic analysis. This means it will protect you even from new, yet unknown keyloggers. It also means you do not need to update it to be fully-protected. And, last, but not least – the program has very small size both in the setup package and when installed.
Blocking of keystroke logging
Blocking of windows content capturing
Blocking of clipboard logging
When to use a virtual keyboard?
When you are using a public wifi, in a cybercafe or performing an online banking transaction. Why and what's the difference? A virtual keyboard does not send the same signal as a physical keyboard, meaning to say, it is impossible for a keylogger to intercept what the keystrokes are, thus making it hard for the hacker to know what you are typing.