One of the best feature by DropBox is the feature where it creates a virtual drive right on your Windows, and it works just like another drive in your computer. Amazon's S3 however doesn't come with such software. Microsoft OneDrive and Apple's iCloud doesn't come with a software but it doesn't feel the same.
Anyway, Amazon S3 is perhaps the best or one of the best cloud storage service in the market. With a simple software, you can now easily backup all of your important files to the cloud. A network drive is a mapped drive. It looks like a normal drive letter in your local file system, but instead of space on your computer hard drive, the drive letter points to a server hard drive.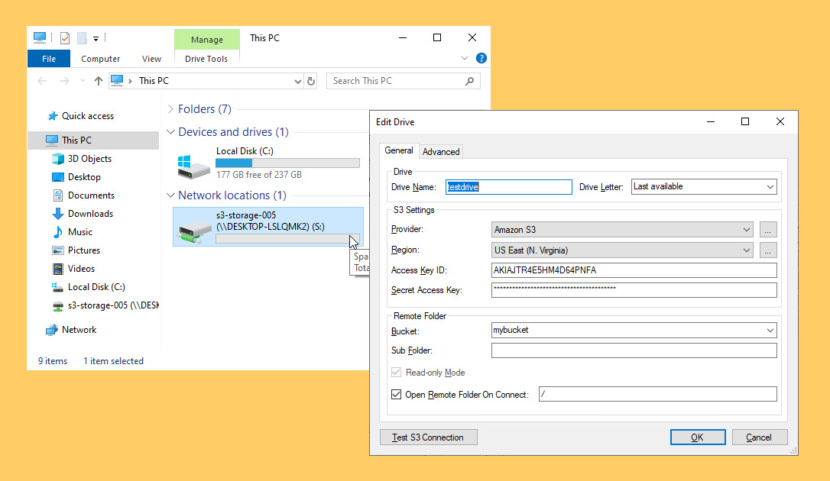 Easily connect to any Amazon S3 compatible storage service via a local virtual drive. Browse and interact directly with your remote files without creating local copies.
Built with the same attention to quality and security that has made /n software the most trusted source for communications software components, S3 Drive is a powerful utility that enables you to connect and work with any S3 compatible service as a local drive. You can easily manage your remote files without having to upload and download them. Map and mount any S3 compatible storage service such as Amazon S3, Digital Ocean, Wasabi, IBM Cloud Object Storage, Linode, Oracle Cloud Storage, Backblaze B2 and more.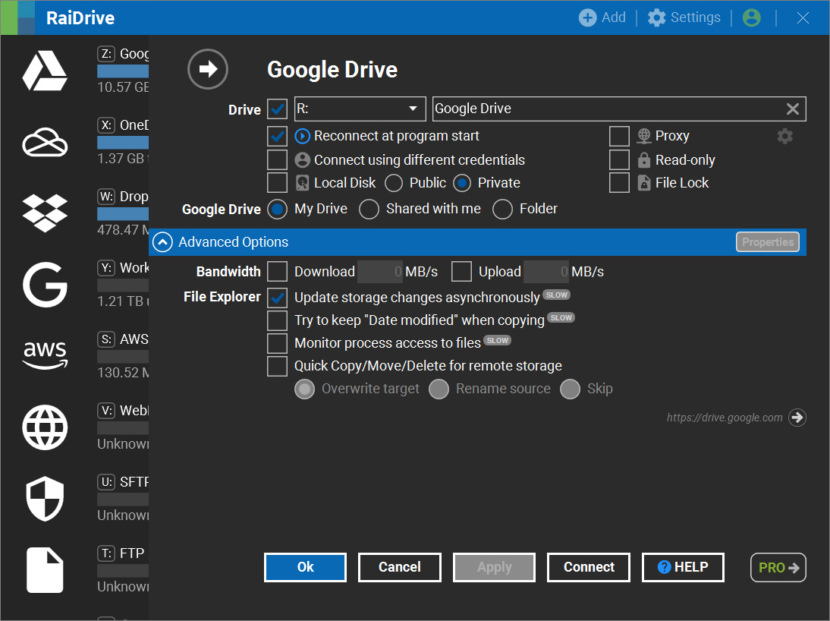 RaiDrive is a useful program that makes it possible to access Google Drive from any computer. RaiDrive works similar to Dropbox: once the program is installed, it creates a file on your computer with a copy of all your files in the cloud, that will automatically update whenever you upload a file. The sync works in both directions, so whether you change a file in the cloud or on your computer, the so the folder will update automatically.
RaiDrive makes it possible to manage all your files in the cloud without having to access through an internet browser, all from an intuitive interface that you can use even without an internet connection.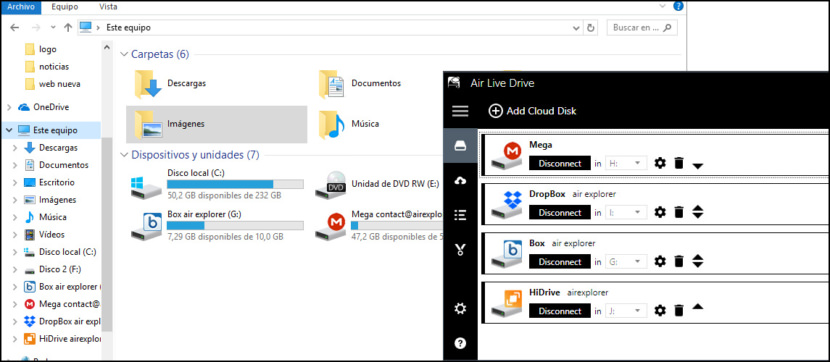 Air Live Drive mounts your clouds as disk drives in your computer. It allows you to use your usual tools or programs directly on the files in the cloud. Air Explorer has other features, it allows to encrypt files, schedule automatic file transfers, synchronize folders, view and restore old file versions, etc.
Air Live Drive supports the best cloud servers: OneDrive, OneDrive for Business, OneDrive China, Google Drive, Box, Dropbox, Mega, Yandex, Naver, Hidrive, Mail.ru, WebDAV, Mail.com, Adrive, Magenta Cloud, Stack Storage, Datto Drive, pCloud, Teracloud, SharePoint Online, SharePoint China, Opendrive, Backblaze, Koofr, Owndrive, Nextcloud, Orange Flexible Cloud, Jottacloud, Onlime.dk, Nutstore, Alibaba Cloud, Wasabi, S3, Aws s3, Huawey, Idrive e2, FTP, FTPS and SFTP.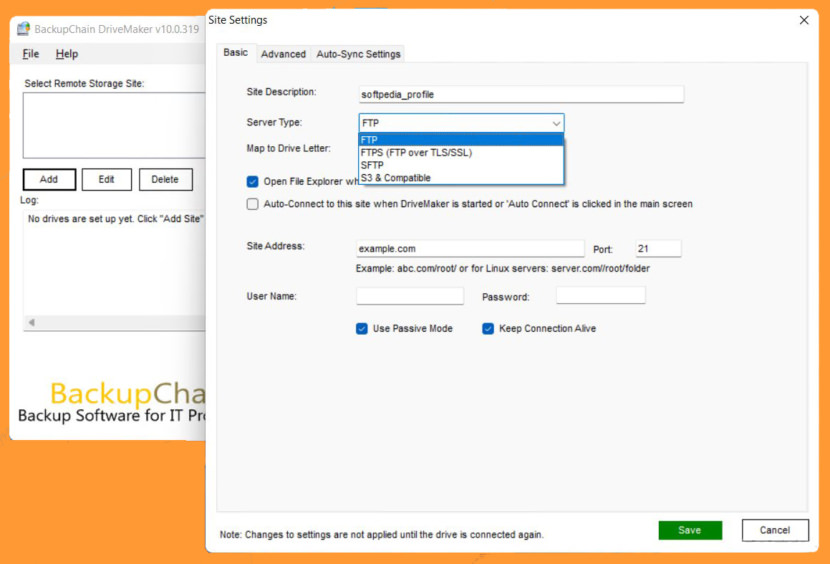 DriveMaker Freeware mounts or maps an FTP, FTPS, Amazon S3, S3 compatible storage, Wasasbi, TrueNAS, or SFTP site to your desktop or Windows Server as a drive letter, for example: D:. Now you can use all kinds of different software to access the files on your FTP / SFTP server just like the files you have on your PC, including the command prompt, anti-virus, Microsoft Excel, Word, etc. You can also use Drivemaker to set up your own secure private cloud backup server with BackupChain, our backup solution, which has a secure FTPS server built-in.
The basic version of DriveMaker is free, even for commercial purposes, forever. (Redistribution is not permitted, however. You need to download DriveMaker each time from the link above on this page). Runs on Windows Server 2008 or Vista and later.
Amazon S3 and S3 Compatible Storage, such as Wasabi
SFTP and FTP Can Function as a Limited VPN Solution
DriveMaker offers a Virtual File System
Run Utilities, Batch Files, and PowerShell Scripts Automatically
Use Your Anti-Virus Program to Scan Your FTP / SFTP Site Online Through FTP Drive Letter
Set up Your Own DIY Cloud Storage and Access via Mapped Drive