Which is the best personal cloud backup service for small businesses or home offices via Windows Desktop PC or Laptop? You probably have a few GB of data to backup and all those big enterprise solutions are simply overkill. With today's extremely fast fiber optic network and cheap online storage options, backing up your files to a physical hard disk is not the best answer.
See More ▼ 7 Best Offsite Automatic Backup For Small Business In Server Data Protection And Storage
Why is backing up to your own external hard disk not as good as a cloud backup? What will happen to your data if your office caught on fire? Both the data in your computer or laptop together with the external hard disk will be destroyed. Cloud-backup services, also known as online-backup services, avoid this pitfall. They copy your valuable information to an offsite repository that never goes offline and is available from anywhere, preventing catastrophe.
Free 15GB Storage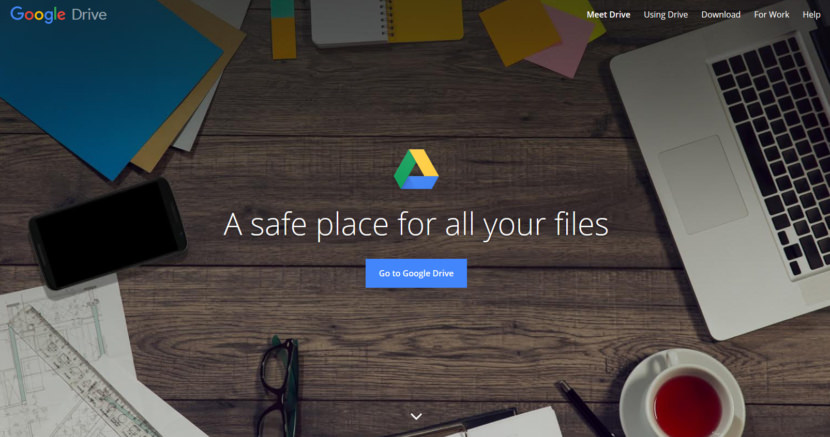 Keep photos, stories, designs, drawings, recordings, videos, and more. Your first 15 GB of storage are free with a Google Account. Get started with Google Drive for free and have all your files within reach from any smartphone, tablet, or computer. All your files in Drive – like your videos, photos, and documents – are backed up safely so you can't lose them. Easily invite others to view, edit, or leave comments on any of your files or folders. With Drive, you can:
Your files in Drive can be reached from any smartphone, tablet, or computer. So wherever you go, your files follow.
You can quickly invite others to view, download, and collaborate on all the files you want–no email attachment needed.
Your file security is crucial. That's why every file in Drive stays safe no matter what happens to your smartphone, tablet or computer. Drive is encrypted using SSL, the same security protocol used on Gmail and other Google services.
Free 10GB Storage
Winner of PC Magazine's Editors' Choice Award: "There are plenty of excellent file-syncing storage services, but, on Android, the Box app takes the cake." Today's digital-first world demands you work in an entirely new way. You have to securely collaborate with partners and customers, deliver innovation faster than the rest, and manage the content at the heart of it all.
Box gives you a single platform to accelerate your business processes and increase employee productivity, all while protecting your most valuable information. It's called Cloud Content Management, and it's the ultimate business advantage.
Box helps you get work done on the go. It's fast, secure and simple to use, so you can be productive from anywhere, which is the reason more than 25 million users and 225,000 companies use Box. Give your people the collaboration capabilities they need without compromising on bulletproof security and data protection.
With Box, you have complete control over access and sharing policies both inside and outside your organization. Plus, you can prevent data loss with full visibility and a central way to manage files, security, policy and provisioning.
Free 5GB Storage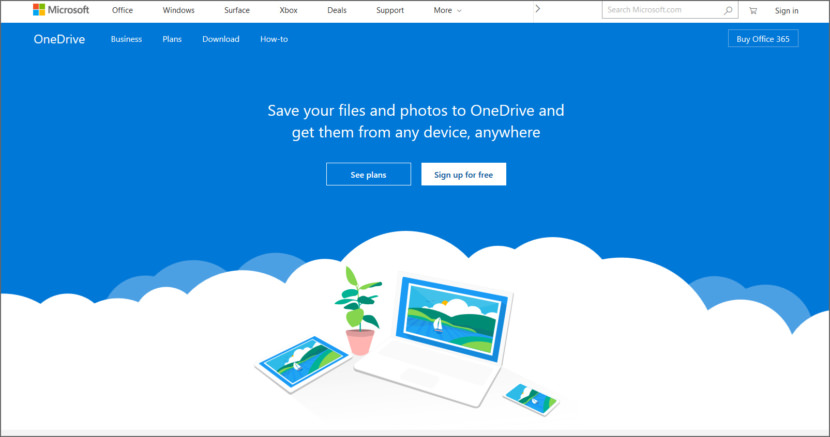 OneDrive ( Paid version comes with Office 365 ) is the one place for everything in your work and personal life. It gives you free online storage for all your personal files so you can get to them from your Android device, computer (PC or Mac), and any other devices you use.
With OneDrive for Business, you also get storage for your work files so you can share and collaborate on them with other people at your work or school. The OneDrive app for Android lets you easily work with your personal and work files when you're on the go.
For you to sign in to OneDrive for Business, your organization needs to have a qualifying SharePoint Online or Office 365 business subscription plan. You can't sign in with an account from an on-premises directory. Camera backup, search, sort, and the ability to add OneDrive for Business accounts are available only on devices running Android 4 or later.
Access files from any device – Use your phone, tablet, or computer to continue what you started — wherever you happen to be. Any changes you make will be updated on all your devices.
Offline access – Stay productive when you're off the grid. You can access your files without being online, which means you can always have your most important files with you.
Keep your files safe – If something happens to your device, you don't have to worry about losing your files or photos – they're in your OneDrive. And OneDrive is encrypted using SSL.
Share and collaborate – Share files, folders, and photos with friends and family. No more large email attachments or thumb drives — just send a link via email, text, iMessage, or Facebook.
Free 2GB Storage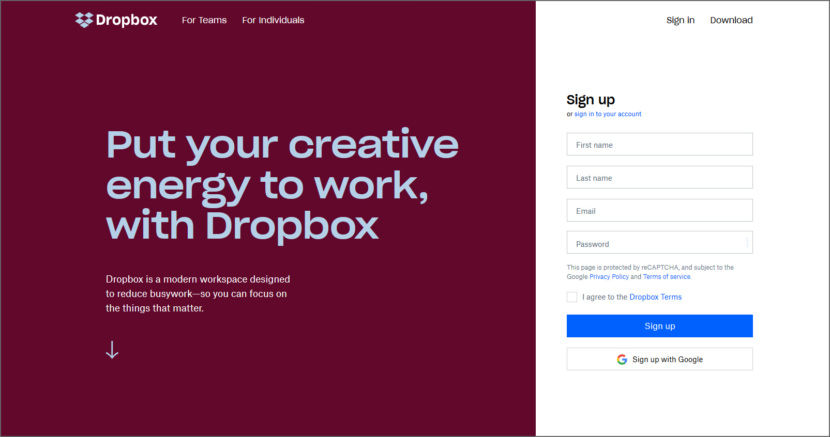 Dropbox is a free service that lets you bring all your photos, docs, and videos anywhere. After you install Dropbox on your computer, any file you save to your Dropbox will automatically save to all your computers, your Android device, and even the Dropbox website! With the Dropbox app, you can take everything that matters to you on the go.
Read your docs or flip through your albums when you're out and about. Save photos or videos to your Dropbox and share them with friends in just a couple taps. Even if you accidentally leave your Android in a taxi, your stuff is always safe on Dropbox. Features:
Always have your stuff with you, no matter where you are.
Save photos and videos to your Dropbox.
Share your photos and docs with family and friends.
Save email attachments straight to your Dropbox.
Easily edit docs in your Dropbox.
Free 10GB Storage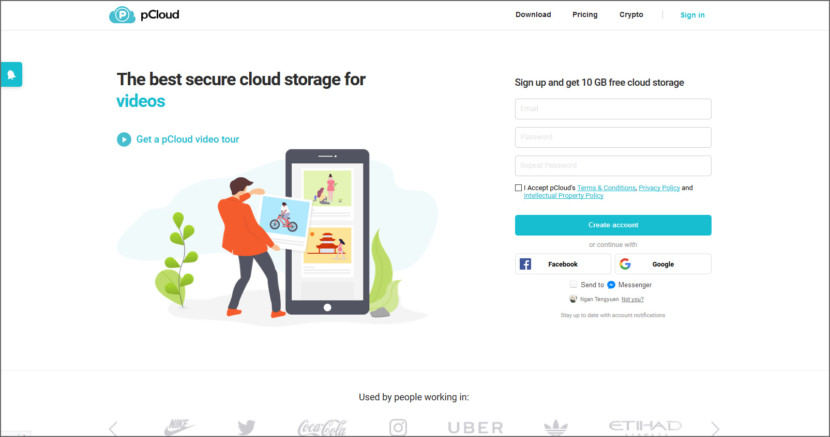 Based in Switzerland, they are a young forward-thinking team doing their best to make a significant impact on the rapidly growing IT market. At pCloud, they're providing the world with a comprehensive easy-to-use cloud storage solution for individuals and businesses alike.
Their approach incorporates the technical point-of-view with the end user in mind. Other cloud services are either too technical and are not user-friendly, or they are not comprehensive enough for users to get everything they want out of cloud storage.
Keep your private files confidential with the highest level of encryption with pCloud Crypto
Send, receive and work together with your friends on every file
Save your files and have them on your laptop with pCloud Drive, phone or the web
Free 5GB Storage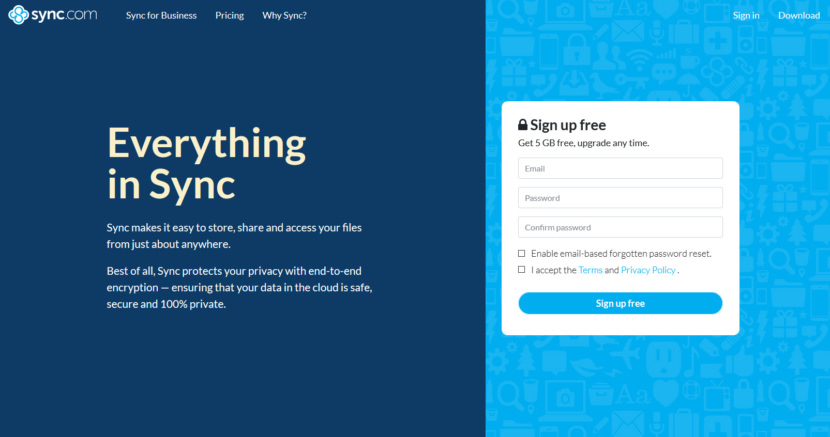 Sync makes it easy to store, share and access your files from just about anywhere. Best of all, Sync protects your privacy with end-to-end encryption — ensuring that your data in the cloud is safe, secure and 100% private. Sync's encrypted cloud storage platform protects your privacy by ensuring that only you can access your data. Your confidential documents are completely safeguarded from unauthorized access, which is the only way you can truly trust the cloud.
With Sync you can send files of any size to anyone, even if they don't have a Sync account. Multiple users can work from the same set of folders, and features such as file requests, password protection, notifications, expiry dates and permissions ensure that you're always in control. Sync backs up your files automatically, all in one centralized location, and keeps them synced across all of your computers and devices. With apps for Windows, Mac, iPhone, iPad, Android and the web, you'll never lose a file again.
Real Time backup and sync
2048-bit RSA, SSL/TLS encryption
End-to-end encryption
30 Days version history, restore & rewind
Two-factor authentication
Free 10GB Storage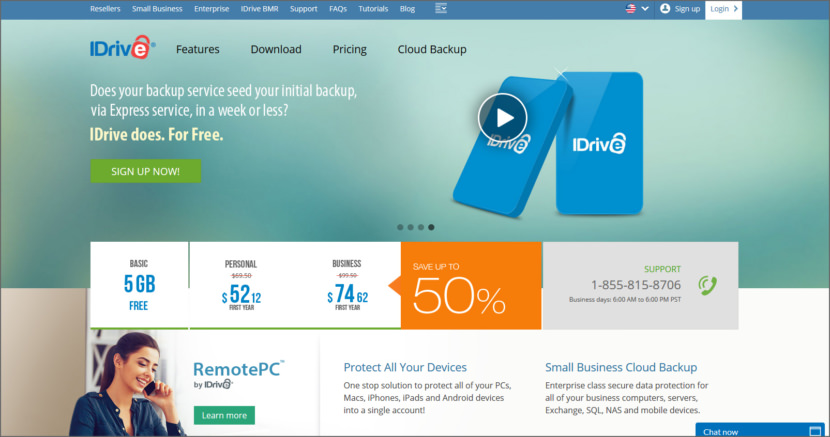 Let's face it – when it comes to cloud backup, you've got lots and lots of choices. So why IDrive? When they launched IDrive in 2007, their goal was to make IDrive the best solution for protecting your critical data on EVERY internet enabled device. Whether you are a consumer or a small business, they want IDrive to be the most cost effective, secure and easy solution to backup your data to the cloud.
Your best defense against ransomware! Snapshots are a historical view of your data, stored in an iDrive account which allows you to perform point-in-time recovery. In case your files are attacked by ransomware.
All data​ stored with iDrive​ is ​secured​ using 256-bit AES encryption​.​ This is military grade encryption​, approved by the Department of Defense for the encryption of 'TOP SECRET' data​.
Free 20GB Limited Transfer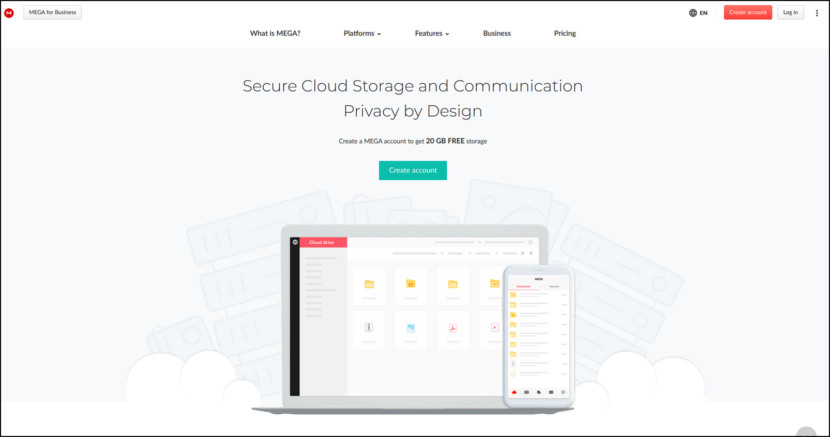 Mega.io is a cloud storage and file hosting service created by Kim Dotcom, the founder of the now-defunct file hosting service Megaupload. It allows users to upload and download files, as well as to share files with others. The service is known for its high level of encryption and security.
Mega.io is a cloud storage service that allows users to upload and download files, as well as share files with others. The service offers different plans for personal and business use, with varying amounts of storage and features. One of the key features of Mega.io is its high level of security and encryption.
All files are encrypted on the user's device before they are uploaded to the Mega.io servers, and the encryption keys are not stored on the servers, which means that Mega.io does not have access to the files and cannot view or share them without the user's permission. This makes Mega.io particularly well-suited for storing sensitive or confidential information. Additionally, Mega.io allows users to share files and folders with other users, and even to collaborate on documents in real-time using the built-in document editor.
Conclusion
If you plan to backup your files for many years to come, go for a big company such as Microsoft, Google or DropBox. The reason being that you do not want to find yourself with a company that announces their business is closing down due to financial constraints and you have 30 days to move your 1TB of data or re-upload 1TB of data to a new provider. Shoebox was a cloud backup solution that closed down not too long ago.
As for encryption, unless you have some military grade files or some illegal videos you do not want the police to intercept, I do not see any reason to have a very strong encryption, basic encryption is good enough.