One of the biggest problems with iCloud backup is the limited 5GB storage space, if you take lots of photos, especially videos, the limited cloud storage space will be filled up in no time. If paying for a monthly fee is not an option, then check out these other alternatives. Some may argue if you can afford an iPhone, it means you can afford the USD0.99 cents fees per month, what if the iPhone was a gift? A second hand purchase?
🤣😍😂 6 Virtual Phone Number App For iOS And Android Smartphones
Anyway, Apple's iCloud is a very useful service, in the event that you lose your phone or need to perform a battery change, iCLoud restore feature makes restoring to the original settings seamless. Everything is back to what it was prior to servicing. My advice for those using iPhone but are running out of space with their iCloud.
Use iCloud to backup all of your other settings and data except for photos.
For photos and videos that will take up huge spaces in iCloud, use these alternative services.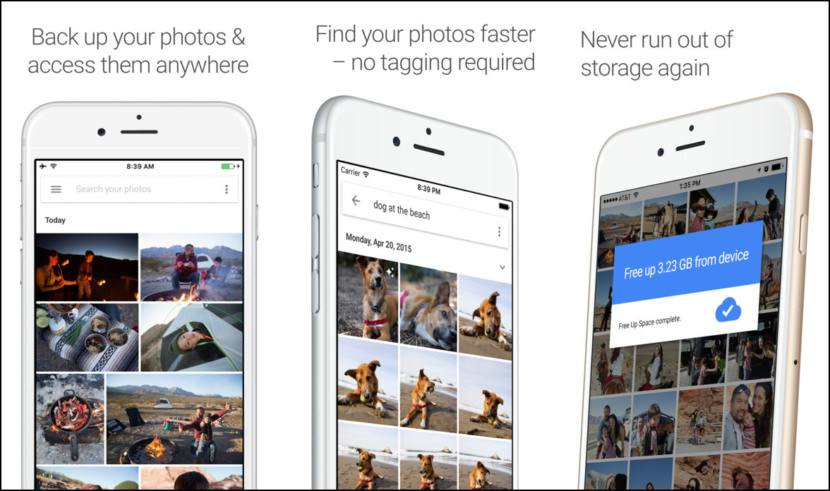 You can pretty much stop looking and just use Google Photos to backup your photos on your iPhone. With 15GB backup storage, what more can one ask? Google Photos is a smarter home for all your photos and videos, made for the way you take photos today. This app is the best backup options for iCloud users, the quality for unlimited backup for pictures and videos is just unbeatable, even iCloud can reach the simplicity and be helpful.
Free 15GB Storage – Backup unlimited photos and videos for free, up to 16 megapixels and 1080p HD. Access from any device and photos.google.com – your photos are safe, secure, and private to you.
Free Up Space – Never worry about running out of space on your phone again. Photos that are safely backed up can be removed from your device's storage in just a tap.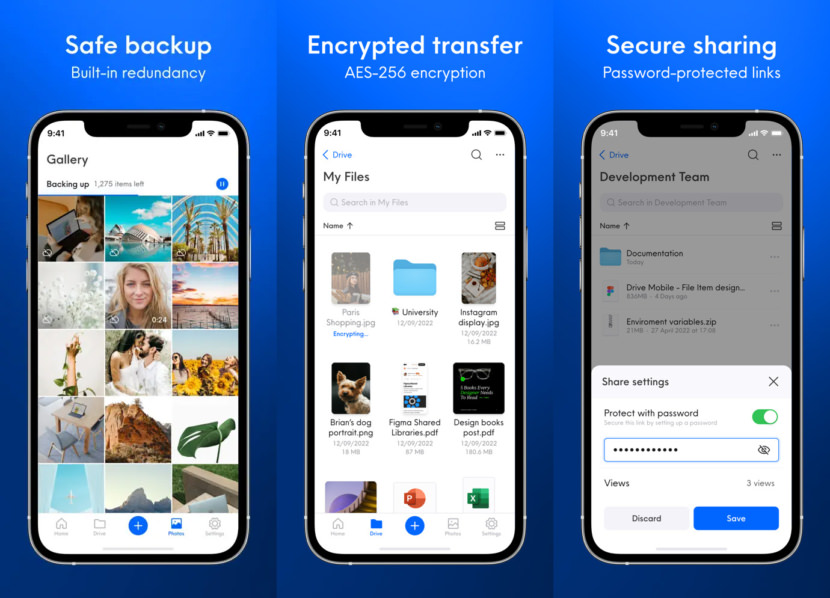 Your picture-perfect moments, safe under lock and key. Relive, share, and keep your best memories safe, all in one place. Let Internxt Photos focus on privacy and security, so you can concentrate on capturing the moments that matter to you. With Internxt, you are the absolute only one with access to your files. Store, share, and back up your images in complete privacy.
Internxt is the only cloud storage and file manager you need. All of Internxt's privacy services work together seamlessly, allowing you to store and send files anywhere. Enjoy private file transfer and data sharing with all the benefits of end-to-end encryption and fast upload/download speeds. The Internxt cloud drive app makes file sharing and large file transfer easy and secure.
Store, organize, file transfer, and back up all file and photo formats
Securely send files and photos via an encrypted, password-protected link
Industry-leading, military-grade end-to-end encryption
Open-source and independently verifiable on GitHub
Based in the European Union and GDPR compliant
↓ 03 – Box | Free 10GB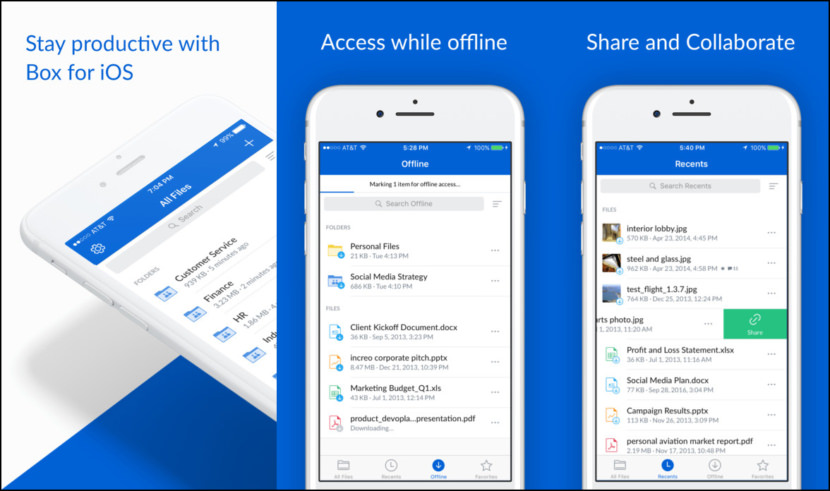 Securely store, manage and share all your files, photos and documents with 10GB of free cloud storage from Box. 10GB is more than the 5GB provided for free by Apple. Boxes for iPhone and iPad help you get your work done on the go. It's fast, secure and simple to use, so you can be productive from anywhere, which is the reason more than 25 million users and 225,000 companies use Box. Box for iPhone and iPad features:
10GB of free cloud storage to back up all your Photo and Video
Photo and video upload
Share important photos, videos, notes and other documents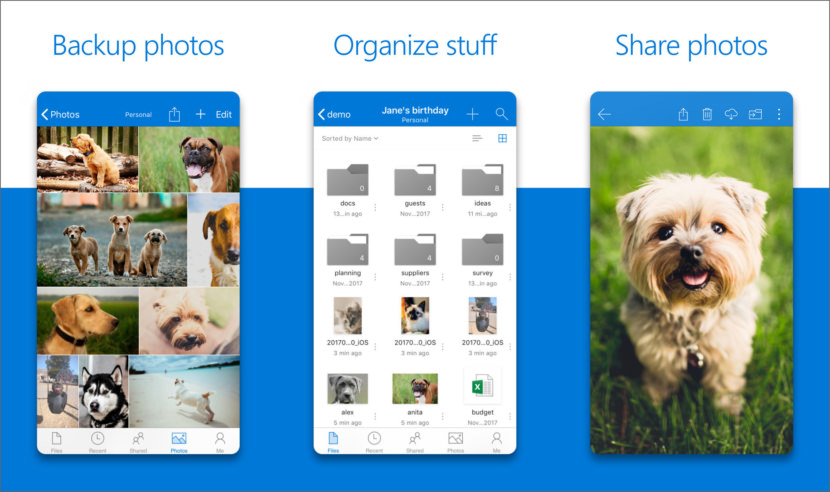 OneDrive is one nice cloud service developed by Microsoft Inc. After downloading OneDrive for iOS to your iPhone, iPad or iPod touch, you can view, upload and share photos, videos and documents on the cloud server anytime and anywhere. Save your files and photos to OneDrive and get them from any device, anywhere.
Easily find photos thanks to automatic tagging. The OneDrive app for iOS lets you easily work with your personal and work files when you're on the go, also share albums of your favorite photos and videos.
↓ 05 – Amazon Photos | Free 5GB For Prime Users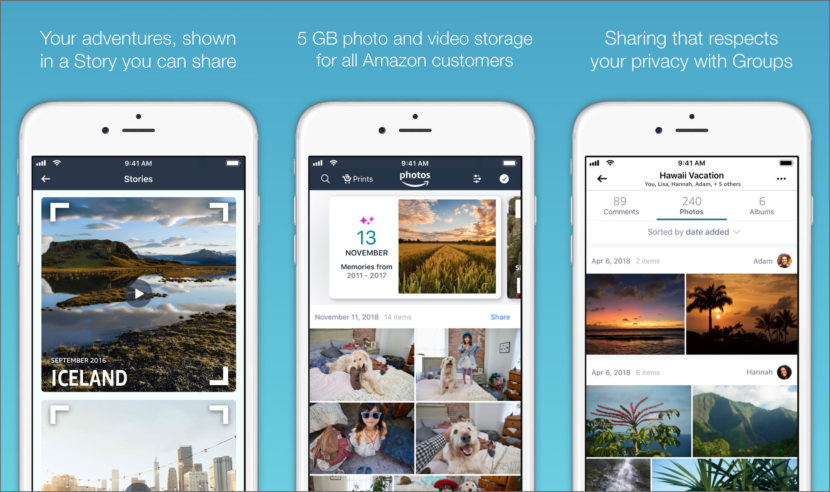 Amazon Photos offers unlimited full-resolution online photo storage, and 5 GB free video storage, to Prime members, who can save and share their photos on desktop, mobile, and tablet. Share unlimited photo storage with up to 5 people. Share photos with anybody, Prime member or not, with Groups. With the Amazon Photos mobile and web apps, photo backup has never been easier.
Use the iOS mobile apps to auto-save your photos, then safely delete them from your phone to free up space on your device. Upload photos from your desktop computer, and store them all safely with the Amazon Photos desktop app. Access your photos and videos anywhere, across desktop, mobile, and tablet.
↓ 06 – Mylio | Free 25,000 Photos | 3 Devices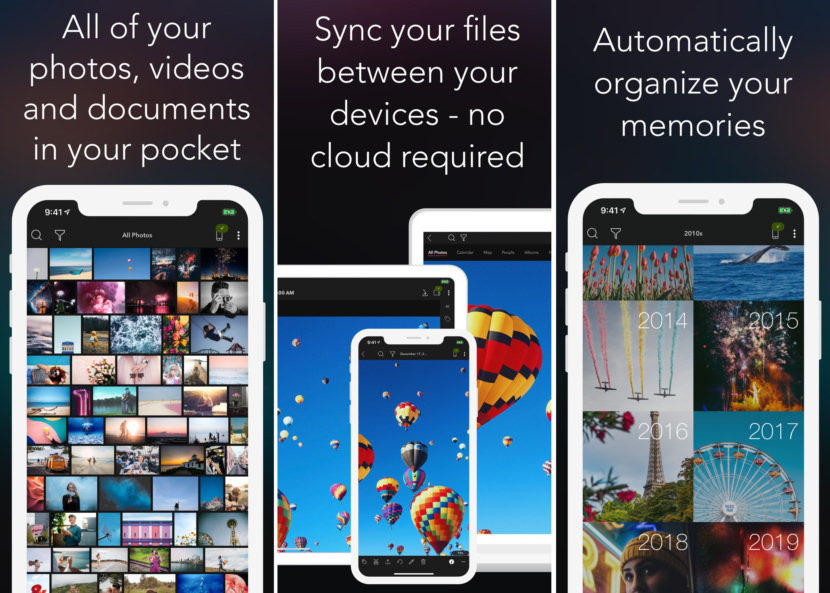 I have 10 years worth of photos in my smartphone and only have 10,000+ photos, I believe 25,000 photos is more than enough for everyday users. One app to collect all of your photos, videos, and documents into a single library, automatically organizing them into the visual story of your life.
Mylio is a free app for Mac, Windows, iOS, and Android that manages all of your photos and files from all of your devices and online services like Facebook and Flickr. Mylio is not a cloud service, so it doesn't rely on the internet to sync or view your files. Your memories are available directly on your device anywhere, anytime.
Reclaim your device's storage – Sync thousands of files to your devices using a fraction of the space. You can then free up space on your device without losing access to your files.
Organize with face recognition – Cutting edge face recognition can help you tag and organize thousands of photos in minutes.
Protect your memories – In Mylio, Vaults ensure your data is protected. Use external drives, desktop computers or even cloud services like Amazon or Google drive to protect your files.
↓ 07 – Dropbox | Free 5GB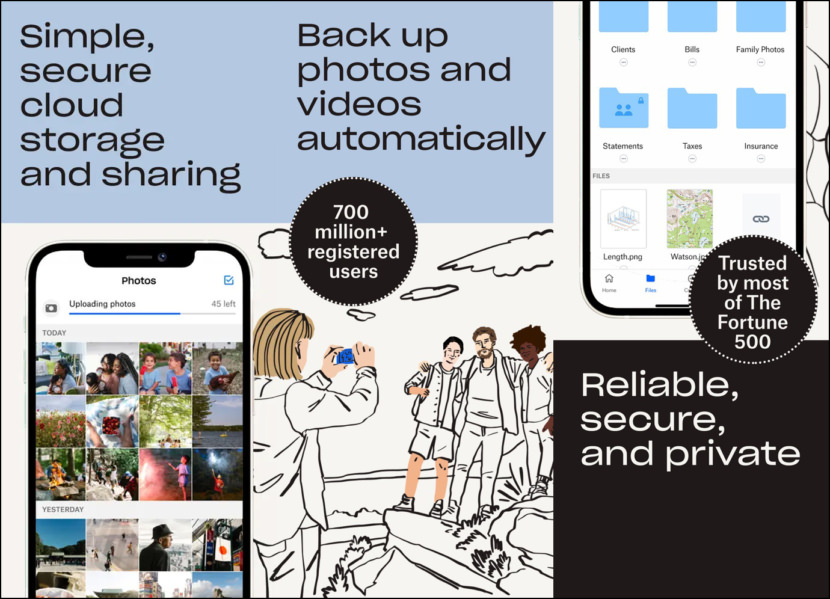 Join over 700 million registered users who trust Dropbox. Easy to use, reliable, private, and secure. It's no wonder Dropbox is the choice for storing and sharing your most important files. Dropbox lets you upload, save, and transfer photos and files to the cloud. Backup and sync your pictures, videos, documents, and other files to cloud storage and access them from any device, anywhere. With advanced sharing features, it's easy to share and send photos or files to family, friends, and co-workers.
Sign up now for your free Dropbox Plus trial. You'll get 2 TB (2,000 GB) of storage space – that's enough room to save files from all your linked devices. And with Dropbox Rewind, you can roll back any file, folder, or your entire account, up to 30 days.
Automatically upload videos and photos from your camera roll to cloud photo storage – all in the background – for easy video sharing and photo sharing.
Access any file in your account – even offline – and preview over 175 different file types with no special software required.
Sync folders on your PC or Mac to Dropbox with computer backup, and recover older versions or restore deleted files with version history and file recovery.
↓ 08 – Stingle | Free 1TB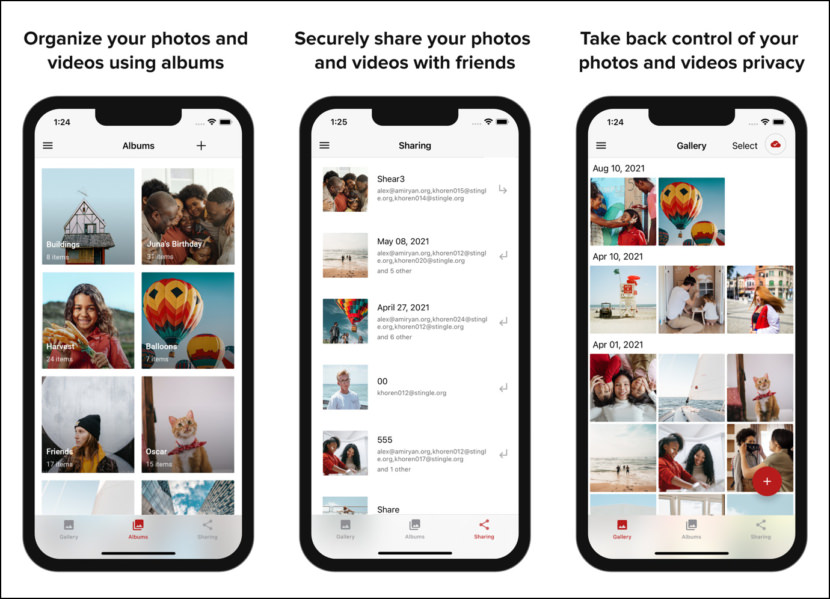 Stingle Photos is a secure, open-source photo/video cloud storage and backup application that is safe, ad-free and easy to use. It provides strong encryption and privacy to keep you safe from breaches and leaks. Easily backup, sync and share your photos and videos.
Backup and sync functionality. All your photos & videos are backed up in the background to the cloud and synced to other devices using the same account
Albums for better library organization
Secure sharing. You can share photos and videos with friends and family which is of course protected by end-to-end encryption
Stingle Photos is 100% free and open-source. It includes 1GB free cloud storage space. You only pay if you need more cloud storage.
No ads or third-party libraries that might track you
↓ 09 – Ever [ Discontinued ] | Unlimited Backup Storage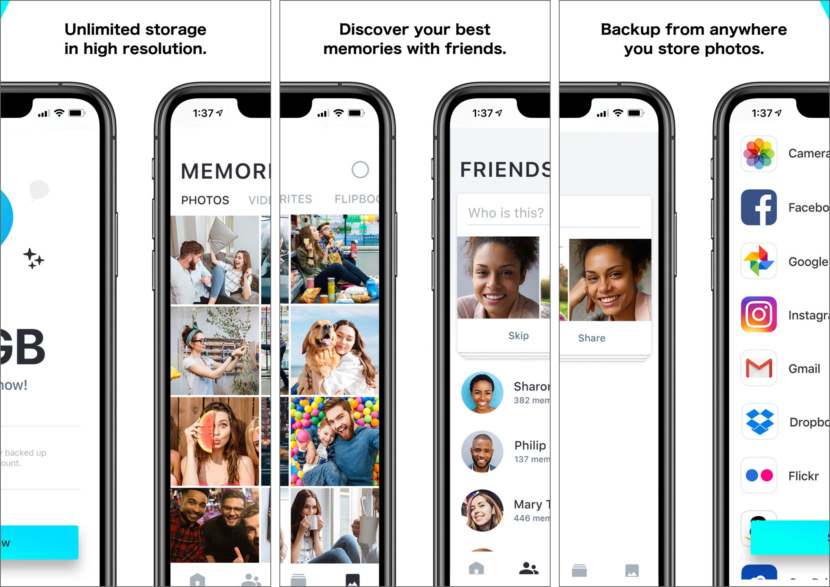 Ever protect your life's photos so you never have to worry about losing them. Across devices and photo sources, Ever automatically backs up your photos and videos so you can access them at any time. You can then free up space on your device by removing photos from your camera roll.
High-resolution photo backup from your device's camera roll
Easily import photos from Facebook, Instagram, Dropbox, Google, and more
Your photos are always private until you decide to share
Automatically back up photos on your device, as you take them
Add an extra level of security with Touch ID protection