The internet doesn't exist out of thin air. Having said that, many are confused when terms such as cloud are thrown around. For them, uploading to the cloud means storing something on the 'internet'. The truth is, uploading to the cloud means uploading your data to someone else's computer.
🤣😍😂 7 Best Offsite Automatic Backup For Small Business In Server Data Protection And Storage
If your focus is on finding a cloud service centered on privacy and security, you have to look beyond Dropbox, Amazon Drive, Microsoft OneDrive and many more. They do not offer end-to-end encryption, however these other cloud services listed below may be a good fit for you.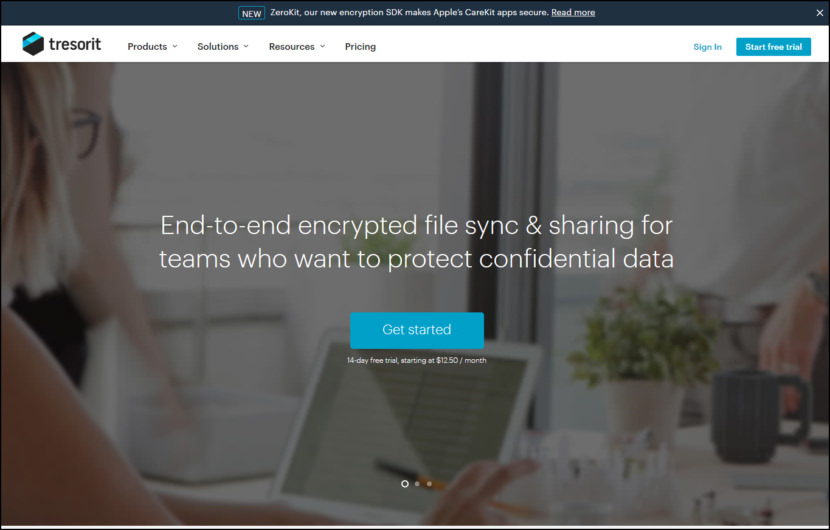 Protect your files with end-to-end encryption. Keep your sensitive data safe from hackers, snooping governments and the dangers of internal breaches. Secure your files all the way from your computer to the people you share them with. With our end-to-end encryption, nothing leaves your device unencrypted. Only you have the keys to read the content of your files.
Proven AES256 end-to-end encryption – Using end-to-end encryption, Tresorit encrypts every file and relevant metadata on your devices with unique, randomly generated encryption keys. These keys are never sent to our servers in unencrypted format. Accessing files is only possible with a user's unique private decryption key.
Swiss Privacy + EU data centers – Zero-knowledge authentication. Unlike other services, Tresorit never transmits or stores files, encryption keys and user passwords in unencrypted or unhashed form. Due to the strength of Tresorit's end-to-end encryption and security, breaking this protection would take several human lifetimes. This is why we can never recover forgotten passwords, or hand over your data without your consent in case of a legal inquiry.
Hardened TLS – TLS (the successor of SSL) channel protection can be hardened through the use of client certificates. This method provides public key-based security when you connect to Tresorit servers.
1,000GB encrypted storage – Tresorit Solo comes with more than enough storage space for storing all of your confidential work files and sensitive private documents.
Secure access on 10 devices – Access your files from up to 10 devices. Tresorit is available for Windows, Mac, Linux, iOS, Android, Windows Phone and Blackberry and even from your browser.
Password protected links – Send a file to anyone via Encrypted Link. Access only requires a browser, can be protected by passwords and revoked with a click anytime.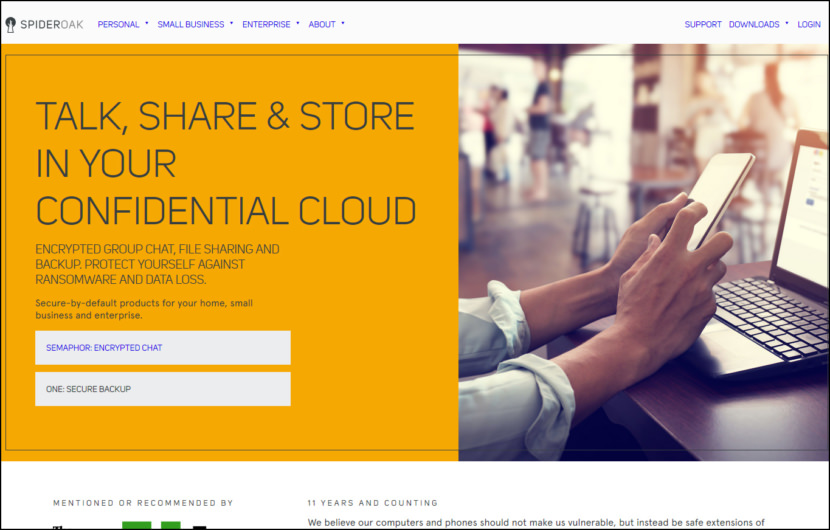 SpiderOak provides an easy, secure and consolidated online backup, storage, access, sharing & sync tool for Windows, macOS, and Linux (Ubuntu, Debian & Fedora). SpiderOak offers a different approach to online backup, synchronization, and sharing.
This difference is not just measured in our zero-knowledge privacy policy – the first one ever employed in this setting – but also in our flexible design in handling data from all platforms (Mac, Windows, Linux) and locations (external drives, network volumes, USB keys) in one centralized account. Encrypted group chat, file sharing and backup. Protect yourself against ransomware and data loss. Secure-by-default products for your home, small business and enterprise.
HIPAA / FINRA / FIRPA compliant
No need for VPN access because of end-to-end encryption
Unlimited storage & devices per user
Reduce risk with No Knowledge, end-to-end encryption
Disaster recovery & data loss prevention
Ransomware protection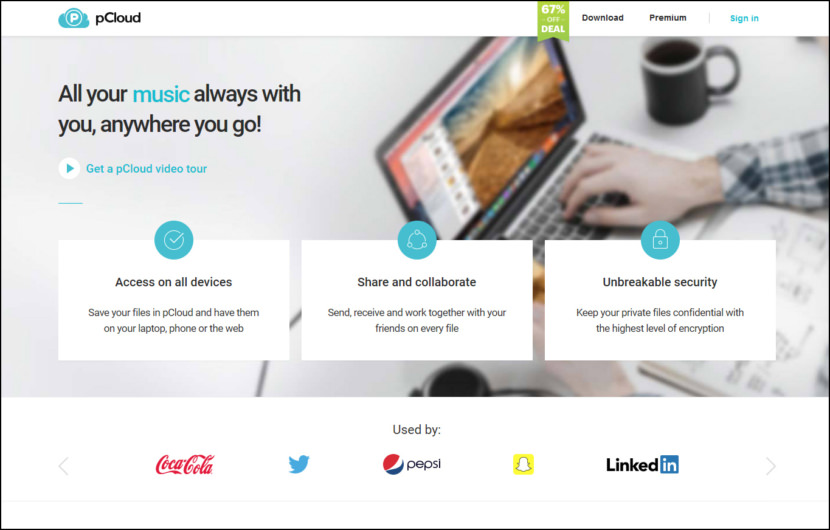 To guarantee your files' safety, pCloud uses TLS/SSL encryption, applied when information is transferred from your device to the pCloud servers. At pCloud data security is our top priority and we do our best to apply first class safety measures.
With pCloud, your files are stored on at least three server locations in a highly secure data storage area. Optionally, you can subscribe for pCloud Crypto and have your most important files encrypted and password protected. We provide the so-called client-side encryption, which, unlike server-side encryption, means that no one, except you, will have the keys for file decryption.
They use industry standard 4096-bit RSA for users' private keys and 256-bit AES for per-file and per-folder keys. We do data authentication in a different way compared to most competitors. Authentication is the process of verifying that you decrypted data with the right data. Many experts consider it a mandatory part of encryption.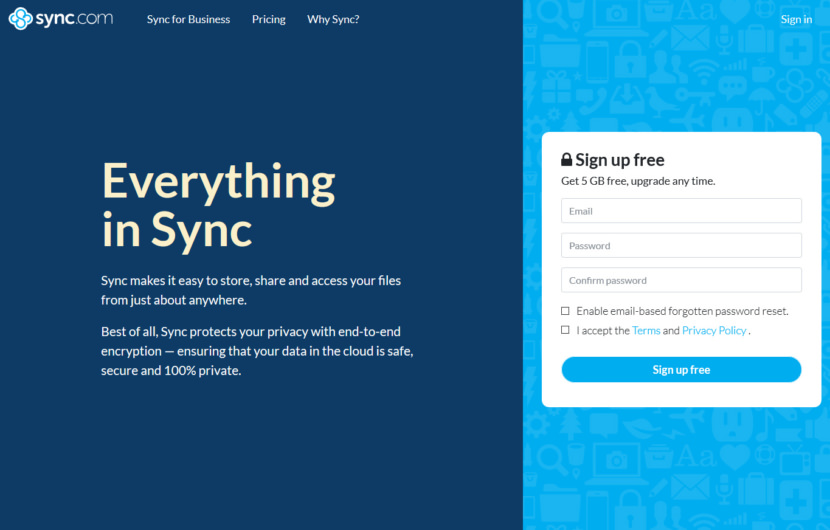 Protect your ideas, your work – your stuff. They believe that privacy is a fundamental right, and that productivity in the cloud doesn't have to come at the expense of your security or privacy. It's why they built Sync. Most cloud storage providers differ from Sync because they can access, scan and read your files. Sync's end-to-end encrypted storage platform and apps ensure that only you can access your data in the cloud. We can't read your files and no one else can either.
100% private cloud – 2048-bit RSA, SSL/TLS encryption, End-to-end encryption protects your confidential data in the cloud from unauthorized access at all times. We can't read your files and no one else can either.
Your personal data belongs to you – Sync doesn't collect, sell or share your personal data or app usage information to advertisers or third-parties, and we do not claim ownership of your data.
Global data privacy compliance – Sync is safe to use, no matter where your business operates, with USA, EU / UK GDPR, and Canadian compliance built-in, including Canadian data residency.
Automatic backup, sync and restore – Sync backs up your files in realtime, and makes it easy to recover deleted files and previous versions of any file, any time. Never lose a file again.
Enterprise-grade infrastructure – Data is replicated across multiple SSAE 16 type 2 certified data centre locations with SAS RAID storage, automatic failover and a 99.9% or better uptime SLA.
Account security controls – Two-factor authentication, granular user permissions, remote wipe, custom passwords, expiry dates, notifications and more ensure you're always in control.