How do you transfer images and photos between iOS, Android and Windows PC? Perhaps the most conventional way of transferring photos between iPhone and Android is via WhatsApp or Facebook. Unfortunately, using this method means sharing a compressed image of lower quality as WhatsApp will compress it to save bandwidth.
See More ▼ 5 Free Advanced Android File Transfer App For macOS
It is impossible for everyone to use the Apple iPhone, not to mention it is somewhat troublesome to transfer files and photos between different Android smartphone makers. This is where these free apps come in handy, it enables you to bulk transfer files via wifi or bluetooth on your own network without going through the internet.
Google Drive (Internet connection required) is a cloud storage service provider and takes a web-first approach with mobile apps for Android and iOS. You can easily share files with others by either inviting them to a shared folder or sending them a link.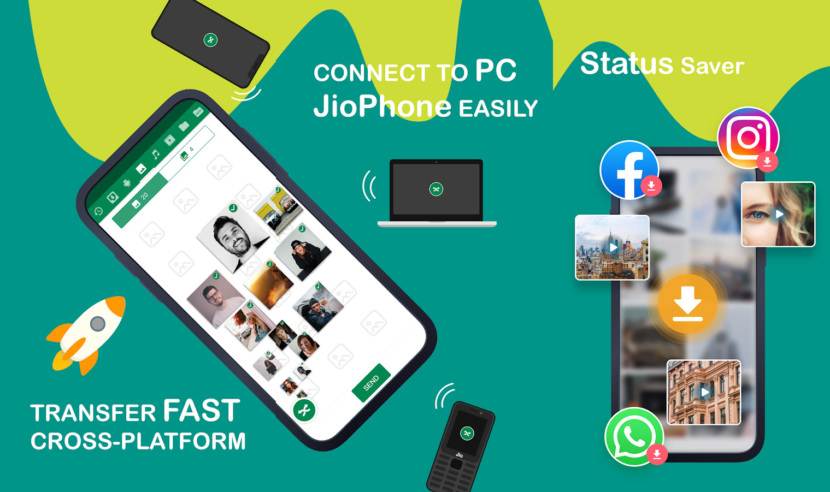 Transfer and share files between iPhone iOS and Google Android smartphone. Xender File transfer is the world's best phone to phone file transfer and app sharing. Get the easiest way to transfer files and apps from one phone to another with high speed, no need for cable or Wifi or cellular connection and completely free unlimited data usage.
Xender is designed to meet the need of the users to transfer files seamlessly with other devices and also iPhone devices thus supporting cross platform transfers. You can share images, games, movies, videos, documents and even apps. Truly an amazing app because of the remarkable speed to file transfer. Demand for Xender is increasing day by day demonstrating more than 1 million users and 4.3 rating in Play Store. It supports listening to music, view images and play videos and transfer data in one click.
Transfer files with flash speed – Imagine sending your party video to friends in Seconds! The highest speed can reach 40Mb/s.
Send Large Files without limitation (Original Size) – Sharing photos, music, videos, apps, documents and any other file types of Unlimited file Size.
Free Network and Data Connection – No cables, no internet, no data usage! You can transfer files to friends anywhere and anytime.
Share all kinds of files without restrictions – Transfer anything you want, from documents, music, pictures, to videos and apps.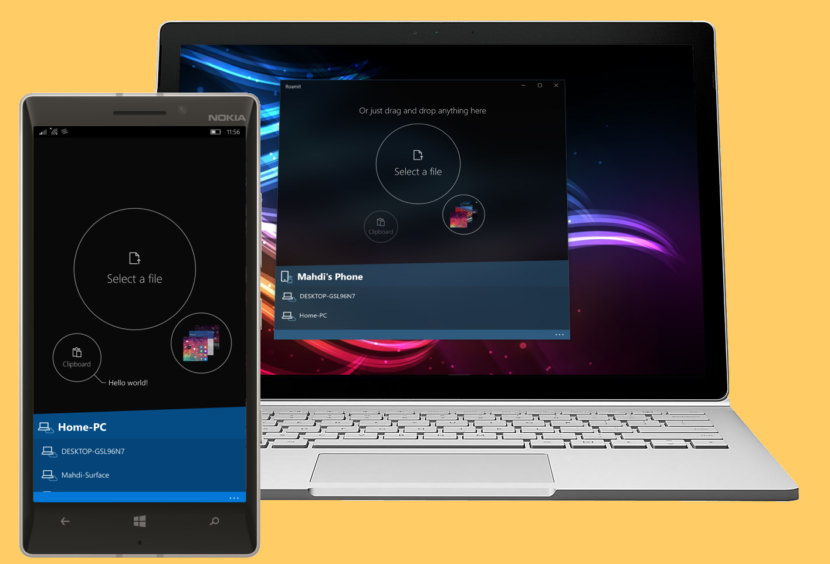 With Roamit, you can send the webpage you're reading, or something that's on your clipboard, to your PC, mobile or even your Xbox, it'll open immediately. Furthermore, you can transfer your photos and files as fast as possible, via the local Wi-Fi network.
The universal clipboard allows you to have a seamless clipboard experience between your PC and phone. Everything you copy on your PC will be mirrored to your phone, without even opening the app. However, if you don't want to use a universal clipboard, you can also always send your keyboard content manually by simply pressing a button in the app.
Roamit integrates with the Share menu, so you can share any content from any app, and access it from your other device. Roamit works best on Windows 10 devices running Creators update or above.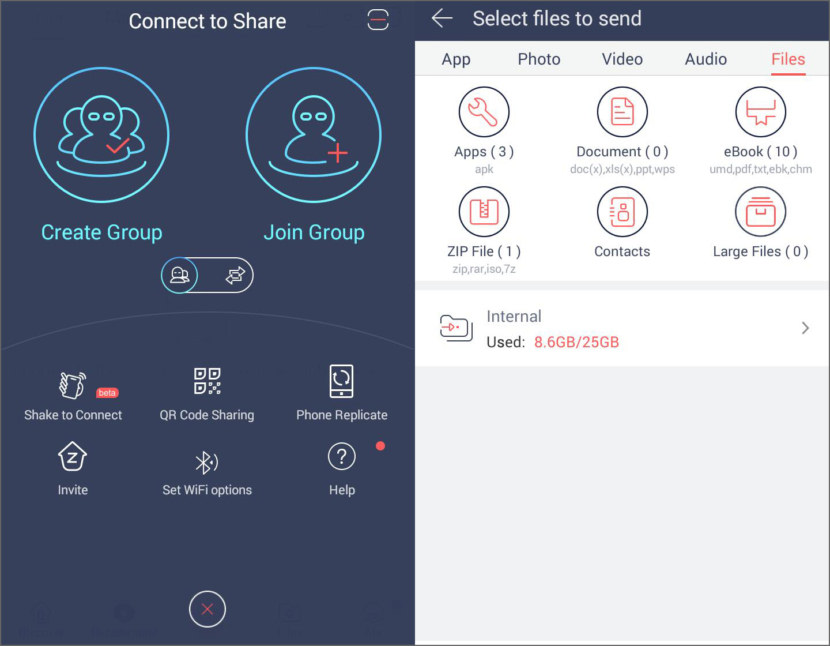 Wirelessly transfer Photos, Music, Documents, Videos between iPhone, Android, Windows PC & Mac. Zapya is a 100% free tool for sharing files across devices like Android, iPhone, iPad, Window's Phone, PC, and Mac computers in an instant. It's Easy to use and supports multiple languages.
They are already a community of 300 million strong users and growing rapidly. Zapya leverages your Wi-Fi tethering or hotspot feature to connect to other phones, but good news is that in this process of Transferring files of any size they do not use your mobile data at all. The transmission speed can be up to 10MB per second.
Bulk Transfer Large Files – With one click you can rapidly transfer applications, videos, photos, music, and other files.
Phone Replication – With one click you can transfer all the contents of your old phone to a new one.
Fast Sharing – With speeds up to 10MB/S, files are shared 128 times faster than with Bluetooth.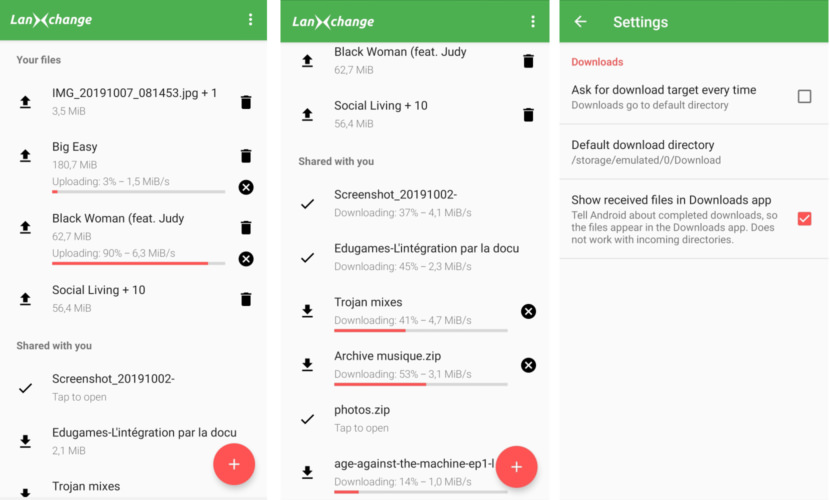 A simple tool for spontaneous, local network file transfers. Supports Windows, Mac and Linux PCs and Android phones. No Ads, no tracking, 100% free and open source software.
Internet – Required to access the local network. This application only communicates in your home network.
Access network state – Used to decide which network adapters to use (LanXchange only uses local connections like Wifi, never mobile broadband)
Access wifi state – Used to check Wifi state (to avoid sending anything when Wifi is off)
Change wifi multicast state – Required for local discovery of other devices without central server
Wake lock – To keep transfers running and files available when the screen turns off. LanXchange turns itself off if not used to save power.
5. LiWi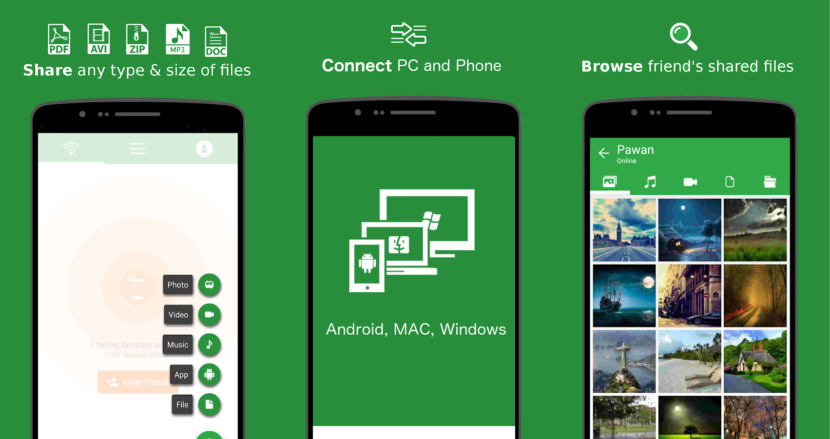 [ Discontinued ] Liwi transfers files seamlessly across devices without using the Internet. Liwi automatically pairs and connects all phones & PCs which are connected to the same WiFi. No WiFi, no problem! Just create or join a group from Liwi. Share files in classrooms, while traveling, pretty much anywhere within 100 meters of a friend!
Simple – User friendly & great file sharing experience for everyone. Share and download at ease.
Fast – Share files whether its 1MB or 10GB within seconds. Download files upto 200x faster than bluetooth.
Smart – Automatically discovers devices which are on same network and transfer files seamlessly.
Unlimited – Share photos, videos, music, documents, apps, files of any size or type with friends.
Connect To PC – Connect your phone with computer and transfer file across them without hassle.
Share offline – Share files with your nearby friends without using mobile data or internet.