There are many apps that offer a complete list of free public wifi accounts and passwords, however, most of these apps are outdated or don't function as intended. After much trial and error, we've narrowed down to these apps that we consider reliable at the time of writing. All apps work on both Apple iOS iPhone and all Samsung Google Android Smartphones. Note: Free open WiFi means all of your data is not encrypted, a hacker with a laptop can easily sniff your username and password, always use a VPN to mask your IP address when you use these free public WiFi.
Free wifi network access with accounts and passwords, no hacking required. Who needs these apps? People that are traveling aboard. Discover available Wi-Fi hotspots in the point of your destination on the Wi-Fi map. Enjoy your trip and free and fast internet across the world.
↓ 01 – WiFi Map | Offline Mode USD5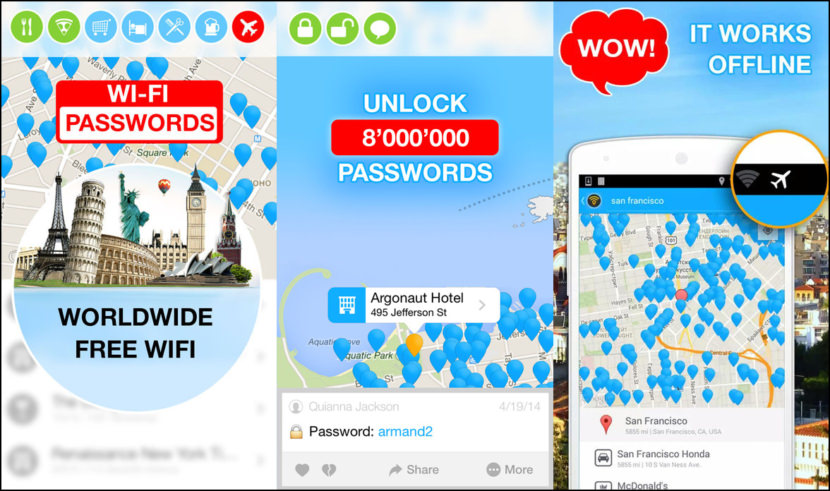 Free version of WiFi Map was created for comfort and ease of use. It helps users save money on 3G/4G usage and preserve battery life, downloading apps, movies, music, playing games or simply checking email.
Passwords and comments for public Wi-Fi locations
Prepopulated Wi-Fi information available in offline mode
Contribute by adding new Wi-Fi info from places you visit
Update Wi-Fi passwords when applicable
↓ 02 – Instabridge | Free Offline Mode
With Instabridge you get more than a million up-to-date WiFi passwords and spots on your phone. Join the world's largest WiFi sharing community and unlock free WiFi in your home city. With 3 million secure, up-to-date free WiFi spots and hotspots, Instabridge is the simplest way to surf the Internet for free. Instabridge knows which WiFis work and keeps you off those that don't.
No setup required. It just works. Don't miss the chance to be part of the largest Free WiFi community. Just install the app and discover all the WiFi and password around you that have already been shared by the awesome community.
Get WiFi connections in in all large cities – it's free!
Unlimited data at no cost
Simple – Connect once, and Instabridge will reconnect you automatically
Download lists of WiFi hotspots for your destination city (for use in offline mode)
↓ 03 – WiFi Magic | Android | iOS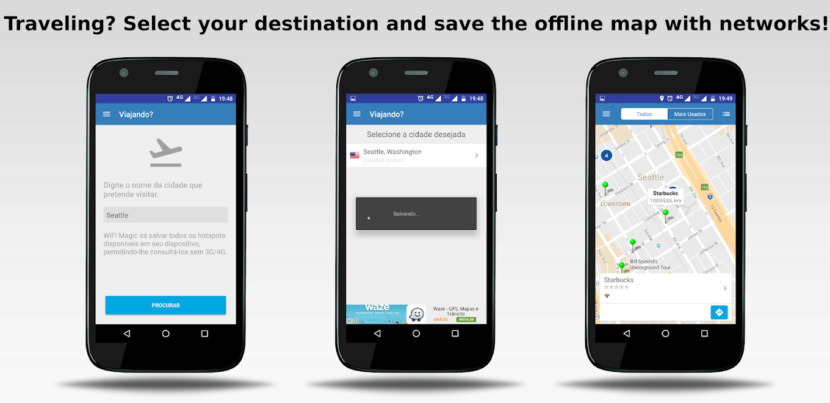 WiFi Magic is a social network for public WiFi passwords. WiFi Magic relies on the collaboration between users, who help each other by updating the system with new public WiFi networks and their passwords, thus allowing other users to automatically fetch them. WiFi Magic has no direct access to your passwords or your router. WiFi Magic is present in locations around the world, including remote and isolated places such as Greenland, Patagonia or central Africa.
↓ 04 – osmino Wi-Fi | Android Only
osmino WiFi – provides you with access to fast and free internet wherever you are. The unique Wi-Fi manager to accomplish automatic connection to free Wi-Fi and to share public hotspots or private Wi-Fi hotspot passwords across the world. You turn on the automatic search and connection to open Wi-Fi networks by one tap. Neither any settings nor complicated terms. There are already nearly 20 000 000 wifi hotspots on osmino map in more than 50 countries.
More than 3 000 000 hotspots in USA
Over 3 000 000 wifi hotspots in Korea
Nearly 600 000 hotspots in Mexico and over 400 000 in Brazil
more than 1.5 million hotspots with passwords in Russia
about 170 thousand wifi hotspots in Ukraine
400 000 hotspots on the map of Italy,
200 000 on the map of Spain,
France has more than 550,000 hotspots,
Germany – 350 000
about 100 000 wifi hotspots in India
more than 700 000 wifi spots in Vietnam,
about 100 000 wifi networks in Poland,
100 000 hotspots in Indonesia and Turkey in each,
more than 550 000 wifi hotspots with passwords on Japan map.
↓ 05 – WifiMapper [ Discontinued ] | Android | iOS | Free Offline Mode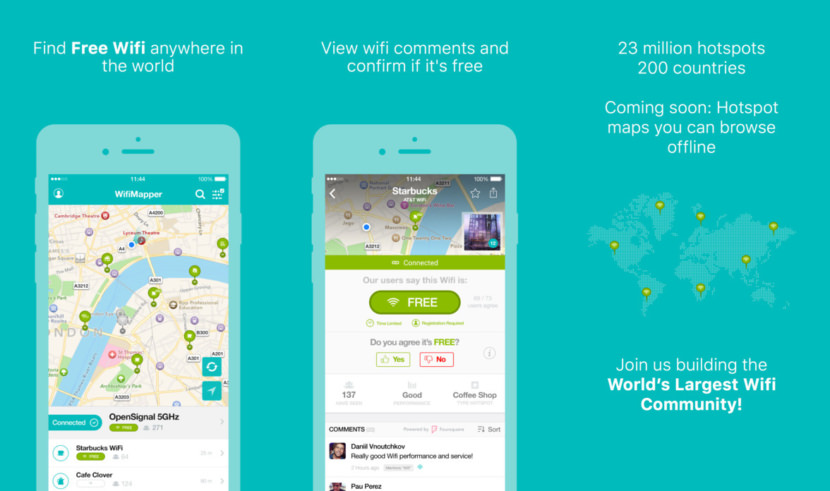 Powered by OpenSignal, one of the best 3G and 4G signal strength mapping services on the internet. WifiMapper has the world's largest Wifi database, finds nearby Wifi hotspots and saves on data. WifiMapper can tell you what kind of venue it is, how reliable the connection is and even if they have good coffee! Save on roaming when travelling by going to free hotspots in every major city in the world.
Map of nearby free Wifi hotspots
Foursquare and WifiMapper comments – get more information about the hotspot venue
Help improve the database – tell the community more about the Wifi
Get performance information on the Wifi hotspot before you use it!
Filtered hotspot search to find the types of venues and networks you want
↓ 06 – Facebook WiFi locator [ Discontinued ] | Free Online Mode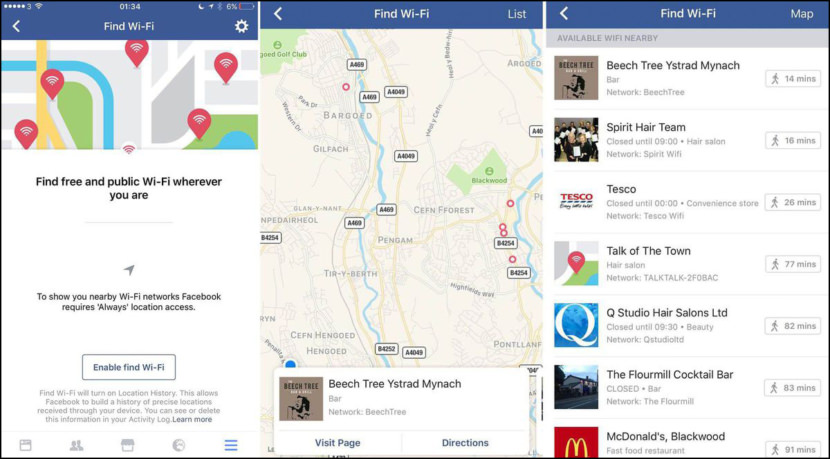 To get to the feature, click the "More" tab in the Facebook app and then "Find WiFi." When activated, Find WiFi will show which locations near you offer free WiFi along with those locations' business hours, what kind of places they are and their network names. The only downside to this feature is you will need to have an internet connection to scan for available free wifi.