Who needs a T9 keyboard for their smartphones? I believe a whole new generation of cell phone users doesn't even know how to use a T9 keypad. The T9 keypad is here to stay, it is useful for smartphones with small screens and the other advantage is speed, because of the large buttons and 9 simple grids, mistakes are not that frequent.
See More ▼ 9 Free Anti-Keyloggers, Keyboard Stroke Scramblers And Virtual Keyboards
Being a Nokia user for almost 10 years, moving away from a T9 keyboard system to a full android keyboard and iPhone's keypad is something I find really hard to adapt to. Not that I am old, it is just that I am used to closing my eyes and typing out SMS. There is no right or wrong, just preferences, some manufacturers do include a T9 keyboard for 'senior' mode. For those with tiny hands, the full keyboard on iOS and Android is a perfect match made in heaven.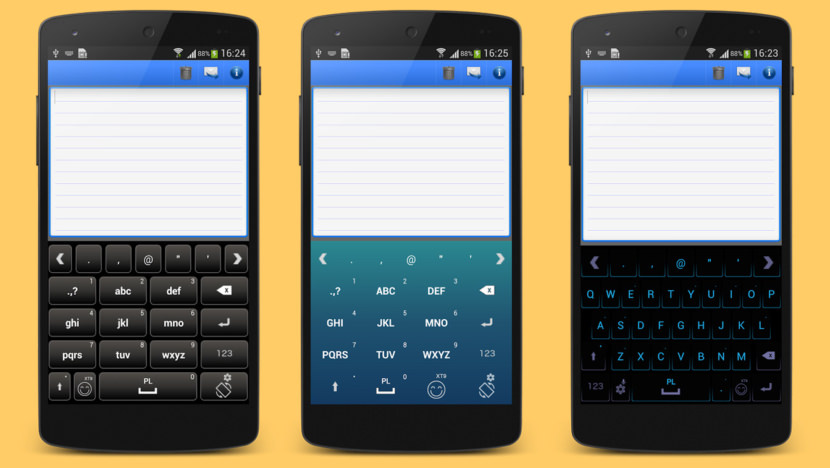 A Keyboard + Emoji Keyboard is a Free to download Keyboard with PREMIUM paid features that can all be earned for free within the application if you follow the instructions, Currently exclusive to Android, it helps you type faster and in the way you are most accustomed to,
Use 3×4(12Key) everywhere from Twitter, WhatsApp, Facebook, Messenger, Skype and Line.
Two variation of 3×4 Layout Keyboard packed in one app
Use Emoji, and smiley anywhere conveniently at the push of a button
Multiple Themes, and layouts.
Learning Prediction – The predictive engine behind this keyboard is unique and always in development but it is developed with the old style that many of their users prefer and love.
Over 50 languages supported – Afrikaans, Albanian, Amharic, Arabic, Armenian, Azerbaijani, Basque, Belarusian, Bengali, Bosnian, Bulgarian, Catalan, Cebuano, Chichewa, Chinese (Simplified), Chinese (Traditional), Corsican, Croatian, Czech, Danish, Dutch, English, Esperanto, Estonian, Filipino, Finnish, French, Frisian, Galician, Georgian, German, Greek, Gujarati, Haitian Creole, Hausa, Hawaiian, Hebrew, Hindi, Hmong, Hungarian, Icelandic, Igbo, Indonesian, Irish, Italian, Japanese, Javanese, Kannada, Kazakh, Khmer, Korean, Kurdish (Kurmanji), Kyrgyz, Lao, Latin, Latvian, Lithuanian, Luxembourgish, Macedonian, Malagasy, Malay, Malayalam, Maltese, Maori, Marathi, Mongolian, Myanmar (Burmese), Nepali, Norwegian, Pashto, Persian, Polish, Portuguese, Punjabi, Romanian, Russian, Samoan, Scots Gaelic, Serbian, Sesotho, Shona, Sindhi, Sinhala, Slovak, Slovenian, Somali, Spanish, Sundanese, Swahili, Swedish, Tajik, Tamil, Telugu, Thai, Turkish, Ukrainian, Urdu, Uzbek, Vietnamese, Welsh, Xhosa, Yiddish, Yoruba, Zulu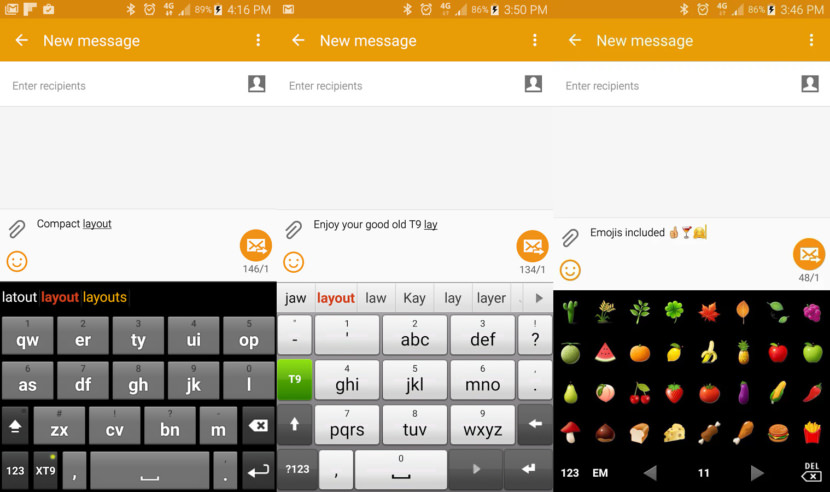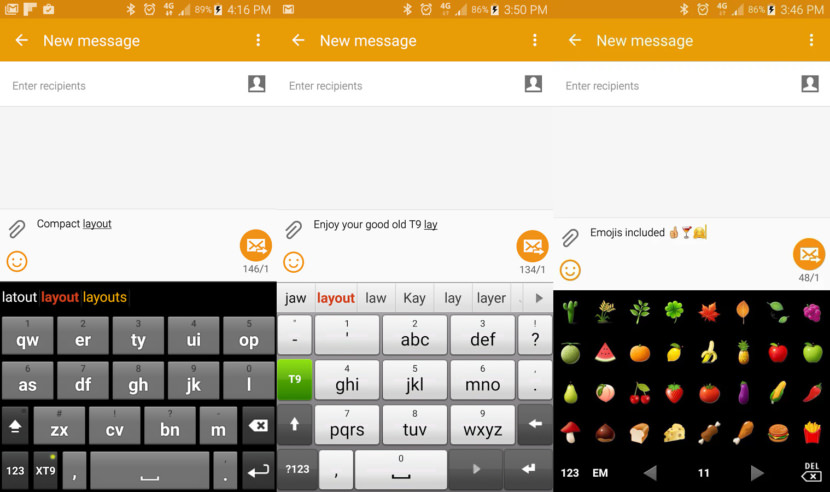 Improve your typing experience on Android with Smart Keyboard Pro, a lightweight yet powerful international keyboard. You will feel at home immediately thanks to dozens of customization options: skin, layout, sound, prediction, smileys, calibration… everything can be personalized to fit your needs! Among the top features of Smart Keyboard Pro, you will find:
T9 and compact layouts for most languages
Builtin and downloadable themes (Open Skins)
Custom text shortcuts (AutoText)
Voice input
Easy switching between languages
Prediction with physical keyboard
Emoji keyboard
Self-learning smart dictionary
Quick actions with gestures

The keypad layout as on the old mobile phones. Very suitable for people who have a problem with small keys. Your parents and grandparents now are finally able to write SMS. Upon researching, the Old keyboard is the best T9 keyboard for android. It is still somewhat clustered with additional keys, nonetheless it is still free, almost as good as Nokia's keypad. Head over to Google marketplace and download this app, it is free. (EvenBetter)NumberPad on the other hand is the closest thing to Nokia's T9 keypad. However, it cost 3.99 USD.
4. Perfect Keyboard Free

[ Discontinued ] Take command of your Android device's touchpad keypad with a Perfect and smart Keyboard for android. You can customize the look of the keyboard with eight different themes and add additional functionality to your device. Perfect Keyboard lets you use custom dictionaries, control background and text colors, and adjust the keyboard's vibration density. In short, Perfect Keyboard allows you to set up your Android phone or tablet's touchpad keyboard so that it works best for you.
Multi Touch keyboard
User dictionary, built-in dictionary, International dictionaries (separate downloads from the Market)
Configurable auto correction
Redesigned and optimized keyboard layout and style
Custom vibration intensity (haptic feedback)
Long press "Enter" key to bring up smiley alternatives
Long press on "/" key in URL mode to bring up domains (you can configure the domains in the settings to better fit)
T9/compact layout.