The default smartphone keyboards are reliable but somewhat boring. At times, it can be too stagnant. For instance, when inputting my email, the default iOS keyboard doesn't have a quick key for .com, isn't this a common knowledge that most emails end with a .com that a quick button makes perfect sense?
See More ▼ 13 Free Fastest Android Launchers That are Light, Simple And User-Friendly
Apple has been using custom keyboards since 2014 with Small iOS 8, and third-party keyboards are generally very popular among users. As an Android and iOS user, here are some of the best alternative keyboards for your iPhone and Android Smartphones.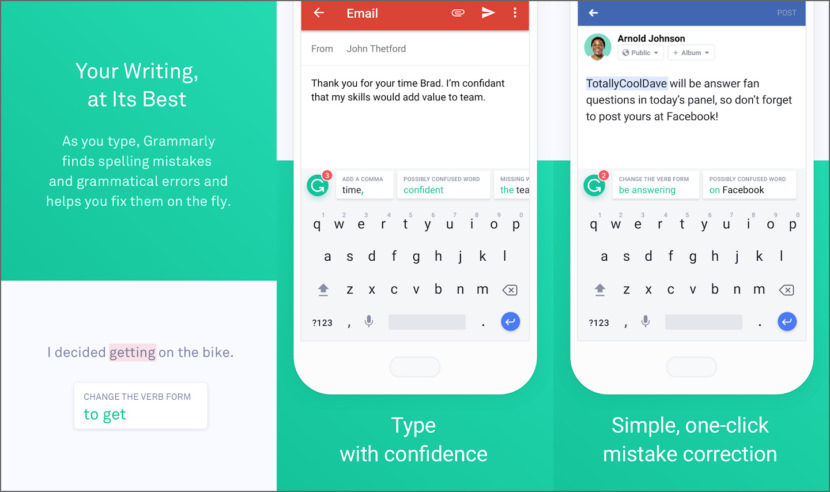 Better emails, clearer texts, mistake-free tweets. Write confidently in every app. The Grammarly Keyboard helps you write mistake-free and with ease in any app you use on your mobile device. It provides hundreds of checks and features, along with seamless integration. Whether you're sending an urgent email, important LinkedIn message, or essential Facebook post, you can write from your phone with confidence. Mistake-Free Writing
Sophisticated grammar checker
Contextual spelling checker
Advanced punctuation correction
Vocabulary enhancements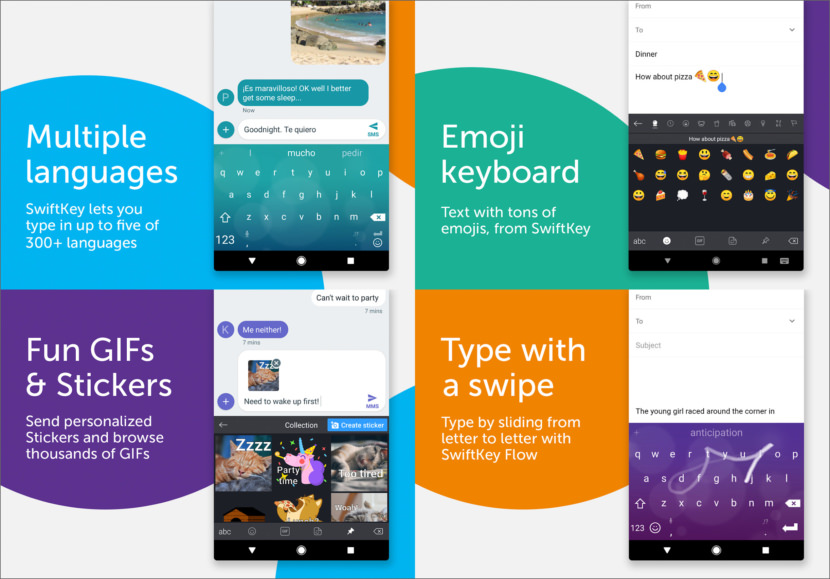 SwiftKey is the best swipe keyboard from Microsoft. The keyboard learns your writing style, so you can type faster. Use your personalized keyboard to type and send emoji, GIFs and more just the way you like. The SwiftKey swipe keyboard is always learning and adapting to match your unique way of typing – including your slang, nicknames and emoji. The built-in emoji keyboard has every emoji you'll ever need and more.
SwiftKey learns your favorite emoji so you can always send your friends the right reactions. SwiftKey caters to all typing tastes, with free designs and themes to fit any style. The custom keyboard provides autocorrect that actually works. SwiftKey provides helpful predictions, so you can get your point across fast, without errors. Type and text any way you like, with swipe-to-type, tap-to-type, predictive emoji and a GIF keyboard. Supports 300+ languages: English (US, UK, AU, CA), Spanish (ES, LA, US), Portuguese (PT, BR), German, Turkish, French, Arabic, Russian, Italian, Polish and more.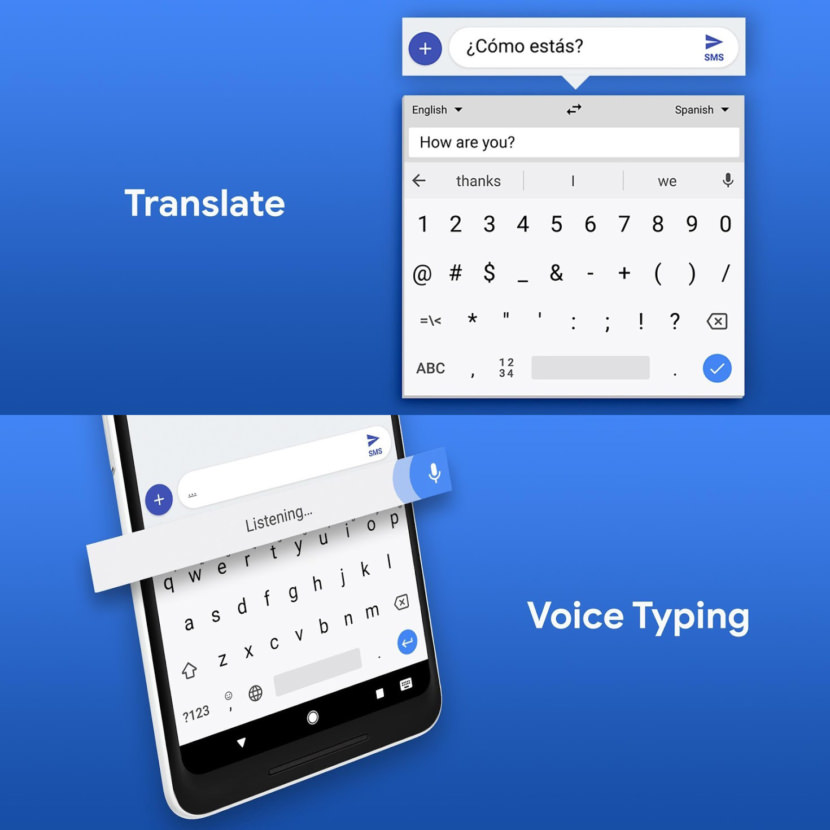 Gboard has everything you love about Google Keyboard—speed and reliability, Glide Typing, voice typing, and more—plus Google Search built in. No more app switching; just search and share, right from your keyboard.
Glide Typing — Type faster by sliding your finger from letter to letter
Voice typing — Easily dictate text on the go
Handwriting — Write in cursive and printed letters in 100 languages
Search and share: — Press the G to search and share anything from Google
Emoji Search — Find that emoji, faster
GIFs — Search and share GIFs for the perfect reaction.
Multilingual typing — No more switching between languages manually. Gboard will autocorrect and suggest from any of your enabled languages.
Google Translate — Translate as you type in the keyboard
Hundreds of language varieties, including: Afrikaans, Amharic, Arabic, Assamese, Azerbaijani, Bavarian, Bengali, Bhojpuri, Burmese, Cebuano, Chhattisgarhi, Chinese (Mandarin, Cantonese, and others), Chittagonian, Czech, Deccan, Dutch, English, Filipino, French, German, Greek, Gujarati, Hausa, Hindi, Igbo, Indonesian, Italian, Japanese, Javanese, Kannada, Khmer, Korean, Kurdish, Magahi, Maithili, Malay, Malayalam, Marathi, Nepali, Northern Sotho, Odia, Pashto, Persian, Polish, Portuguese, Punjabi, Romanian, Russian, Saraiki, Sindhi, Sinhala, Somali, Southern Sotho, Spanish, Sundanese, Swahili, Tamil, Telugu, Thai, Tswana, Turkish, Ukrainian, Urdu, Uzbek, Vietnamese, Xhosa, Yoruba, Zulu, and many more! Visit https://play.google.com/store/apps/details?id=com.google.android.inputmethod.latin&hl=en&gl=US for the full list of languages supported.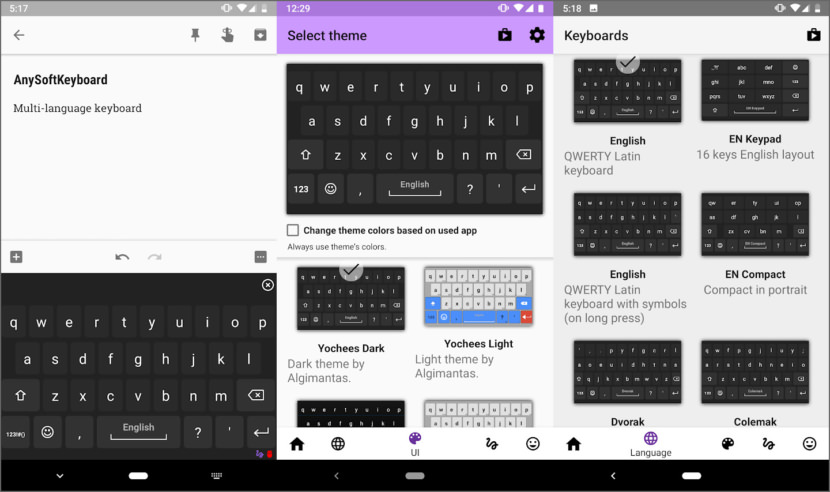 The only Android keyboard you'll ever need, free as in speech and Free as in beer. Any Soft Keyboard is an on screen keyboard with multiple languages support. This is one of the most customizable keyboards available. Works great on Samsung, Huawei, Xiaomi, LG, Sony, Vivo, Oppo smartphones. Features of AnySoftKeyboard
Supports lots of languages via external packages
Physical keyboards are supported as well
Themes (skin) support
Incognito Mode – will not track your typing
Word suggestions, and Next-Word suggestions
Voice input
Compact modes: Split and Compact to left/right
Special keyboard for text fields which require only numbers, dates, email or URI addresses.
Plenty of emojis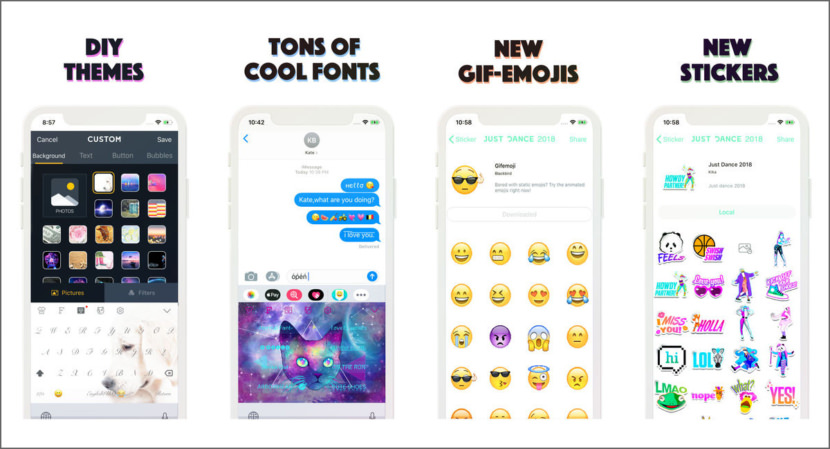 Kika Keyboard is a smart emoji keyboard for iPhone that makes typing fast, easy and fun. With 1200+ emoji & emoticons, smileys, stickers, colorful themes, massive funny GIFs, word predictions, smart auto-correction and more, Kika Keyboard delivers everything you'd expect from a world-class smart keyboard app!
Custom keyboard theme by choosing your own photos, wallpapers, emoji wallpaper, applock pictures, launcher pictures. You can also change the theme colors, customize the font style, fonts size and colors! QWERTY, QWERTZ and AZERTY for phone mode and other layouts specifically for pad tablets. Bilingual Keyboard supports 60+ languages – 60+ keyboard layouts and dictionary, including QWERTY keyboard, AZERTY keyboard, English(US)(UK), Portuguese(Brazil)(Portugal), Spanish keyboard, German Keyboard, Ukrainian keyboard, Thai keyboard, Turkish keyboard, etc.

Using the NLM Neural Language Model, TouchPal autocorrects typos and predicts your next word with high accuracy by understanding the relationship between them. Based on the context of your conversations, Talia, their AI Assistant, will provide suggestions such as dining recommendations, weather forecasts, currency conversions, calculations, and more.
Besides, they also have T9 or T+ layout which would be a good choice for those who don't use gesture typing or swipe typing to type faster. No need to switch between keyboards for Emoji. Simply hold the Enter key to access all the 1500+ Emoji.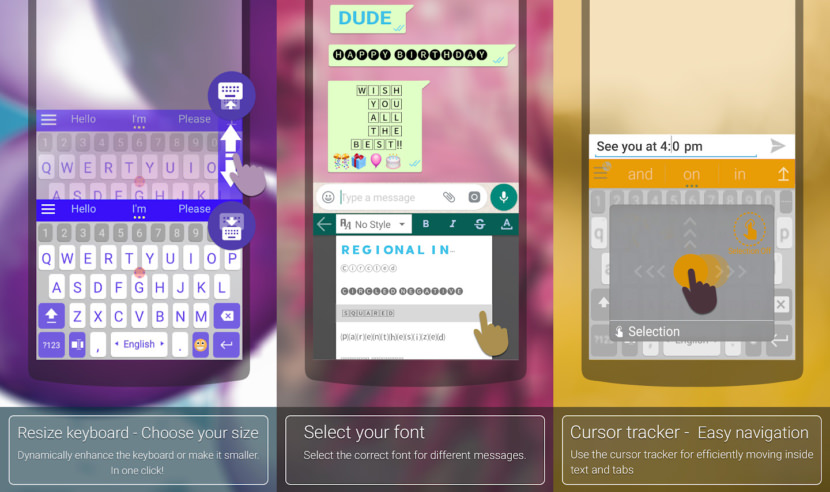 ai.type is a personalizable keyboard for smartphones and tablets. The app lets you type better and faster by learning your writing style, it allows you to customize and personalize your keyboard in any way you may think of! Customized animated message, GIF, Sticker, support including one search for Emoji, Gif & Stickers at once!
Learns your writing style
Auto-corrects your typing mistakes
Auto-inserts Emoji as you type
Dynamically resize your keyboard
Change colors and fonts
Change the keyboard layout and background image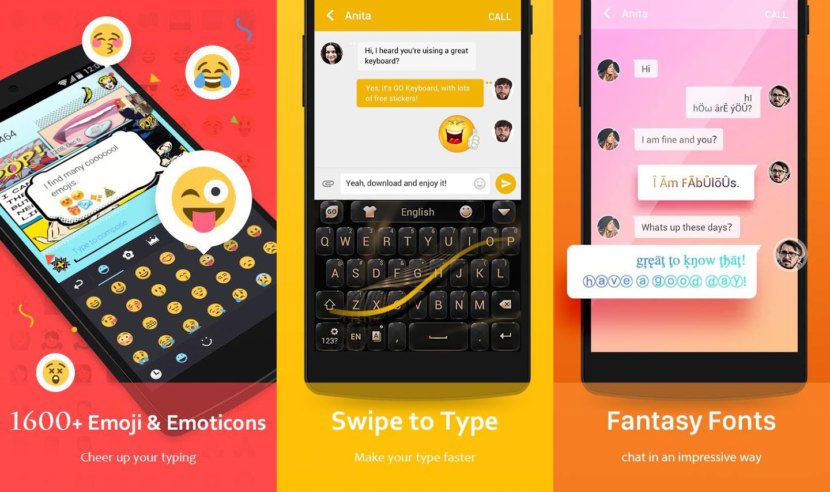 GO Keyboard can make typing fast and smart. It is a must-have Android mobile phone. GOKeyboard has MORE THAN 60 THEMES,and will release new themes every week. GO Keyboard Pad mode has a variety of keyboard layouts designed specifically for the tablet. With 60+languages and several keyboard layouts, it also supports 10000+ colorful themes, 800+stickers and emoticons to personalized your keyboard.
Emoji Prediction – GO Keyboard's emoji prediction feature offers precise prediction of emojis. Just type a word and their fantastic keyboard will auto-suggest emojis for you.
Auto-Correction – Tap wrong but type right. GO Keyboard is smart enough to recognize mistyping, provide correction suggestions and make your typing easy.
Gesture Typing – Just swipe to type messages on keyboard to find how effective and fun by this sliding type mode.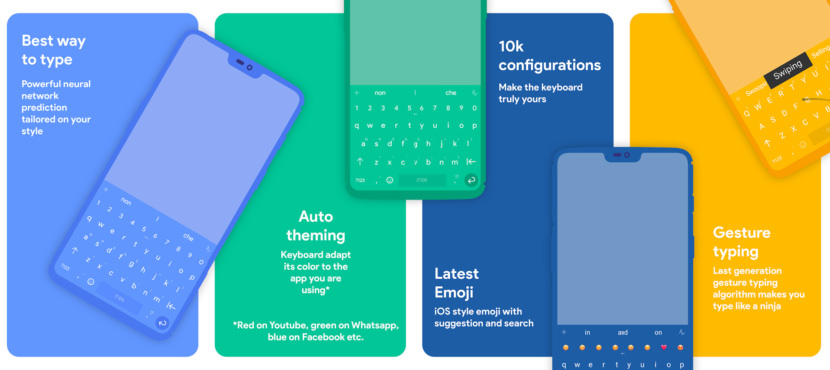 Chrooma Keyboard is a lightweight, fast keyboard that adapts its color theme to the app you are using. Chrooma Keyboard is powered by a smart artificial intelligence that provides you a better contextual prediction. Chrooma has a new exclusive neural action row that helps you with emojis , numbers and punctuation suggestions! And if emojis are not enough for you, with Chrooma Keyboard you can search and send all the GIFs you want! Chrooma Keyboard always fit your style thanks to its high level of personalization (themes, font styles, emoji styles, keyboard size …)
GIF search – With Chrooma Keyboard you have a dedicated GIF tab to search and send all the GIFs you want! Chrooma's GIF are supported by almost every app.
Emojis Support – Their keyboard supports automatic emojis suggestion and helps you by providing you your most used emojis .
Gesture typing – Tired of tapping ? You can write everything just by swiping your thumb over the keyboard.
Night Mode – Chrooma Keyboard can change automatically the color tone when low light is detected. You can also set a timer and program the night mode.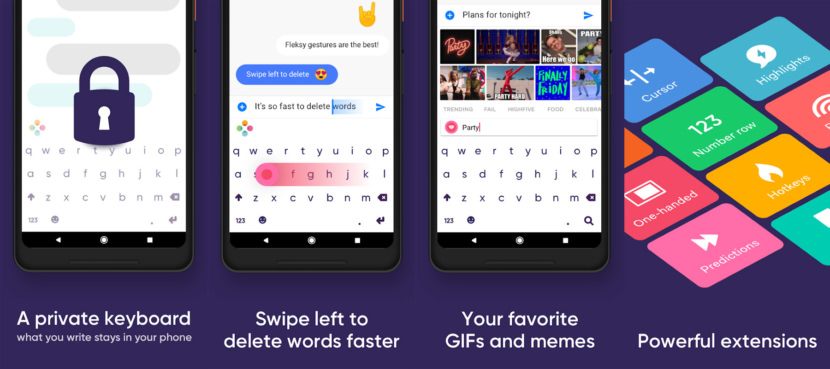 Fleksy is the fastest keyboard in the world letting you customize, search, share and type. Find and send GIFs & Stickers, search the web privately with Qwant, autocorrect what you type and customize your keyboard with powerful extensions & colorful themes. Simply swipe left to delete a word! With just a gesture of your finger, easily add punctuation, space, delete words, and much more.