OCR or Optical Character Recognition is also referred to as text recognition or text extraction. Machine-learning based OCR techniques allow you to extract printed or handwritten text from images, such as posters, street signs and product labels, as well as from documents like articles, reports, forms, and invoices. The text is typically extracted as words, text lines, and paragraphs or text blocks, enabling access to digital version of the scanned text. This eliminates or significantly reduces the need for manual data entry.
🤣😍😂 4 Free OCR Apps – Scan And Convert To Text With Smartphones
If you have a few text documents to scan, Microsoft OneNote now comes with a built in OCR feature that was once found in Microsoft Office. Since OneNote is now pre-installed in Windows 10 and 11, everybody should have this software in their Windows PC, if not, take a few minute to download and install it, OneNote is free.
Microsoft's Read OCR engine is composed of multiple advanced machine-learning based models supporting global languages. This allows them to extract printed and handwritten text including mixed languages and writing styles.
↓ 01 – Microsoft OneNote
OneNote supports Optical Character Recognition (OCR), a tool that recognizes text in an image and even lets you copy the text. OCR works best with images of printed or font text, rather than handwritten. Still, if you prefer taking handwritten notes, you can just snap a photo and upload them to OneNote. Later, if you need to locate a specific detail, you can search OneNote for a specific term or date written in those notes and it will easily find it, even in an image. It also allows you to extract the text so you can then paste it elsewhere, such as in your contacts or Word.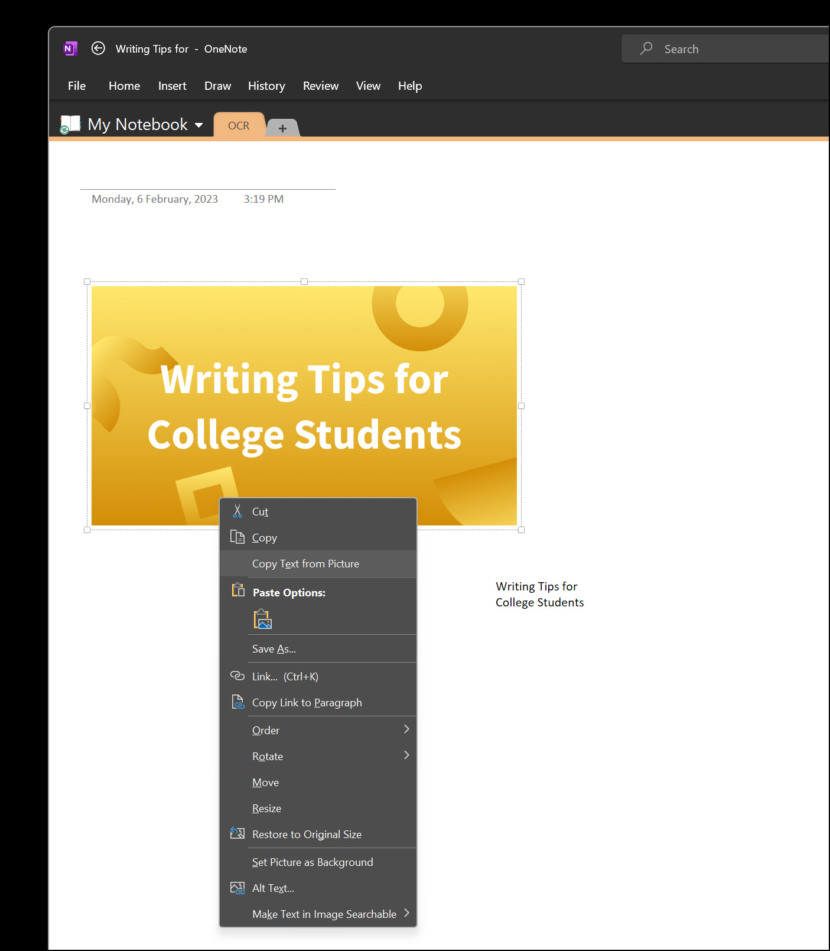 1. Import the image into OneNote.
2. Right-click the picture within OneNote.
3. Select 'Copy Text from Picture.'
4. Right click to paste the copied text.
OneNote OCR does not work with the online version of OneNote. You need to open the application within Windows. Also, do note that OneNote OCR feature is a very basic OCR, it doesn't recognize text formats and tables, the hand writing recognition is so so only. Good enough for basic usage but not advance enough for mass output.
↓ 02 – Microsoft Lens – PDF Scanner
If you are looking for something much more powerful, Microsoft Lens (formerly known as "Office Lens") is a great way to capture information from documents, whiteboards, business cards, receipts, menus, signs, handwritten memos, or anything else containing text that you want to import but not manually type out yourself. It is available in both Android and iOS.
With Microsoft Lens, you don't need to jot down any notes by hand, rely on blurry cell phone images, or worry about misplacing anything. Microsoft Lens is great for capturing sketches, drawings and equations too — even images without text. When capturing images, Microsoft Lens gets rid of shadows and odd angles, so your final captures are easier to see.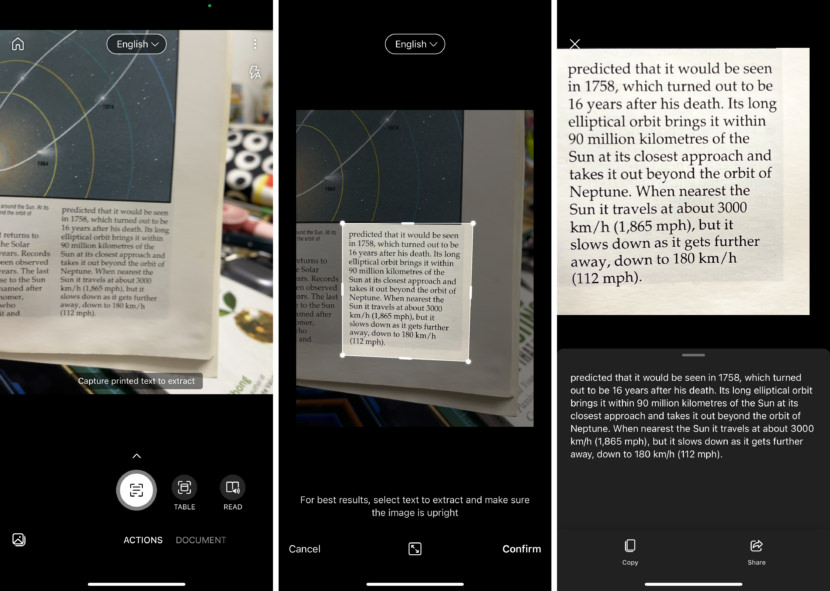 There are 5 modes, Whiteboard, Document, Actions, Business Card, or Photo. To capture text from images, go to 'Action' mode, this mode is a collection of the following available sub-modes:
Text – Can be used to extract text from your image, which you can copy or share.
Table – Can be used to extract a printed table from your image which you can copy and share
Read – Can be used to read out loud any text in your image in the Immersive Reader.
Once done, you can upload your captured document and whiteboard images to Microsoft OneNote, Word, PowerPoint, or OneDrive, and you can also save them as PDF files or send them in email.