If you're using Microsoft Windows 8, Windows 8.1 and Windows 10, you do not need to download 3rd party ISO mounting software. Windows 8 and Windows 10 come with capability to mount ISO files and burn the ISO to a CD or DVD. Below is a simple tutorial on how to mount ISO image files on Windows, while you're at it, you might find this tutorial useful – 7 Free Tool To Create Bootable Windows 7 & 10 On A USB Drive in creating a bootable ISO image of Windows.
🤣😍😂 13 Free Tools To Create Bootable USB Windows 10 & Linux With ISO Files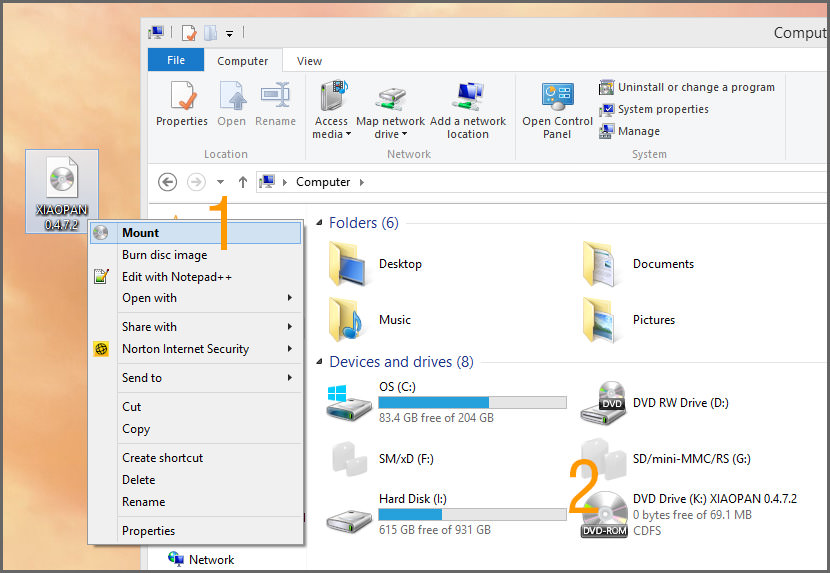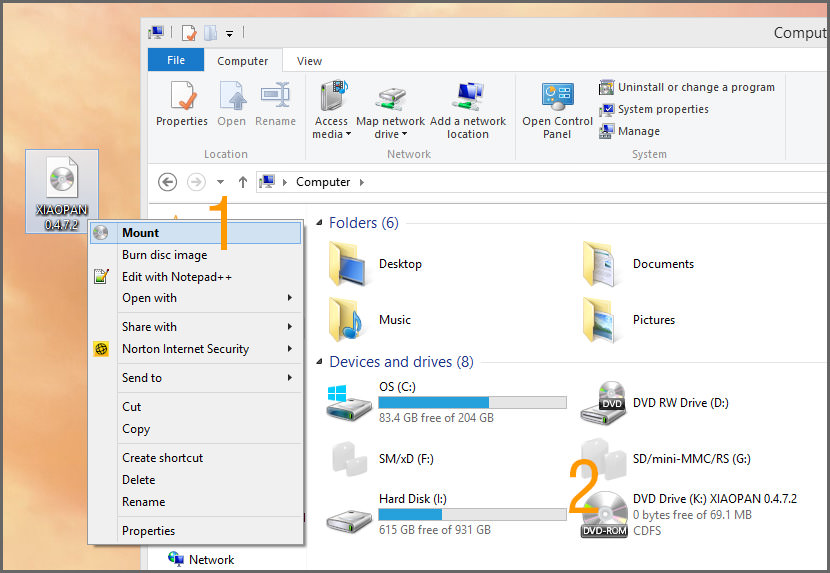 Step 1 – Right click on the ISO file, select 'Mount'
Step 2 – A new 'CD DVD Drive' will appear in the Device and Drivers list. Double click on the virtual CD DVD driver to access the files.
To unmount the ISO files from the Virtual DVD Drive, right click on the drive and select 'Eject'. To burn the files to a physical CD, right click on the original file and select 'Burn This Image'.
For those still using Windows XP, Windows Vista and Windows 7, here are 5 free ISO mounting programs for Microsoft Windows users. They are 100% freeware with no string attached. If you're looking at creating Bootable USB Ubuntu Linux or Bootable Windows 10, below are 5 of the best ISO mount freeware to mount the ISO files downloaded from Torrent and extract the content, download now!


Virtual CloneDrive works and behaves just like a physical CD/DVD drive, however it exists only virtually. Image files generated with CloneDVD or CloneCD can be mounted onto a virtual drive from your hard-disk or from a network drive and used in the same manner as inserting them into a normal CD/DVD drive.
Probably the best virtual drive software, Virtual CloneDrive allows you to enjoy the freedom of a virtual drive and is completely free. Supports all common image formats such as ISO, BIN, CCD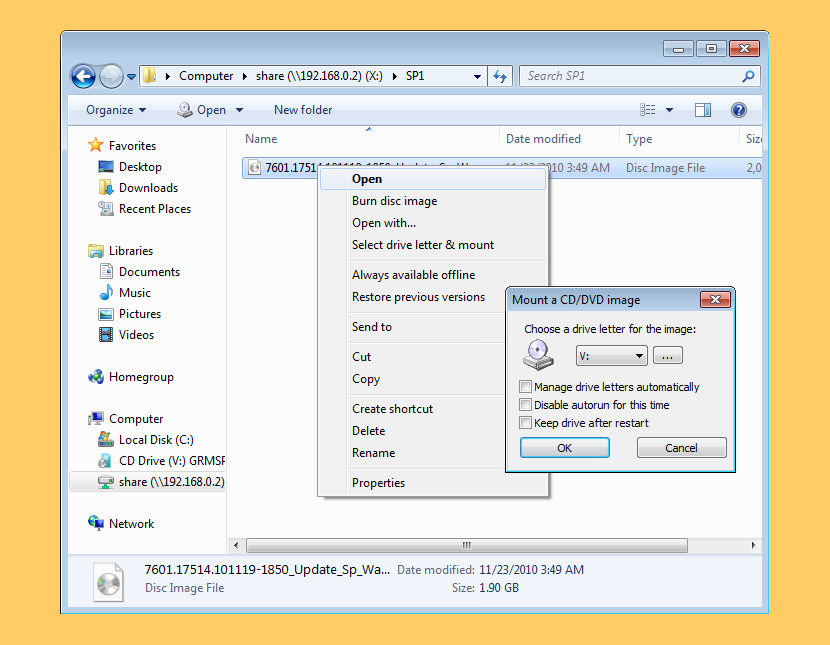 WinCDEmu is an open-source CD/DVD/BD emulator – a tool that allows you to mount optical disc images by simply clicking on them in Windows Explorer. If you have downloaded an ISO image and want to use it without burning it to a blank disc, WinCDEmu is the easiest way to do it. Features:
One-click mounting of ISO, CUE, NRG, MDS/MDF, CCD, IMG images.
Supports unlimited amount of virtual drives.
Runs on 32-bit and 64-bit Windows versions from XP to Windows 7.
Allows creating ISO images through a context menu in Explorer.
Supports data, DVD-video and BD-video images.
Does not require rebooting after installation.
↓ 03 – DAEMON Tools Lite | Creates, Modifies, Mounts, Restores & Extracts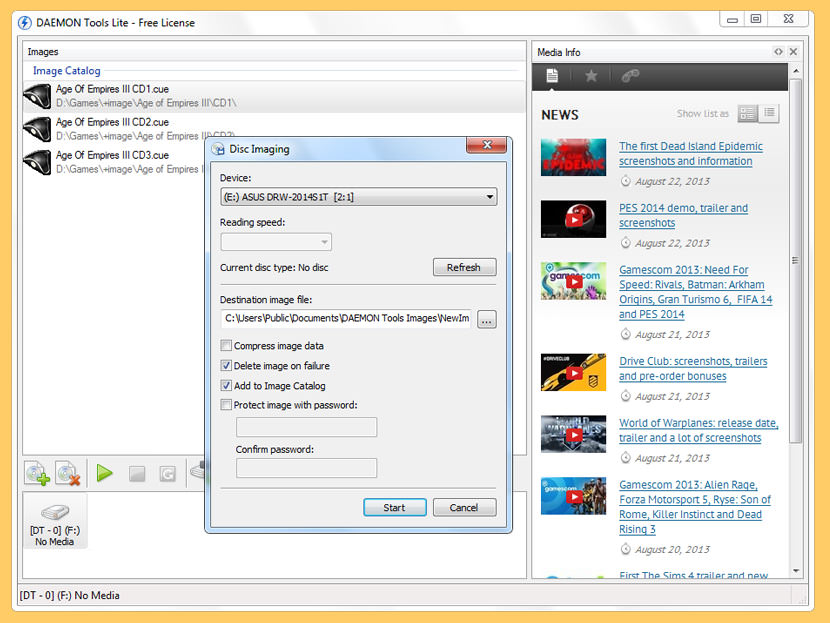 Daemon is possibly the Best Iso Mounting Software to mount ISO. Do you need just to create or mount an image file of a popular format? DAEMON Tools Lite is exactly what you need. Free for home and non-commercial use, this software solution will provide you with the basic functions for operating with virtual devices. Using DAEMON Tools Lite you can create up to 4 virtual devices. Your system will recognize them like a physical one, and your work will become much faster.
↓ 04 – ISODisk | Mount & Create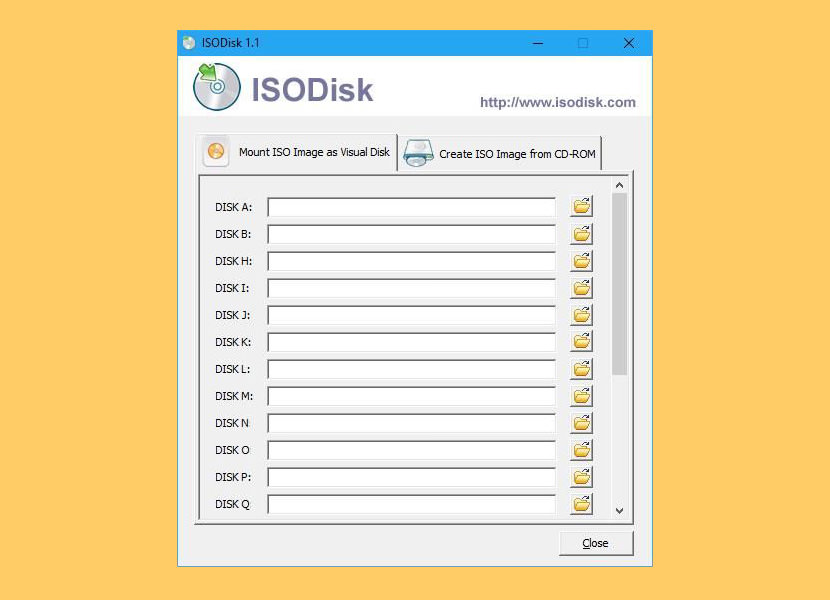 ISODisk is a FREE and powerful ISO disk image file tool, allows you to create virtual CD/DVD driver up to 20 drivers, mount an .ISO disk image and access the files on it as if it were burned to CD or DVD. This free program can quickly create ISO image files from CD/DVD-ROM, with ISODisk, you don't need to install any other virtual drive software. Once you map the archive to a virtual drive, you will be able to view the contents in Windows Explorer.
Mount ISO image files to as an internal virtual CD/DVD device.
Can mount ISO image on Local Area Network.
Can create virtual CD/DVD driver up to 20 drivers.
Quickly create ISO file from CD/DVD-ROM.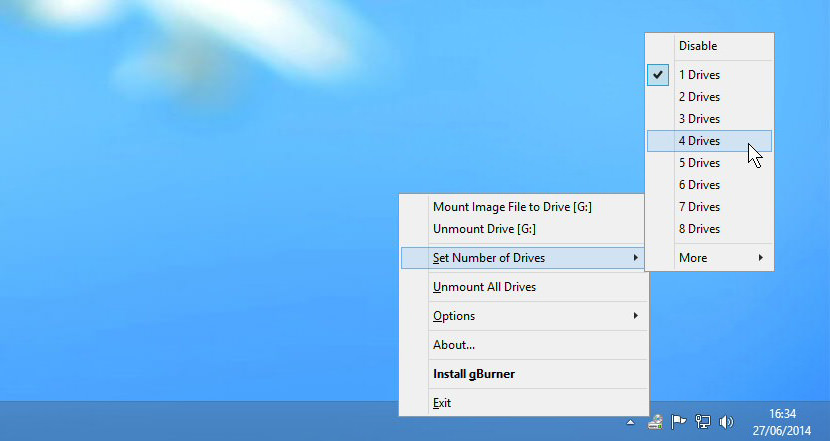 gBurner Virtual Drive is a free utility designed for creating and managing virtual CD / DVD drives. For anyone who deals with CD/DVD-based programs – it is a MUST. gBurner Virtual Drive allows you to use almost all CD/DVD images without burning them onto CD or DVD in order to easily access your favorite games, music, or software programs. It works like a real CD/DVD-ROM: You can run programs, play games, or listen to music from your virtual CD/DVD-ROM.
gBurner Virtual Drive supports all popular CD/DVD image file formats. Following is a list of all supported CD/DVD image file formats: ISO (Standard ISO File), GBI / GBP (gBurner Image Files), DAA (PowerISO Image Files), NRG (Nero Image Files), MDF / MDS (Alcohol Image Files), BIN / CUE (CDRWin Image Files), UIF (MagicISO Image Files), ISZ (UltraISO Image Files), ASHDISC (Ashampoo Image Files), DMG (Apple Mac Image Files), GI (RecordNow Image Files), BWI / B5I (BlindWrite Image Files), IMG (CloneCD Image Files), CDI (DiscJugger Image Files), PDI (InstantCopy Image Files), NCD (NTI CD-Maker Image Files), LCD (CDSpace Image Files), CIF (Easy CD/DVD Creator Image Files), P01 (Gear Image Files), PXI (PlexTools Image Files), C2D (WinOnCD Image Files), FCD (Virtual CD-ROM Image Files), and VCD (Virtual Drive Image Files).
Create data, audio and video discs. gBurner supports the following disc types: CD-R, CD-RW, DVD-R, DVD-RW, DVD-R DL, DVD+R, DVD+RW, DVD+R DL, DVD-RAM, BD-R, BD-R DL, BD-RE, BD-RE DL.
Create multisession discs.
Make bootable data discs.
Copy CDs, DVDs and Blu-ray Discs.
Create bootable USB drive.
Support ISO 9660, Joliet and UDF file systems.
Support Audio CD-TEXT.
Support Mp3, Wma, Wav, Flac, Ape and Ogg Audio formats.
Open, create, edit, extract, convert and burn disc image files. gBurner has automatically detecting engine, so gBurner can automatically analysis almost all disc image files(iso, bin, cue, mdf, mds, img, gbi, daa, uif, cif, nrg, gi, dmg and so on).
Support unicode file names.
Optimize file layout to save disc space.
Support wim, vmdk, vhd and vdi virtual disk image files.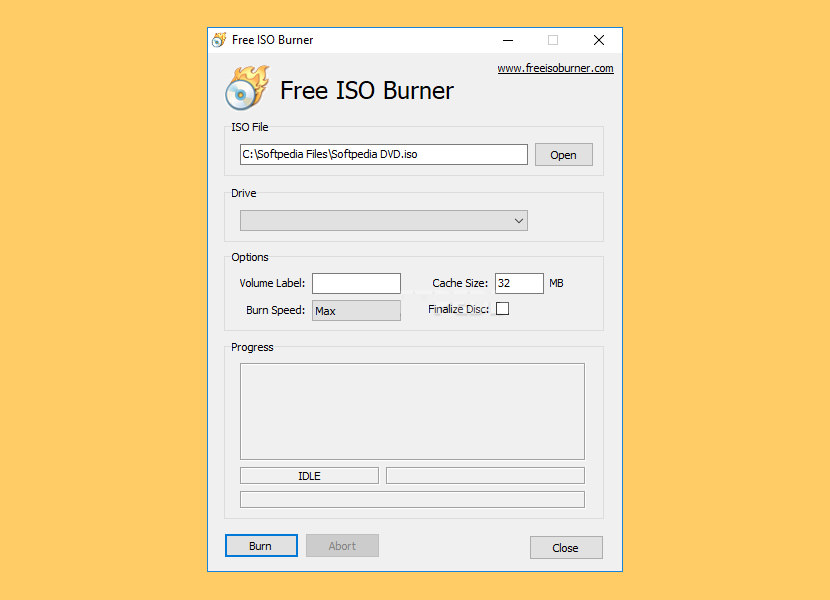 Free ISO Burner can directly burn your ISO and CD/DVD image file to CD-R,CD-RW, DVD-R, DVD-RW, DVD+R, DVD+RW,HD DVD and Blu-ray Disc, no need mount any "virtual drives" which emulate physical CDs or DVDs, it write any data directly.
Free ISO Burner hides all complex settings, let this program be very simple and easy to use. Click [Open] button to choice one ISO image file (*.iso), insert a blank CD in your CD-RW drive, then click [Burn] to start the disk burning.
Users can select the drivers, set the disk volume, select burn speed and change the burn cache size, during the burning user can click [Abort] to abort the burning progress. Free ISO Burner can support bootable CD image files. Users can select [Finalize Disc] in the main interface to finalize a disc on which data and music have already been written.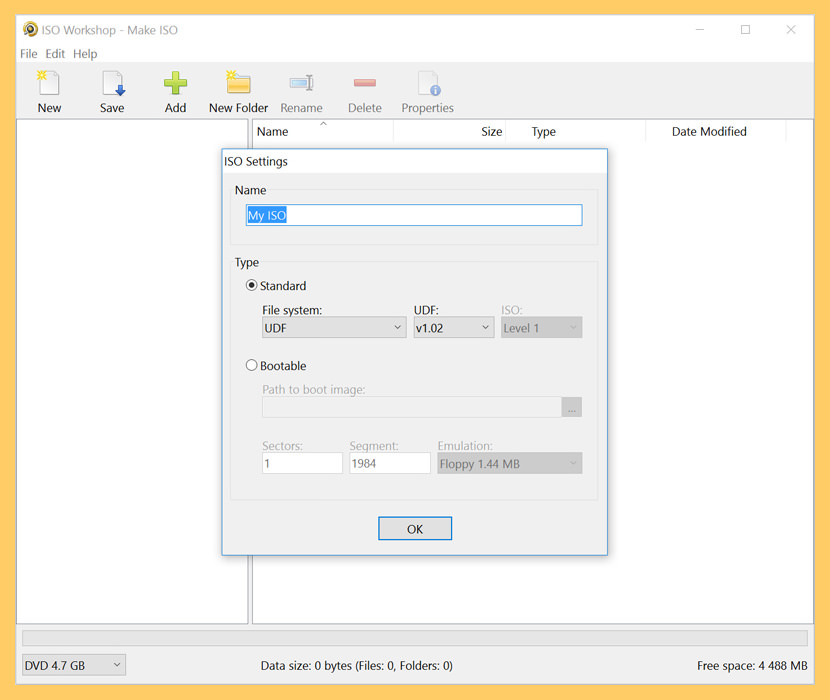 ISO Workshop is a free Windows desktop application specifically designed to facilitate ISO image management and conversion, as well as CD/DVD/Blu-ray Disc burning and copying operations. The program has a very intuitive user interface and enables you to make ISO images, extract files from disc images, create disc backups, convert and burn disc images, and make exact CD/DVD/Blu-ray Disc copies.
Make standard or bootable ISO, with various file systems
Burn ISO image or any other disc image to CD, DVD or BD
Browse and extract files from various disc image formats
Copy any CD, DVD or Blu-ray Disc to ISO or BIN image
Convert various disc images to ISO or BIN
Make exact CD, DVD or Blu-ray Disc copies on-the-fly
Support Windows XP, Vista, 7, 8, 8.1, 10 (32 and 64)
↓ 08 – OSFMount | Mount Only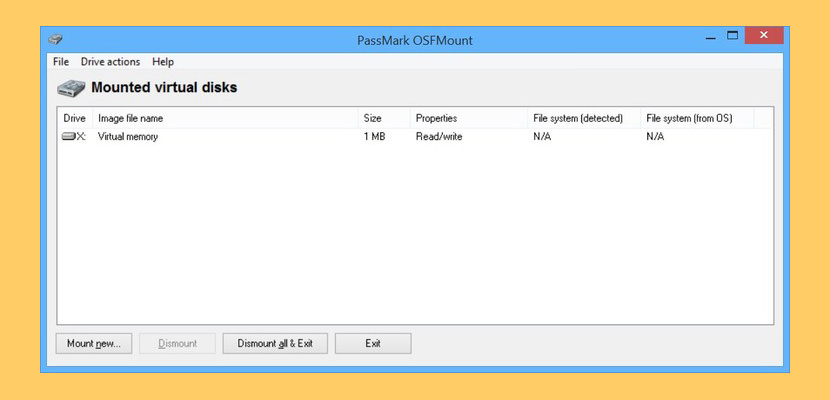 OSFMount allows you to mount local disk image files (bit-for-bit copies of a disk partition) in Windows with a drive letter. You can then analyze the disk image file with PassMark OSForensics by using the mounted volume's drive letter. By default, the image files are mounted as read only so that the original image files are not altered.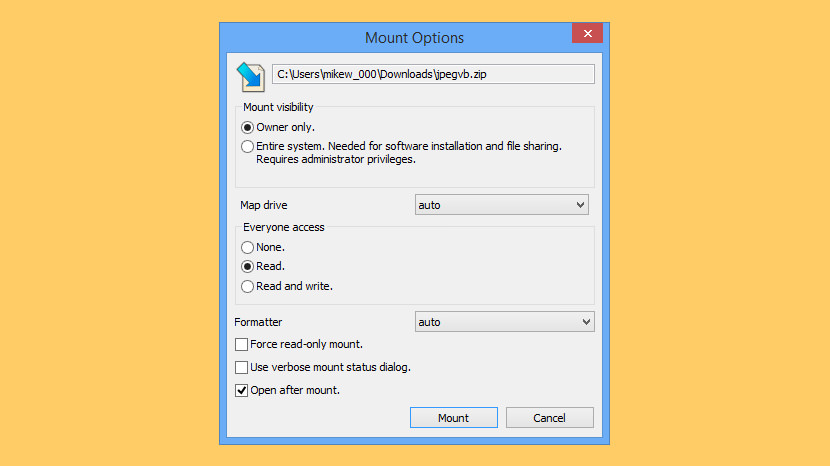 Pismo File Mount Audit Package is a Windows application that allows users to mount the contents of ZIP, ISO, Compact ISO, Compact File Set and Private Folder files to the file system as virtual folders. Pismo File Mount Audit Package is available free of charge for personal and business use.
ZIP reader – Most zip archive files can be mounted as read-only folders to allow access to contents, including the ability to execute contained applications.
CD/DVD image file reader – DVD and CD images can be mounted in place as a read-only folder to allow access to contents. ISO and CISO image formats are supported.
Compact File Set reader – CFS files can be mounted in place as read-only folders to allow access to contents, including the ability to execute contained applications.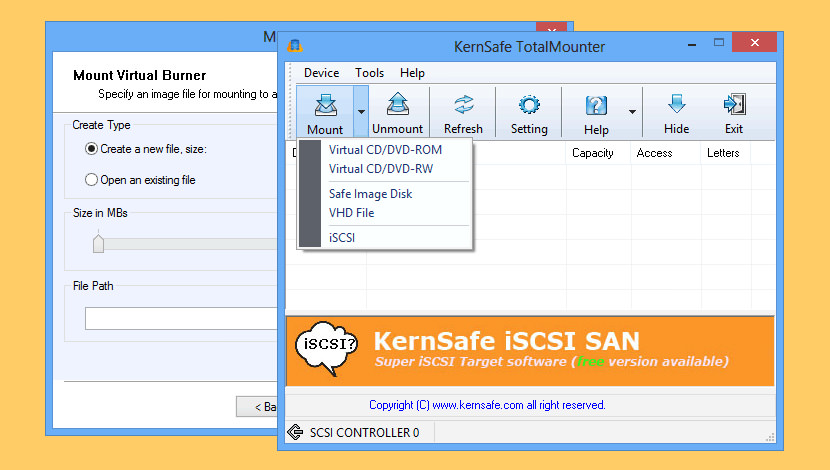 TotalMounter is only free software that allows users to mount virtual CD/DVD burners that are allowed to directly burn data onto an ISO file, not to an optical disk (such as CD or DVD). After mounting the virtual burner for the first time, the system will recognize it and automatically install all necessary drivers to run it. After this process is finished, you can easily burn such ISO files in any burning software of your choice, including Windows 7 default burning software.
Provides CD-RW and DVD+RW emulators that allow you to "write" data into an CD/DVD drive, you may also create ISO9660 files by using any CD/DVD burning software.
Provides a CD/DVD-ROM emulator that mounts image files such as ISO, CDI, BIN, MDS, MDF, IMG, RAW, CCD, NRG in to a virtual CD/DVD-ROM drive.
Provides a iSCSI Initiator for mounting iStorage Server and other iSCSI Targets.
Provides a INetDisk client for mount INetDisk Server.
Mounts and create Image file disk's (img) and VHD files.
AES 256-BIT virtual disk encryption.
Provides Virtual Write technology, so that you can copy files into a read-only drive and do not affect other people using other clients.
Provides as many as 8 virtual drives.
Provides simple and banausic management tool, to manage virtual drives.
Support for x86 and x64 machines.
No restrictions on disk capacity, total number of hard disk installed, number of CPUs or CPU cores, and the amount of RAM.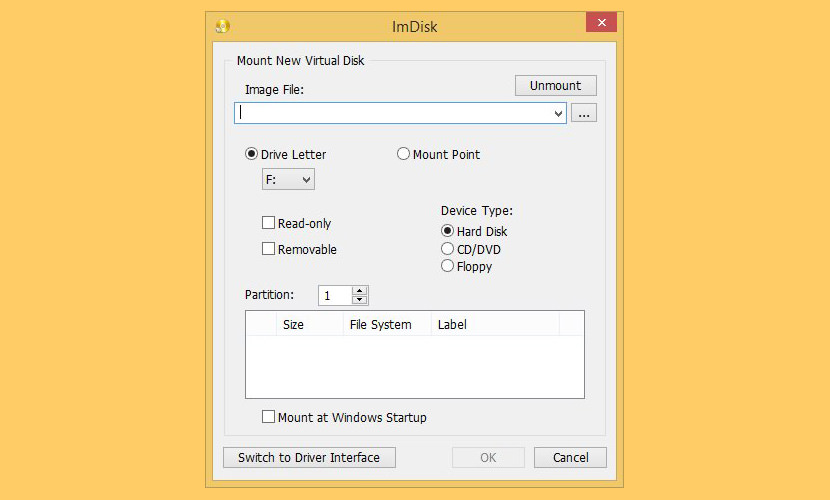 This tool will let you mount image files of hard drive, cd-rom or floppy, and create one or several ramdisks with various parameters. This all-in-one package includes the ImDisk Virtual Disk Driver, the DiscUtils library that extends the number of supported image file formats, and adds several GUIs and features.
↓ 12 – DVDFab Virtual Drive Iso Mount [ Not Free Anymore ] | Mounts & Extracts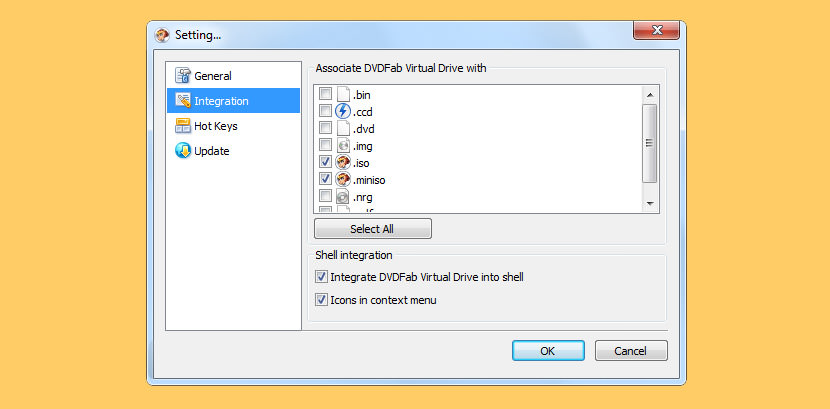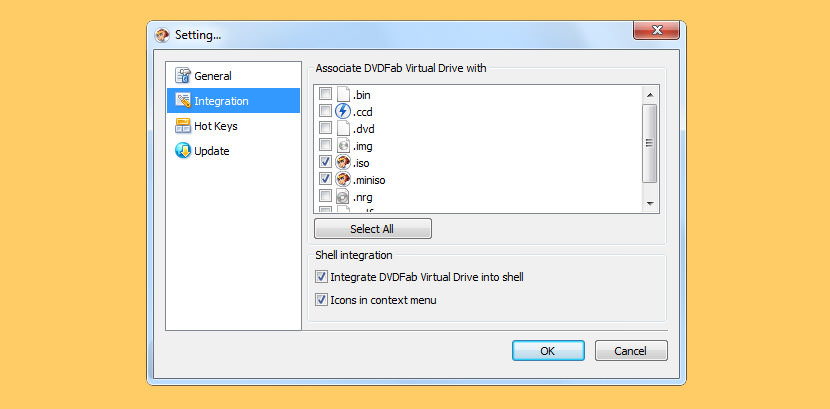 DVDFab Virtual Drive is a virtual DVD/Blu-ray emulator. It emulates a maximum of 18 drives and works with DVD/Blu-ray images created by DVDFab and other programs. Supported formats are DVD ISO image file, Blu-ray ISO image file and System Requirement are Windows 8/7/Vista/XP (32-bit/64-bit) X86/X64.
↓ 13 – Microsoft Virtual CD-ROM Control Panel [ Discontinued ] | Mounts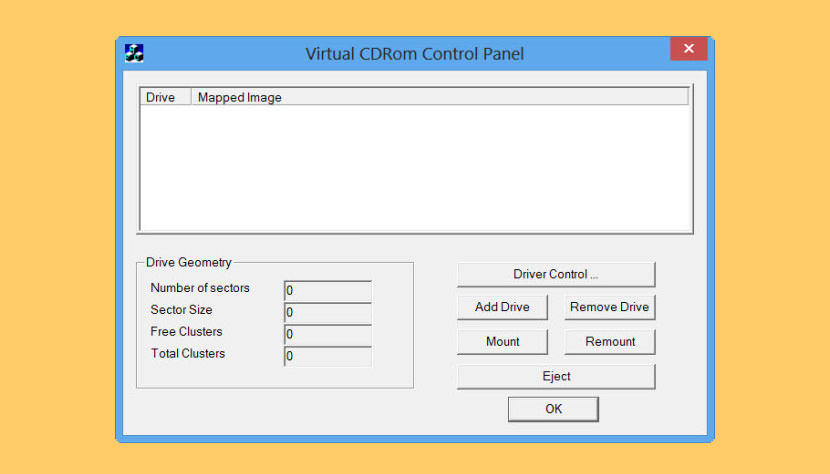 Re-released in 2013, this free utility software enables users of Windows XP, Windows Vista, and Windows 7 to mount ISO disk image files as virtual CD-ROM drives. This can be highly useful for reading disk images to install software or recover backup files. Notes: This tool is not supported by Microsoft; use at your own risk. Windows 8 users do NOT need this tool. Windows 8 natively supports ISO files. In Windows 8, you can simply open an ISO file and Windows automatically assigns it a drive letter and reads it as a virtual drive.
What Is ISO Image Filetype [ Wikipedia ]
What is an .iso file? An ISO image is an archive file of an optical disc, a type of disk image composed of the data contents from every written sector on an optical disc, including the optical disc file system. ISO image files usually have a file extension of .iso. The name ISO is taken from the ISO 9660 file system used with CD-ROM media, but what is known as an ISO image might also contain a UDF (ISO/IEC 13346) file system (commonly used by DVDs and Blu-ray Discs).
ISO images can be created from optical discs by disk imaging software, or from a collection of files by optical disc authoring software, or from a different disk image file by means of conversion. Software distributed on bootable discs is often available for download in ISO image format. And like any other ISO image, it may be written to an optical disc such as a CD or DVD.