Updated: August 11, 2018 / Home » Desktop Computer Software
If you're using Microsoft Windows 8, Windows 8.1 and Windows 10, you do not need to download 3rd party ISO mounting software. Windows 8 and Windows 10 comes with capability to mount ISO files and burn the ISO to a CD or DVD. Below is a simple tutorial on how to mount ISO image files on Windows, while you're at it, you might find this tutorial useful – 7 Free Tool To Create Bootable Windows 7 & 10 On A USB Drive in creating a bootable ISO image of Windows.
Related Article ➤ 3 Freeware To Create Bootable Ubuntu Linux [ And Windows ] On USB Flash Drive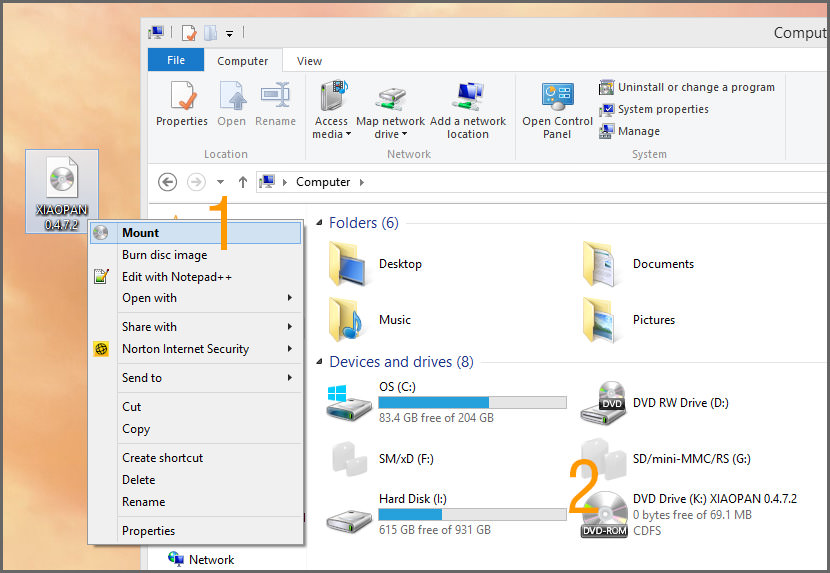 Step 1 – Right click on the ISO file, select 'Mount'
Step 2 – A new 'CD DVD Drive' will appear in the Device and Drivers list. Double click on the virtual CD DVD driver to access the files.
To unmount the ISO files from the Virtual DVD Drive, right click on the drive and select 'Eject'. To burn the files to a physical CD, right click on the original file and select 'Burn This Image'.
For those still using Windows XP, Windows Vista and Windows 7, here are 5 free ISO mounting programs for Microsoft Windows user. They are 100% freeware with no string attached. If you're looking at creating Bootable USB Ubuntu Linux or Bootable Windows 10, below are 5 of the best ISO mount freeware to mount the ISO files downloaded from Torrent and extract the content, download now!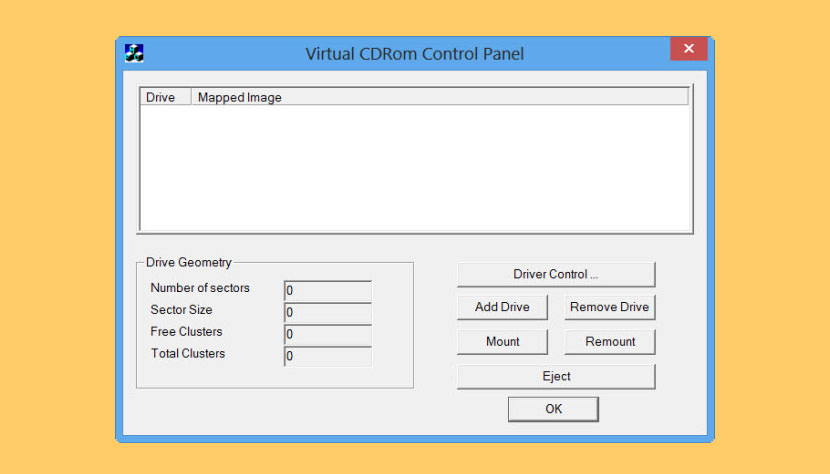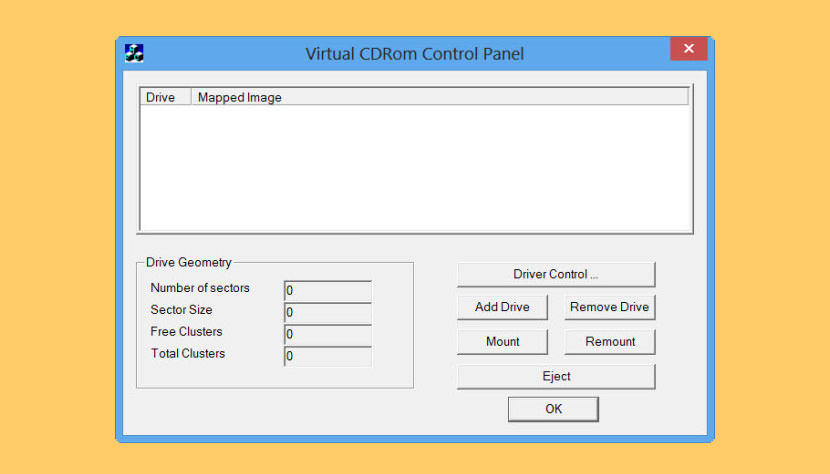 Re-released in 2013, this free utility software enables users of Windows XP, Windows Vista, and Windows 7 to mount ISO disk image files as virtual CD-ROM drives. This can be highly useful for reading disk images to install software or recover backup files. Notes: This tool is not supported by Microsoft; use at your own risk. Windows 8 users do NOT need this tool. Windows 8 natively supports ISO files. In Windows 8, you can simply open an ISO file and Windows automatically assigns it a drive letter and reads it as a virtual drive.

Virtual CloneDrive works and behaves just like a physical CD/DVD drive, however it exists only virtually. Image files generated with CloneDVD or CloneCD can be mounted onto a virtual drive from your hard-disk or from a network drive and used in the same manner as inserting them into a normal CD/DVD drive. Probably the best virtual drive software, Virtual CloneDrive allows you to enjoy the freedom of a virtual drive and is completely free. Supports all common image formats such as ISO, BIN, CCD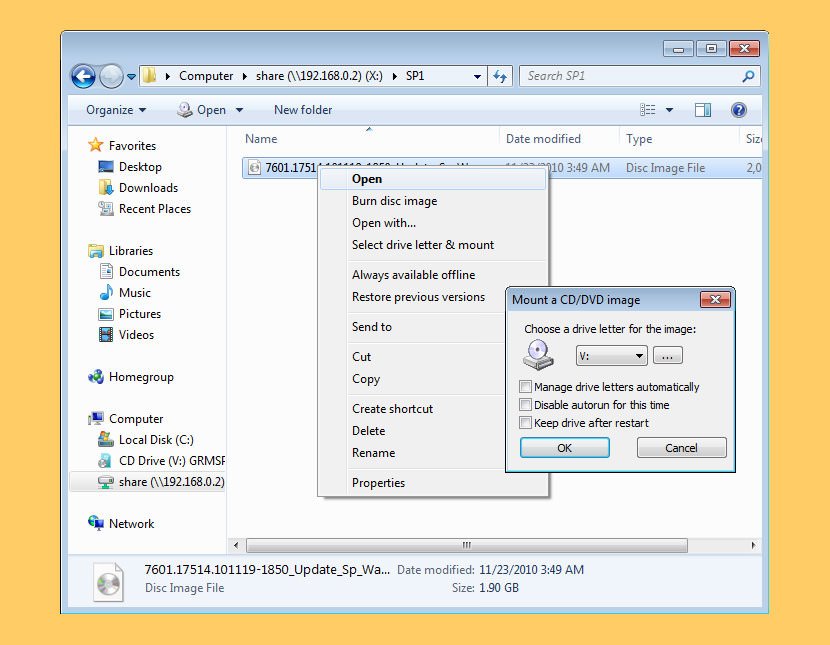 WinCDEmu is an open-source CD/DVD/BD emulator – a tool that allows you to mount optical disc images by simply clicking on them in Windows Explorer. If you have downloaded an ISO image and want to use it without burning it to a blank disc, WinCDEmu is the easiest way to do it. Features:
One-click mounting of ISO, CUE, NRG, MDS/MDF, CCD, IMG images.
Supports unlimited amount of virtual drives.
Runs on 32-bit and 64-bit Windows versions from XP to Windows 7.
Allows creating ISO images through a context menu in Explorer.
Supports data, DVD-video and BD-video images.
Does not require rebooting after installation.
04 – DAEMON Tools Lite | Features: Creates, Modifies, Mounts, Restores & Extracts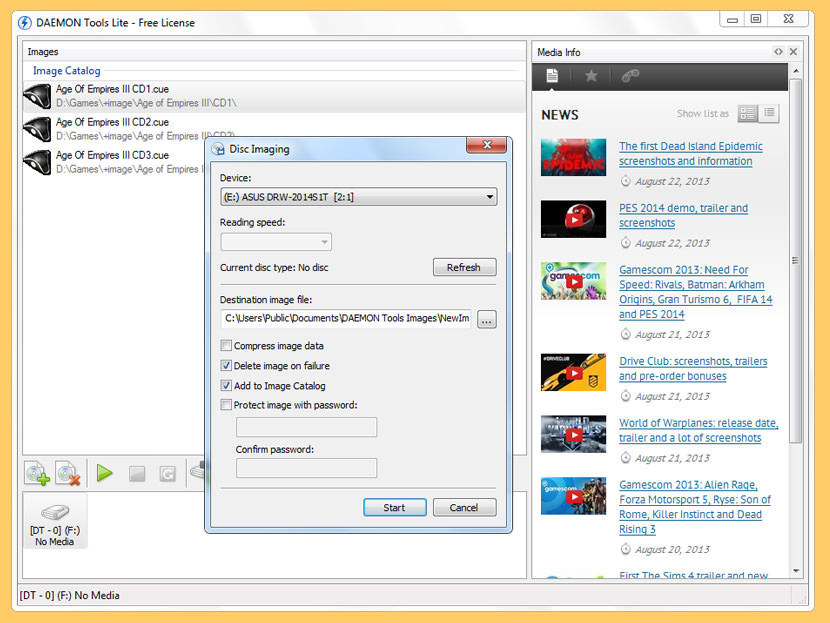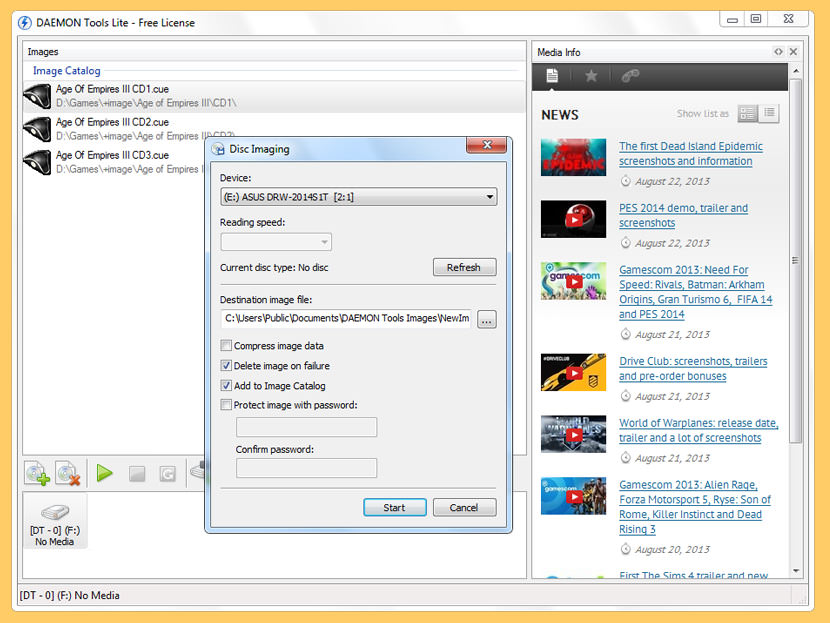 Daemon is possibly the Best Iso Mounting Software to mount ISO. Do you need just to create or mount image file of popular format? DAEMON Tools Lite is exactly what you need. Free for home and non-commercial use, this software solution will provide you with the basic functions for operating with virtual devices. Using DAEMON Tools Lite you can create up to 4 virtual devices. Your system will recognize them like physical one, and your work will become much faster.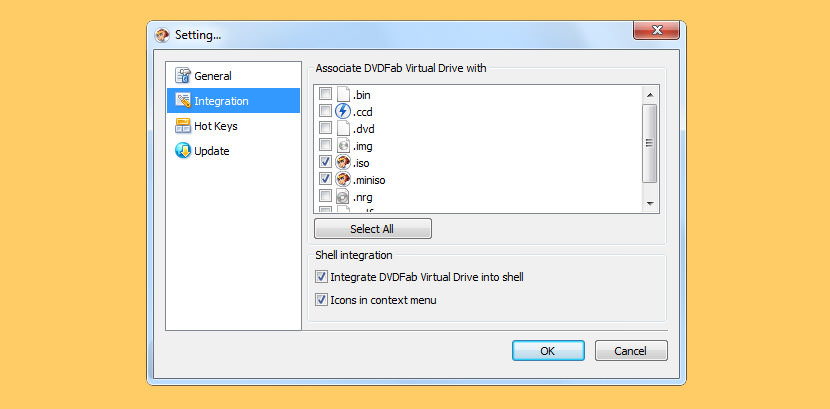 DVDFab Virtual Drive is a virtual DVD/Blu-ray emulator. It emulates a maximum of 18 drives and works with DVD/Blu-ray images created by DVDFab and other programs. Supported formats are DVD ISO image file, Blu-ray ISO image file and System Requirement are Windows 8/7/Vista/XP (32-bit/64-bit) X86/X64.
What Is ISO Image Filetype [ Wikipedia ]
What is an .iso file? An ISO image is an archive file of an optical disc, a type of disk image composed of the data contents from every written sector on an optical disc, including the optical disc file system. ISO image files usually have a file extension of .iso. The name ISO is taken from the ISO 9660 file system used with CD-ROM media, but what is known as an ISO image might also contain a UDF (ISO/IEC 13346) file system (commonly used by DVDs and Blu-ray Discs).
ISO images can be created from optical discs by disk imaging software, or from a collection of files by optical disc authoring software, or from a different disk image file by means of conversion. Software distributed on bootable discs is often available for download in ISO image format. And like any other ISO image, it may be written to an optical disc such as CD or DVD.