How to create PDF files? How to create and install a PDF printer? Where to download a free virtual PDF printer? The benefit of having a virtual 'Adobe' (creator and owner of the pdf format) PDF printer as opposed to having the 'save as pdf' plug-in in Microsoft Office is the possibility of converting files from any application using the 'print' function.
See More ▼ 60 Best Websites To Download Free ePub and PDF EBooks
You're not limited to Microsoft Office. Below are three of the best virtual drivers for PDF printers, and the best part is they are free! Setting up this virtual pdf printer is easy, download and install the setup file and choose the virtual pdf printer from your list of printers in the drop down menu. Download the virtual PDF printer driver now for windows and mac.
CutePDF writers may not pack with lots of features; however, it gets the job done as promised. If you're looking at setting up an adobe pdf printer, try this freeware. A simple pdf printer driver for windows vista and xp.
Portable Document Format (PDF) is the de facto standard for the secure and reliable distribution and exchange of electronic documents and forms around the world. CutePDF Writer (formerly CutePDF Printer) is the free version of commercial PDF creation software. CutePDF Writer installs itself as a "printer subsystem". This enables virtually any Windows applications (must be able to print) to create professional quality PDF documents – with just a push of a button!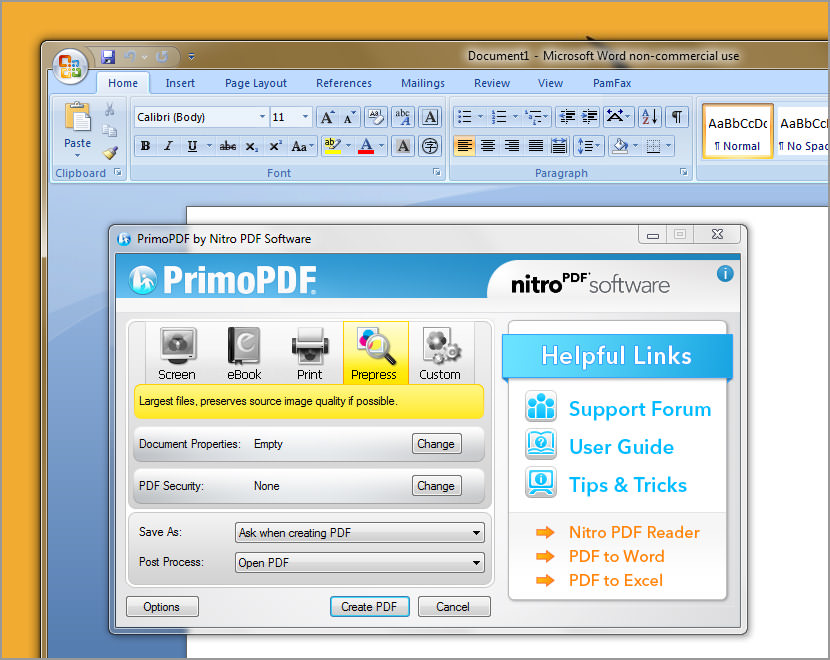 This is one of my favorite PDF printer drivers, unlike CutePDF, PrimoPDF comes with more features not found in any other freeware pdf printer in the market. It allows password protected PDF files to be plotted, provides network pdf printers and many more. It works with Windows Vista.
Create PDF using PrimoPDF – a free tool for high-quality conversion to PDF, comprising a user-friendly interface that enables printing to PDF from virtually any Windows application. Additionally, PrimoPDF provides the ability to optimize PDF output for screen, print, ebook, and prepress, secure PDF files with 128-bit encryption, and add document information (e.g. title, author, subject, keywords) to converted PDF files.
Completely free PDF creator – Create PDF files from 300+ file types.
Make 100% industry-standard PDF from any files that print.
Create PDF files optimized for print, screen, ebook, or prepress.
They created doPDF with the purpose of giving users a way to create PDF files fast and easy. This is why doPDF is the most lightweight free PDF creator in the world – no exaggerations, the setup is a mere 4MB, does not require 3rd party software (such as Ghostscript or .NET, as most of the other free PDF creators require) and barely uses any resources during conversion. By downloading PDF creator doPDF, you will be able to create PDF files for free as soon as it is installed. Here's why you have to use doPDF:
400+ document types supported – The principle is this, if a document type is printable, then doPDF can create a PDF file out of it. This is why you can convert documents such as: DOC, DOCX, DJVU, XLS, XLSX, XPS, PPT, PPTX, DOT, EML, VSD, PUB, PUBX, MPP, WPD, OpenOffice, DWG, HTML, TXT, PNG, JPEG, GIF, TIFF and many others.