There are various methods in sandboxing a Microsoft Windows System, the restore point method is useful for testing malwares and new softwares, the reboot to restore feature is useful for public computers in libraries, universities, schools, cybercafes and more, simply reboot to restore Windows to the configuration you setup. Always remember to login as admin and perform updates to Microsoft Windows and other softwares.
🤣😍😂 6 Best Registry Cleaner and Optimizer to Fix and Repair Microsoft Windows 10 Computer Errors
Every Windows since Windows 7 comes with a 'Restore Point', however, I find it not reliable, more often than not, it fails to restore to the previous point. I have yet to test the reliability on Windows 10.
Just search for Create Restore Point in the search bar for this feature. Rollback software is ideal for hotels, cybercafes, schools or those where the computer is made available for public use and will automatically reset to the original settings after a restart. Sandboxing is more for programmers or hackers to test their tools without damaging their system.
↓ 01 – Reboot Restore Rx | Freemium | Reboot To Restore Everytime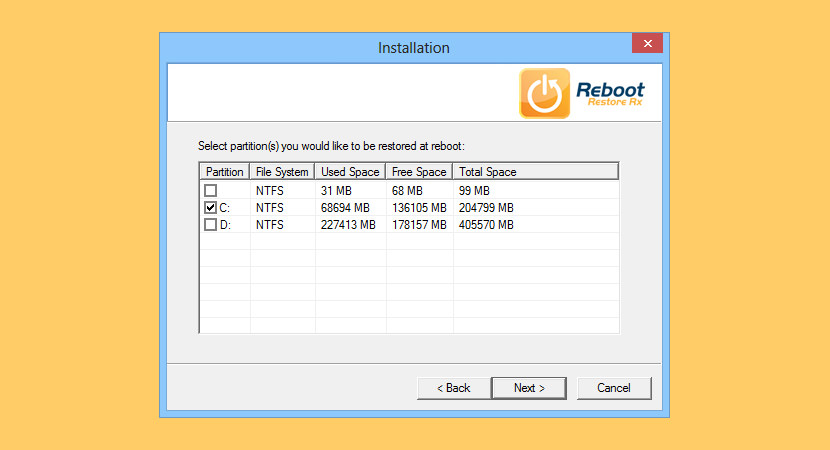 Reboot Restore Rx prevents any changes made on your drive(s) by restoring a saved baseline every time the PC boots up. It is designed for small public access computing environments such as classrooms, libraries, kiosks, and internet cafes. Even when users download files, viruses, malware, or even try to delete registry keys, Reboot Restore Rx will restore the PC back to your desired state.
Reboot on Restore – Instantly reset to the baseline on startup or hard reset.
Reduce Maintenance Cost – Drastically reduces computer maintenance, and can be used to protect tier one public access computing environments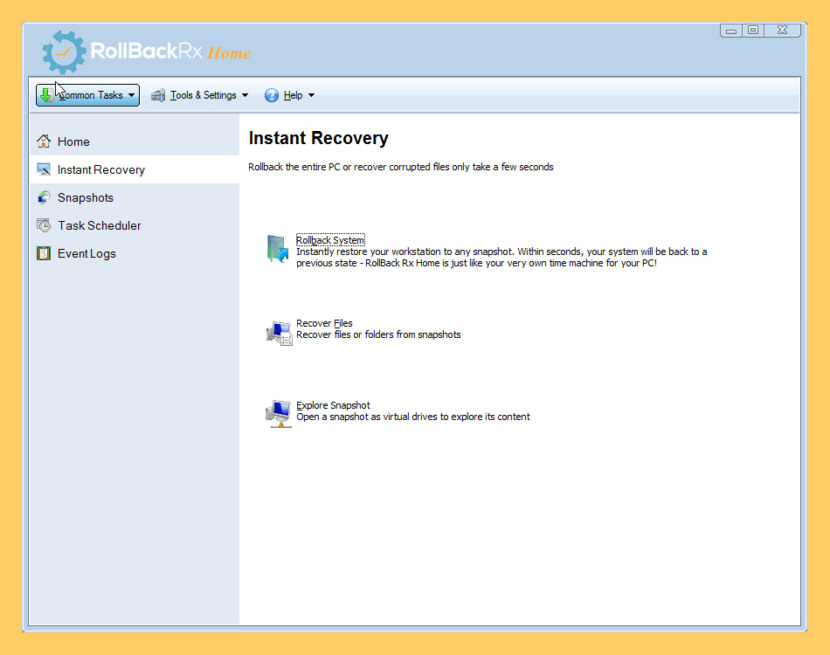 RollBack Rx Home Edition is a FREE instant time machine for your Windows workstation. It is a comprehensive Windows System Restore solution that empowers users and IT administrators to easily restore their PCs to any previous state within seconds. RollBack Home Edition helps users better manage and lockdown Windows based PCs. Works great on Microsoft Windows 10.
Instant Restore – Restore the system to any snapshot within seconds.
Disaster Recovery – Restore files and folders from any snapshot or crashed system state.
Instant Snapshots – Take a snapshot of the system within seconds (no reboot required)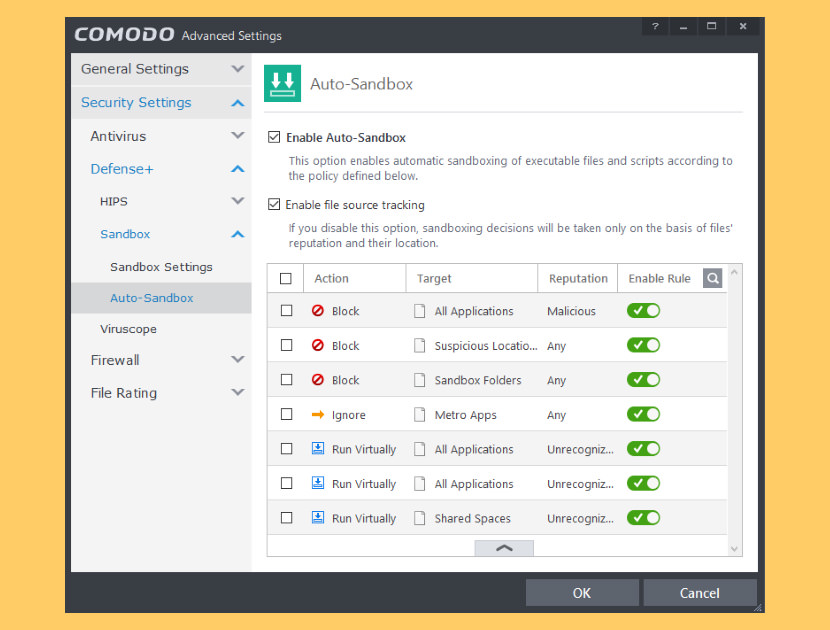 Comodo Firewall's new sandbox is an isolated operating environment for unknown and untrusted applications. Running an application in the sandbox means that it cannot make permanent changes to other processes, programs or data on your 'real' system. Comodo have integrated sandboxing technology directly into the security architecture of Comodo Firewall to complement and strengthen the Firewall, Defense+ and Antivirus modules.
↓ 04 – Sandboxie | Free | Sandboxing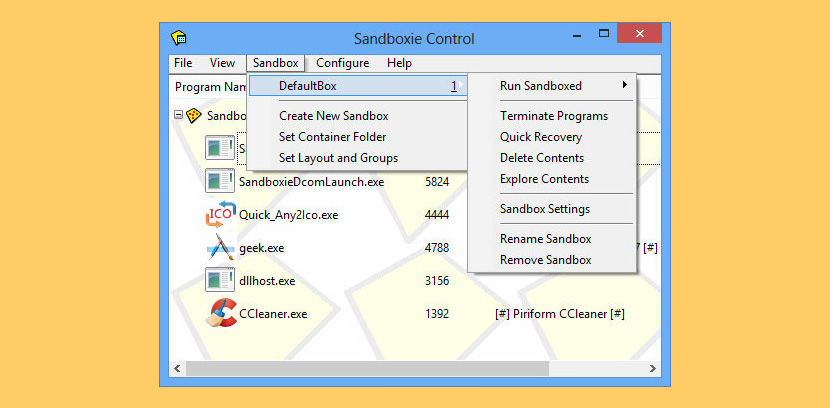 Sandboxie uses isolation technology to separate programs from your underlying operating system, preventing unwanted changes from happening to your personal data, programs and applications that rest safely on your hard drive.
Although Sandboxie is shareware it can be freely used after the 30 days trial with an annoying popup nag window on launch, it also disables a few core features after the trial. Safely test and try new programs and applications within Sandboxie and prevent unauthorized changes to your underlying system that may occur.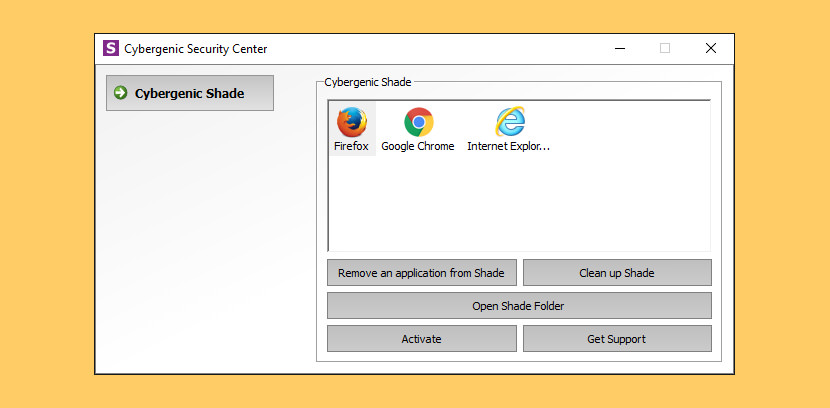 SHADE Sandbox is an alternative for antivirus and a tool for virtualization. It locally virtualizes applications (i.e. internet browsers) and locks all incoming internet files and possible viruses in its safe virtual environment – a "sandbox", keeping them isolated from the Operating System to maintain it clean from malware.
History, Cookies, Temporary Internet files are isolated from the real OS environment. Registry, Executable and System Files, and other important information is well protected from cyber-attacks and malware activity including viruses, Worms, Trojans and Exploits.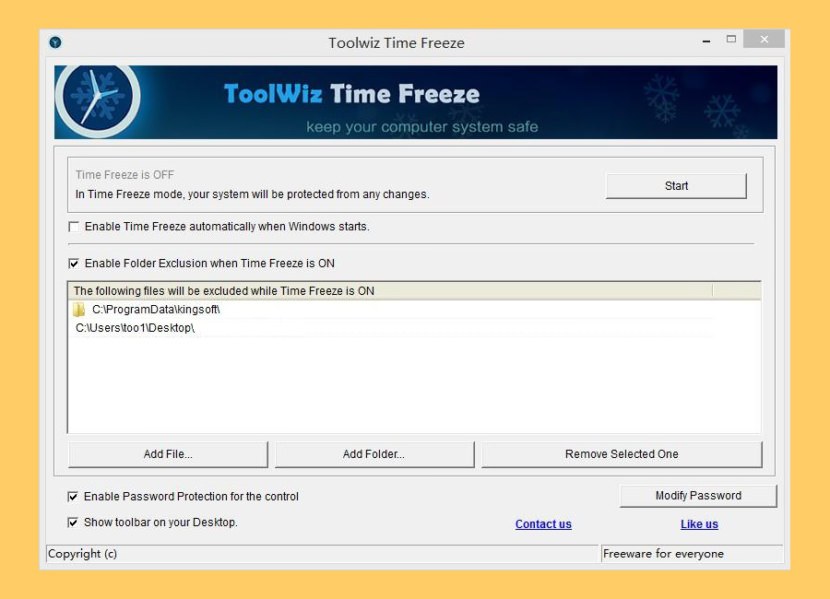 Toolwiz Time Freeze is an easy and effective Instant system restore software to keep your system safe and protect your computer from unwanted changes. Turning on the Time Freeze mode, the whole system is running in the "sandbox". Only the changes to the files in the exclusion list will be saved.
Toolwiz Time Freeze is a must have for anyone who doesn't want to make any unwanted changes to the system. No matter what changes are made, no matter what happens, a simple restart will return things to the way they were. Nothing bad can happen to your PC while Toolwiz Time Freeze is up and running.
Modifications made to the settings will be undone, files downloaded from the web will be removed, and other unwanted changes will all be undone when you restart your PC. It puts everything on ice so that no unwanted changes can be performed on your PC. You can enter the freeze mode with a simple click and quit the freeze mode with a simple restart or shut down.
Restore & Recovery – No matter what changes are made, no matter what happens, a simple restart will return things to the way they were. Modifications made to the settings can be undone, files downloaded from the web can be removed, and other unwanted changes will all can be undone when you restart your PC.
Operating System Support – Run multiple operating systems (real virtual systems) at the same time on the same PC without reboot and easily switch between them to optimize your PC resources and improve efficiency.
↓ 07 – Steadier State | Free | Reboot To Restore Everytime

Steadier State is the fastest and easiest way to restore Windows to an earlier snapshot. Each user creates files and installs programs on C:\, the PC's only hard drive. Everything that each user does affects all future users. Steadier State freezes the computer as an image and creates a snapshot of the current activity as a virtual C:\. Restarting gives the option to roll back or keep the new snapshot.
No more time wasted trying to remove difficult viruses
Give every patron a clean system every time
Perfect for lab environments where it's vital to have identical computers for each student
Give students ability to configure and learn from messing up a computer without costly downtime
Quickly reset computers to clean state in-between class periods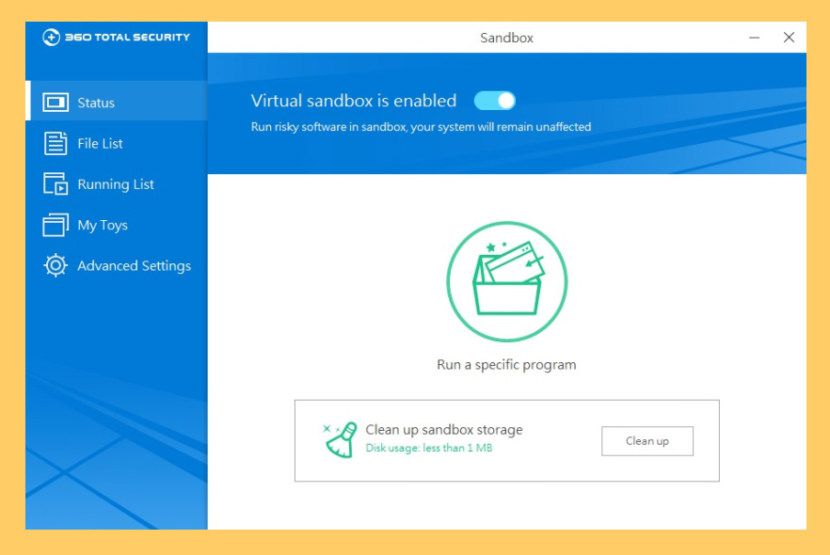 360 sandbox is a part of 360 Total Security. Suspicious files can totally be quarantined in 360 sandbox, in such conditions, which can guarantee our system is secure. In short, 360 sandbox is a totally isolated virtual space, even if there is virus or Trojan in the running applications, they won't do harm to the real computer system.
↓ 09 – R&S Browser in the Box | Not Free Anymore | Browser Sandboxing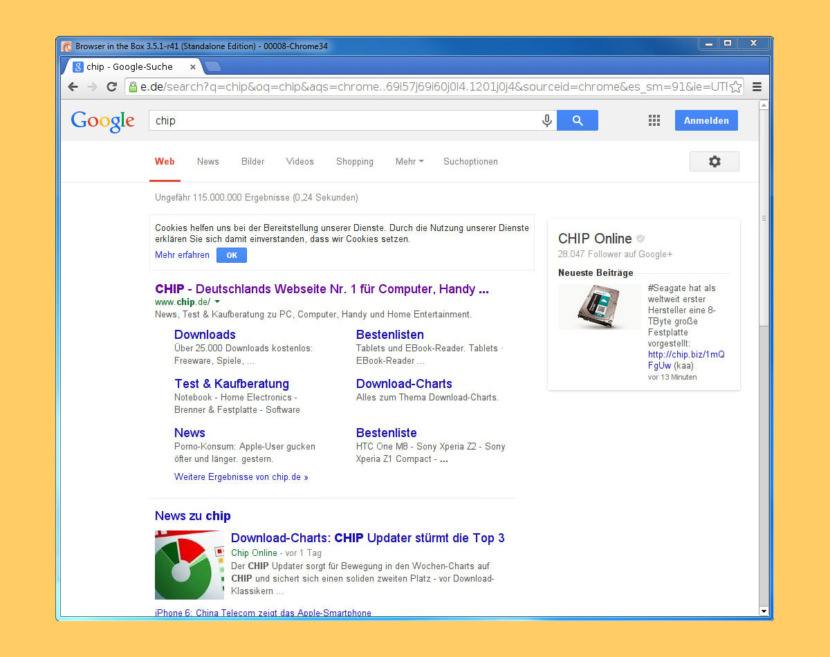 R&S Browser in the Box is the virtual surf environment "Browser in the Box" has initially been developed by Sirrix on behalf of the German Federal Office for Information Security for use by all federal authorities. Now the solution is open for anyone and enables users to surf the Internet with confidence – even when using most modern and comfortable web technologies without limitation despite otherwise usual advice.
On the basis of a "Browser-in-the-Box" concept a virtual machine is provided with a reduced operating system and a web browser encapsulated therein. Malware cannot thus penetrate the host operating system; a potential damage in the separated virtual machine will vanish with each start of the browser by returning to a certified starting point. All of that is fully transparent to the user.