Who needs a registry cleaner? If you've been using your Windows computer without formatting for 2 years, it is time to perform a spring cleaning. You'll find these freeware that scans and optimizes your registry useful. Not only can they speed up your computer, it can fix and repair some errors caused by bad registry corrupted due to bad software. If you're looking for Norton Utilities and Ashampoo Registry Cleaner alternatives, below are the complete list of free alternatives that will fix and repair Microsoft Windows 10 Computer Errors and speed it up.
🤣😍😂 4 Ways To Boost And Optimize Laptop's Wireless WiFi Signal Strength And Speed
Based on my experience, these types of system tune ups are a band aid solution to a long term problem. The longer you use your system, the more cluster it becomes. The best solution to solve this problem is to reset Microsoft Windows 10 to its original settings and reinstall all essential software.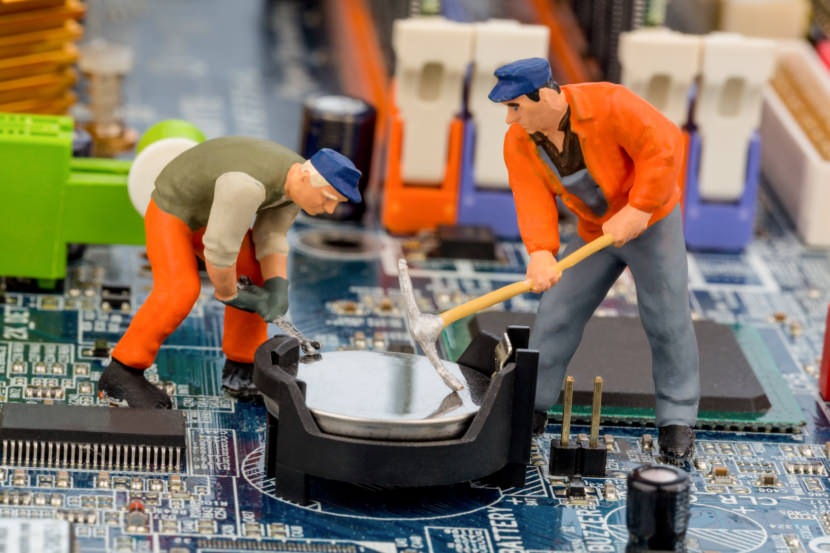 Resetting lets you choose whether to keep your files or remove them, and then reinstall Windows. To get started, go to Settings > Update & security > Reset this PC > Get started and choose an option. This is as good as reinstalling Windows.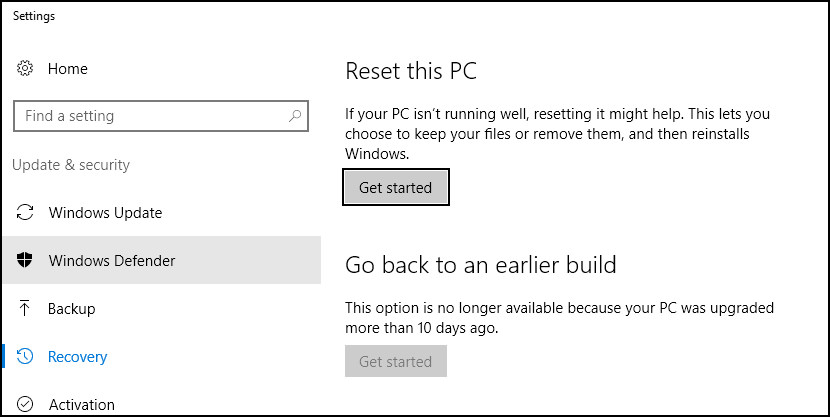 I prefer this method over these free tools when I've been using my system for more than 2 years. Do note that this free software will probably speed up your slow Windows system by a few percent, the best way forward is to upgrade the RAM and graphic card. The proper way to delete the Windows.old folder:
Step 1 – Search for "Disk Cleanup" via Windows Search.
Step 2 – Click "Clean up system files".
Step 3 – Check "Previous Windows installation(s)" for files to delete and then click ok to remove the folder.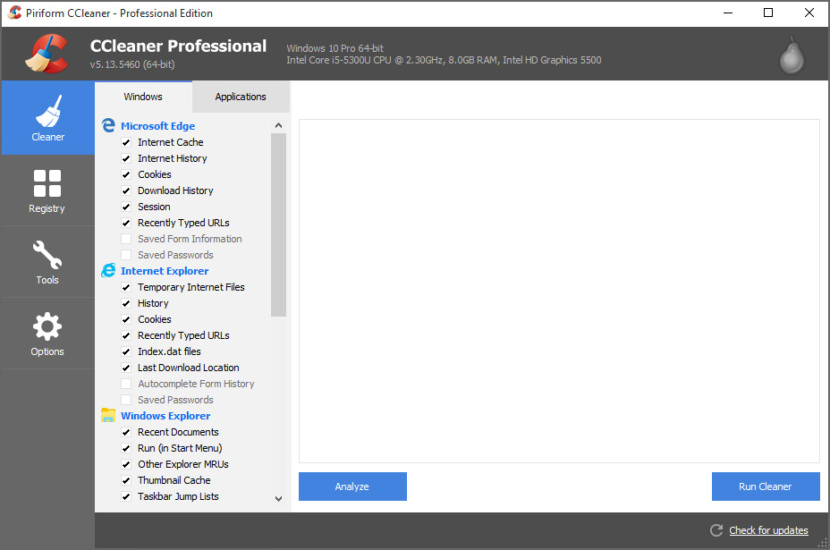 CCleaner is the number-one tool for cleaning your Windows PC, perhaps the best. Perhaps one of the best of the best I've tried, it protects your privacy online and makes your computer faster and more secure. Easy to use and a small, fast download. Compatible with Microsoft Windows XP, 7, 8 and 10.
Faster Computer – Is your computer running slow? As it gets older it collects unused files and settings which take up hard drive space making it slower and slower. CCleaner cleans up these files and makes it faster instantly.
Fewer Errors & Crashes – Over time your registry can become cluttered with errors and broken settings which lead to crashes. CCleaner's patented registry cleaner clears out this clutter to make your PC more stable.
Quicker Startup – Many programs run silently in the background when you start up your computer. CCleaner helps you get to work, or play faster by letting you disable unneeded programs.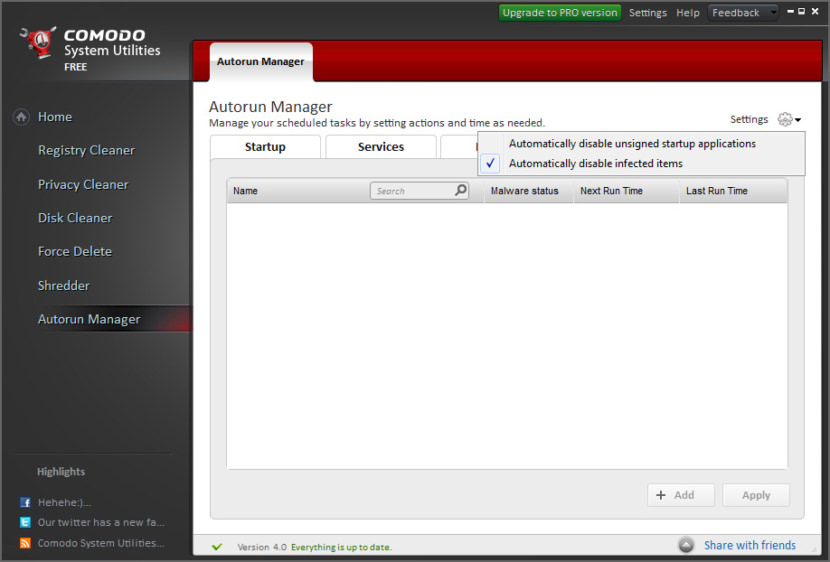 Comodo System Utilities is one of my favorite registry cleaners, it is here to help you! Not only does it identify, remove or repair any corrupted Microsoft Windows entries, it also removes clutters to free up space and improve performance. Reach deep into your PC and destroy all space-wasting junk! Designed with you in mind, our user interface is so easy to understand it practically shows you how to clean your computer.
Automatically Clean – 'Active Clean' runs in the background and fixes registry errors in real-time – so your PC is always up to speed.
Safety First – SafeDelete™, our unique failsafe feature, makes accidental deletions a thing of the past.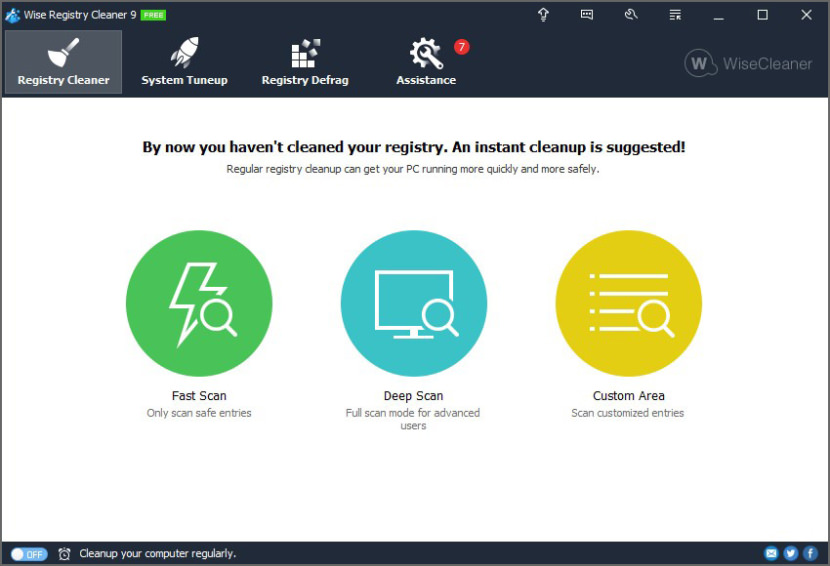 Yet another amazing Windows registry cleaner, the Wise Registry Cleaner can locate and correct problems in the Windows registry, such as missing references to shared DLLs, unused registration entries for file extensions, and missing referenced application paths.
Fix Registry Problems and Boost Your PC Performance – The registry keeps growing when you use Windows, so do the obsolete items in the registry, which would eventually lead to performance degradation and even system crash. Wise Registry Cleaner scans the Windows registry and finds errors & residual items in the registry and then cleans or defrags them. By fixing these residual and corrupted items in the Windows registry, your system will run faster and more stable.
System Tune-up Optimizes System Settings for Better Performance – Other than cleaning up and defragging the windows registry, Wise Registry Cleaner can also optimize relevant system settings to improve both system speed and internet speed. After one-click optimization, you will see some improvement in your PC's performance.
↓ 04 – JetClean | Free | Windows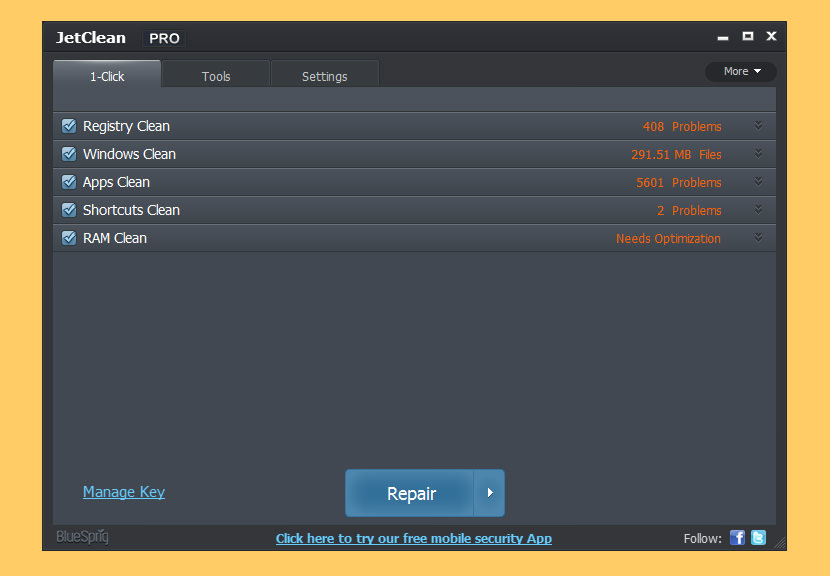 With a single click, JetClean gives you that fresh, new PC feeling again! Lightweight and easy to use, JetClean removes system junk files and improves your PC performance. Further cleans your system and releases more hard drive space. Removes temp files and recent file lists (MRUs) from many apps, including Windows Media Player, eMule, Google Toolbar, Microsoft Office, Adobe Acrobat, WinRAR, WinZip and many more …
One-click Clean and Tune-up – Cleans junk files and unneeded registry entries to improve the performance of your PC by one simple click.
Fast and Powerful Windows Clean – Swiftly locates and deletes any junk files that may exist in Recycle Bin, Recent Documents, Temporary files, Log files, Clipboard, DNS Cache, Error Reporting, Memory Dumps, Jump Lists.
More Stable Windows System, Less Crash – Reduces system errors and crashes by safely taking out all unused and old registry entries.
Light, Easy-to-use, and Reliable – Takes up very little space in your computer, but offers great computer clean and fine-tune functionality in a reliable way.
Improves PC Performance – Better PC performance for your work or gaming. Gives you the new computer feeling again.
Faster PC Startup and Program Launch – Helps speed up PC startup by rearranging applications that launch together with Windows. Shuts down programs that may slow down your system.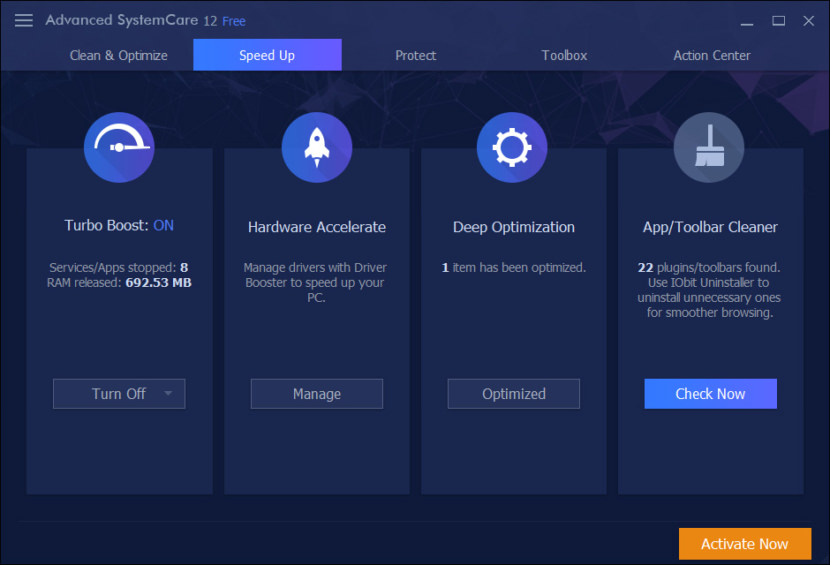 Advanced SystemCare 7 Free does more than just cleaning, it is the real performance booster for your Registry, system, and Internet. It also optimizes, cleans, and fixes all kinds of PC problems with just 1 click. iobit is very well known for their reliability, I highly recommended this registry cleaner. Free Optimization Software to Speed Up PC and Clean Registry. Over 250,000,000 Users' Choice for Cleaner, Faster PC. One-Click to Optimize PC & Protect Privacy in Real Time
Free Optimize for 300% PC Speedup – Advanced SystemCare Free is the best free optimization software for PC speedup, PC clean and registry clean under Windows 10, 8, 7, Vista and XP. With its help, users can clean up all kinds of junk files, sweep private information, and accelerate internet speed to enjoy a faster & cleaner PC. What's more, new Startup Optimization module of Advanced SystemCare 10 can quickly scan startup items. This new feature works effectively in disabling unnecessary startup programs to boost startup time. Download it now to free from slow PC!
Monitor RAM, CPU & Disk in Real Time – Users speak highly of Performance Monitor once it was adopted. To expand its functionality and serve users better, New Resource Manager is added. Via Resource Manager, user can not only monitor RAM, CPU & Disk conditions of their PCs in real time, but also quickly end multiple tasks to release more space and make PC runs smooth & fast.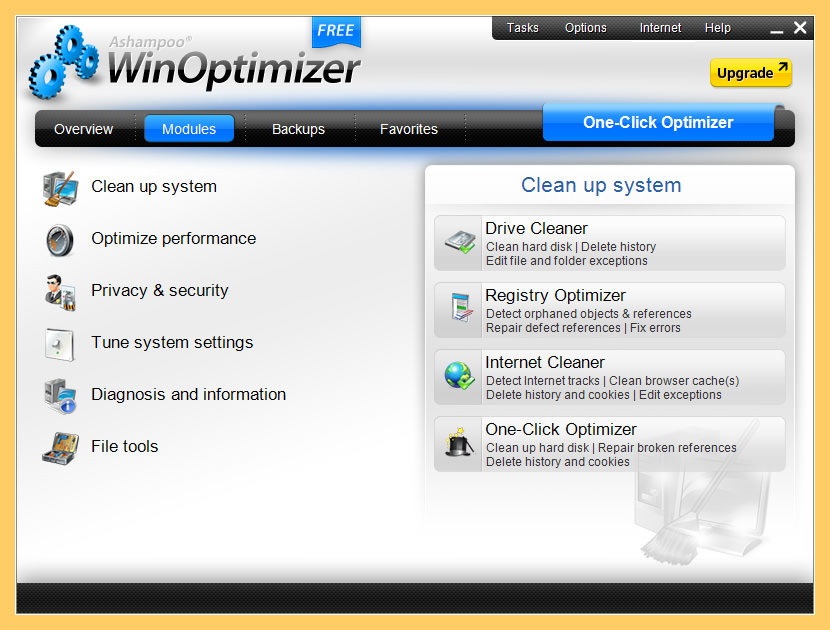 Built with 11 years of Windows optimization experience: Ashampoo WinOptimizer Free is out now and available for free. Microsoft Windows may have got more advanced but the need for effective maintenance is greater than ever. If you don't house clean your computer system regularly the digital garbage that collects over time makes it slower and can even cause inexplicable errors – usually when you need them least.
With the reliability of 11 years of experience, Ashampoo WinOptimizer Free makes Windows maintenance fast and easy. It keeps your Windows computer running as fast and smoothly as on the first day you bought it. In addition to efficient Windows maintenance you also get a whole suite of powerful, easy-to-use tools that enable you to configure and tune your Windows computer so that it works exactly the way you want it to.
↓ 07 – MacClean | Free | macOS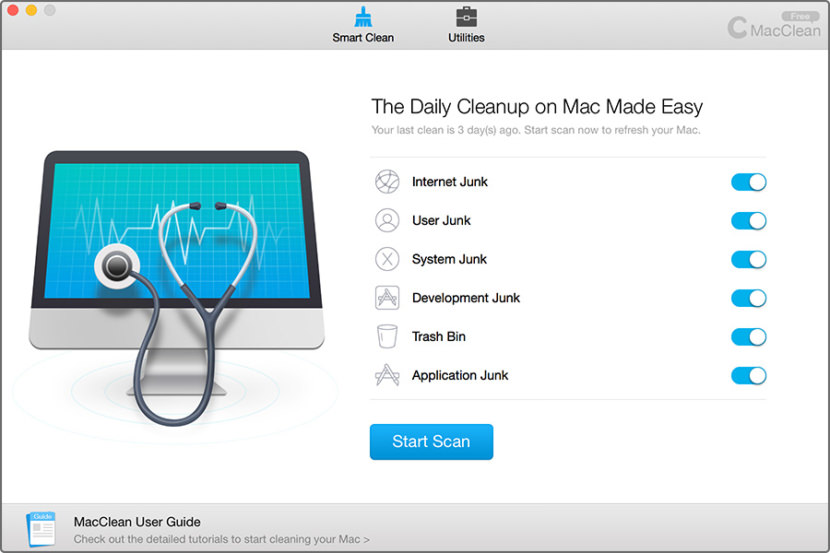 MacClean 3 comes to initiate a new round of spring cleaning on your Mac with great technology and services. In addition to your familiar Mac cleaning and OS system maintaining features, it now arms with privacy and security protections to give you a state-of-the-art Mac experience, still for free.
Clean up and free up space on your Mac, all at one go.
Protect all your Internet activities from spying eyes.
Wipe out malicious cookies on your Mac to eliminate hidden dangers.
Secure your privacy on Mac with no tail left.
↓ 08 – Reg Organizer | Free 30 Days | Windows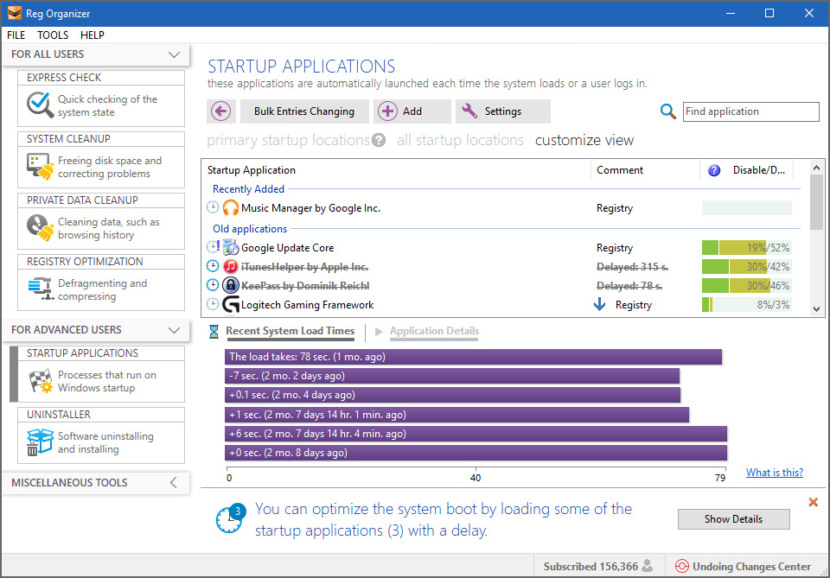 Reg Organizer® is a feature-packed program that provides integrated services for Microsoft Windows XP – 10. The software speeds up and optimizes your operating system, freeing up additional system resources.
The utility allows you to remove unwanted programs from the system and search for traces of the uninstalled program. If there are "heavy" programs that run automatically on start-up in your Windows operating system, disabling them in an advanced startup manager can in some cases speed up the boot time and operation of your operating system. The disk cleanup feature frees up space on your system disk. And this is only part of the features in the utility.
Built-in advanced software uninstaller featuring search for leftovers of the uninstalled programs in the system.
Provide quick access to all of the programs that are automatically started when you turn on or logon to your computer. Using Reg Organizer, you can inspect, edit, or disable such programs.
System and Privacy Cleanup tools lets you automatically remove unnecessary and private data from your system.
Ability to change many undocumented Windows settings (tweaks). In particular, it can accelerate the work of your system by sending the system a command to increase cache memory size or by unloading unused libraries, etc.
Registry editor for viewing and editing the system registry, manipulating the registry keys and values, exporting, importing, copying them, etc.
Registry search feature can find all keys related to a certain application and delete them, if necessary. This feature can be useful if you manually delete some application that has no uninstall feature. In this case its keys can be left in the registry interfering with the normal operation of other programs. Reg Organizer provides the deepest search and can often find even those keys, that wouldn't be identified by other similar programs.
Defragmenting and compressing the registry: Increase the performance of the registry and consequently the overall performance of your system.
Ability to get information about any selected registry key and monitor changes of the specific keys.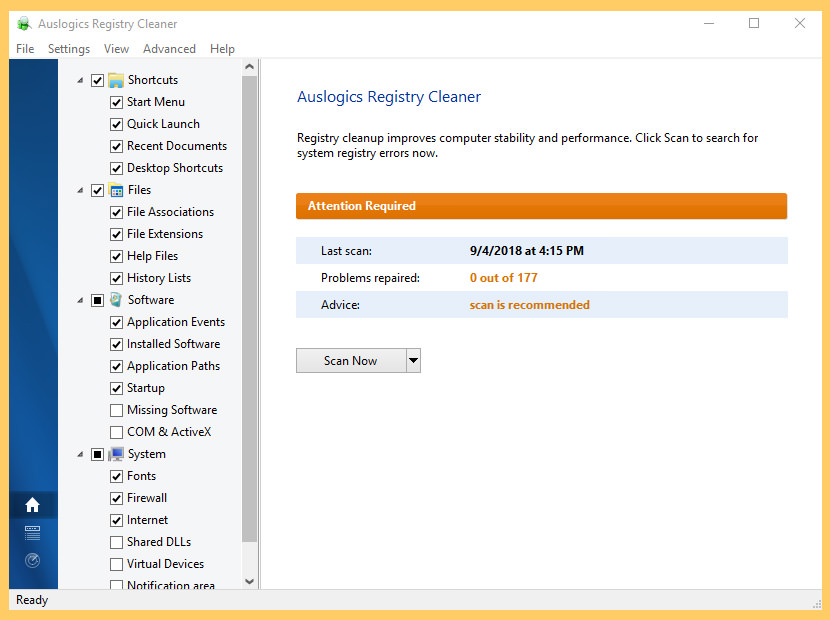 The best tool to safely and effectively clear invalid entries from your Windows registry and get your PC running smooth again. Registry Cleaner will clean, repair and optimize your Windows registry to eliminate errors and crashes, and to restore smooth and stable operation, so your PC will stop giving you headaches and be usable once again.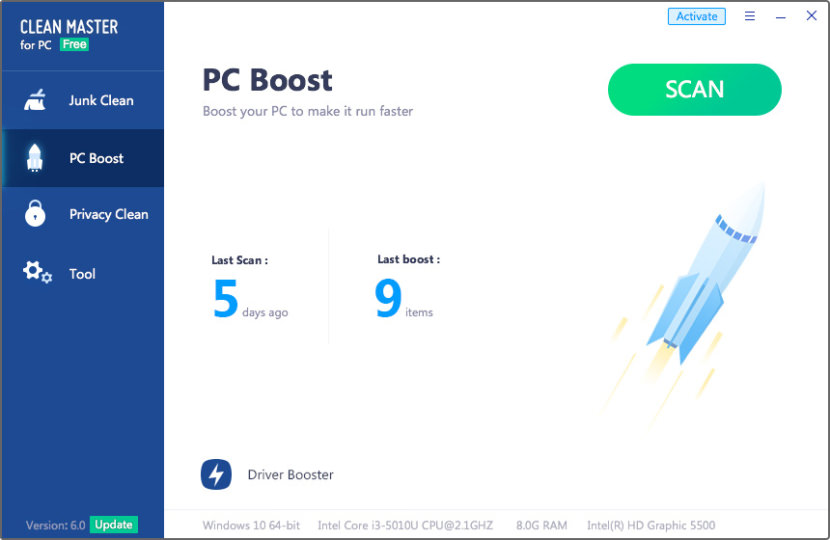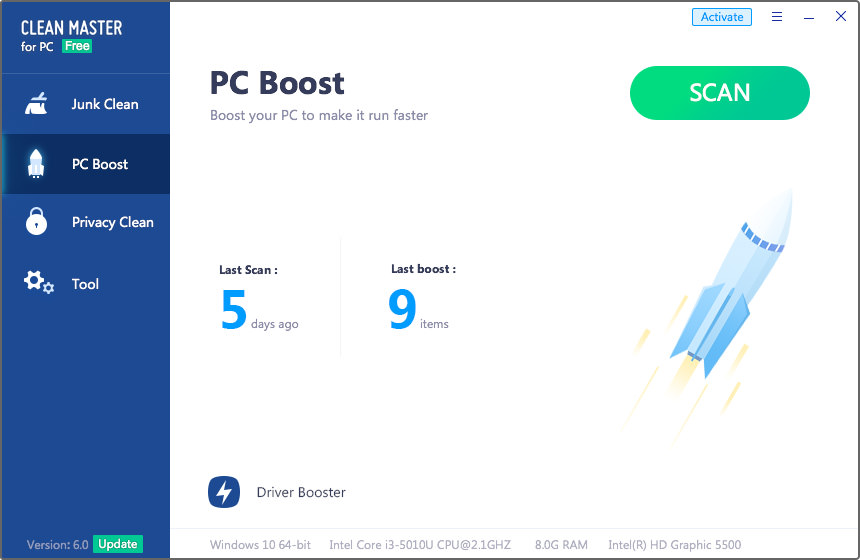 Clean Master is an all-in-one cleaner software for Microsoft Windows 10, it is used for cleaning cache, unused files, residual files, search history and uninstalling apps. With this app users can also Kill running Tasks and release more RAM to boost your phone performance and save battery life without granting superuser permission.
Junk Clean – Clean system, residual, and registry junk files to completely free up your storage.
PC Boost – Optimize PC, improve speed, and resolve all lagging issues.
Privacy Clean – Fix privacy risks, block unwanted access, and resolve privacy disclosure risks once and for all.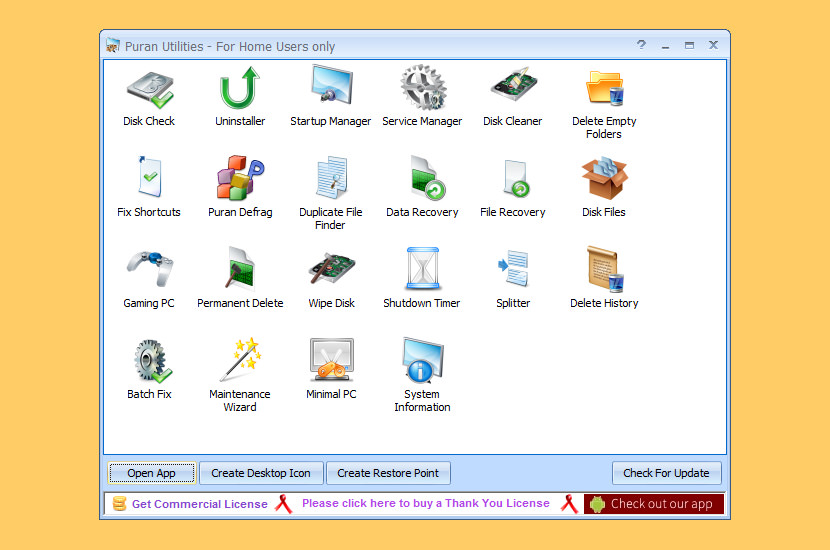 A set of more than 20 software utilities including but not limited to utilities that can help you get the best performance out of your computer. It also provides an automatic and a one click solution to keep your computer clean and error free.
Gaming PC – Helps you to create a Gaming Environment on your PC to give your games/apps best of your computer.
Batch Fix – Helps you to automatically keep your system clean and error free by running selected utilities.
Puran Registry Cleaner – Helps you to clean Windows registry for better performance.
Puran Registry Defrag – Helps you to defrag and compact Windows registry for better performance.
Puran Defrag – Helps you to automatically defrag and optimize your hard disk drives.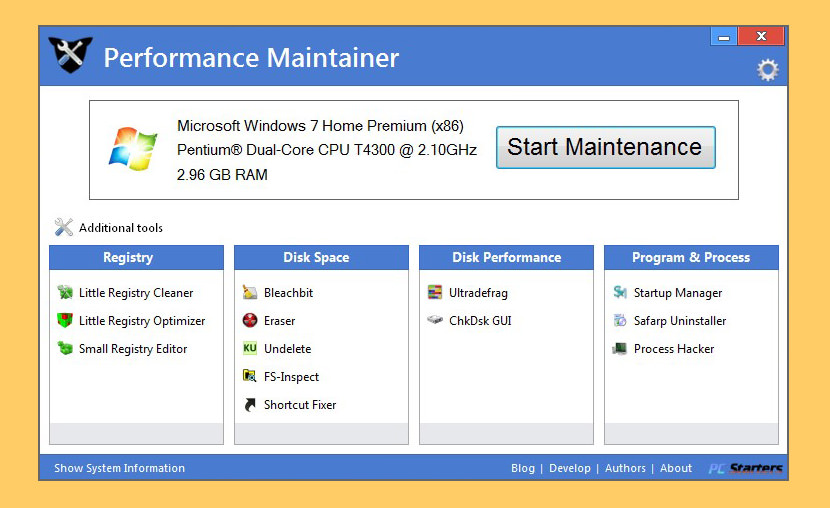 Performance Maintainer has combined open source tools such as Little Registry Cleaner, Bleachbit and ultradefrag that run periodically for PC maintenance and performance. It is very simple and automated. Regularly Maintain your PC with Performance Maintainer. Performance Maintainer enables full potential of your PC by regular maintenance of Disk, Registry and Processes.
Clear Windows Registry Errors
Free disk space and improve privacy
A powerful disk defragmentation tool
Optimizes Windows Background Services
Compacts the Windows Registry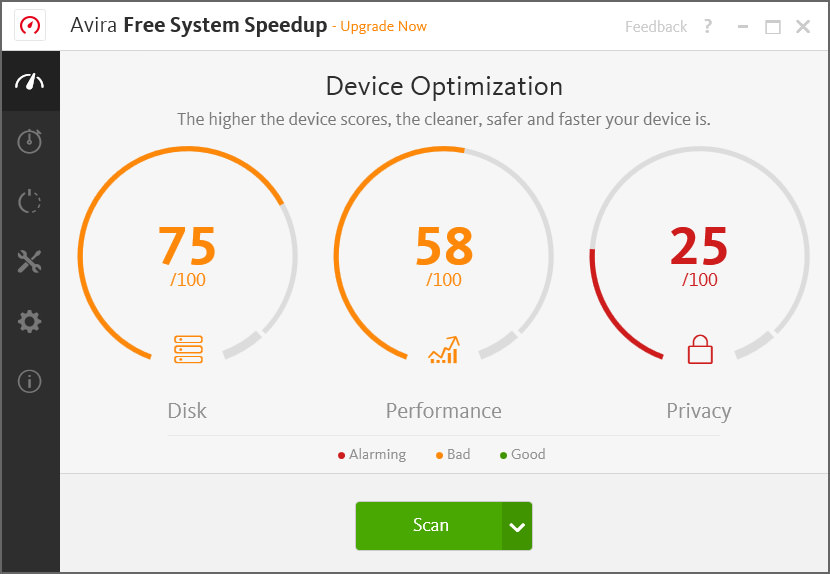 How does your PC score on disk space, speed, and digital privacy? Find out and optimize your performance across all 3 categories with just one click. Free System Speedup analyzes your startup speed, shows you its evolution over time, and makes you faster with one click. Additional speed gains are enabled by our premium version.
Have more space – Free System Speedup offers you an initial optimization of junk files and cookies, and helps clear your digital traces. A full optimization is offered when upgrading.
Enjoy a longer lasting battery – Our Battery Booster extends your power charge. More power-saving options are available when upgrading.
↓ 14 – AVG TuneUp | Free 30 Days | Windows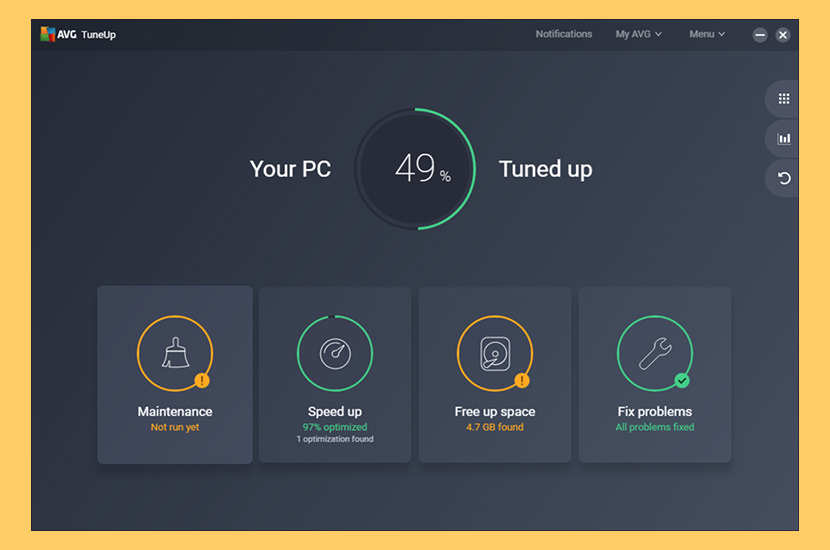 Speed up, clean up and fix your PC with our advanced PC performance optimizer. Make your old PC live longer — and your new PC run faster — with AVG TuneUp. Our PC optimizer comes with revamped Sleep Mode technology to boost your PC speed and performance, and Disk and Browser Cleaners that free your storage space.
Cleans your registry automatically – If you want your Windows operating system to work as it should and avoid errors and crashes, let AVG TuneUp identify issues in your registry and fix them automatically.
Cares for your PC with Automatic Maintenance – Our automatic maintenance cleans up browser traces, tracking cookies, cache files and program leftovers for more disk space.
Remove bloatware and junk programs – Old unnecessary programs, toolbars and trial versions, software that came preinstalled in your PC… they take up space and can cause trouble down the road.
Deep-clean your hard drive with Disk Cleaner – From installer files to the cache. From old backups to temporary system files. They've fulfilled their purpose, but now they're just dead weight — so we clean them up and make space for the stuff that really matters.
Surf lighter and faster with Browser Cleaner – Temporary data and online leftovers? Gone. We remove the files that Internet Explorer, Chrome, Firefox, etc can't get rid of by themselves. The result? A lighter, faster, less buggy browser.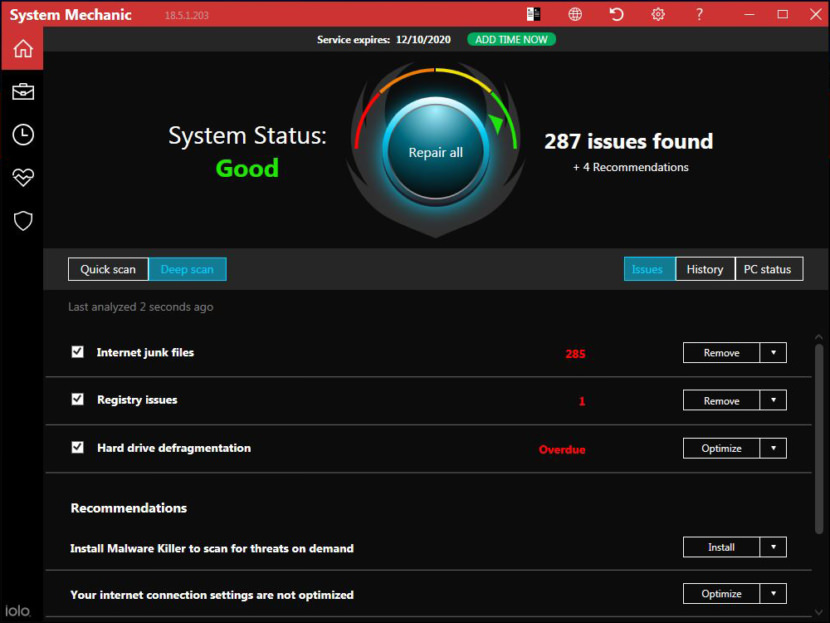 Fix & Speed Up Your PC Automatically, automatically increases the speed and availability of CPU, RAM and hard drive resources when you launch high-demand apps for the smoothest gaming, editing and streaming. Finds and fixes over 30,000 different problems using intelligent live updates from iolo Labs™ to keep your PC stable and error-free.
System Mechanic now offers two scan modes: Quick Scan and Deep Scan. You may choose Deep Scan mode by clicking the Deep Scan button. A deeper system analysis will begin. Automatically optimizes hidden Windows Internet settings for faster downloads, snappier page loads, less buffering, improved video quality and smoother gaming.
↓ 16 – jv16 PowerTools [ Not Free Anymore ] | Free 60 Days | Windows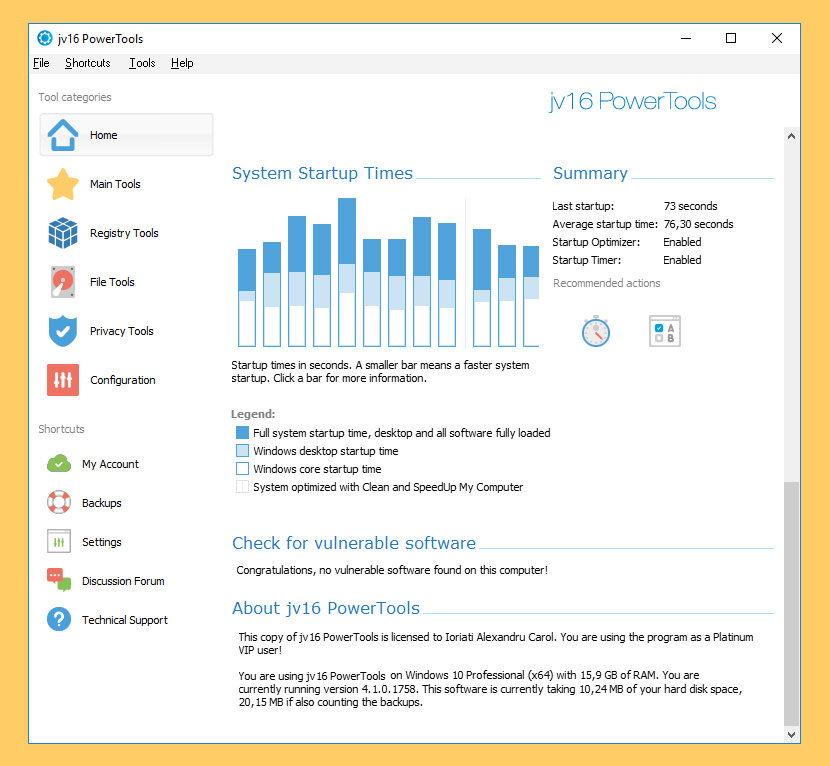 PowerTools Lite is the ultimate, freeware registry cleaner and software uninstaller. It cleans the Windows registry from left-over data and fixes registry errors, PowerTools Lite also immunizes your computer so you, or any software in your system, cannot access known malicious websites. And oh, it's freeware, which means you don't have to pay anything to use it. Ever. jv16 PowerTools is a PC System Utilities Software that works by cleaning out unneeded files and data, cleaning the Windows registry, automatically fixing system errors and applying optimization to your system.
Clean And Speedup My Computer makes Windows fast(er) – Clean And Speedup My Computer is a one-click solution for fixing registry errors and system errors in general, cleaning registry leftovers, as well as unneeded files such as old log files and temporary files.
Startup Optimizer – The Startup Optimizer has been designed to improve the speed of Windows startup to make your computer boot up faster.
Software Uninstaller – The Software Uninstaller can uninstall almost any software, as well as detect and remove any left-overs other software can't!
↓ 17 – Baidu Cleaner [ Discontinued ] | Free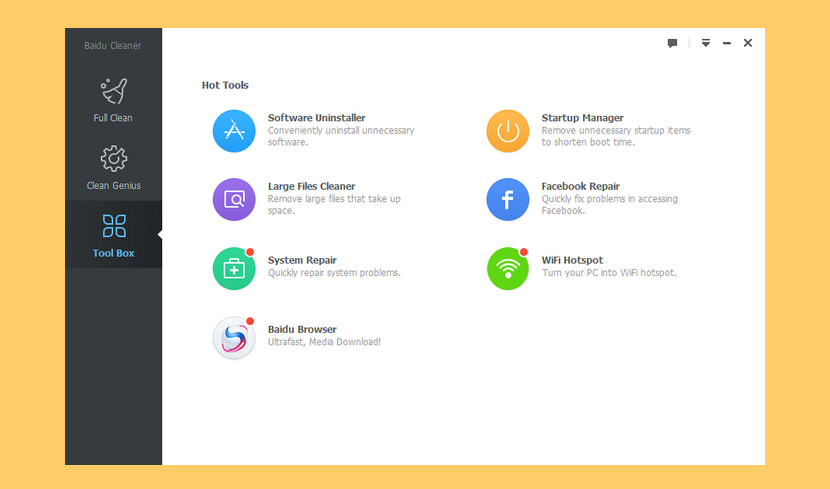 Baidu Cleaner is the most powerful PC optimization tool in the world. It offers comprehensive cleaning, and a smart junk cleanup reminder system. Baidu Cleaner also has the ability to detect leftover files that remain on your hard drive after uninstalling programs, and can help you fully remove unwanted, bundled software.
Intelligent Maintenance – Detect your PC's problems intelligently in real-time. Get reminded when it's time to clean. It's the smart PC maintenance software you deserve.
Software Uninstaller – Auto-detect bundled software and malicious software and uninstall it in seconds. Manage all of your software conveniently and keep your PC ultra-clean.