How to make Microsoft Windows boot even faster? Apart from adding more RAMs and upgrading the processor, these free startup managers can shave off a few seconds from your average boot up time. Every time you start Windows a lot of programs starts automatically making Windows really unresponsive for minutes, the solution is to disable or delay auto-start programs
🤣😍😂 16 Free Deep Registry Cleaner – Optimize & Boost PC Speed
With a startup manager, you can choose which processes delay (or disable) at Windows startup! Also you can decide after how many seconds you want to start them and the delay between each execution! This simple solution is noticeable especially on slow PCs like netbooks or older PCs. It is also good at hunting down unnecessary programs that insert itself into the boot up list, such as iTune or Bonjour that are not needed unless you use Apple's product.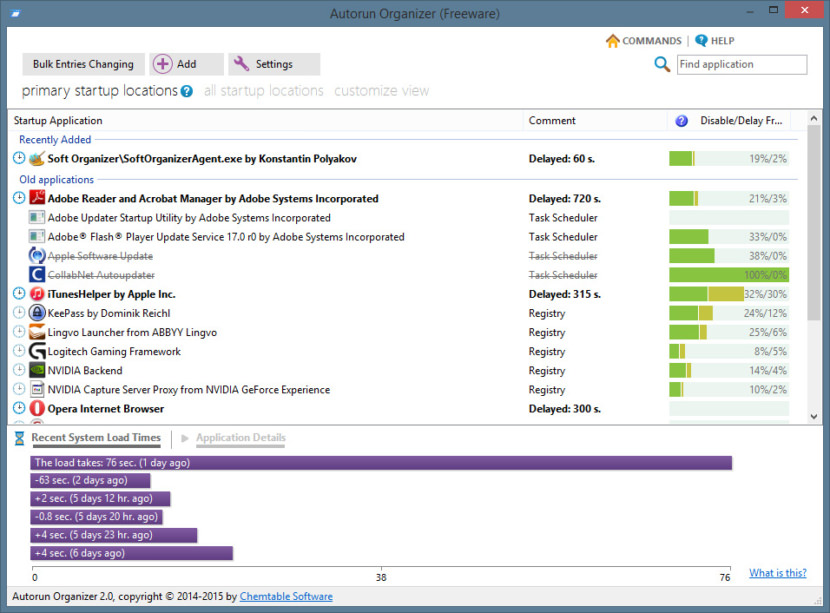 Autorun Organizer is a free startup manager for Windows. Options include: disabling startup entries, custom startup delay for each startup entry, virus scan for each startup entry, undo options for changes made to startup entries, and more.
Speeds up the Windows start & performance
Checks each element for viruses (more than 60 antivirus programs)
Shows a boot up time diagram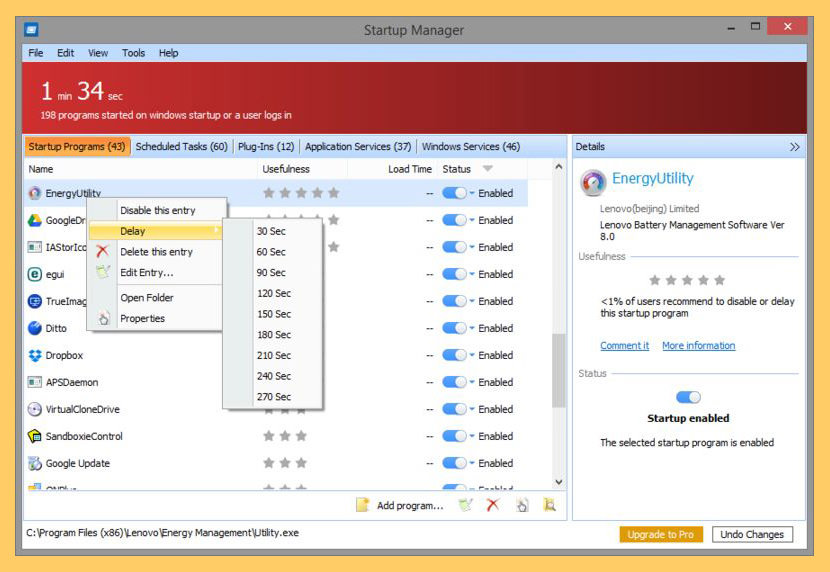 When you turn on your computer certain applications, drivers, and services are automatically started at the beginning of each Windows session. The information that tells Windows to automatically start these items can be located in a number of places, ranging from a program group on your Start Menu, to certain initialization files that are executed when Windows starts, to one of many places in the system registry. Quick Startup lists every program that starts running when we turn our computer on. With each, we were given a simple one-click option for delaying it.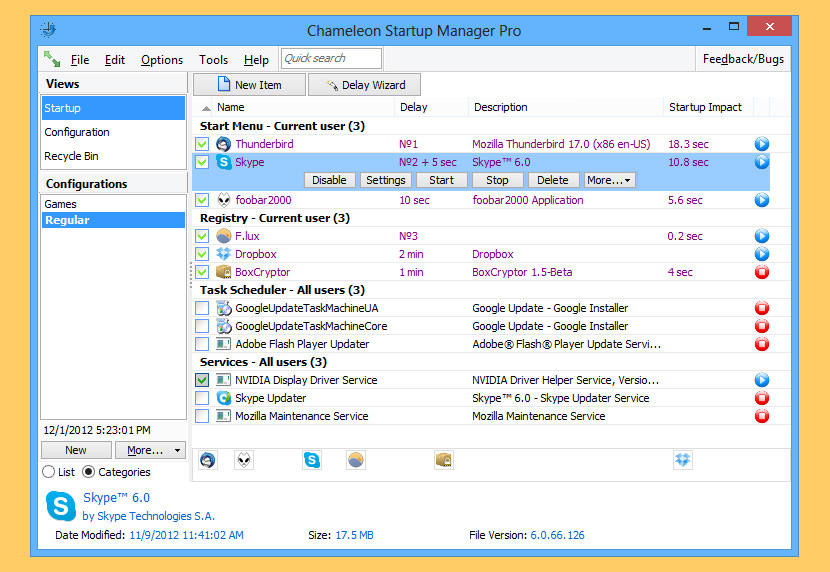 Chameleon Startup Manager can control programs that run at Windows startup, which makes Windows start faster and operate with increased stability. Programs can be run according to various functions including startup order change, startup delay, priority, consecutive program launch, day selection and much more.
Chameleon Startup Manager also offers program launch options with fixed or automatic delayed startup, allowing the computer to be started as quickly and smoothly as possible. Configurations can be created and selected at Windows startup or applied 'on-the-fly' without restarting Windows.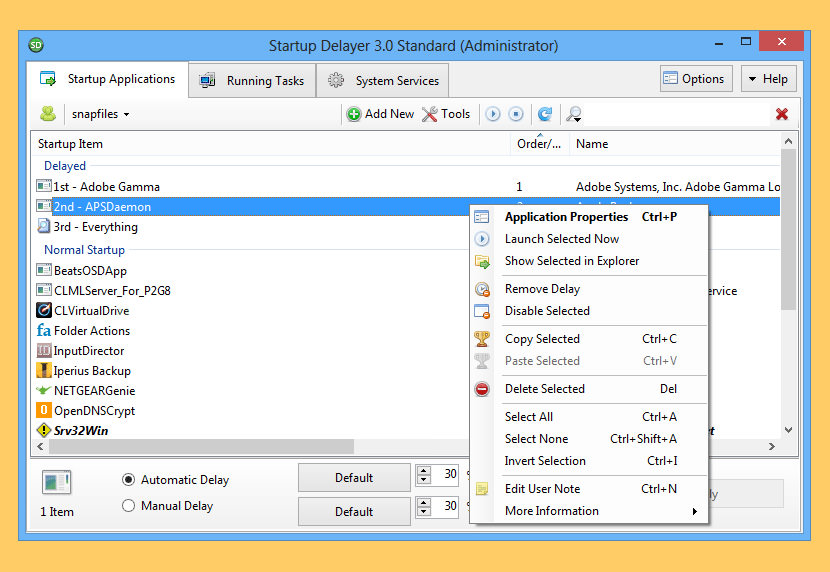 Startup Delayer gives you the power to optimize your Startup Process by delaying applications from starting up as soon as you log into your computer. By delaying the applications during start up, your computer becomes usable a lot faster.
Startup Delayer will then start launching your delayed applications when your computer is more idle. Startup Delayer is available in two editions. Standard and Premium. Standard is free, while Premium has a small cost associated.
Automatic delay engine – Automatically launch applications when your computer CPU and Disk are Idle.
Advanced launch options – Launch on specific days, only if an internet connection is available, modify priority, force highest privileges and wait for user confirmation.
Backup & Restore – Create Backups of your Startup Applications and restore them with ease. Backups are automatically created whenever you install a new version of Startup Delayer.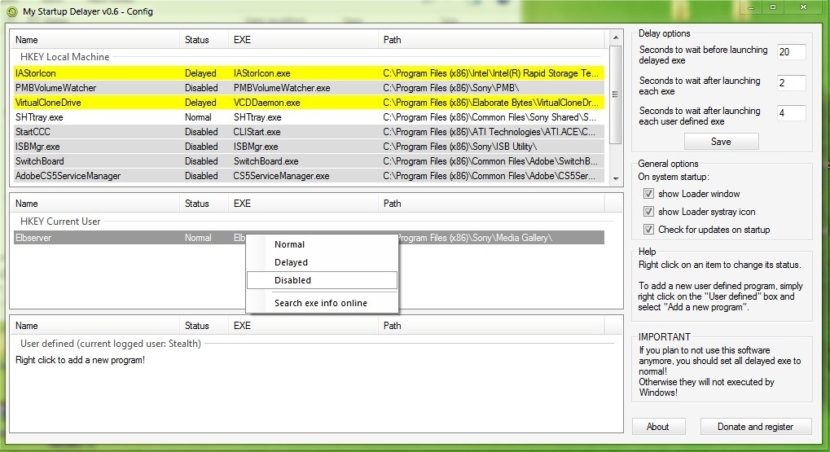 Improve the loading time of Windows by delaying the startup of programs! What is the difference between using our software instead of the Windows "Startup" menu? Well Microsoft Windows launches All the software simultaneously making it really slow and unresponsive. My Startup Delayer launches them one by one (you can set the seconds to wait after each execution).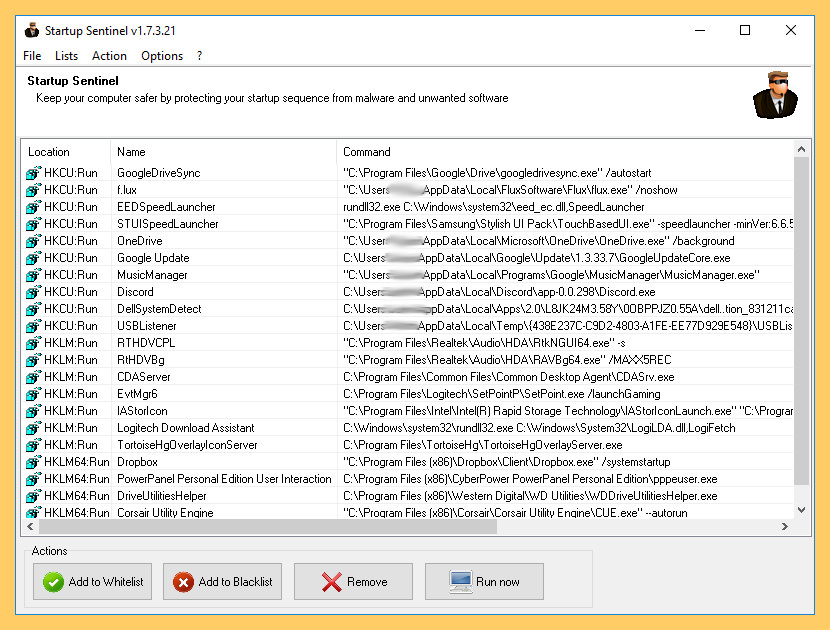 Startup Sentinel (a.k.a. SuS) makes your PC startup faster and more secure by giving you full control on loaded software. Every single program added to your startup sequence is detected on the fly and can be approved, rejected or blacklisted (for further automatic rejection by SuS)
Automatic detection of startup software
Whitelist of trusty allowed software
Blacklist of malware or unwanted software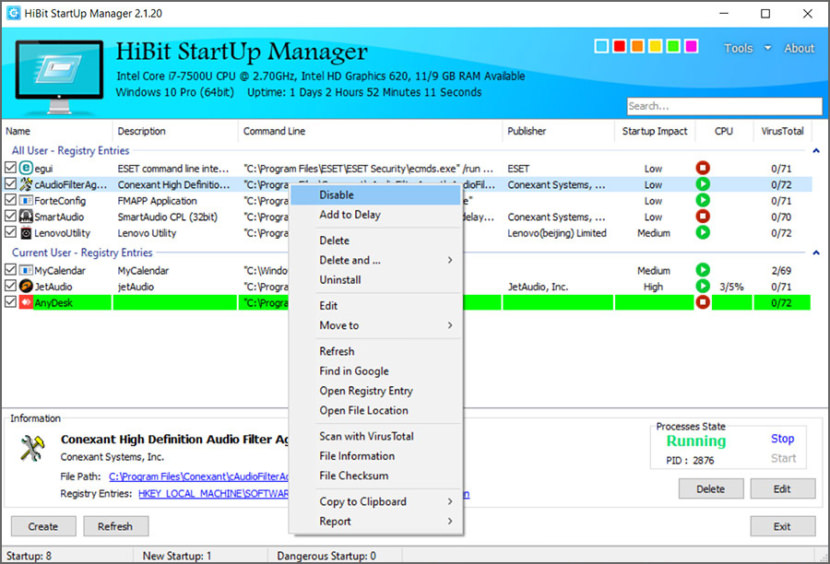 HiBit Startup Manager is a powerful Startup utility that manages auto start programs by adding or removing apps, editing their properties and also Manage process, services, task scheduler and context menu. Manage the List of All Applications that are Loaded Automatically When Windows Starts Up.
Improves computer startup speed
Full control over the Startup
Monitoring of the Startup
Backup of The Startup
Delay the Launching of Startup Apps
Solve annoying error messages when the system load
↓ 08 – WinPatrol [ Discontinued ] | Free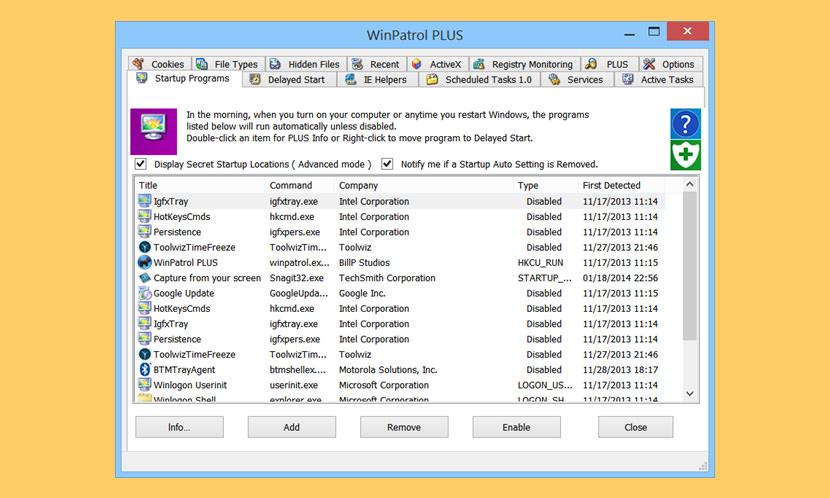 WinPatrol is a great free software to have installed on your Windows computer, as it keeps a watch on it, as well as lets you make changes to it quickly. You can use WinPatrol for setting the time delays too.
Under the Startup Programs tab, select the program startup which you wish to delay and right-click on it and select Move to delayed start program list. Now select the Delayed Start tab and select this program. Clicking on Delay Options, you will be offered various Delay startup options.