How to dual-boot Linux and Windows on the same hard disk? Typically a computer will have a single operating system installed on them, for those that want to dual-boot multiple OS such as a combination of Windows and Linux, you will need to make some changes and enable the option to choose which OS to boot from during startup.
🤣😍😂 3 Free Boot Camp Alternatives – Run Windows Applications And Games On macOS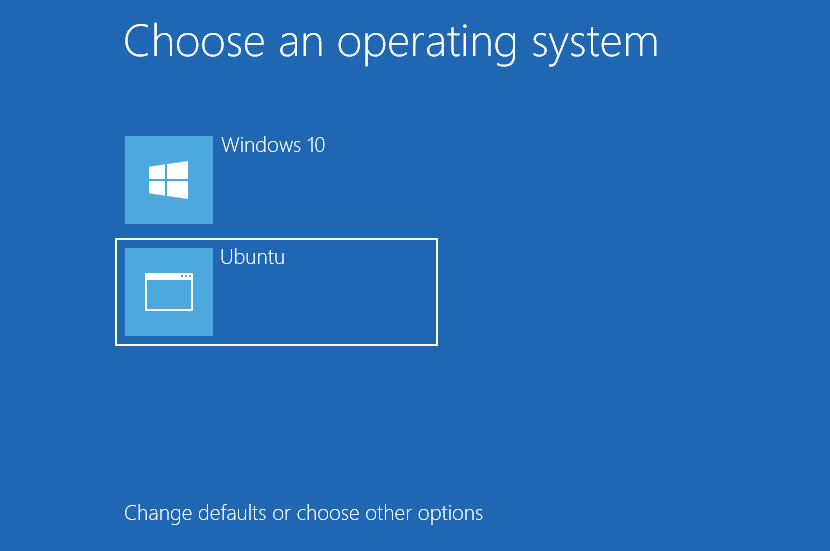 You can install 2 operating systems provided that you partition your SSD or Hard Disk into 2 drives. When you install a Linux distribution, it typically installs the Grub boot loader. Grub loads instead of the Windows boot loader at boot time if Windows was already installed, allowing you to choose the operating system you want to boot by modifying the Boot Configuration Data.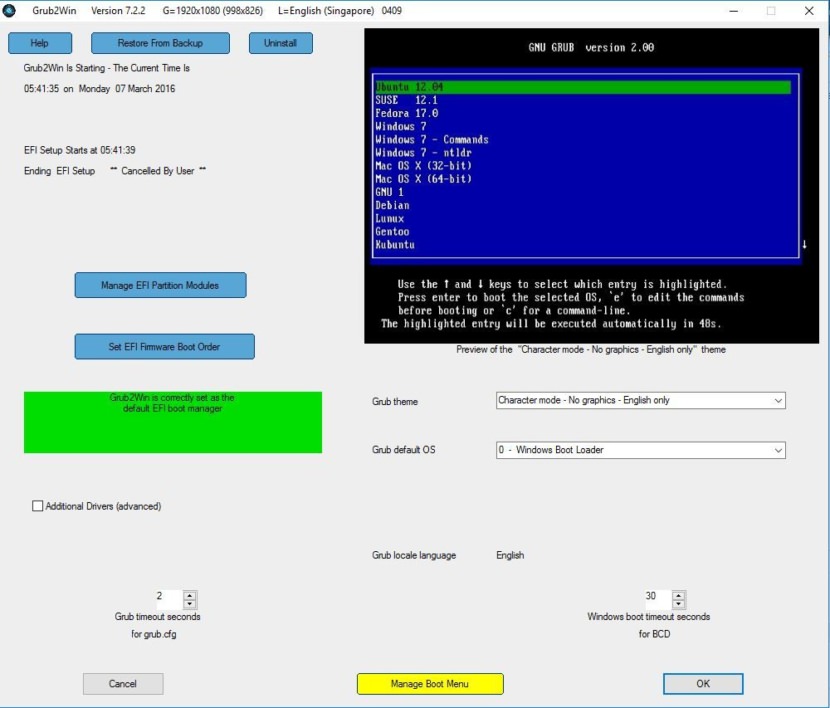 Grub2Win supports 64 and 32 bit EFI and BIOS on Windows 10, 8, 7 and XP. Safely dual boot Windows and Linux from GPT or MBR disks. Grub2Win boots native GNU Grub version 2 code. Everything is contained in a single 20 MB directory on your Windows C: drive. On EFI systems a few small modules are installed to your EFI partition.
Using the simple Windows GUI and instructions you can install Grub2Win quickly and safely. Select from many OS choices. Supports Antergos, Android, Ubuntu, Debian, Suse, Fedora, Mint, Clover and Windows. Also boots ISO files. You can enter your own custom commands for each menu entry.
Supports 64 and 32 bit EFI as well as BIOS firmware.
Installs to Windows 10, 8, 7 and XP.
Requires just one directory on the Windows C: drive, about 20 MB disk space.
Simple Windows GUI easily sets up Grub2Win in seconds.
Lets you set your EFI firmware boot order from within Windows.
Preview and customize the 9 included graphic background themes.
Works with all filesystems including Mac hfs and Btrfs.
Can search for and boot a partition by it's label. Supports advanced scripting.
Works with both GPT and MBR disks – up to 128 primary partitions per drive.
Supports extremely large (over 40 TB) disks and partitions.
Safely multiboot Windows, Antergos, Android, Ubuntu, Debian, Suse, Fedora, Mint, Clover and more.
Grub customization is done from Windows – Configuration in Linux is not required.
↓ 02 – EasyBCD | Free Personal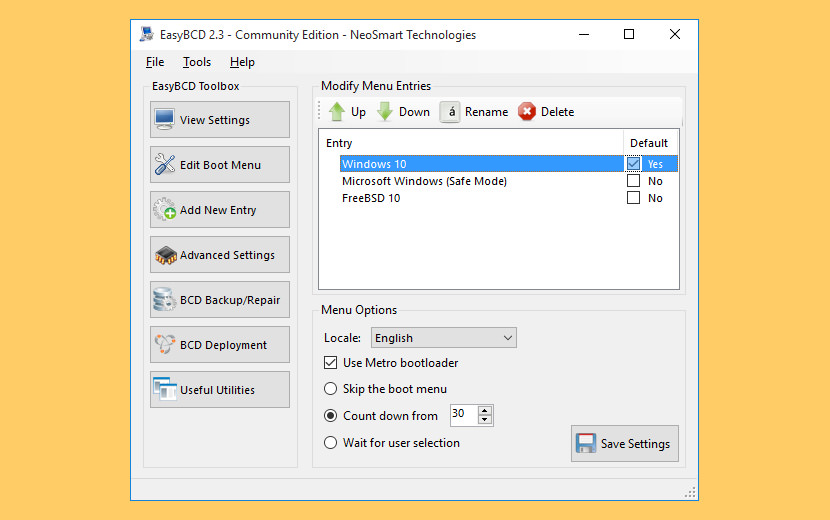 Take control of your boot loader, EasyBCD supercharges your Windows PC, allowing you to dual-boot to your heart's content. Also boot into legacy systems Microsoft doesn't support: MS-DOS, Windows 9x, Windows ME, and Windows 2000!
EasyBCD is geared for users of all kinds. Whether you just want to add an entry to your old XP partition or want to create a duplicate for testing purposes; if you're interested in debugging the Windows Kernel or septuple-booting your seven test operating systems, EasyBCD is the key.
Boot anything – Windows, Linux, macOS, & BSD! Boot both from and into USB drives, ISO images, virtual disks, and more.
Boot anywhere – Create bootable USB sticks with repair utilities that you can take with you anywhere.
Protect against disaster – Create entries to boot into recovery utilities or safe mode to prepare for a rainy day.
Painless editing – Add, rename, remove, configure, and reorder entries at whim.
Solve difficult problems – Use EasyBCD to troubleshoot Windows, back up and repair the bootloader, and more.
Powerful scripting with NeoGrub – You'll have the power to hide partitions, change active flags, and create complex boot scenarios.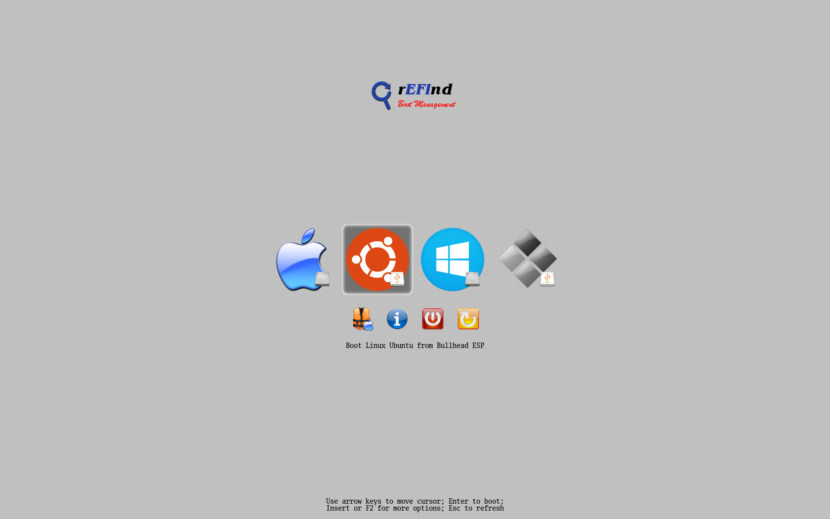 rEFInd is a fork of the Small rEFIt boot manager for computers based on the Extensible Firmware Interface (EFI) and Unified EFI (UEFI). Like rEFIt, rEFInd is a boot manager, meaning that it presents a menu of options to the user when the computer first starts up, as shown below. rEFInd is not a boot loader, which is a program that loads an OS kernel and hands off control to it.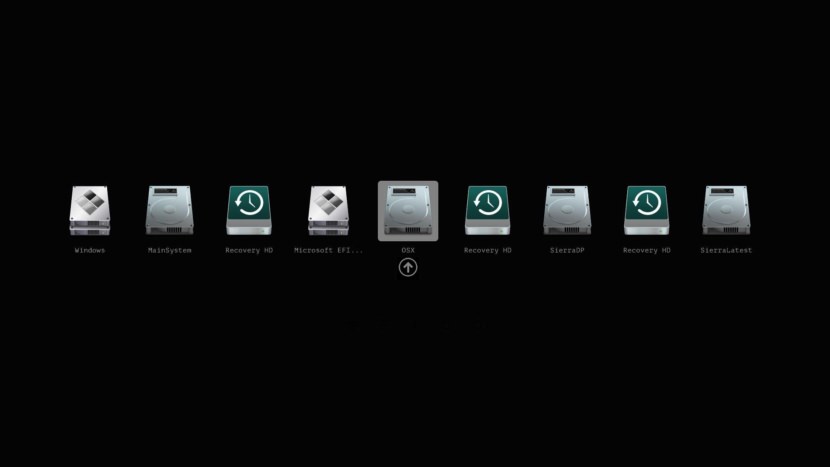 This is an EFI-based bootloader for BIOS-based computers created as a replacement to the EDK2/Duet bootloader. Clover is an operating system boot loader for computers already equipped with an UEFI firmware and for those equipped with legacy BIOS firmware. An operating system (OS) may support (U)EFI (macOS, Windows 7, 8, or 10, Linux) or not (Windows XP). Legacy boot is used for the last one, that is, the old BIOS system is used to handle boot sectors.
Boot macOS, Windows, and Linux in UEFI or legacy mode on Mac or PC with UEFI or BIOS firmware
Boot using UEFI firmware directly or CloverEFI UEFI firmware emulation
Customizable GUI including themes, icons, fonts, background images, animations, and mouse pointers.
Ability to boot previously selected boot entry after default timeout
Boot entries menu scrolls if screen resolution is too low for menu
Create custom boot entries for personalizing boot entries and add support for other operating systems
Create Clover boot entry in NVRAM with tool from GUI
↓ 05 – Ventoy | Free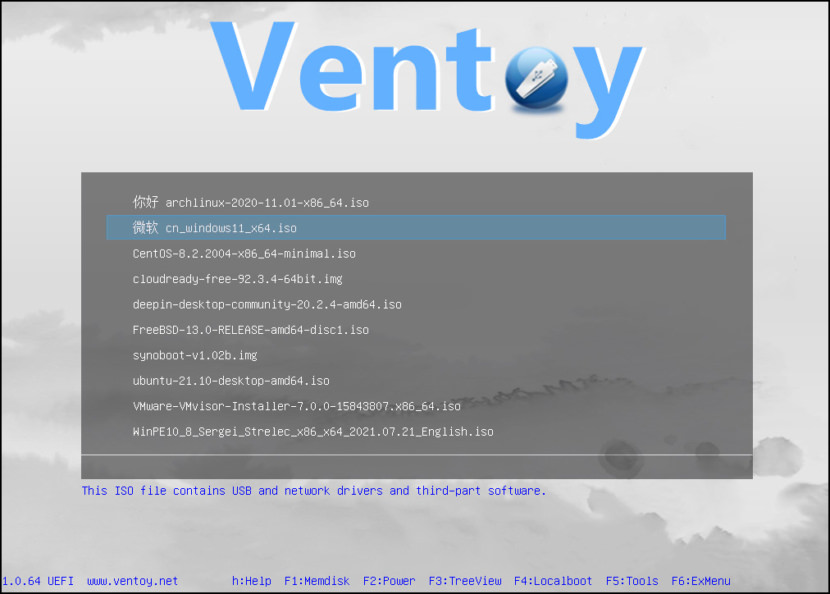 Ventoy is an open source tool to create bootable USB drive for ISO/WIM/IMG/VHD(x)/EFI files. With ventoy, you don't need to format the disk over and over, you just need to copy the ISO/WIM/IMG/VHD(x)/EFI files to the USB drive and boot them directly.
MBR and GPT partition styles, x86 Legacy BIOS and various UEFI boot methods (including persistence) are supported. ISO files larger than 4 GB can be used. Ventoy supports various operating system boot and installation ISO files including Windows 7 and above, Debian, Ubuntu, CentOS, RHEL, Deepin, Fedora and more than a hundred other Linux distributions; various UNIX releases, VMware, Citrix XenServer, etc. have also been tested.
x86 Legacy BIOS, IA32 UEFI, x86_64 UEFI, ARM64 UEFI, MIPS64EL UEFI supported
IA32/x86_64 UEFI Secure Boot supported Notes
Linux Persistence supported Notes
Windows auto installation supported Notes
Linux auto installation supported Notes
Variables Expansion supported for Windows/Linux auto installation script Notes
FAT32/exFAT/NTFS/UDF/XFS/Ext2(3)(4) supported for main partition
ISO files larger than 4GB supported