Today you need to remember many passwords. You need a password for the Windows network logon, your e-mail account, your website's FTP password, online passwords (like website member account), etc. The list of keeping these passwords are endless. Also, you should use different passwords for each account. Because if you use only one password everywhere and someone gets this password you have a problem. A serious problem. The thief would have access to your e-mail account, website, etc. Unimaginable.
Related Article 2019 ➤ 7 Free And The Best Password Manager For Windows 10, macOS, Android And iPhone
You can have Chrome remember your passwords for different sites. Whenever you sign in to a website, Chrome asks if you want to save your account info for that site. Passwords you use in Chrome and Android are saved with Google Smart Lock and remembered for you on any signed-in devices
You can manage the password in your Chrome Browser too via the Settings. Always enable passphrase. By default, Chrome encrypts your synced passwords with a key that is stored in your Google Account. You can choose to encrypt all of your synced data with a separate sync passphrase instead.
Norton Identity Safe is a free password manager that makes logging into your favorite sites easier and more secure via iPhone and Google Android smartphone.
Never again forget a user name or password. Ever.
Stop filling in the same forms over and over.
Keeps your passwords synchronized across different computers, browsers, and mobile devices.
Share interesting content via social networks and email. Quickly and Safely.
Warns you of unsafe sites right in your search results and blocks them.
Stores your passwords and more in a secure, cloud-based vault that only you can access.
Powerful protection for your digital identity and password management. Kaspersky Password Manager securely stores your passwords, addresses & bank card details – and synchronizes them across your PC, macOS, Android phone & tablet, iPhone & iPad. You only need to remember one master password – to access the relevant, individual passwords when you revisit favorite websites. It also automatically helps you to fill in web forms – plus its password generator feature automatically creates strong passwords. Works great on Microsoft's Windows 10 and Apple's macOS.
Securely stores your passwords, addresses & bank card data
Synchronizes data for access from your computers & mobiles
Simplifies access to all your favorite websites
Automatically generates strong, individual passwords*
Makes it easier to fill in online forms on your PC or macOS
Gives you a choice of a free version or a premium version
Simplifies synchronization & security for multiple devices
Includes easy-to-use mobile access & data capture features
↓ 04 – KeePass Password Safe | Windows | macOS | Android | iOS | Linux
KeePass is a free open source password manager, which helps you to manage your passwords in a secure way. You can put all your passwords in one database, which is locked with one master key or a key file. So you only have to remember one single master password or select the key file to unlock the whole database. The databases are encrypted using the best and most secure encryption algorithms currently known (AES and Twofish).
Strong Security – KeePass supports the Advanced Encryption Standard (AES, Rijndael) and the Twofish algorithm to encrypt its password databases. Both of these ciphers are regarded as being very secure. AES e.g. became effective as a U.S. Federal government standard and is approved by the National Security Agency (NSA) for top secret information.
Multiple User Keys – One master password decrypts the complete database.
Portable and No Installation Required, Accessibility – KeePass is portable: it can be carried on an USB stick and runs on Windows systems without being installed.
↓ 05 – KeePassX | Windows | macOS | Linux
KeePassX is an application for people with extremly high demands on secure personal data management. It has a light interface, is cross platform and published under the terms of the GNU General Public License.
KeePassX saves many different information e.g. user names, passwords, urls, attachments and comments in one single database. For a better management user-defined titles and icons can be specified for each single entry. Furthermore the entries are sorted in groups, which are customizable as well. The integrated search function allows to search in a single group or the complete database.
KeePassX offers a little utility for secure password generation. The password generator is very customizable, fast and easy to use. Especially someone who generates passwords frequently will appreciate this feature.
The complete database is always encrypted either with AES (alias Rijndael) or Twofish encryption algorithm using a 256 bit key. Therefore the saved information can be considered as quite safe. KeePassX uses a database format that is compatible with KeePass Password Safe. This makes the use of that application even more favourable.
↓ 06 – Keeper | Windows | macOS | Linux | iOS | Android
Keeper is a password manager application and digital wallet that securely stores website passwords, financial information and other sensitive documents using 256-bit AES encryption, zero-knowledge architecture and two-factor authentication. Files and passwords in Keeper can be synced, backed up in the cloud, and shared using HTTP secure and a locally stored encryption key. Every record in the user's private vault is encrypted and stored with a unique encryption key. Keeper also addresses the problem of password fatigue, by autofilling login and password fields with stored information.
Native & Online Vault for Password Security
Secure Random Password Generator
Autofill Passwords with KeeperFill
Custom Fields Allow You to Protect Everything
↓ 07 – LastPass | Windows | macOS | Linux | Android | iOS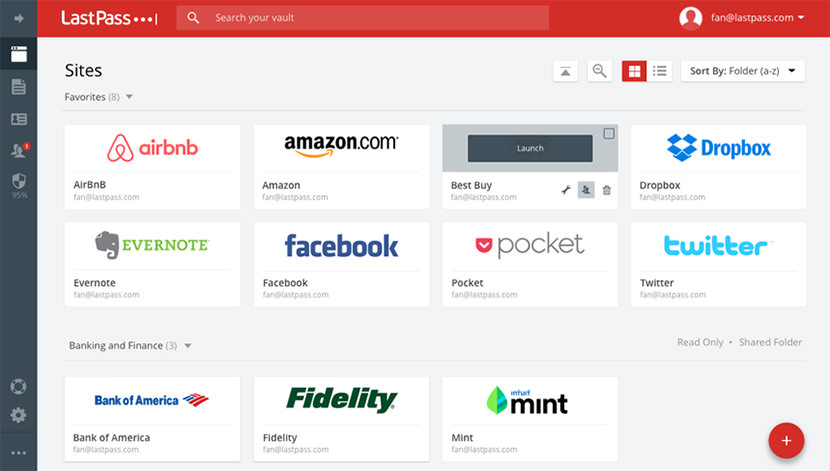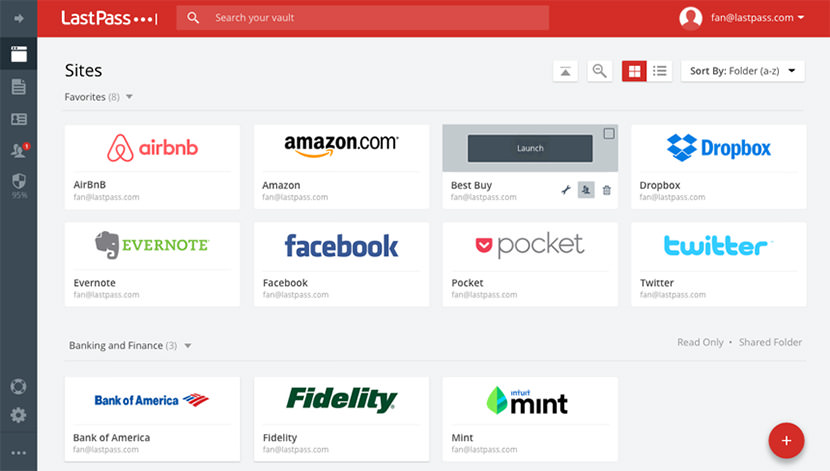 LastPass 4.0 makes it easy for anyone to get started with secure password management. Only remember one master password, and safeguard the rest in LastPass. Stop wasting time writing, remembering, and resetting passwords. Only remember one master password, and keep the rest locked up and easy-to-find in the LastPass password manager. LastPass remembers your passwords so that you can focus on the more important things in life.
Store Passwords in a Secure Vault – All of your passwords and notes are stored safely in a vault. Easy-to-use, searchable, and organized the way you like.
Autofill Every Password – Save passwords as you browse, and LastPass will autofill the login for you next time you sign into that account.
One Account or Many – Have multiple Gmail accounts? 12 WordPress logins? Save unlimited logins for websites, and easily switch between them.
Convenient Access – Get started on any device, free. Your LastPass vault is backed up and synced automatically where you need it.
↓ 08 – SpiderOak Encryptr | Windows | macOS | Linux | Android | iOS
SpiderOak Encryptr is a free, private and secure password management tool and e-wallet. Accessible only by you on our Zero Knowledge cloud.
Create and Protect – Need a specific type of password? Let Encryptr create the perfect one for you. With one click, the password generator will provide you with a secure password or you can save your own as well.
Store and Search – Your passwords on Encryptr are automatically synced across all of your devices for easy access. Use the search bar to find the password, credit card number, or notes that you're looking for.
Secure and Private – Giving you peace of mind is our priority. By storing your passwords on Encryptr, all of your data will be saved in encrypted format in our cloud. You are the sole owner of your keys, which decrypt your passwords.
↓ 09 – Passopolis | Google Chrome | Mozilla Firefox | Apple Safari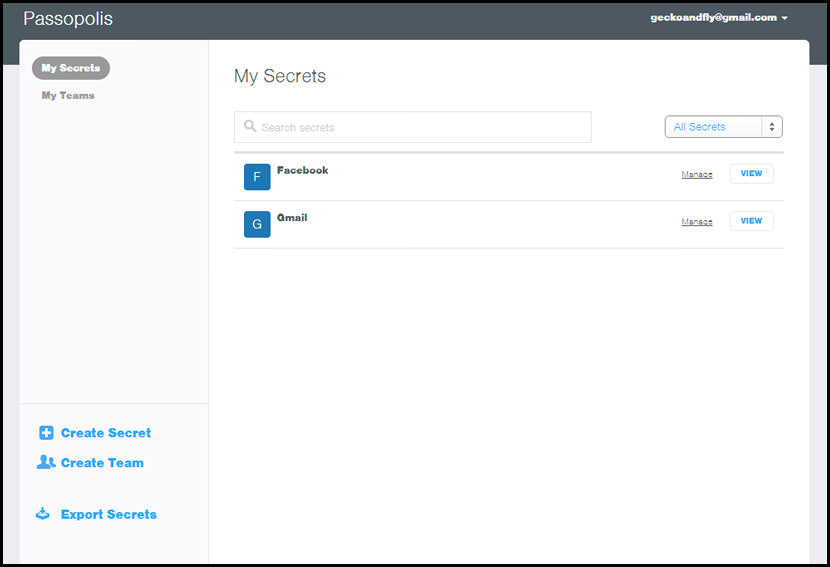 Passopolis is a password manager for individuals and teams that securely saves your logins, and allows users to log in and share access. Passopolis is run and maintained by We Are Wizards and is based on the code of Mitro after Mitro Labs announced the discontinuation of their services.
Never Forget a Password Again. Enpass makes your life easy by securely managing your passwords and important information. Enpass is there in market with our vision to provide a complete, cross-platform password management software as a best fit for every pocket. To achieve this we have even kept the full featured desktop version totally Free on all platforms. For our livings, we charge only for Mobile Apps and that too once for a lifetime license.
Password Do and Don't
A simple guide on what to do and don't when it comes to password management.