Can you trust the password and credit card manager app for your Android smartphone? If you are unsure, why not use a password and credit card manager by big antivirus and productivity corporations. After all, they have their reputation to protect thus they are more likely to make the best app that is hack proof.
See More ▼ 7 Free And The Best Password Manager For Windows 10, Mac, Android And iPhone
Thanks to these apps, it makes logging in to any of your accounts easier and safer than ever. No need to memorize or write down a bunch of different passwords, feel secure knowing that all your passwords are strong and hard to break. Without further ado, here are some of the best password and credit card / debit card managers, Lastpass and dashlane alternatives. They are 100% secure by some of the best antivirus and security companies in the world.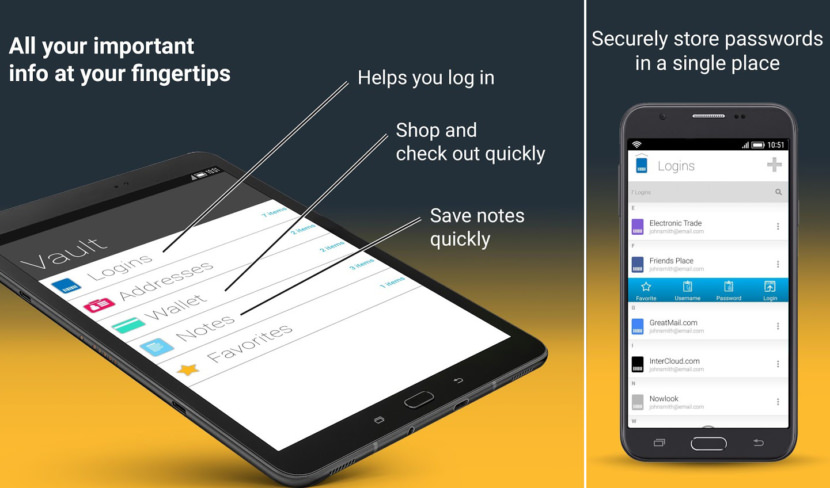 Norton Password Manager helps manage your passwords and so much more! It makes logging into your favorite sites and transacting more secure and safe. Norton Password Manager helps provide the tools you need to create, store, and manage your passwords, credit card and other sensitive information online – safely and securely. Password Manager allows you to create complex passwords and store them along with your credit card and other sensitive information in an encrypted online vault.
Don't have to remember multiple usernames and passwords.
Store passwords, logins and more to your very own encrypted, cloud-based vault which only you can access.
Saves addresses and credit cards for faster online checkout
Helps you create complex passwords with a built-in password generator
Stores frequent flyer numbers and other password protected notes
Secure mobile PIN lets you access your vault even faster from your Android devices
Helps prevent phishing and malicious sites from capturing your keystrokes.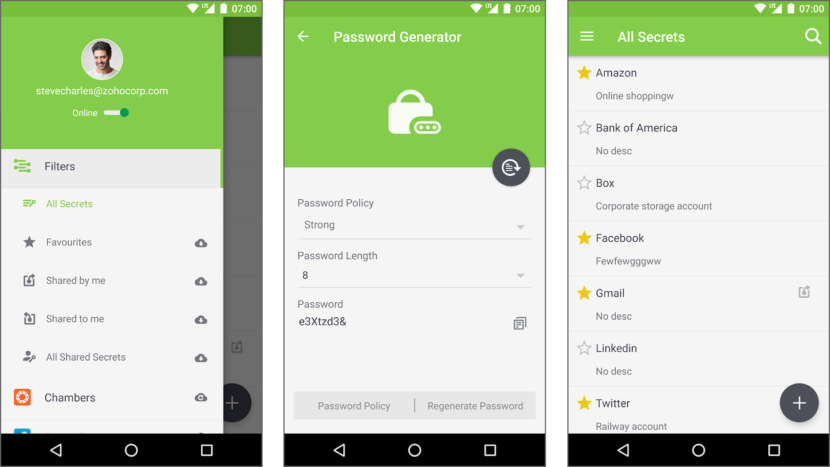 Say goodbye to storing your important passwords on spreadsheets or post-it notes. With Zoho Vault, you stay organized while your passwords remain secure. Zoho Vault is an online password manager that makes your digital life easier. If you are struggling with remembering numerous passwords, Zoho Vault can keep them safe for you.
The securely designed vault acts as a password keeper, where all your passwords and personal information are stored with complete privacy. It is also an absolute must for teams that need to share sensitive information securely among themselves.
Securely store – Securely store all your passwords and organize them for easy access and management. Passwords are encrypted with the strongest encryption standard (AES-256).
Control access – Easily provide passwords to users and groups in bulk. Instantly deny access when a user is removed.
Safely share – Safely share common passwords among members of your work group by granting different access privileges.
Track actions – Track user actions and maintain complete records of team members' password activity with timestamps.
Directly log in – Directly connect to websites and applications without having to manually enter login credentials.
Gain visibility – With in-depth reports, keep track of which users have access to various passwords.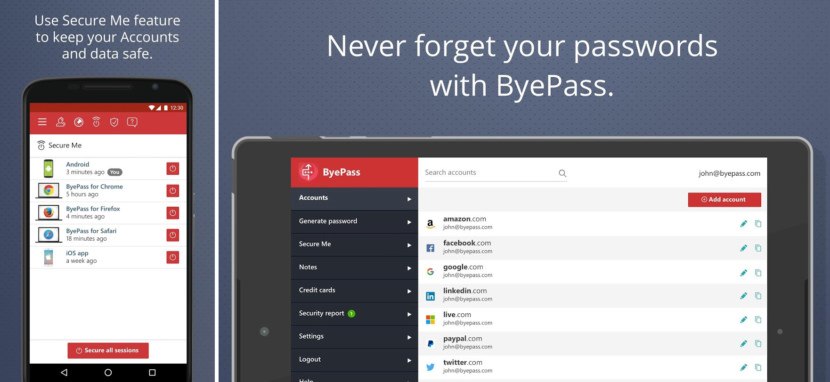 ByePass is a platform-agnostic, secure password manager that also helps protect your online purchases. Protect yourself from identity theft with ByePass. Now you can use strong passwords everywhere and say goodbye to passwords. With ByePass, these concerns are automatically and effortlessly taken care of for you. All you will ever have to do is remember one password. With ByePass, malicious intermediaries are also blocked from stealing your credit card info.
ByePass encrypts your credit cards, concealing the numbers from spying eyes.
ByePass will autofill them, and even think them up for you with its password generator feature.
ByePass automatically assesses the security level of your passwords.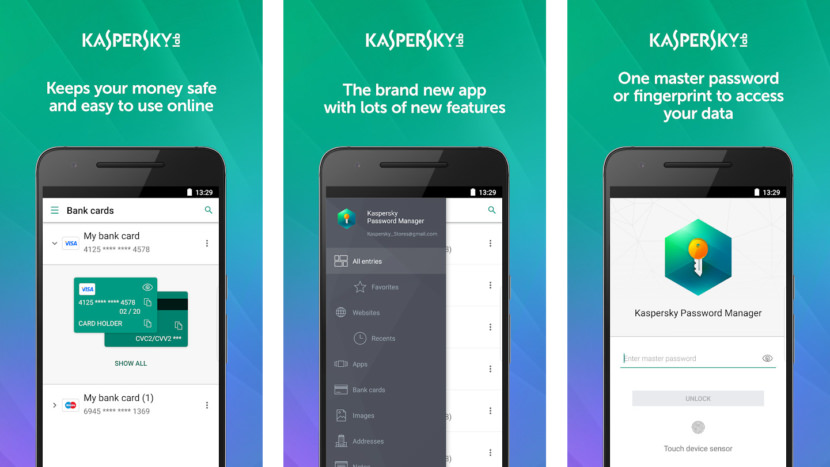 Gives you easy access to your accounts, plus a secure digital vault for your passport, driver's license, bank cards & other personal data. You can securely store photos of confidential documents – including your passport, driving license and more. And you can access everything from your PC, Mac or mobile … or anywhere you can get online.
Easy access to your favorite websites and accounts
Password Generator
Easy filling of credit card information
Secure storage of all your entries
Seamless synchronization across multiple devices
5. Avast Passwords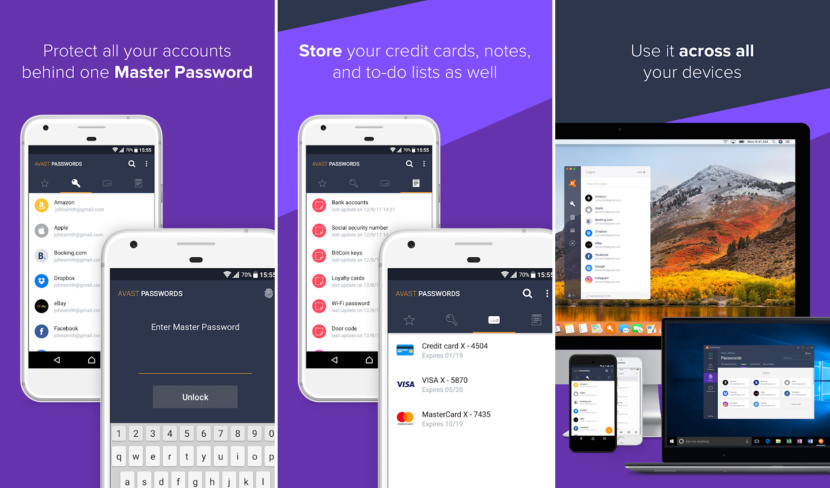 [ Discontinued ] All your passwords. All your credit card numbers. Always with you. Simplify your online life with their free password manager. From making payments to sending emails, strong passwords are vital to their online life. Avast Passwords protects all of your accounts with just one, your Master Password.
Your wallet isn't protected with a Master Password. They are. Store all of your hard-to-remember credit card numbers in Avast Passwords to always have them with you. And lock them with their Master Password so only you can get to them. Avast Passwords offers a number of great features:
Create strong, unique passwords for each of your accounts
Save and store all your login details is a secure place
Safely store your personal and payment card information
Automatically auto-fill online forms thanks to a floating button
Synchronize your passwords across your platforms and devices
Easily and securely access all your accounts on your computer – simply tap the screen on your mobile and One Touch Login will unlock what you need
Be notified if one of your passwords has been leaked