Increasingly both Microsoft Windows and Apple macOS are intelligent enough to manage the amount of RAM available in the system, especially newer operating systems such as Windows 10 and macOS. Memory optimization software is not necessary unless you are still using a very old OS such as XP or you have very little RAM to spare. Works great on Microsoft's Windows 10 and Apple's macOS.
See More ▼ 7 RAMDisk vs SSD – Ten Times Faster Read and Write Speed via RAM Virtual Disk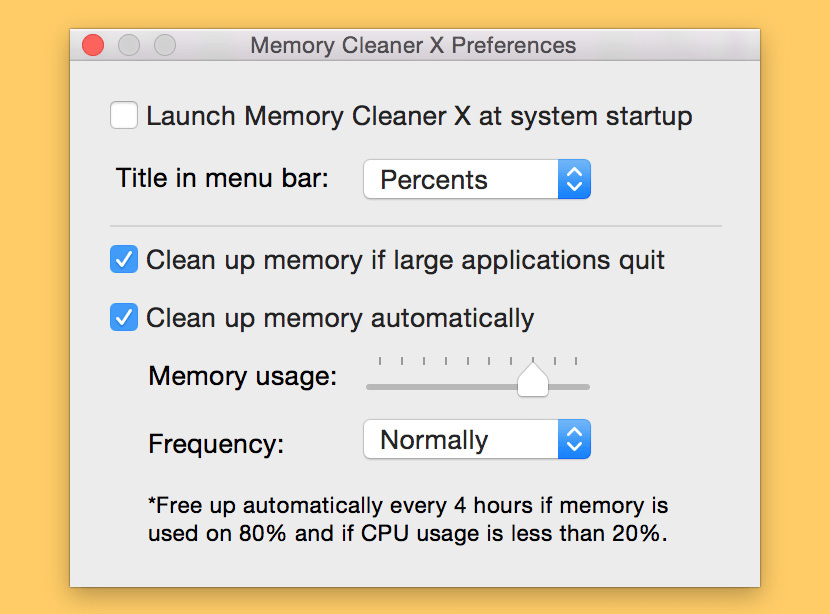 Memory Cleaner X monitors your memory usage and cleans up your Mac's memory, increasing performance. Cached memory can take up the memory needed for new apps, and Memory Cleaner X increases performance by cleaning cached memory. Memory Cleaner X also monitors RAM usage on your computer, and you can free up unused memory in just one click.
The application monitors RAM usage on your computer and frees up unused memory with one click. With Memory Cleaner X, you can easily manage your memory usage. An animated status icon in the menu bar shows you the percentage of memory being used, as well as memory cleaning being run. Features:
Memory usage information displayed in the menu bar
Memory usage per application
Manual memory free up when needed
Automatic memory free up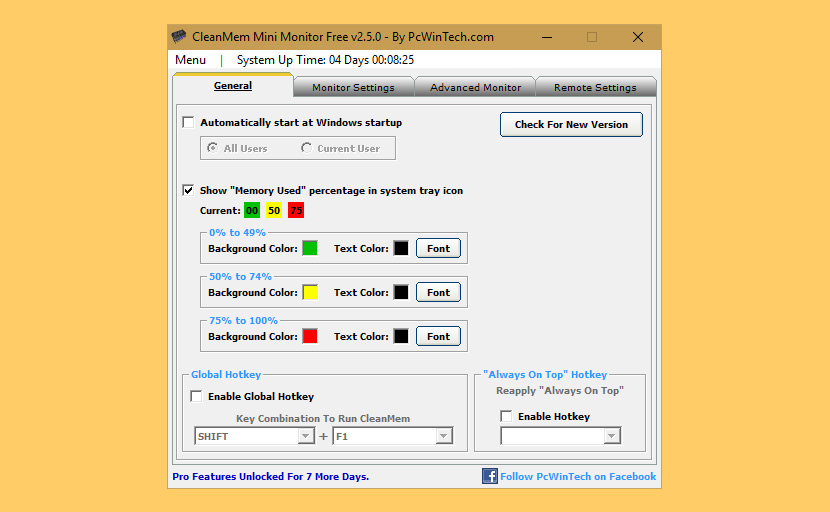 CleanMem is still a set it and forget program and is totally free. When you install CleanMem it will auto run every 15 min by the Windows Task Scheduler. Once installed it is set and forgotten. Just as it always has been. You can configure CleanMem to do more advanced things such as ignore lists, only lists, and log files. These can be set by the CleanMem Settings program in the start menu.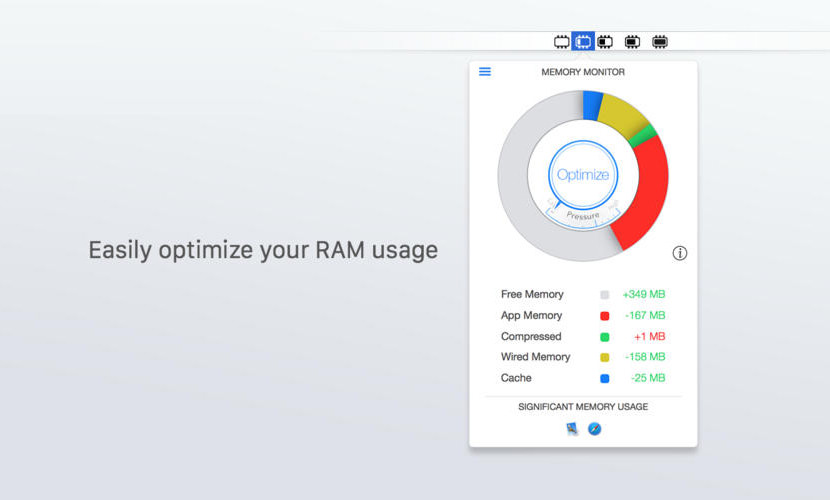 Memory Clean is the ultimate app for optimizing your Mac's memory and is best used after you have finished using a memory (RAM) intensive app or game. It replicates the feeling of a fresh system restart. Memory Clean works by purging the Mac's inactive memory and is best used when you close an intensive program that you do not plan to use again quickly within a few hours.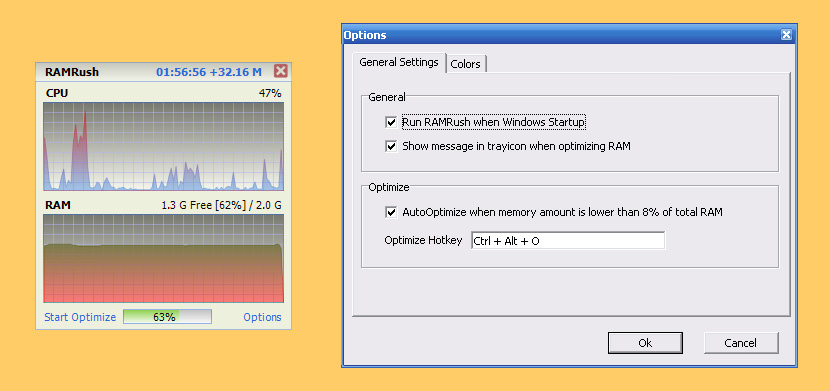 RAMRush is a free memory management and optimization tool. It can efficiently optimize memory usages of your Windows system, free up physical RAM and make your system work better. RAMRush uses an intelligent way to manage the physical memory and lets the RAM work in a better performance. It will help you to prevent system crashes, memory leaks and keep your computer running more efficiently.
Increase system performance
Increase the amount of memory available
Defragment system physical memory
Recover memory from Windows applications
Remove memory leaks
Prevent system crashes caused by memory problems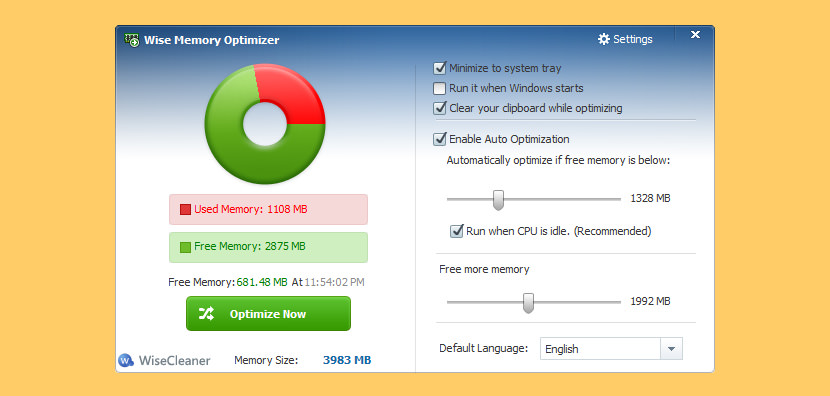 Most PC users have known and unknown applications running in the background that take up your computer's physical memory and thereby affect its performance. Wise Memory Optimizer helps you free up and tune up the physical memory taken up by some useless applications to boost PC performance. The application requires a pretty low quantity of CPU and system memory, has a good response time and rapidly finishes an optimization job. Better yet, it also has a portable version. You can drop the program files anywhere on the hard drive or a flash drive and run it on any computer without prior install operations.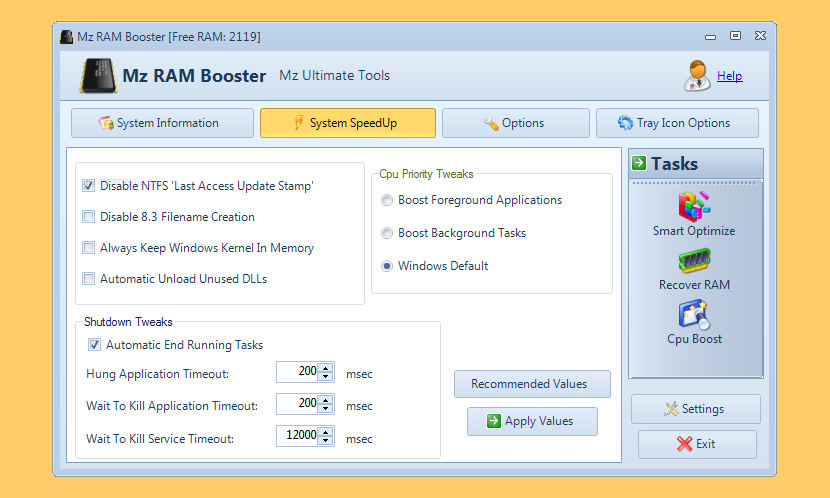 Mz RAM Booster is a program created to improve the performance of your computer by auto-recovering RAM and fine tuning some Windows system settings! It uses minimal resources and almost no CPU time. Speed up your computer, stop memory leaks and increase free RAM.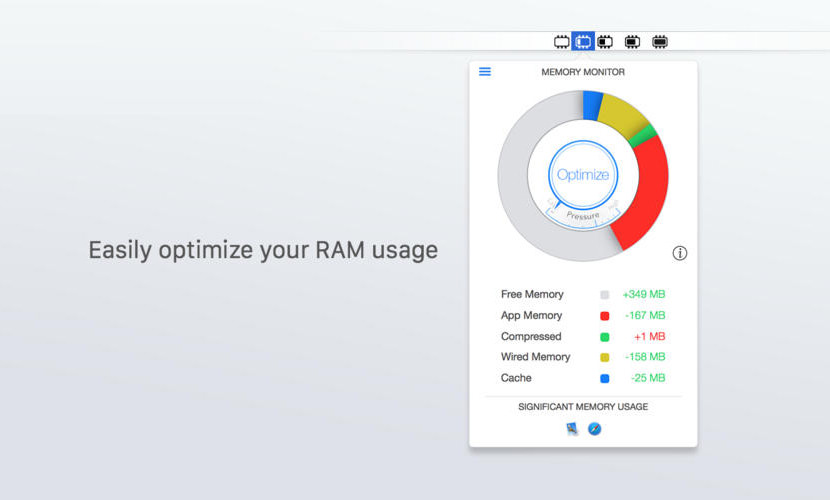 Memory Cleaner can increase your free memory with a simple click and monitor memory usage in the menu bar. Memory Cleaner is the perfect tool to keep your computer going full speed and helps you to optimize your memory (RAM) usage with a simple click.
Memory Cleaner keeps your system's memory (RAM) clean by monitoring and optimizing the memory usage. Helps you to quickly access detailed memory information and diagnosis from your menu bar and CLEAN your memory with a simple click. Main Features:
One-click and automatic system memory optimization
List of apps with significant memory usage
Memory pressure meter and notifications
Dynamic and customizable menu bar
Detailed memory information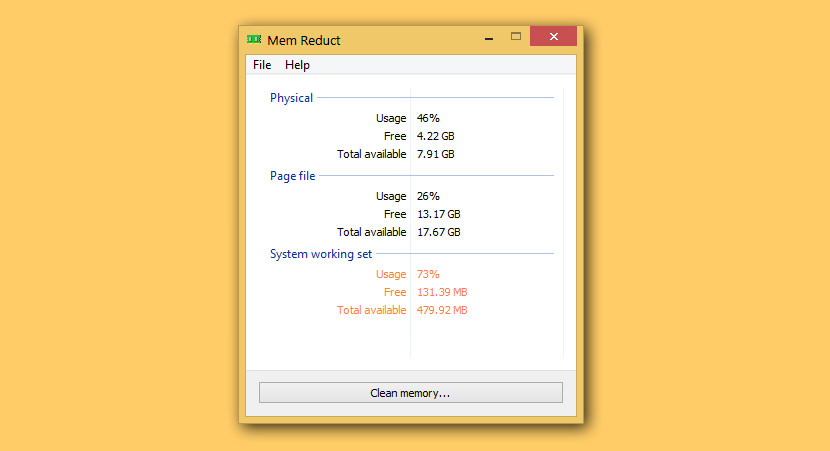 Lightweight real-time memory management application to monitor and clean system memory on your computer. The program used undocumented internal system features (Native API) to clear system cache (system working set, working set, standby page lists, modified page lists) with variable result ~10-50%. It is compatible with Windows XP SP3 and higher operating systems, but some general features available only since Windows Vista.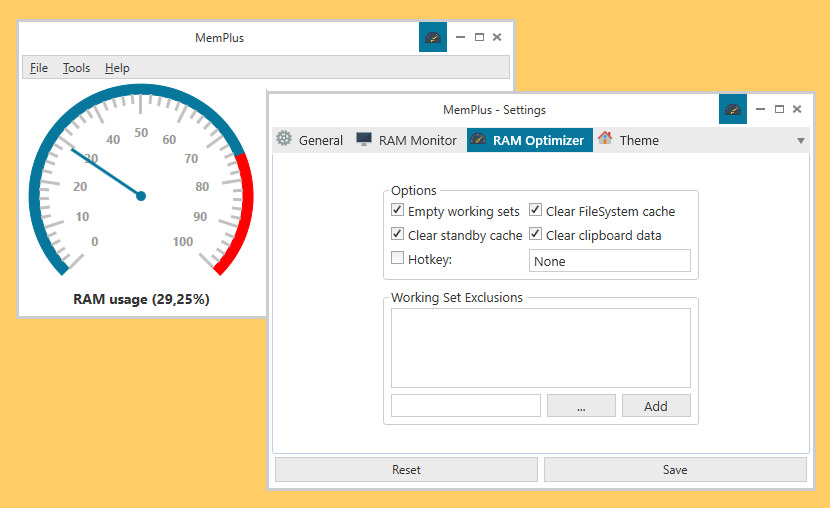 MemPlus can be used to monitor the RAM usage on your device. You can clear the memory of any non-essential processes by clicking the "Clear memory" button which is visible in the main window. This will clear both the working sets of processes and the FileSystem cache, if enabled. You also have the ability to clear the working set or FileSystem cache separately.
RAM Optimizer – MemPlus can be used to reduce the amount of RAM that is being used by applications on your system. In essence, freeing up memory so that more memory is available to you!
RAM Analyzer – MemPlus can help recover the specification of the RAM that is installed on your system. This information can be exported in TEXT, HTML, CSV and Excel formats.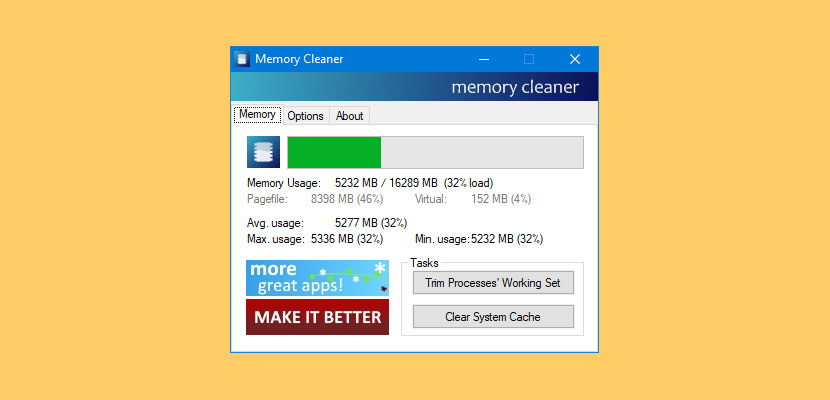 If you find your RAM usage exceeding 60% regularly, then MemoryCleaner is an absolute must have. Tech-savvy folk are divided over how useful memory cleaning tools can be because Windows (Vista upwards at least) manage memory reasonably well. Most memory cleaning tools are not very useful because many of them use ill-advised techniques that are only relevant to older versions of Windows (pre-Vista).
Memory Cleaner is considerably better because it uses functions built into Windows to judiciously free memory – with no performance impact whatsoever. You can now access Memory Cleaner functions from the tray icon without having to open up the main window. The cleaning procedures are both silent and the only alert you will see is the amount of RAM recovered briefly displayed in the window.
11. Memory Optimizer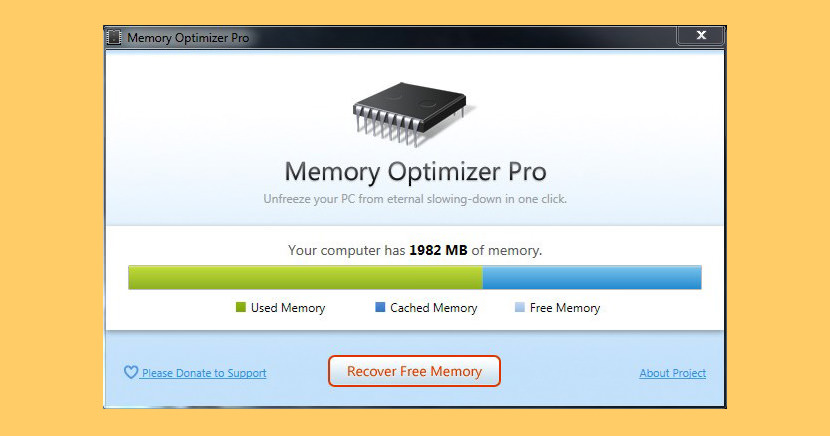 [ Not Free Anymore ] Lacking memory? Optimize with Memory Optimizer. You'd be surprised how much you can recover! Understand your computer's memory usage and keep it under control – Memory Optimizer will graph your computer's memory showing you what's using it and giving you an easy way to optimize it's usage. Just click "Optimize" and speed your computer up immediately!