Realtime audio synthesizer is a DJ software used by many big brands such as Numark or Hercules, and is used around the world by bedroom DJs and professional superstars alike. With its breakthrough BeatLock engine, your songs will always stay on the beat, and you can work your mixes incredibly faster than any other DJ. The automatic seamless loop engine and the synchronized sampler will let you perform astounding remixes on the fly.
See More ▼ 4 Free Voice Recorder, Music Editor And Sound Processing Software
The audio engine lets you mix and scratch music videos as easily as audio. You can also use a special timecode vinyl and scratch MP3s or videos directly on a real turntable. Add to that customizable interfaces to suit both beginners and professionals; A visual beat display; An infinite number of cues; VST, freeframe and proprietary beat-synced effects; Karaoke; Internet broadcast; Recording and burning; CDs, vinyls and DVDs ripping; Automatic playlist mixing; DRM compatibility; Headphones and external mixer modes, and compatibility with many existing DJ devices.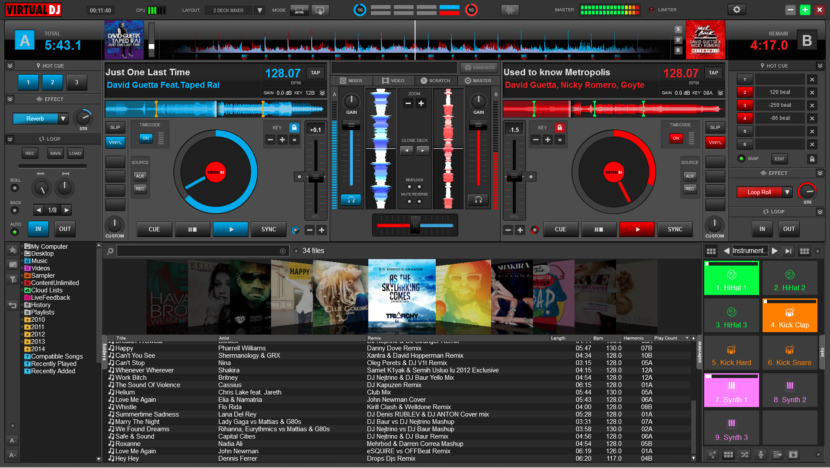 If you are not using it professionally, and do not use any professional equipment like a USB DJ controller, or a DJ mixer, then VirtualDJ is FREE. VirtualDJ is a DJ software for PC and MAC. It is used by DJs to replace their turntables and CD players, and use digital music instead of vinyl and CDs. Works great on Microsoft's Windows 10 and Apple's macOS.
In the same way that the CD players used by DJs have more options than a regular Hi-Fi CD player, VirtualDJ has more options than a simple media player like iTunes. It lets you "mix" your songs, by playing two or more tracks at the same time, adjust their relative speed so that their tempo will match, apply effects like loops etc, and crossfade from one side to the other. It also lets you scratch your songs, set and recall cues, and all the other regular features DJs expect to find to be able to mix.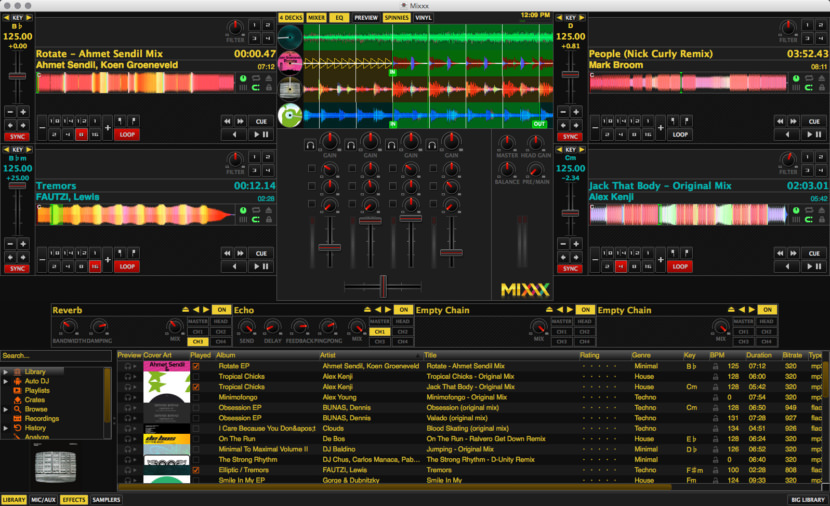 Download the most advanced FREE DJ software available, featuring iTunes integration, MIDI controller support, internet broadcasting, and integrated music library. Mixxx has everything you need to start making DJ mixes in a tight, integrated package. Whether you're DJing your next house party, spinning at a club, or broadcasting as a radio DJ, Mixxx has what you need to do it right.
iTunes Integration – All your playlists and songs from iTunes, automatically ready to go for your next live DJ performance.
DJ Controller Support – With over 85 MIDI DJ controllers supported out-of-the-box and several HID controllers, Mixxx gives you comprehensive hardware control for your DJ mixes.
BPM Detection and Master Sync – Instantly sync the tempo of four songs for seamless beatmixing. Need a break? Create a quick playlist and let Auto DJ take over.
Powerful Mixing Engine – Mixxx has a cutting-edge mixing engine including support for MP3, M4A/AAC, OGG, FLAC, and WAV audio, adjustable EQ shelves, timecode vinyl control, recording, and Shoutcast broadcasting.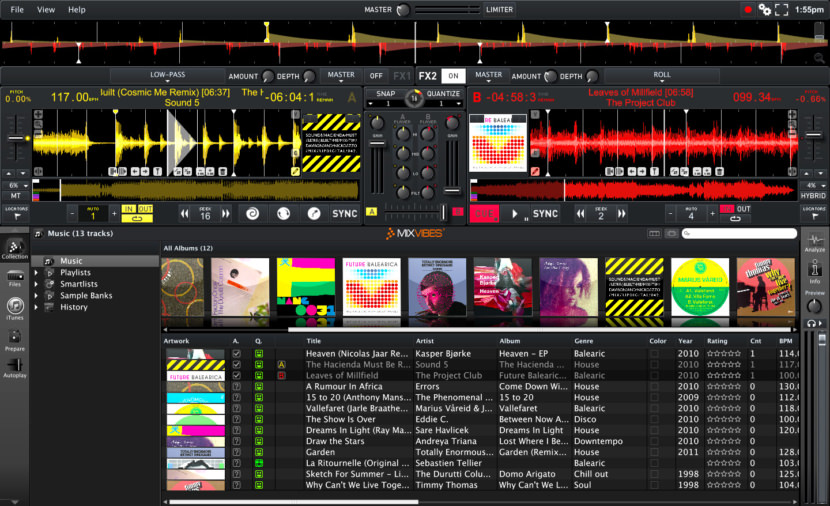 Mix tracks in perfect sync on a powerful audio engine. Engineered by Mixvibes, digital DJing pioneer for 15 years. Turn your mobile device into a complete DJ system. Mix your tracks in perfect sync, scratch, add effects, loops and more. Automix your songs for non-stop music. Record your set and share it on SoundCloud. Music lovers, mix at your next party and impress your friends. Pro DJs, Cross DJ uses the same engine as Pioneer's rekordbox. It's like having 2 CDJs in your pocket.
4-channel Mixer with 3-band EQ, volume faders, crossfader, level meters and bi-filter. Classic club standard DJM EQ preset NEW
Beatmatcher (Parallel waveforms)
2 Effect units (including Low-Pass, Hi-Pass, Echo, Delay, Phaser, X-Phaser, Flanger, Jet, Transform, Chopper, Crush, Bliss, Brake, Roll)
Smart seek (jump playback position using increments of 1/32 to 32 beats)
Snap and quantize (every action stays on the beat)
Advanced beat grid editor for tracks with irregular BPM (multiple grids per track)
Dynamic key control and display (harmonic or classic notation)
Pitch fader and pitch bend (Pitch range from 4% to 100%)
Compatible audio formats: MP3, M4A, WAV, AIFF, FLAC, OGG, AAC, Apple Lossless, WMA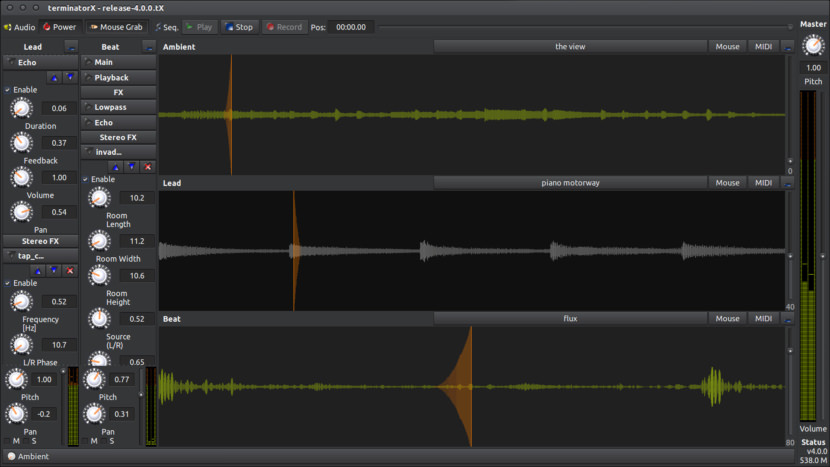 TerminatorX realtime audio synthesizer. TerminatorX is a realtime audio synthesizer. This software allows scratching audio data (wav,ogg,mp3, etc.) the way hip hop-DJs scratch on vinyl records. It features multiple turntables, realtime LADSPA effects, a sequencer and MIDI interface. The software is available under the terms and conditions of the GNU GPL2.