If you're into Podcasting, Online Radio or YouTubing, you'll need an audio editor. Adobe Audition is the professional choice but for those with a tight budget, a good freeware will do the trick. These free softwares delivers the professional tools you need to make your video and audio productions sound their best. Handle a wide range of audio production tasks efficiently, including recording, mixing, and sound restoration.
🤣😍😂 8 Free Video Editing Software For YouTube Movies And Film
If you are getting started with voice recording and always wonder how they produce crips and sharp voices on YouTube videos, the secret is using a very good microphone. They are dynamic microphones and condenser microphones, together with Acoustic Foams plastered on the wall, you'll be able to record clear and sharp voices. The most popular microphone for beginners and YouTube streamers are none other than Blue microphones by Logitech, it is widely used by professional podcasting to music recording, gaming, and even audio for video, Yeti carries your projects to studio-quality heights. Here are 10 FL Studio alternatives.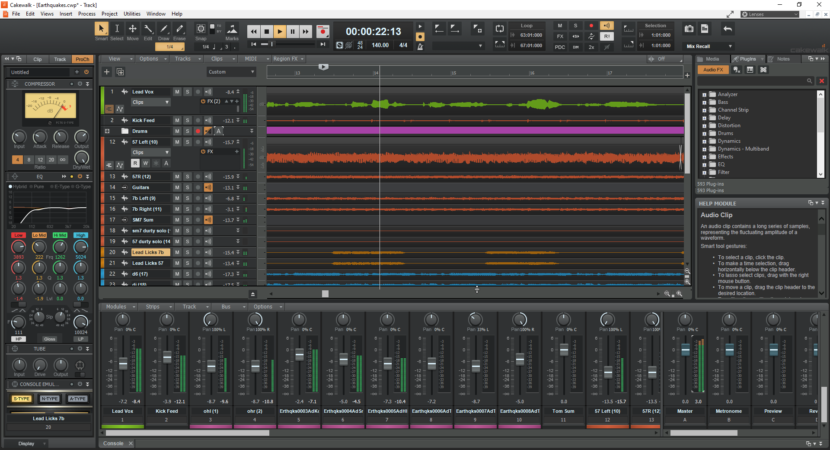 Fueled by over 30 years in the relentless pursuit of innovation, Cakewalk by BandLab is the new standard for the modern recording studio. Cakewalk by BandLab and all its world-leading features are available free-to-download via the BandLab Assistant client for Windows – your central hub on your desktop for your musical creative process.
For tracking, mixing, or mastering, with FX ranging from the essential to the unique, Cakewalk by BandLab has you covered. Designed to emulate the layout of an analog console, build and upgrade your channel strip with an expandable library of ProChannel modules ranging from convolution reverb, resonant filtering, dynamic compression, and powerful EQ to tape and console emulation, peak limiting, and tube saturation. Whether you're a songwriter, producer, or composer, Cakewalk by BandLab has the instruments you need to build your production from the ground up.
64-bit Mix Engine – The first to offer this precision audio technology, SONAR's advanced 64-bit mix engine delivers clean, dynamic, accurate mixes every time.
Resampling – Never worry about signal degradation again. You can always be sure your plug-ins are outputting the highest quality audio possible.
VST3 Support – SONAR supports the most stable, accurate, and efficient plug-in format for Windows machines so you can use more FX and synths in your project.
Touch-Enabled – Another industry first, SONAR's compatibility with touch devices adds analog feel and workflow-enhancing efficiency.
ARA Support – Harness the power of Audio Random Access for seamless integration of powerful and modern editing tools.
↓ 02 – Audacity | Windows | macOS | Linux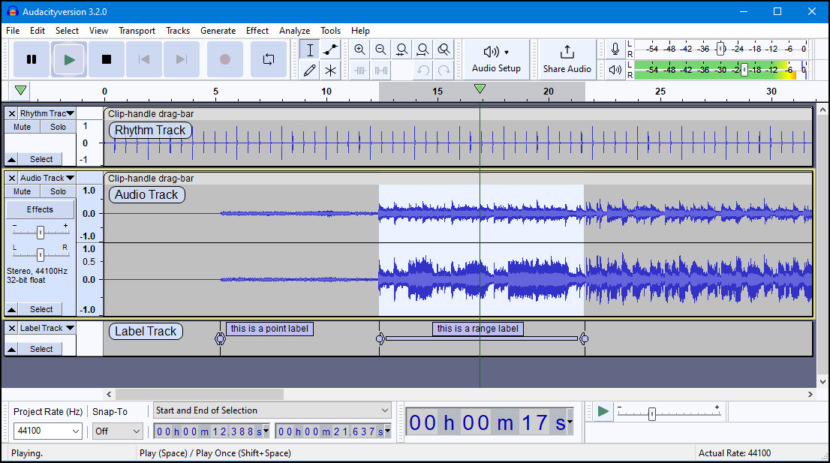 Audacity is free, open source software for recording and editing sounds. You can use Audacity to record live audio, convert tapes and records, edit sound files, change the speed or pitch of a recording and much more. Audacity can record live audio through a microphone or mixer, or digitize recordings from other media. With some sound cards, and on any recent version of Windows, Audacity can also capture streaming audio. Works great on Microsoft's Windows 10 and Apple's macOS. Features:
Record from microphone, line input, USB/Firewire devices and others.
Record computer playback on Windows Vista and later by choosing "Windows WASAPI" host in Device Toolbar then a "loopback" input.
Record at sample rates up to 192,000 Hz (subject to appropriate hardware and host selection). Up to 384,000 Hz is supported for appropriate high-resolution devices on Windows (using WASAPI), macOS, and Linux.
Record at 24-bit depth on Windows (using Windows WASAPI host), macOS or Linux (using ALSA or JACK host).
Import and Export WAV, AIFF, AU, FLAC and Ogg Vorbis files.
Fast "On-Demand" import of WAV or AIFF files (letting you start work with the files almost immediately) if read directly from source.
Import and export all formats supported by libsndfile such as GSM 6.10, 32-bit and 64-bit float WAV, RF64, and U/A-Law.
Import MPEG audio (including MP2 and MP3 files) using libmad.
Import raw (headerless) audio files using the "Import Raw" command.
↓ 03 – Ocenaudio | Windows | macOS | Linux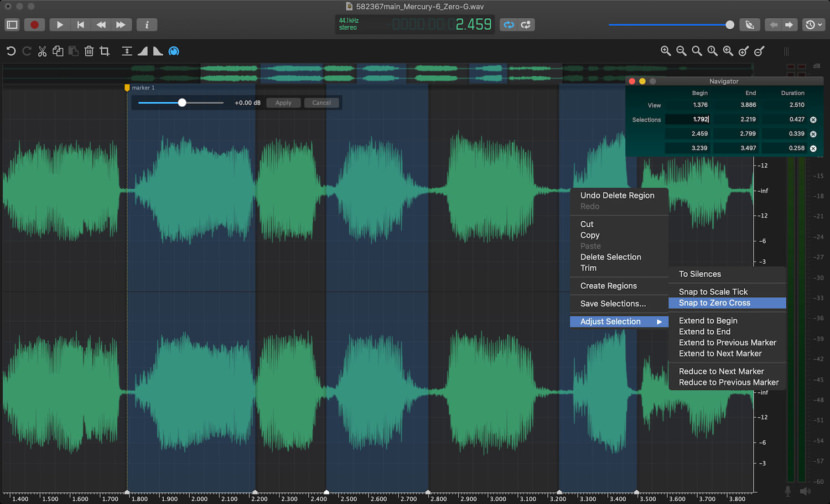 Easy, fast and powerful audio editor. Ocenaudio is a cross-platform, easy to use, fast and functional audio editor. It is the ideal software for people who need to edit and analyze audio files without complications. ocenaudio also has powerful features that will please more advanced users. This software is based on Ocen Framework, a powerful library developed to simplify and standardize the development of audio manipulation and analysis applications across multiple platforms.
Real-time preview of effects such as EQ, gain and filtering is an important part of audio editing.
Cross-platform support – Microsoft Windows, macOS and Linux.
Multi-selection for delicate editions to speed up complex audio files editing, ocenaudio includes multi-selection.
Efficient editing of large files with ocenaudio, there is no limit to the length or the quantity of the audio files you can edit.
Fully featured spectrogram besides offering an incredible waveform view of your audio files, ocenaudio has a powerful and complete spectrogram view.
↓ 04 – LMMS | Windows | macOS | Linux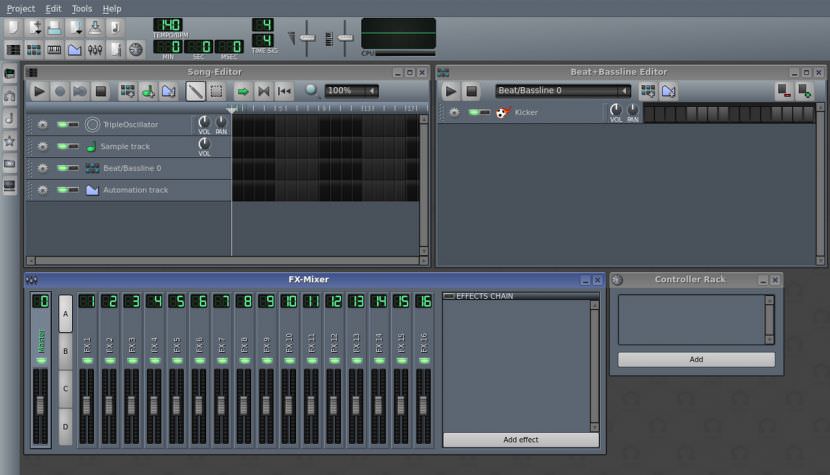 Made by musicians, for musicians. LMMS is a free cross-platform alternative to commercial programs like Small FL Studio iconFL Studio , which allow you to produce music with your computer. This includes the creation of melodies and beats, the synthesis and mixing of sounds, and arranging of samples. You can have fun with your MIDI-keyboard and much more; all in a user-friendly and modern interface.
Drop-in LADSPA plug-in support
Drop-in VST ® effect plug-in support (Linux and Windows)
Built-in compressor, limiter, delay, reverb, distortion, EQ, bass-enhancer
Bundled graphic and parametric equalizers
Built-in visualization/spectrum analyser
Built-in 32-bit VST instrument support
Built-in 64-bit VST instrument support with 32-bit VST bridge (64-bit Windows)
Roland ® TB-303 style monophonic bass synthesizer
Embedded ZynAddSubFx: Polyphonic, mutlitimbral, microtonal, multi-voice additive, subtractive and pad synthesis all in one powerful plugin
Native Commodore 64 ® SID microchip/instrument emulation
Native SoundFont ® support (SF2), the industry standard for high quality instrument patches and banks
↓ 05 – Ardour [ USD1 Donation ] | Windows | macOS | Linux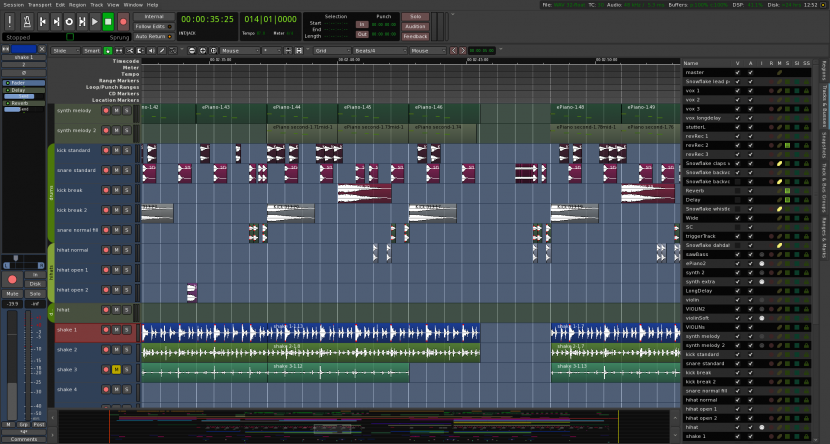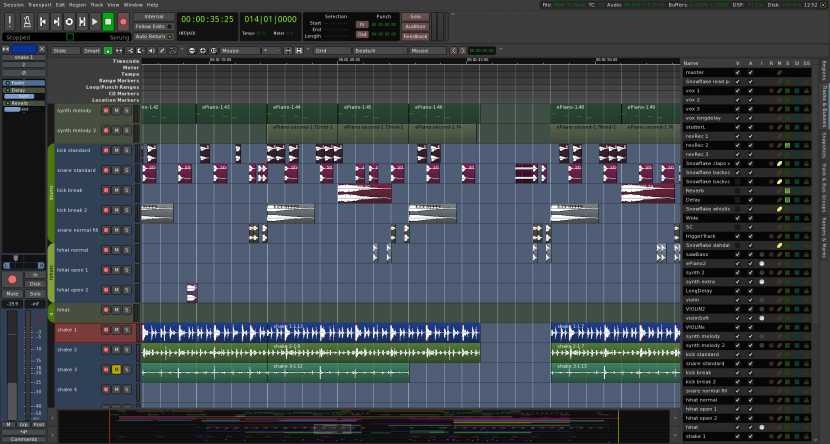 Record, Edit, and Mix on Linux, OS X and Windows. Ardour is a hard disk recorder and digital audio workstation application. It runs on GNU/Linux and macOS. Ardour's intention is to provide digital audio workstation software suitable for professional use.
Ardour source code is freely available but pre-built binaries are commercial free-libre software: users who download from ardour.org are asked to pay at least $1 for downloading pre-built binaries; those users then have the right to obtain minor updates until the next major release. Another option is to subscribe, paying $1, $4 or $10 per month. Subscribers can download prebuilt binaries of all updates during the subscription period.
Hardware – Pick your audio interface based on your needs and budget. If your OS supports it, Ardour can use it. PCI, USB, Firewire interfaces, along with the option to use network audio too.
Flexible Recording – True tape-style transport allows any combination of master record and individual track arming at any time; no prior setup is needed. Per-track setting of layered, non-layered, or destructive recording modes. Flexible input monitoring options can handle it automatically or allow you to take control with individual monitor buttons. Punch in/out points can be set in a multitude of ways, and can be combined with loop playback. Stop & Forget feature allows you to cancel a recording pass and recover the disk space instantly.
Routing – Route anything to anywhere (for more than ten years!). Matrix-style patching/routing. Connect Ardour tracks or busses to hardware, each other, other applications, the network … input, output, sends, inserts, returns all managed in the same way.
Solo/Listen Model – Sophisticated solo model includes listen (AFL/PFL) as well as solo-in-place. Continuously variable solo-in-front control. Solo Isolate and Solo Lock modes per mixer strip.
Inline Plugin Control – Display plugin parameter controls directly inline in the mixer strip, without opening plugin editors. Bypass plugins. Drag-n-drop plugins between tracks (and busses), retaining settings. Create track/bus templates complete with plugin chains and settings predefined.
↓ 06 – Cecilia | Windows | macOS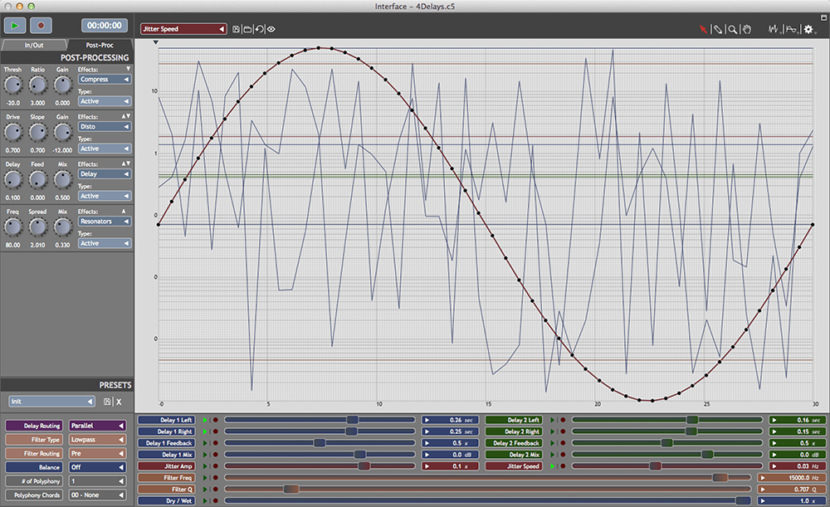 Cecilia is developed by Olivier in his free time to provide a full-featured processing application for sound exploration and music composition. It is a very simple automatic audio mixer. You just need to upload your music track and use it's highly customizable preset to automatically mix your tracks.
Cecilia is an audio signal processing environment aimed at sound designers. Cecilia mangles sound in ways unheard of. Cecilia lets you create your own GUI using a simple syntax. Cecilia comes with many original built-in modules and presets for sound effects and synthesis. Cecilia is free and open source (GNU GPL v3).
↓ 07 – Live 9 Lite | Windows | macOS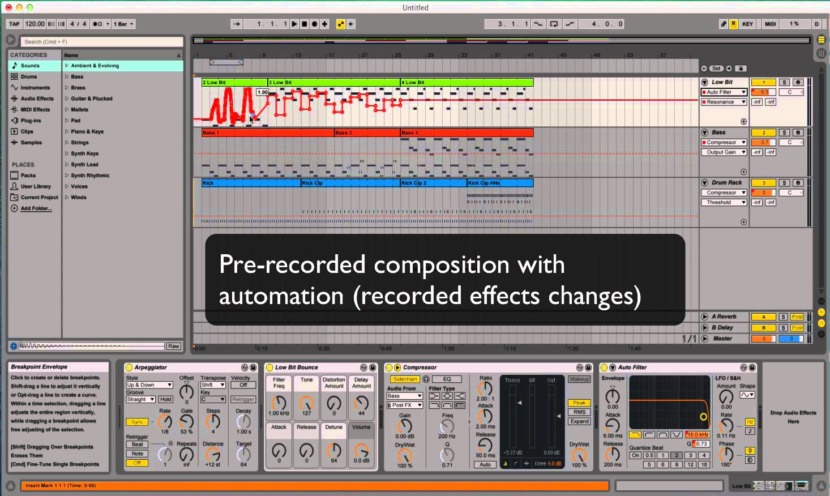 Live 9 Lite is a customized version of the music making software Ableton Live. With selected instruments and effects plus all the essential workflows of Live, it provides a fresh and easy way to write music, record audio and produce your own songs. Live Lite is not time limited, you can save and export your work, and all of Life's fundamental tools and features are included:
Fast, intuitive workflow based on unique Session and Arrangement Views
Professional-quality audio recording and MIDI sequencing on up to eight tracks
Drum, Instrument, and Effect Racks for creative sound design and processing
Plug-and-play compatibility with many hardware controllers
Studio effects including EQ, compression, reverb, delay, chorus, filter and more
Included instruments and effects such Impulse drum sampler, compressor and delay
Use any VST and AU instruments and effects
Compatible with the Export Live Set feature that's in a growing number of iOS apps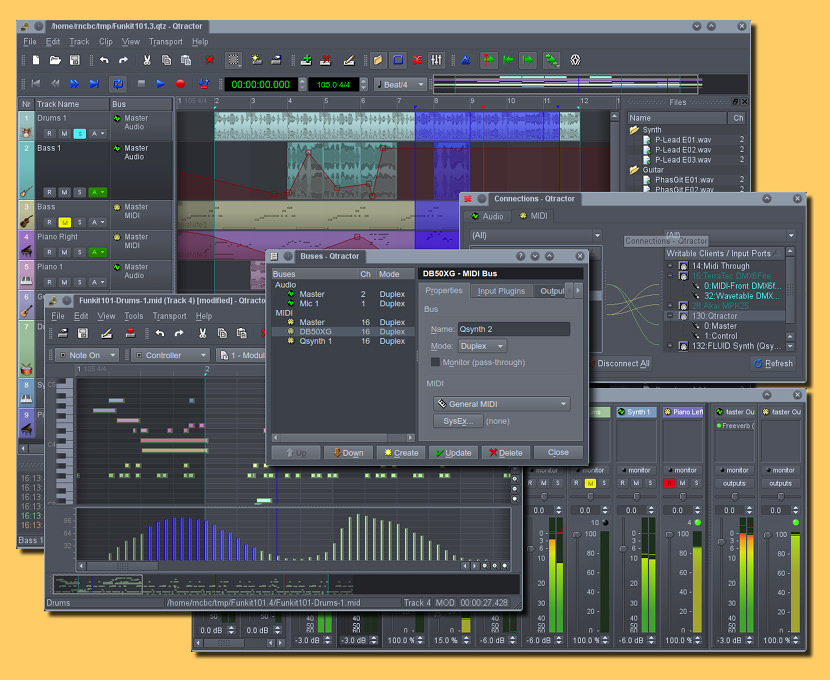 Qtractor is an Audio/MIDI multi-track sequencer application written in C++ with the Qt framework. Target platform is Linux, where the Jack Audio Connection Kit (JACK) for audio, and the Advanced Linux Sound Architecture (ALSA) for MIDI, are the main infrastructures to evolve as a fairly-featured Linux desktop audio workstation GUI, specially dedicated to the personal home-studio.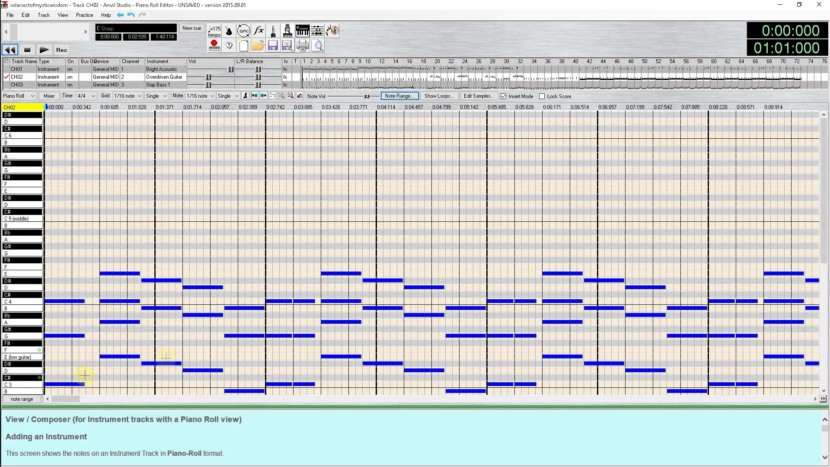 Anvil Studio Create songs with extensive MIDI and Audio editing capabilities. It comes with virtual instruments to play and the music lyrics are automatically created as you play. Each part of the lyrics can be hand edited to perfection.
Record music with MIDI and Audio equipment
Compose music for MIDI and Audio equipment
Sequence music with MIDI equipment
Play with music using a computer, and
Print sheet music from standard MIDI files with the optional Print-Sheet accessory.
↓ 10 – mp3DirectCut | Windows | macOS | Linux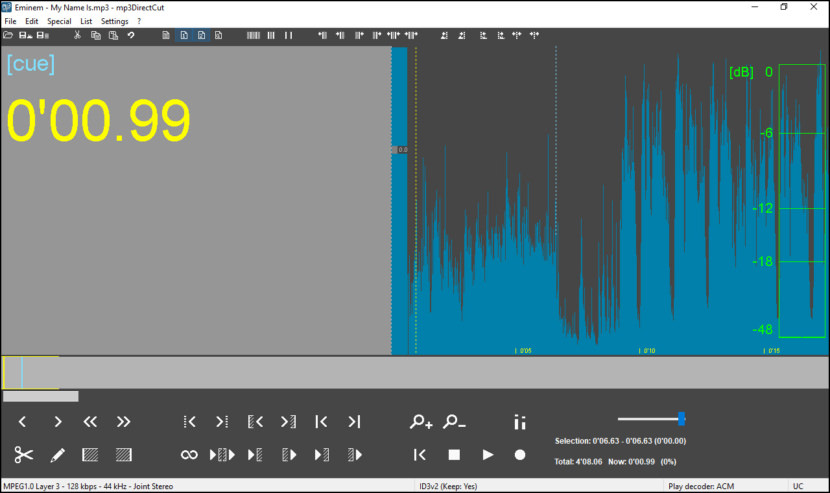 mp3DirectCut is a fast and extensive audio editor and recorder for compressed mp3. You can directly cut, copy, paste or change the volume with no need to decompress your files for audio editing. This saves encoding time and preserves the original quality, because nothing will be re-encoded. The built in recorder creates mp3 on the fly from your audio input. Using Cue sheets, pause detection or Auto cue you can easily divide long files.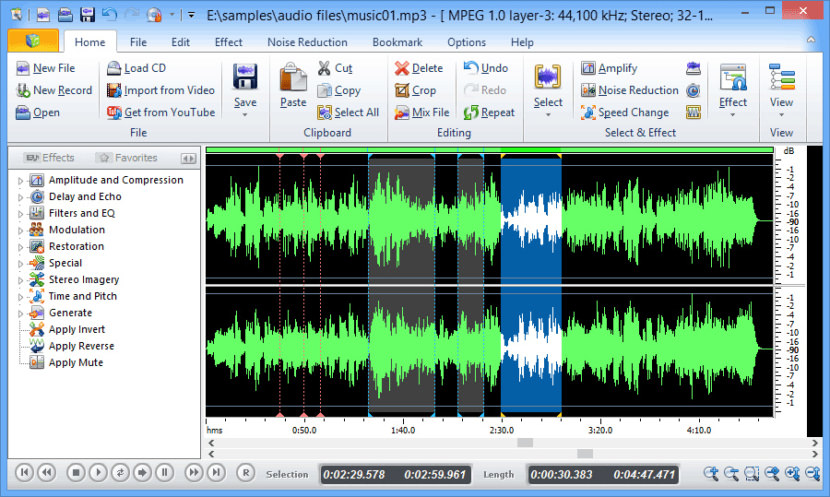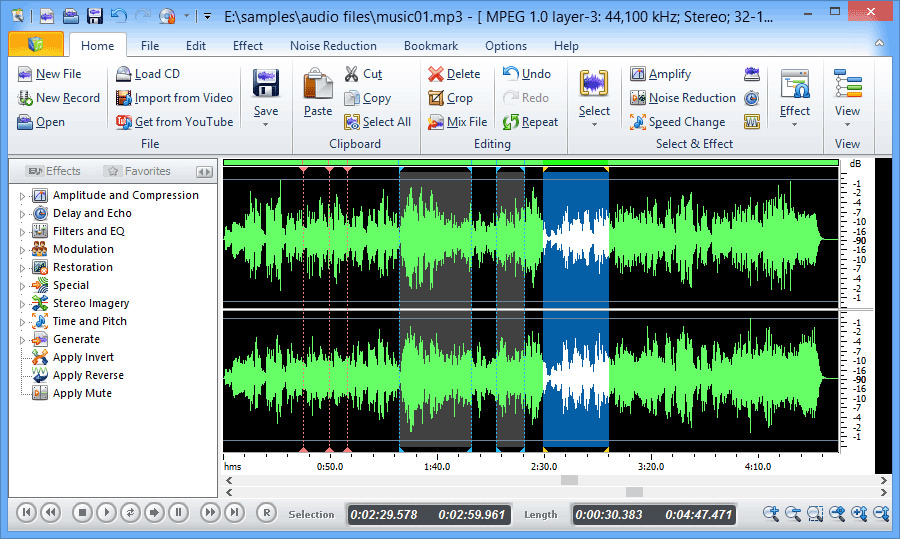 Music Editor Free is a full-featured audio editor for Windows. It allows you to record and edit music, vocal, and other sounds. You can easily get your masterpiece produced. When editing audio files you can cut, copy and paste parts of recordings and, if needed, add effects like echo, amplification and noise reduction. It works as a wav editor or mp3 editor but it also supports a number of other file formats including vox, gsm, au, ogg, wmv and more.
Record audio (podcast, song or concert) from any input;
Sound editing functions include cut, copy, paste, delete, insert, silence, trim and more;
Audio effects include, amplify, normalize, equalizer, noise reduction, envelope, reverb, echo, reverse and much more;
Support all key audio formats;
Extract audio from YouTube or any video files;
Create ringtone for iPhone/Android;
↓ 12 – audacium | Windows | macOS | Linux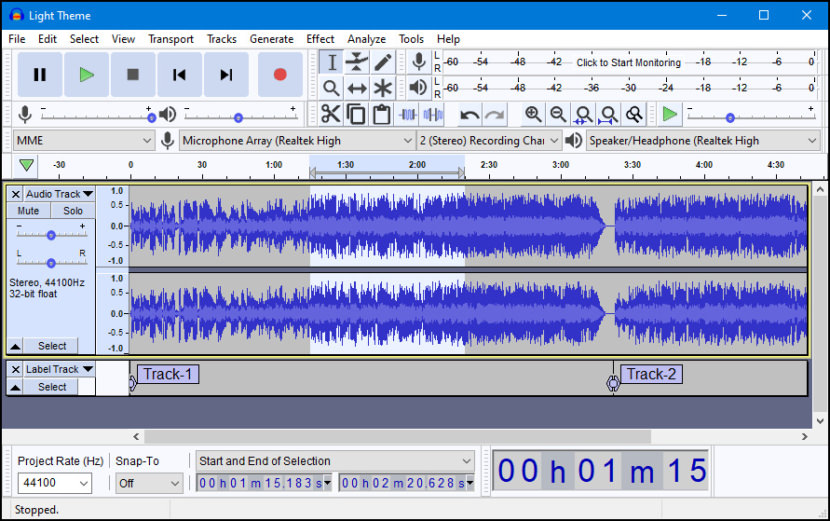 Audacium is an open source fork of Audacity with no telemetry and a couple of added features. It is an easy-to-use, multi-track audio editor and recorder for Windows, Mac OS X, GNU/Linux and other operating systems. Developed by a group of volunteers as open source.
Recording from any real, or virtual audio device that is available to the host system.
Export / Import a wide range of audio formats, extendible with FFmpeg.
High quality using 32-bit float audio processing.
Plug-ins Support for multiple audio plug-in formats, including VST, LV2, AU.
Macros for chaining commands and batch processing.
Scripting in Python, Perl, or any language that supports named pipes.
Nyquist Very powerful built-in scripting language that may also be used to create plug-ins.
Editing multi-track editing with sample accuracy and arbitrary sample rates.
Accessibility for VI users.
Analysis and visualization tools to analyze audio, or other signal data.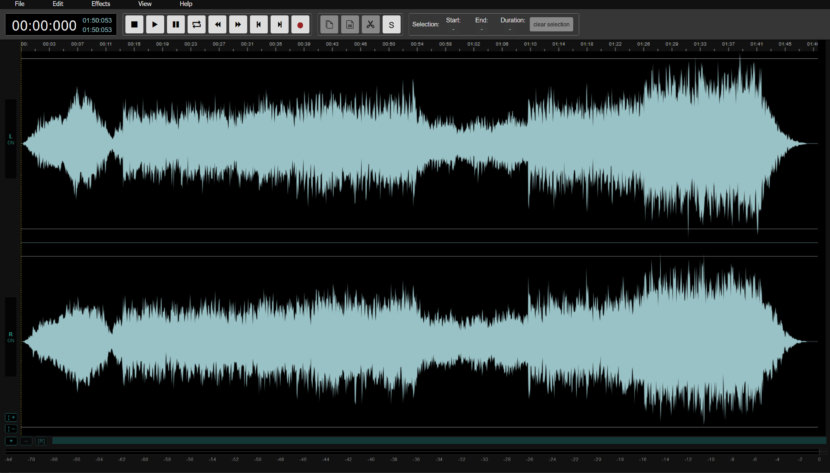 AudioMass lets you record, or use your existing audio tracks, and modify them by trimming, cutting, pasting or applying a plethora of effects, from compression and paragraphic equalizers to reverb, delay and distortion fx. AudioMass also supports more than 20 hotkeys combinations and a dynamic responsive interface to ensure ease of use and that your producivity remains high. it is written solely in plain old-school javascript, weights approximately 65kb and has no backend or framework dependencies.
↓ 14 – Tenacity | Windows | macOS | Linux
Tenacity is is an easy-to-use, privacy-friendly, FLOSS, cross-platform multi-track audio editor/recorder for Windows, macOS, Linux and other operating systems. Contributions welcome! – GitHub – tenacityteam/tenacity: Tenacity is an easy-to-use, privacy-friendly, FLOSS, cross-platform multi-track audio editor/recorder for Windows, macOS, Linux and other operating systems.