When it comes to free video editing software, the most annoying feature is the forced 'watermark' feature, coupled with a limit on the resolution and time allowed, it defeats the purpose of using the software when there are so many free video editing software that allows you to do more for free.
See More ▼ 9 Free Live Streaming Tools For YouTube, Twitch, Facebook, TikTok & More
If you plan to be a professional YouTuber, TikToker or related industry that requires video as your marketing platform, look no further. Here are some free professional video editors for your daily video editing needs. Why pay for Apple's Final Cut Pro or Adobe Premiere Pro? You're not making a hollywood movie anyway, some of the features available in these paid software are overkill.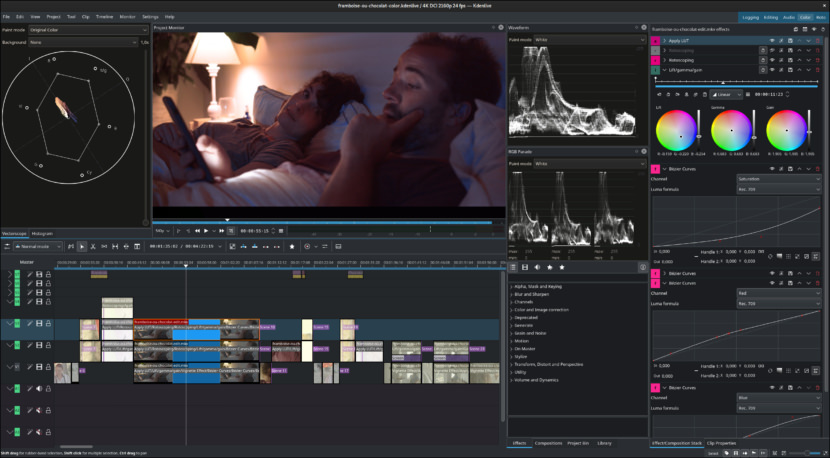 Kdenlive is a free and open-source video editor for GNU/Linux. It is an intuitive and powerful multi-track video editor, including most recent video technologies, released as a free software (GPL). Using Kdenlive is investing in a community driven project, which aims to establish relationships between people in order to build the best video tools.
It's free, and open-source and works on GNU/Linux, Windows and BSD. It's an intuitive and powerful multi-track video editor compatible with latest video technologies. Most of the video processing is done by the MLT Framework, which relies on many other open source projects like FFmpeg, frei0r, movit, ladspa, sox, etc. Support for a wide range of codecs and formats, among which:
Free formats (Matroska/Ogg container, VP9/Theora video, Vorbis/Opus audio…).
MPEG formats (MOV/TS container, H265/H264/MPEG2 video, MP3/AC3/AAC audio…).
Lossless formats (Snow/FFV1 video, FLAC/Wav audio…).
Support for a wide range of camcorders and cameras, including:
Low resolution camcorder (Raw and AVI DV editing).
Supports all audio and video formats and codecs that FFmpeg does for both input and encoding, including various HD standards, like HDV, DNxHD, AVCHD, ProRes etc.
Mpeg2, mpeg4 and h264 AVCHD (small cameras and camcorders).
High resolution camcorder files, including HDV and AVCHD camcorders.
Professional camcorders, including XDCAM-HD™ streams, IMX™ (D10) streams, DVCAM (D10) , DVCAM, DVCPRO™, DVCPRO50™ streams and DNxHD™ streams (decoding only, encoding untested). Please note that Kdenlive does not offer the original codecs, but only that they use FFmpeg free software codecs, which can read original streams and sometimes export as well. When you own a camcorder, there is no reason why you should not be able to read your own films.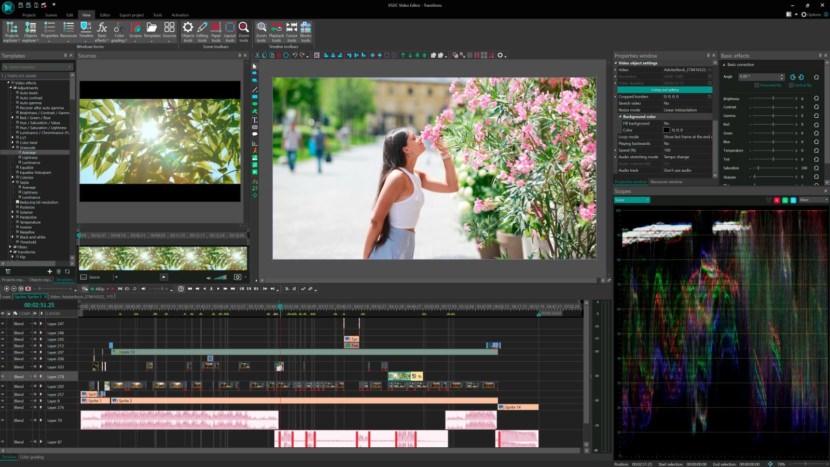 Free video software that allows you to edit video files and create videos of all types. It supports the most popular video/audio formats and codecs, including DVD, HD and GoPro videos. Preconfigured profiles make the creation of videos for various multimedia and mobile devices a snap. The video editor offers a number of versatile features both for home and business use: text and audio overlay, an array of charts and diagrams as well as a slideshow maker.
Their editor is a non-linear tool. This means that unlike in most other editors, where scenes come one after another in a linear sequence and certain order, their software allows objects to be placed in any position on the timeline and have any size. Besides, various parameters, shape and position of objects can change arbitrarily over time.
Support of virtually all popular codecs and video formats, such as AVI, MP4, MKV, MPG, WMV, 3GP, FLV and others; audio files: MP3, WAV, WMA, FLAC, PCM, OGG, AAC, M4A, AMR and others; as well as image files: BMP, JPG, PNG, PSD, ICO, TIFF, etc.
4K and HD export – VSDC is currently the only free video editor that allows you to export in a new H265/HEVC codec to maintain the highest quality at a minimum file size which is essential for those often processing 4K and HD files.
Advanced Color Processing – VSDC supports VirtualDub and customizable LUT filters for advanced color processing, along with a Scopes window for precise monitoring of changes.
Video stabilization tool – Footage taken from drones, action cameras or other devices on the go often needs improvement. VSDC Stabilization tool, as your virtual tripod, helps remove jitter or any other shaking effects, caused by camera movement and turn it into a much smoother video image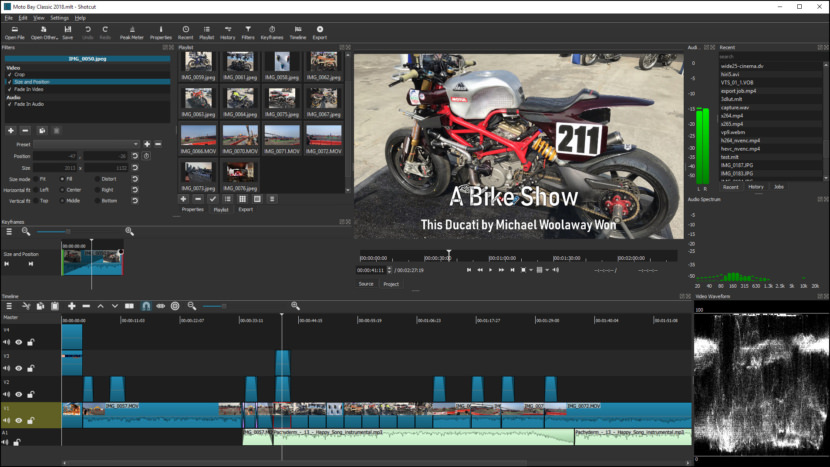 Shotcut is a free, open source, cross-platform, non-linear video editor for Windows, Mac and Linux. Major features include support for a wide range of formats; no import required meaning native timeline editing. It also supports hundreds of audio and video formats and codecs thanks to FFmpeg. No import required which means native editing, plus multi-format timelines, resolutions and frame-rates within a project. Frame accurate seeking support for many video formats.
It also supports Blackmagic Design SDI and HDMI for input and preview monitoring. Screen, webcam and audio capture. Network stream playback. Supports resolutions up to 4k and capture from SDI, HDMI, webcam, JACK & Pulse audio, IP stream, X11 screen and Windows DirectShow devices.
Support for the latest audio and video formats thanks to FFMPEG
Support for 4K & 8K resolutions
Network stream playback (HTTP, HLS, RTMP, RTSP, MMS, UDP)
Frei0r video generator plugins (e.g. color bars and plasma)
Color, text, noise, and counter generators
EDL (CMX3600 Edit Decision List) export
Export single frame as image or video as image sequence
Videos files with alpha channel – both reading and writing
Tone mapping HDR to SDR
Optional full range video input, processing, and export
10-bit video end-to-end when using only GPU effects
Capture (record) SDI, HDMI, webcam (V4L2), JACK audio, PulseAudio, IP stream, and Windows DirectShow devices
Supports popular image formats such as BMP, GIF, JPEG, PNG, SVG, TIFF, WebP as well as image sequences
OpenGL GPU-based image processing with 16-bit floating point linear per color component
AMD, Intel, and NVIDIA hardware encoding
Audio scopes: loudness, peak meter, waveform, spectrum analyzer
HTML5 (sans audio and video) as video source and filters
Capture (record) SDI, HDMI, webcam (V4L2), JACK audio, PulseAudio, IP stream, X11 screen, and Windows DirectShow devices
Multi-core parallel image processing (when not using GPU and frame-dropping is disabled)
DeckLink SDI keyer output
OpenGL GPU-based image processing with 16-bit floating point linear per color component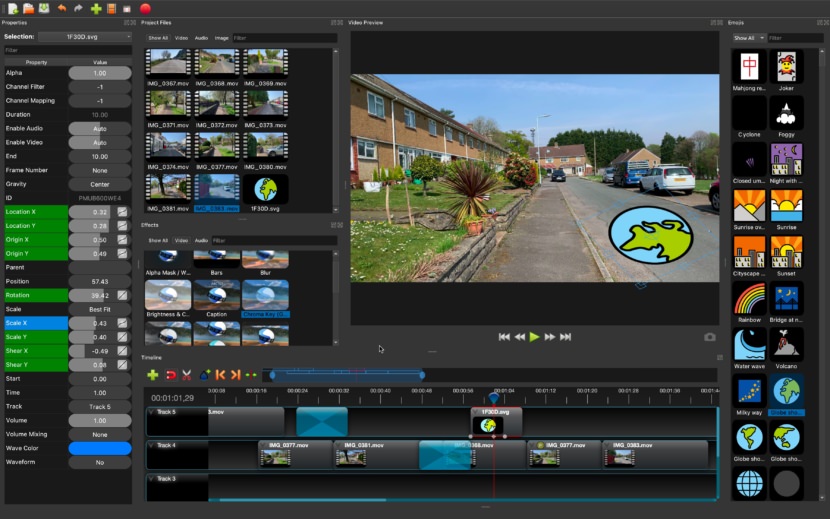 OpenShot Video Editor is a free, open-source video editor for Linux licensed under the GPL version 3.0. OpenShot can take your videos, photos, and music files and help you create the film you have always dreamed of. Easily add subtitles, transitions, and effects, and then export your film to DVD, YouTube, Vimeo, Xbox 360, and many other common formats.
Powerful curve-based Key Frame animations
Desktop integration (drag and drop support)
Clip resizing, scaling, trimming, snapping, rotation, and cutting
Video transitions with real-time previews
Compositing, image overlays, watermarks
SVG friendly, to create and include vector titles and credits
Support for Rotoscoping / Image sequences
Video encoding (based on FFmpeg)
Ken Burns effect (artistic panning over an image)
Digital video effects, including brightness, gamma, hue, greyscale, chroma key (bluescreen / greenscreen) , and many more!
OpenShot provides extensive editing and compositing features, and has been designed as a practical tool for working with high-definition video including HDV and AVCHD .
Free With Limitation
Hitfilm Express is described as 'HitFilm Express is a free editor & compositor for Mac & PC. Includes over 410 powerful effects & presets'. It is a very powerful video editing and VFX tool you need to make something cool. Take your first step towards pro-filmmaking with their free starter software – HitFilm Express. Perfect for students, YouTubers, and beginner filmmakers.
HitFilm Express takes your workflow to the next level. Seamlessly combining a huge array of features providing amateurs and professionals everything they need to see a project through to the end.
Advanced format & dimension support – Work in 8K resolution, export OpenEXR & FBX and support OpenFX plugins
Access to Artlist stock music & sound effects – Make an impact with incredible royalty-free music and sound effects for your videos
Super-fast performance – Performance proxy gives their fastest ever editing – no waiting!
Advanced editing tools – All the editing tools you need including cut, slice, trim, split, crop and flip
Free With Limitation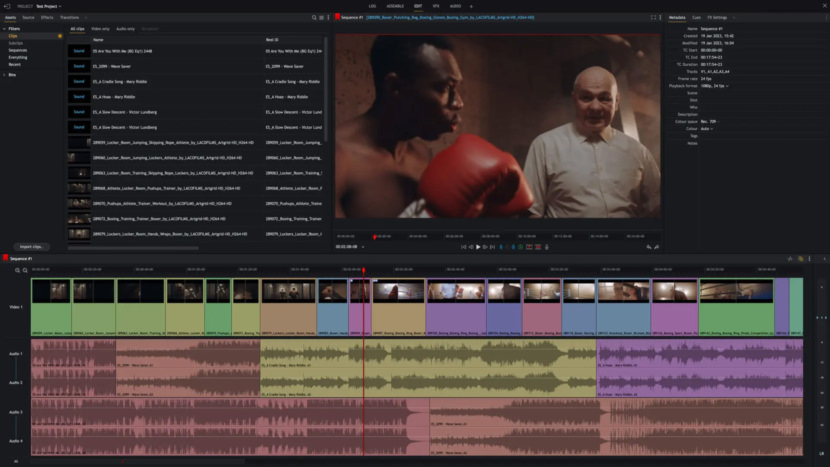 Lightworks isn't just video editing software. It unlocks your potential as a video editor. A unique journey crafted for all levels, empowering you to create stunning videos that match your vision. No prior experience or technical expertise needed, just the courage to make your first cut. Lightworks is EditShare's Academy and Emmy award-winning, professional Non-Linear Editing (NLE) software supporting resolutions up to 4K as well as video in SD and HD formats.
In the last 25 years Lightworks has been used to edit some of the finest films in cinema history: The Wolf of Wall Street, LA Confidential, Pulp Fiction, Heat, Road to Perdition, Hugo, The King's Speech and many more! We're proud of its heritage and they want to share it with you. Discover the incredible features of this application and why Oscar nominated editors around the world use Lightwork Pro every day.
Realtime effects, including over 100 presets
Advanced multicam editing
Second monitor output
Vimeo (H.264 / MPEG-4) 240p, 360p, 480p, 720p and 1080p (HD)
YouTube (H.264 / MPEG-4) 240p, 360p, 480p and 720p
Free With Limitation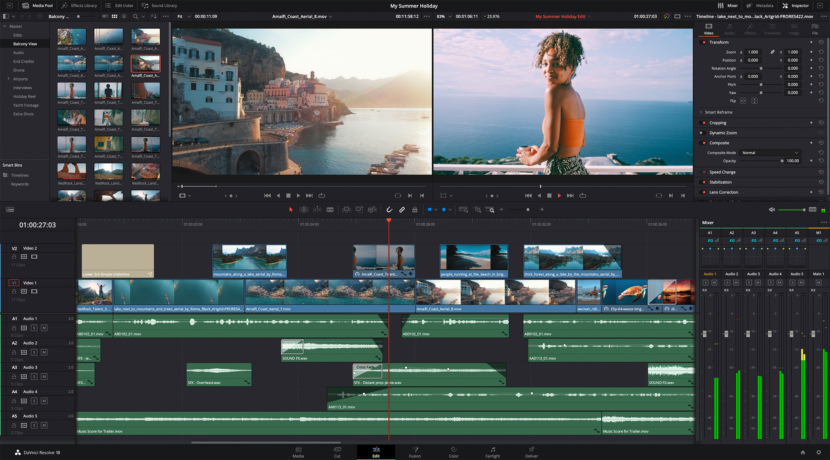 DaVinci Resolve is the world's only all in one solution for editing, color, VFX, motion graphics and audio! The free version works with virtually all 8‑bit video formats at up to 60fps in resolutions as high as Ultra HD 3840 x 2160. The free version includes multi-user collaboration and HDR grading!
Hollywood's most popular solution for editing, visual effects, motion graphics, color correction and audio post production, all in a single software tool for Mac, Windows and Linux! It is the world's only solution that combines editing, color correction, visual effects, motion graphics and audio post production all in one software tool! Its elegant, modern interface is fast to learn and easy for new users, yet powerful for professionals.
DaVinci Resolve lets you work faster and at a higher quality because you don't have to learn multiple apps or switch software for different tasks. That means you can work with camera original quality images throughout the entire process. It's like having your own post production studio in a single app! Best of all, by learning DaVinci Resolve, you're learning how to use the exact same tools used by Hollywood professionals!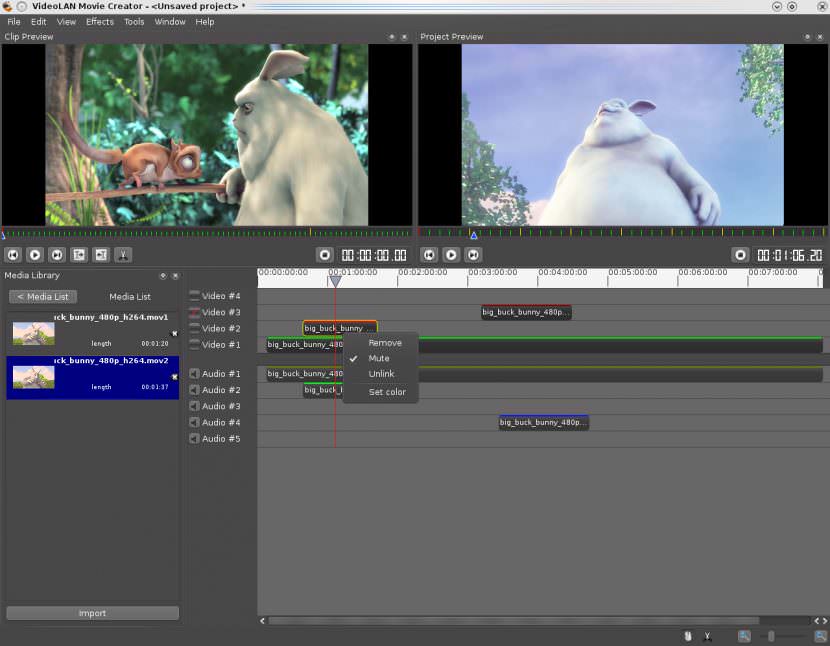 VideoLAN Movie Creator is a non-linear editing software for video creation based on libVLC and running on Windows, Linux and macOS! It is free software distributed under the terms of the GPLv2. Note that VLMC is still under development and therefore not ready for beta testing or production yet. It will be completely Free – no spyware, no ads and no user tracking.
Based on the proven VLC framework, it reads everything and can export to most formats. Simple to use, yet powerful, not to mention it is completely Free – no spyware, no ads and no user tracking.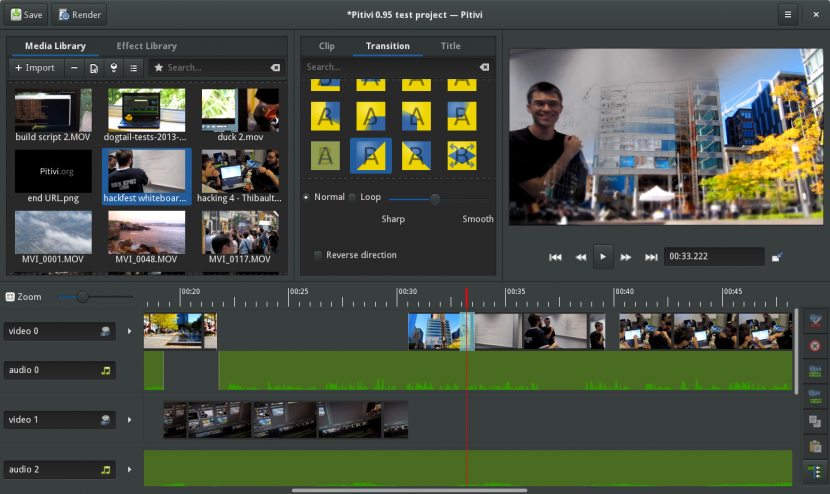 Built upon the GStreamer multimedia framework, Pitivi aims to be an intuitive and flexible video editor that integrates well with GNOME and can appeal to newbies and professionals alike. Pitivi pronunciation is a Free video editor with a beautiful and intuitive user interface, a clean codebase and a fantastic community.
Pitivi respects your freedom and keeps getting better with each new release. It will never require licensing fees or use DRM to prevent you from using it whenever, wherever and however you like. Developed collaboratively by people from all around the world, its sole purpose is to be a fantastic video editor to empower people to express themselves through video. Like GStreamer and GES, Pitivi is distributed under LGPL.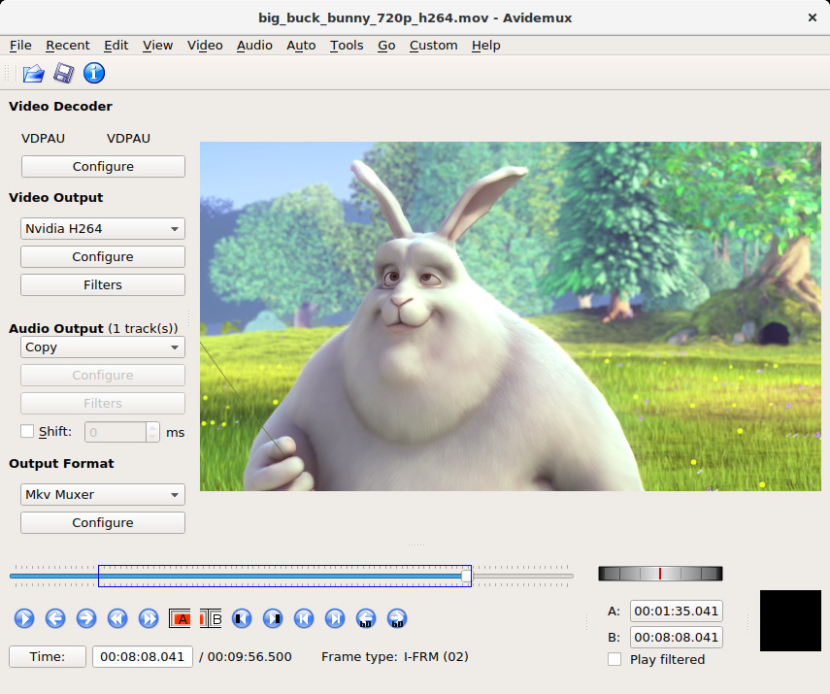 Avidemux is a free video editor designed for simple cutting, filtering and encoding tasks. It supports many file types, including AVI, DVD compatible MPEG files, MP4 and ASF, using a variety of codecs. Tasks can be automated using projects, job queue and powerful scripting capabilities.
Avidemux is available for Linux, BSD, macOS and Microsoft Windows under the GNU GPL license. The program was written from scratch by Mean, but code from other people and projects has been used as well. Patches, translations and even bug reports are always welcome.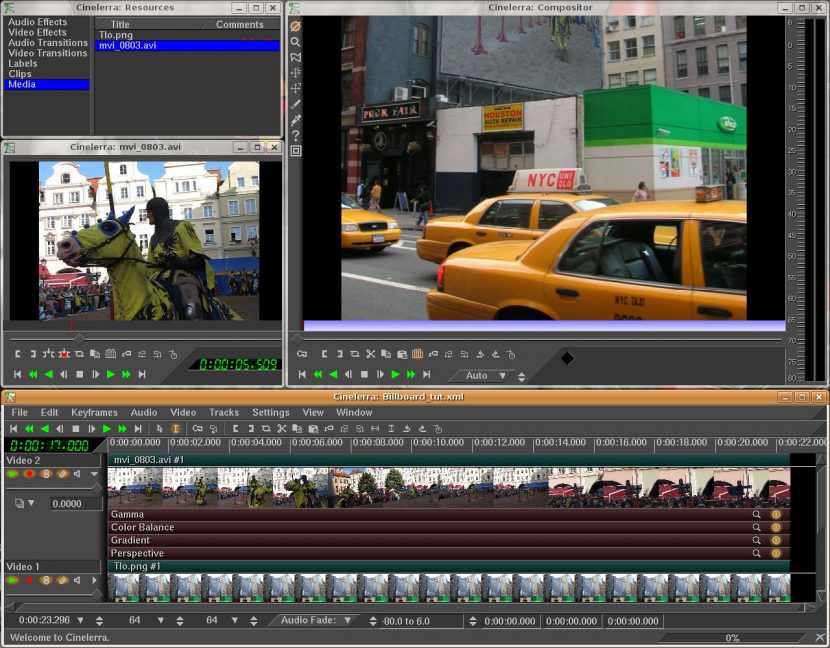 Cinelerra.Org has released the fastest and highest quality free media production software anywhere, now with FFMPEG and 4K support. Cinelerra has been freely downloaded over 1 Million times since 2002 and is used daily by thousands of artists everyday in over 50 countries.
We are representing the media generation who believes they should always have access to capable and effective free media production software in order to pursue their artistic and technological interests. Cinelerra is designed by an artist for artists and it is not a science project nor a museum piece, it is an active growing software application that has been freely downloaded for over ten years by artists all over the world.
12. GoPro Quik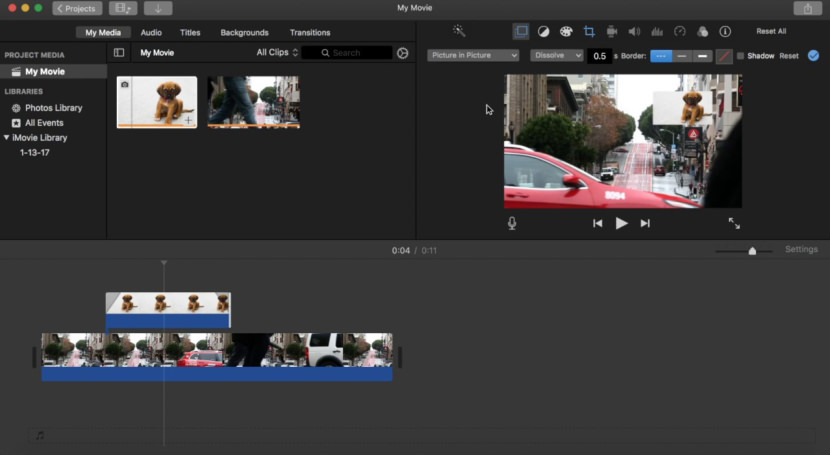 [ Discontinued ] Quik makes it easy to access, edit and enjoy your GoPro photos and videos. Automatically import1 your footage and create awesome videos synced to music in just a few clicks. And with an optional GoPro Plus subscription, it's even easier to create and share epic videos with Quik. You'll have a huge variety of soundtracks to choose from, and you can auto upload your photos and videos to the cloud to edit and enjoy on your phone—anytime, anywhere.
Add photos and time lapse sequences to your videos, and see them come to life with panning effects
Create awesome videos synced to music with just a few clicks
Auto upload to the cloud and unlock additional soundtracks when you subscribe to GoPro Plus2
Add gauges and graphs to your videos that show how fast, far and high you went3
Automatically import and organize your photos and videos
Create and share short video clips
Easily view and edit burst and time lapse photos
Update your GoPro products with the latest features for optimal performance
13. VideoPad Video Editor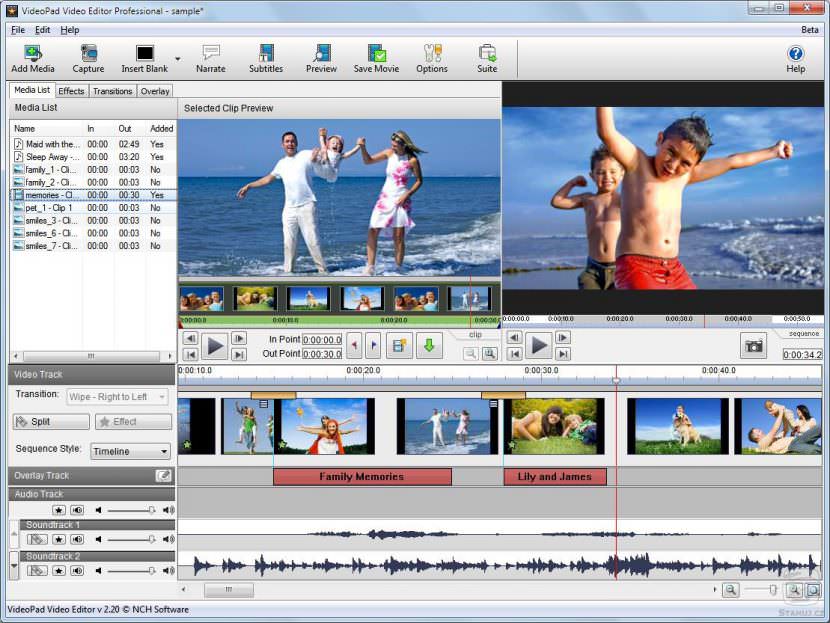 [ Discontinued ] This full-featured video editor lets you easily create your very own professional looking videos, complete with transitions, music and narration. Make the most of your captured memories with the VideoPad Video Editor. Easily cut, paste and piece together your footage and create an enjoyable movie for friends and family to see.