Which is the best Blu-Ray DVD Ripper for Windows 10 and macOS? There are literally hundreds of DVD and Blu-ray compression software in the market but which is the best in compressing video to fit into your smartphone? Budget airlines are becoming ever more popular, the drawback is the lack of entertainment. You can compensate for this by compressing your Blu-ray or DVD collections for long haul flights.
🤣😍😂 8 Free Video Editing Software For YouTube Movies And Film
Here are some of the best free video compression software for reducing the large size files of webcam videos and smartphone camera videos for YouTube, Android Smartphones and iPhone.
↓ 01 – HandBrake [ The Best ] | Windows | macOS | Linux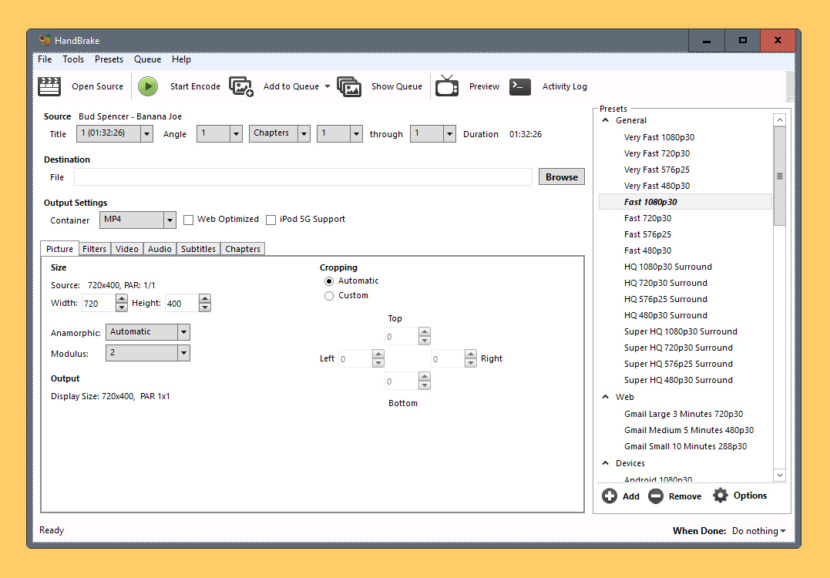 how to compress an mp4 video fit for email? HandBrake is the answer, it is a tool for converting video from nearly any format to a selection of modern, widely supported codecs. Get started with HandBrake in seconds by choosing a profile optimised for your device, or choose a universal profile for standard or high quality conversions.
Simple, easy, fast. For those that want more choice, tweak many basic and advanced options to improve your encodes. Handbrake can process most common multimedia files and any DVD or BluRay sources that do not contain any kind of copy protection. Works great on Microsoft's Windows 10 and Apple's macOS.
File Containers: .MP4(.M4V) and .MKV
Video Encoders: H.265 (x265 and QuickSync), H.264(x264 and QuickSync), H.265 MPEG-4 and MPEG-2, VP8, VP9 and Theora
Audio Encoders: AAC / HE-AAC, MP3, Flac, AC3, or Vorbis
Audio Pass-thru: AC-3, E-AC3, DTS, DTS-HD, TrueHD, AAC and MP3 tracks
Important! Download Version 0.9.5 – To compress a video to a targeted 700MB CD size, only version 0.9.5 has this feature. HandBrake decided to remove the targeted feature, the reason is the quality of the video.
↓ 02 – Avidemux | Windows | macOS | Linux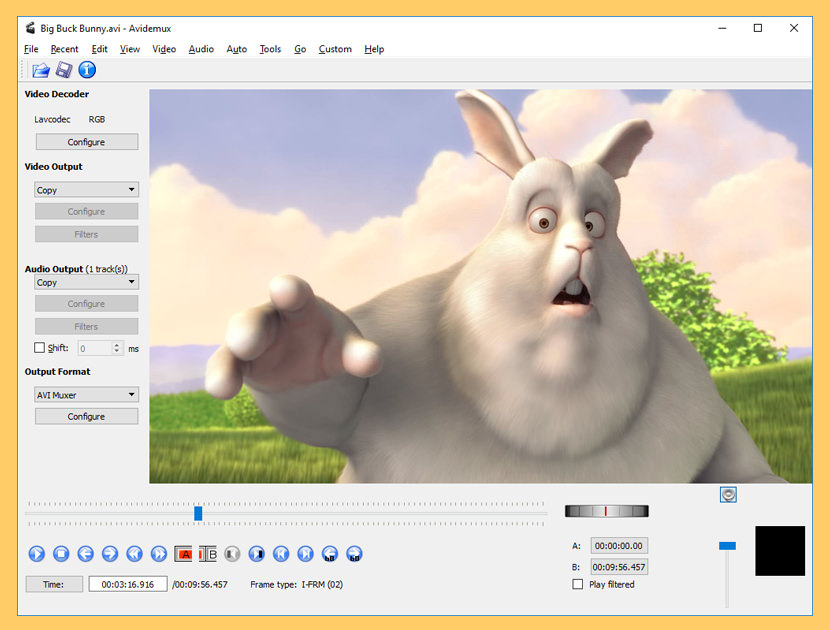 Avidemux is a free video editor designed for simple cutting, filtering and encoding tasks. It supports many file types, including AVI, DVD compatible MPEG files, MP4 and ASF, using a variety of codecs. Tasks can be automated using projects, job queue and powerful scripting capabilities.
Avidemux is available for Linux, BSD, macOS and Microsoft Windows under the GNU GPL license. The program was written from scratch by Mean, but code from other people and projects has been used as well. Patches, translations and even bug reports are always welcome.
↓ 03 – VidCoder [ Remove Copy Protection ] | Windows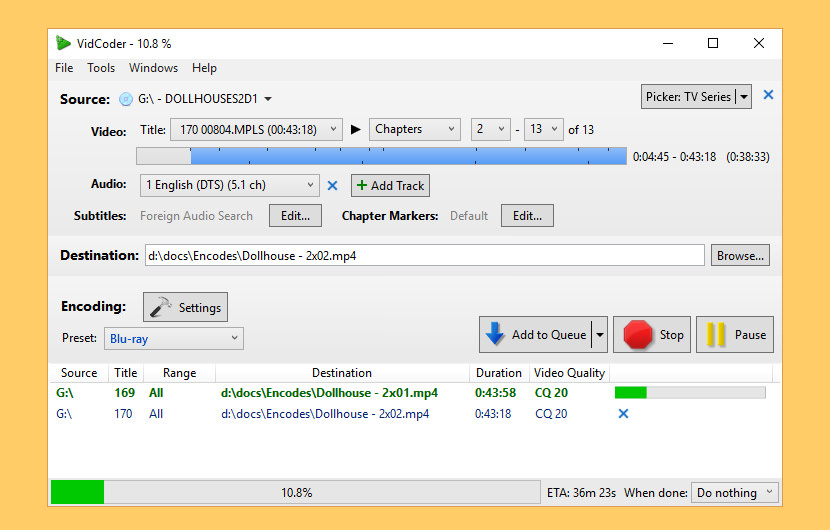 VidCoder is an open-source DVD/Blu-ray ripping and video transcoding application for Windows. It uses HandBrake as its encoding engine. DVDs VidCoder can rip Blu-ray and DVDs but does not defeat theAACS or BD+ Blu-ray encryption and CSS encryption found in most commercial disc. With third party plugins, VidCoder can remove copy protected DVDs and Blu-ray.
Multi-threaded
MP4, MKV containers
H.264 encoding with x264, the world's best video encoder
Completely integrated encoding pipeline: everything is in one process and no huge intermediate temporary files
H.265, MPEG-4, MPEG-2, VP8, Theora video
AAC, MP3, Vorbis, AC3, FLAC audio encoding and AAC/AC3/MP3/DTS/DTS-HD passthrough
Target bitrate, size or quality for video
2-pass encoding
Decomb, detelecine, deinterlace, rotate, reflect filters
Batch encoding
↓ 04 – QWinFF | Windows | Ubuntu | OpenSuse | Fedora

QWinFF is a GUI for FFmpeg, a powerful command-line media converter. FFmpeg can read audio and video files in various formats and convert them into other formats. QWinFF provides an intuitive graphical interface and a rich set of presets to help you use ffmpeg easily without having to type a single command. Advanced users can also adjust conversion parameters like bitrate and sample rate in detail.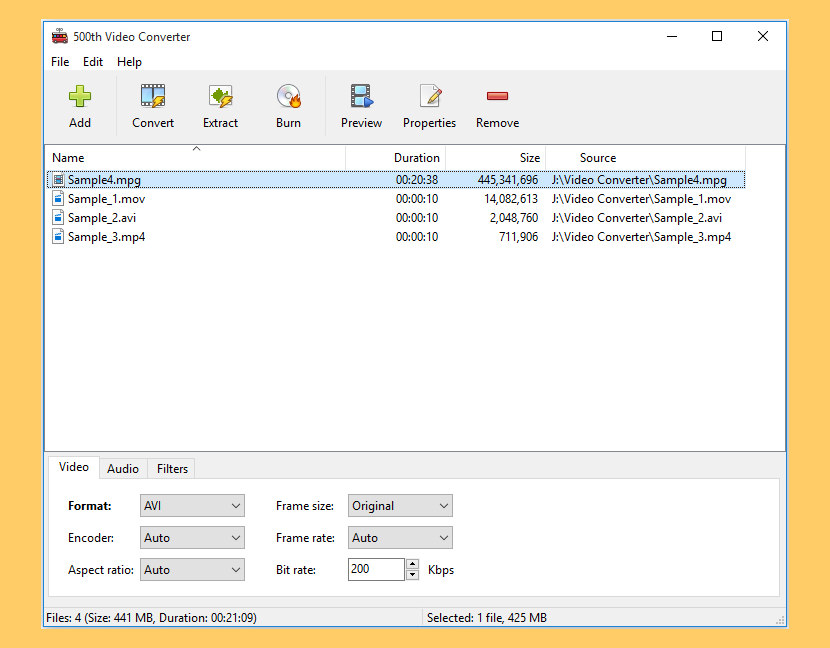 500th Video Converter is a lightweight and easy to use video conversion software, which allows you to convert and burn video files, extract audio tracks from video files, preview video and apply visual effects. You can use this tool to reduce the bitrate and frame size, thus compressing them.
Convert – 500th Video Converter allows you to convert any video file and save it to various formats such as AVI, MOV, MKV, WMV, VCD, DVD, MP4.
Extract – With 500th Video Converter you can extract audio track from any video file and save it to various format such as MP3, WAV, OGG, FLAC, WMA.
Burn – With 500th Video Converter you can burn your video files to CD, DVD or Blu-ray Disc as well as erase any rewritable media.
Supports batch conversion and extraction
Supports all types of CD/DVD/Blu-ray Recorders