There are times when certain avi videos are not playable (corrupted), possibly due to IO error when downloading. If the video is another movie that can be found in any video rental shop then it is a non issue, but if it's a homemade video of your precious memories such as your wedding day, how do you go about watching the corrupted video?
Is there any freeware that repairs and fixes corrupted video files in .avi format? The need to repair these precious videos is important, here are some free tools which allow you to repair your corrupted video files for Microsoft Windows 7, 8, 8.1, 10 & Apple macOS 32bit and 64 bit.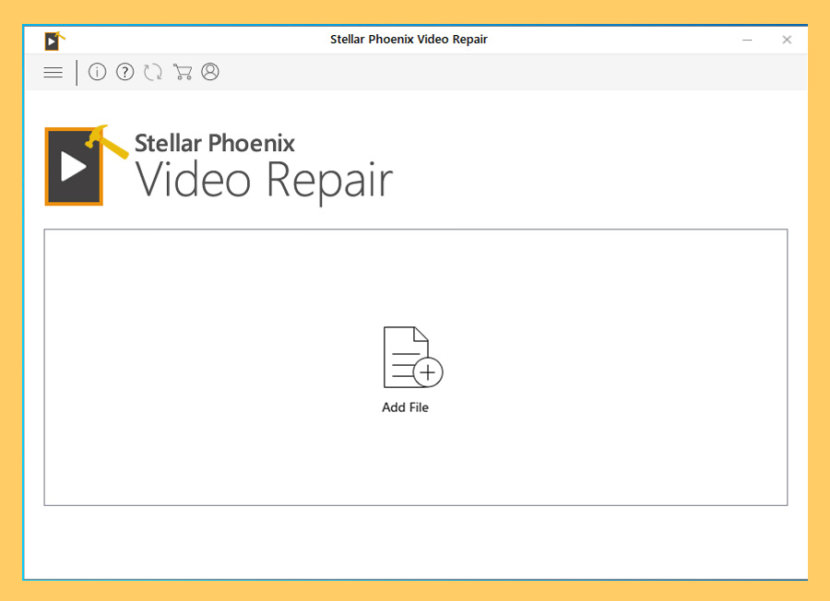 Efficient video repair tool for Apple macOS and Microsoft Windows to repair corrupt or damaged videos including MOV files that are unplayable in QuickTime player. The tool repairs videos affected by various issues like sound corruption, header corruption, movement corruption, duration corruption, and change in format. In addition, it allows simultaneous repair of multiple video files.
Supports repair of MP4, MOV, 3GP, M4V, M4A, 3G2, and F4V video file formats
Repairs video present on hard disks, memory cards, and other storage media
Provides a preview of the repaired videos
Saves repaired files at a user-specified location
Supports the latest macOS Yosemite, Mavericks, Mountain Lion, Lion, and Snow Leopard
Supports Windows 10/8/8.1/7/Vista and Mac 10.13/10.12/10.11/10.10/10.9/10.8/10.7
The new version has a new feature in the software which allows users to repair severely corrupted video files by using a sample file. A Sample File is a working file of any size created from the same device and of the same format as of your corrupt video file.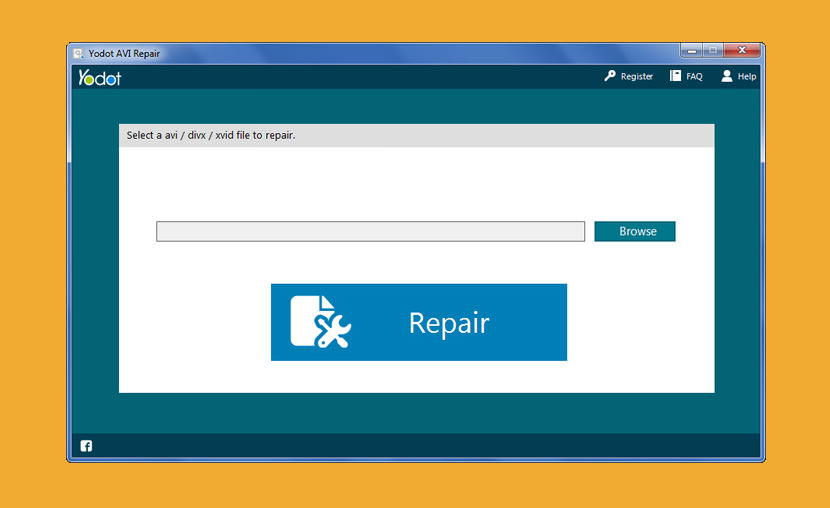 Fixing a corrupted AVI file is no longer a difficult task!
Instantly repairs AVI, XVID and DIVX video files on Windows and macOS
Fix corrupted AVI files created by famous DSLR cameras or camcorder brands
Repairs corrupt AVI files present on hard drive, memory card, USB drive, iPod, etc
Simple and user friendly interface to mend video files in 3 to 4 steps
Preview video file after the completion of repair process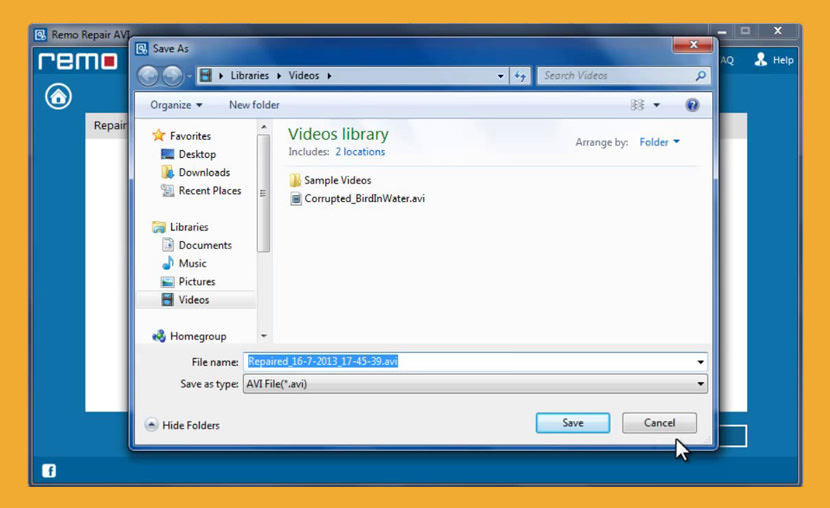 Remo Repair AVI has been built to repair unplayable avi, xvid and divx file formats. An avi file becomes unplayable when it gets corrupted or damaged due to various reasons. This application has been built with powerful algorithms to splice and de-mux broken parts of a corrupt file and transform an erratic display into a seamless presentation. Thus, with Remo Repair, videos rendered useless can be converted into useful files. Features
Repairs corrupt, damaged avi, xvid and divx file formats that do not play smoothly or do not play at all
Repairs and adjoins audio and video data stream side by side
Fixed avi files can be played both on Windows and macOS
Comes with a demo version which repairs corrupted files and provides a preview of the repaired file. This enables one to evaluate the trial version before purchasing the software
Supports devices like Hard Disk Drives, Memory Cards, USBs etc.

Repair AVI videos in just a few clicks! Digital Video Repair will fix broken AVI files encoded with Xvid, DivX, MPEG4, 3ivx and Angel Potion codecs, helping achieve a perfectly smooth viewing experience. Playing corrupted AVI files can result in blotchy or jerky playback, lockups, visual artefacts and audio-video desync. DVR will carefully repair the AVI file structures, re-encoding bad segments if required to ensure smooth, uninterrupted playback and full conformance to the original AVI specifications.
Detect the corrupt data
Repairing the index of AVI file
Repairing AVI files size over 2Gb
Fixing AVI files failed in recording
Repairing AVI files without MOVI-chunk
Detect the key-frame for these codecs: XviD, DivX 4, 5, 3ivx, Microsoft MPEG4 (versions 1, 2, 3), DivX 3.11 and late (versions 1, 2, 3 Low and Fast) and Angel Potion (versions 1 and 2)
Support the Standard AVI file format (Microsoft Video for Windows)
Support the OpenDML AVI file format
Processing multi-track AVI files
Delete not important information from AVI file (chunk JUNK)
Multi Language Support (English, German, Russian) via System Menu:
05 – Repair Video Master [ Discontinued ] | Windows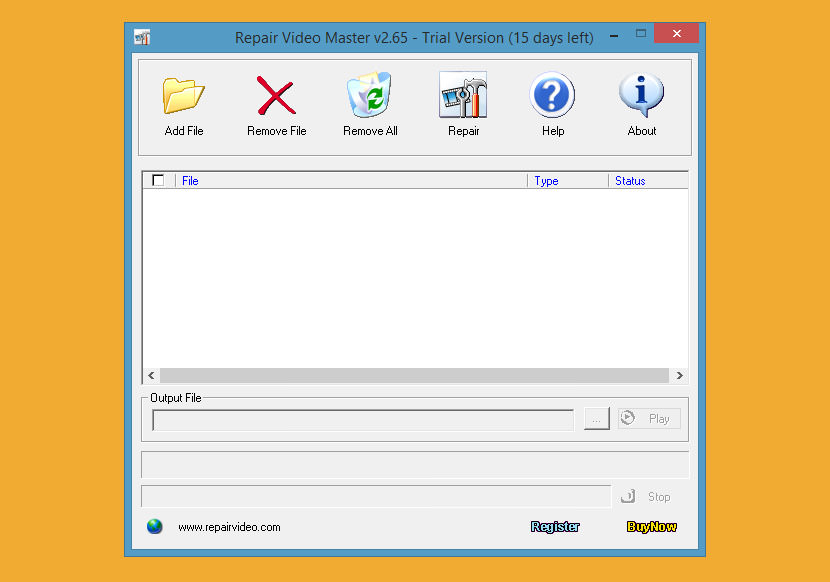 Don't discard partly damaged or corrupted video files; Repair Video Master can recover them for you.
Small utility for repairing video files can't be played or seeked(fast forwarded).
Support repairing AVI, DivX, Xvid, MPEG-4, RM, RMVB, ASF, WMV, WMA, AC3 files.
No damage to your original video, making its fixed copy instead.
Fix with excellent performance and high speed.
[ Tutorial ] VLC Media Player
Repair Corrupt AVI, Mp4, QTRM, and Mov Videos with VLC Media Player. Having said that, perhaps the best software to repair your broken avi video file is none other than to use the best video player in the market – VLC Media Player. VLC Player comes with a build in feature that repairs broken avi file, you can configure VLC to automatically or mass fix damaged .AVI files, without displaying the below notifications: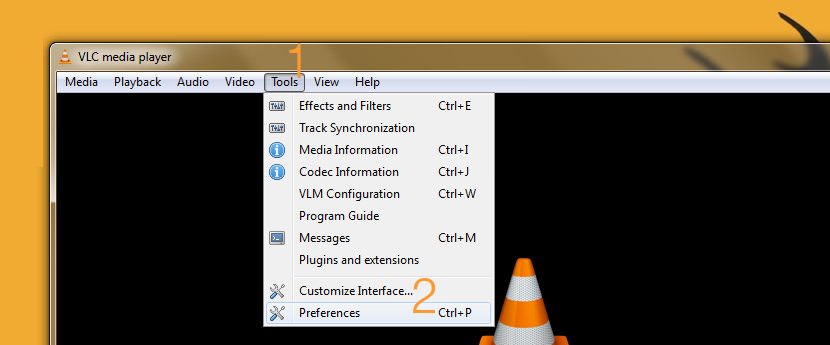 Step 1 – Go to 'Tools'
Step 2 – Select 'Preference'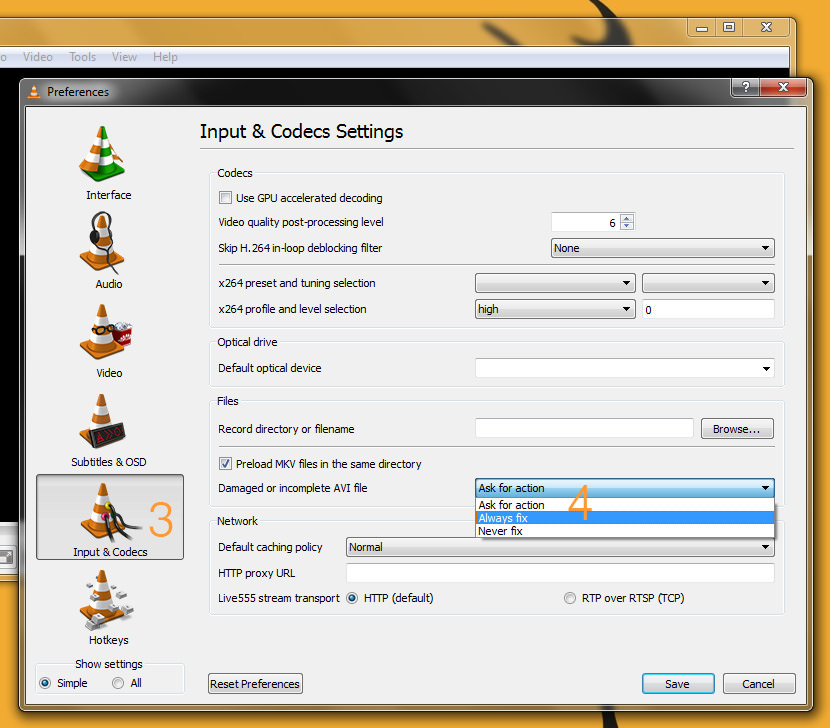 Step 3 – Click on the 'Input & Codecs' tab
Step 4 – Choose 'Always Fix'
Click on the Save button to validate. Why is VLC Media Player the best tool to fix avi? Because it works on Microsoft Windows, Apple macOS, Linux Ubuntu and more. Avi is an outdated format, perhaps it is time to use H.264 encoder to migrate all of your avi files to MP4.