Before we proceed with this article, do know that there is a difference between "recovering a corrupt memory disc" and "repairing a corrupt Jpeg photo file". Recovering photos from a damaged SD card is a matter of accessing the files indirectly and duplicating it onto a good disc, while repairing a file means identifying the problem that causes the jpg not viewable and fixing it.
🤣😍😂 20 Free Bad Sector, Corrupted, Damaged Hard Disk Data Recovery
Here are some photo recovery software for damaged image files, some performed better than the other, while some failed miserably. A Complete Do-It-Yourself photo recovery software for Apple macOS and Microsoft Windows that helps you to recover lost/deleted photo, audio, and video files from your computer, external Drives, and digital cameras.
It also helps you to recover your photos lost due to deletion, corruption or formatting of sd card, hard drives. You can recover your lost or deleted multimedia files from digital cameras, memory cards, laptops, desktops, USB drives, CDs, DVDs or from any other storage media.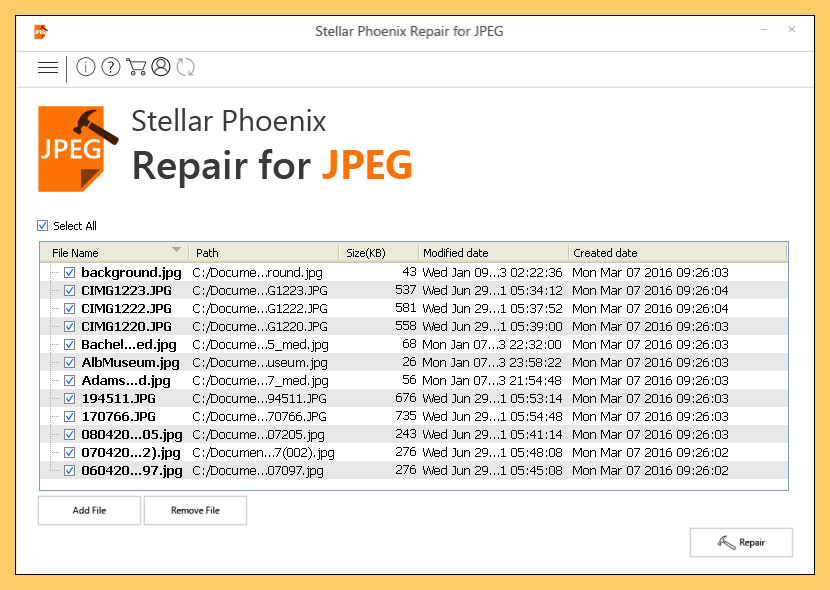 Stellar Repair for Photos [ Guarantee 100% Works / Download Trial ] is a useful JPEG/JPG (or any supported image format) repair software that repairs corrupt or damaged photographs and image files, having JPEG or JPG file extension without modifying their original data. This powerful utility even repairs the images from the memory cards, which are completely unreadable. This is perhaps one of the best image repair software we've used, possibly the most advanced too. Highly recommended. Works great on Microsoft's Windows 10 and Apple's macOS.
Repairs corrupted or damaged JPEG & other image files and recover them back from the flash memory cards, memory sticks, computer hard drives or any other secondary storage media. Stellar JPEG Repair fixes your completely unreadable JPEG files even under the situations of corrupt header, corrupt JPEG data, invalid JPEG file structure, unknown or invalid JPEG marker, missing SOS marker etc.
Repairs Corrupt Header & Invalid JPEG File Structure
Fix Corrupt Photos Recovered From Corrupt Storage Media
Extracts Thumbnails Of Severely Corrupt JPEG File
Repairs Multiple JPEG & other photos Simultaneously
Offers Preview Of Repaired JPEG/JPG & other Photos
↓ 02 – File Repair | Free Demo | Windows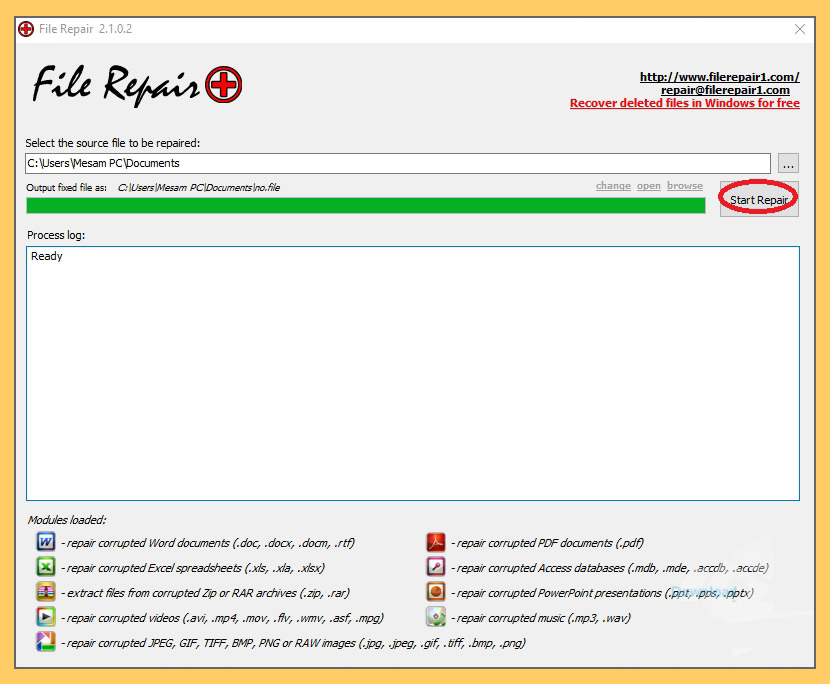 File Repair software for Jpeg photo format. File Repair software is a basic tool to repair your corrupted photo files, including those from iPhones or Android smartphones. It scans the damaged file and extracts maximum data from it to a new usable file. Restore and recover files damaged by virus, due to application failures, system crashes and network errors.
File Repair software titles are powerful tools to repair your corrupted files. It scans the damaged file and extracts maximum data from it to a new usable file. Using File Repair, you can repair corrupted JPEG, GIF, TIFF, BMP, PNG or RAW images (.jpg, .jpeg, .gif, .tiff, .bmp, .png).
↓ 03 – PixRecovery | Free Demo | Windows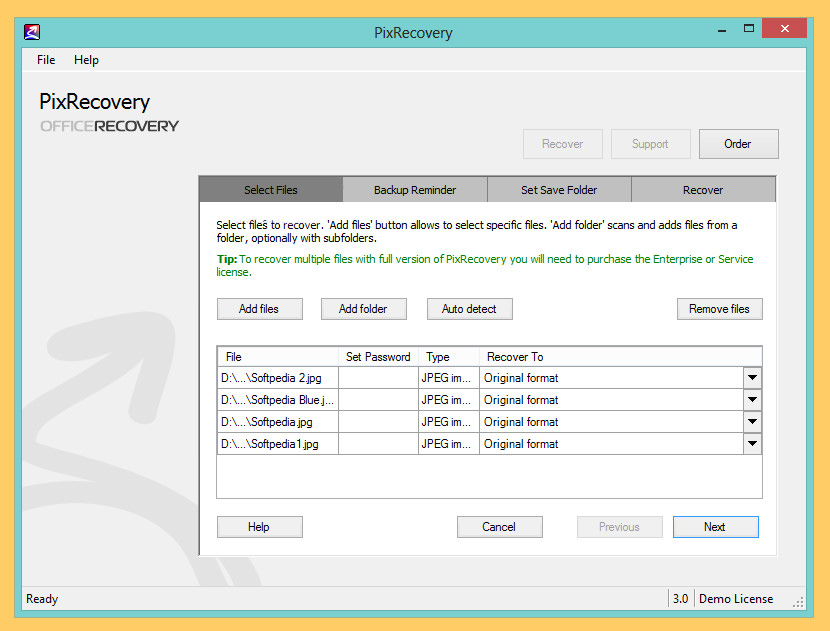 PixRecovery repairs corrupted JPEG, GIF, TIFF, BMP, PNG or RAW images (.jpg, .jpeg, .gif, .tiff, .bmp, .png). The recovered data is saved (full version) into a new image in bitmap (.bmp) or original file format according to the user's choice. As shown in the screenshot below, it is a very simple software that does the repairing job. No thousand and one buttons to click, just drag and wait for the recovery process.
RAW format supported for the following systems: Canon, Epson, Fuji, Hasselblad, Kodak, Leica, Mamiya, Minolta, Nikon, Olympus, Panasonic, Pentax, Ricoh, Sony.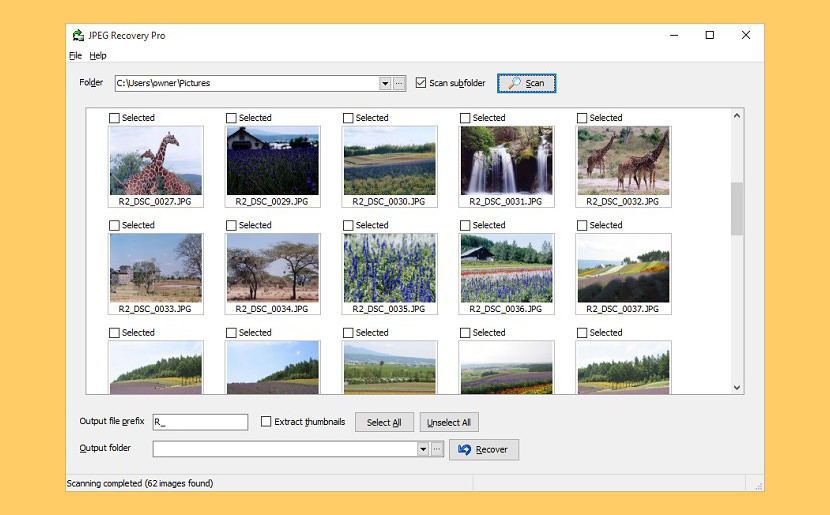 JPEG Recovery is a handy tool to repair corrupted JPEG pictures or photos which are restored by a photo or data recovery software. JPEG Recovery supports combining 2 JPEG pictures for recovery, just in case the original picture was split into 2 files by the photo or data recovery software.
Recover the JPEG picture that was corrupted after being restored by photo/data recovery software. Automatically search and try fixing the picture within the folder and subfolders. Do you find that some photos recovered by digital photo recovery software are corrupted, example:
Splits into two (or even more) parts, and
In between there is part of another photo, and
The color of the lower part(s) may be changed, and
There is a shift of the contents of the photo
↓ 05 – Pic Doctor | Free Demo | Windows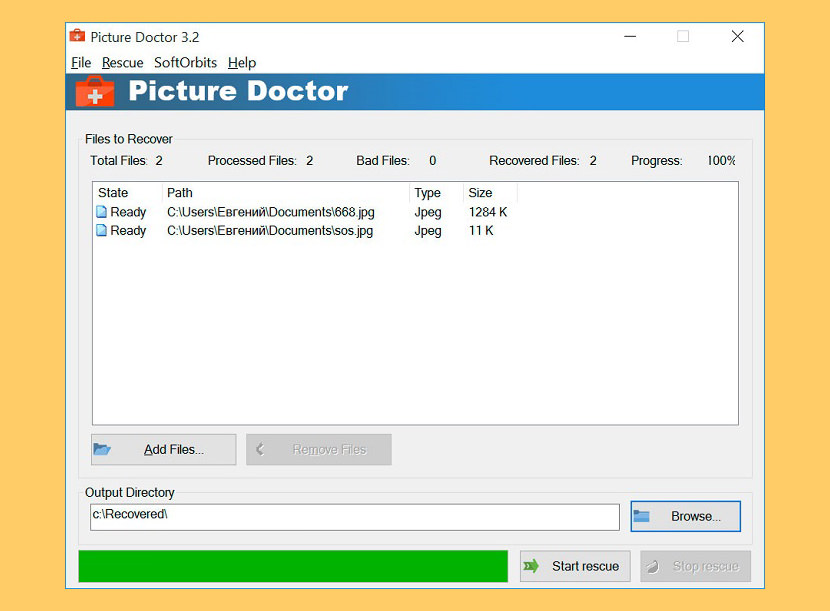 Picture Doctor is not just another jpeg repair tool for damaged graphic files. It can recover corrupt JPEG and Adobe Photoshop PSD files. Program restores the corrupted graphic files and saves them into BMP format. It also recovers layers data for PSD images and does batch processing. This is one of the better recovery programs in the market. Download the demo and activate it with the key emailed to you. Picture Doctor will help you to restore corrupted and truncated Jpeg and Psd files!
Supports JPEG and PSD file formats
Images recovery with original dimensions and palette
Recovers layers data for PSD images
Batch file processing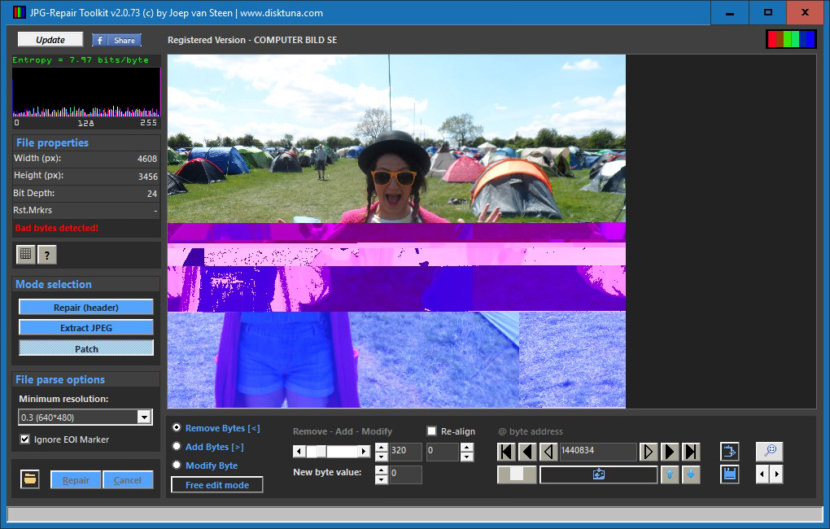 This toolkit is available for you to repair corrupted JPEGs yourself. JPEG-Repair Toolkit was initially designed for in-house use only and is constantly updated to handle situations we encounter when delivering our JPEG photo repair services. That means my JPEG-Repair Toolkit can handle every situation causing JPEG corruption I have ever seen 'in-the-wild'.
IF a JPEG is repair-able then you should be able to do so using the JPEG-Repair Toolkit. Note that more complex repairs require effort and a bit of luck, no single click repairs are available in those cases. Especially repairs of image data may also require post processing using photo editing software.
Repair corrupt and damaged JPEG files
Fix corrupt JPEG header
Repair Invalid JPEG markers
Repair damage due to bad sectors
Recover JPEG data from corrupt RAW photos such as CR2 and NEF
Does not re-encode JPEG image so original quality is preserved!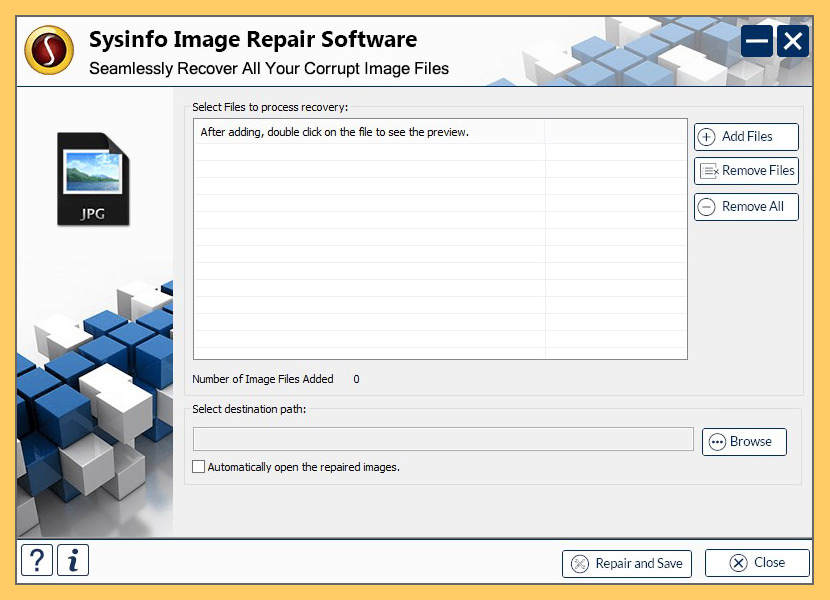 SysInfoTools Image Repair tool is one of the finest tools which lets you recover and get back images/photos which have been either corrupted or damaged due to any unforeseen reasons. An online Digital photo repairing tool which has been designed with one of the most advanced restoring algorithms to fix images, photos of any format with ease.
The application not only helps users to recover data from systems but also supports recovery from SD card, memory cards, USB flash drives and many more. The application has been designed to repair and rebuild photos which are corrupt or inaccessible. The whole recovery algorithm has been intended to recover maximum possible data without losing the quality of the photos.
SysInfoTools free software to repair photos is one of the most advanced and smart solutions to recover damaged and distorted images of all popular formats like BMP, JPEG, GIF, TIFF, MOS, MEF, PSP and so on. The Image recovery tool has been aimed to rebuild damaged images from both your system and external cards. There are situations when you lose your data from your camera or any external storage device like pen drive, USB flash drive and so on. The application has been designed to deal with such instances with ease.
Support recovery of digital images facing corruption.
Let's you retrieve images of any format including JPEG, PNG and so on
Support RAW file formats of popular Cameras like Nikon, Canons, Fujifilm, Sony & so on
Run smoothly with all brands of pen drives & USB drives like Seagate, San Disk, Kingston & many more
Support recovery from both FAT & NTFS file systems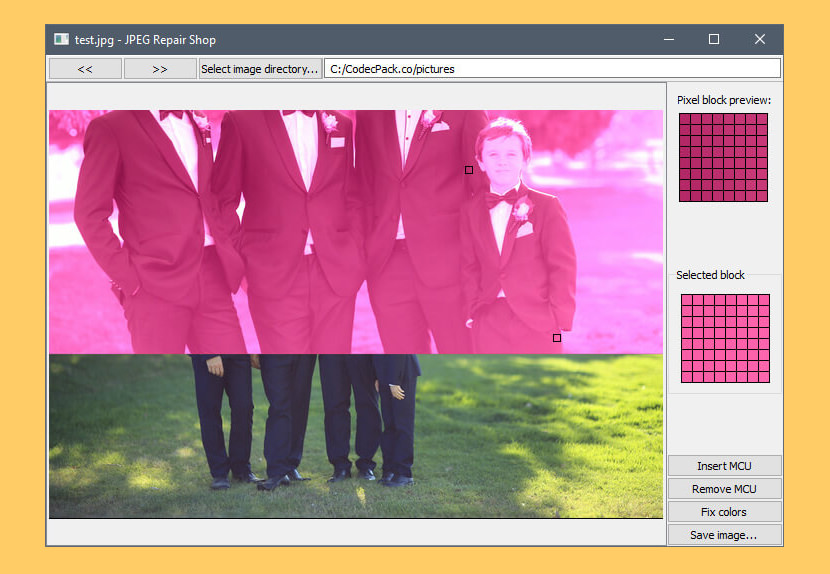 JPEG Repair Shop allows you to repair corrupt JPEG files by manipulating the internal structure of the JPEG file. This makes it possible to repair corrupt files, which would be impossible to fix in a normal image editor.
The image data of JPEG is divided into small rectangular areas called MCUs (Minimum Coded Unit) which are encoded together. Because of the way JPEG files are compressed an error in an MCU is likely to be propagated to the remaining image data, either displacing the image or changing the colors. JPEG Repair Shop allows you to delete and insert MCUs and to automatically fix color errors. Will fix the following errors.
Error: "Cannot load file. Corrupt header." – Either the file is not an JPEG file or there is an error in the file header. Currently the program only repairs errors in the image data, but I expect to add support for corrupt headers in a future release.
Error: "Cannot load file. No data in file." – This is likely due to a failed file transfer. There is nothing I can do for you, there is no data contained in the file.
Error: "Cannot load file. Unsupported marker: X" – This is most likely because the program has encountered a restart marker. This means that the file has built- in code, which helps the program recover from corrupt data, and currently the program does not have support for these files. I might add support for these in the future, but because corruption is less of an issue with these files it is not a priority.
Error: "Cannot load file. JPEG type not supported" – This means that the JPEG file uses progressive encoding (or another rare encoding format, but progressive is most likely). I do not plan to add support for progressive JPEG files. The reason for this is that while it would be rather simple to implement, it would be incredibly hard to use and require advanced knowledge of how data is stored in progressive JPEG files.