How to recover files from damaged scratch DVDs? What is the software for CD DVD data recovery software? While going through some of my old CD collections (movies), I've discovered a large number of my CDs are badly damaged beyond readability, thus beginning the journey of recovery.
🤣😍😂 20 Free Bad Sector, Corrupted, Damaged Hard Disk Data Recovery
Based on my own experience and numerous software try out, I've compiled a short list of CD DVD data recovery software available for free to recover data from your damaged disk. These software are probably outdated, nobody uses a CD anymore, let alone DVD, but for those with unforgettable memories such as their wedding or children's photos saved in a CD, these software are here to retrieve the data.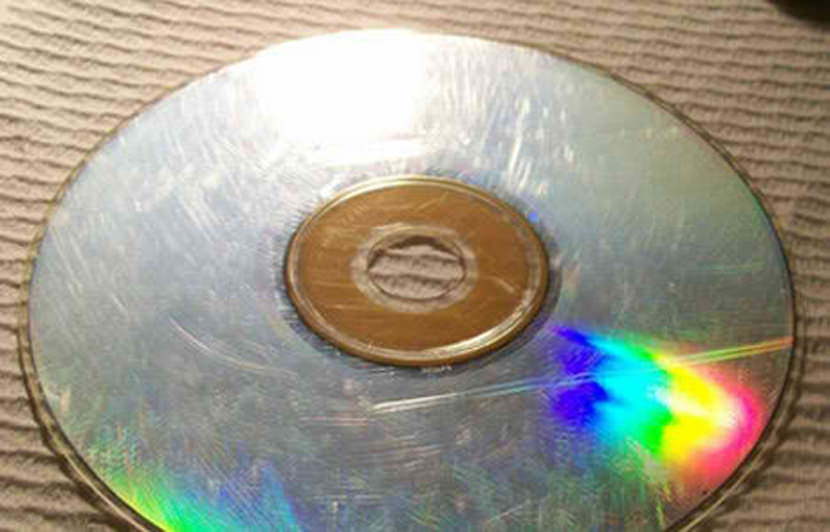 ↓ 01 – IsoPuzzle | Free | Discontinued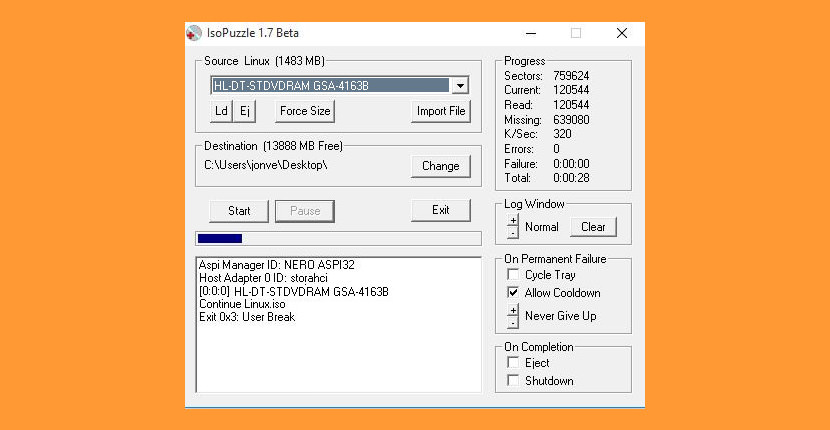 IsoPuzzle is by far the best software to recover data from damaged DVDs. I tried the software on my old scratched CD and it worked. According to sources, it does not guarantee 100% recovery success rate, no harm trying. IsoPuzzle is CD/DVD recovery software.
The goal of this program is to recover as much data as possible of damaged, badly burned or scratched CDs or DVDs. This version is experimental and supports only data CDs and DVDs with sector size of 2048 byte – Audio CD, VCD and SVCD are not supported. Requires ASPI.dll.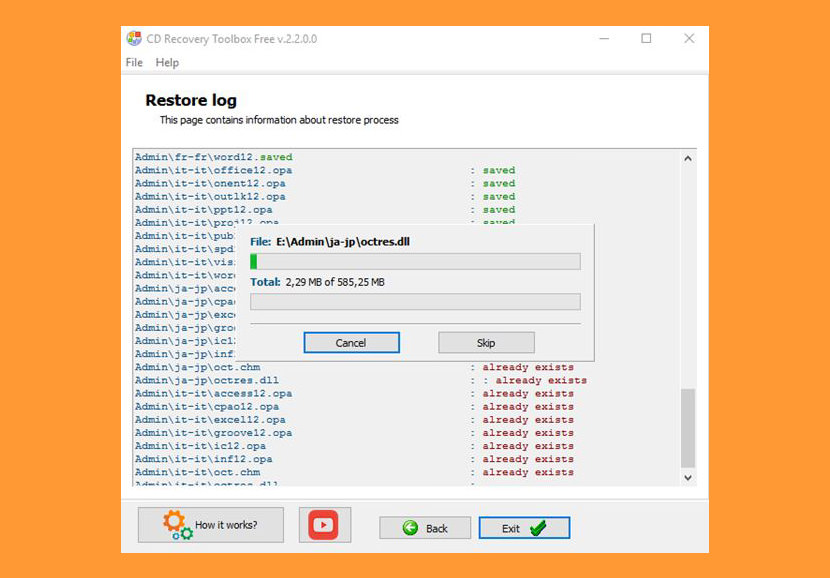 CD Recovery Toolbox was developed for recovering damaged files from different disk types: CD, DVD, HD DVD, Blu-Ray, etc. Use it to restore and recover information lost as a consequence of some mechanical damage of the disk such as surface scratches, chips, different spots on the surface or as a result of incorrect recording on the boot sector. Thus, the program can recover data from CD and DVD that was considered lost or unreadable by the DVD drive. This is another good damaged DVD data recovery tool. Depending on the level of damage, the recovery progression may consume a slightly long time, in certain cases; the files might not be recoverable.
CD Recovery Toolbox Free tool scans any CD and DVD disks and finds files and folders located there. We should mention that there can be some information on the disk that cannot be recovered. Not all of the files and folders can be found – that depends on the degree and location of the damage.
Therefore, the CD Recovery Toolbox Free tool finds the possible maximum amount of information. After that, it shows a list of all files and folders available for recovery. Now the user can select the files and folders to be recovered. Those specific objects will be recovered while the others will be ignored. The program recovers the maximum amount of information in the damaged file. This reduces the risk of data loss considerably. Program features:
Recovering information from any CD and DVD disks
Recovering files larger than 4 Gb
Detecting possible lack of free space on the hard disk for storing the recovered files
↓ 03 – CD Check | Free | Discontinued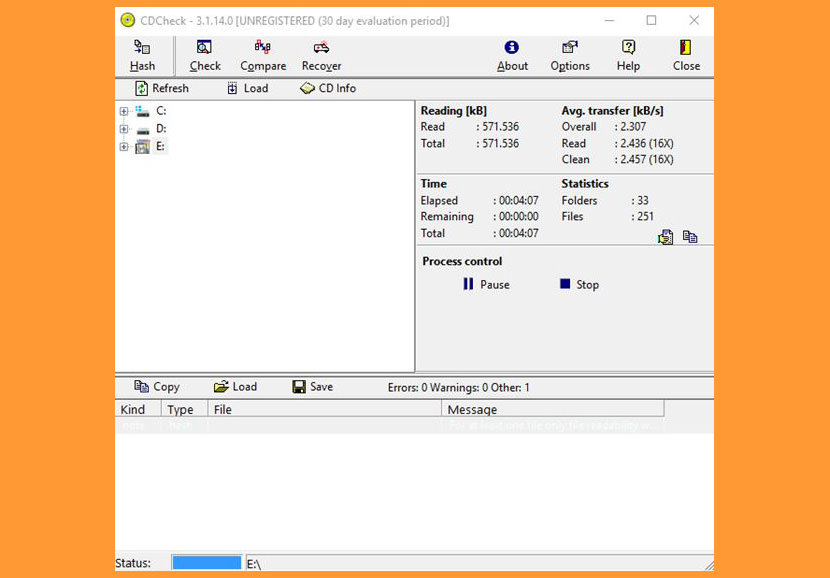 Yet another DVD data recovery, CDCheck is a utility for the prevention, detection and recovery of damaged files on CD-ROMs with an emphasis on error detection. With CDCheck you can check your CDs and discover which files are corrupted that might affect the readability of the disk. Prevention is better than cure.
CDCheck is a utility for prevention, detection and recovery of damaged files with emphasis on error detection. It can check each of your CD/DVDs (or any other media) and indicate which files are corrupted. CDCheck reporting features tell you exactly where the problems are. Files on CDs, zip drives, USB keys etc. can get damaged in a number of ways, so the program helps you determine whether your data is safe before it's too late.
The program also provides extremely fast binary comparison for effectively checking that file transfers (burning, copying…) were accomplished successfully and alerts you of differences. Besides that CDCheck supports creation and checking of MD5, CRC-32, SHA… hashes in SFV, MD5 and CRC file formats. This provides means to check backups for possible loss of information or verify file transfers where comparison is not possible (transfer over mail etc.).
The program can be used with all local or removable media (CDs, DVDs, disk drives, floppy disks, ZIP drives, USB keys…) visible by the operating system (Windows Explorer) and also with audio CDs. In addition CDCheck also gives detailed information (manufacturer, type, capacity…) about inserted CD or DVD media. Key features (details):
hash creation and checking
file/directory checking
binary file/directory compare
file/directory recovery
audio CD support
data DVD support
CD/DVD information with media ratings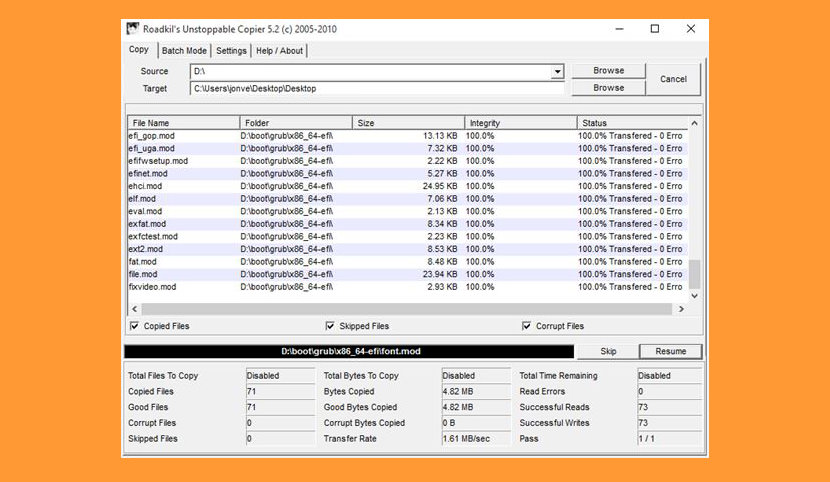 Recovers files from disks with physical damage. Allows you to copy files from disks with problems such as bad sectors, scratches or that just give errors when reading data. The program will attempt to recover every readable piece of a file and put the pieces together. Using this method most types of files can be made usable even if some parts of the file were not recoverable in the end.
The program can be used as a daily backup system using its batch mode functions. A list of transfers can be saved to a file and then run from the command line to perform the same batch of transfers on a regular basis without having to use the GUI interface. The program supports command line parameters which allow the application to be run from schedulers or scripts so it can be fully integrated into daily server tasks.
Data Recovery is a free utility that can help you recover maximum data from damaged media like scratched CDs, DVDs, Blu Rays and damaged pen drives, memory cards etc. If you are able to see a list of files in any media, data recovery can recover those files. Data Recovery working is simple, it ignores any bad sector that comes in while copying data from a file and continues copying until the end of that file. Hence, recovering maximum undamaged data.
Need to rescue files from CD, DVD, HD DVD or Blu Ray disc? Looking to recover data from Hard Drive, Floppy, USB, Flash Drive, Media Card, SD, SSD, MMC and many more…? ISOBuster is the Ultimate CD/DVD/Blu-ray data recovery tool. Extract data from your unreadable CDR/Ws/DVDR/BD/Ws and BD/CD/DVD image formats(.iso, .bin/cue, .nrg…).
It can also extract mpg video files from VCD and SVCD. ISOBuster is part freeware and shareware. Register/Donate $30 to get all functions. Find lost data on CDs, DVDs, BDs or HD DVDs, created with integrated drag and drop applications, otherwise also known as packet writing software. Optimized, but not exclusive, for:
Roxio Direct CD, Roxio Drag-to-Disc
Ahead / Nero InCD
Prassi / Veritas / Sonic DLA
VOB / Pinnacle Instant-Write
CeQuadrat Packet CD
NTI FileCD
BHA B's CLiP
Microsoft Windows XP, VISTA, 7, 8
Sony abCD,…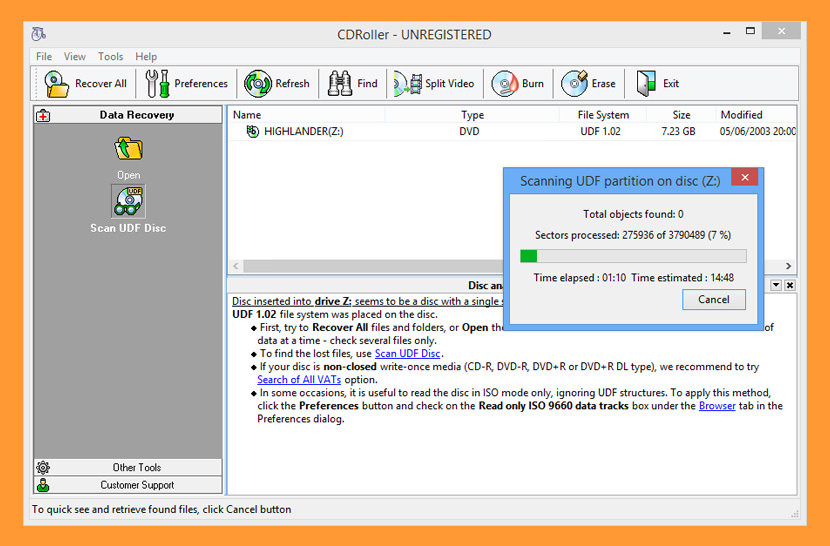 CD Roller effectively retrieves the data off the discs. Recovers CD and DVD data created by standalone devices that record directly onto disks, including Sony Mavica digital cameras, Hitachi, Canon, Panasonic and Sony DVD camcorders, standalone DVD recorders, etc. Includes a built-in Video Splitter. Splits the recovered VOB or VRO files into several clips (scenes), automatically converting a "raw" DVD-video into MPEG files without loss of quality. Key Features:
Effectively retrieves the lost data from the discs created by CD/DVD/Blu-ray writing software, such as well-known Sonic (Roxio, Adaptec) and Ahead Nero software packages, CeQuadrat's PacketCD, DLA, B's CLiP and many others.
Reads unfinalized ("open", "left as-is") CDs and DVDs, including the discs with Microsoft's Live File system created under Windows 7, 8, 8.1, 10 and Vista.
Includes a fault-tolerant UDF reader for all Windows operating systems. No need to look for UDF Reader Driver in order to manage old discs on your new computer under Windows 7, 8, 8.1, 10 or Vista.
Retrieves the lost video and photos off unfinalized DVDs created by a wide set of standalone devices that record directly onto discs: Hitachi, Canon, Panasonic, Samsung and Sony DVD camcorders as well as standalone video recorders.
Converts the recovered VOB or VRO video data into generic MPG files without loss of quality. In contrast to VOB files, MPG ones can be viewed properly with the help of Windows native players.
Makes new DVD-video discs that can be played back in the most DVD players.
Recovers M2TS video files on the mini discs that were not finalized by AVCHD camcorders.
Finds and retrieves accidently deleted files, files located in the corrupted folders, files on incorrectly closed disks, etc.
Recovers CD data written by Sony Mavica CD digital cameras.
Provides direct access to raw disk data using a special (kernel-mode) driver, bypassing the restrictions imposed by Windows Vista / 7 / 8 / 8.1 / 10 under standard user (non-administrative) account.
Examines images (pictures, photos) of all major graphic formats (BMP, JPEG, JPEG 2000, GIF, PNG, PCX, PSD, EPS, TIFF, WMF, ICO, TGA), popular digital camera raw formats (Canon, Kodak, Minolta, Nikon, Olympus, Pentax, Fuji, Leica, Sony, Sigma), DICOM files (medical imaging) and many others.
Retrieves the lost pictures, video and other types of files from flash memory cards, such as SmartMedia, Memory Stick, CompactFlash, xD Picture Card and other flash memory drives.
Finds and retrieves the lost data on Hard Disk Drives (HDD), Solid-State Drives (SSD), floppy disks and other types of Windows disks/drives with FAT / NTFS / Ext file systems.
Recovers lost audio files on the flash memory built into voice recorders, such as Sony, Olympus, Ritmix, etc.
"On-the-fly" unpacks the files initially compressed by Roxio (Adaptec) DirectCD.
Retrieves back up files from the discs recorded in several stages ( multisession discs ).
Includes a built-in CD/DVD/BD data burner. There is no need to run third-party CD/DVD/BD mastering software if you wish to burn a new DVD-video disc or backup your files and folders immediately after recovery. The "Burn" option is integrated into a common shell. Just write a new disc with recovered data shortly, without leaving CDRoller!
Erases CD, DVD and BD re-writable media. Supports quick and full erase methods.
Examines disc sectors at low level. Displays the sector content in text, binary, hexadecimal or unicode mode. It also scans all sectors of a disc (selected track or file) for particular data. Recommended for engineering purposes and also for law enforcement and forensic investigators.
Supports external hex editor for detailed analysis of disc contents at low level.
Allows direct examination of the content of selected file at low level.
Scans files for particular data (content), regardless of the file names and/or extensions. Supports Perl-like regular expressions (PCRE library) for creating match patterns.
Reads ISO image files (*.iso), disk image files recorded in Expert Witness Compression Format (*.E01, *.L01, *.S01) and Linux / Unix "Disk Dump" (*.dd) files as well.
Identifies the lost files on ISO/Joliet discs with the damaged file system (volume descriptors, path tables and directories), using the raw data only.
Rescues the data from scratched, damaged or defective discs.
Provides direct access to the hardware (CD/DVD/Blu-ray drives), bypassing the Windows File System. Looks for the lost tracks (sessions) every time when you insert a new disc into the drive. Supports SCSI Pass Through Direct (SPTD) layer as alternative method under Windows 2000/XP/2003/Vista/7/8/8.1
Creates and uses own image file to manage disc sectors.
Digitally extracts audio tracks into a wide set of wave formats.
Tests disc readability.
Extracts ISO Image file. Burns ISO Image file to a new disc.
Catalogs files and folders into CD/DVD library.
All features are integrated into a common and easy-to-use intuitive shell.
Support of wide set of CD, DVD, BD and HD-DVD formats such as:
CD formats (CD-DA, CD-ROM, CD-WO, CD-ROM XA and Mixed-Mode)
CD format CD-MRW ("Mt. Rainier" CD-RW),
DVD formats (DVD-ROM, DVD-R, DVD-RW, DVD+R, DVD+R DL, DVD+RW, DVD-R DL, DVD-RAM).
Blu-ray disc (BD) formats (BD-ROM, BD-R, BD-RE, BD-R DL, BD-RE DL).
High Definition DVD (HD-DVD) formats (HD-ROM, HD DVD-R, HD DVD-RAM).
Supported File Systems:
ISO 9660 file system, including so-called Joliet and Rock Ridge extensions for long file names (Windows and Unix files names).
Universal Disk Format (UDF), including versions 1.02, 1.50, 2.0, 2.01, 2.50, 2.60 and so-called UDF Bridge format.
FAT32 (for DVD-RAM and BD-RE discs).
NTFS / FAT12 / FAT16 / FAT32 / exFAT / Ext2 / Ext3 / UDF (for hard and flash drives, memory cards and floppy disks).