With cloud storage and services such as Dropbox, together with cheap USB Flash Drive storage, who still burns a CD or DVD? Only a handful of people do that, just to pass big data to someone else with slow internet connection.
See More ▼ 3 Free DVD CD Data Recovery Software to Repair Scratch or Damaged Disk
Nero is still my all time favorite burner, it is a feature rich burner software for those looking into burning discs for Xbox, Playstation, wedding slideshows and more. Anyway, with so many other choices, who needs Nero Burn, NTI or any other CD/DVD burner software when the internet is filled with so many other free alternatives? All the software featured in this article has the following basic functions:
Burn mp3 music to dvd
Burn mp4 to dvd
Burn mov to dvd
Burn photos to dvd
Burn rmvb to dvd
Burn data files to dvd
Burn avi to dvd player
Burn rm to dvd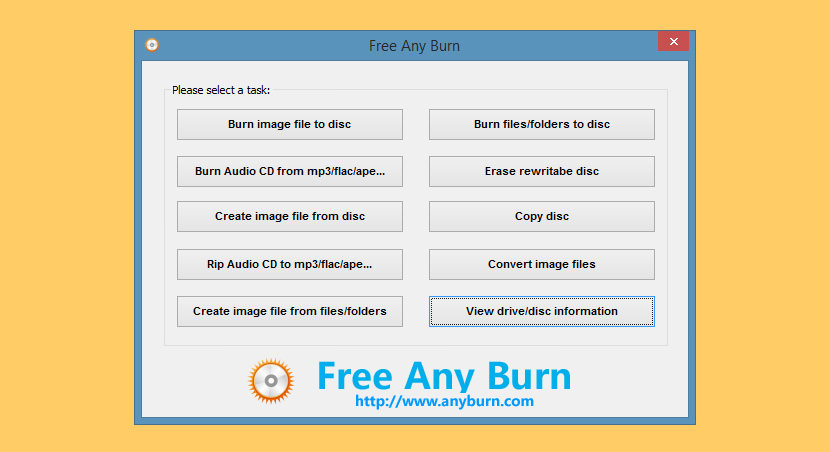 AnyBurn is described as 'light weight but professional CD / DVD / Blu-ray burning software that everyone must have. It provides a free and complete solution for burning' and is an app in the CD/DVD Tools category. There are more than 50 alternatives to AnyBurn for a variety of platforms, including Windows, Linux, Mac, BSD and Xfce.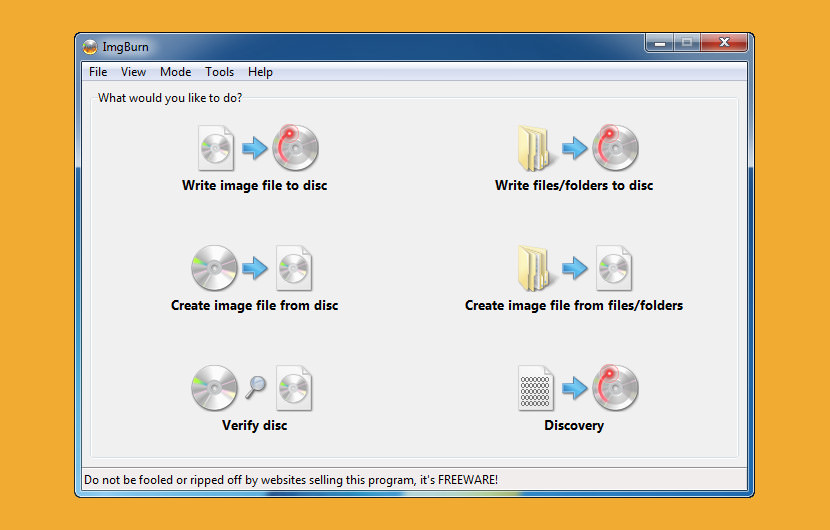 ImgBurn supports a wide range of image file formats – including BIN, CUE, DI, DVD, GI, IMG, ISO, MDS, NRG and PDI. It can burn Audio CD's from any file type supported via DirectShow / ACM – including AAC, APE, FLAC, M4A, MP3, MP4, MPC, OGG, PCM, WAV, WMA and WV.
You can use it to build DVD Video discs (from a VIDEO_TS folder). The latest version comes with support for HD DVD Video discs (from a HVDVD_TS folder) and Blu-ray Video discs (from a BDAV / BDMV folder). The unique feature found in ImgBurn is the DiscCheck function, basically it checks a disc for 100% readability. Optionally, you can also have ImgBurn compare it against a given image file to ensure the actual data is correct, this is to avoid any unwanted trouble due to IO error. It has several 'Modes', each one for performing a different task:
Read – Read a disc to an image file
Build – Create an image file from files on your computer or network – or you can write the files directly to a disc
Write – Write an image file to a disc
Verify – Check a disc is 100% readable. Optionally, you can also have ImgBurn compare it against a given image file to ensure the actual data is correct
Discovery – Put your drive / media to the test! Used in combination with DVDInfoPro, you can check the quality of the burns your drive is producing
ImgBurn is a lightweight CD / DVD / HD DVD / Blu-ray burning application that everyone should have in their toolkit!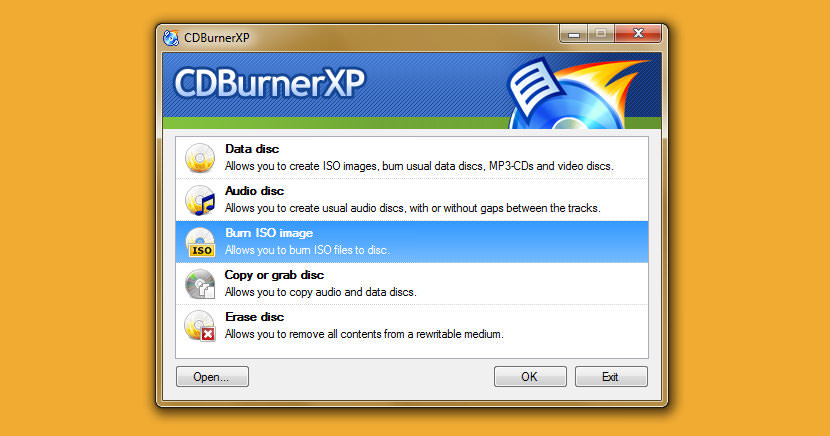 Another CD DVD burning software, it has everything covered. It Burns any data on CD-R/CD-RW/DVD+R/DVD-R/DVD+RW/DVD-RW/DVD-RAM/BD/HD-DVD, including double layer mediums. Just like ImgBurn, it is able to verify written Data automatically after the burning process. CDBurnerXP is a free application to burn CDs and DVDs, including Blu-Ray and HD-DVDs. It also includes the feature to burn and create ISOs, as well as a multi language interface. Everyone, even companies, can use it for free. It does not include adware or similar malicious components. Some of its ISO features:
Burn ISO files to CD
Create your own ISO files
Convert bin- and nrg-files to ISO
Save CDs/DVDs as ISO file to disc
What makes CD Burner XP unique is the ability to handle WMA format, if you are going to use the WMA format and don't have Windows Media Player 11 or higher installed, you also need to download the WMFDist.exe Microsoft Windows Media Format Update, and run it before the installation.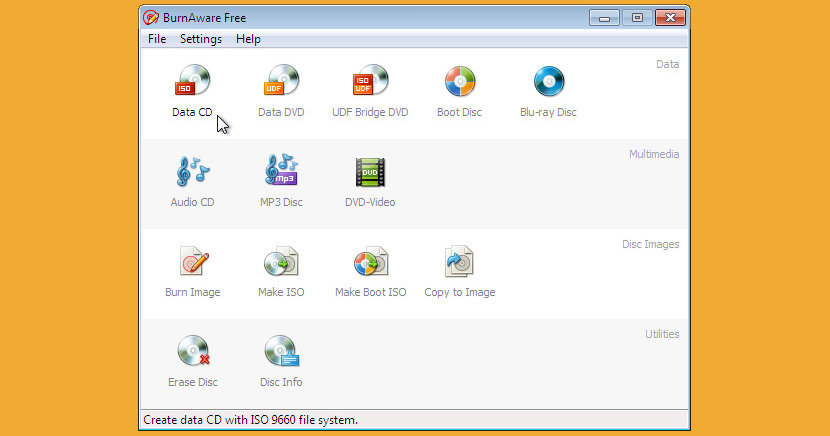 BurnAware Free is a free CD, DVD, Blu-ray Disc burning software. It is ideal for users with basic disc burning needs as backup, creating data, audio, MP3 music, DVD-Video discs and burning disc images. Free, easy to set up, it enables you to save your files to disc quickly and provides a clean, flexible interface to help you complete your burning tasks much faster.
BurnAware is a family of free and affordable easy-to-use disc burning software to create CDs, DVDs, and Blu-ray discs of all types. Home users can easily burn bootable discs, multisession discs, high-quality audio CDs and video DVDs, and image collections. Business users can back up files from their hard drives, extract files and folders from damaged discs or sessions, and burn multiple discs simultaneously. BurnAware Free has the entire basic burning feature covered:
Create data, bootable and multisession CD/DVD/Blu-ray Discs
Create Audio CDs and MP3 CD/DVD/Blu-ray Discs
Create DVD-Video
Record boot disc images
Create and record disc images
Supports all current hardware interfaces (IDE/SCSI/USB/1394/SATA)
Supports UDF/ISO9660/Joliet Bridged file systems (any combination)
On-the-fly writing for all image types (no staging to hard drive first)
Home users will appreciate BurnAware's intuitive interface and the full feature set. Business users will appreciate the ability to perform a wide range of disc-related management functions. Power users will benefit from BurnAware's advanced options, including control of boot settings, UDF partition and versions, ISO levels and restrictions, session selection, CD text for tracks and discs, byte-by-byte verification, and direct copying.
Totally Free Burner is a CD/DVD burner with a nice, minimalistic interface and an excellent range of features which will cover most people's CD/DVD burning needs. If you're looking for a simple and easy to use CD DVD burning software, SAB Burner has everything covered, it burns Audio CD using mp3, wma, ogg, wav files, VideoCD from Mpeg1 VCD files and many more. Download SAB Burner, the simple software to burn data files to dvd.
Burn Audio CD using mp3, wma, ogg and wav files
Burn Video CD from Mpeg1 VCD files
Burn Data CD DVD ISO9960 and Joliet (Multisession)
Burn Data CD DVD UDF
Burn Video DVD from existing DVD files
Burn CD DVD from BIN/ISO image directly
Support all current hardware interfaces (IDE, SCSI, USB, 1394, SATA)
Burn Multi-Session or Disc-at-Once mode to ALL supported media formats
Support UDF, ISO9660, Joliet Bridged file systems (any combination)
Support UNICODE for multi-byte languages
On-the-fly burning for all image types (no staging to hard drive first)
Create Bootable data discs or images
Auto-verification of data images
Automatic selection of burn modes for Disc-at-Once operations (no special device knowledge required)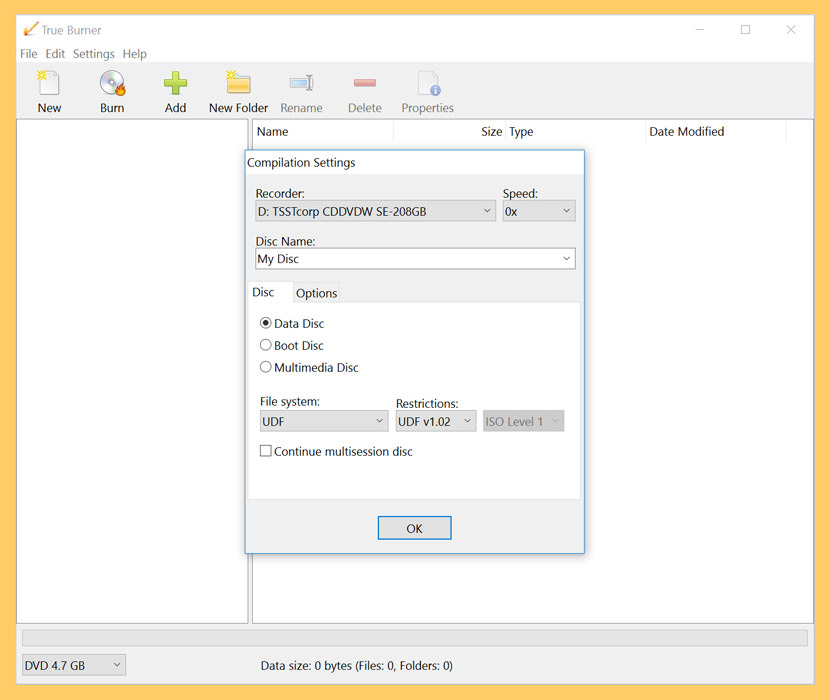 True Burner is a compact, easy-to-use and free burning software, which enables you to make and burn standard, multisession and bootable CD, DVD, Blu-ray Disc with various file systems, including ISO 9660 and UDF. With True Burner you can create Data and MP3 Discs, DVD-Video. Using True Burner you can erase any rewritable media, such as CD-RW, DVD-RW, DVD+RW, BD-RE.
Burn standard and multisession CD/DVD/Blu-ray Discs
Create and burn bootable CD/DVD/Blu-ray Discs
Create and burn MP3 Discs and DVD-Video
Check written files and disc for errors
Erase rewritable and erasable CD/DVD/Blu-ray Discs
Supports all types of CD/DVD/Blu-ray Recorders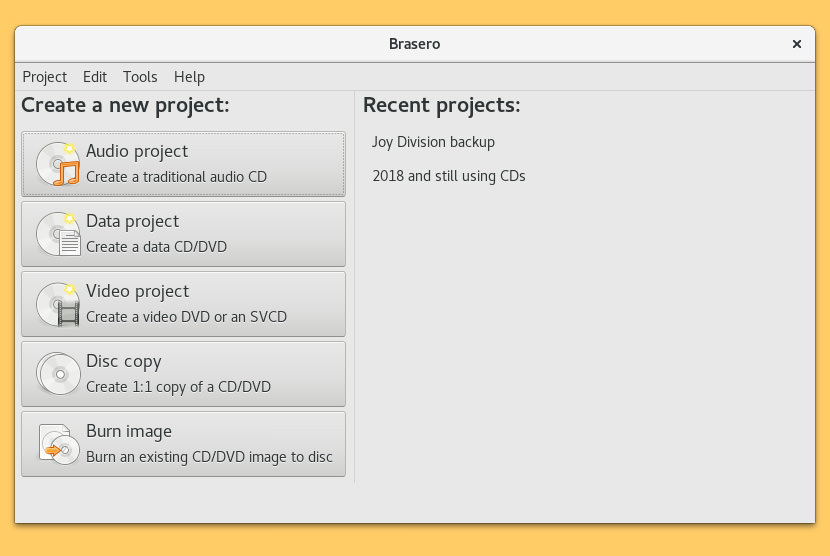 Brasero is a GNOME application to burn CD/DVD, designed to be as simple as possible. It has some unique features to enable users to create their discs easily and quickly.
Editing of discs contents (remove/move/rename files inside directories)
Automatic filtering for unwanted files (hidden files, broken/recursive symlinks, files not conforming to joliet standard)
Use all audio files handled by Gstreamer local installation (ogg, flac, mp3, …)
Burning CD/DVD images and cue files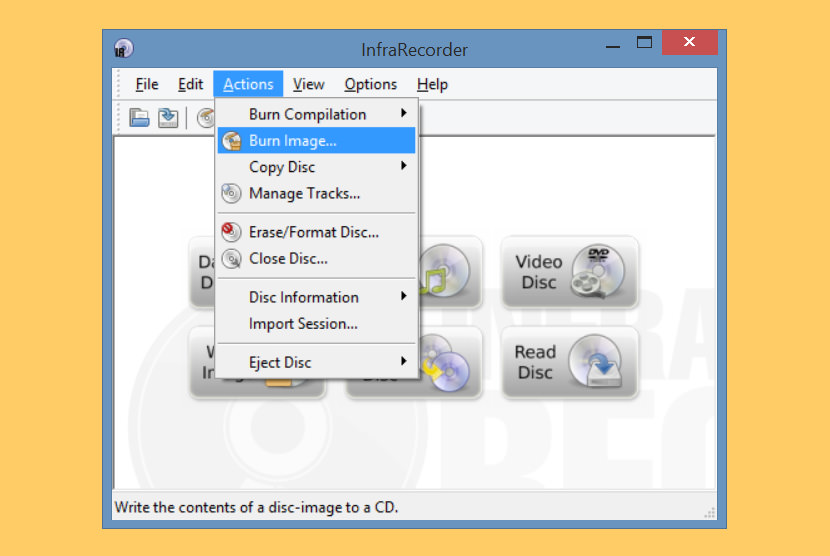 InfraRecorder is a free CD/DVD burning solution for Microsoft Windows. It offers a wide range of powerful features; all through an easy to use application interface and Windows Explorer integration.
Create custom data, audio and mixed-mode projects and record them to physical discs as well as disc images.
Supports recording to dual-layer DVDs.
Blank (erase) rewritable discs using four different methods.
Record disc images (ISO and BIN/CUE).
Fixate discs (write lead-out information to prevent further data from being added to the disc).
Scan the SCSI/IDE bus for devices and collect information about their capabilities.
Create disc copies, on the fly and using a temporary disc image.
Import session data from multi-session discs and add more sessions to them.
Display disc information
Save audio and data tracks to files (.wav, .wma, .ogg, .mp3 and .iso).